Once your service finishes, you can publish your sermon so others can benefit from the message. When you export a Logos Sermon to Proclaim, Proclaim automatically creates a draft of your sermon on Logos Sermons.
Learn how to publish the sermon below.
Skip ahead to:
Locate and Finalize Your Sermon.
Navigate to Logos Sermons. If you are not already logged in, do so with the same credentials that you use for Logos and/or Proclaim.
Click My Sermons.
Your uploaded sermons display as thumbnails using the title slide.


Click the thumbnail to view details about the sermon.


If you selected a series, you'll need to first select a sermon within the series.

Edit your sermon.

Click Edit. Add, change, or delete information in your sermon using the available fields.
With your sermon finalized, you can publish it from either Logos Sermons or Proclaim.
Publish your sermon.
Sermons can be published from both Logos Sermons and Proclaim. Publishing your sermon through Proclaim will create an automatic post to notify members of your church group that it's available.
To publish from Logos Sermons:
While viewing a sermon on Logos Sermons, enter edit mode (click Edit as shown above).

Change the Publication status to Published and click Save.
Note: However you publish your sermon, you can share your sermon using a variety of built-in options.
To publish from Proclaim:
Once a presentation ends and is no longer On Air, Proclaim opens a panel summary of the sermon including the audio file (if you used Proclaim to record the sermon).

Make final adjustments and select Publish (or Close if you are not ready to Publish).
You also have the option to publish a transcription of your sermon. Learn more about sermon transcription services.
If you choose to publish at a later time, allow time for the audio file to upload before you close the presentation. Access your sermon recording by clicking Recordings, and select the sermon you want to publish from the list.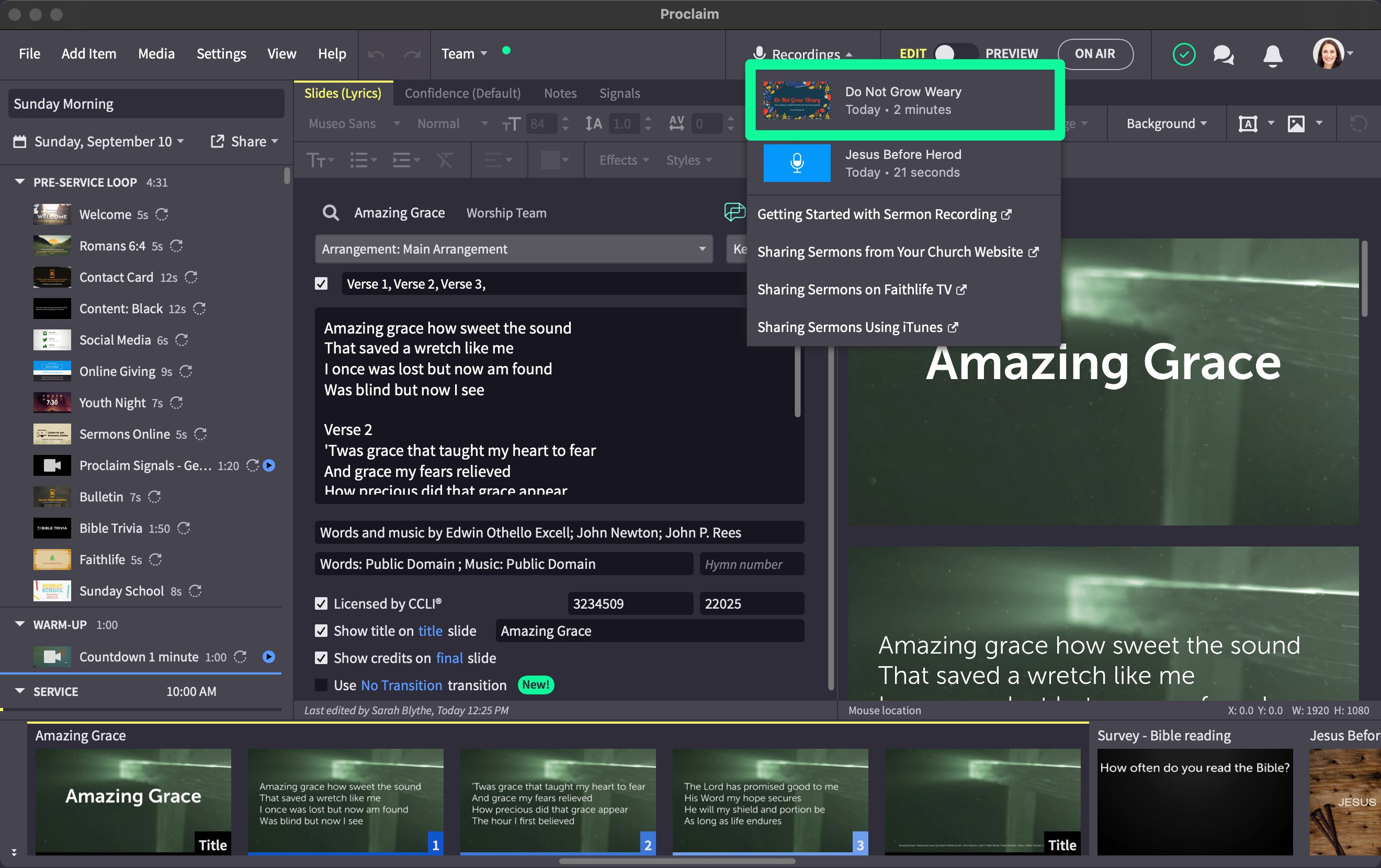 Note: Learn more about recording, editing, and publishing sermons in Proclaim.
Benefits of Hosting Your Sermon on Logos Sermons
Add audio and video
You can attach an audio or video recording of your sermon on Logos Sermons. If you use Proclaim to publish, the video and audio recordings automatically attached to the sermon. (Learn more about recording in Proclaim.)

Interactive comments
Create ongoing dialogue about your sermon concepts and learn how it helped others grow.

Share with your congregation
It's easy to locate and share your sermons on Logos Sermons. Sermons hosted on Logos Sermons can be embedded on your church website, podcasted, or shared on social media.

Help other pastors
Publishing a sermon to Logos Sermons gives others the chance to be inspired by your work in their own practice. The better you tag your sermon, the more searchable it becomes and the better you can help others.