Faithlife Sites makes creating and maintaining a church website nearly automatic. You don't have to type a single line of code and your site automatically updates as you add new information. Follow the steps below to create a church website with Faithlife Sites.
You can check for service outages at status.faithlife.com. To learn more about using Faithlife Status, click here.
Note: Click here to view a recorded webinar on setting up your church website with Faithlife Sites.
Skip ahead to:
1. Complete the initial setup
To get started, navigate to sites.faithlife.com and click Get Started.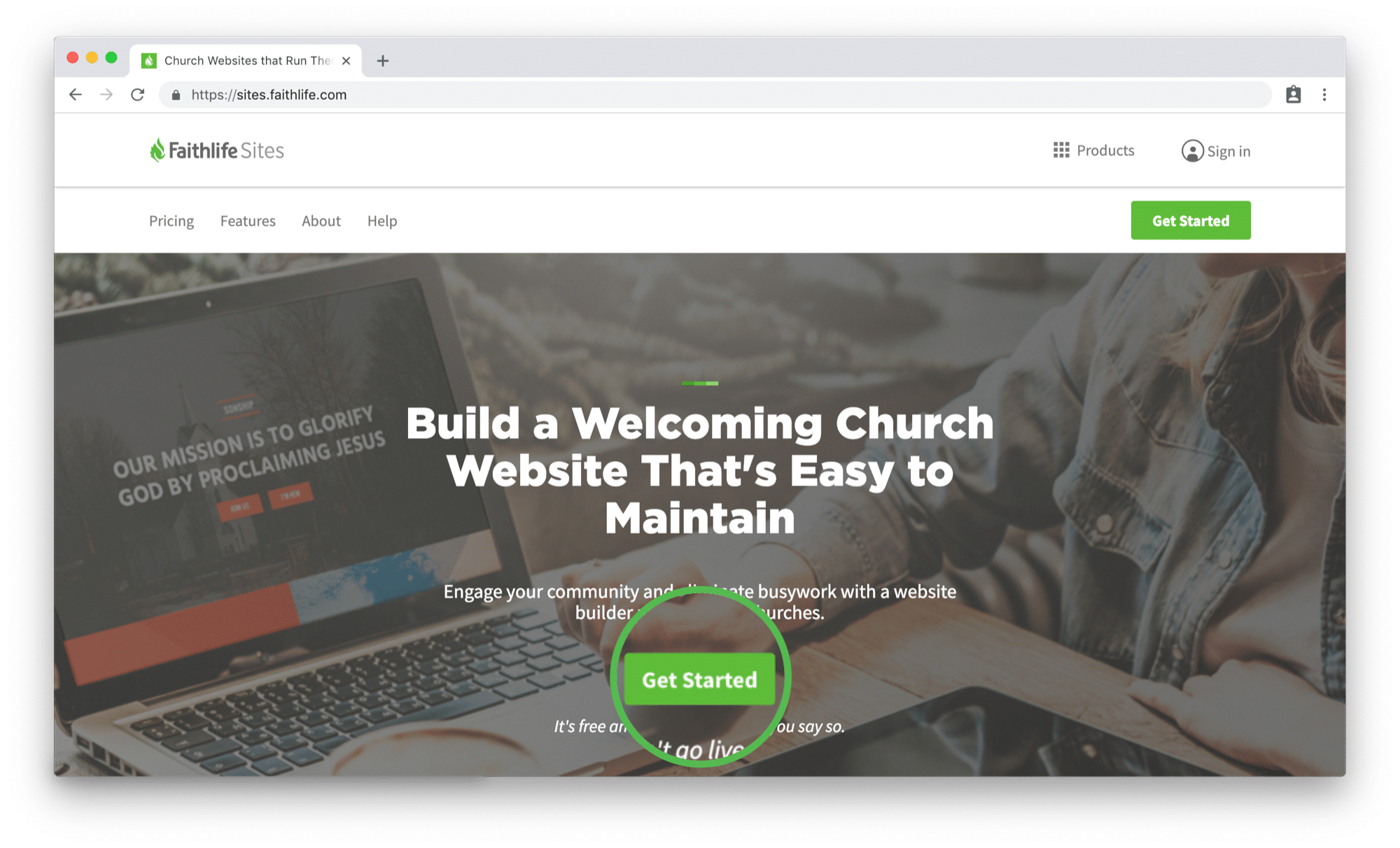 If you have an existing Faithlife account, use it to sign in. If not, create a new account.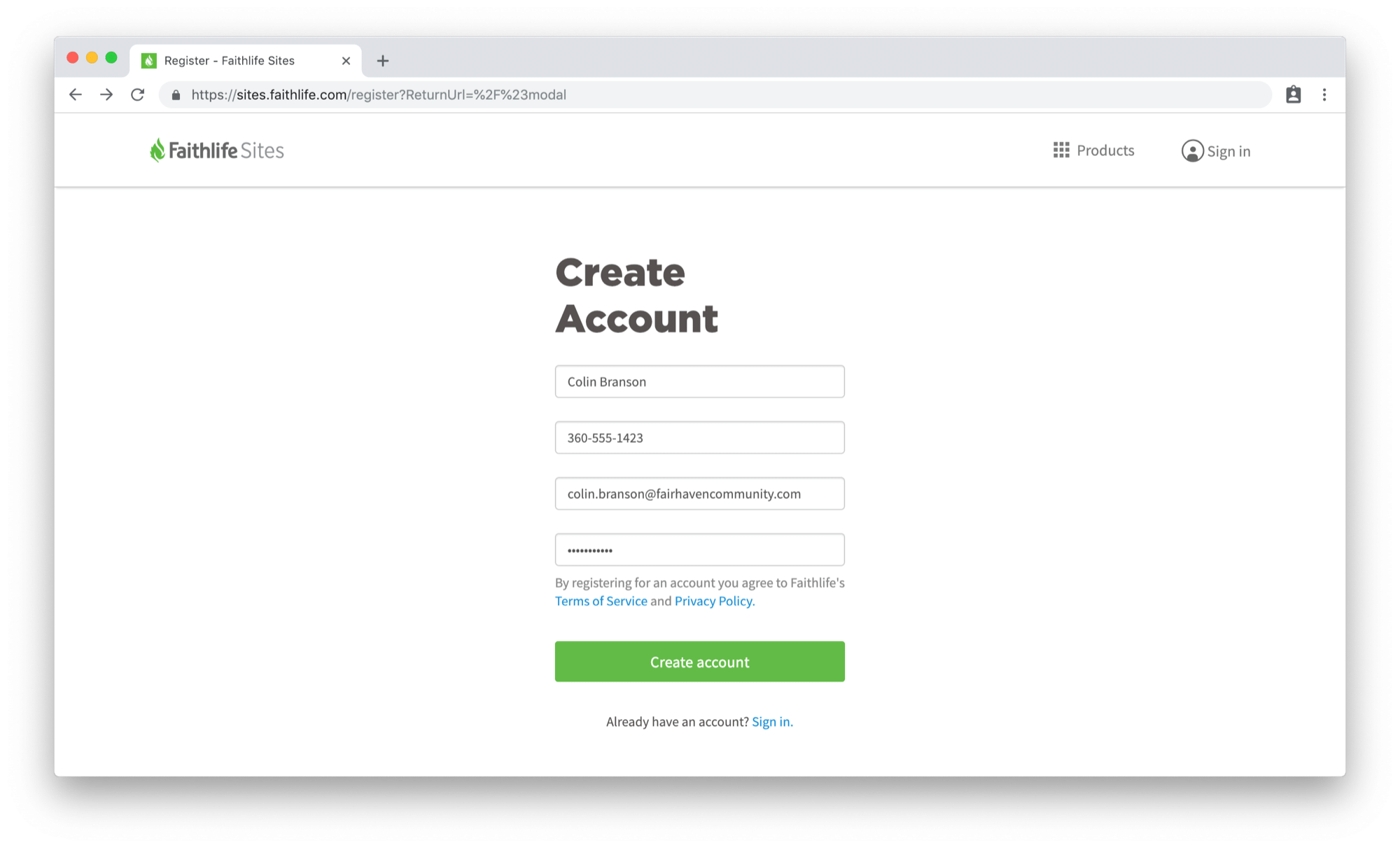 Connect your site to a Faithlife church group by adding your church name and location and clicking Get started. Follow the prompts to search for or add a church to the Faithlife Church Directory.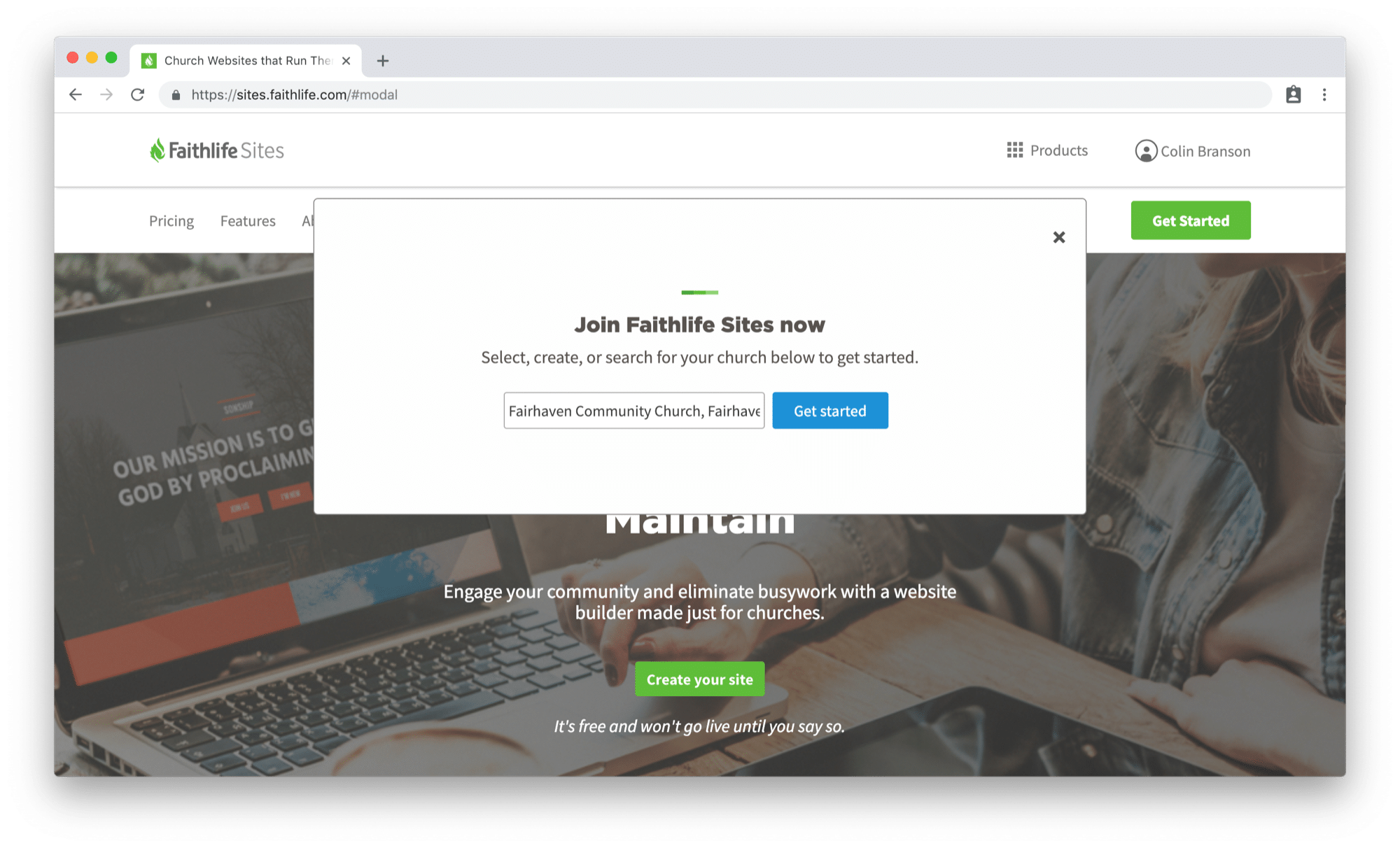 Note: Faithlife.com provides the tools and dashboards to manage your church's data. The Faithlife Sites platform uses that data to populate fields on your church website, such as contact information and events. In order to manage the information that appears on your church website, you'll need to either connect your new site to your existing church group on Faithlife.com, or create a new church group linked to your new site.
Finally, select a theme to finish setting up your website.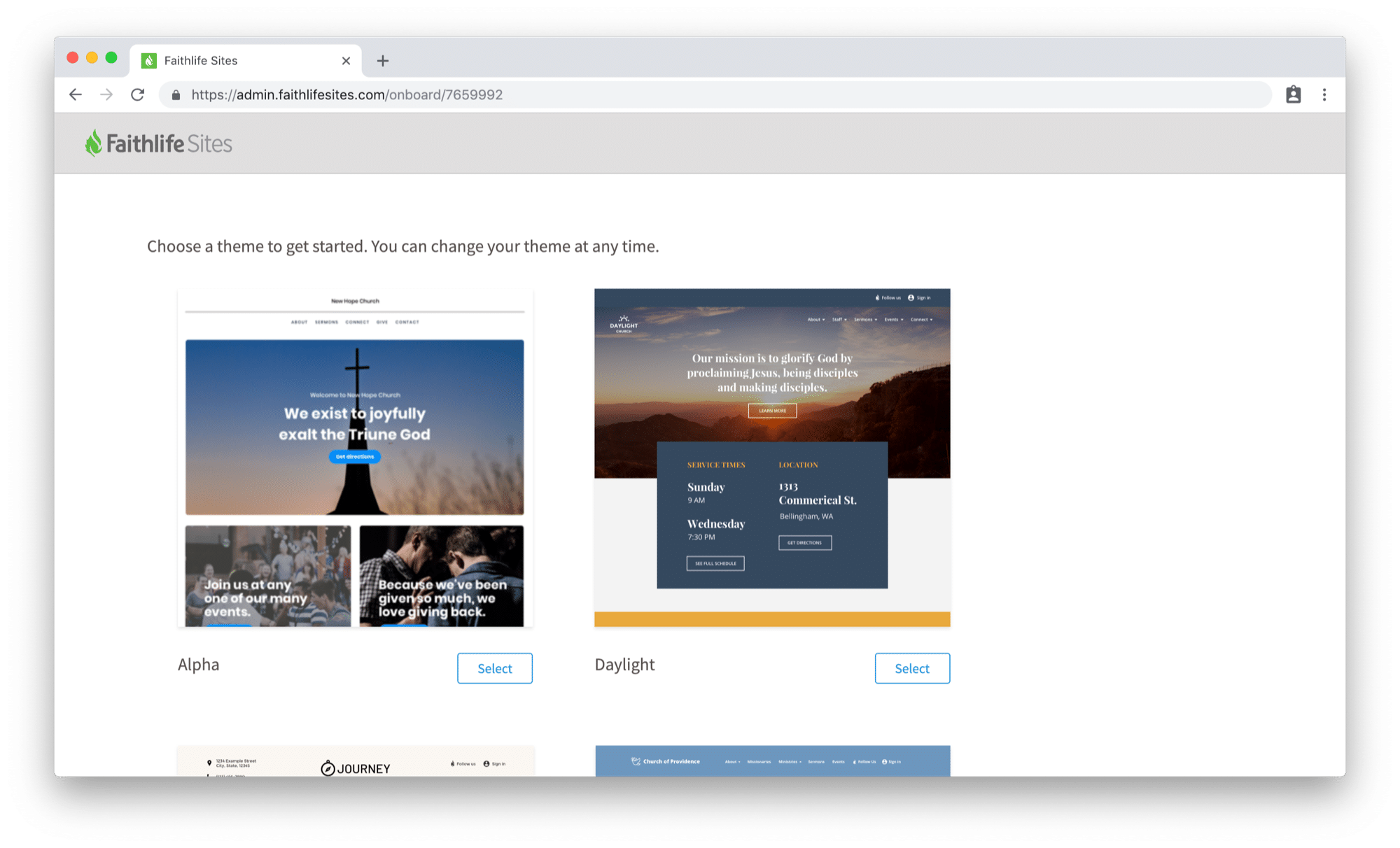 Themes provide a unified design for your entire site. You can change or customize the theme later using the Design sidebar.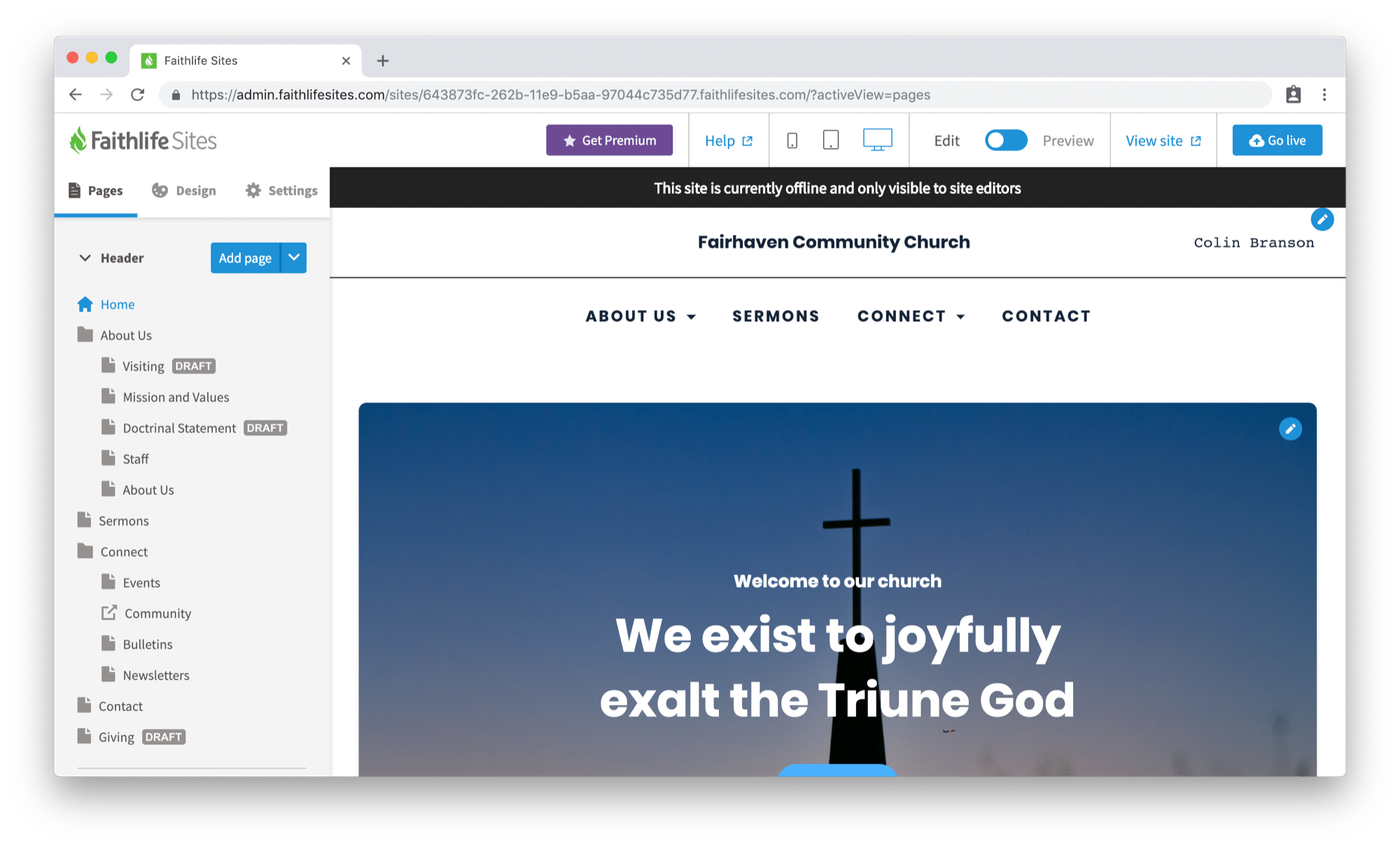 Your site is ready!
2. Add basic church information
You can manage your church's information using the Settings tab on the left sidebar. Some information can be changed within the Faithlife Sites platform, other information can be changed at your church's group on Faithlife.com.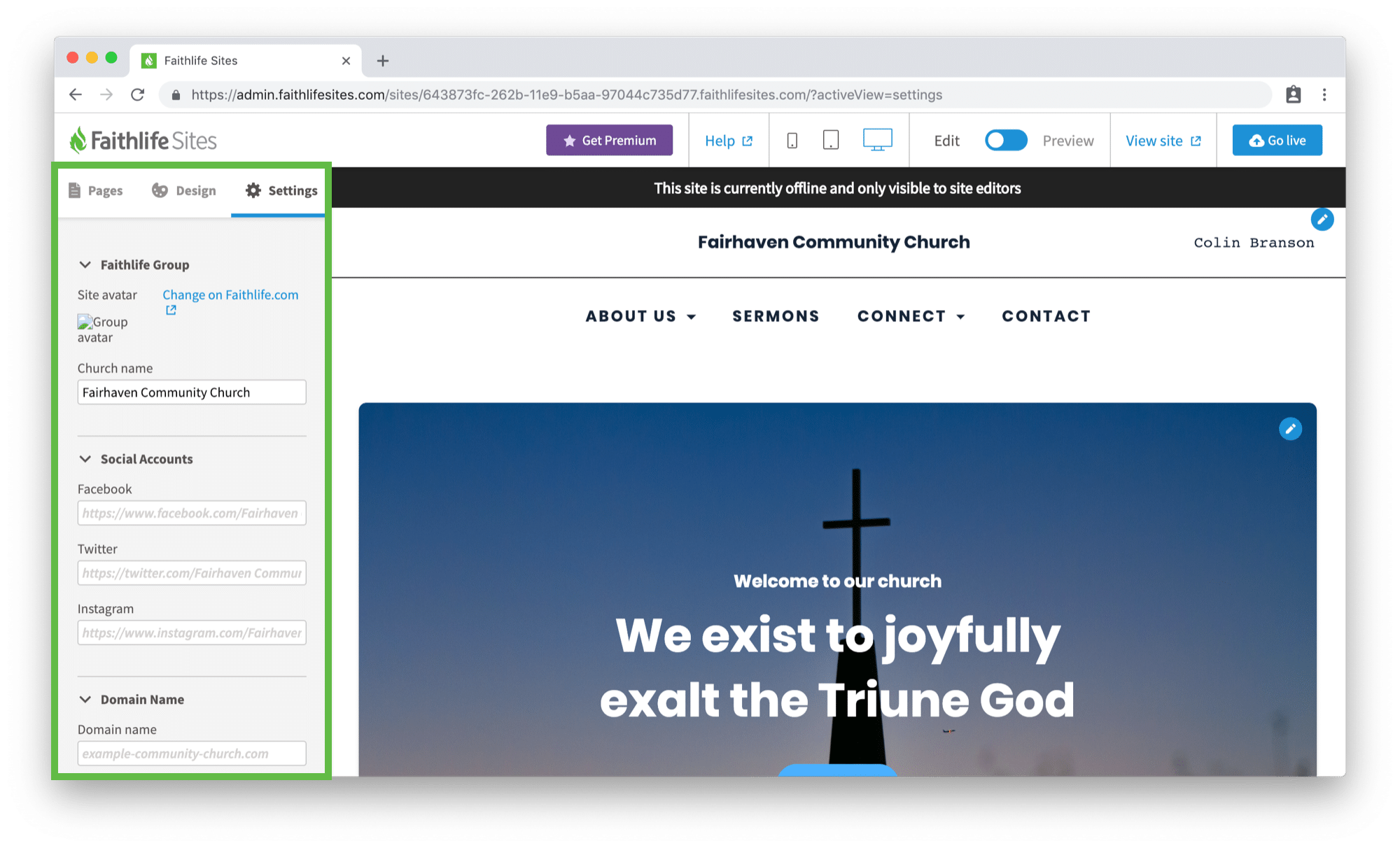 Did you know? If you add social accounts, Faithlife Sites will add social media icons to your site.
Scroll down to the footer and add any other church information. Click the blue edit icon

next to a widget to edit it.
When editing some information on your site, like your location and contact information, you can choose to display a default (which matches the information connected to your church group on Faithlife.com) or display an alternative. To edit the default, click Edit. When you update the default information anywhere on your site or on Faithlife.com, Faithlife will update it for you everywhere.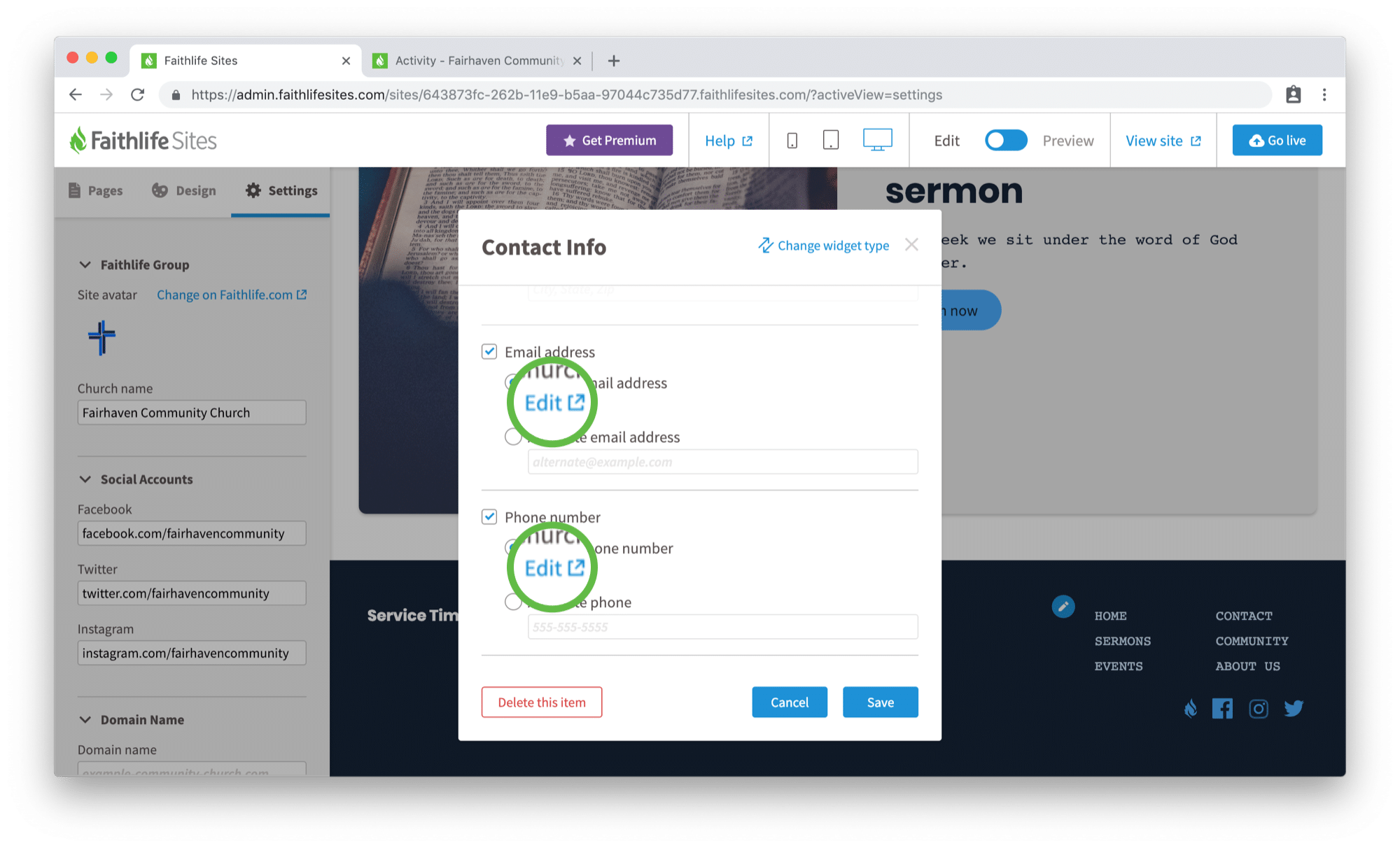 You can also add alternative information, which is particularly helpful for churches with multiple campuses.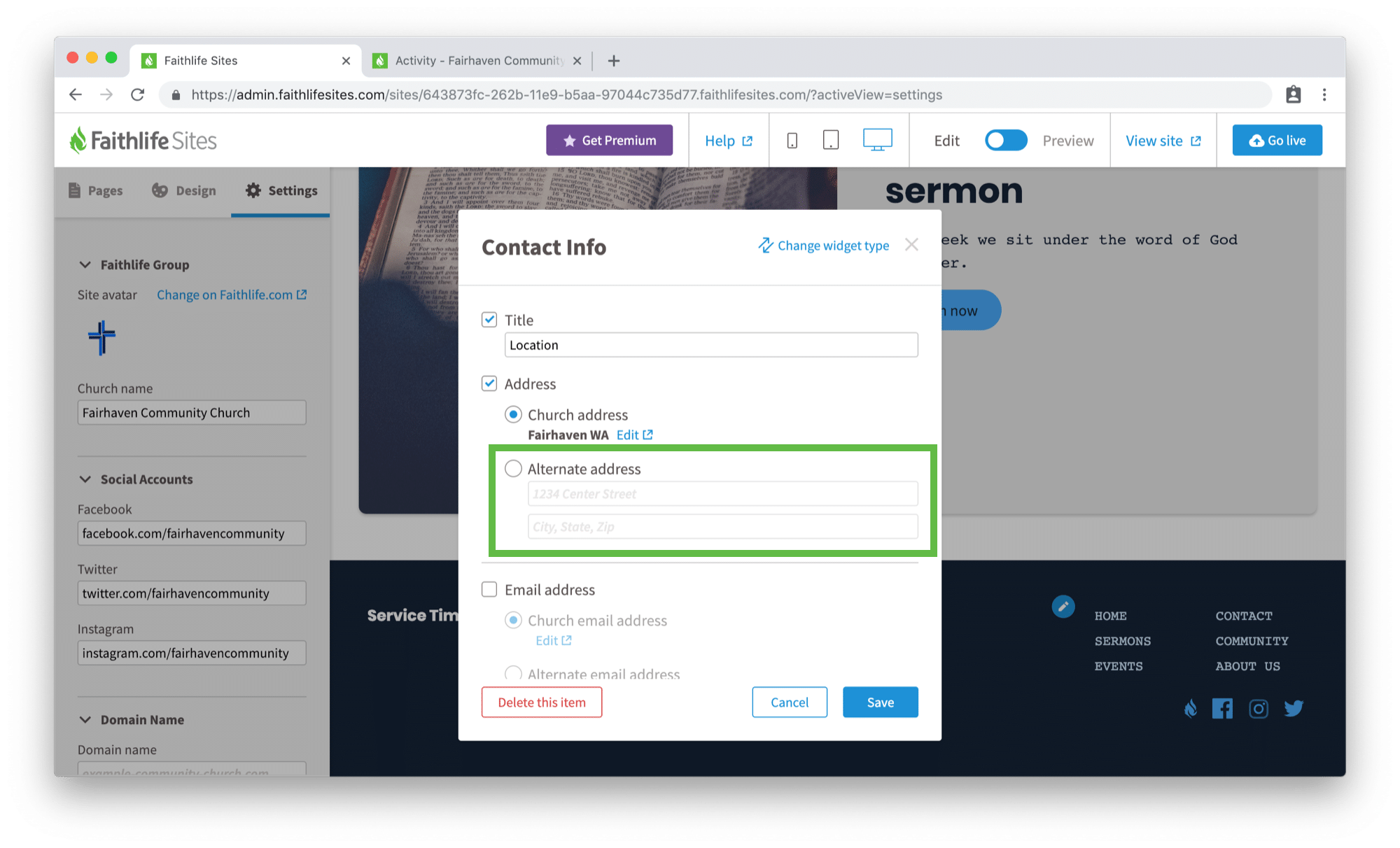 Any widgets with alternative information must be updated manually.
3. Editing content
You can edit content throughout your website by clicking the blue edit icon beside each field. For example, to add a service time:
Click the blue edit icon beside Service Times.

Fill out the relevant fields for service title, day, time, etc.

Click Done. This creates an entry for a single service. To add additional services, click add service time.

When you're finished creating services, click Save.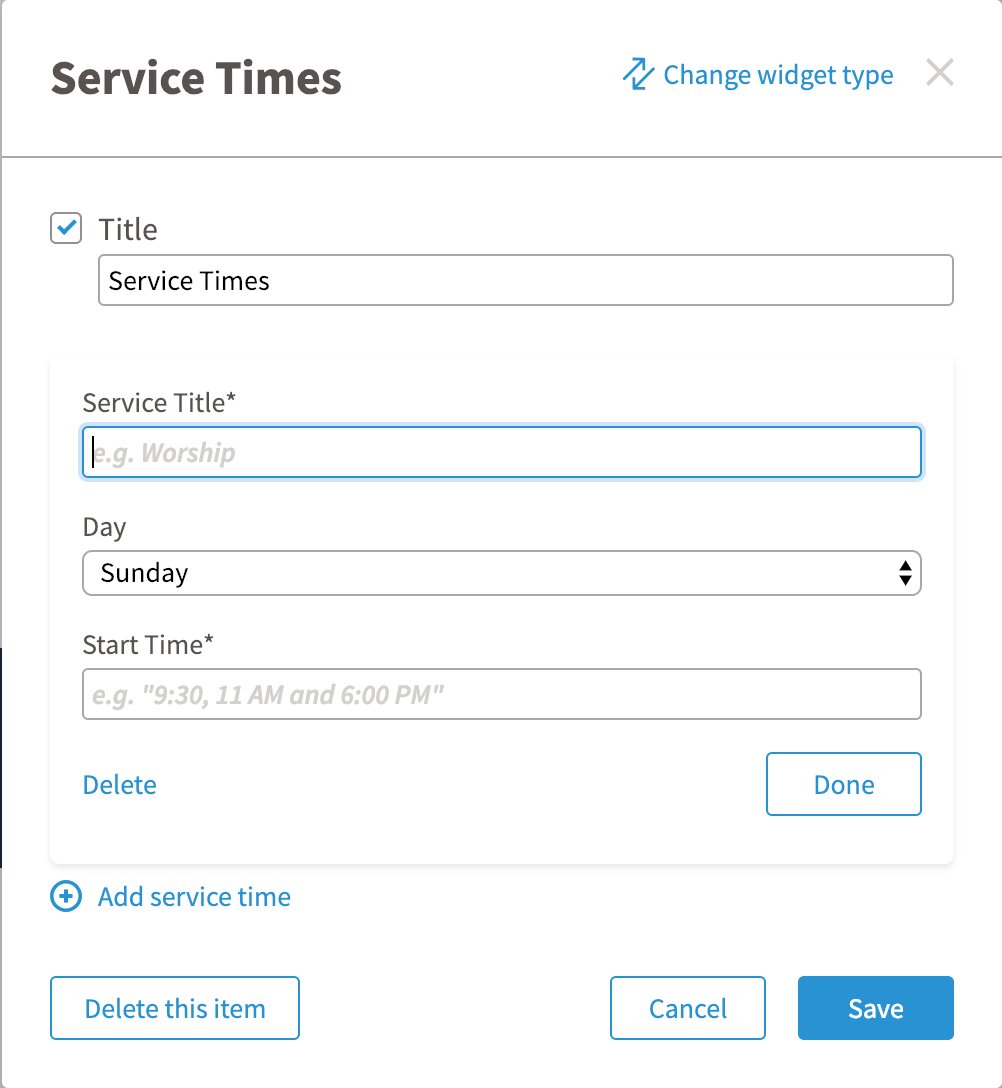 4. Add widgets
Each page on your site contains widgets, which are blocks of space that hold content. You can edit the content displayed any widget, or change the widget type, by clicking its blue edit icon

.
By default, your homepage displays your most important content. Depending on your chosen theme, this may include widgets for events and sermons. If you want to add additional content, select a new widget by clicking the plus icon

that appears between content sections.
5. Set up events
To add events to your church website:
Go to the Events page by clicking it in the right sidebar (ensure that the Pages tab is active).

Click Add Events.

A new tab will open in your browser directing you to your church group on Faithlife.com where you can create and manage events. Learn more about managing events in this article.

After you've finished creating events, return to your church website and refresh the page. You events will be displayed wherever an event widget appears on your site.
6. Add Sermons
To add events to your church website:
Go to the Sermons page by clicking it in the right sidebar (ensure that the Pages tab is active).

Click Upload Sermons.

A new tab will open in your browser directing you to Faithlife Sermons where you can upload and manage your sermons. Learn more about uploading your sermons in this article.
7. Editing Panel
Whenever you're editing your website, a left-hand editing panel displays with three tabs: Pages, Design, and Settings.
Pages
The Pages tab displays the basic page structure of your website, including your main navigation menu, footer, unlinked pages (which are pages visitors can't find in the visible menus), and even retired pages that are no longer published to your site.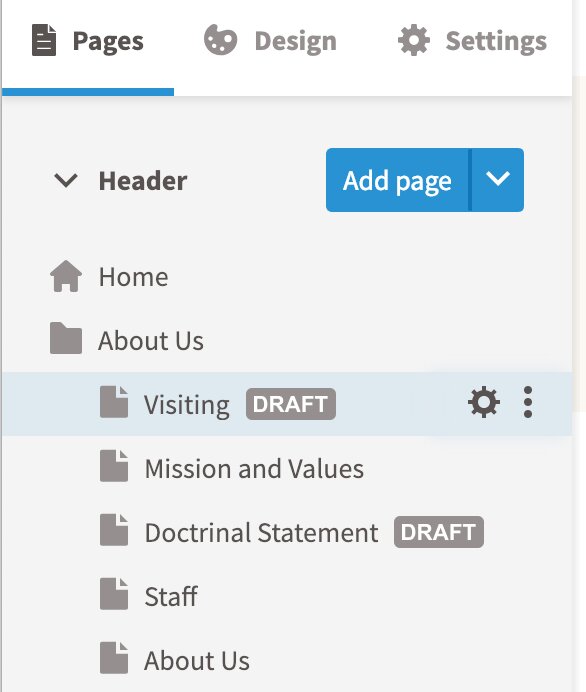 You can rearrange pages by dragging and dropping, or you can add new pages by clicking Add page.

To create a new menu that holds multiple pages (like the About Us and Connect menus), click the arrow next to Add page and select New menu.

To move a page to a menu, just drag and drop.
For more information on the available options for pages and menus, see this article.
Design
Visit the Design tab to change your site's theme, choose a variant of your current theme, or alter your site's font style. Any changes you make will be automatically applied to your website and will display to the public once you click Publish Changes.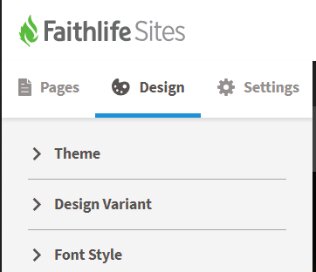 Settings
The Settings tab lets you adjust your logo, domain name, and the Bible version you want to display when you hover over references on your site.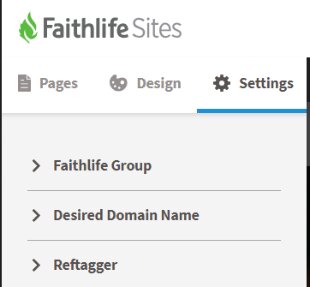 8. Editing A Page
Newly created pages contain a single content widget by default. To edit page contents,
Navigate to your desired page and click the edit button. This opens the content editor, which offers a full range of features.

Add the content you want to display, or change the widget type. Every content section you edit on your site works similarly: input content, click save, and publish your work.
9. Preview your site
Faithlife Sites allows you to preview what your site will look like on different platforms before you publish it. To activate preview mode, click the Edit/Preview toggle button in the toolbar at the top.
To view a preview of your site on a different platform, click the desktop, tablet, or mobile device icons in the toolbar at the top.

10. Publish your site
When you first create a site, it remains offline until you're ready to go live. When you're ready, click Go live.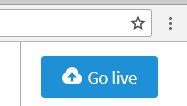 Your site is now live! Whenever you make additional changes, simply publish those changes to update your website.
Create a Website Team
As an Admin of your church's Faithlife Group, you can also create a Website team within your church group, which gives others in your church the ability to edit and update your Faithlife Site. Here's how:
Navigate to your church's group on Faithlife.com.
Scroll down to the Teams section of your sidebar and click the plus icon . This opens the Teams page.
Scroll down to the Add New Teams section and begin typing "website" in the search field.
Check the box next to Website, then click Add.
When your new team appears on the list, click Add members.
Add names to the People field, choose whether to limit your search to those who are connected to your church, select the role your new team members will have (Member, Moderator, Administrator), and if you want to assign these people to any additional teams.
When you're done, click Assign.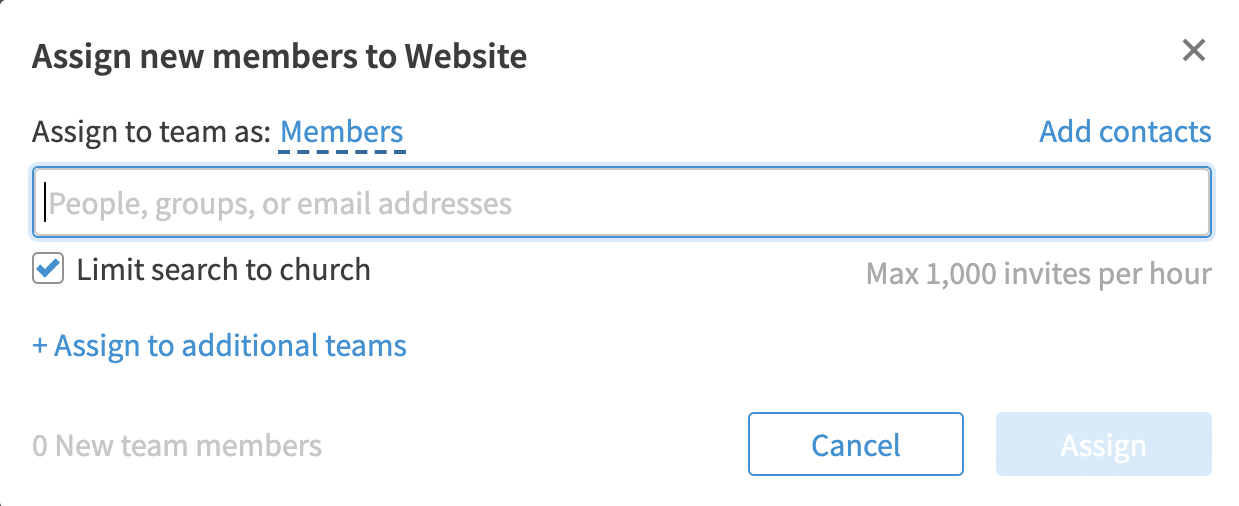 Ready to build your site? Get started for free.