Faithlife Giving allows you to view both giving trends and individual gifts.
View Giving Trends
To see an overview of the gifts given to your ministry, follow these steps:
1. Select Overview in the left-hand navigation menu.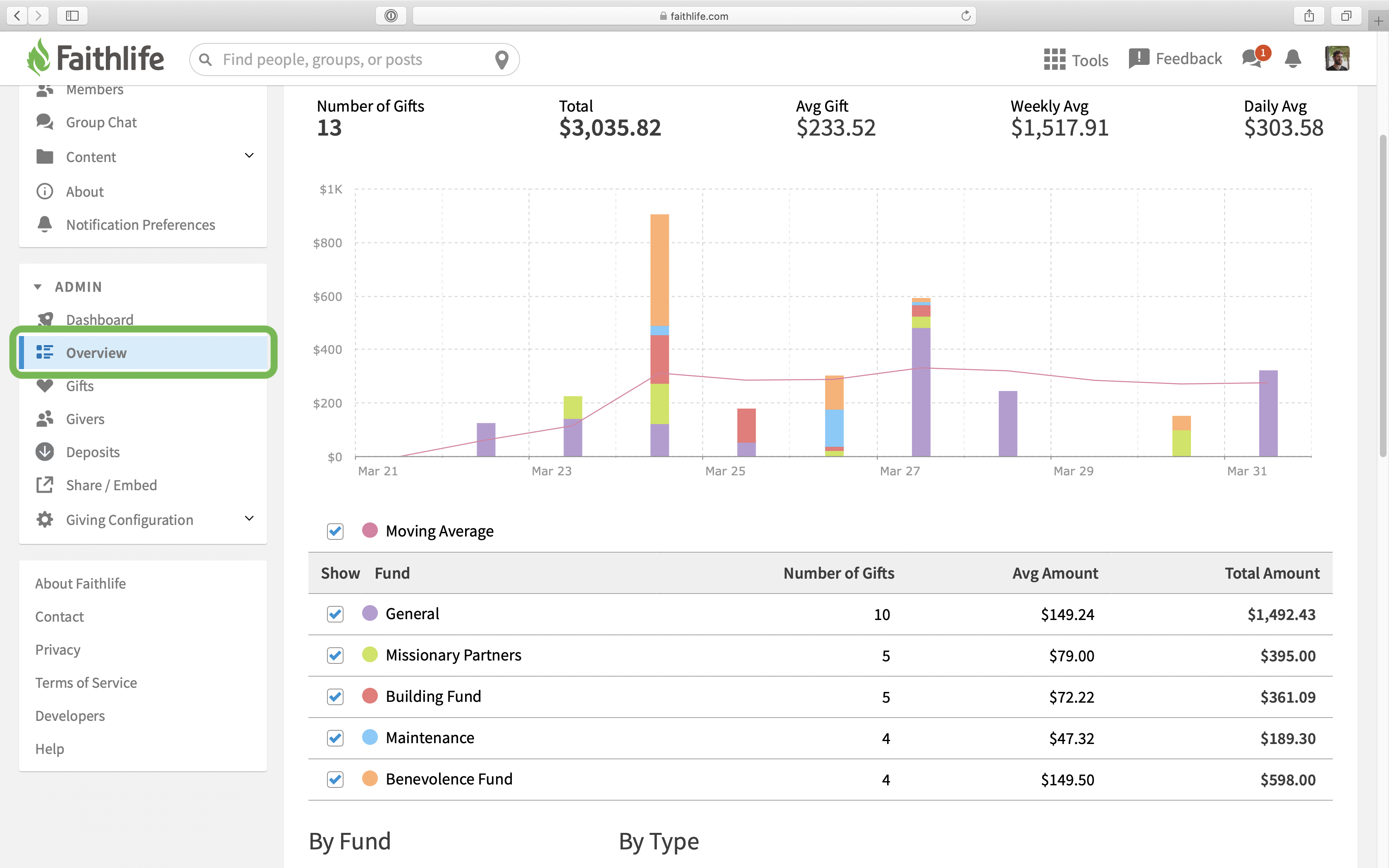 2. Adjust the data range.
The Overview report offers a general look at your giving info. Select the date filter.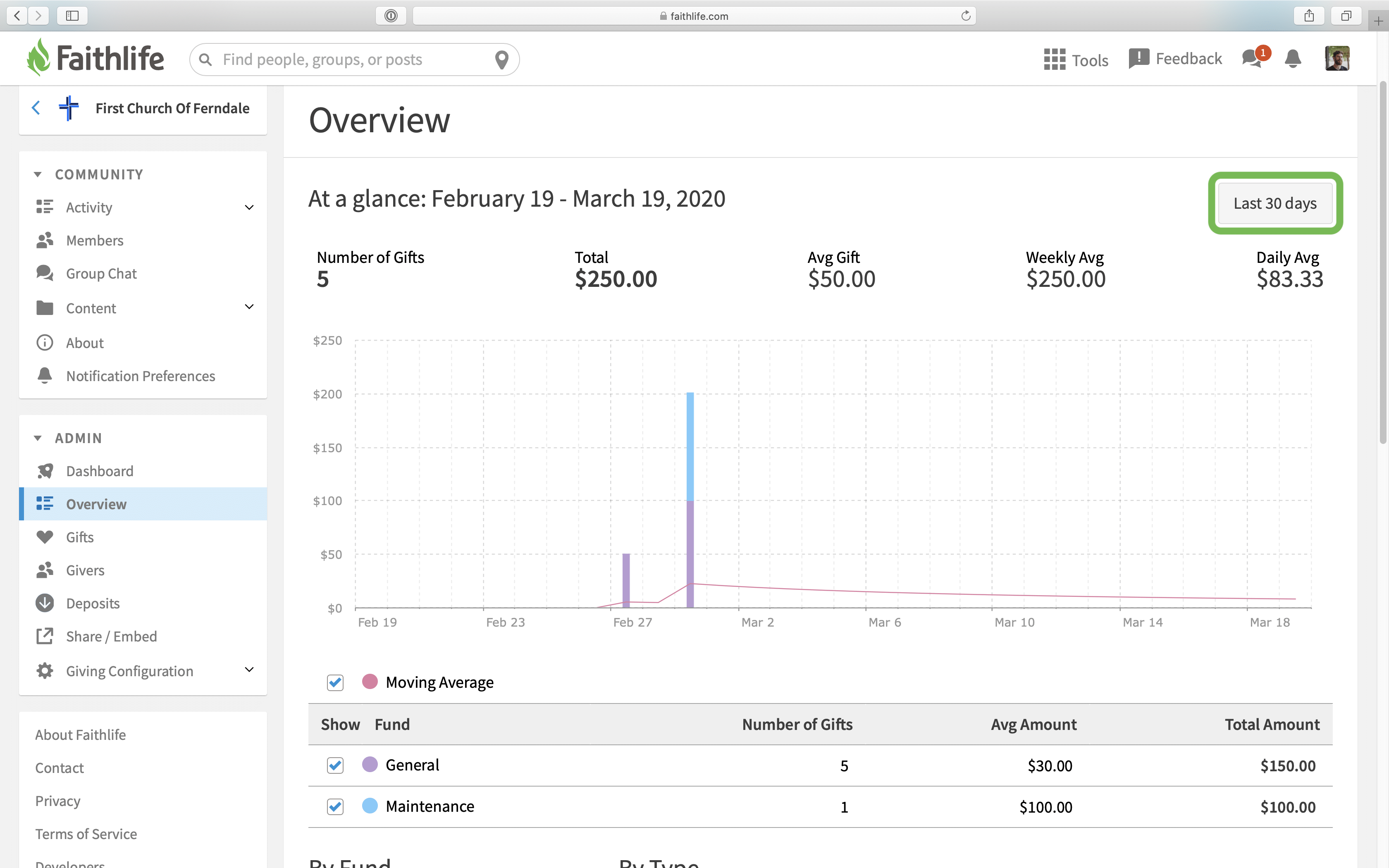 Select a predefined date range or manually set your own range.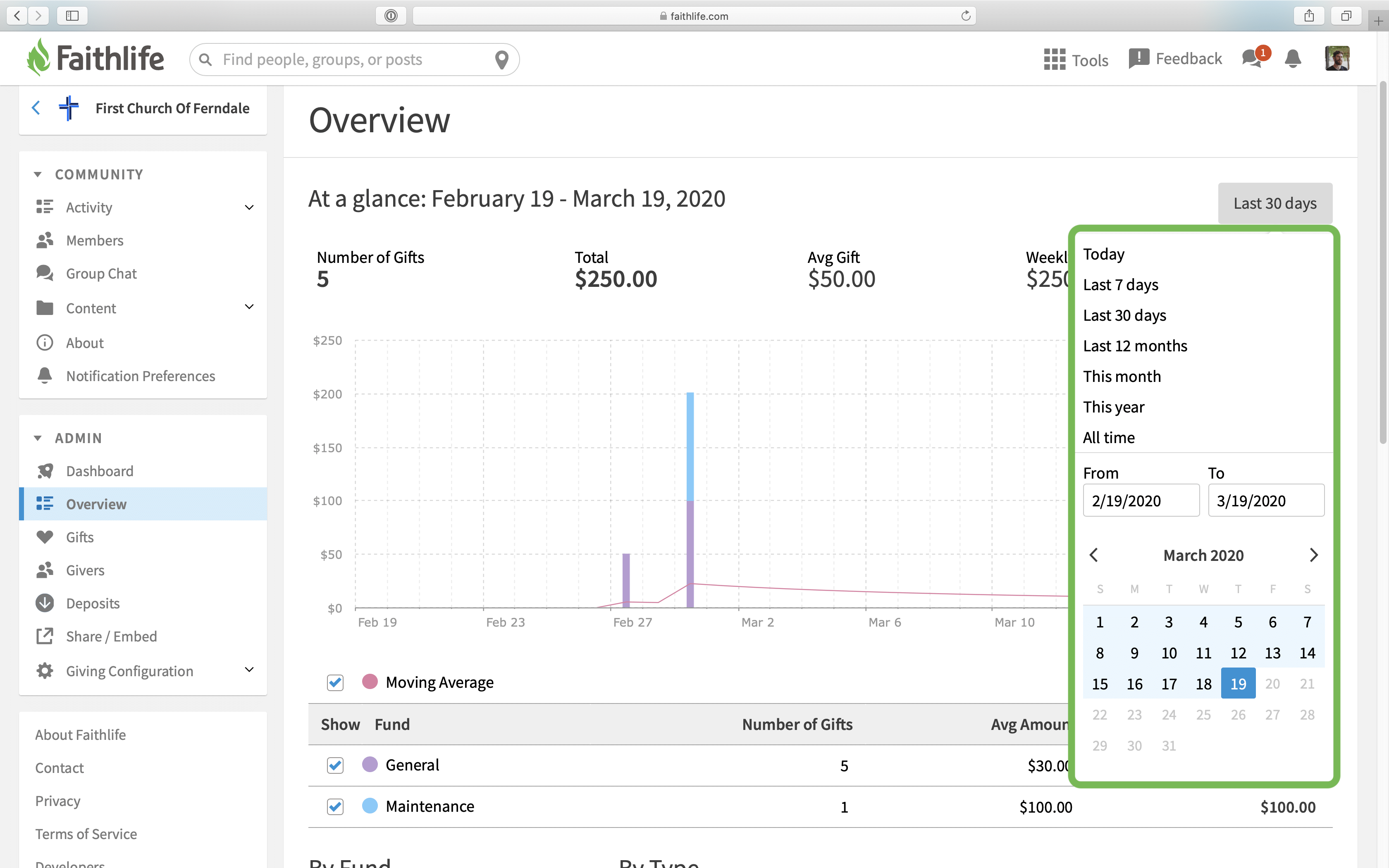 3. Click Gifts for more details.
For a more detailed report, click Gifts in the left-hand navigation menu.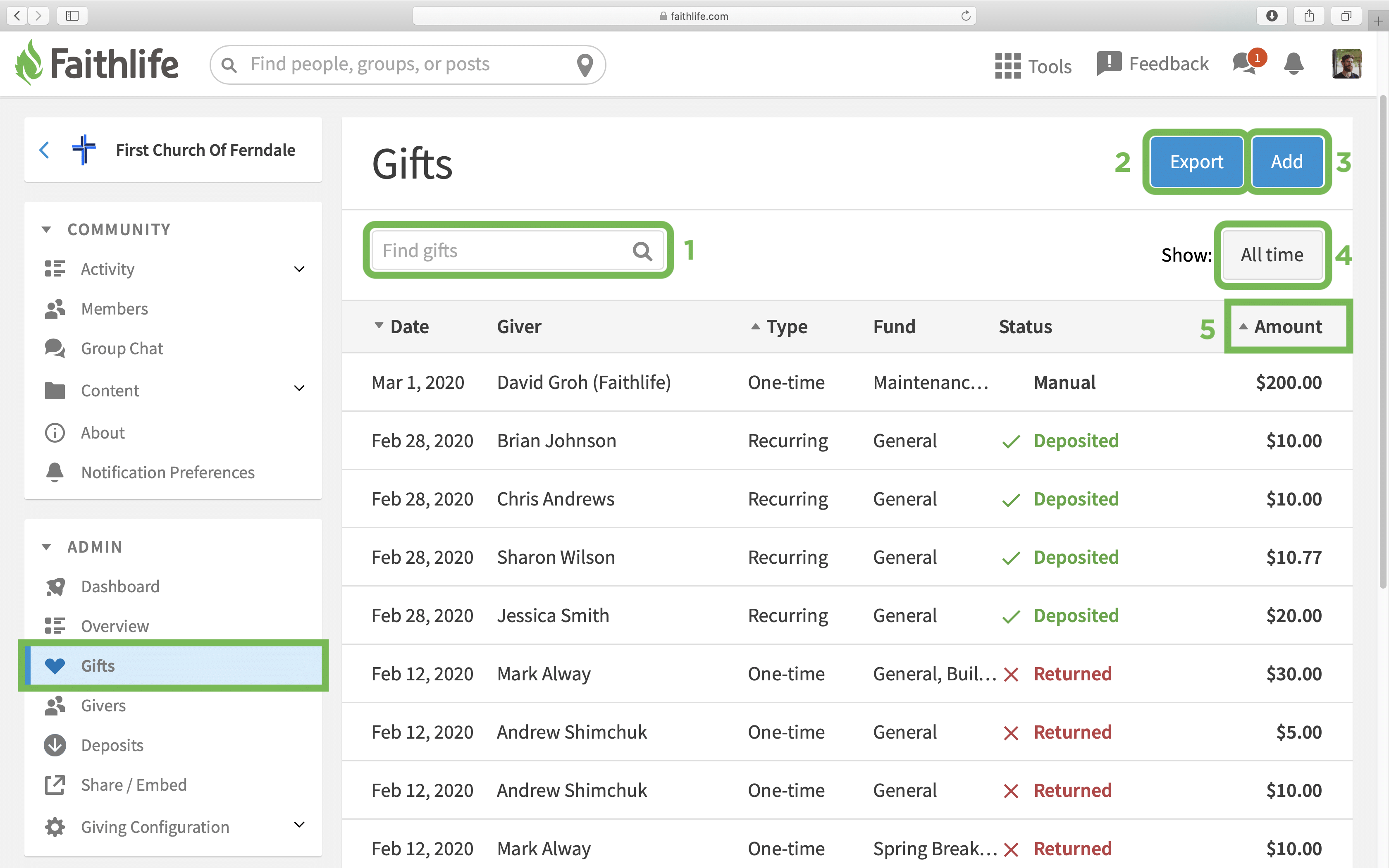 1. Search: Enter a giver or fund name to locate a particular gift.
2. Export: Select the time period and click Export to download a CSV file. Keeping all your giving information in the same location makes it easy to export all your data for easy import into your church's accounting software.
3. Add: While all donations given through Faithlife Giving are recorded automatically, you can also manually add cash, check, Paypal, or other donations via the Add button. Provide the donation details and click Save. When you manually add a donation and assign it to a specific donor, the gift is added to their year-end giving statement. (Learn more about adding and editing manual gifts.)
4. Show: You can adjust the date range of gifts shown via the drop-down menu above the table.
5. Sort: Sort the table by Date, Type, or Amount by clicking the column header.
4. Select any donation in the table to view its details.
To get a better understanding of any particular donation, click it to examine its details.
5. Navigate your gifts.
Clicking the arrows in the top right-hand corner displays the next gift. You can also return to the Gifts report by clicking Gifts in the top left-hand corner.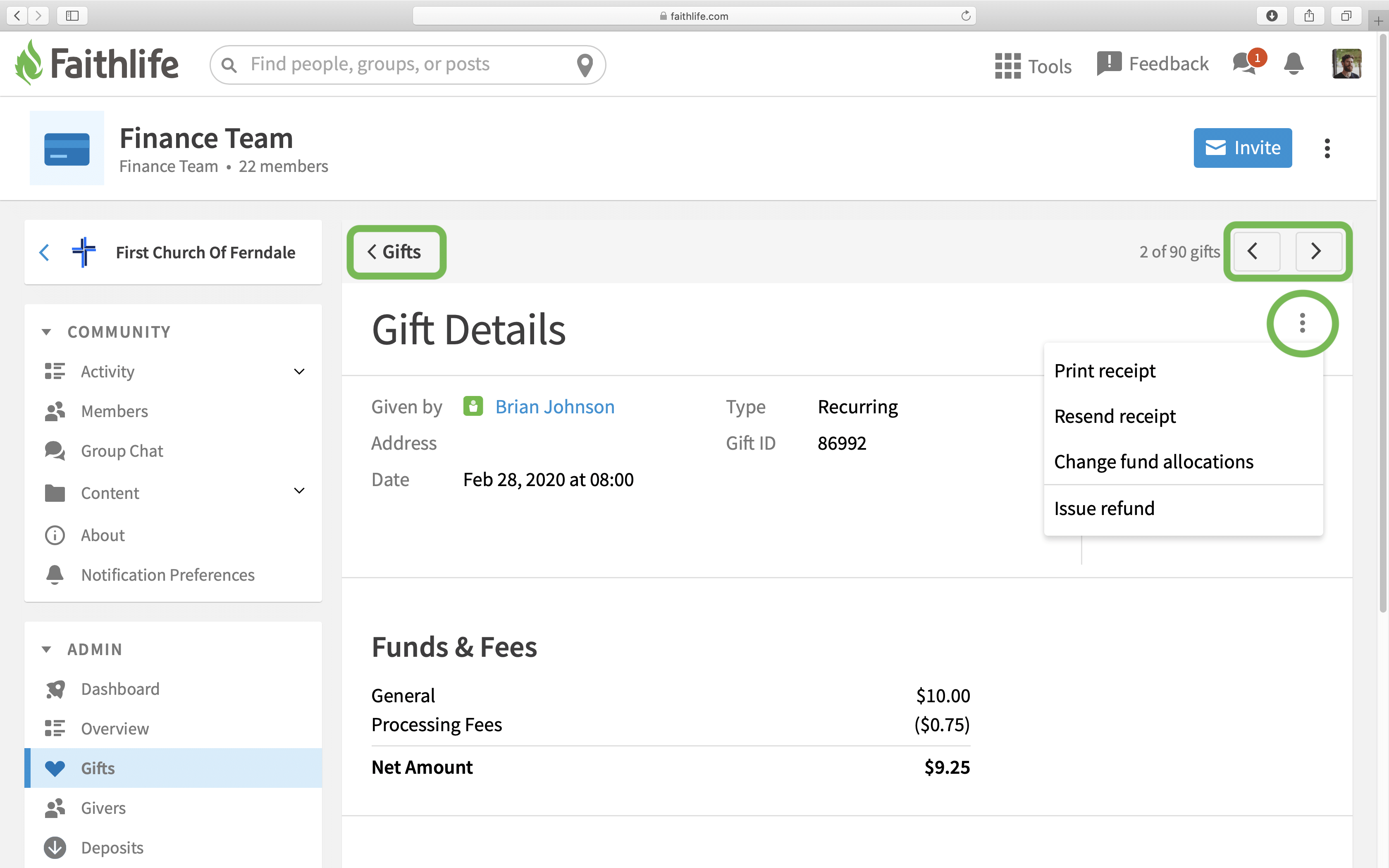 You can interact with any gift from the More options menu
. Choose Print receipt to download and print a copy or save a PDF of the receipt. Resend receipt sends an email to the donor with a receipt attached. If the donor gave online, select Change fund allocations to redistribute gift to another fund(s). Click Issue refund to credit the charge back to the donor's account.