Faithlife Giving allows you to view both giving trends and individual gifts.
View Giving Trends
To see an overview of the gifts given to your ministry, follow these steps:
1. View your overview.
To view your giving overview, select Overview in the Admin sidebar. Here, you can quickly see your total number of givers, how many of those givers are actively giving on a recurring basis, and how much recurring giving you can expect each month.
Note: Encouraging your givers to set up a recurring gift is a great way to increase the predictability of your church group's budget, and it can also help your givers to be more thoughtful and intentional in their giving. Faithlife provides other tools to help your givers be intentional in their giving, including a private giving calculator to configure and schedule future giving as well as study resources about Biblical stewardship. Learn more.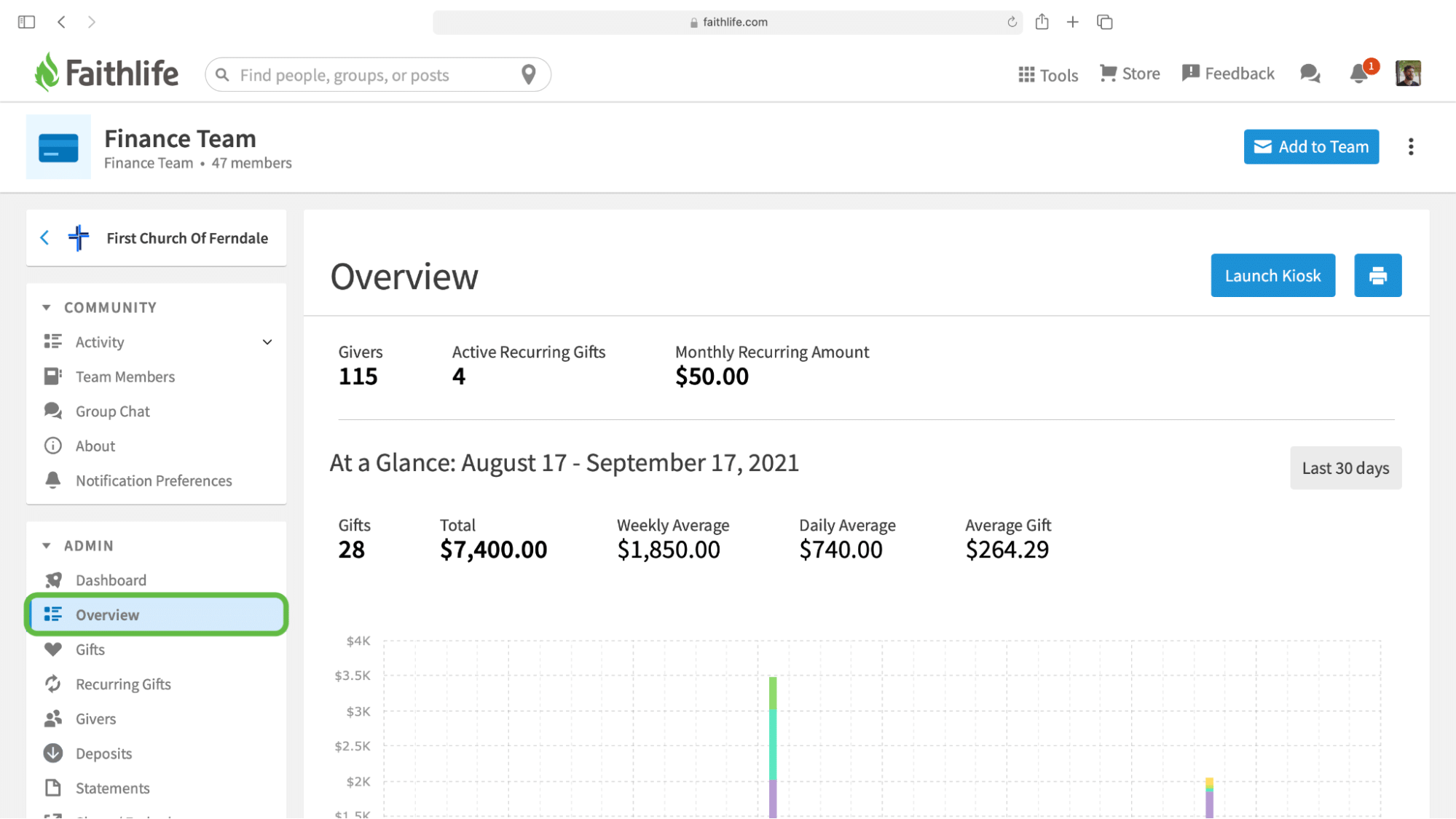 The dynamic graph displays gifts given to your church for a specific period, and hovering your cursor over the available data provides a breakdown of giving by fund as well as data on the moving average for the selected period.
Note: The moving average is a useful indicator of the giving trend over time and is calculated for the total of all giving. Changing the selected period will change the moving average calculation, but selecting or deselecting funds from the below table will not affect the moving average calculation.
Below the dynamic graph, you can also see a breakdown of giving by fund in a table format.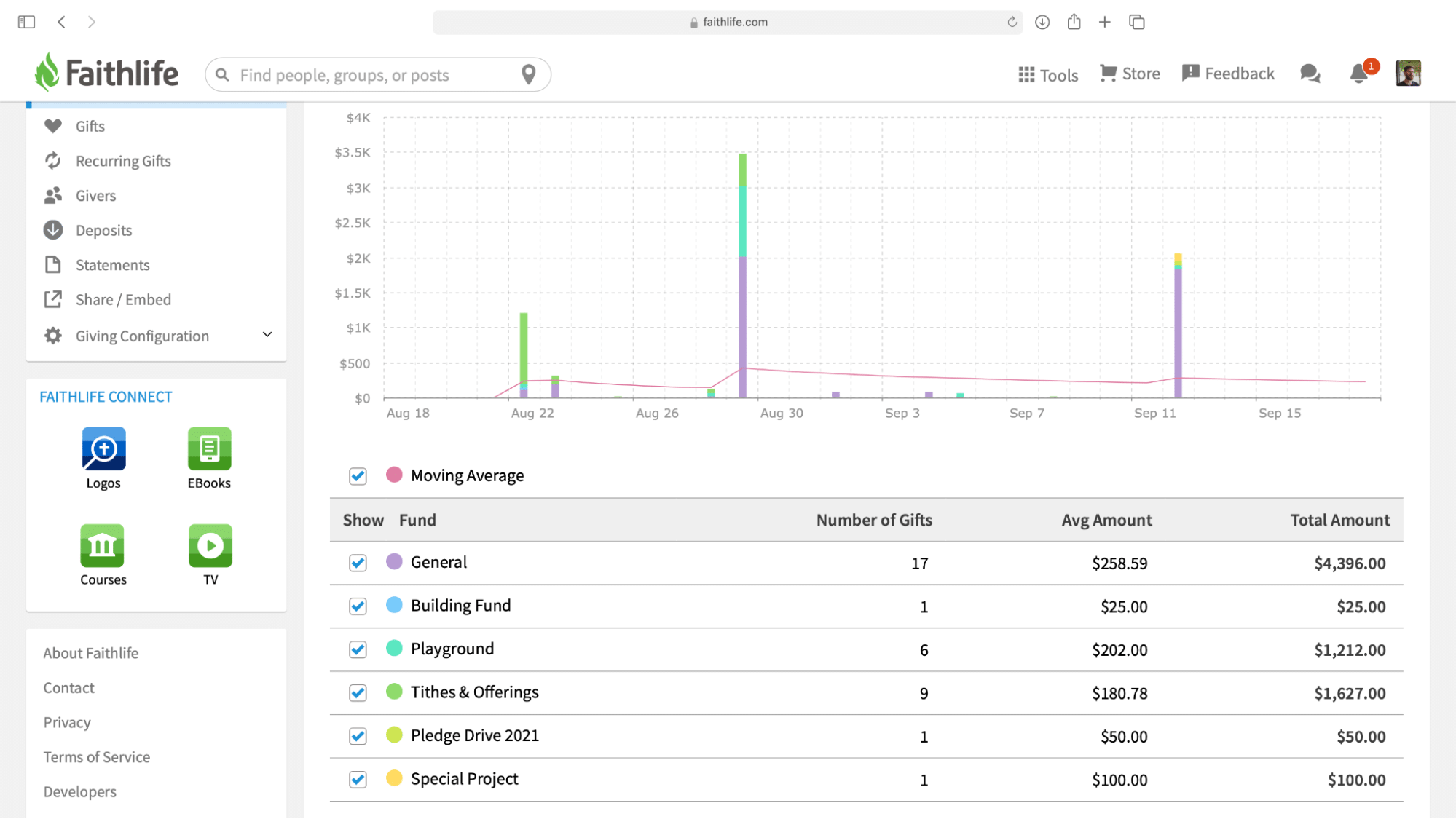 2. Filter for a specific period.
To view data for a specific period, select the date filter and click a predetermined date range or input your desired date range.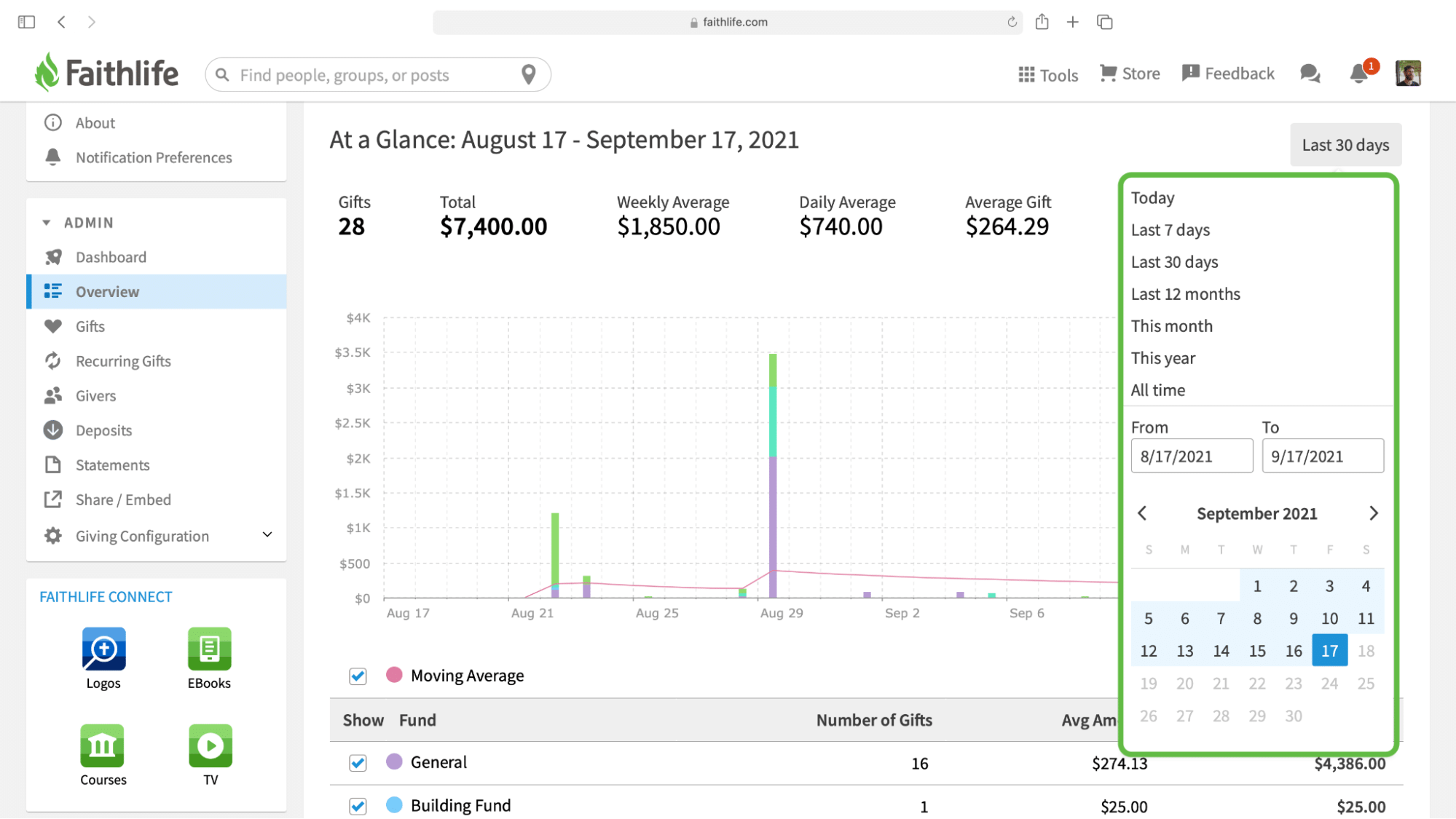 3. Select funds.
You can customize the funds shown in the dynamic graph above by selecting or deselecting funds in the table.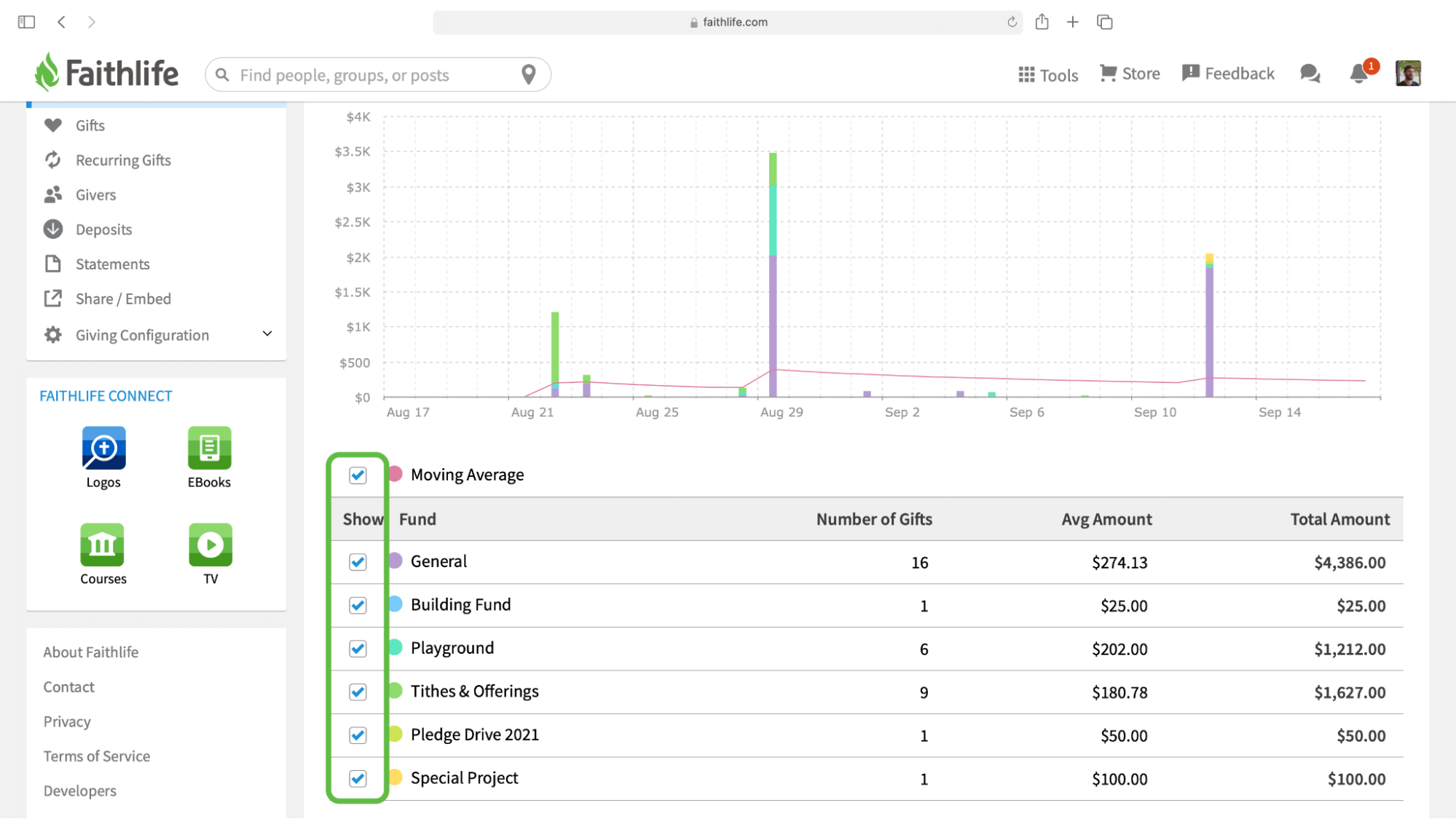 View Individual Gifts
For a more detailed report, click Gifts in the Admin sidebar.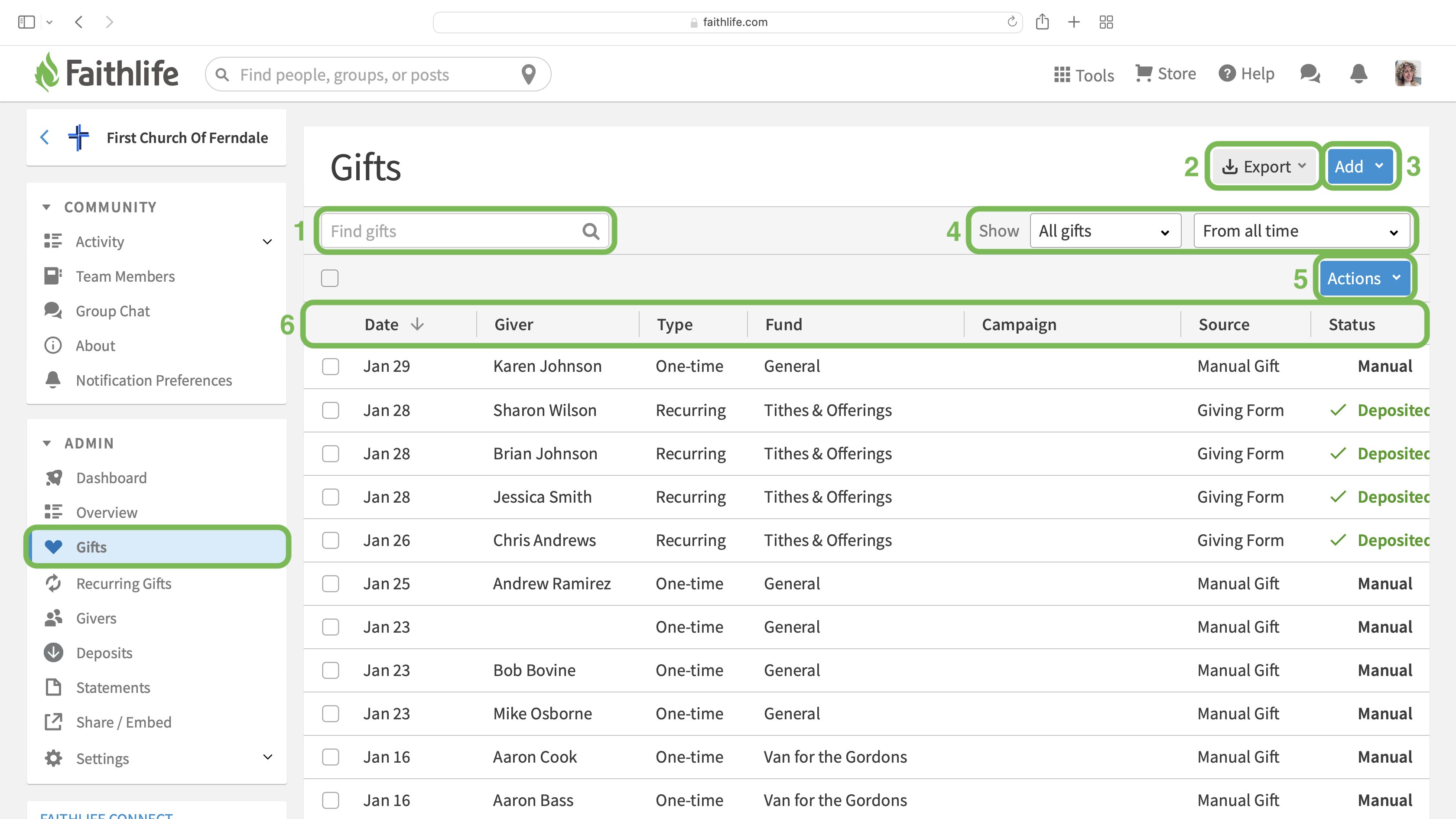 1. Search: Enter a giver or fund name to locate a particular gift.
2. Export: Search for gifts or apply a filter (see number 4 below) and then click Export to download a CSV file of the gifts listed. Alternatively, you can select specific gifts to download by checking their boxes and clicking Export. Choose between Export by gift (i.e., keep single gifts together, even if the gift has multiple fund designations), Export by fund (i.e., split gifts by fund designation), or Quid Pro Quo Contributions (i.e., export data for any donations made in exchange for goods or services).
3. Add: While all donations given through Faithlife Giving are recorded automatically, you can also add a Manual gift, Start a batch deposit, or Import gifts via the Add button.
4. Show: Filter gifts by gift type (e.g., cash, in-kind) and time period using the dropdown menus. The time period filter provides predefined date ranges or allows you to input your desired date range.
5. Actions: Select gifts from the list by checking their boxes and clicking Actions to bulk add gifts to a batch deposit, change the giver, or delete the gifts.
6. Sort: By default, this page shows all gifts in chronological order, but you can also click the column headers to sort by date, giver, type, status, or amount. An arrow next to the column header indicates whether the column is sorted in ascending or descending order.
To get a better understanding of any particular donation, click it in the table to examine its details.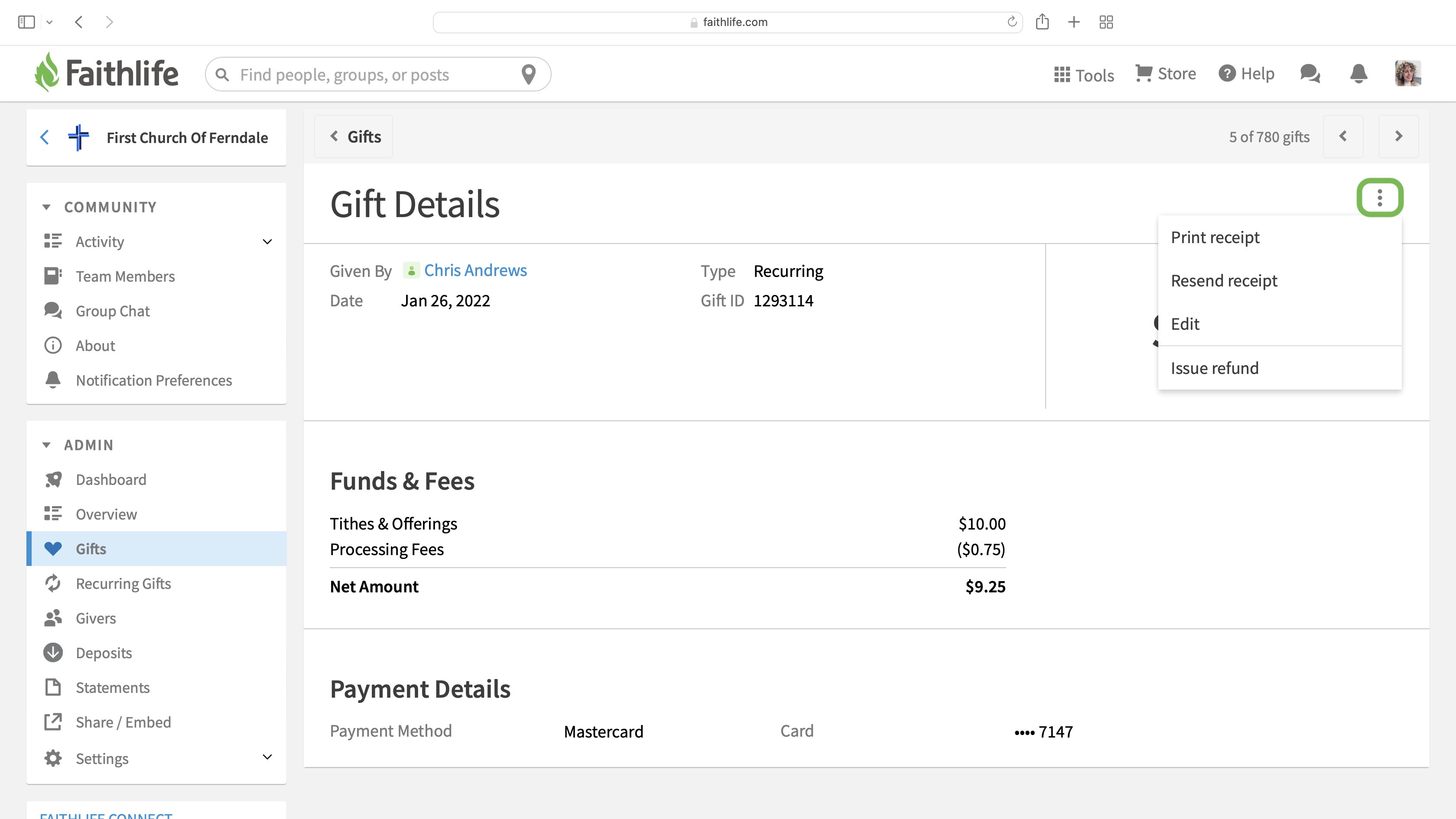 You can interact with any gift from the More options menu
. Choose Print receipt to download and print a copy or save a PDF of the receipt. Resend receipt sends an email to the donor with a receipt attached. Select Edit to change the giver or to redistribute the gift to another fund(s). Click Issue refund to credit the charge back to the donor's account.