The Givers tab displays everyone who has supported your church through Faithlife Giving. From this page, you can easily export your data in a CSV file, and analyze an individual's giving history and trends.
To view your givers, log into Faithlife.com and select your Finance Team from the Teams sidebar. Then, click Givers in the Admin sidebar.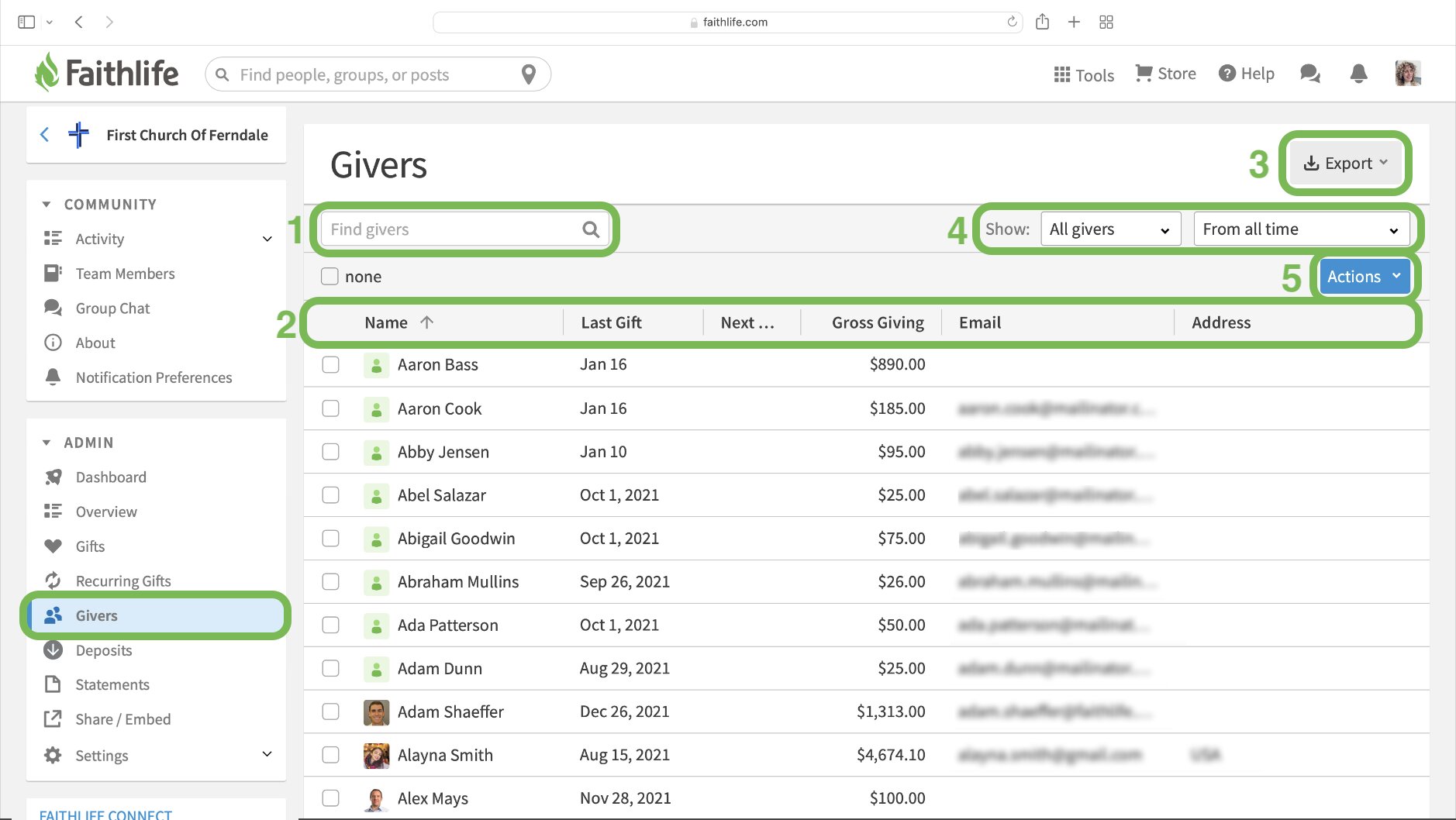 On the Givers tab you can:
1. Search: Locate a specific giver by entering their name, email, or address.
2. Sort: By default, this page shows givers in alphabetical order by first name, but you can also click the column headers to sort by the data in that column. An arrow next to the column header indicates whether the column is sorted in ascending or descending order.
3. Export: Search for givers or apply a filter (see 4 below), and then click Export to download a CSV file of the listed givers. Alternatively, you can select specific givers to download by checking their boxes and clicking Export. Choose between Givers (i.e., shows gross gift amount of each giver) and Givers by fund (i.e., includes additional detail about the funds the givers supported, e.g., $100 to General Fund, $50 to Missions, etc.).
4. Show: Filter gifts by type (e.g., First-time giver) or contact information (e.g., Has email) and time period using the dropdown menus. Identifying your first-time givers can be a great opportunity to invite them to engage with your church in other ways, such as inviting them to a newcomers lunch or to join a small group. Learn more about first-time givers.
5. Actions: Select givers from the list by checking their boxes and clicking Actions to bulk view their annual giving statements or create a communication.
Clicking a giver name provides a full giving history, giving trends, and activity log for that individual. You can also view the giver's giving statements for predefined date ranges (e.g., Q3) or input a custom statement date range by clicking View Statement.