You can view the status of your deposits by selecting Gifts or Deposits.
Gifts
Gifts displays all donations in chronological order though you can sort gifts by clicking other column headers or apply filters by gift type (e.g., cash, in-kind) and time period. The "Status" column shows the deposit status for each gift (i.e., rejected, pending, deposited), unless the gift was manually entered or refunded, in which case the status shows Manual or Refund Completed, respectively. Learn more about the gifts page.
To view the deposit status of your gifts in context with their other data, navigate to your church group's Finance Team on Faithlife.com and select Gifts in the left-hand navigation menu.
Note: Recurring gifts are included in the list of gifts on this page. Each occurrence of a recurring gift shows as an individual row on the list.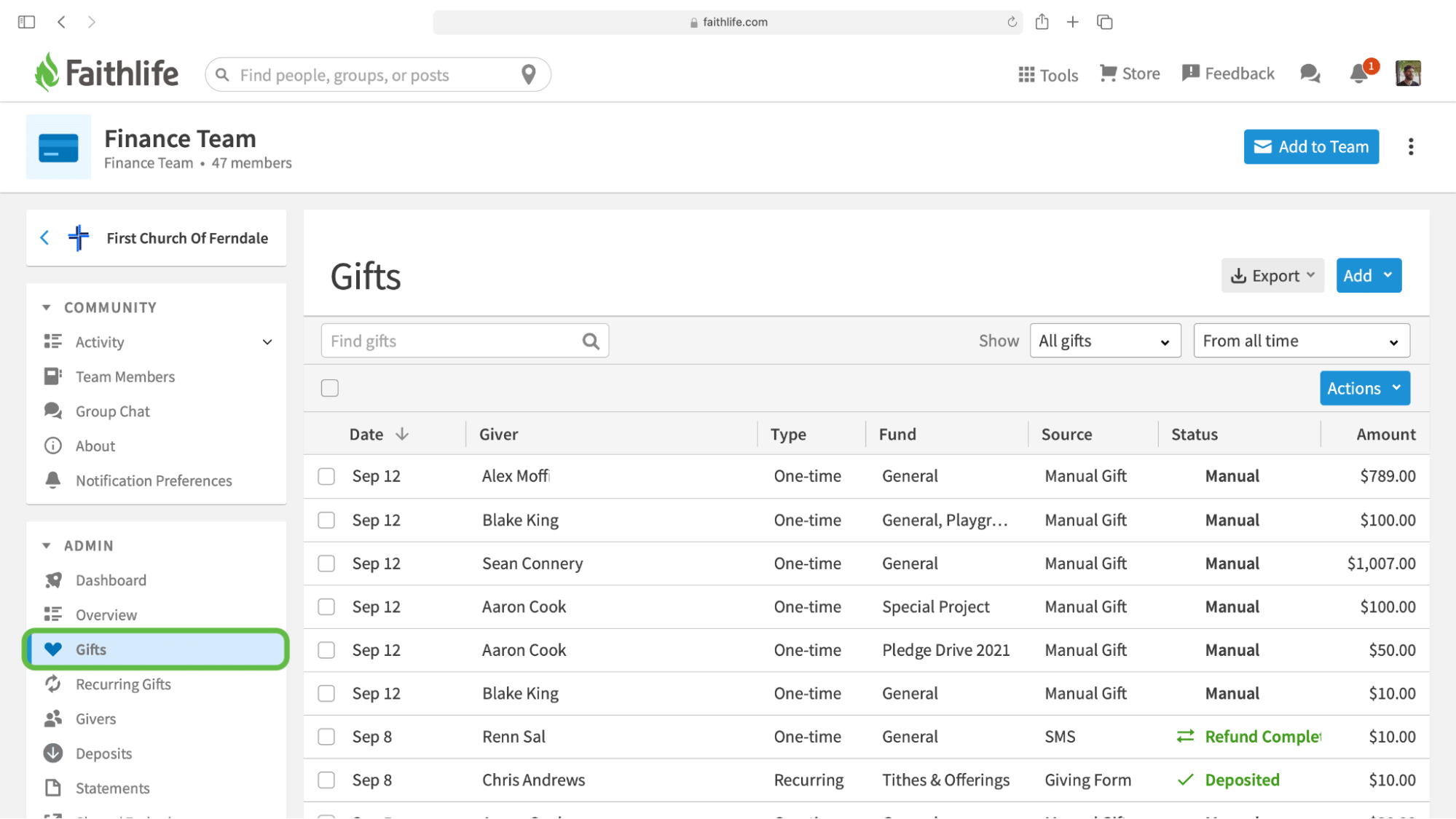 To get a better understanding of any particular donation, click it to examine its details. Here, you can see the deposit status and also view the details of the deposit by clicking View Deposit.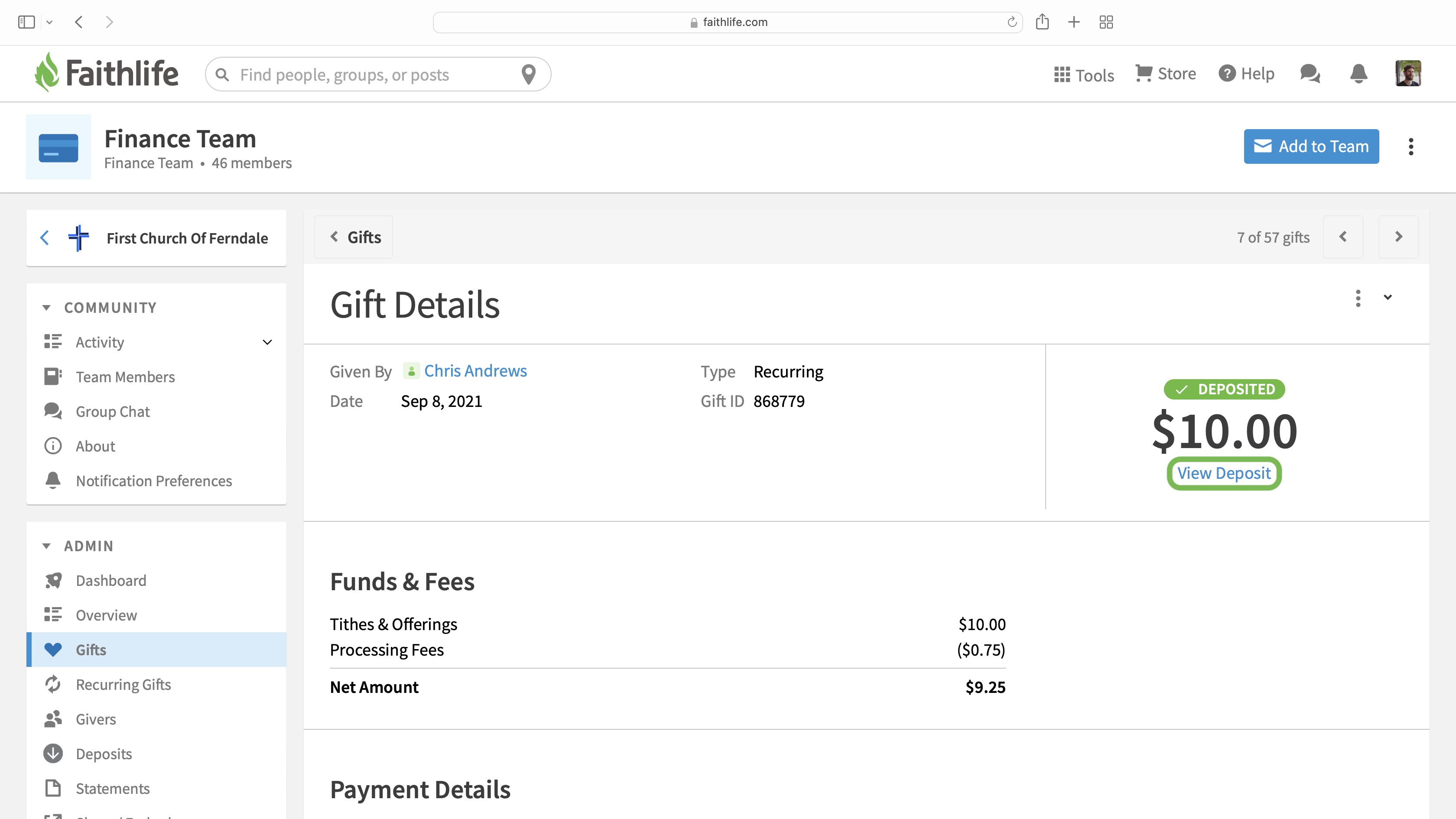 Deposits
Deposits shows all deposits, both open batches and completed, which have been initiated by your church group's finance team. It also shows the status of all completed deposits (i.e., rejected, pending, deposited). From this page, you can easily export information about your completed deposits in a CSV file and also view individual deposits in detail.
1. View your deposits.
To view your deposits, select Deposits in the Admin sidebar.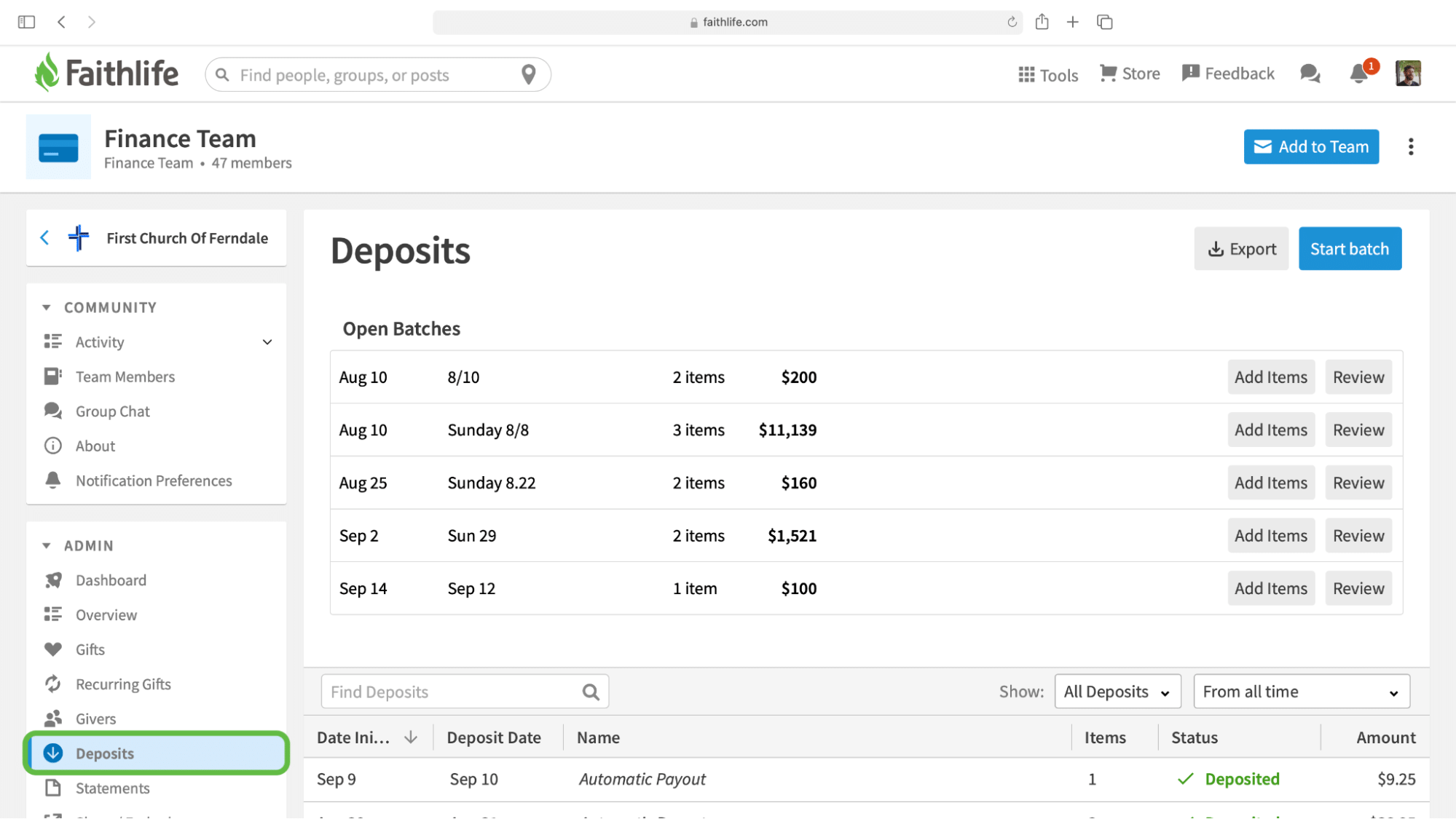 Note: All open batches are listed at the top of the page. These are deposit batches that have been started but not yet marked complete. Learn more about batch deposits.
The list of all completed deposits can be found below the list of open batches.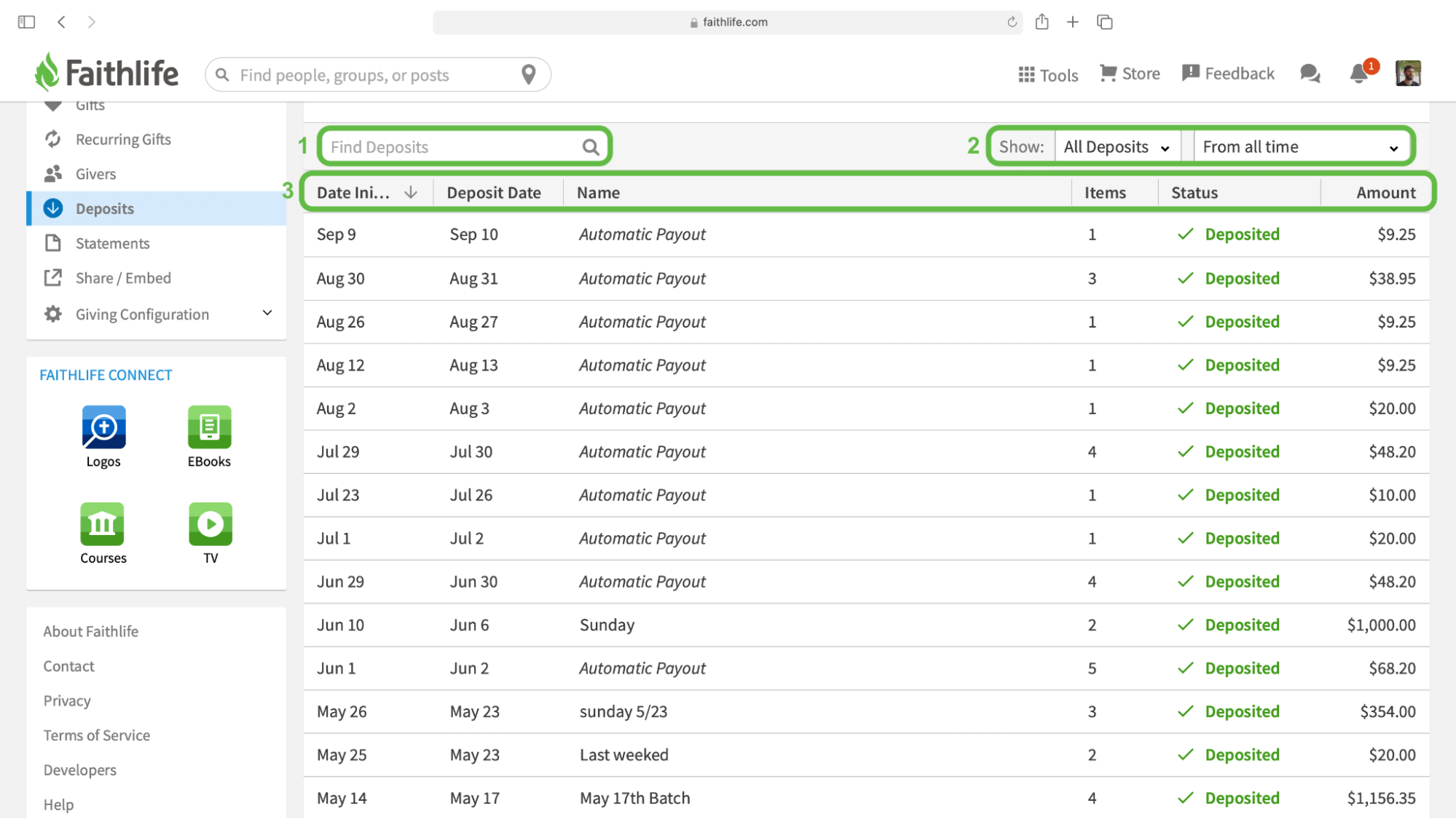 Here, you can:
Search for a deposit.
Filter deposits by type (e.g., batch)/status (e.g., pending) and time period.
Sort the deposits by date initiated, deposit date, name, items, status, or amount by clicking the column headers. An arrow next to the column header indicates whether the column is sorted in ascending or descending order.
2. Export all completed deposits.
To download a list of all deposits in a CSV file, scroll to the top of the page and click Export.
Note: Open batches are not included in the exported CSV file.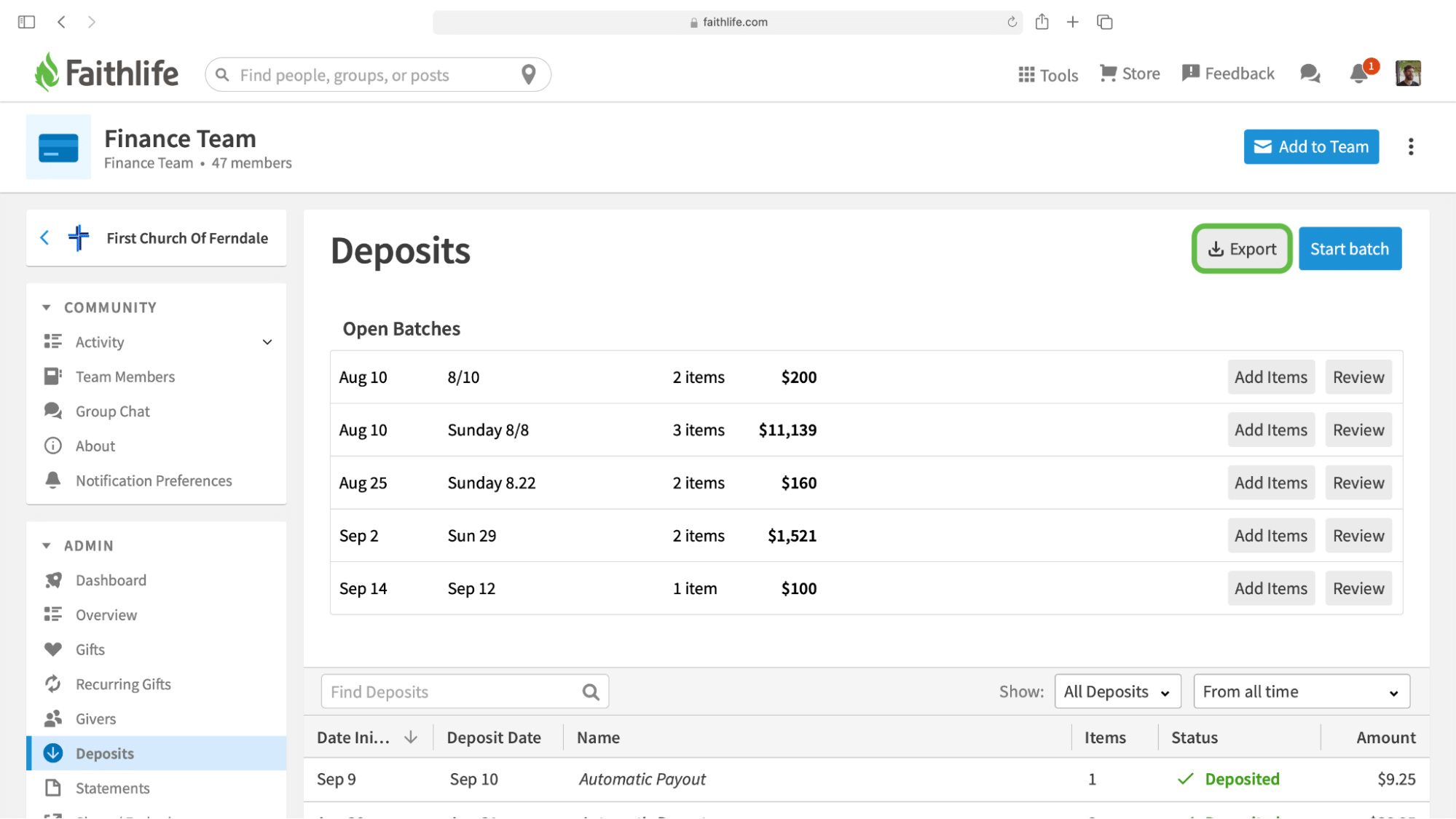 3. Export details of an individual deposit.
You can also view the details of a specific deposit by selecting that deposit from the list.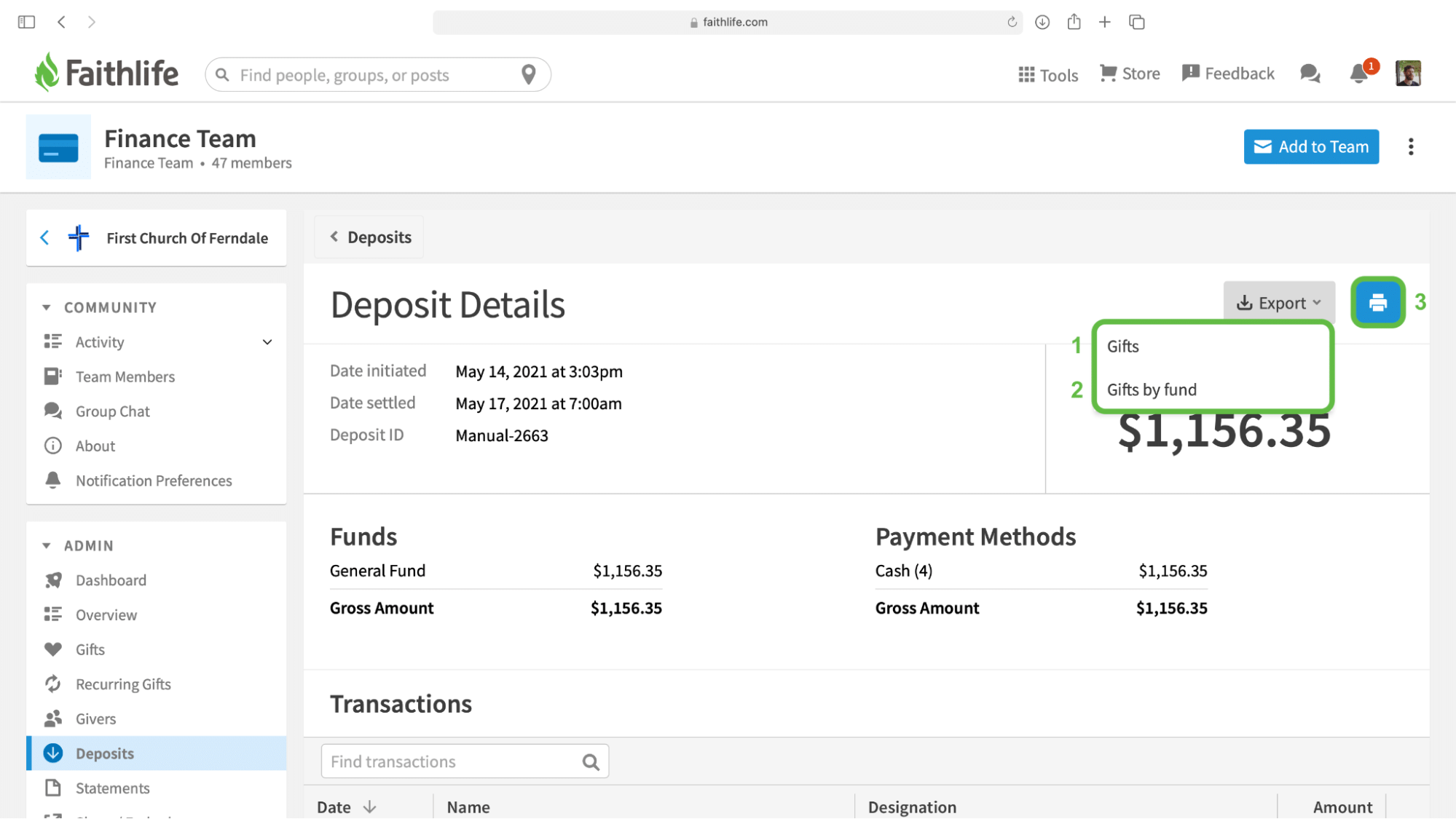 To export these details, you have three options:
Export gifts: downloads a CSV file containing the gifts which make up the deposit, keeping single gifts together even if the gift has multiple fund designations
Export gifts by fund: downloads a CSV file containing the gifts which make up the deposit, split by fund designation
Print: prints the deposit details as seen on the current screen
Note: Deposits should appear in your church's bank account 2–3 banking days after a transaction has been made and will contain the prefix "EFT ACH MASTER GROUP FAITHLIFE SV9T 8008756467YYMMDD."