Faithlife Giving makes it easy to give to your church, set up recurring gifts, and track your giving.
1. Find the giving form.
With Faithlife Giving, churches can accept gifts on their website, on Faithlife.com, via a direct link, or by using text to give. Your church will let you know which of these options they've implemented. The giving form is the same, regardless of where it appears.
2. Fill out the giving form.
Begin by entering your gift amount.
Select a quick gift amount or enter an amount. You can change the fund you want to give to using the dropdown or give to multiple funds by clicking Add another fund. By default, your gift is applied to your church's default giving fund unless you change the designation. Click Next.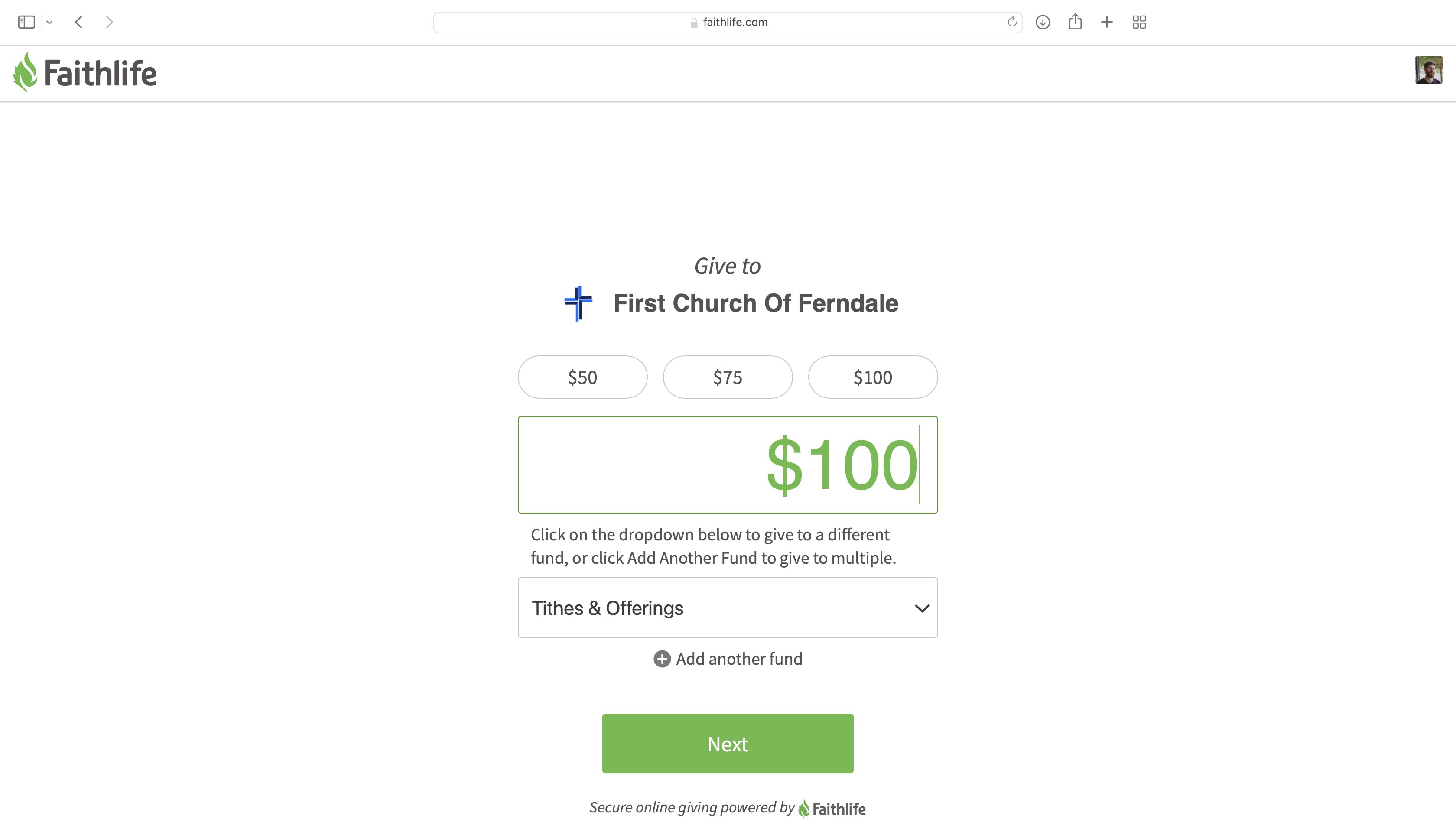 If you're not logged in (with a Faithlife account), the form will prompt you to provide an email address in order to send you a receipt for your gift.
Choose whether to make a one time or recurring gift.
By default, your gift will be a one time gift, but you can set up a recurring gift by clicking the Recurring gift tab. Identify the frequency of your contribution. Recurring gifts can be scheduled on a weekly, bi-weekly, monthly, quarterly, or annual basis. You can always adjust recurring gifts from the Giving portal on Faithlife.com. Learn more about creating and managing recurring gifts.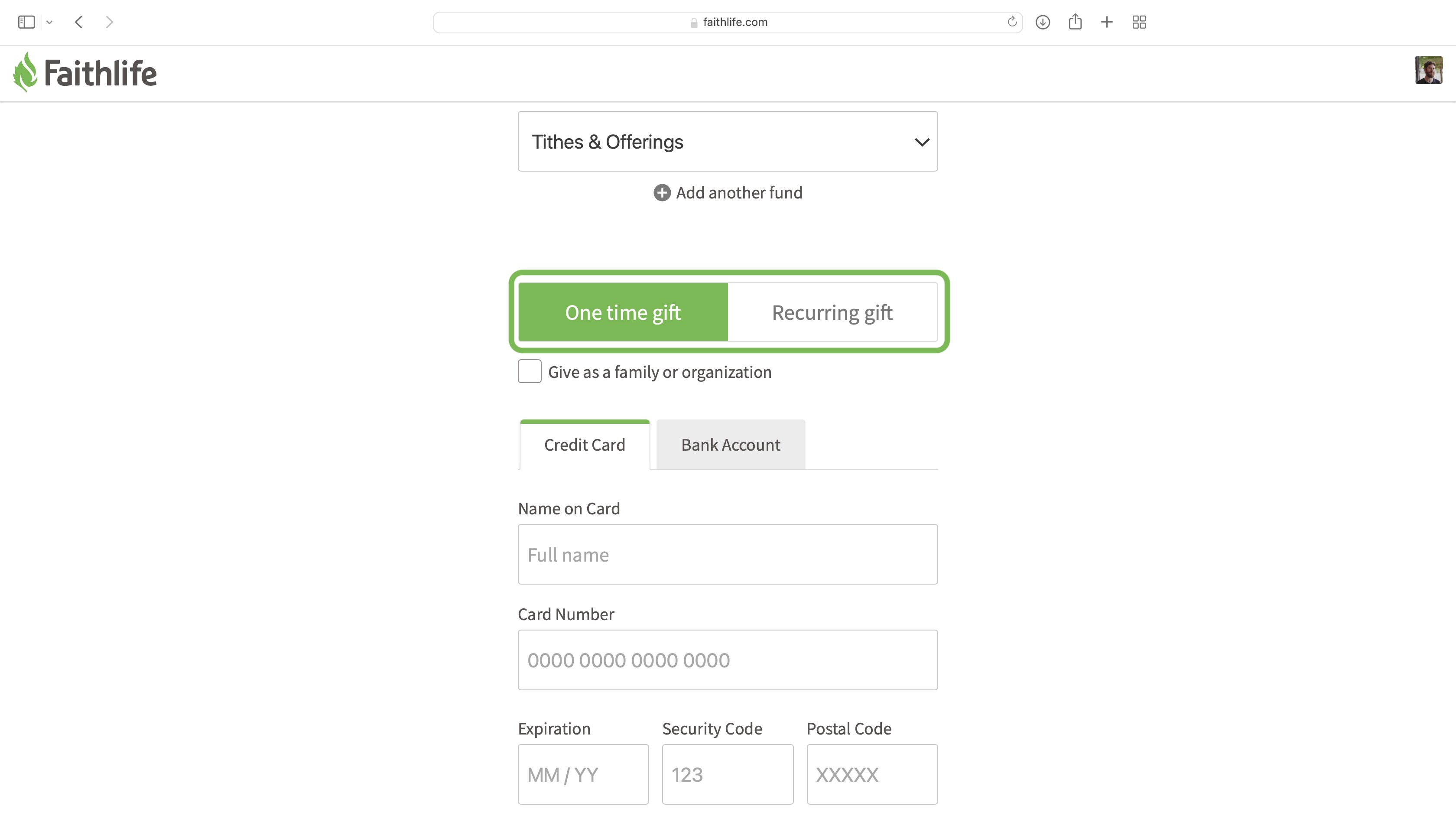 Provide your payment information.
If you're giving for the first time, the form will prompt you to add a payment method. You can give via a credit card or bank account. All major credit cards are accepted, including Visa, Mastercard, American Express, and Discover. You can always change your preferred payment method.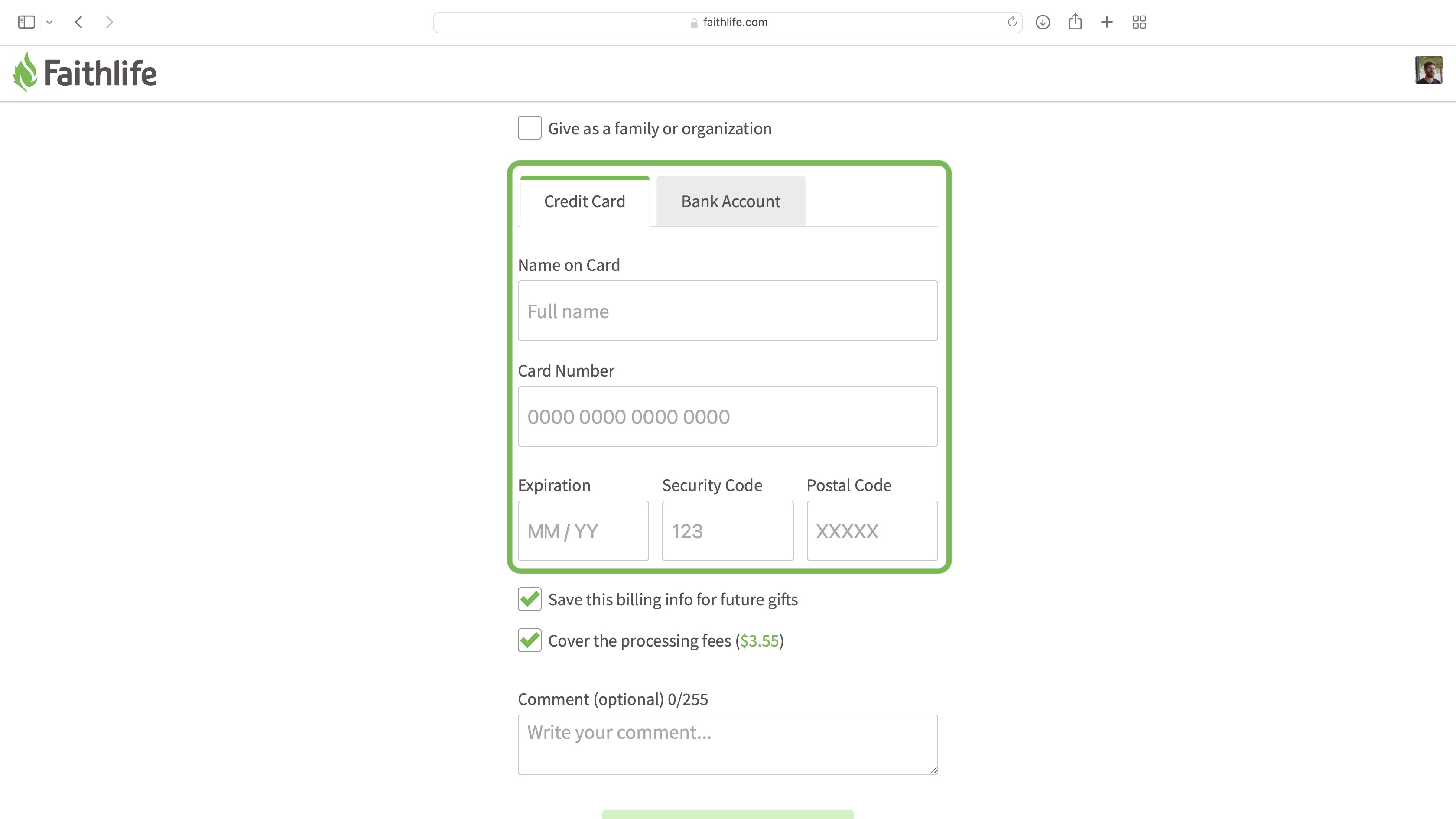 Note: All supplied credit card information is transmitted securely (via SSL) and encrypted to ensure compliance with data protection regulations. Please see our privacy policy for more information.
Finalize your gift.
When you're done, click Give. You will receive an email confirmation with an attached receipt.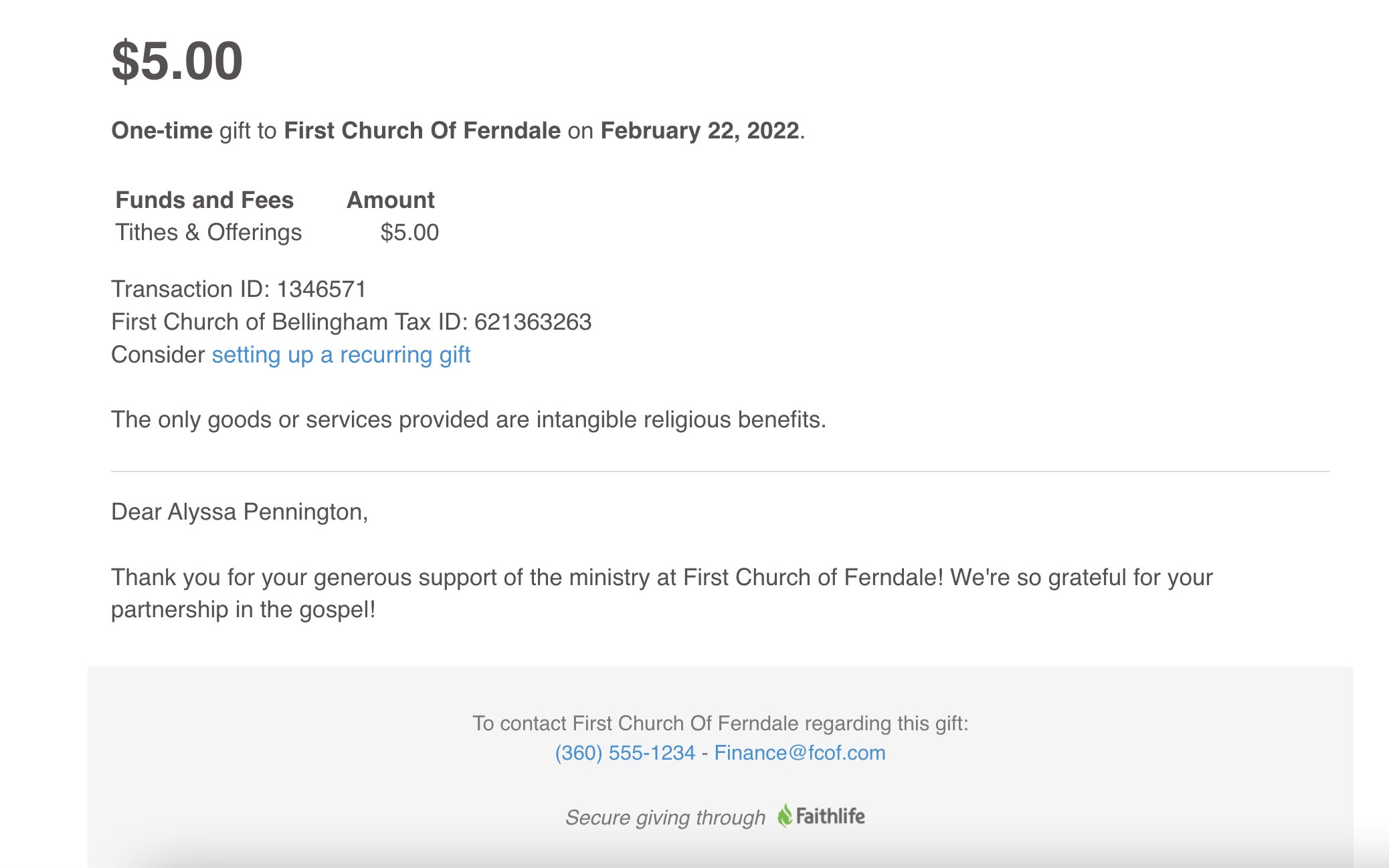 Note: In your bank or credit card statement, your gift will appear with a "FLC*" prefix, followed by the name of the institution you gave to.
3. Manage your giving (if you have a Faithlife account).
If you give without creating a free Faithlife account, you will receive an email confirmation each time you give. If you give while signed into your free Faithlife account, you will also have access to a giving dashboard where you can view your giving history, manage recurring gifts, and adjust payment and account information. To do so, log in to Faithlife.com and click Giving in the sidebar.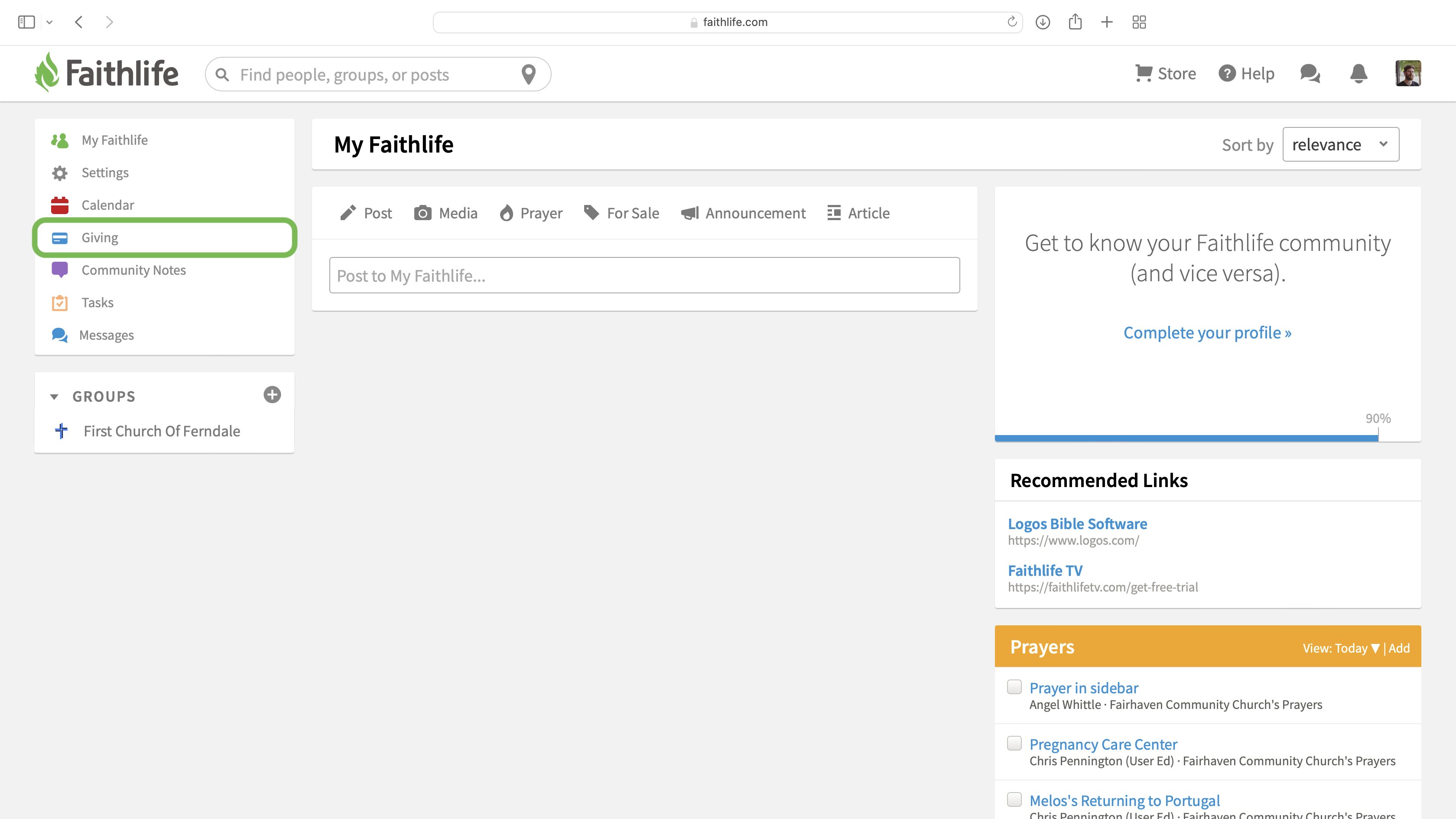 Payment method
To add, remove, or edit a payment method, click the button Edit payment methods.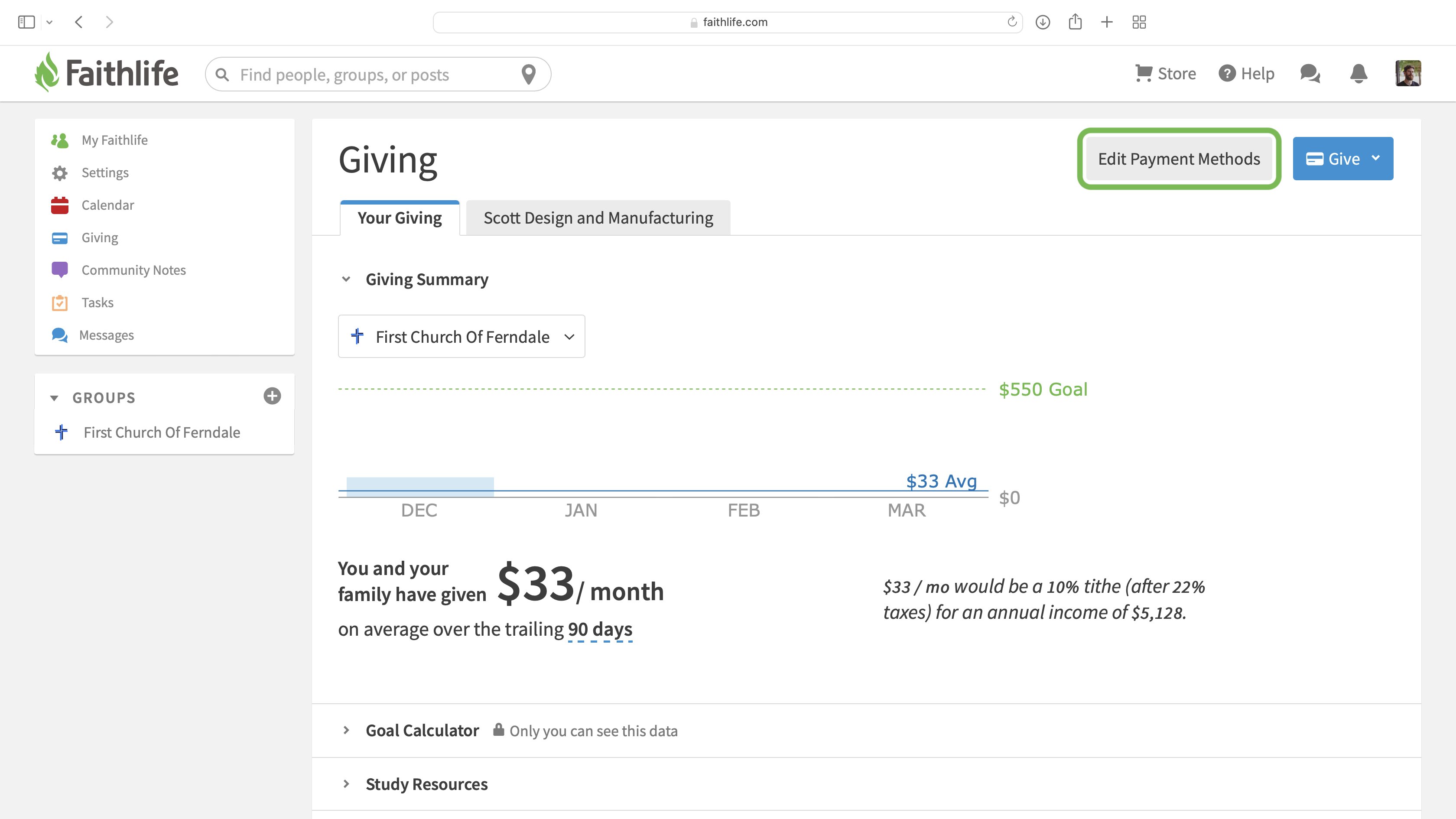 Recurring Gifts
If you have any recurring gifts set up, they will display under Recurring Gifts. To make changes to a recurring gift, select it.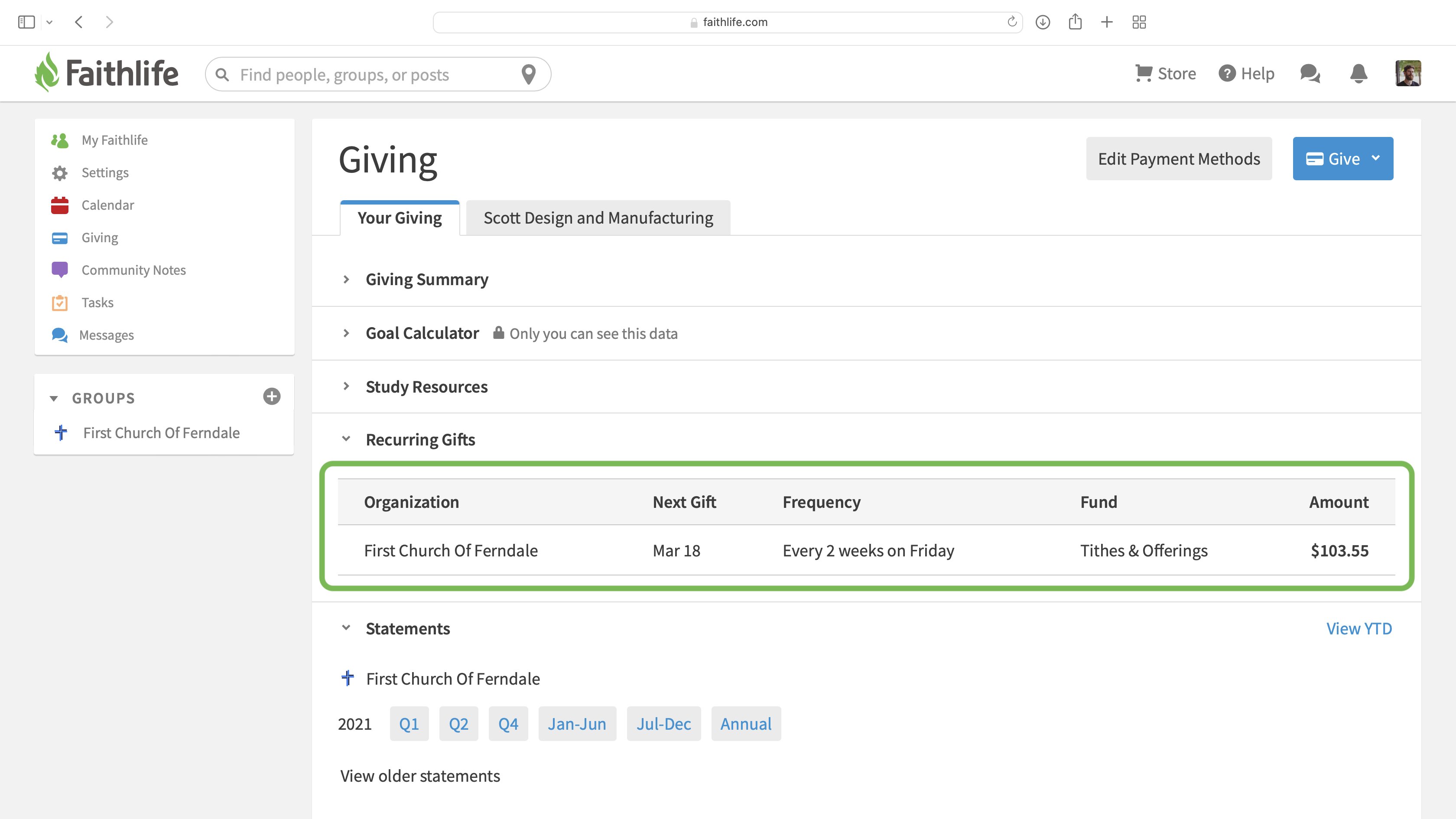 Click Edit to change details for your recurring gift. Adjust the recurring gift and click Save.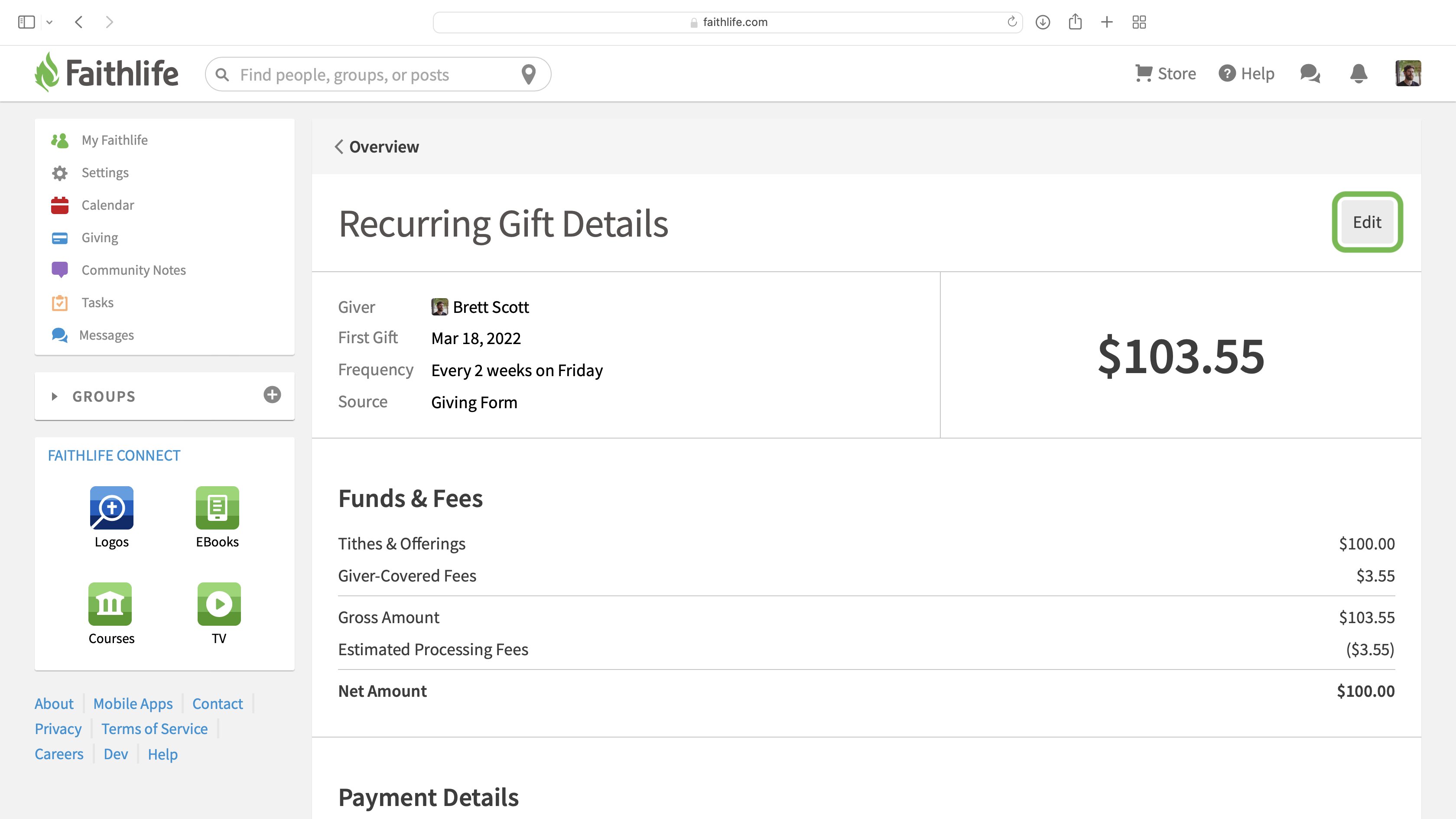 Year-end giving statements
Below your recurring gifts, you can download your giving statements. Depending on your church group's notification settings, you may receive an email when your statement is available, but you can always view and download it from your Giving Portal. Select a period to download your giving statement.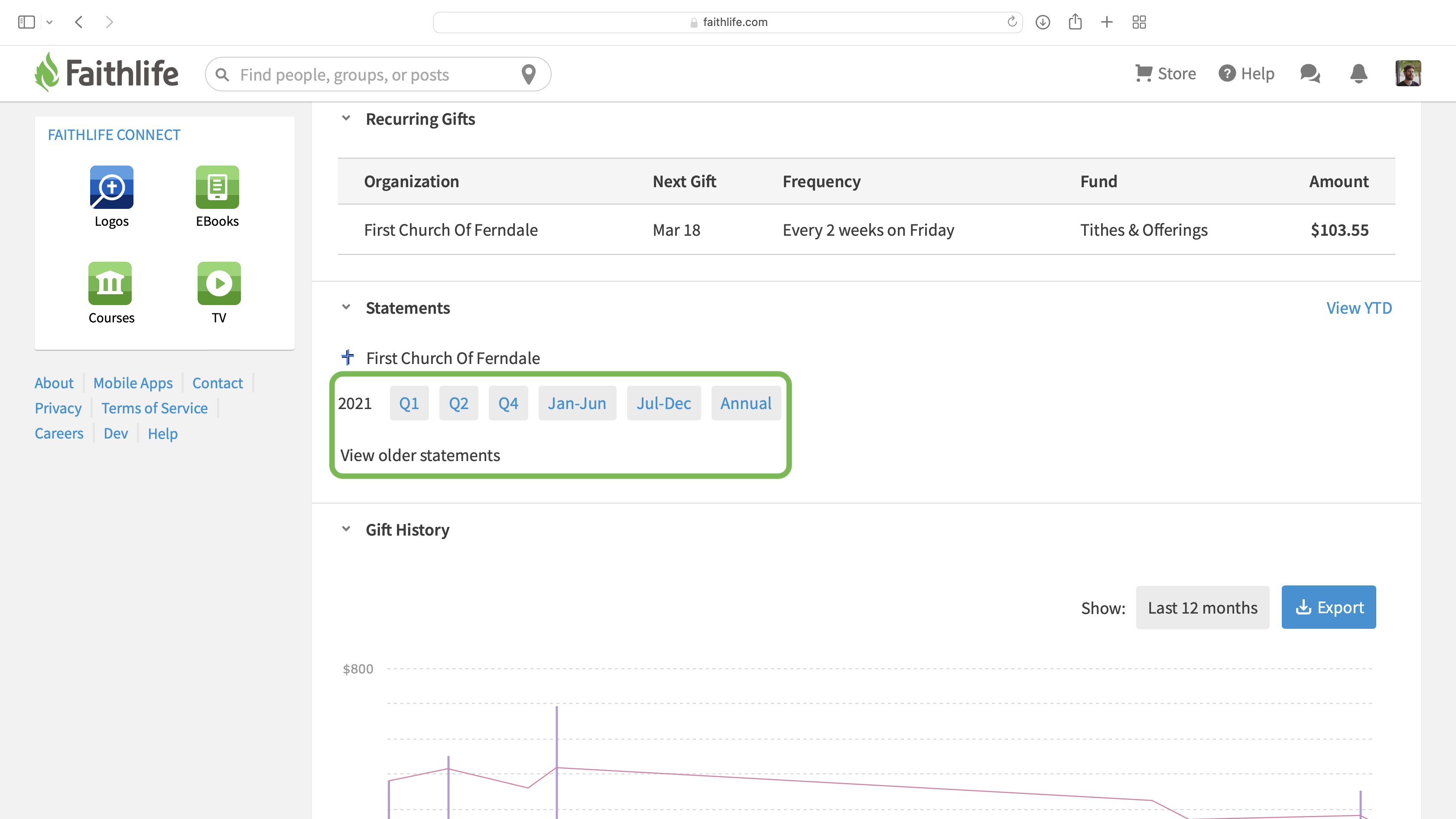 View and export gifts
A report of your giving history—along with an interactive chart—helps you get an overview of your giving. Adjust the Show date filter to adjust the gifts shown. You can export a report of your giving history by clicking the Export button. This generates a CSV file with your gifts from that period.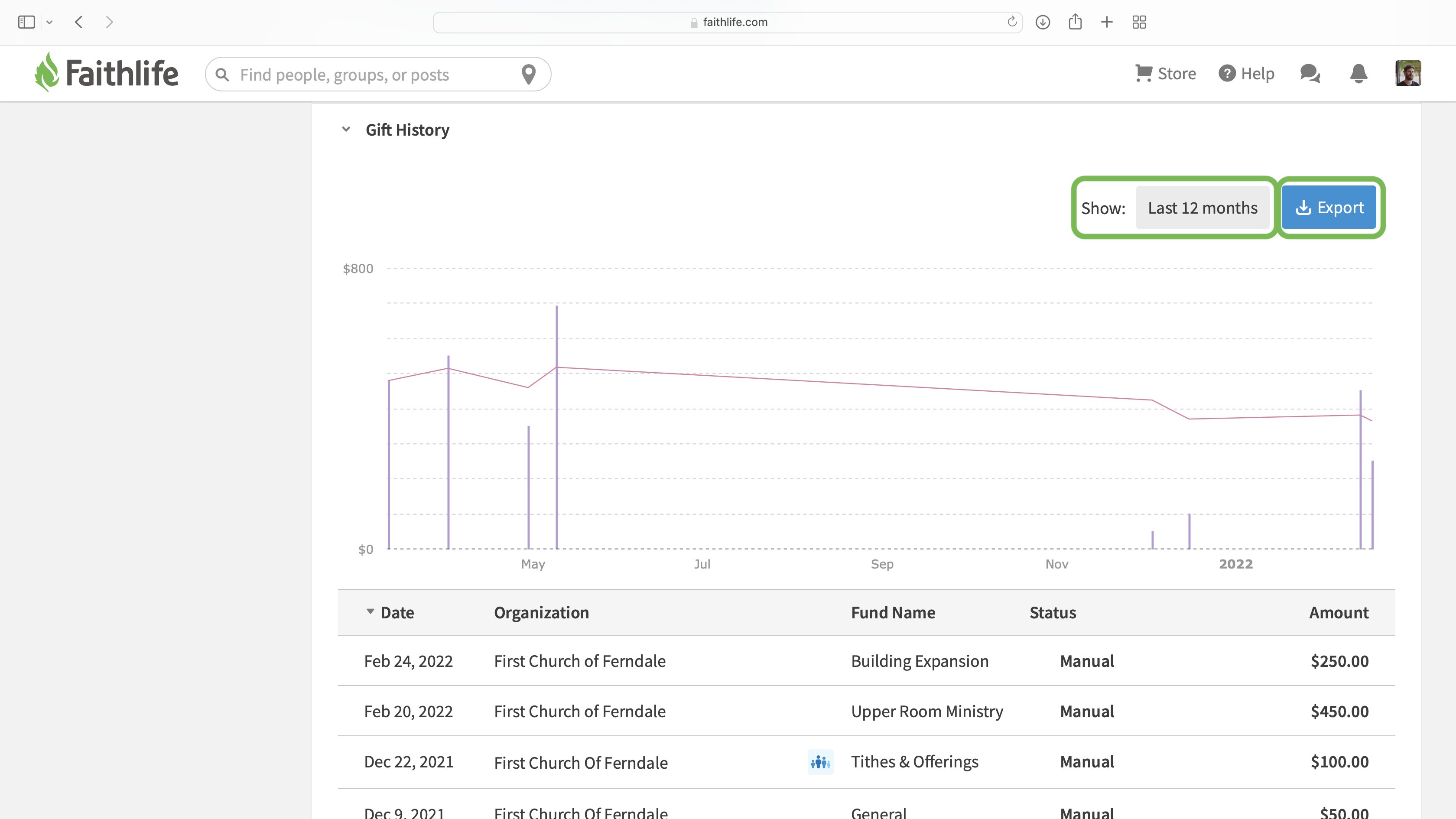 Below your giving trends, individual gifts display. Select a transaction to view additional details about it.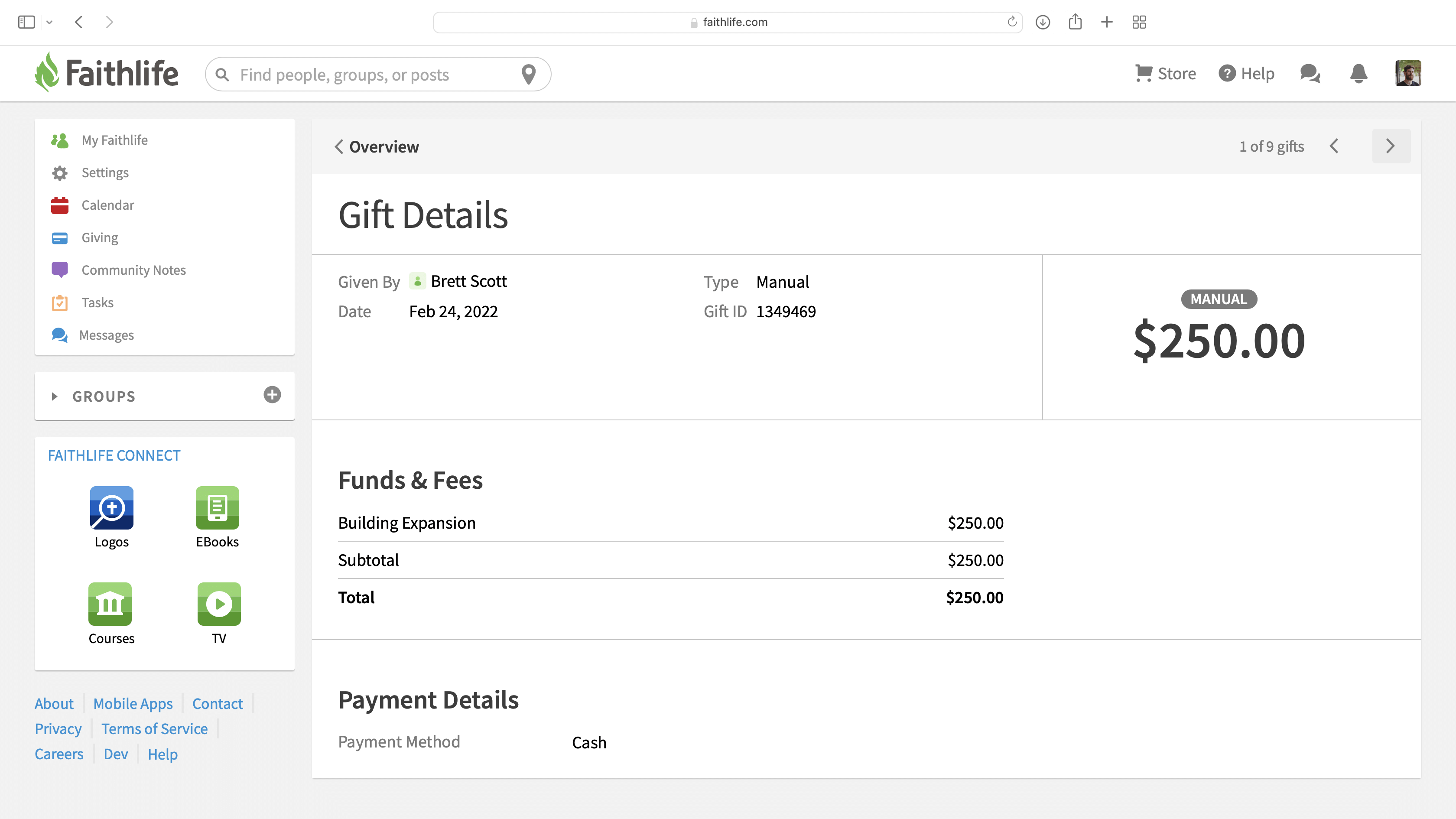 Faithlife Giving is easy for donors and simple to manage. Learn more about getting Faithlife Giving for your church.