Proclaim comes with a built-in platform for online community—Faithlife. Faithlife combines with Proclaim to provide your church with exciting new possibilities.
Your church group lets you publish your sermon recordings, engage your congregation with digital bulletins, send newsletters, and create meaningful conversations online.
This article will help you set up your church group.
Find your group
On Faithlife.com, you can find your church group in a sidebar on the left (desktop) or using the drop-down menu in the upper-right corner (mobile, pictured below).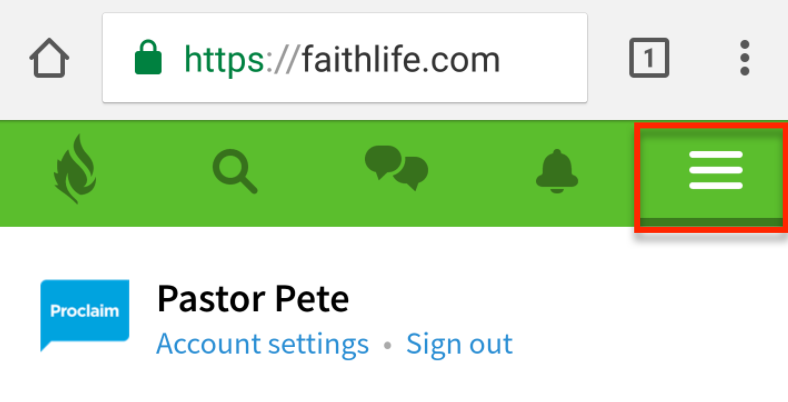 Unless you've created a Faithlife group on your own, you should see two groups here—your Proclaim presentation team and your church group. These groups are created automatically when you first started Proclaim.
Edit your basic info
Select the Group settings button (gear icon) in the upper right to start editing your group:

Everything you see in group settings is designed to help your congregation feel at home when they find your group. Think of it like how you would approach your church website—design it for first-time visitors.
If your church is better-known by a different name than what you see here, change the group name to whatever your congregation will most easily recognize. If you often use an abbreviation for a longer name, I'd recommend you put that in the "Nickname" field and keep the longer version in the "Group name" field. People who are new to your church will probably look for the full name.
Your "Group URL" should be something that's easy to remember. Short, straightforward URLs help people get to your group faster. If you display the group URL during your service, you want to make this simple.
Add any contact info you'd like people to find in your group. Don't assume people will find this information elsewhere, even if it's available. For new people especially, this information needs to be as accessible as possible.
Write your tagline and about section
The group "Tagline" will only be visible to people who haven't followed your group yet (which right now is probably everyone), and it will be one of the first things they see. If your church has a concise mission statement or a motto people will recognize, this is the place to put it.
Or, you may wish to use the tagline to help people with wayfinding. If the primary purpose of the group is to have people follow along with the service, your tagline might tell them to "tap the bulletins tab to follow along with the service."
Your about section can be as long or as short as you like. It can be specifically about the purpose of your church group, or it can mirror the about section you might have on your church website. This is a great place to tell the story of your church or share how you live out the gospel in your community. You can also add headings, create bulleted or numbered lists, hyperlink text, and more.
Change your photo
Your group photo (and likewise, your cover photo) should be an actual picture of your church building, your members in your building, or your logo. Stock photos of crosses or churches are better than nothing, but they don't help people quickly confirm that they are in the right place. Imagine someone is visiting your church for the first time, and during the service you direct them to this group. A photo of the building they just entered (or the people they're sitting next to) visually confirms that they are in the right place.
Link your groups
Your church group should already be connected to your Proclaim presentation team. To confirm this, see the "Groups" section and find your presentation team. If it's not listed here, use the search box to find it.
Your presentation team must be a subgroup of your church group to use all of the features of digital bulletins and to publish your sermons directly to the group.
You may also wish to have other groups, such as groups for small groups or other ministries connected to your church.
Select your tabs
Customize your page tabs to direct people to the Faithlife features your church uses most. We'd recommend checking bulletins, calendar, and newsletters, but you may want to experiment with the other tabs as well.

Choose your privacy settings and permissions
Your privacy level should be set to "open." This means anyone can find and join your group. If your church staff wants to approve new group members before they join, choose "closed." People can still find closed groups, but they must ask permission to join or follow, and an admin has to approve their membership.

The "Group Permissions" section lets you completely customize what people can do in your church group. If you have specific concerns about what people can and can't do, this is the place to address them. You do not need to change the default settings unless you have specific concerns.
Customize your sidebar
In the "Sidebar" section, you can add things you'd like people to see on every tab within the group. This could be links to your church website, a video channel (such as YouTube), your calendar, a Google Map of your church, Verse of the Day, a survey, and more.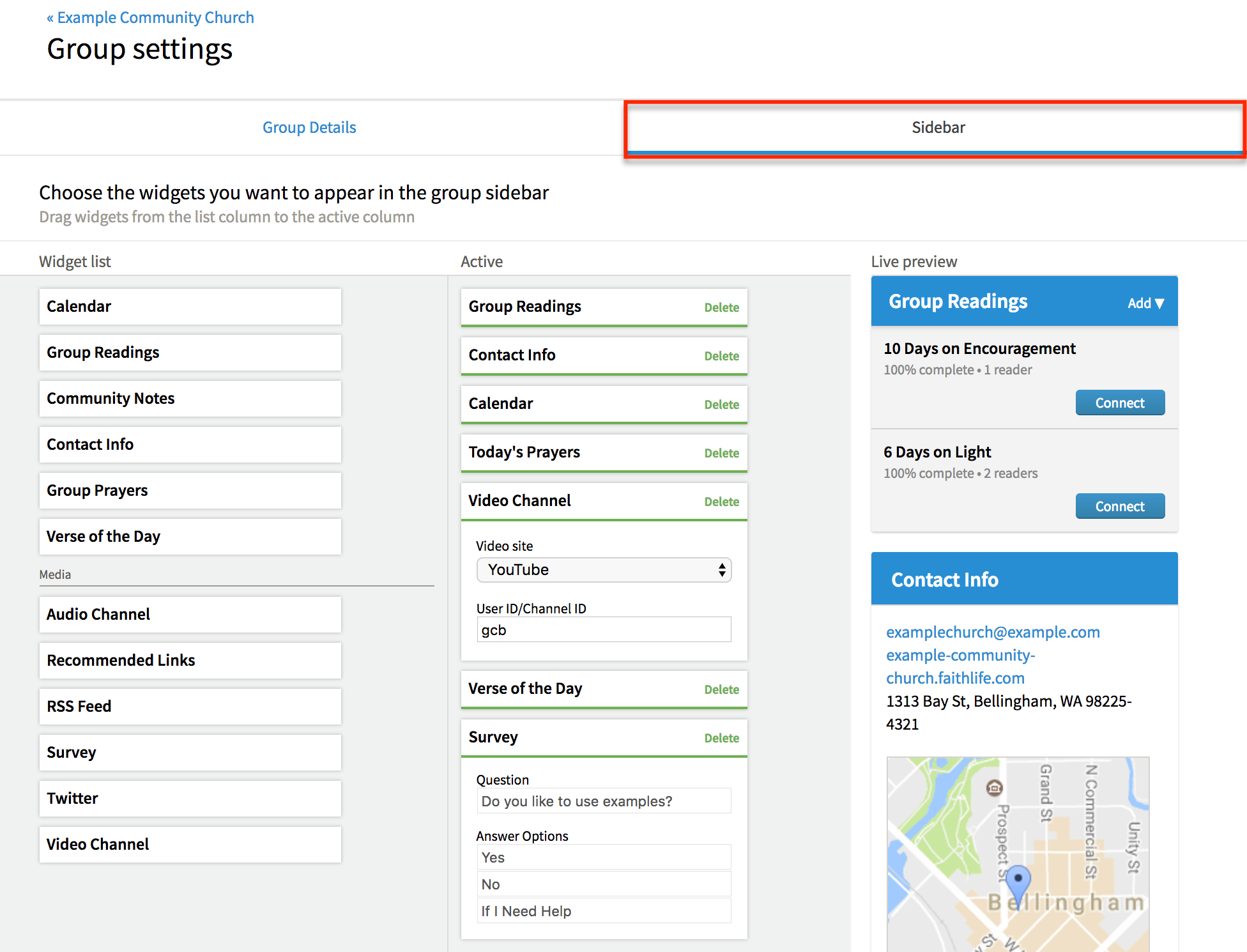 As you edit the sidebar, a preview on the right of your screen shows you what people will see in your group.
Pin a post to the News tab
For the final piece, post something to your group's "News" tab. As an admin, you can post the message from the church itself, or you could have your most recognizable staff person welcome everyone to the group. This post can suggest what kinds of things people may want to share with the group (devotionals, book recommendations, what they're learning, things going on in the church, etc.), or it may simply outline what your church will use the group for—such as bulletins and sermon recordings.
When you've posted your message, select the arrow in the upper right corner of your post, and select "Pin post." This places your post at the top of your group's "News" tab until you choose to unpin it, providing a constant reminder of the purpose of the group and a welcoming message to your new members. If your group is particularly active, you may also wish to pin the latest sermon each week, so it doesn't get lost in the conversation.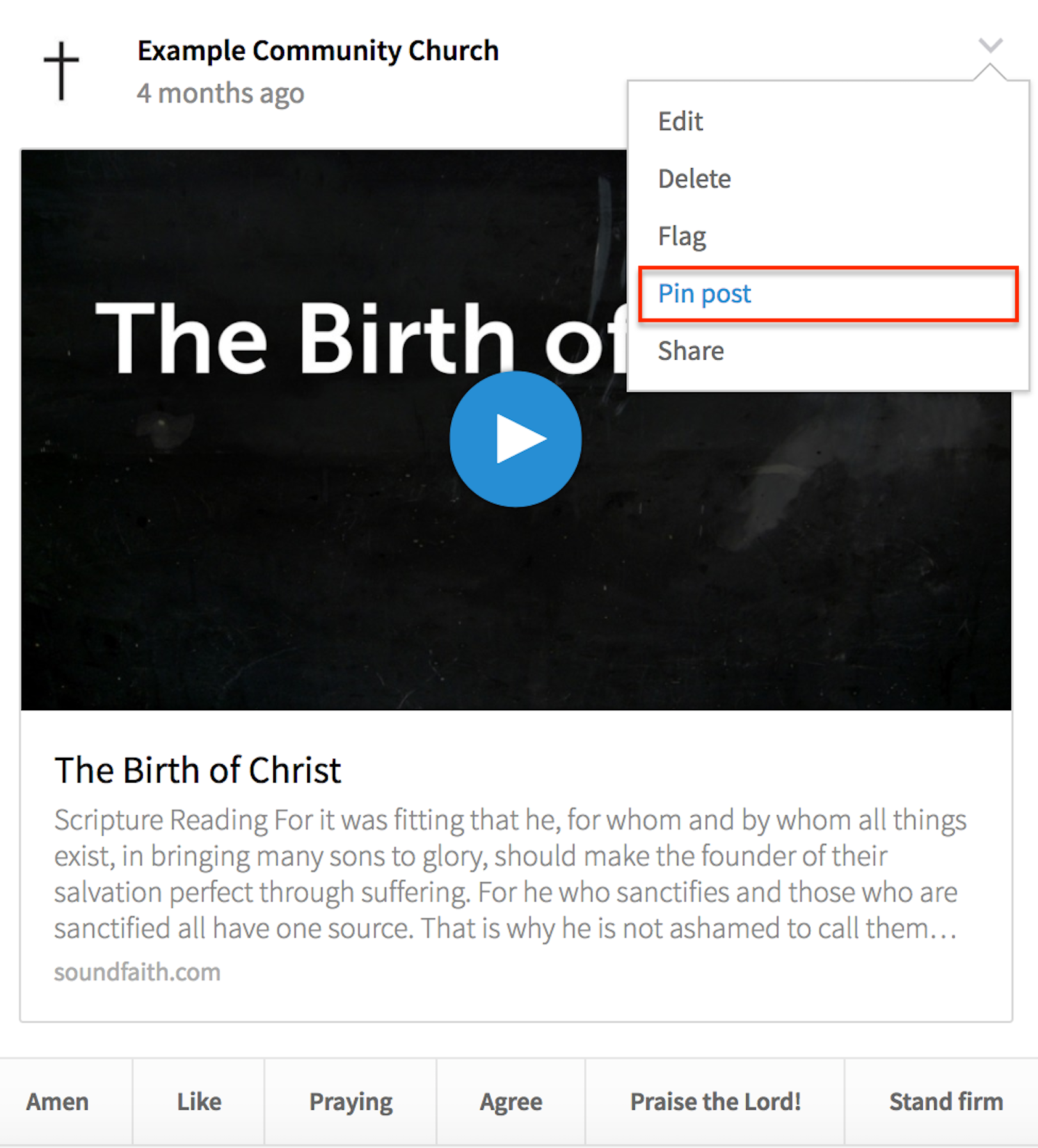 Invite your congregation
Now your group is ready for some members! Check out these tips for inviting your church on the Faithlife blog.