Proclaim Signals are a unique way to engage your audience members with mobile devices. Whenever you display a presentation item with a Signal, anyone in your audience with a Faithlife Bible App will see a popup with the attached information. You can include a variety of Signals, including contacts, live polling, website links, giving forms, calendar events, or verse references.
SKIP AHEAD TO
To get started with Signals, follow the steps below:
1. Configure Proclaim to broadcast Signals.
To send a Signal, you must set a location for your presentation. Expand Settings in the main navigation and select Presentation.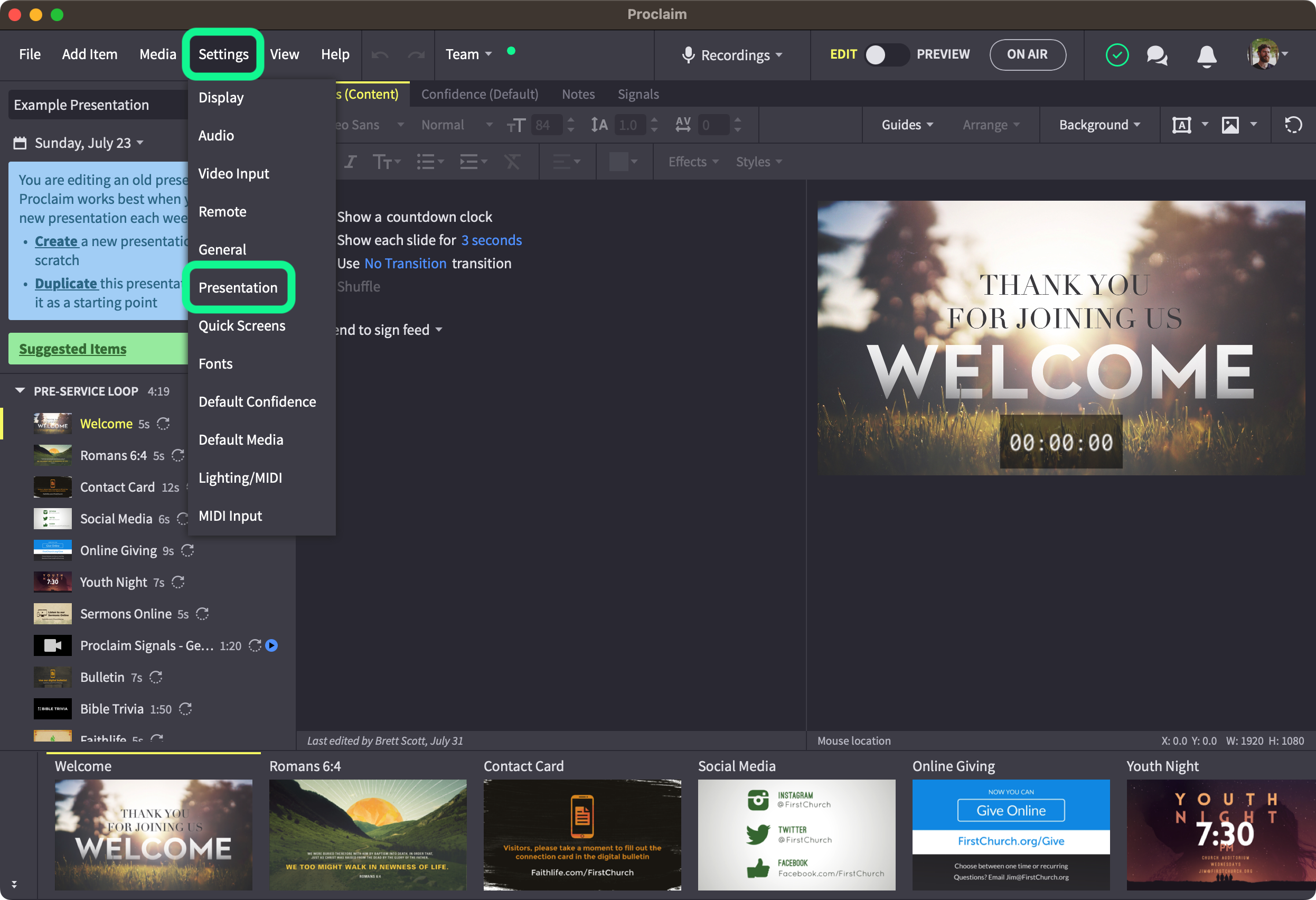 In the Location entry box, add your physical address and select it from the search results below.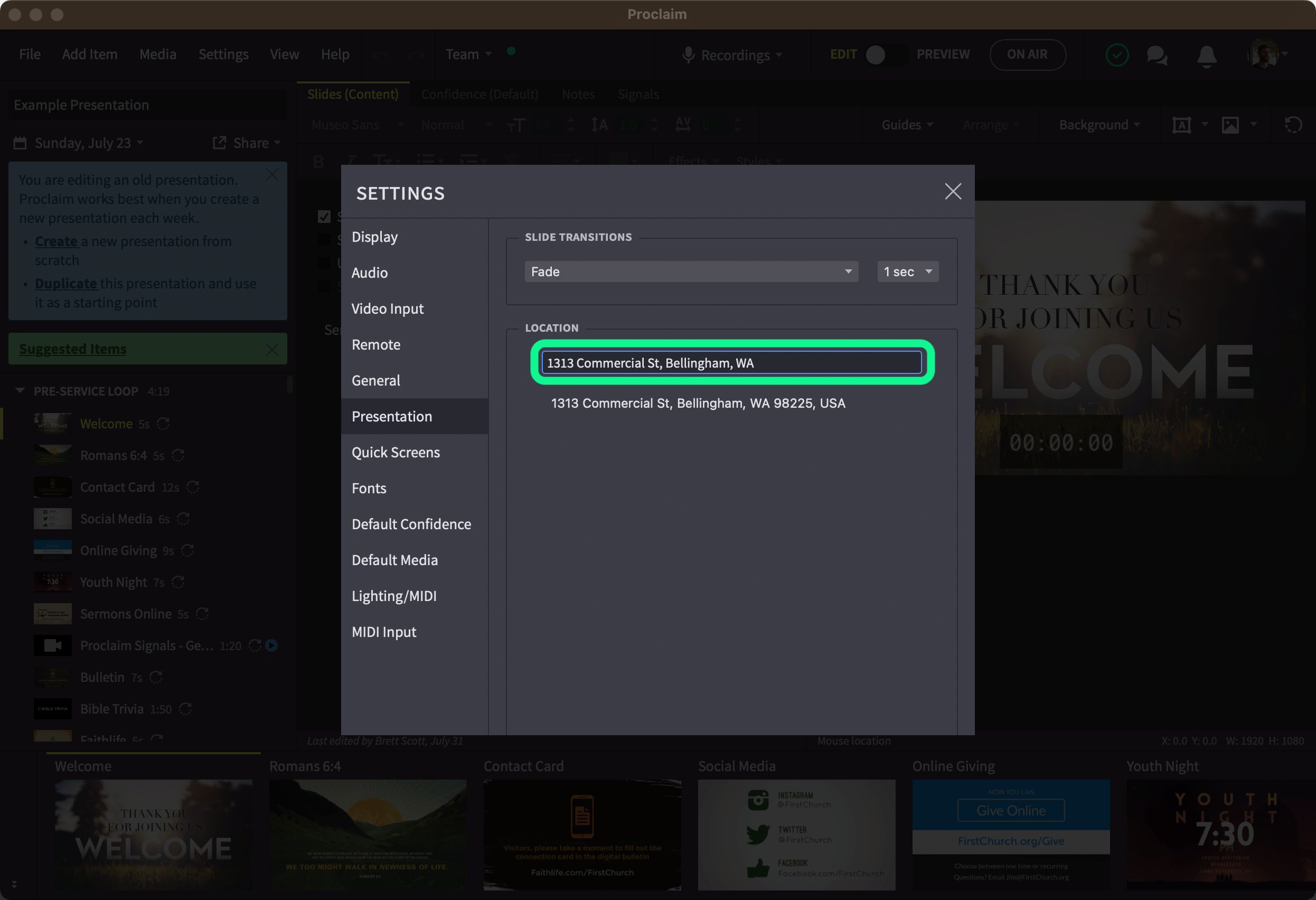 A map displays to confirm your address. Your location settings will link to your Presentation Team. Add it once and Proclaim will remember it everywhere.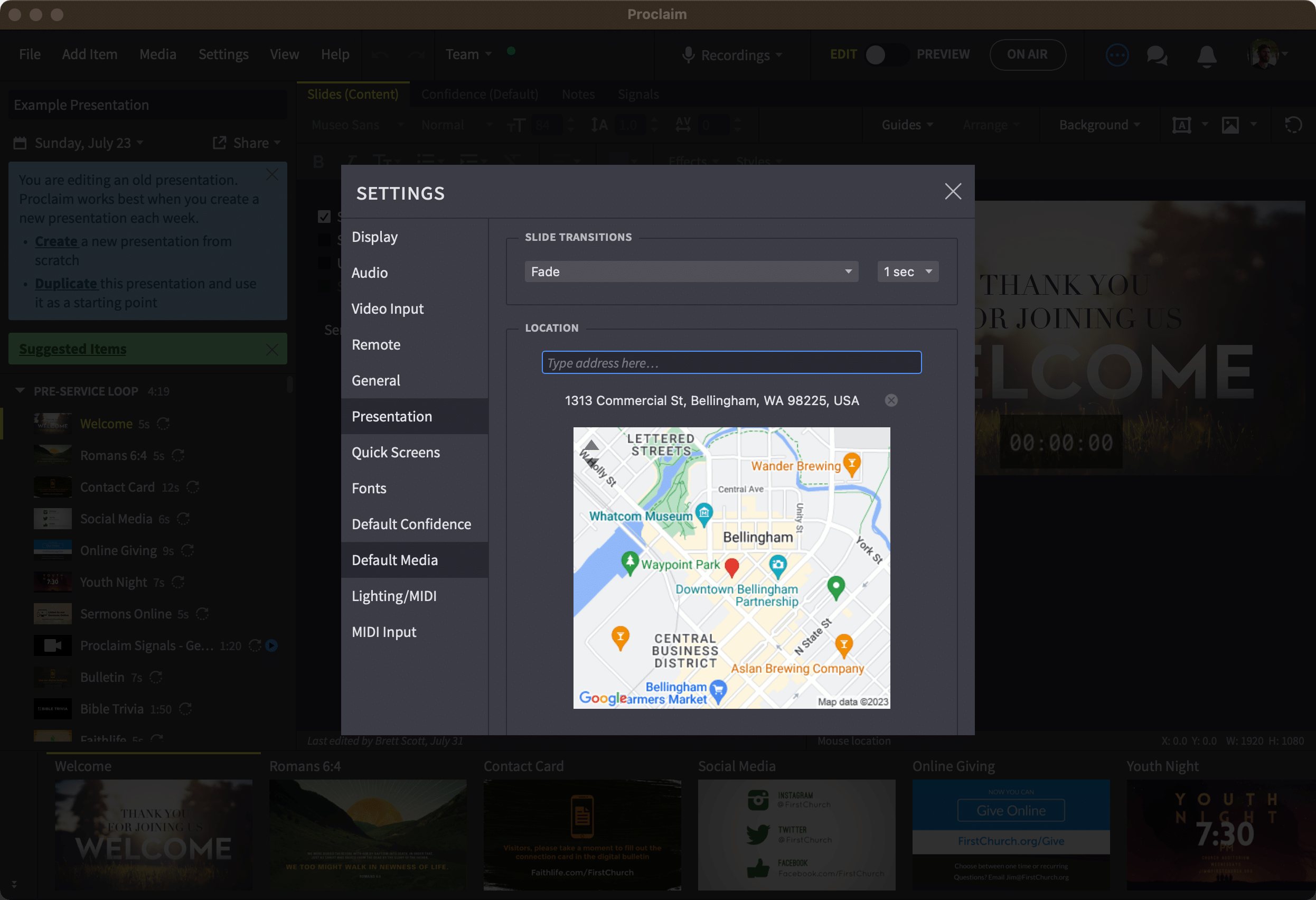 Finally, ensure your presentation will show the Signals icon. This displays a small icon in the bottom right-hand corner of your screen whenever a service item broadcasts a Signal so your people will know to check their mobile devices for more information.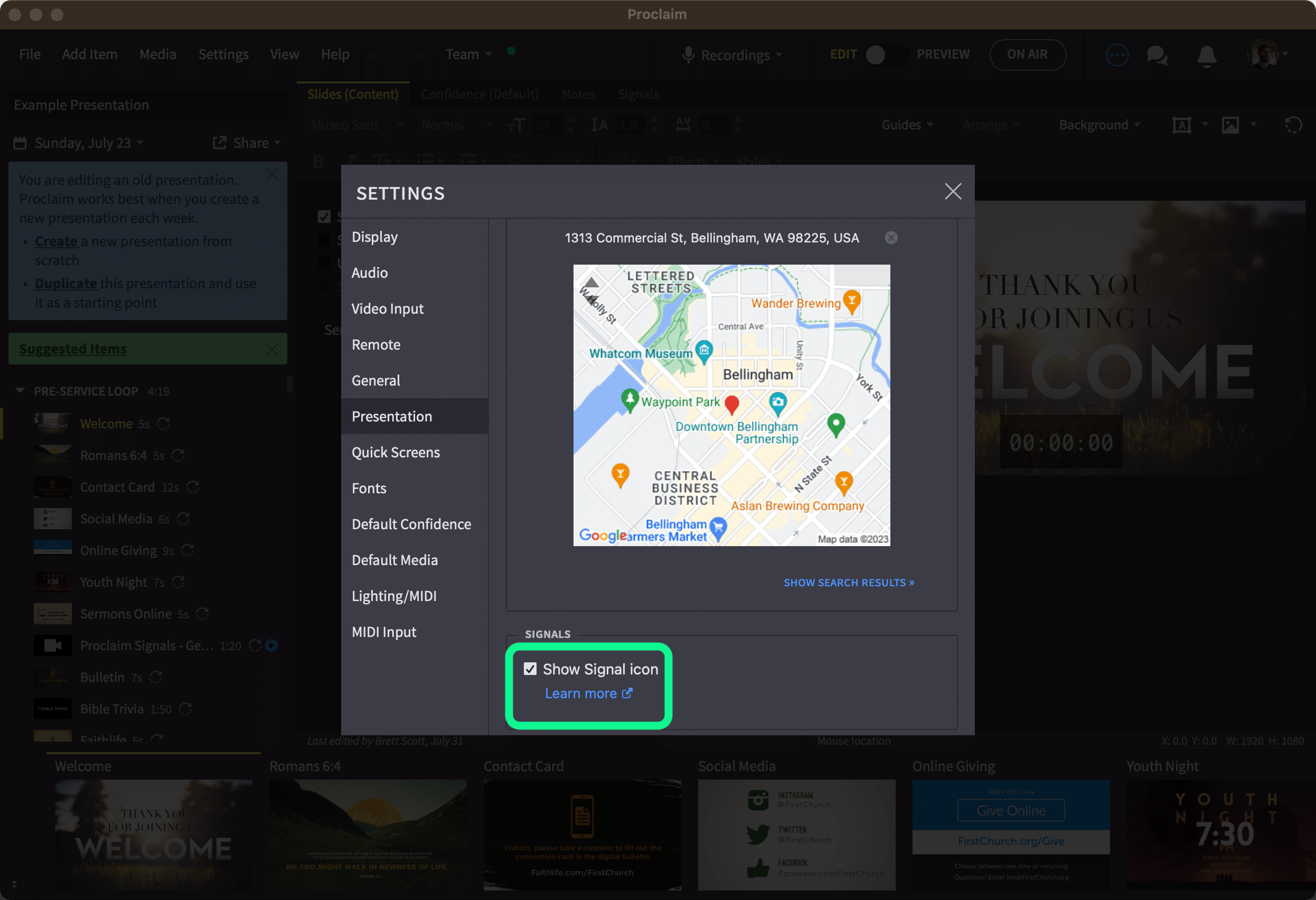 You can change the size and positioning of the Signal icon from the Display settings. Changing these settings will also change how your congregation-facing on-screen messages appear.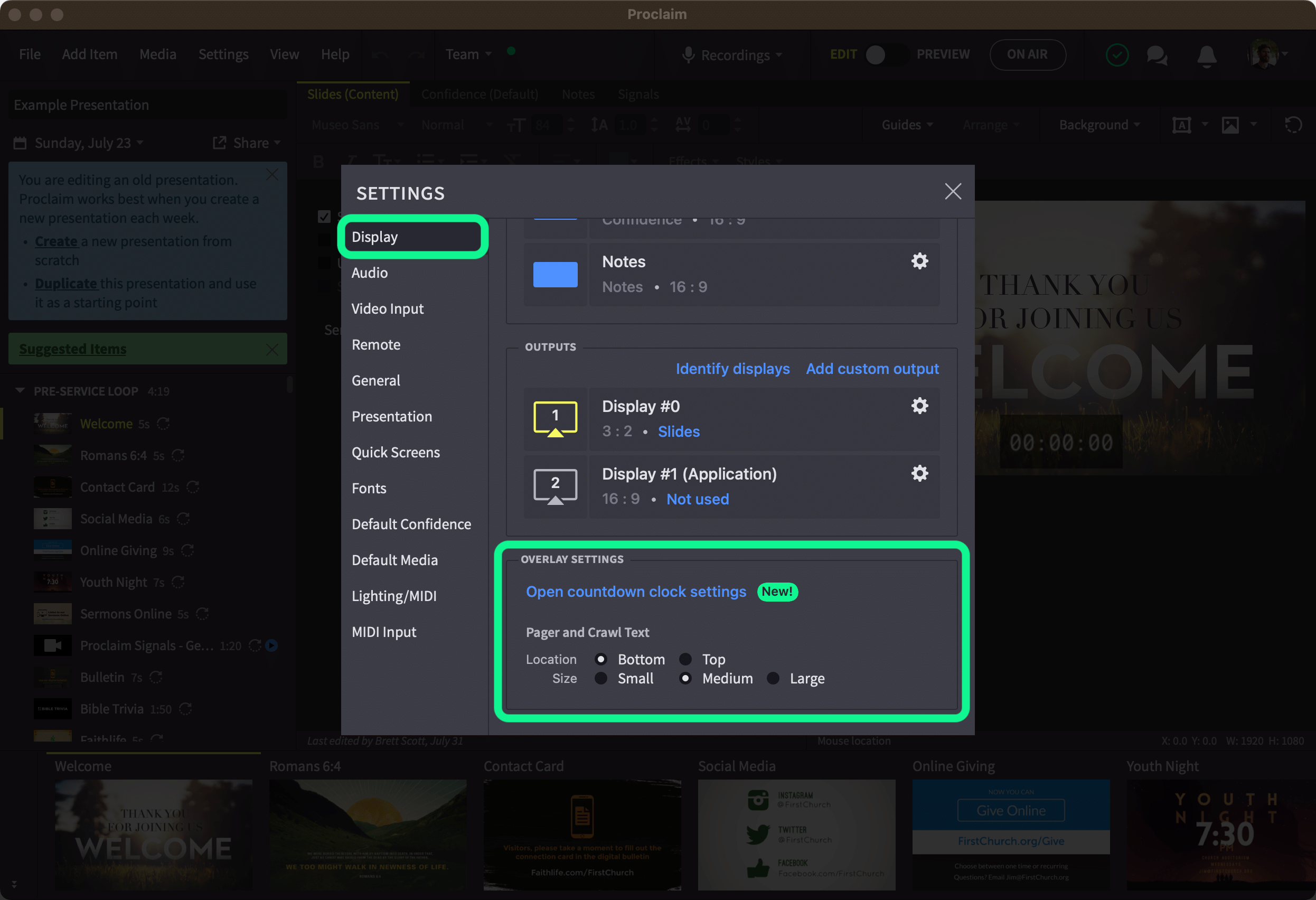 Note: Showing the Signal icon is not required, but does give a visual indictor that you're broadcasting signals. In other words, if you turn off the signal icon, Proclaim will still broadcast Signals but your people will not receive the visual cue that you are broadcasting. If you choose to hide the icon, consider adding a Signal content item in your pre-service loop to let your congregation know you're using them (open the media browser and search for "signals").
2. Add Signals in Proclaim.
You can add Signals to any service item from the item's Signals tab. The number of Signals already associated with the service item shows in the tab's header.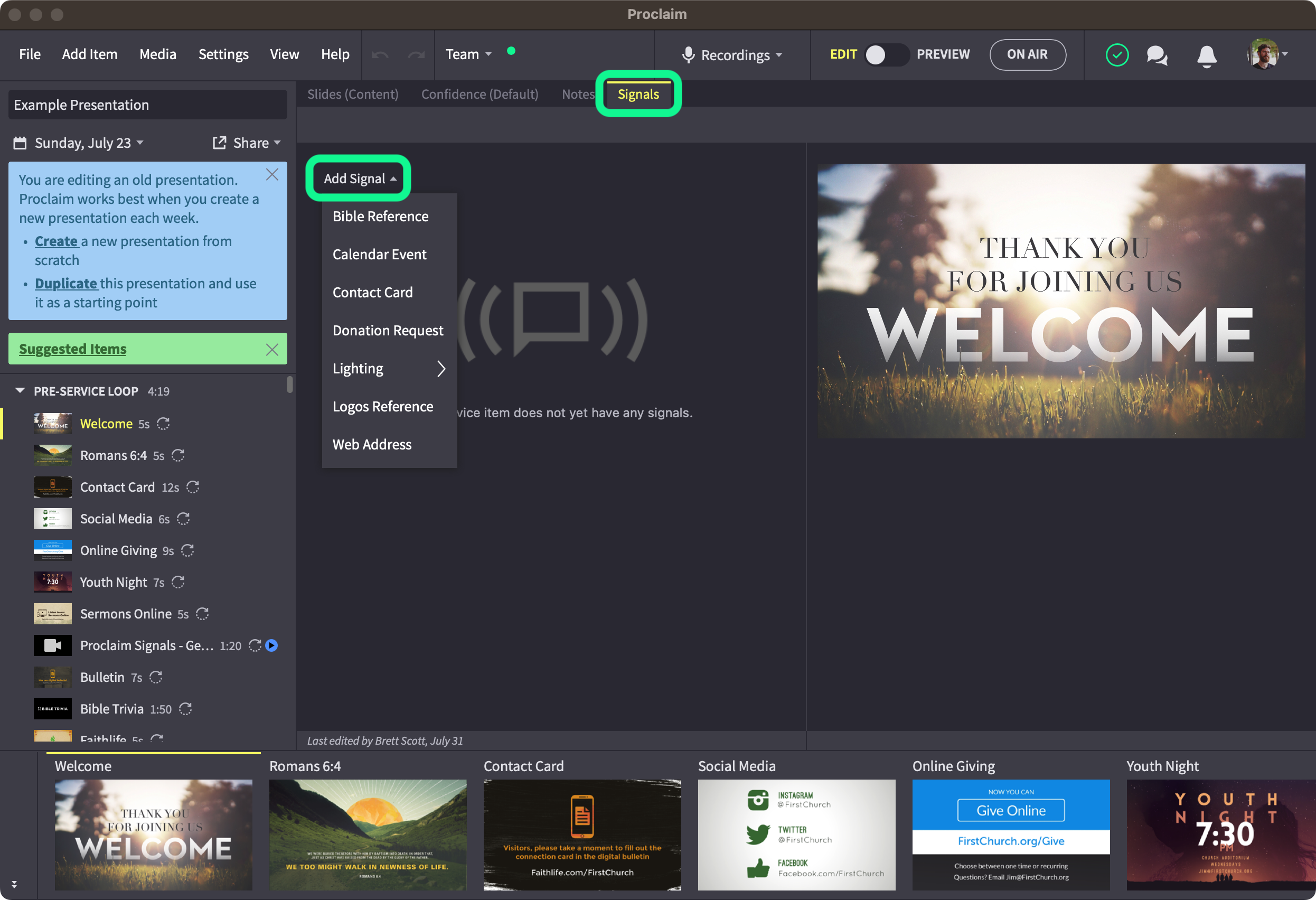 Note: For Bible and On-Screen Bible service items, Signals are automatically created with the reference you enter. Signals are created per service item, not per slide.
You can manually create any of the following types of Signals:
Bible reference: navigates users to the Bible reference in the mobile app.
Calendar event: a calendar event that allows users to add the event to their mobile calendar.
Contact card: delivers a populated entry that allows users to add the contact information to their mobile contacts.
Donation request: delivers a populated Faithlife Giving or PayPal page.
Logos reference: navigates users to a Logos resource location.
Web address: opens a web page.
Lighting: changes the stage lighting to a specified scene.
Note: Other service items automatically include Signals by default, like Bible Trivia or Live Surveys.
Important! A service item can have more than one Signal. For instance you may want to include a calendar, contact, and web address signal for an announcement item in your presentation. When that item appears in your presentation while On Air, the following Signals will show on any mobile devices ready to receive signals.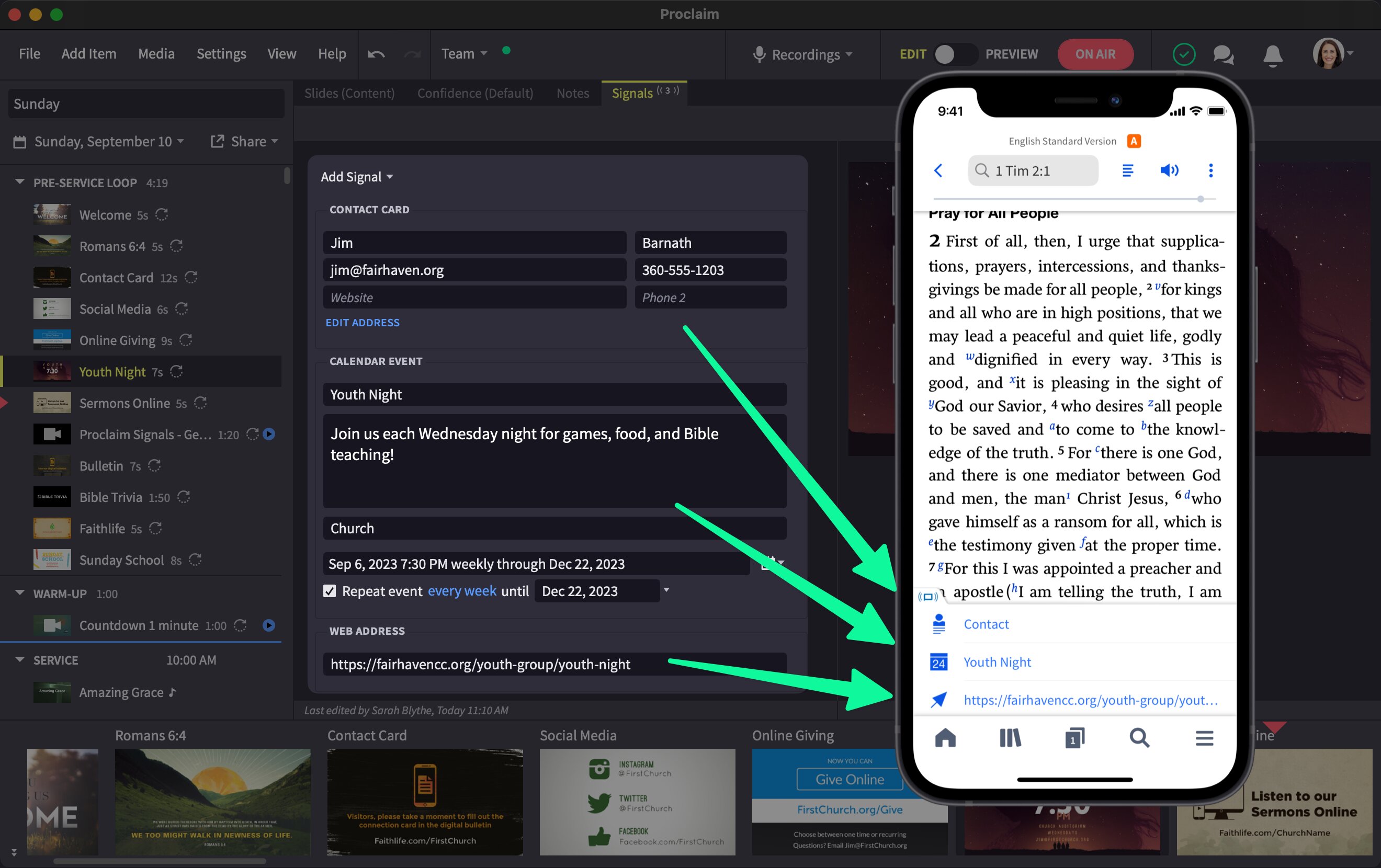 Selecting any one of the three example signals above will open a contact card, a calendar event, and your website respectively.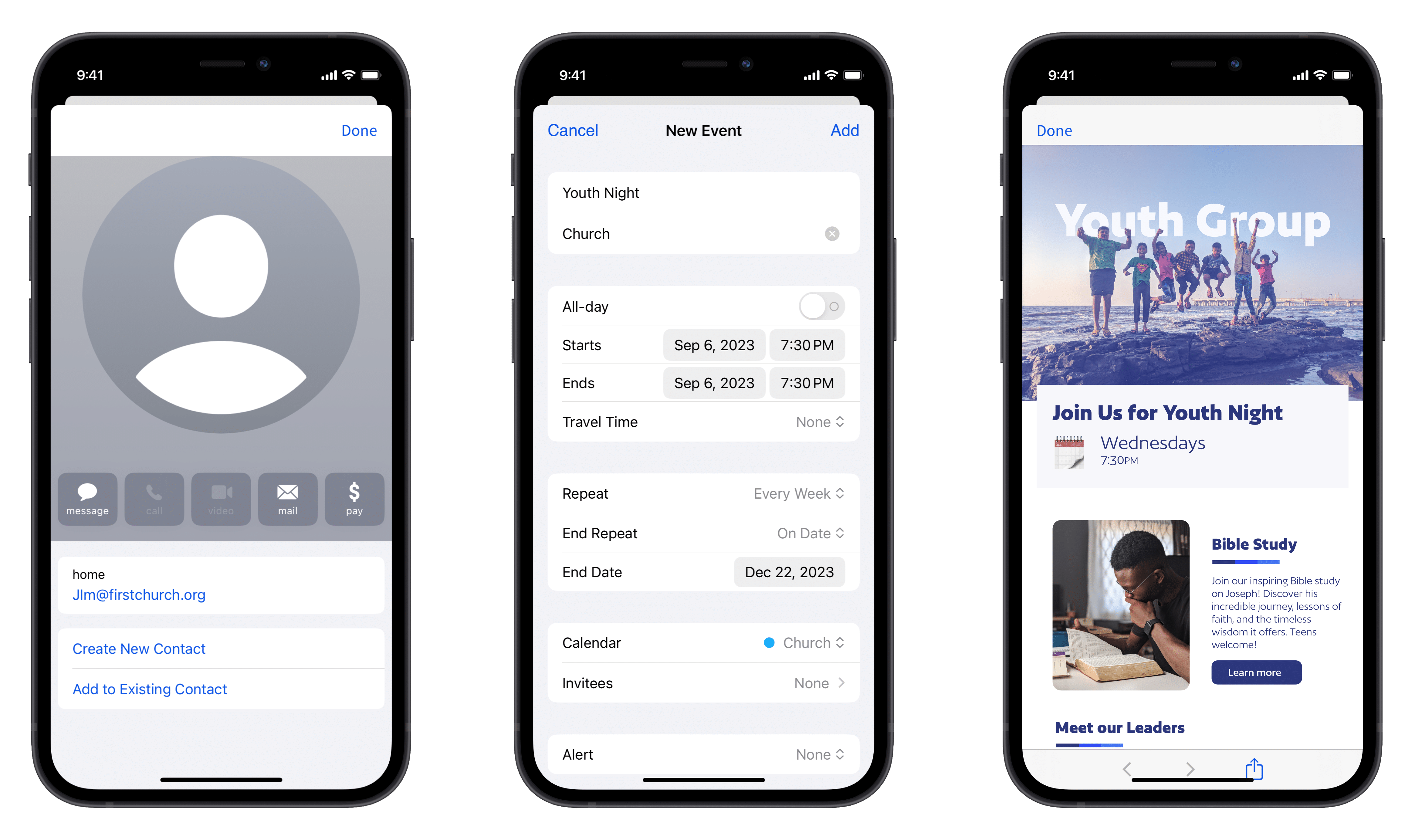 Note: You can also engage with Signals via Faithlife bulletins, as any Signals you've used in your presentation will be available in your auto-generated digital bulletin. Signals will appear in place of, not in addition to, the slide. Learn more about using bulletins.
3. Test Signals on your mobile device.
To test a signal, you'll need to download either the free Faithlife Study Bible or Logos Bible apps.
Faithlife Study Bible:
Logos Bible:
Log in to the app using your Faithlife credentials. Open the navigation menu (if you don't see the bottom navigation bar, tap in the middle of your screen).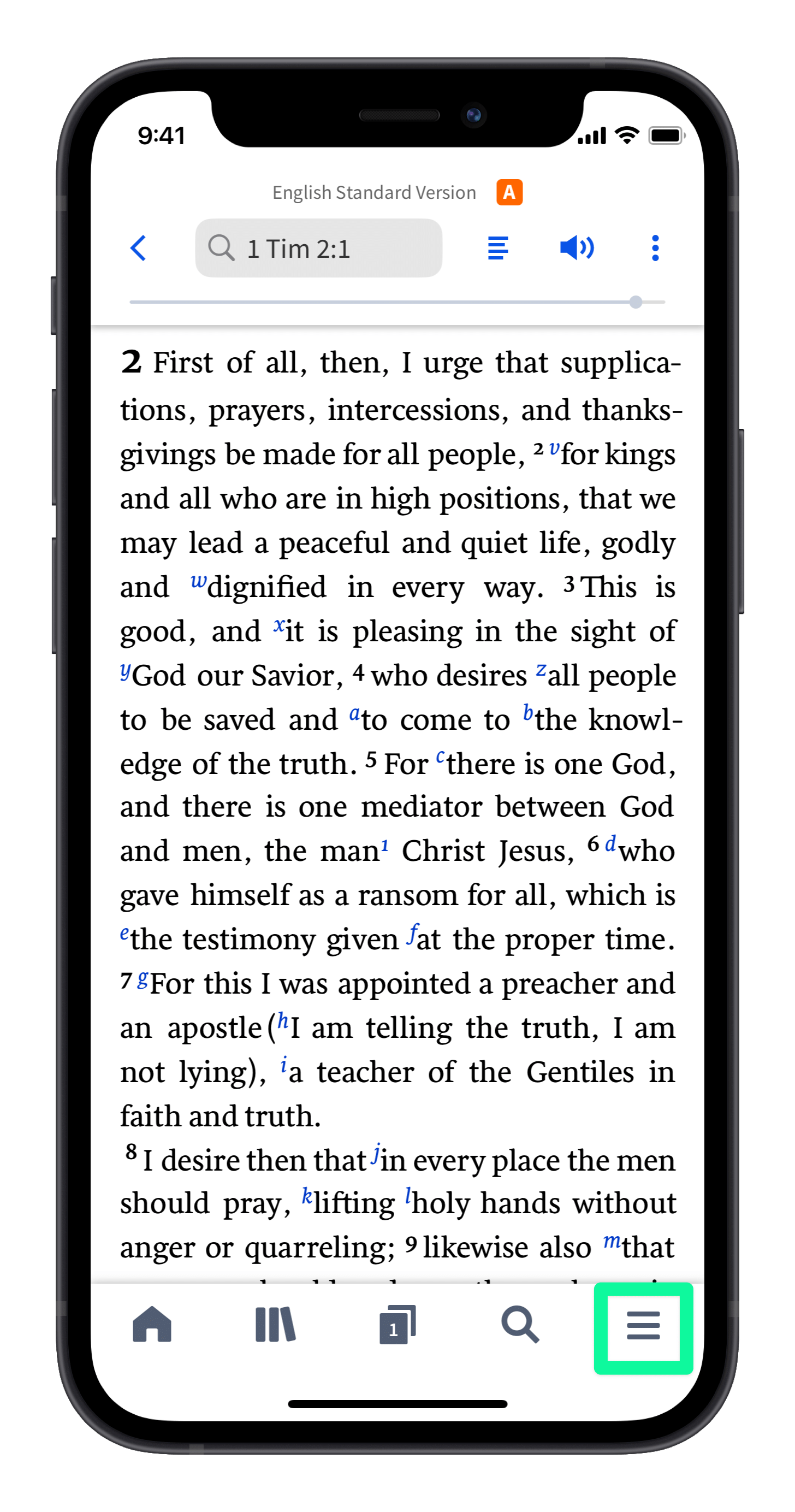 Scroll down and select Presentations.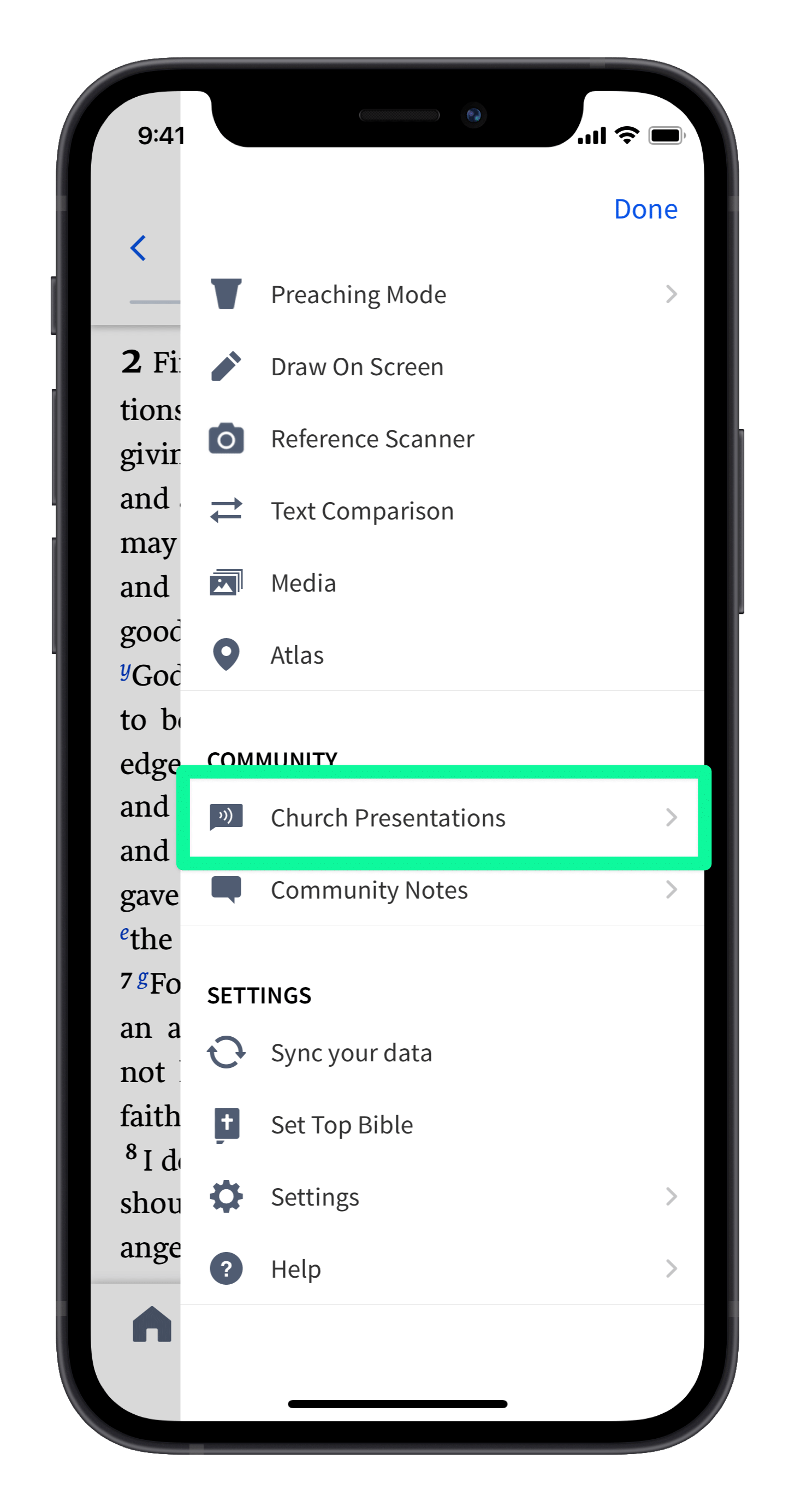 Swipe Follow Presentations on.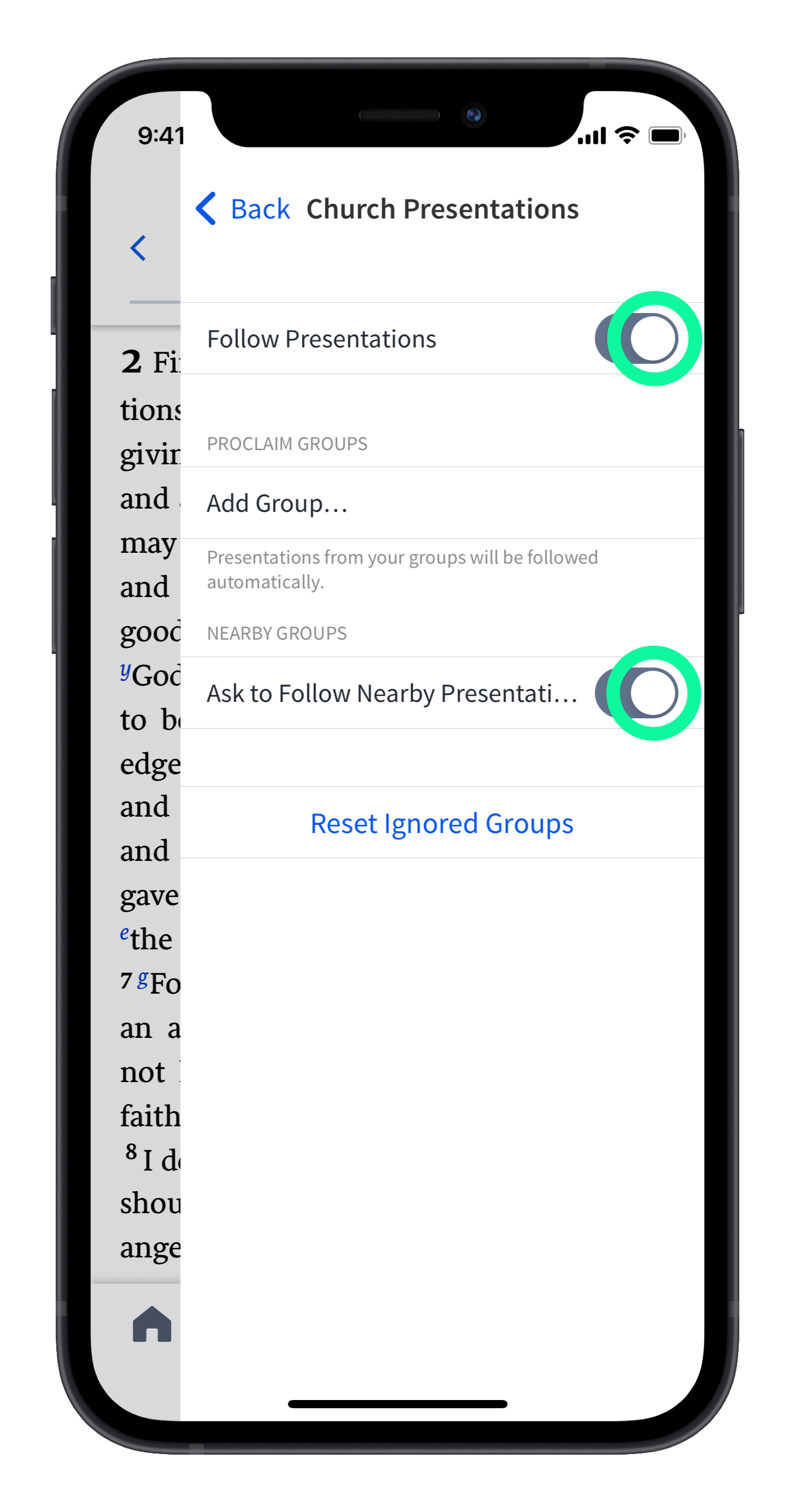 Swipe Ask to Follow Nearby Presentations on. You may be prompted to authorize location permissions for the app.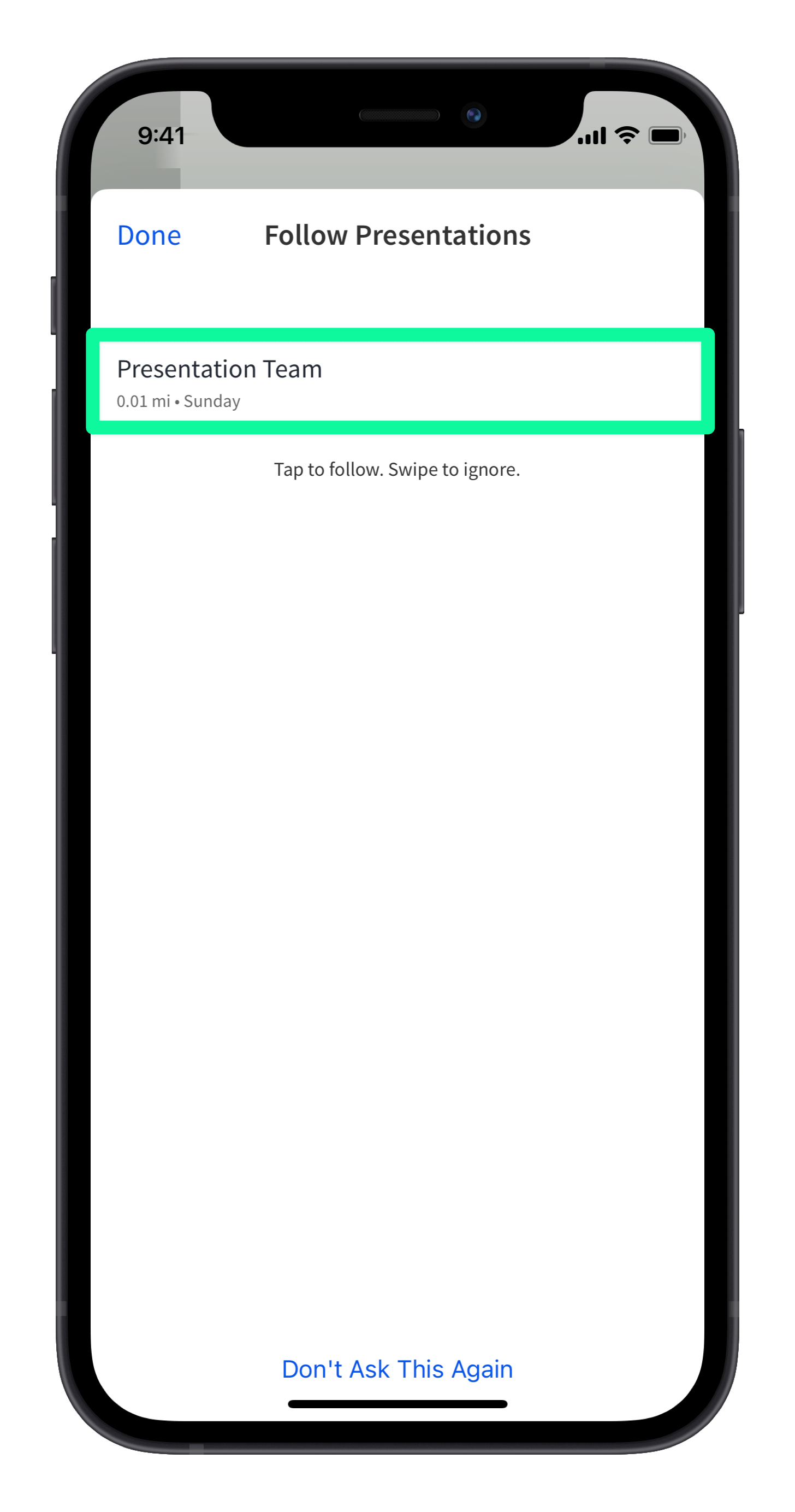 Asking to follow nearby presentations ensures that when the presentation goes On Air, the mobile app will ask you if you want to follow it. Once you've followed a presentation by a particular group, that group will be placed in the Proclaim groups list. In the future, whenever a presentation from that group goes On Air, you will automatically start to follow it. If you no longer wish to automatically follow presentations by that group, you can tap the group name and select Forget this group.
To test your Signals, go On Air and open your mobile app. The Signals should begin displaying at the bottom of the screen. A blue Signal indicator should appear and then expand upward as your service items with Signals display on your screen.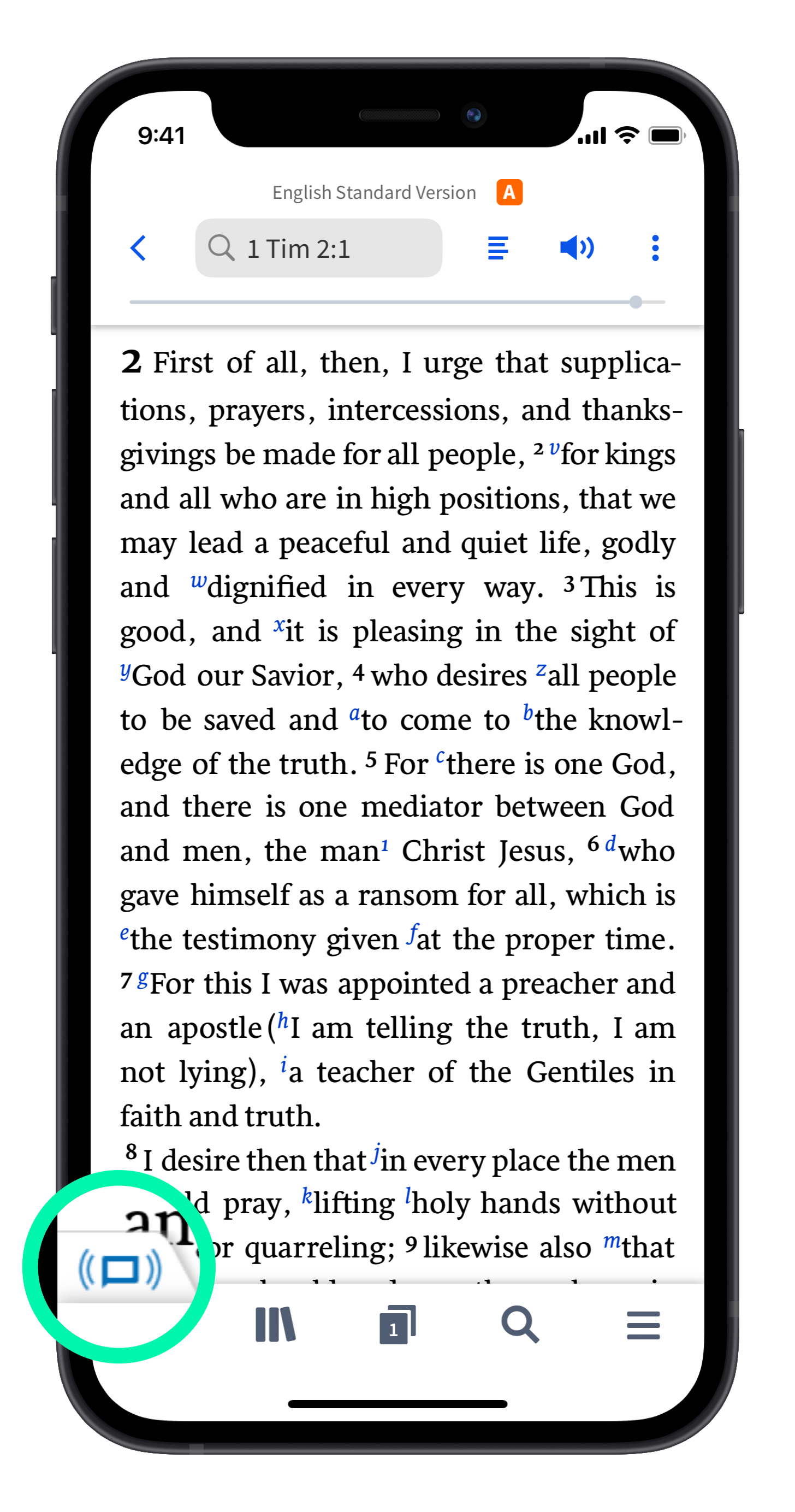 If you are still unable to see the Signals or presentation, ensure that you have location services turned on for your phone.
Tip: You can check that your device is at the same location specified on your presentation by opening the maps app and making sure the locator pin appears at the same location as it does in the Proclaim desktop application.
4. Show your congregation how to activate Signals.
Now you're ready to invite your church to use Signals! Step them through the process, send this article, or simply share this video from FaithlifeTV.com to get them started.