Proclaim Signals are a unique way to engage your audience members with mobile devices. Add a Signal in Proclaim and anyone watching your sermon who has configured their mobile device will be able to follow along in real time.
1. Download a Faithlife Bible app.
To get started, make sure that your audience has either the free Faithlife Study Bible or Logos Bible apps.
Faithlife Study Bible:
Logos Bible:
2. Set up a Signal in Proclaim. 
To send a Signal, you must set a location for your presentation. Add your location in the Presentation settings under the Settings menu. Once you've set your location, Proclaim will remember it for future use.
Next, add Signals to any service items from the item's Signals tab.
3. Set your mobile device to receive Signals.
In the Faithlife Study Bible or Logos Bible app, navigate to the Presentations menu under Tools.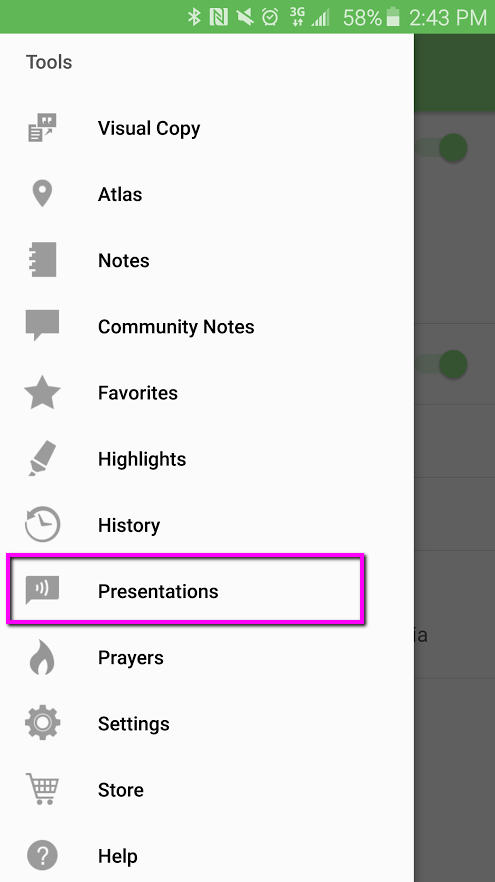 Swipe Follow presentations on.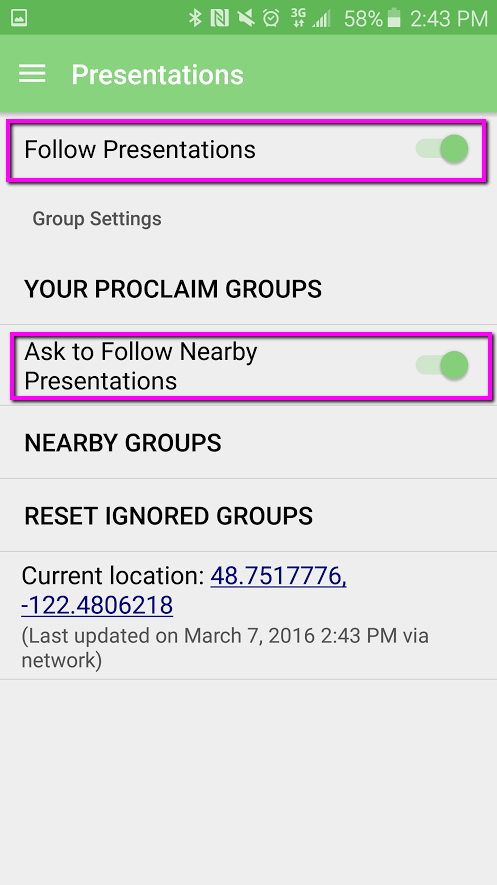 If you've never followed a presentation by a particular group before, you will also want to swipe Ask to Follow Nearby Presentations on. This ensures that when the presentation goes On Air, the mobile app will ask you if you want to follow it. 
Once you've followed a presentation by a particular group, that group will be placed in the Proclaim groups list. In the future, whenever a presentation from that group goes On Air, you will automatically start to follow it. If you no longer wish to automatically follow presentations by that group, you can tap the group name and select Forget this group.
If you are still unable to see the Signals or presentation, ensure that you have location services turned on for your phone.
Tip: You can check that your device is at the same location specified on your presentation by opening the maps app and making sure the locator pin appears at the same location as it does in the Proclaim desktop application.
4. Show your congregation how to activate Signals.
Now you're ready to invite your church to use Signals! Step them through the process, send this article, or simply share this video from Faithlifetv.com to get them started.