Proclaim supports multiple outputs so you can display different content on each display while On Air. Take a few moments to set your screens up correctly.
Don't have Proclaim? Start a free trial today.
1. Connect outputs to your computer.
In order for Proclaim to output to a screen, the displays must be connected to your computer as extended displays. Turn on the displays and connect them to your computer.
Did you know? You can display Proclaim via an Apple TV. Learn more.
Ensure your computer views the additional display(s) as extended.
Windows
Go to your Display Settings (Right-click the start button, then click Settings > System > Display).
Ensure Multiple displays is set to Extend these displays (view Windows support help).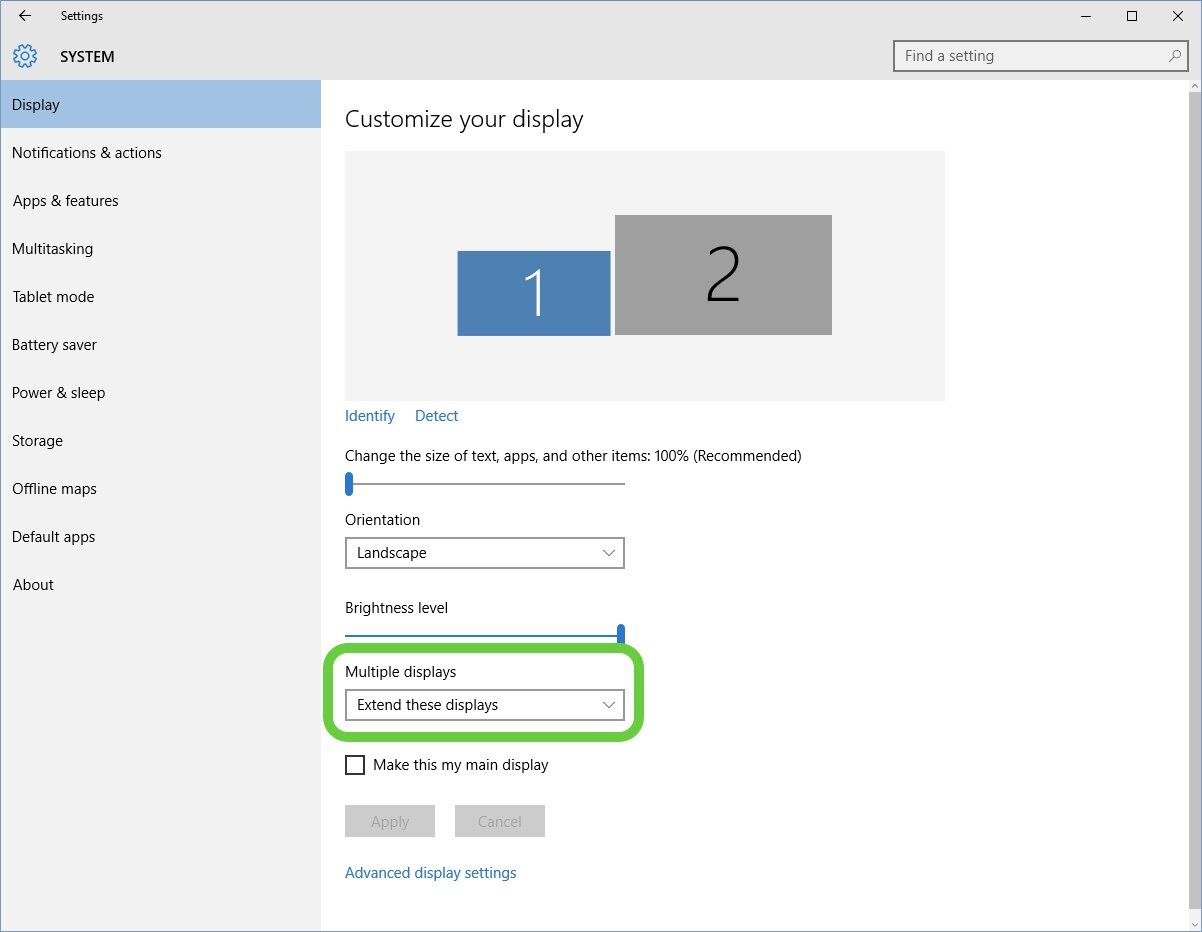 macOS
Go to your Display Arrangement Settings (System Preferences > Displays > Arrangement).
Ensure Mirror displays is not checked (view Apple support help).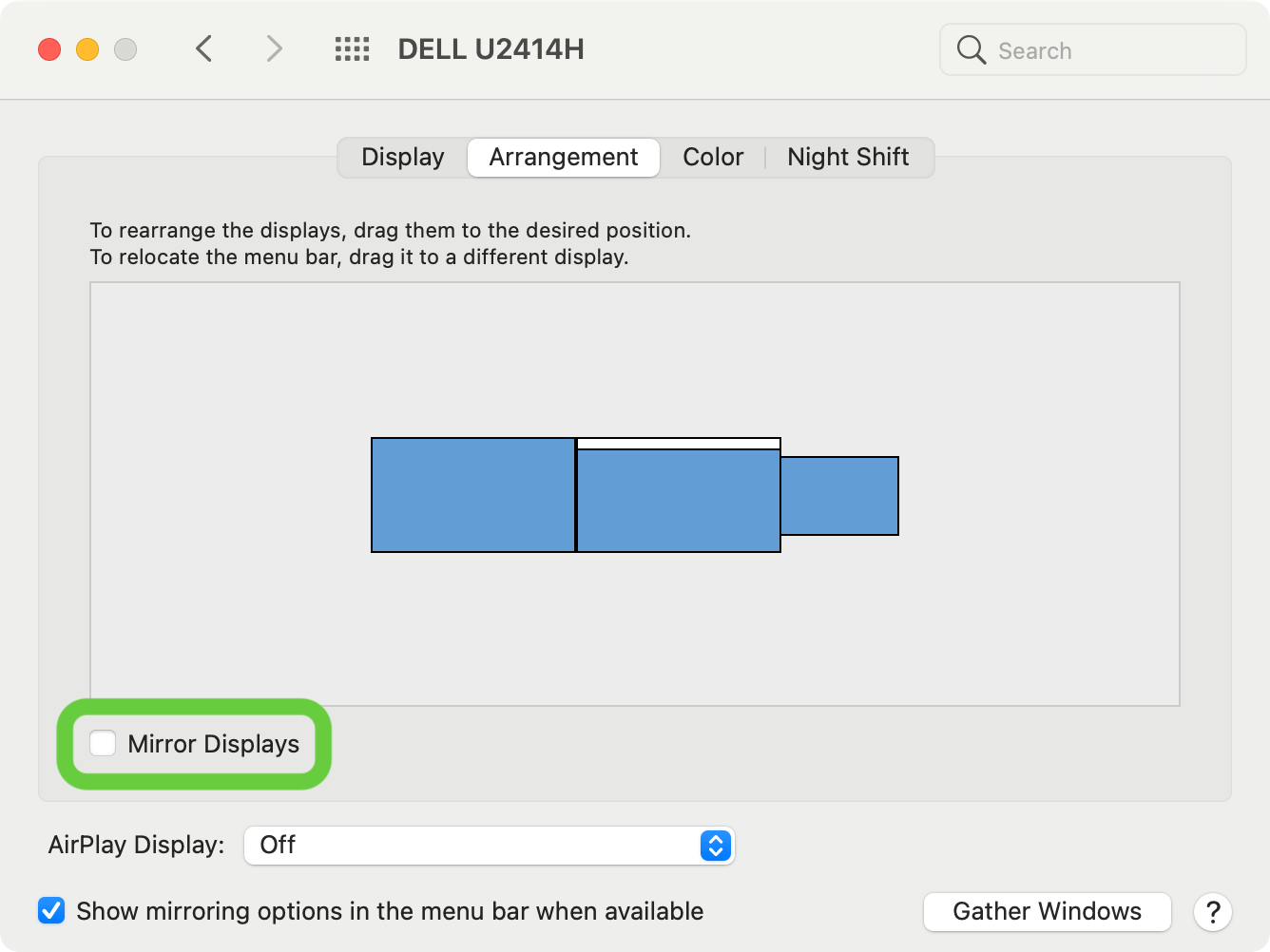 Note: In addition to physical displays, Proclaim can also generate NDI outputs, as shown below.
2. Set up your Virtual Screens
Proclaim distributes your various output feeds as Virtual Screens. You can set your screens up in the Display settings in Proclaim (click the Settings menu and choose Display).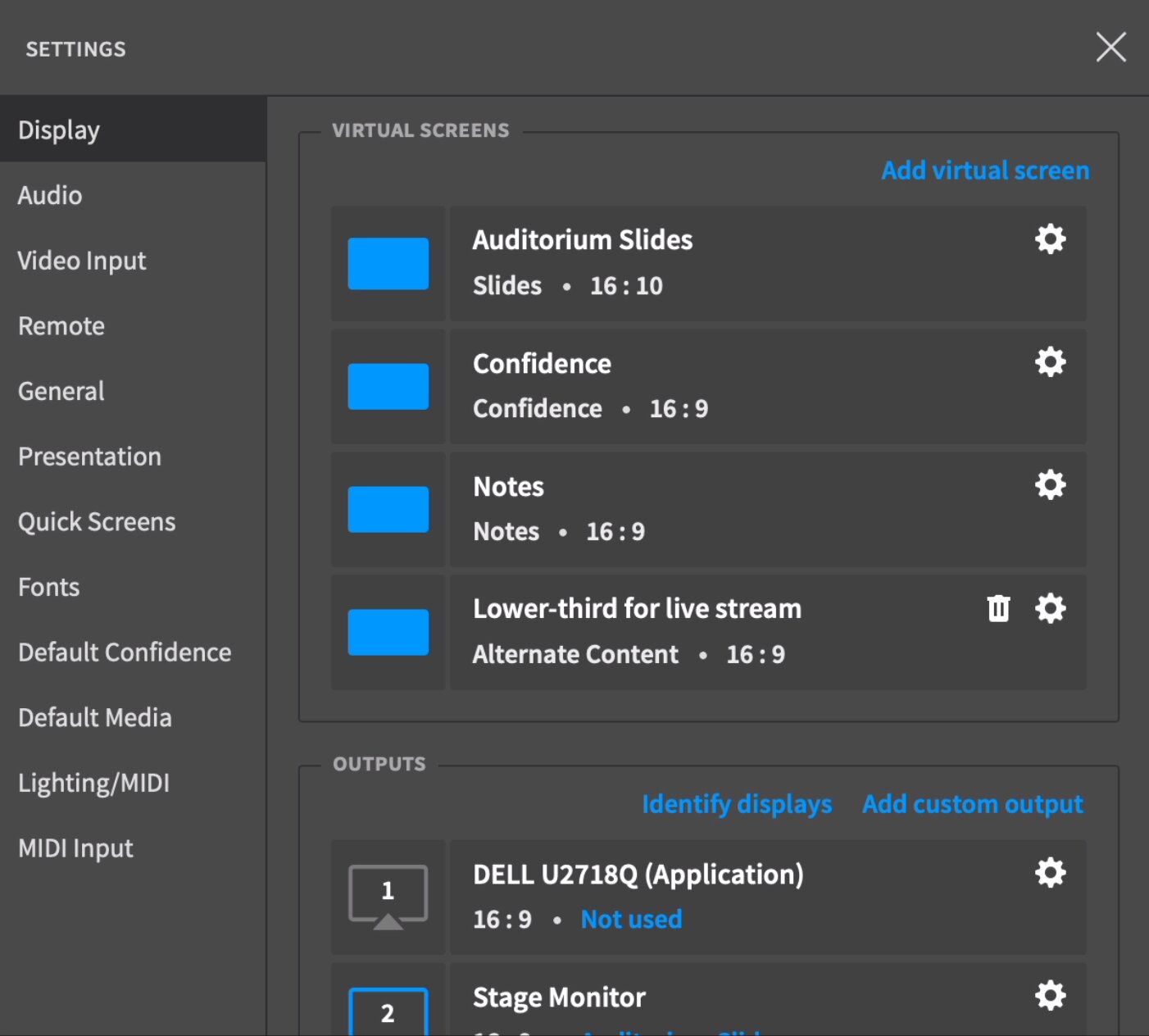 For each virtual screen:
Set a custom name: click the Settings icon , provide a custom name, and click Done.
Virtual Screen type: Below the custom name, one of four supported screen types show: slides, confidence, notes, or alternative content.
Choose an aspect ratio: Click the Settings icon , click the current ratio to open a dropdown menu, choose a new ratio, and click Done. Proclaim supports outputs with 16:10, 16:9, or 4:3 aspect ratios.
Proclaim offers four screen types.
Slides: Your main slide content for your presentation, most commonly sent to your main auditorium projector(s).
Confidence: A high-contrast, text-only view, often sent to stage-facing stage monitors and used by the worship team.
Notes: Displays a high-contrast, text-only view of any notes attached to the current service item. Learn how to add notes in Proclaim.
Alternate Content: Secondary content for your presentation. This output type allows you to configure separate content types per service item, such as foreground only, background only, duplicate, or blank. You can add multiple Alternate Content screens (click Add virtual screen, provide a name, and choose an aspect ratio).
Note: You may only have one slides, confidence, and notes virtual screen, which Proclaim provides by default.
Your configuration syncs with your current presentation to all members of your presentation team, regardless of what physical outputs their computers have. This means you can set up your screens for your service from any computer.
Adjust content for each virtual screen.
While building your presentation, you can choose what shows on each Virtual Screen by selecting the corresponding tab in Edit mode.
Note: In this configuration, the main auditorium slides output shows a full-screen song slide while the alternate content screen outputs a foreground-only version of the song slides for use over a live video feed.
3. Assign Virtual Screens to your outputs.
You can control where you send each virtual screen from the Display settings. (Click the Settings menu and choose Display.)
Set each output available to display one of your virtual screens by clicking the blue text and choosing a virtual screen from the dropdown. Whatever monitor is connected to your computer will always display "(Application)" after the display type and should be set to Not used.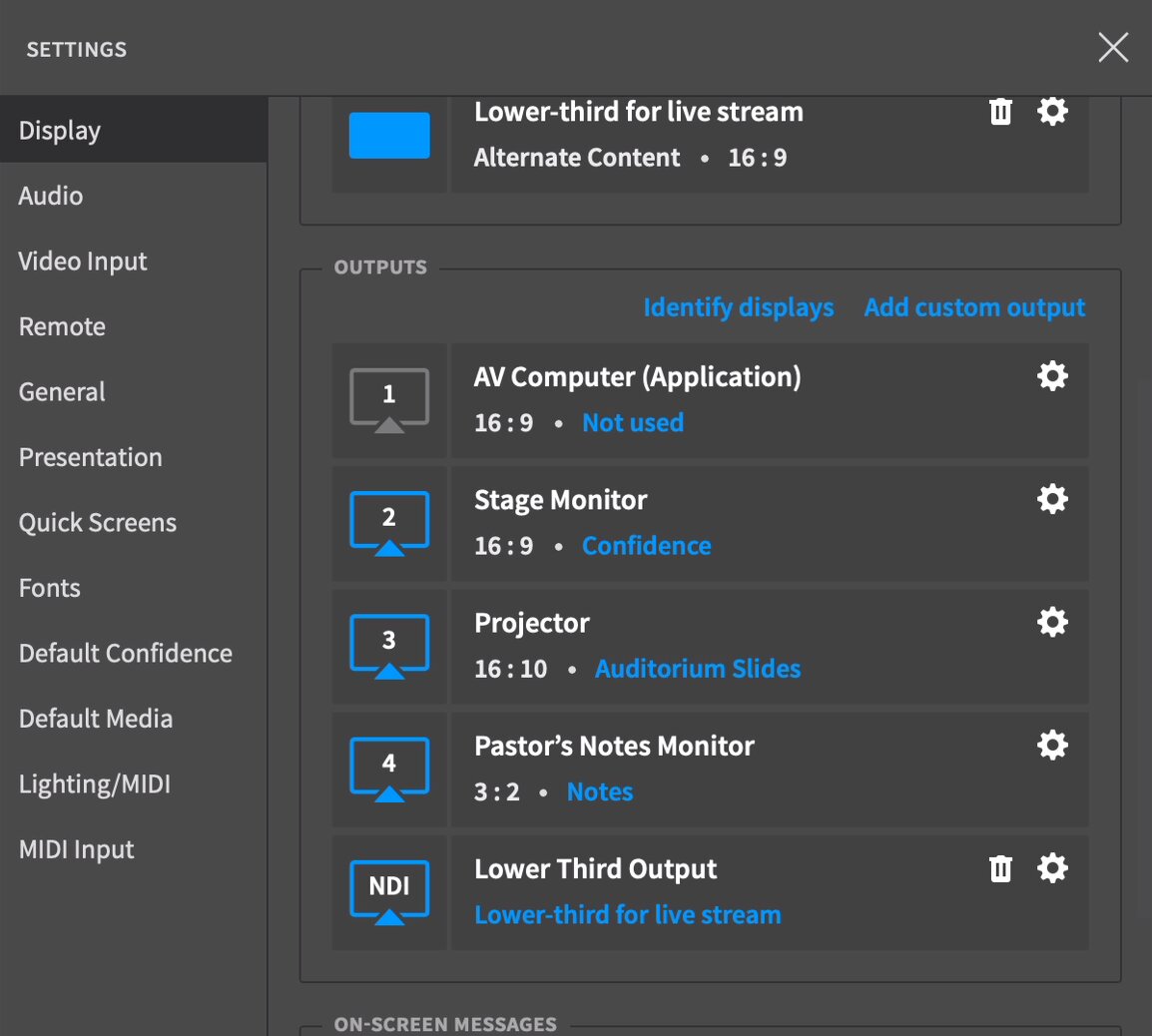 Note: To identify which output is which, click Identify Displays. The name of each output will show in large text on each screen. Click again to hide the identifying overlay.
For more advanced control, click the Settings icon

for any output. The settings allow you to:
Change the default output name
Choose a virtual screen
Tell Proclaim how to fill transparent sections on the screen (choose the luma or chroma key that matches your video switcher's settings—learn more about live video).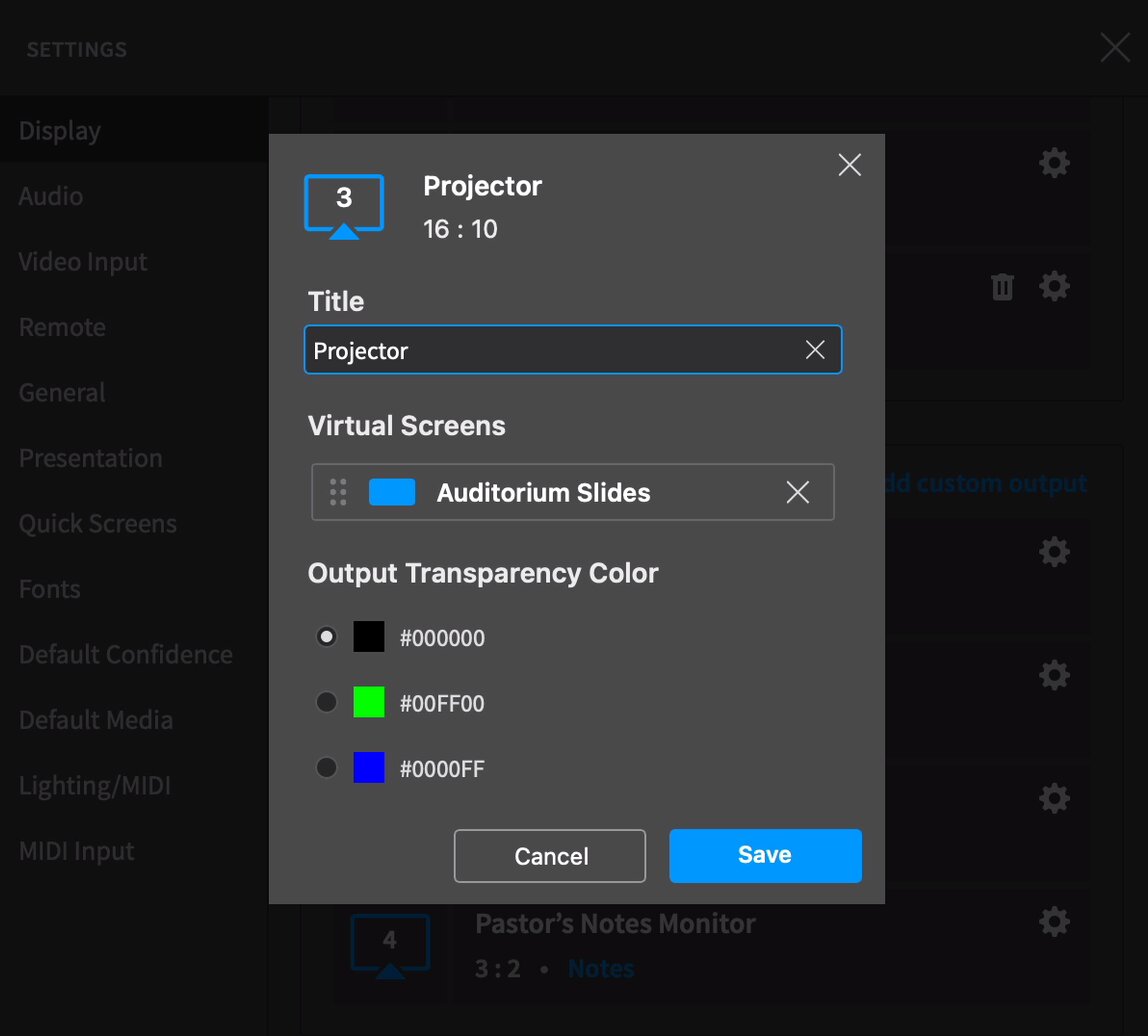 Note: If your Proclaim presentation goes full screen as soon as you go On Air, set your computer's monitor running Proclaim to Not Used.
Configure Custom Outputs (NDI and Black Magic Design SDI)
In addition to displays connected to your computer, Proclaim can send out slides and alternate content as an NDI source (Network Device Interface) or SDI with support Black Magic Design devices.
To add an NDI/SDI source:
Click Add custom output.
Pick your output type.
Add a name for this output. The name you chose will be the name you see when using the NDI within other apps (like your live-streaming software).
For SDI, choose the device, mode, and key mode.
Assign a Virtual Screen. The NDI output will assume the aspect ratio of your selected Virtual Screen.
Click Save.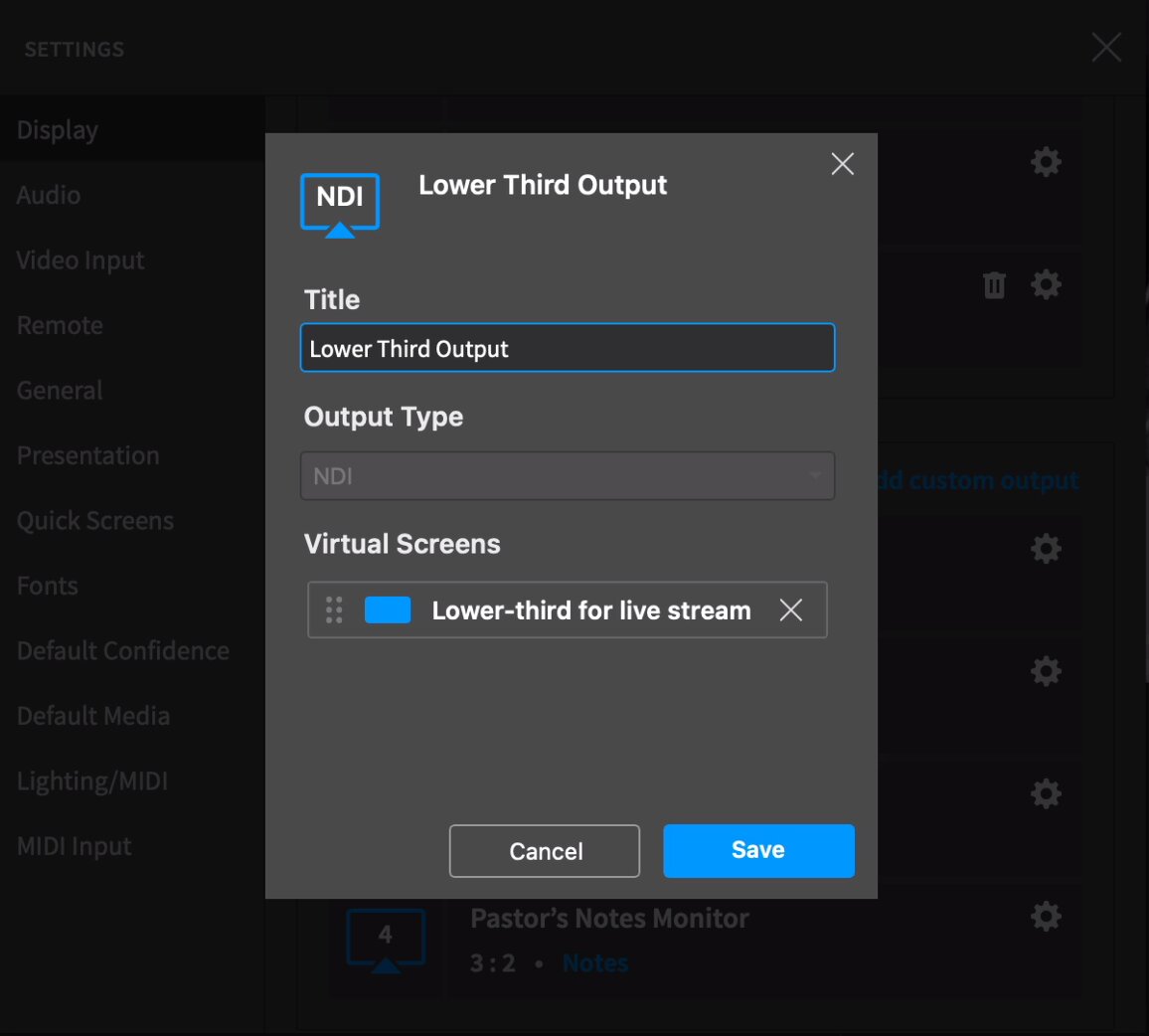 When you go On Air, Proclaim will make your NDI source(s) available to other apps on your computer and other computers on your local network. NDI sources have true transparency by default.
Note: Audio over NDI is not supported on Mac at this time. To send audio to your live stream, connect your audio source to the computer receiving the signal.
On-Screen Messages
When you are On Air you can send on-screen messages to your congregation using the Crawl Text, Pager, and Countdown Clock features. Learn more about congregation-facing messages.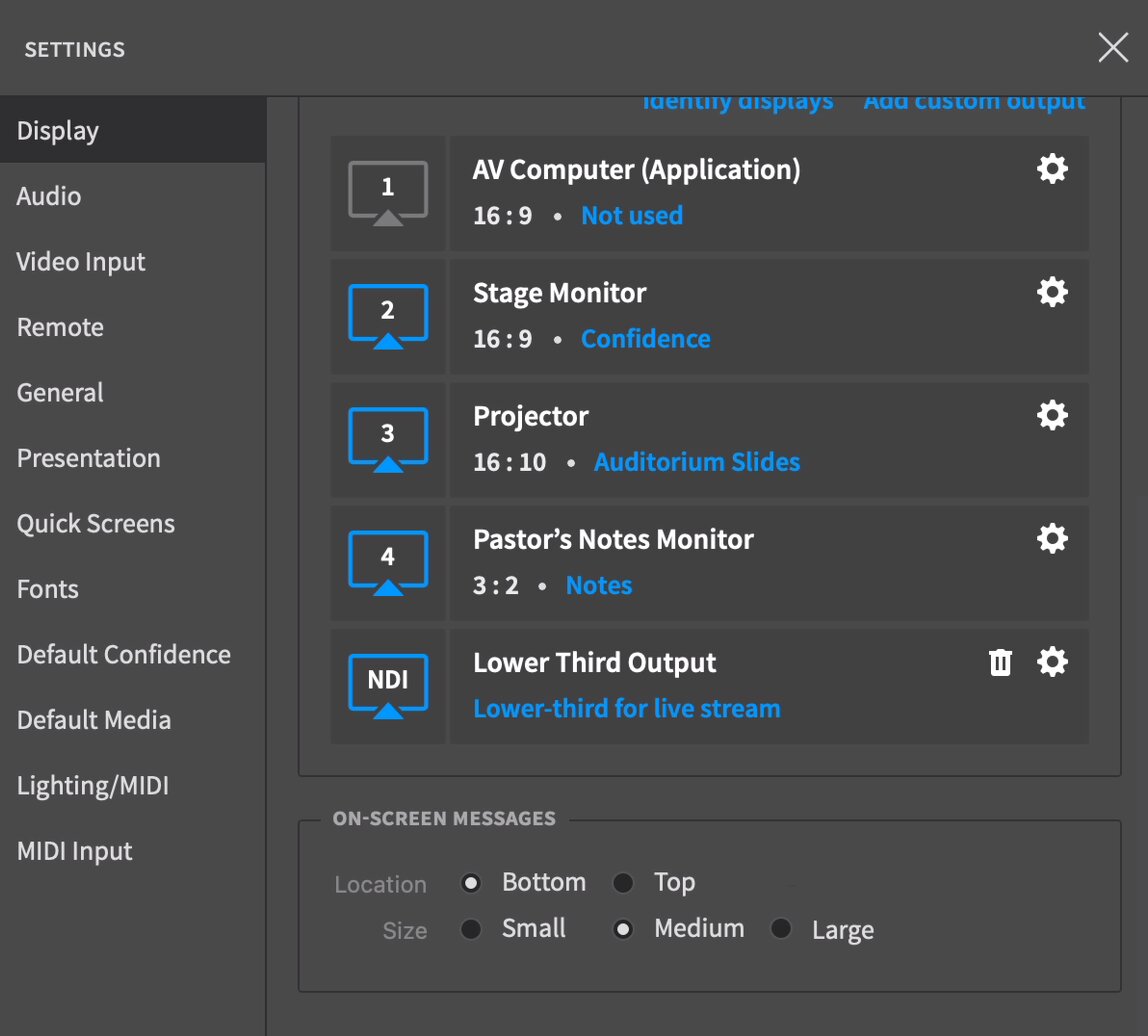 4. Test your display settings.
When you've finished setting up your monitors, select the

to exit and test your settings.
It's important to test your set up before your service. Click On Air with your displays connected.
Note: If you run into any trouble along the way, contact us at any time.