Faithlife Music is your worship team's connection point with the songs you sing. Browse the database of songs, connected by searchable themes and verses.
Proclaim integrates with Faithlife Music to provide you with more information on the songs you love to sing. Connect to your church's worship team to view and track your church's songs, create arrangements, add chord charts and links to videos to help your musicians prepare. Then, add your songs to Proclaim and update the songs for your service without even opening Proclaim.
Note: Faithlife Music is a free, publicly-available service and does not require Faithlife Proclaim.
Access Faithlife Music from Proclaim
Make sure you are in Edit mode in Proclaim. If you are in Preview mode, click the toggle to switch.

Click Add Item and select Song.
Enter a song title in the search bar located in the center pane and select the version of the song you want to use.

Note: You can connect your SongSelect® by CCLI account to add songs from SongSelect's database. Click Link account and follow the prompts to complete the connection.

If the song doesn't appear in the list of song titles, click the song title under CREATE NEW SONG.

Enter details about the new song, including song title, worship team, arrangement title, key, on screen title, and artist. Click Add Song.

Click File and select Save and Sync to sync the song to Faithlife Music.

Add lyrics and relevant details in the center pane.

Click Faithline Music to access additional song details. A browser window opens to the entry for your selected song on Faithlife Music.
Note: You can also access Faithlife Music directly at music.faithlife.com.
Navigate Faithlife Music
Faithlife Music provides basic facts about songs in its database, as well as links to external resources, authors, scriptural references, and themes.
Skip ahead to:
Details
Song information (including alternate titles, themes, composition date, and links to CCLI licensed renditions) is listed first.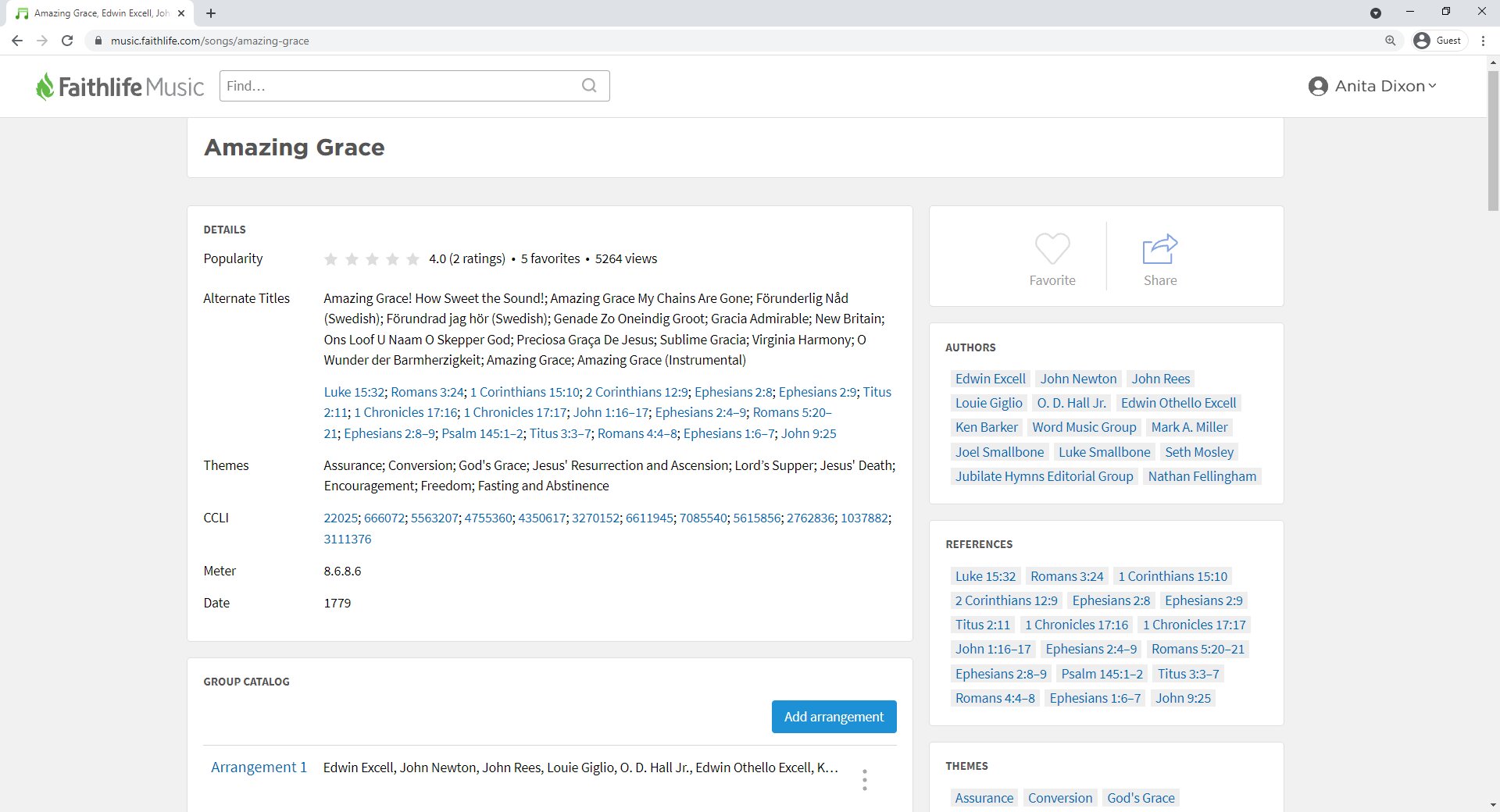 Group Catalog
Upload or edit a song arrangement for your worship team or archive past arrangements for future reference.
Select Add arrangement to add a new arrangement.
Click the menu icon

to view, edit, duplicate, or delete the arrangement.
Choose Edit to customize the details of your arrangement. Options to import ChordPro files and export as a downloadable PDF are also available.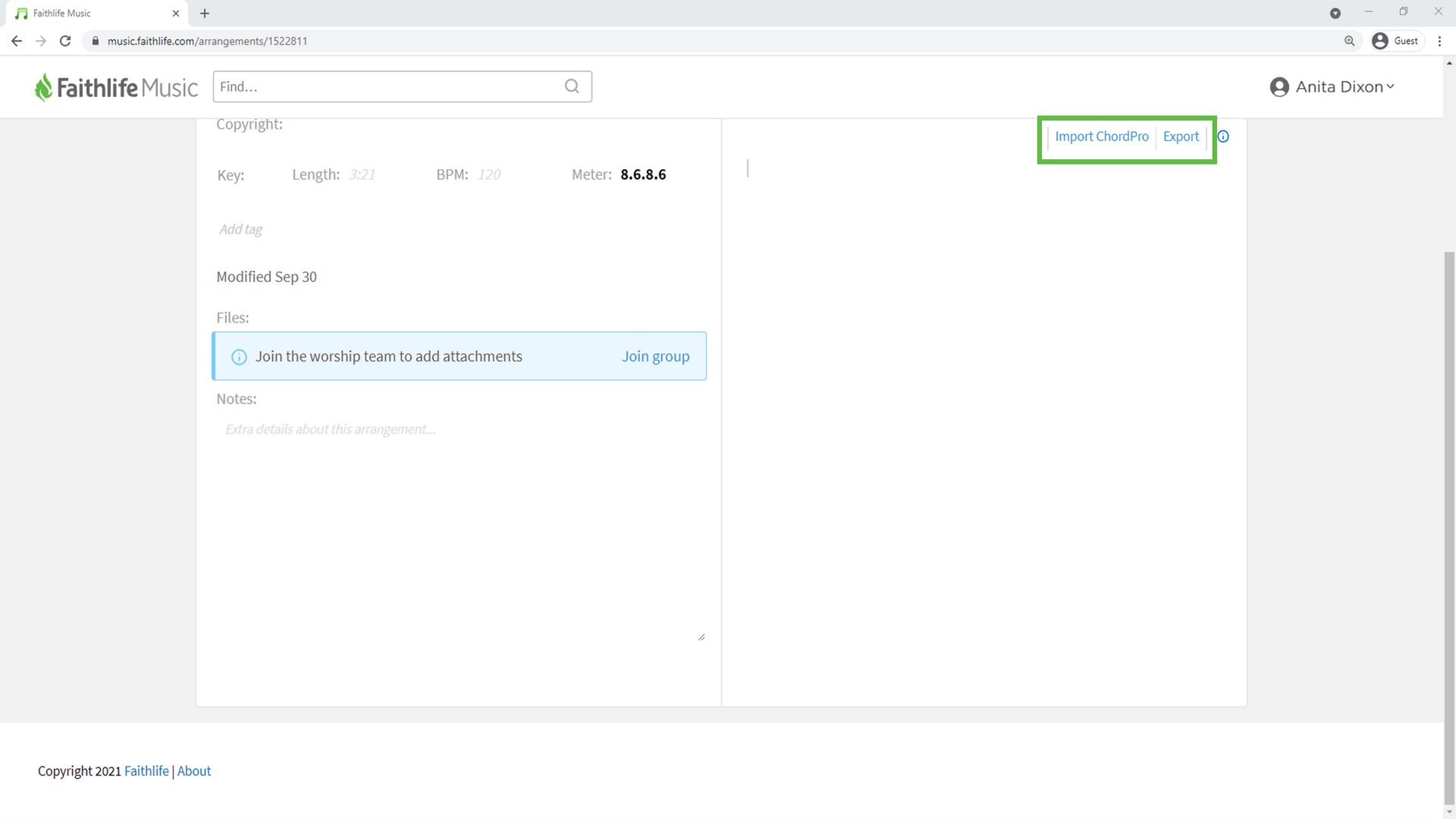 Favorite/Share
Click Favorite to tag a song you really like. Click Share for a link you can send to others.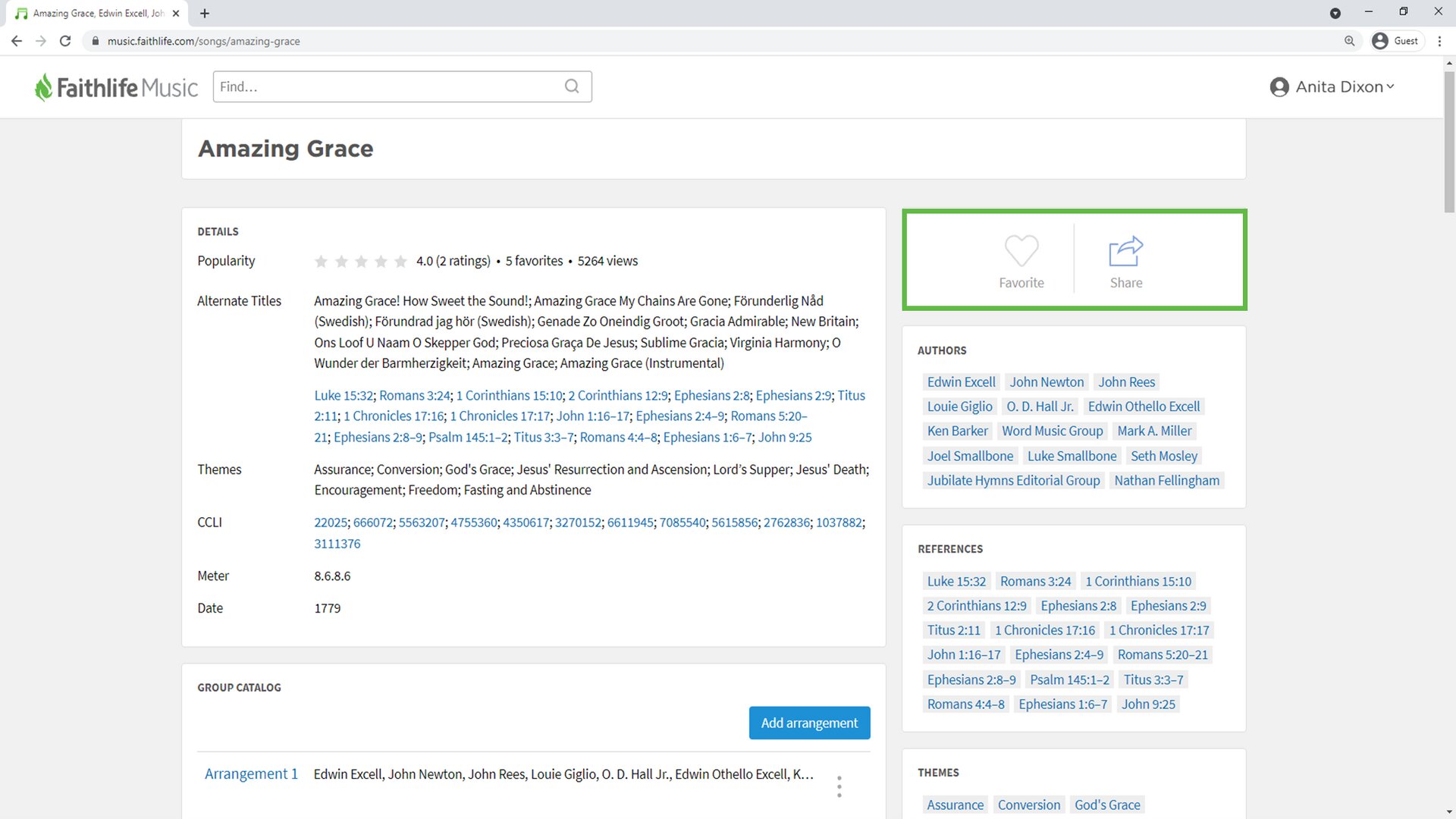 Authors
Click the name of an individual or group to view other songs affiliated with the name.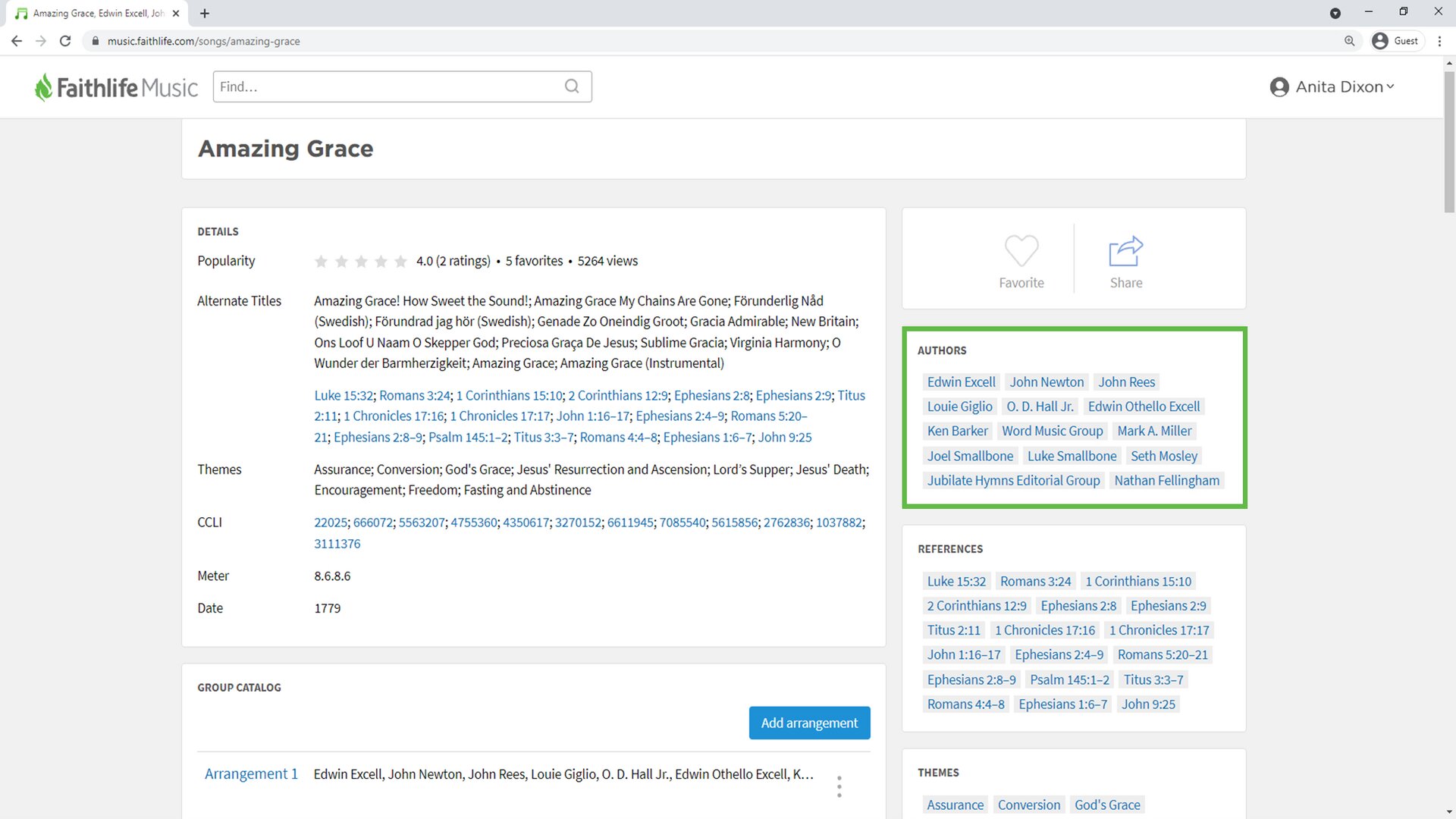 References
Every song in the Faithlife Music database is tagged with one or more scriptural references. Click a reference to display other songs with the same reference.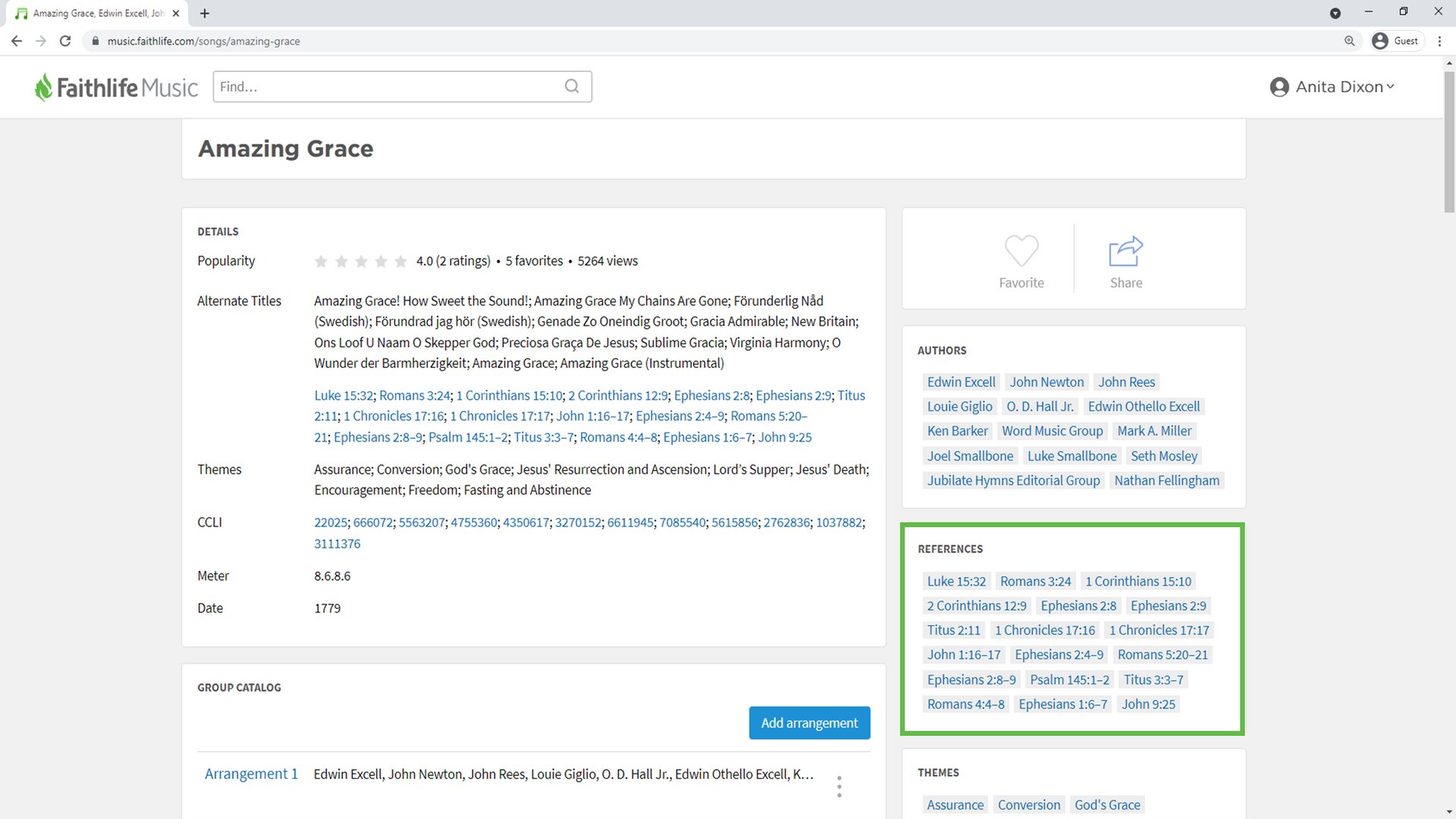 Themes
Click a theme to view a list of songs related to the same subject.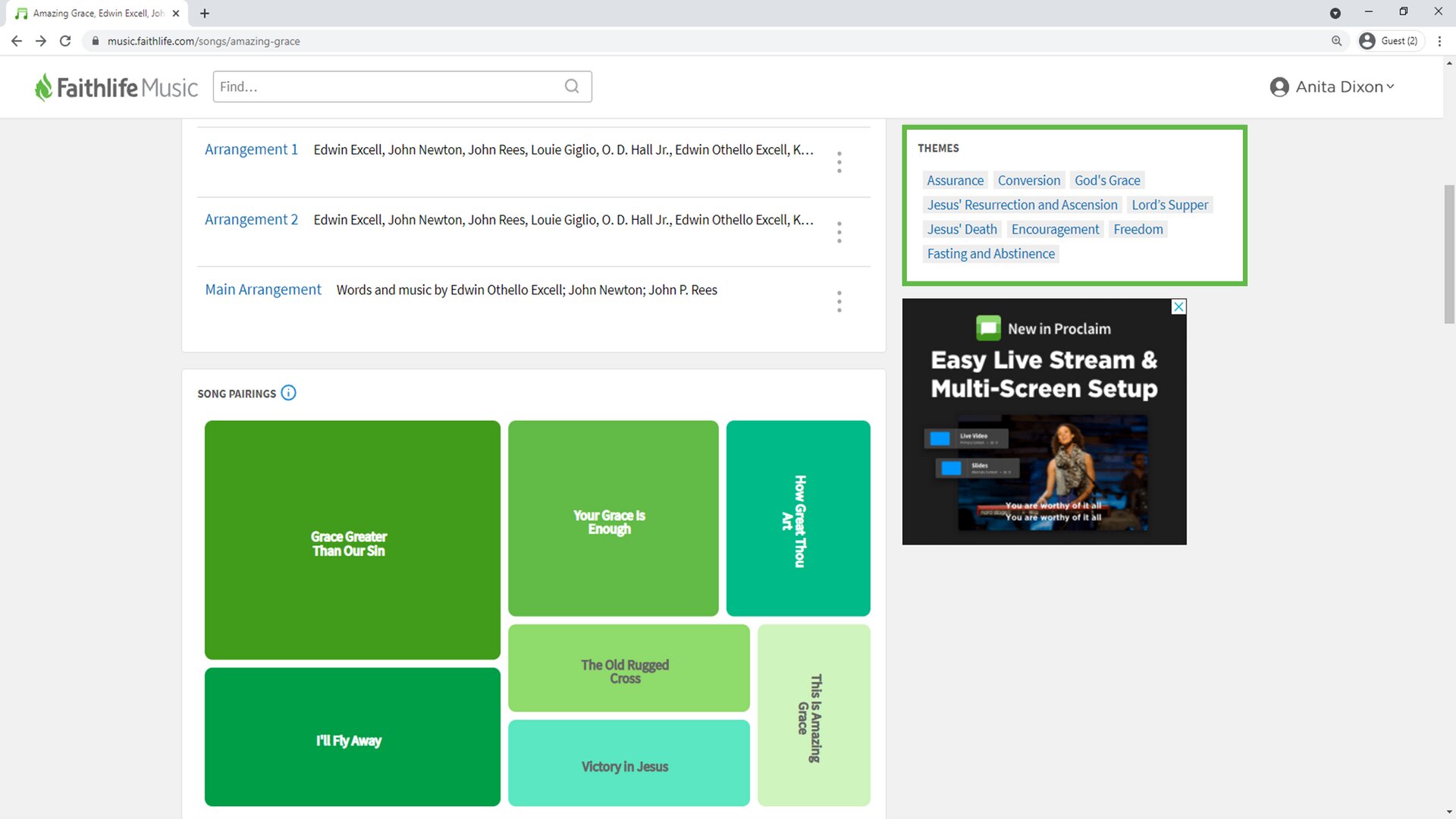 Song Pairings
Displays songs that are commonly sung with the song you are currently viewing, according to data from actual church services. Click a song in this section to view details about it.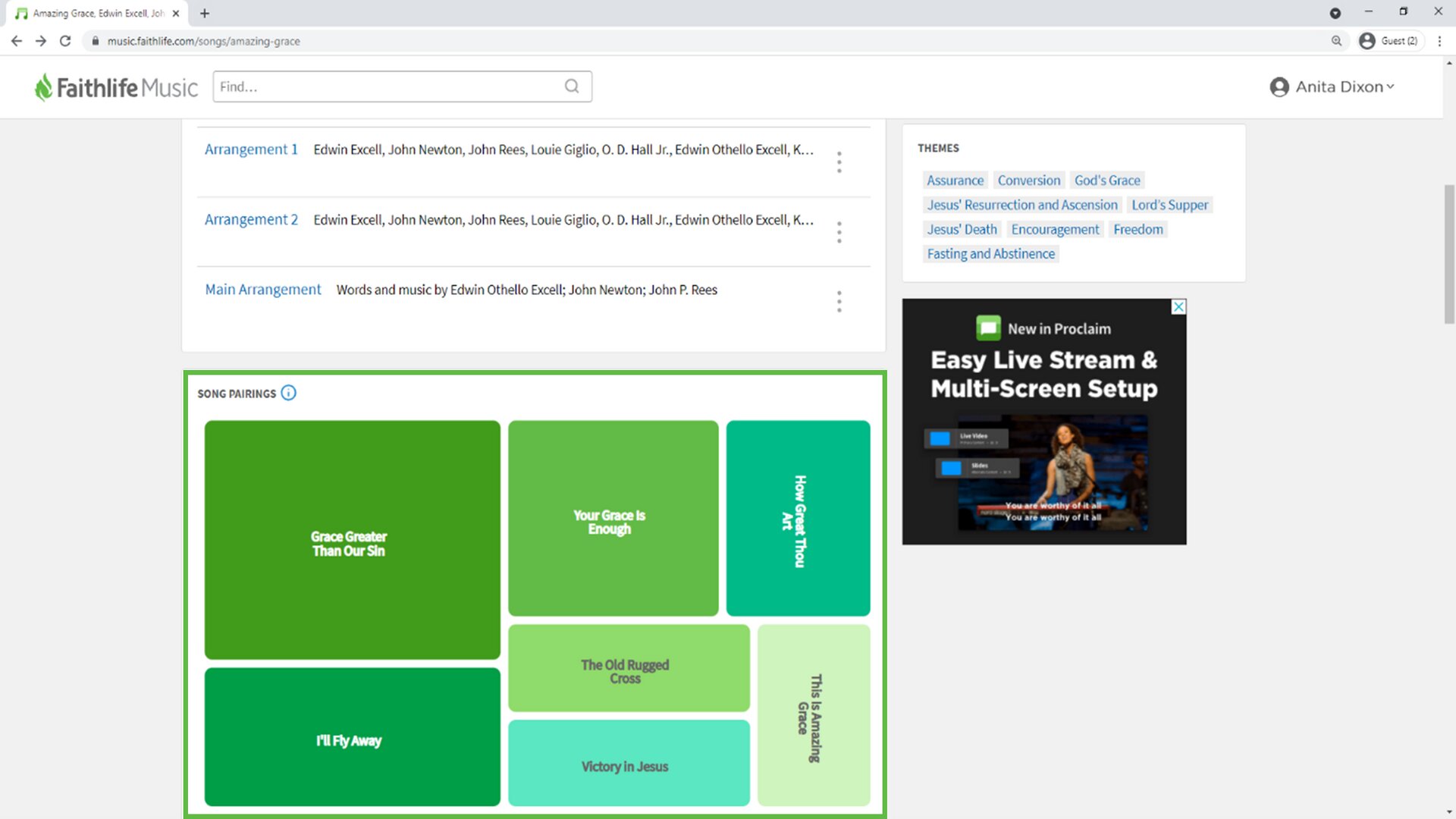 Additional Links
The Watch section contains links to video renditions of the song, while the Listen section has links to audio renditions of the song.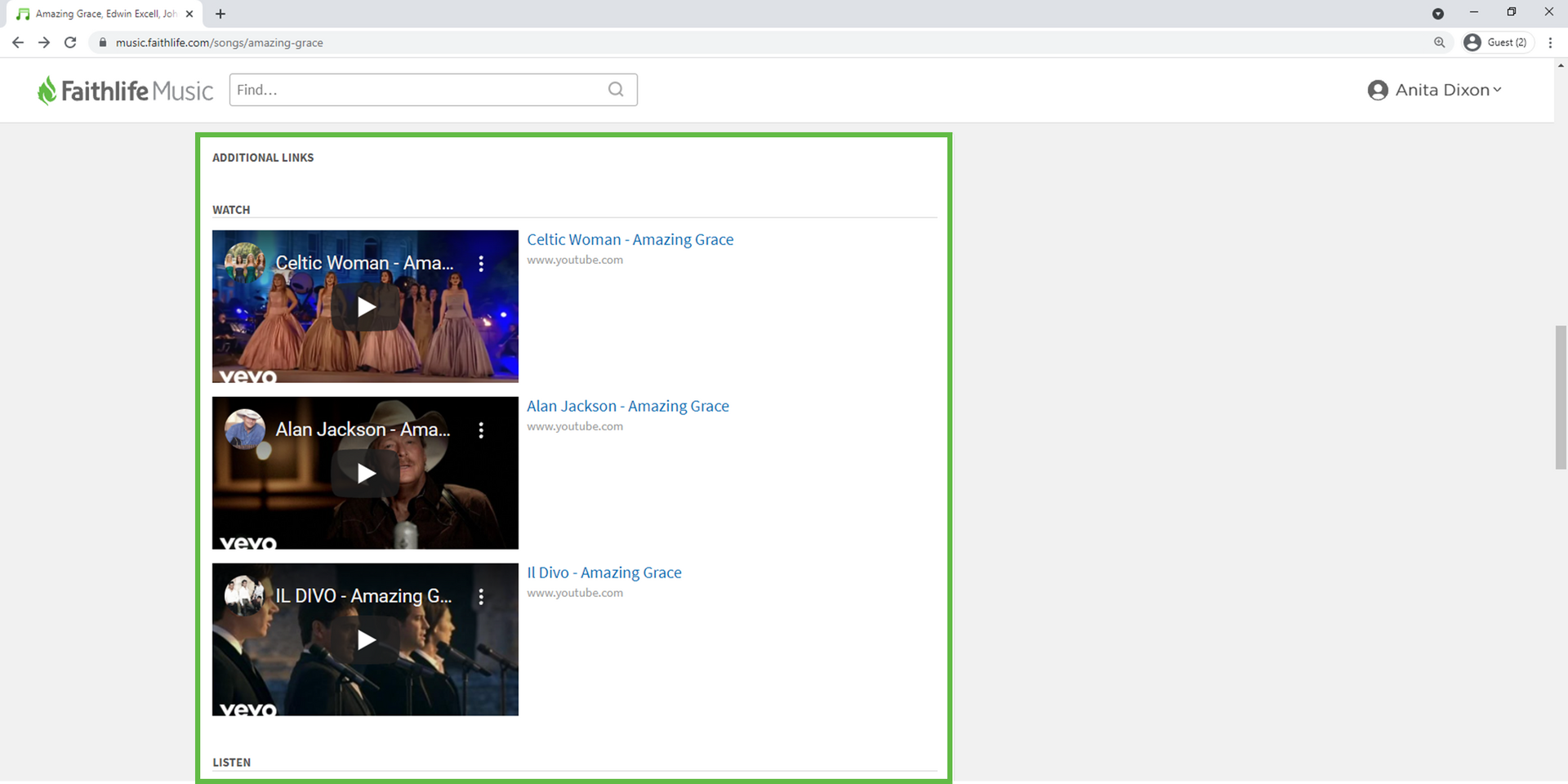 Comments
Share your opinion about a song or your experience using it with others. Select Subscribe to receive an email notification of others' comments on the song.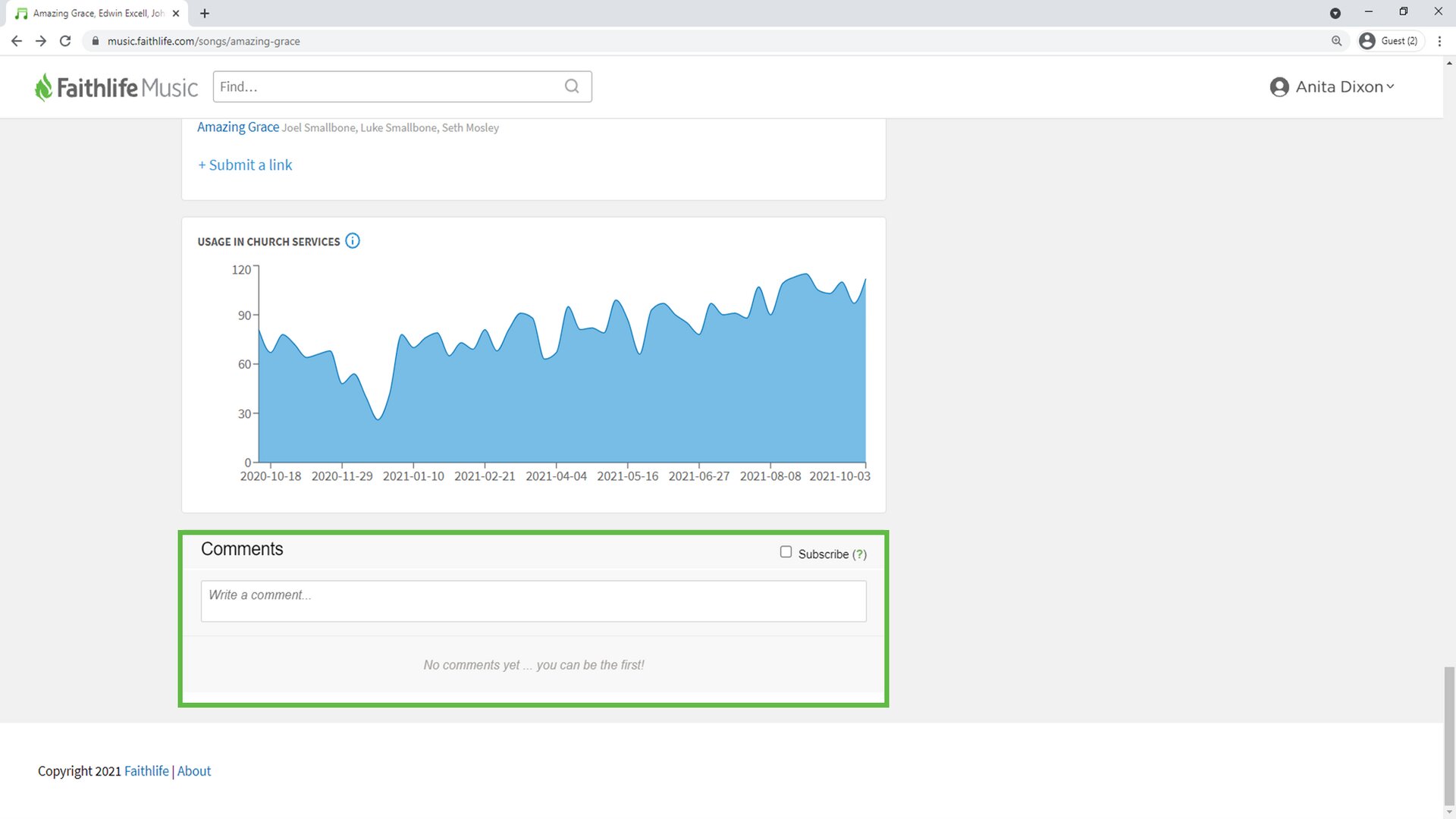 Top 100/Chart Climbers
Clicking a link in the Authors, References, or Themes section opens a new page with additional songs related to the selected heading. At the top of the page are the Top 100 and Chart Climbers sections. Click Top 100 to show the 100 songs most used in Proclaim presentations for that week. Select Chart Climbers to see popular songs.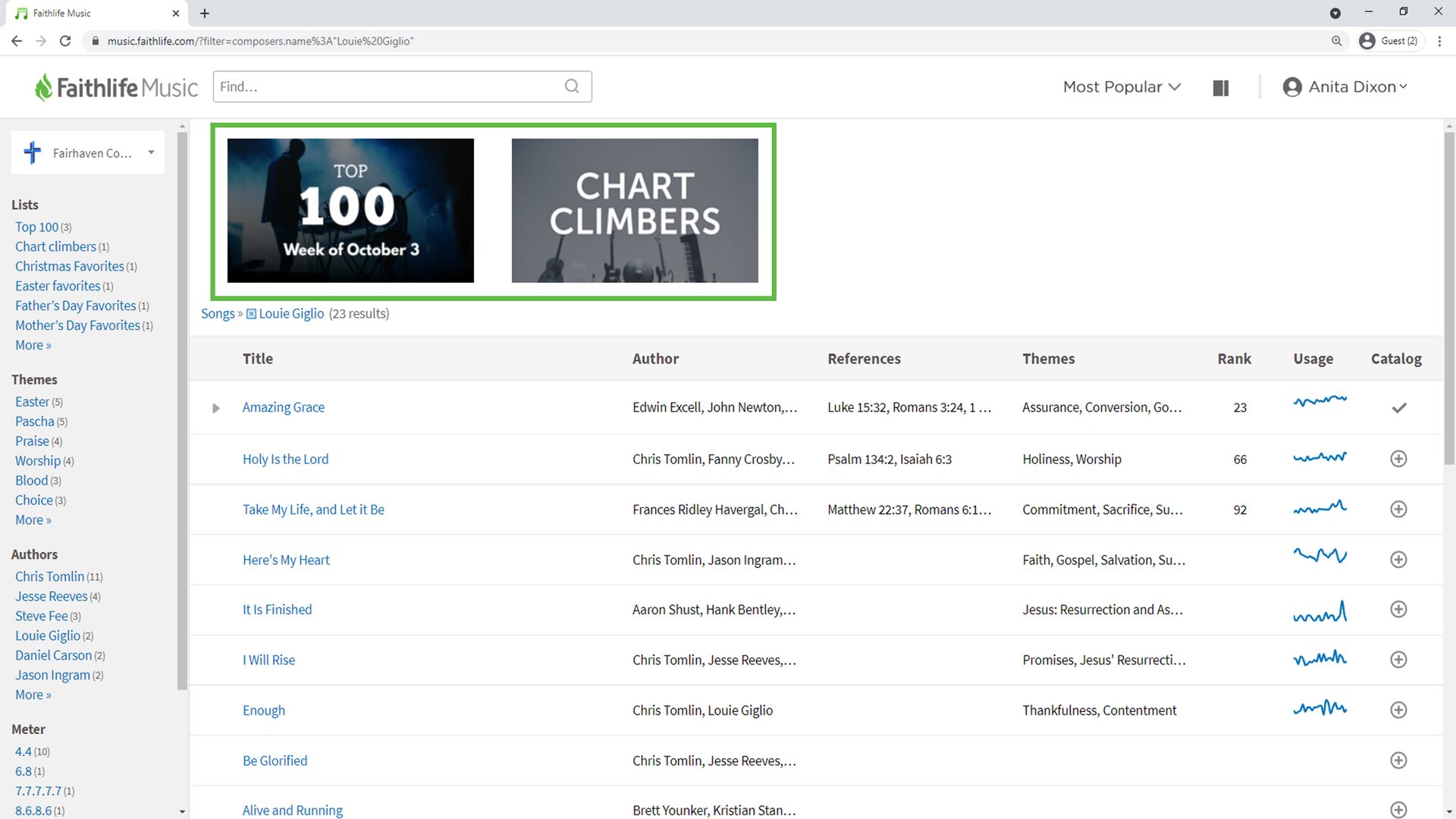 Catalog
Click the plus icon

to add songs to your catalog. Songs that are currently in your catalog have a checkmark icon

next to them.
Note: Options to sort and to see a song's details are available at the top right of the page.