Proclaim is built for churches. That means the entire platform is customized to help you prepare, present, and share your church services. If you're just beginning with Proclaim, this guide will direct you to learn the basics. For more advanced or specific questions, view Proclaim support, join our online community, or contact us directly at Support@Faithlife.com or 888–634–2038.
Don't have Proclaim? Get started with a free trial today. Need help installing Proclaim? View our quick install guide.
Your Faithlife account helps you manage your team and communicate with your church. In order to use Proclaim, you will need two groups.
First, you need a Church Group. This is where your sermons will post and where you can encourage a healthy, online space for your church to interact together.
Enter your church's name and location and click Next to create your church group.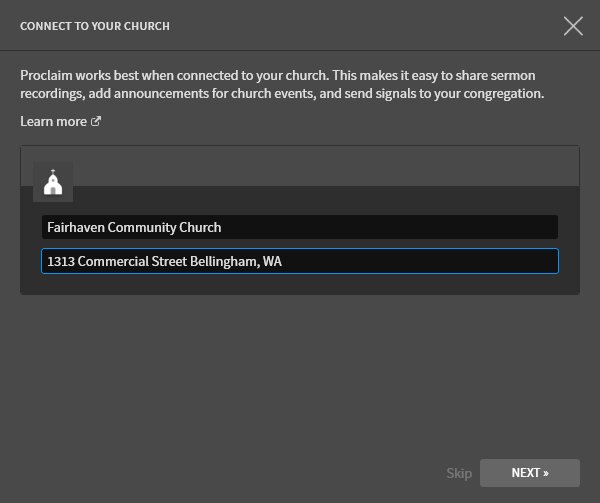 Note: No other group on Faithlife.com can share your group's name.
Second, you need a Presentation team. This group is for all those who build and run your presentations. Anyone you invite can download Proclaim and install it on their computer. Your one subscription covers everyone on your team. Proclaim creates the Presentation team for you automatically when you create your church group.
If you visit Faithlife.com and log in with the credentials you created above, both groups will display in the left-hand sidebar.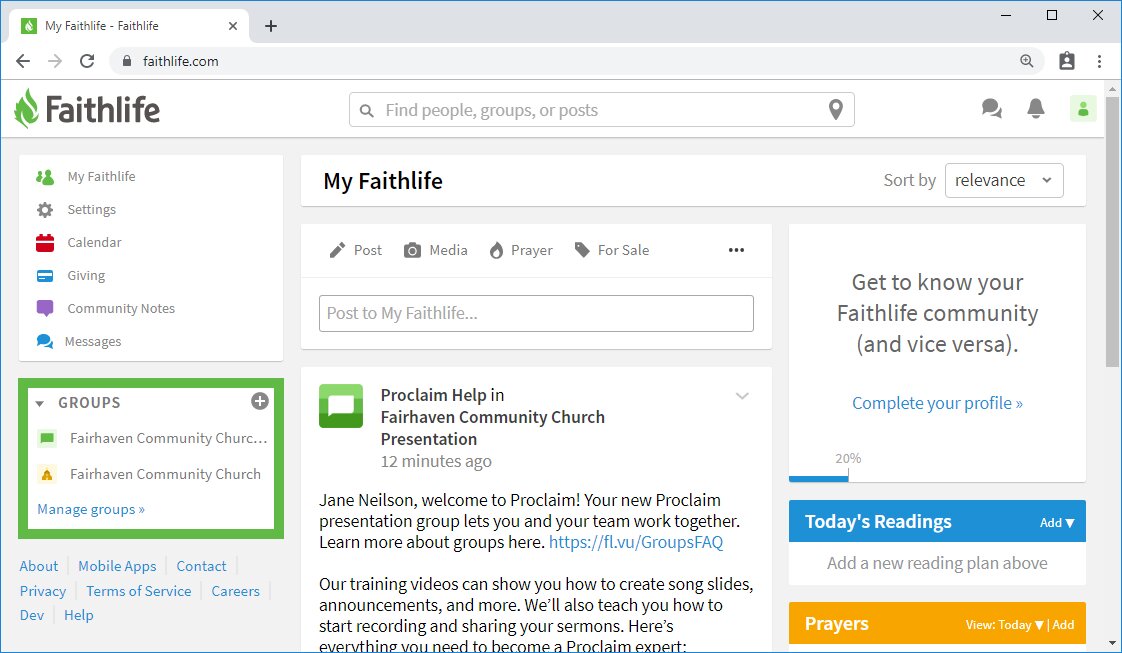 You can invite others to join your team (click Invite Your Team) or Get Started with an example presentation.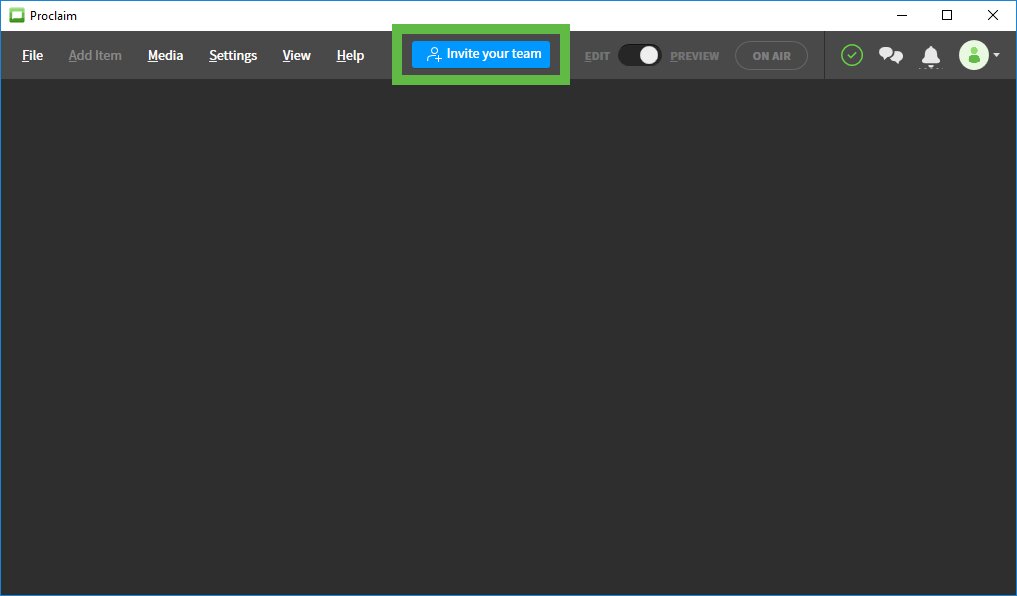 Note: Click here to view a recorded webinar on creating a professional Proclaim presentation.
Skip ahead to:
Order of Service
If you're coming from a more traditional presentation software, understanding the Order of Service is often the most important step to benefitting immediately from Proclaim. It fundamentally parallels your service structure because it's built with your church in mind.
Basic Overview
Every Proclaim presentation contains four sections: (1) Pre-Service Loop, (2) Warm-Up, (3) Service, and (4) Post-Service Loop.
These sections help auto-run your presentation based on your service start time. When you first arrive at your building, go On Air and Proclaim will cycle through the presentation's (1) Pre-Service Loop, showing announcements and any other pre-service items, before auto-transitioning to your (2) Warm-Up section in time to play through once. At the service start time you provide, Proclaim will automatically show your first (3) Service section item. When you finish manually advancing through the Service section, Proclaim will auto-loop through the (4) Post-Service Loop after your service until you go Off Air.
Extended Resources
View full details about the Order of Service or view these related articles:
Collaborate with Your Team
With Proclaim, you can build presentations with your entire team. Each member of your team can download and access Proclaim on any Mac or PC. There are no download limits, as your single subscription covers as many users as you need. Work on as many machines as you need and Proclaim will save and sync everything automatically. 
Note: Send the Volunteer Reference Guide to those running your service presentations. It will teach them everything they need to know to run your presentations.
Basic Overview
You can invite anyone with an email address to join your team. Expand the account settings menu in the top right-hand corner of Proclaim and select Invite Presentation Members. Add email addresses and select Invite.
Extended Resources
View full details about adding people to your presentation group or view these related articles:
Design Announcement and Song Slides
Proclaim gives you access to professional designs and auto-formats much of your content. Additionally, you can connect to more than 25,000 media assets created for churches.
Basic Overview
Proclaim supports both 4:3 and 16:9 aspect ratios (choose in Settings > Presentation). Add a new service item, add content, and apply a Smart Media background. Proclaim will auto-format your text to fit your slide. To add a song, include a song service item and search for a song title.
Extended Resources
Add Sermon Slides to Your Presentation
Adding sermon slides to your presentation can help your congregation stay engaged. You can add sermons to your presentation using a variety of methods.
Quick Summary
You can import PowerPoint or Keynote slides, build your sermon within Proclaim, or import a sermon built in Logos Bible Software.
Extended Resources
Add Bible Verses to Your Presentation
Type the Bible reference and we'll add the passage. Choose from a large selection of popular Bible translations included in Proclaim.
Basic Overview
You can add verses in four ways: (1) add a Bible service item , (2) embed a Bible verse in a content service item, (3) add professionally-designed verse art (search for "Verse of the Day" in the Media Browser), (4) add passages with the On-screen Bible.
Extended Resources
Record And Publish Sermons
Proclaim automates recording and distributing your sermon every week.
Basic Overview
Add start and stop recording cues to tell Proclaim when to record, go On Air, and click publish. Your sermon will post wherever your church has a presence online before you leave the building. You can also manually share any published sermon through traditional social media platforms.
Extended Resources
View full details about recording and publishing sermons with Proclaim or view these related articles:
Create Interactive Presentations
Foster interaction, engage your people, and communicate information through your Proclaim presentation with interactive tools.
Basic Overview
Interact with your congregation with a variety of tools: Signals, interactive tools, or digital bulletins. Anyone in your congregation can access these tools after a quick, one-time setup. If you need help teaching your congregation, you can include instructional videos during your pre-service loop to show your church how to stay connected. Search for "Signals" in the Proclaim Media Browser and include a video in your presentation.
Extended Resources
Additional Resources
You can check for service outages at status.faithlife.com. To learn more about using Faithlife Status, click here.
For more assistance learning Proclaim, access the full Proclaim Support help, join our online community, contact us directly at Support@Faithlife.com or 888–634–2038, or view these selected resources:
Don't have a free trial of Proclaim? Start one today.