Pro Media is an exclusive collection of more than 10,000 still and motion backgrounds available for use in Proclaim. If you're a Pro Media subscriber, you have unlimited access to additional resources on Faithlife Media, such as Photoshop documents. And if you haven't already switched from PowerPoint to Proclaim, you can download the images as PowerPoint templates. These templates can later be uploaded into Proclaim.
Did you know? A Pro Media subscription extends to your entire presentation group in Proclaim and on Faithlife Media.
In addition to being able to add media directly through Proclaim to a presentation without importing it, you can also use the same media outside of Proclaim. Edit in Photoshop, or export your media to include in your weekly bulletin, newsletter, or to share on social media. To get started, follow the steps below.
Explore your Pro Media subscription on Faithlife Media
Once you've purchased Pro Media, navigate to media.faithlife.com in your browser and sign in with the same credentials you use in Proclaim. Select the Media option to view all the Pro Media series to which you and your group have access.
Choose filters to view your media by popularity (the most recently used series in the last week), recency (most recently released Pro Media series), or other facets. If you already know the Pro Media series you want to use outside of Proclaim, search for it in the bar at the top of your browser.
Once you've found the series in which you're interested, click Download to download the media in whichever format you need. Photoshop documents (PSD's) as well as PowerPoint templates (.ppt, .pptx) are options available outside the Proclaim app which can be used in other applications.
Remember: all of the media you see here is already available in Proclaim into the Media Browser. You'll never have to import any Pro Media in the Media Browser.
What are some popular ways to use Pro Media outside of Proclaim?
There are three popular ways to utilize your Pro Media outside of Proclaim:
Exporting your slides for use in a print bulletin
Editing slides in Photoshop
Utilizing the slides to create a PowerPoint presentation to import into Proclaim
Follow along to learn about each unique way you can get more out of your media.
Exporting slides
Pro Media slides make great cover photos for your weekly digital bulletin or newsletter, especially when they match your preaching topic in Proclaim. Follow the steps above to download the images from the series in the aspect ratio of your choice.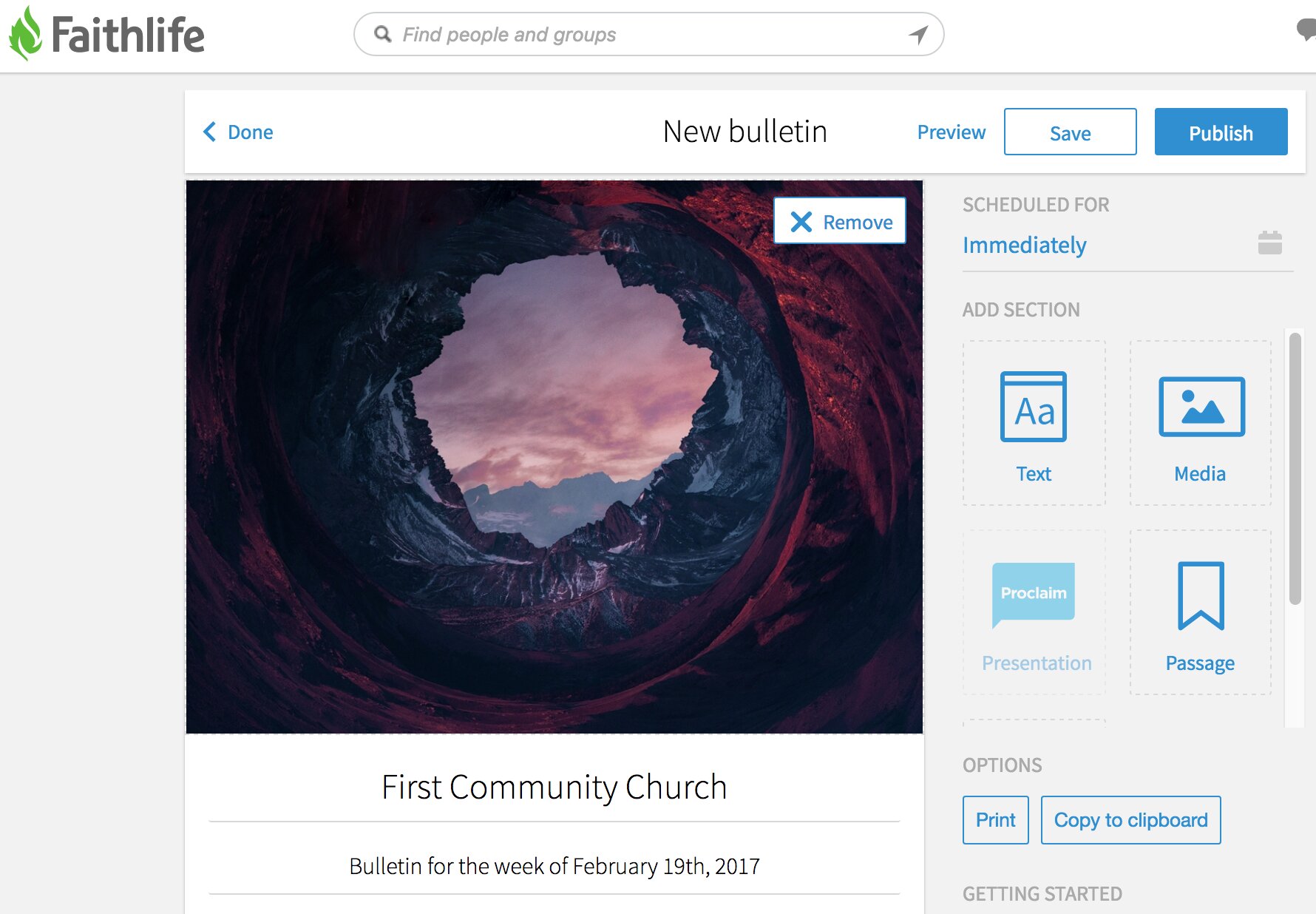 Did you know? You can also export slides in your Proclaim presentation as image files for the same purpose. These saved slides will include any text you've added.
Editing slides in Photoshop
If you use a font that isn't available in Proclaim, or want to make changes to the slide appearance, your Pro Media subscription gives you access to the original Photoshop source files (.PSD). Follow the steps above to download the Photoshop files in the aspect ratio of your choice. Once you've finished editing, export the document as a .jpg image and drag it into Proclaim.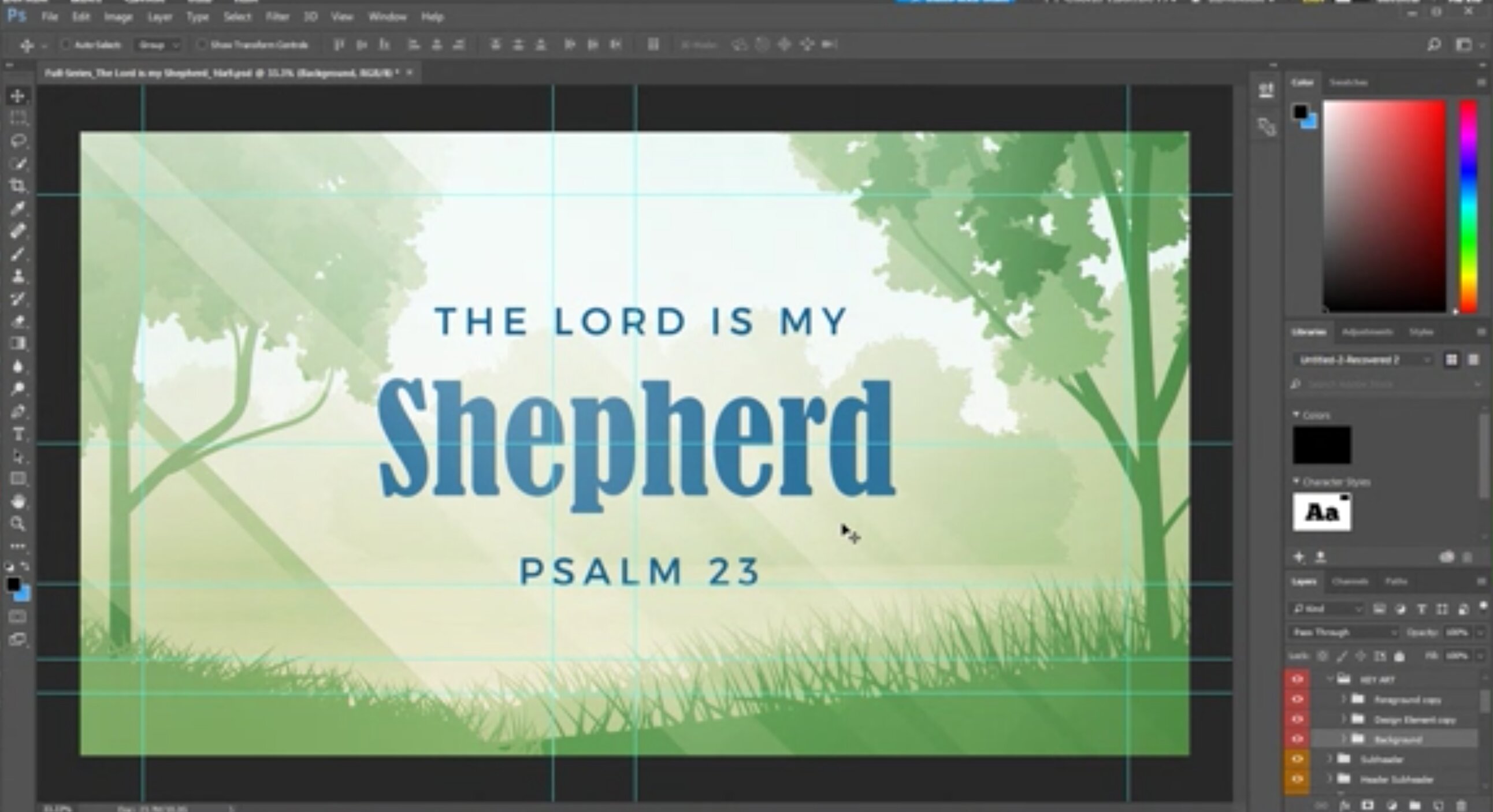 PowerPoint
If a member of your congregation prefers to use PowerPoint to create slides, you can follow the steps above to download the PowerPoint templates in the aspect ratio of your choice. Once the slides are ready, they can be imported into Proclaim with a single click.