Proclaim offers a wide variety of options for your slide backgrounds. Continue reading to learn how to change your slide backgrounds.
Did you know? By default, new service items display on a black background with white text. You can change your default slide backgrounds for many service item types from the settings menu.
1. Select Service Item
Make sure Proclaim is in EDIT mode

. Select the item you want to change in the left-hand order of service panel.
Note: If you want to change the backgrounds on multiple consecutive items, hold Shift and click the first and last items you want to edit. If you want to select non-adjacent items, hold cmd on a Mac or ctrl on a PC and select each slide. Learn more about applying styles to multiple service items.
2. Open Background Menu
Clicking Background expands a dropdown menu of background options.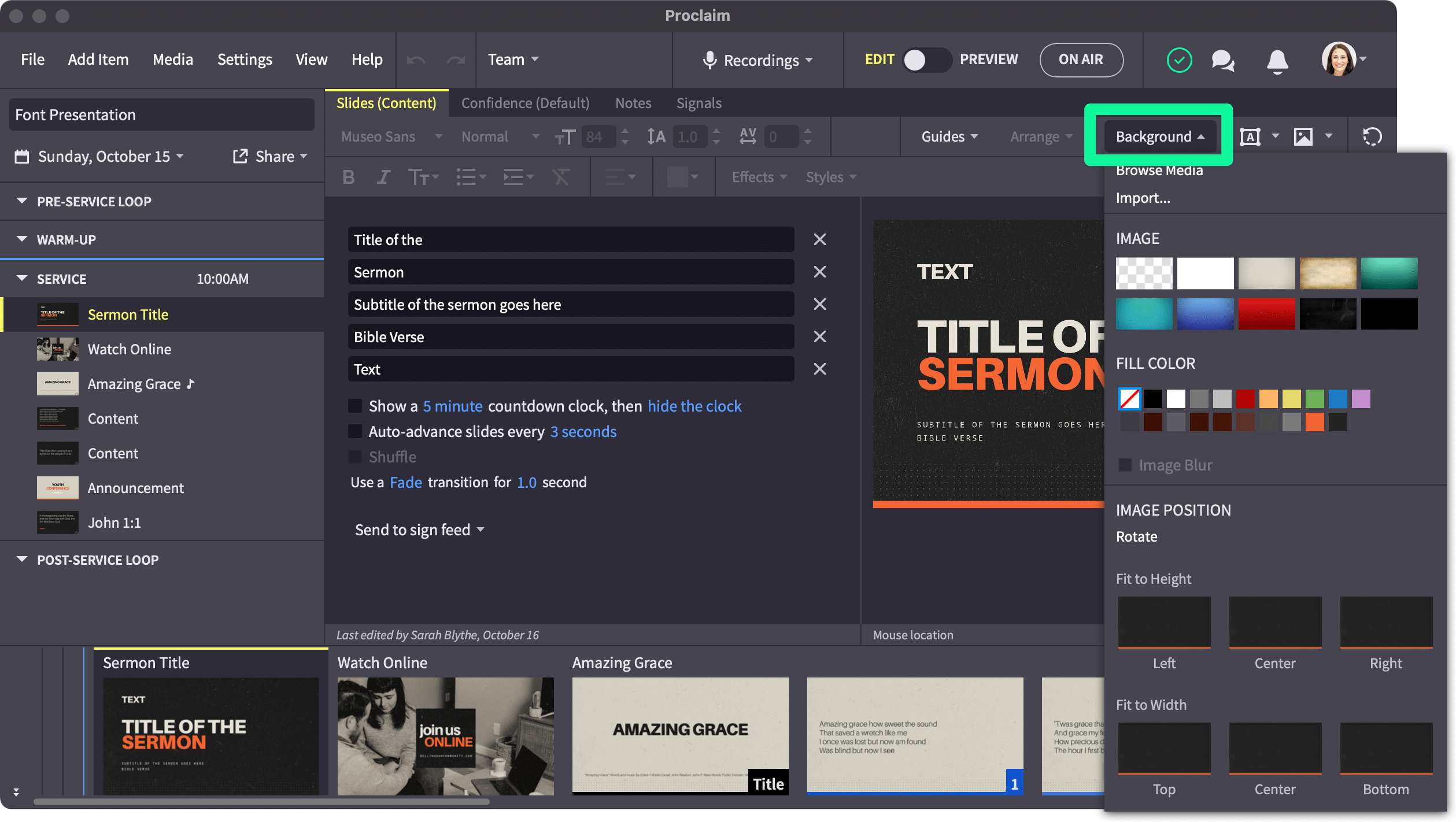 Browse Media opens the Media Browser.
Import… opens a window to select files from another location.
The Image heading displays options for transparent, textured or solid fills.
Note: Fill Color and Image Position apply when your background image does not fill the entire slide.
3. Choose Background Image
Media Browser
Select your desired background image from the Media Browser and click Apply as background. To learn more about using the Media Browser, click here.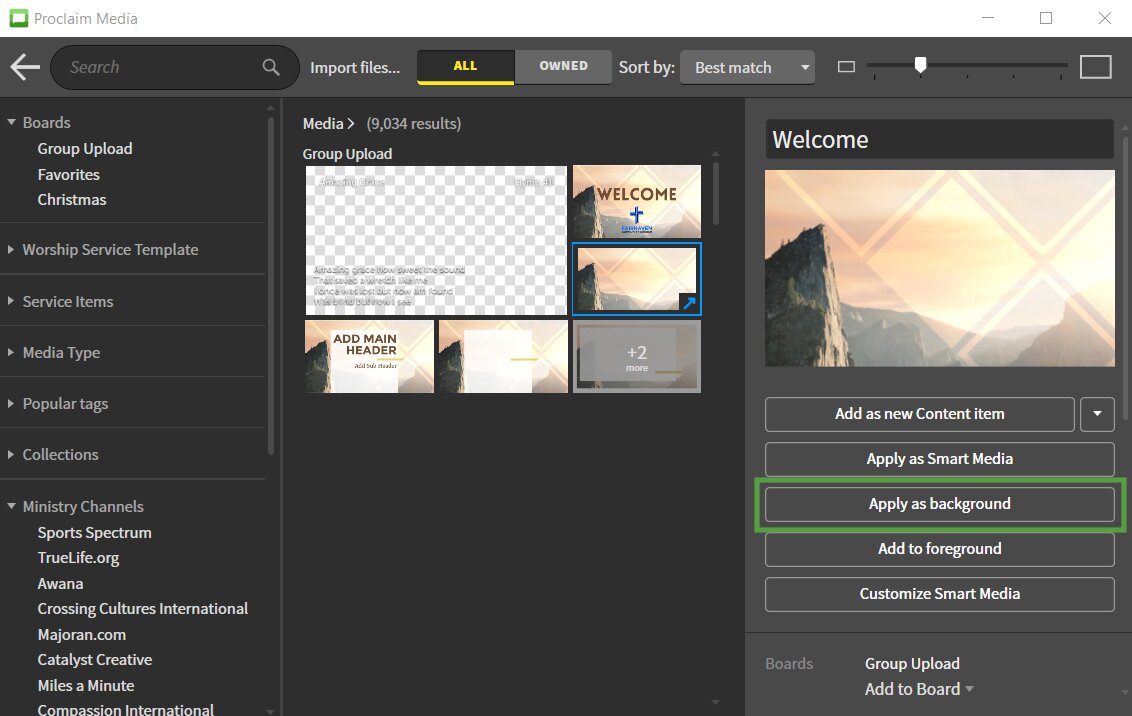 Note: If the lightbulb icon
is present in the lower left-hand corner of the image, you may select Apply as Smart Media. Smart Media automatically adjusts the text formatting for the background you selected.
Your changes are applied to all slides in that service item. To change the background of other service items, repeat these steps.
Import an image
Click Import… to open a file browser window. Navigate to your desired image, select it, and click Open. Before the image is imported to Proclaim, you have the option to rename the image, add tags to facilitate future searches, or add it to a board. Once you're done everyone in your group will be able to use the images on their own slides.
Note: If you don't want to make the image available to others in your presentation team, check the box Use on this computer only.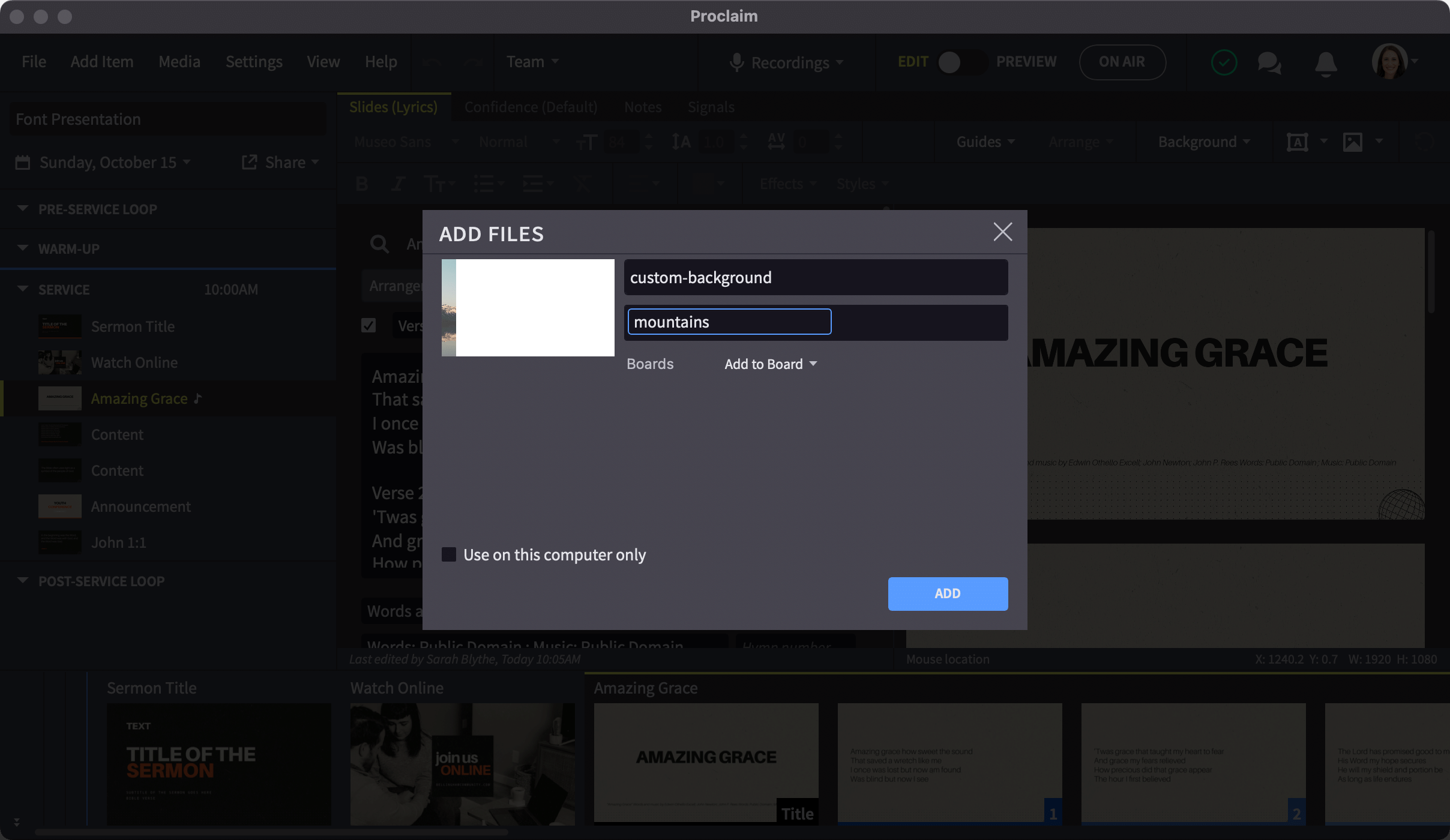 When you are ready to import the image, click ADD. The image is applied as the slide background and added to your Group Upload board in the Media Browser.
Image
To set a transparent, textured, or solid background, select your desired thumbnail from the Image section. The slide background updates immediately when you click a thumbnail.
If you have uploaded an image that does not match your slide dimensions, you can choose where the image is positioned on the slide and the color of the fill for the slide background.