SongSelect can occasionally lose its connection with Proclaim or fail to link altogether.
Note: If you continue to experience trouble linking SongSelect, please submit log files and let us know that you are having issues with your SongSelect account staying linked.
"I lost my existing SongSelect Link"
If SongSelect in Proclaim formerly worked and is now broken, your credentials may have expired and Proclaim failed to refresh the credentials. 
To refresh your credentials manually:
Expand the account menu and select Link Your Accounts.
Click Remove to unlink Proclaim and SongSelect.
Click Enter Info in the same window, provide your SongSelect username and password and sign in (if prompted) to reestablish the link. We recommend checking Keep me signed in to minimize reauthenticating in the future.
Return to your song, and retry your search. If reauthenticating does not fix the problem, continue reading for more troubleshooting steps or submit log files for additional help.
"SongSelect fails to Link"
Occasionally, a SongSelect account will fail to link to Proclaim. You will receive an alert message.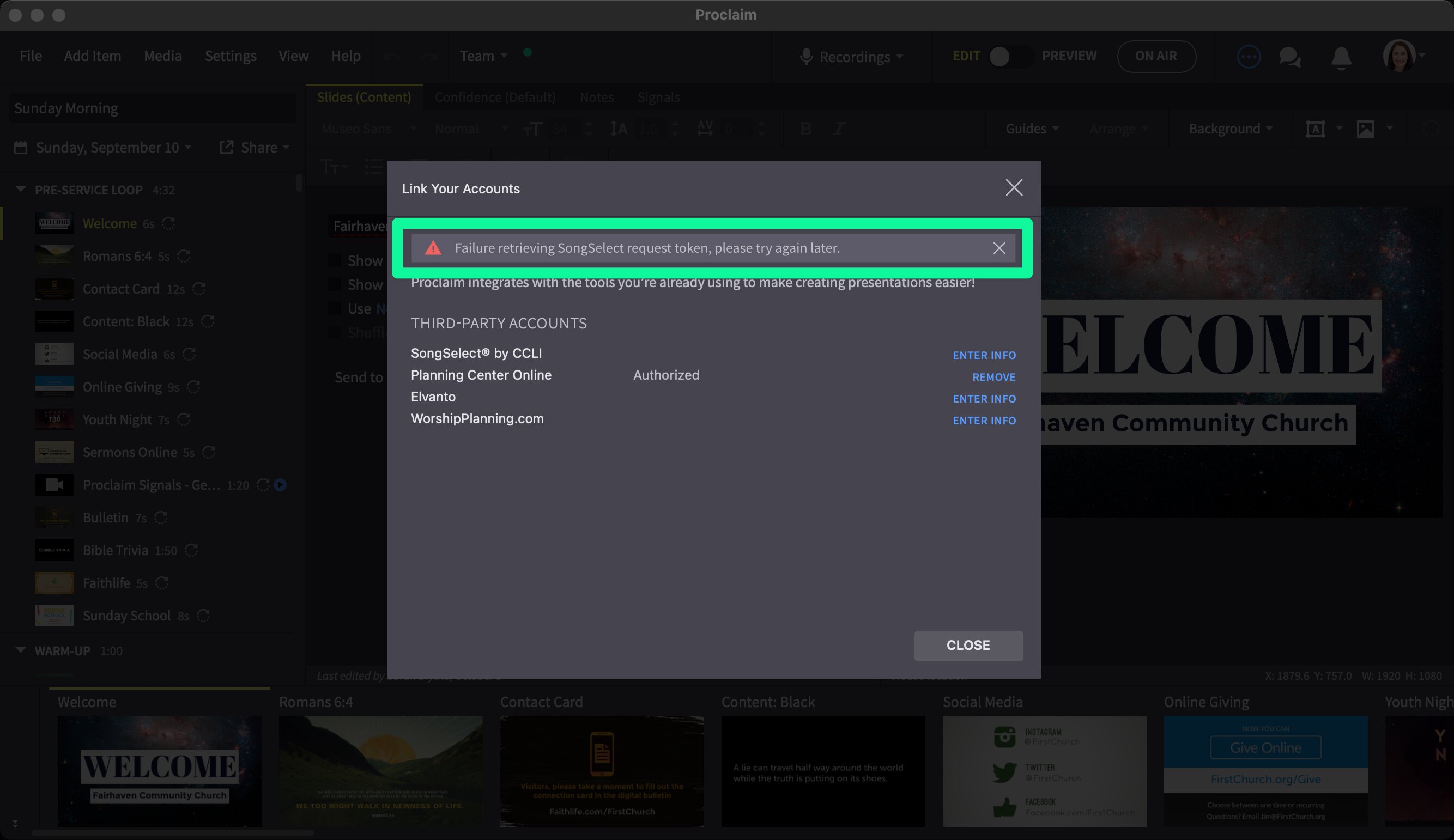 Here are four common reasons why a failure may occur: 
Cause #1: Computer's System Time
If your computer's system time is more than forty-five seconds off the SongSelect server's time, the link will not be established. You can often fix this by setting your computer time to automatically update.
Cause #2: Problems with SongSelect Account
Another cause could be an issue with your SongSelect account, which you can check by ensuring you can sign in to songselect.ccli.com using the same credentials. If you're unable to retrieve lyrics from SongSelect's website, you may want to contact their support department.
Cause #3: Recently Changed SongSelect Password
If you have changed your SongSelect password subsequent to linking your accounts, you will need to unlink your accounts and re-enter your SongSelect credentials in Proclaim.
Cause #4: Problems with Proclaim
If you are able to access your songs on songselect.ccli.com and your computer's time is set to automatically update, your Proclaim account may be experiencing unknown problems. Please please submit your log files and one of our support technicians will investigate further.