Proclaim software is crafted to operate in a multitude of environments as well as Mac and Windows platforms. We're always working to make Proclaim a better experience by incorporating new media, features, and integrations with other related software. The number of possible software and hardware configurations can sometimes cause issues with video performance. Here are some ways in which to improve video performance in Proclaim:
Ensure all videos are synced to your group
When uploading a video from your computer to use in your Proclaim presentation you are given a choice to sync the video file or to have Proclaim reference the video locally on your computer.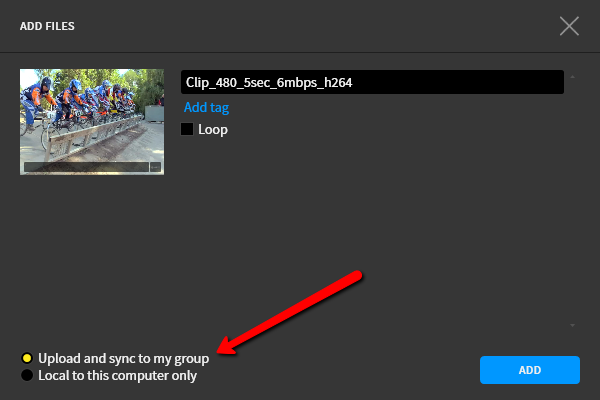 Once you have made this choice, Proclaim will not automatically sync that video to your group unless you re-upload the video and select Upload and sync to my group. If your group consists of members using Proclaim on more than one computer, any video uploaded selecting Local to this computer only will not play.
Update your video card drivers
Every video card uses different software to communicate with the rest of the programs on your computer. It is essential that these drivers be kept up-to-date in order to ensure their compatibility with the current version of Proclaim.
To update your video card drivers on Windows 10 or higher, click on the Start menu and type in Device Manager to access a list of your computer's hardware. Click on Display adapters and right-click on your graphics card. Select Update Driver Software... from the right-click menu.
Follow the steps in the Windows tutorial to locate, download, and install current drivers.
Alternately, you can visit the website of your graphics card manufacturer and search for your video card (which you can identify with the Device Manager if you are not sure). Most manufacturers have an auto-updater that will install the drivers.
Disable hardware acceleration
You can find out more about hardware acceleration and whether you should disable it to improve performance here.
Disable anti-virus software
There are many different anti-virus software options on the market, some of which may see Proclaim as a threat rather than a trusted piece of software. If you are experiencing videos that are playing improperly, make sure that Proclaim is on your anti-virus software's Allowed Programs list, or that the anti-virus software is disabled.
Disable remote software
Remote access software such as LogMeIn can cause memory leaks and other serious video performance issues. Proclaim software is intended to be used directly on a desktop or laptop for best performance.