SongShow Plus uses a propriety filename extension for their song files. There is a free third-party tool called OpenLP that adds export functionality to SongShow Plus. Currently, this unsupported workaround is the only way to get your song files from SongShow Plus into Proclaim.
Exporting using OpenLP
On your hard drive, navigate to the following folders:
C:\Users\Public\Public Documents\R-Technics\SongShow Plus\Songs (this is where your user-generated songs are stored)
C:\Program Files (x86)\R-Technics\SongShow Plus 8.2\Bin\Songs.Stock Hymns (this is where the stock hymns are stored)
In OpenLP, navigate to the File menu and select Import and Song.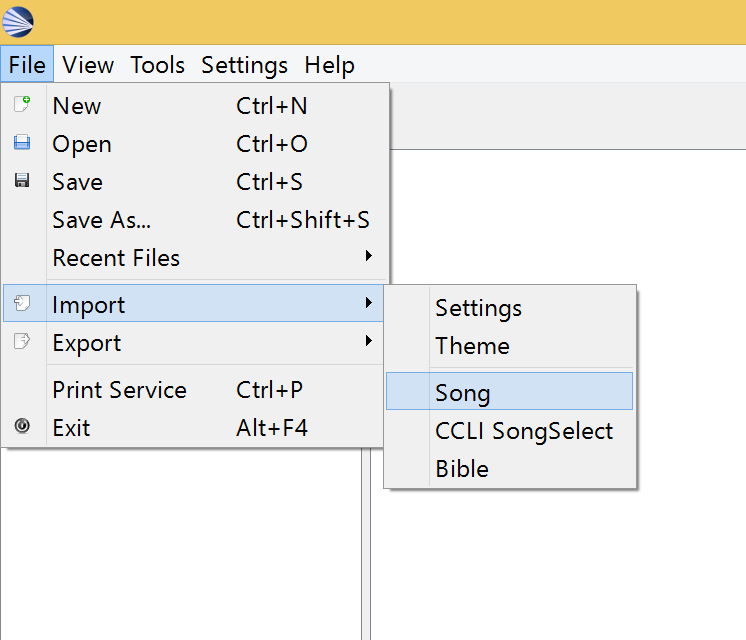 In the Song Import Wizard, select the SongShow Plus format and add all of the files you located from the two folders in the first step.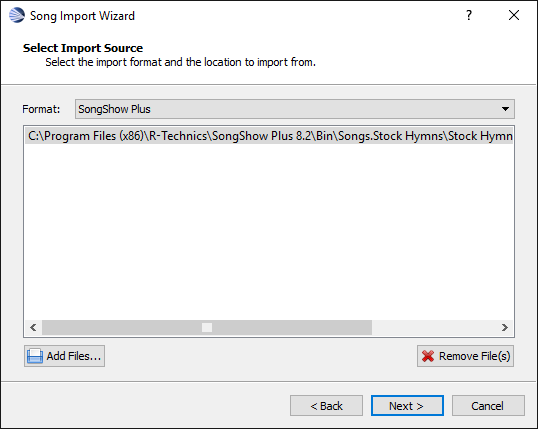 Once the songs have finished being imported, select Finish. The original SongShow Plus song files are now imported into OpenLP and can be exported to text files by following the instructions found in this link.
Note: once you have exported your song lyrics from OpenLP using the link above you will have to import them into Proclaim. Click here to learn how.