Repeating a service item allows you to create an automatic loop for an item in the Service section of your presentation. Adding a repeat provides a level of automation that is not inherent in the Service section by default.
This feature is available for Content and Image Slideshow service items and requires the item to have multiple slides. (Note: Video items have a separate, but similar 'loop continuously' option)
Skip ahead to:
Repeat a Service Item
With Proclaim in Edit mode, select the service item you want to repeat, ensure it has multiple slides, and check the box labelled Auto advance every [3] seconds. This activates the Repeat option. Check the box to the left of Repeat to apply this setting. Click the number in the auto-advance option to adjust the display timing. Learn more about customizing slide transition times. To repeat a video item, select Loop continuously.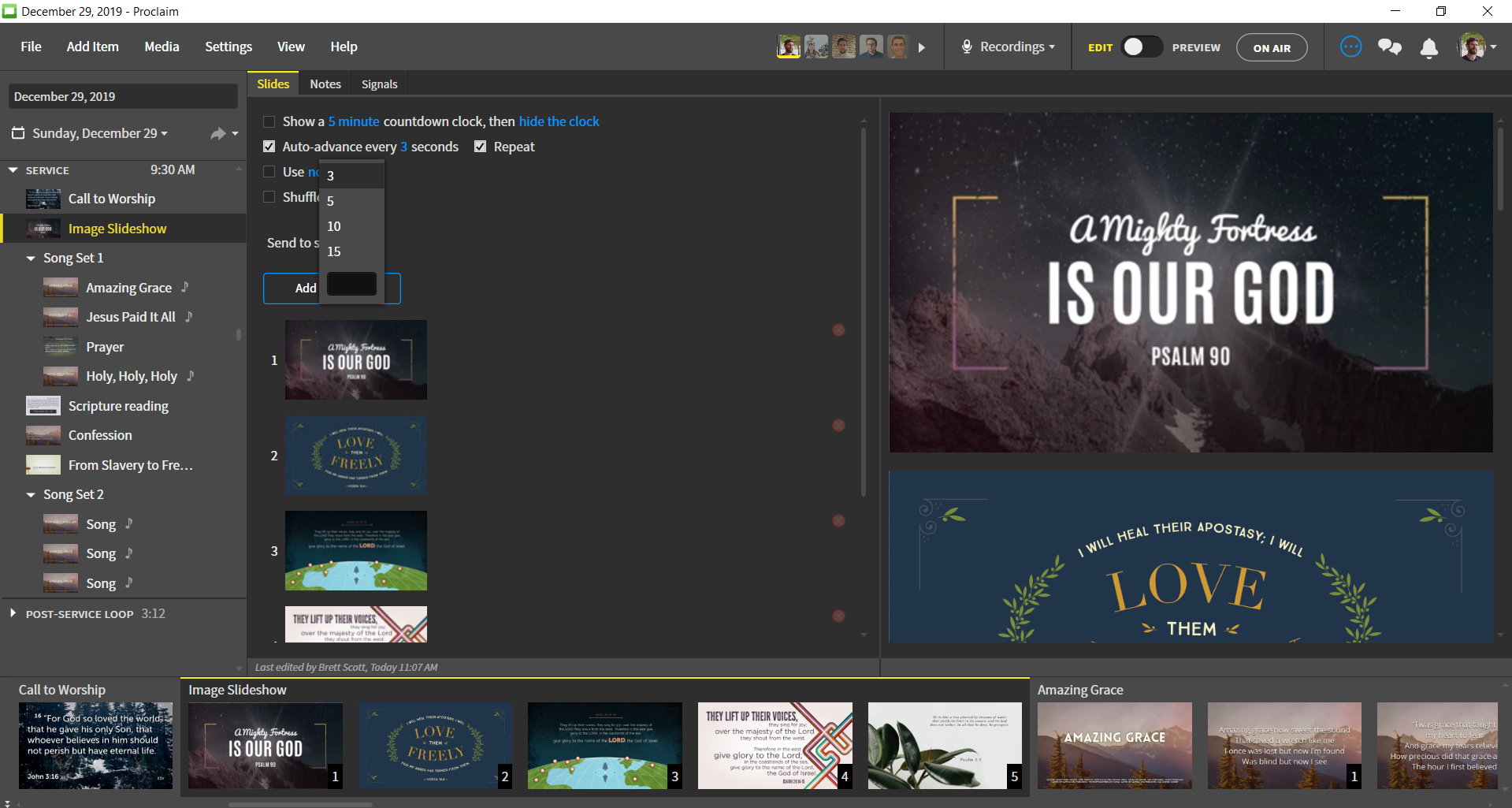 Pro Tip: To repeat a verse or Scripture passage, add a Content item and enter the Scripture reference within double brackets (e.g. [[John 14:1–6]]).
Suggested Applications for Repeating Items
Consider using the Repeat feature in these situations:
Display a set of pictures to loop while you are speaking.
Create a looping presentation for digital signage.
During a break in class or seminar presentation, display a looping series of images or announcements until you resume the presentation.
Create a series of prompts that loop during a time of prayer.
Repeating Items vs. Pre/Post Service Loop
Repeating a service item is similar to the pre/post-service loop with some notable differences.
The pre/post service loop can be a set of mixed service items. The Repeat feature is only applicable to a single item at a time.
Proclaim automatically sets the default timing scheme for the pre/post-service loops based on the number of service items. When you repeat a service item, you manually select the display time for the selected item. (Learn more about customizing your slide transition times.)
The pre-service loop ends automatically at your selected service time. When you repeat an item, it loops indefinitely until you manually navigate to the next item.
Note: Learn more about the sections in the Order of Service.