Proclaim supports live video feed on your slides during your presentation. Follow these directions to configure your set up. (Don't have Proclaim? Get a free trial today.)
Did you know? You can overlay lyrics from Proclaim while live streaming. Learn more.
Use Built-in Video Input
The easiest way to get up and running is to use the built-in video input.
1. Connect your camera
Attach your own camera, or use your computer's webcam.
2. Enable video input
Go to Settings, select Video Input and enable video input.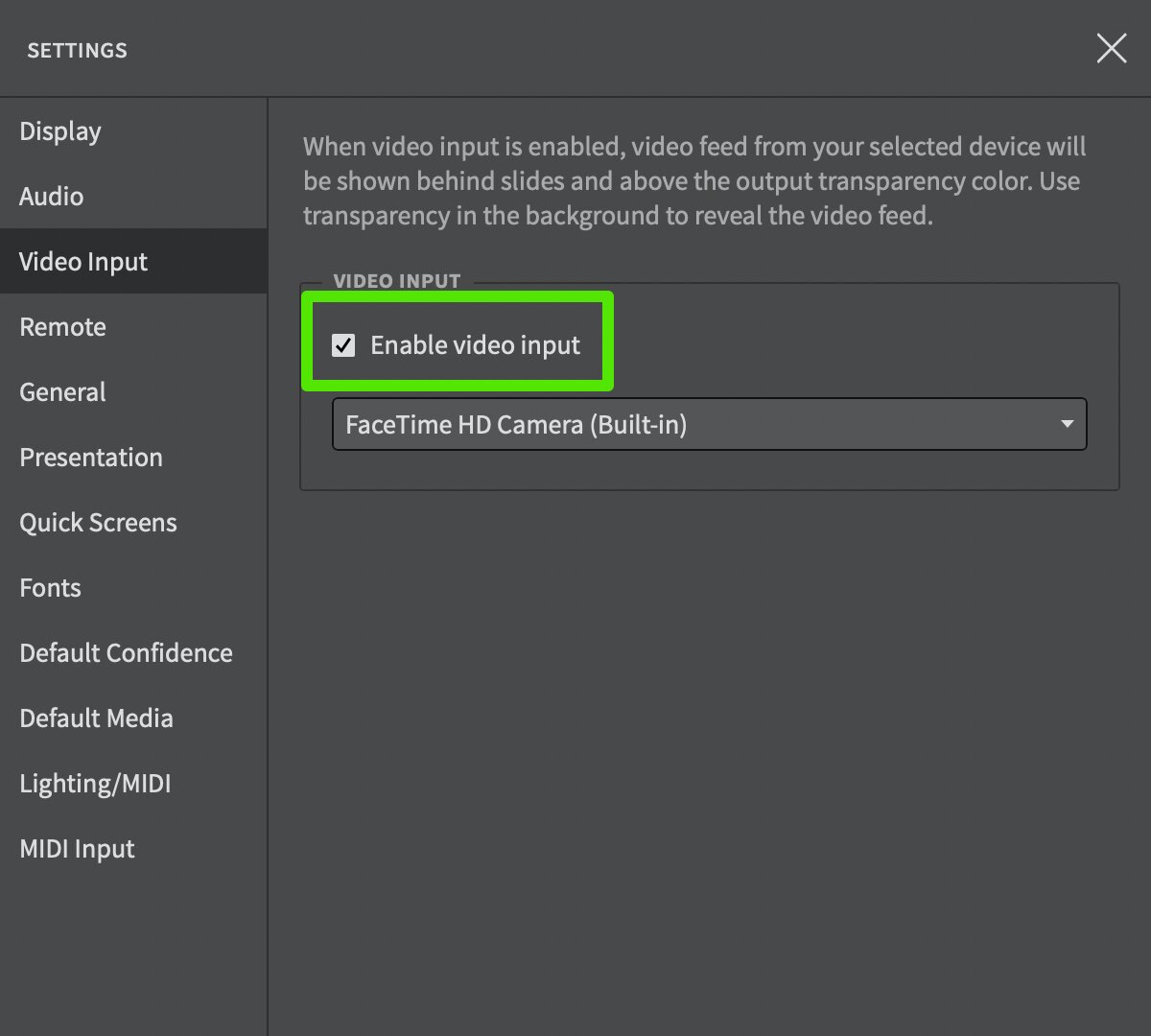 Use a Switcher
To go between multiple cameras, you'll need to configure Proclaim to use a video switcher.
1. Connect your video switcher.
You will need a video switcher that can utilize either:
One popular options is the ATEM Production Studio 4K switcher.
2. Set your transparency color.
Expand the Settings menu and select Display. Choose a transparency color. By default, Proclaim fills transparent portions of the slide black. For live video feeds, select one of the two key colors from the list.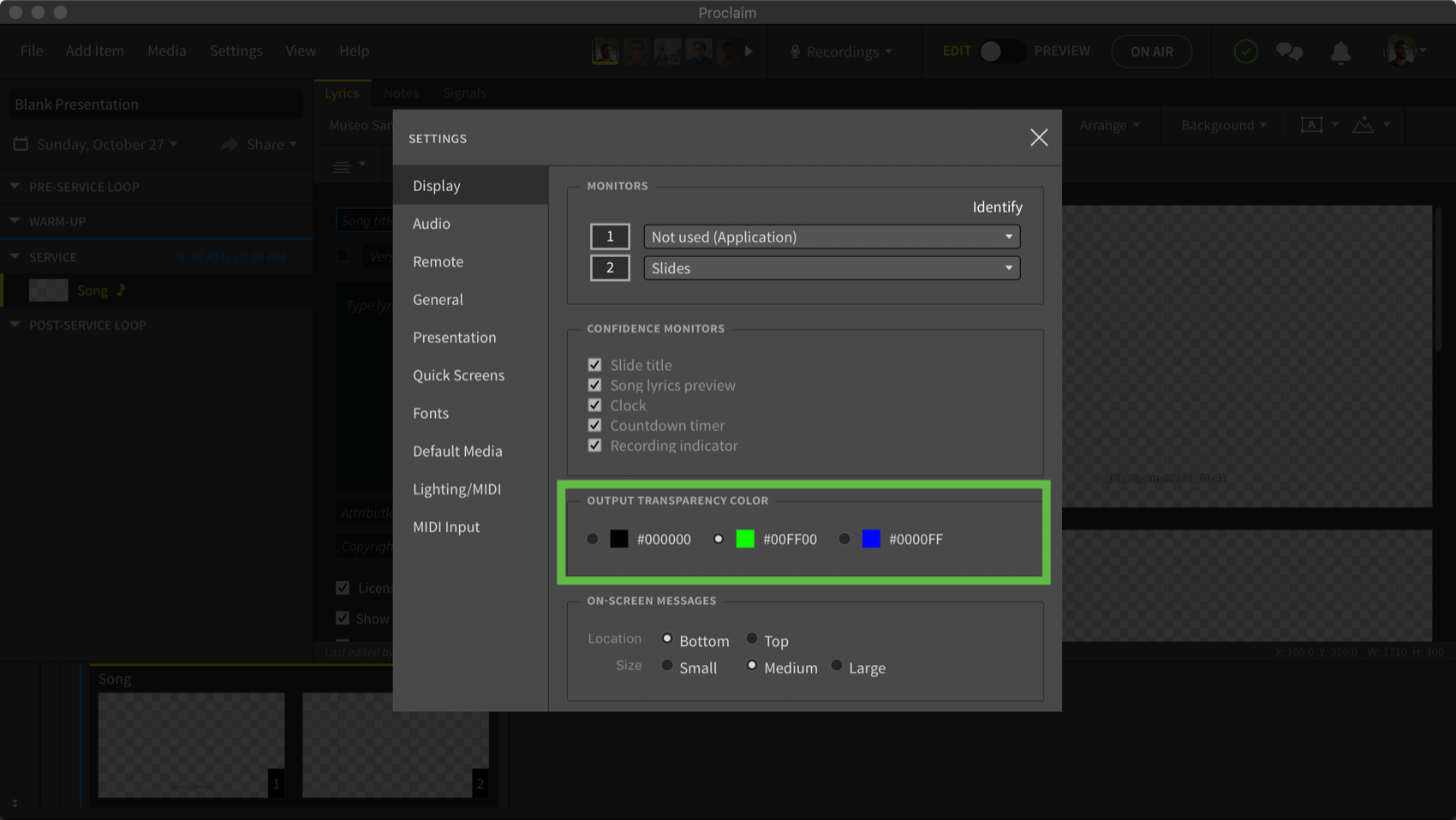 3. Configure your video feed color.
On your switcher, set the video feed to the color you've keyed in. Proclaim provides exact Hex color codes in the display settings (as shown above).
Create Your Presentation
1. Add transparent service items.
You can manually create your own transparent slide design or choose one of the Pro Media Smart Media built for live video.
Note: You can set default media for song, Bible, content, and announcement items (Settings > Default Media). If you do not set default media, Proclaim will add new media with a black background and white text. Consider setting your default media to a transparent background if you plan to frequently show live video. Learn more about setting default media.
Manually create your own slide design.
Expand the Background dropdown and select the transparent background, which looks like a checkerboard. Anywhere you see the checkerboard pattern behind your slide is transparent and will be filled in with the output transparency color that you select in the Settings menu: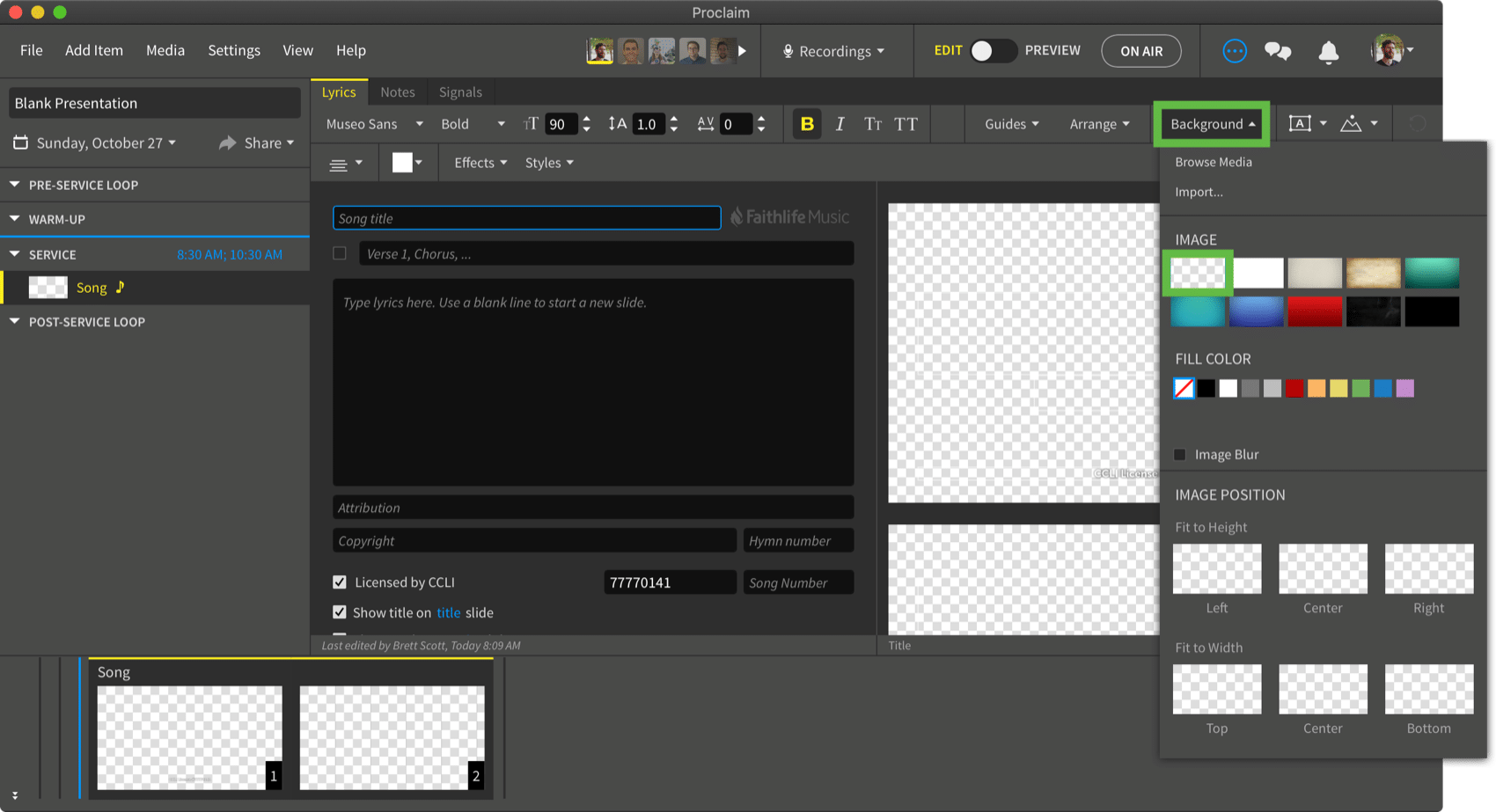 Adjust the text boxes fit your needs, like a lower-third for lyrics. Change the text styling to work with your environment. Remember that your text needs to be visible over your live feed, not against the temporary checkered background. A drop shadow or outer glow effect can often aid visibility. You can also add a background shape to provide a backdrop for your text.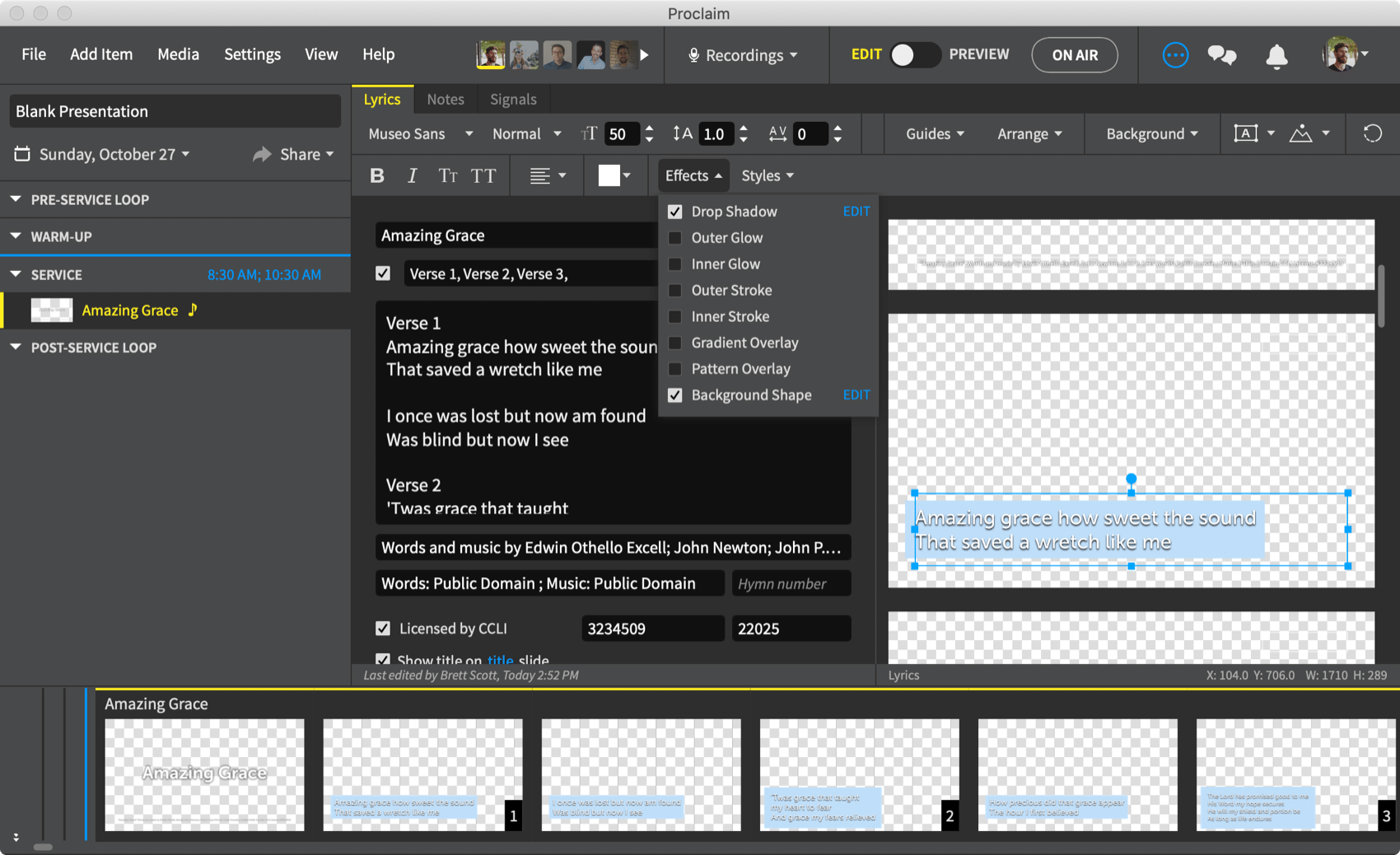 Note: Consider saving your design as a custom Smart Media template to easily access it later.
Choose a Pro Media template.
Proclaim Pro Media includes lower thirds Smart Media for use with live video. Open the Media Browser (Media > Browse Media) and search for "Lower Third" to display the available templates. Add any Smart Media as a new item to include it in your service.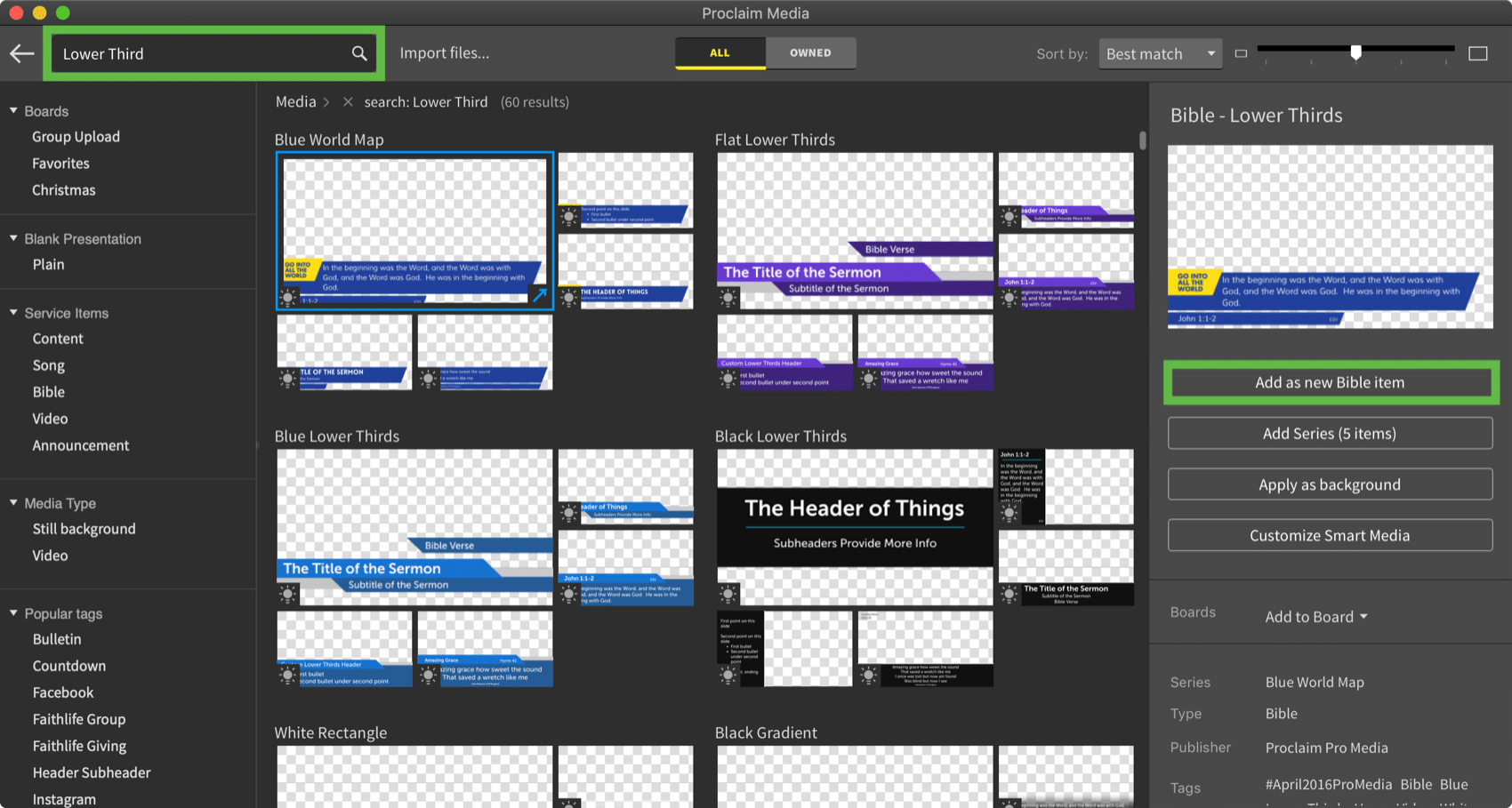 2. Make any necessary slide break adjustments.
With a lower third, you may need to manually add slide breaks. Proclaim adjusts your text to fit your text box, but you may find that lower thirds require manual slide breaks. You can add breaks to your text with the slide break button

or the keyboard shortcut, two hyphens ("--").
Bible item example
With a Bible item, you may find that toggling on "One verse per slide" helps. Proclaim adds slide breaks for you between each verse. With longer verses, though, you may still need to add manual breaks.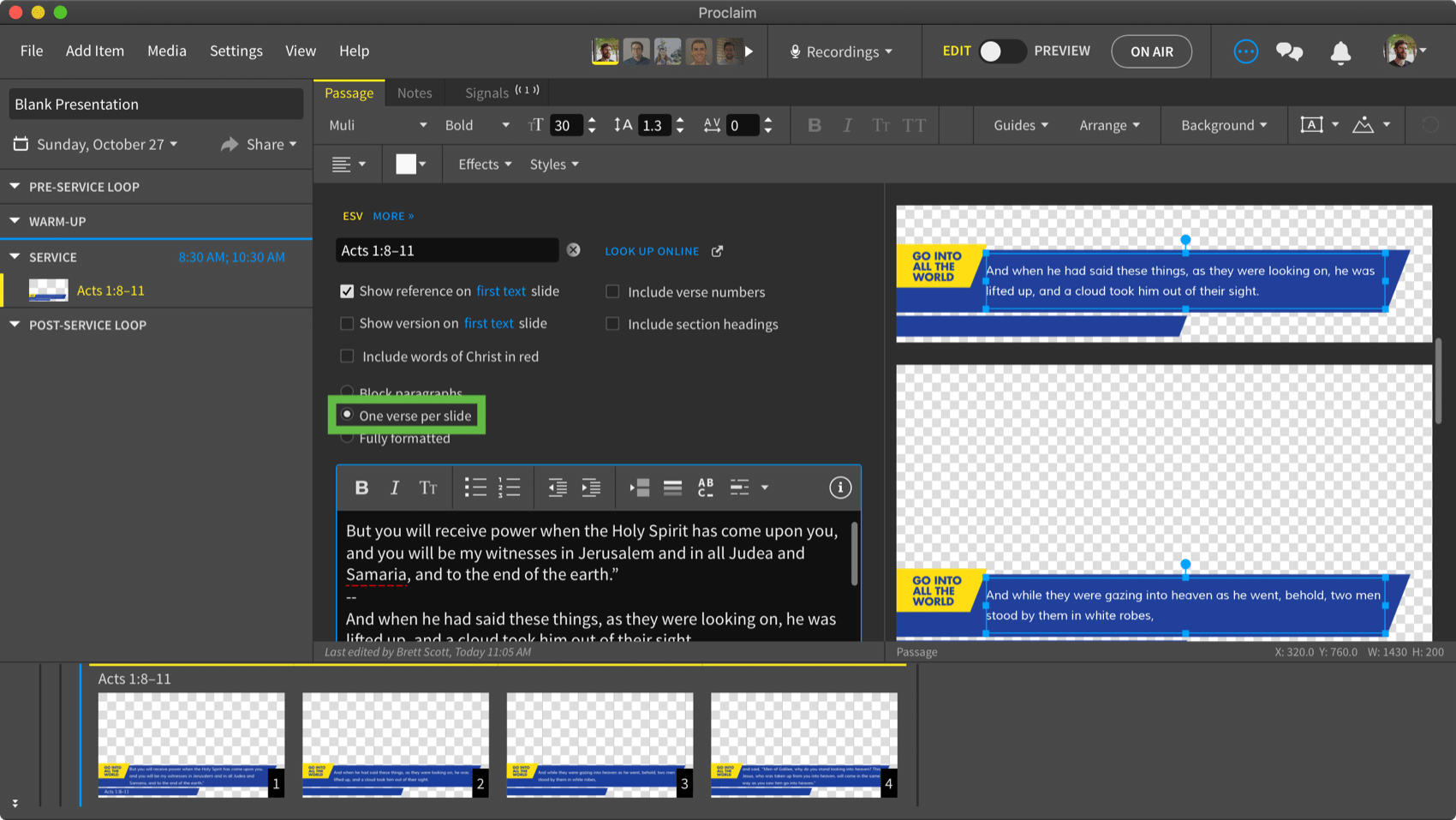 Song item example
If you add a song item with a lower third over live video, the text may be too small to view.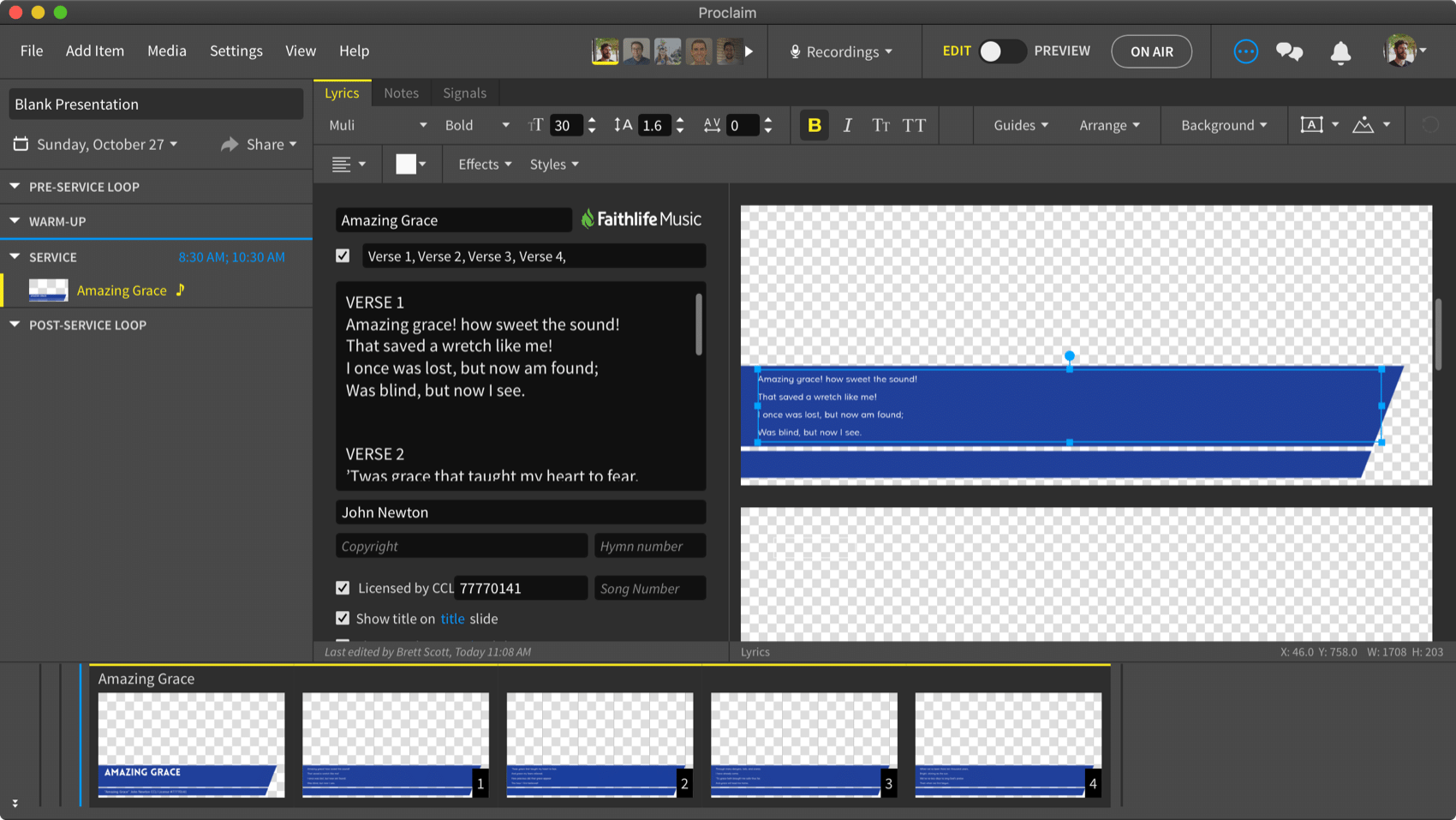 Add line breaks to adjust the text layout (add a blank line by pressing your keyboard's Return key or add a slide break

to spread the text out over several slides).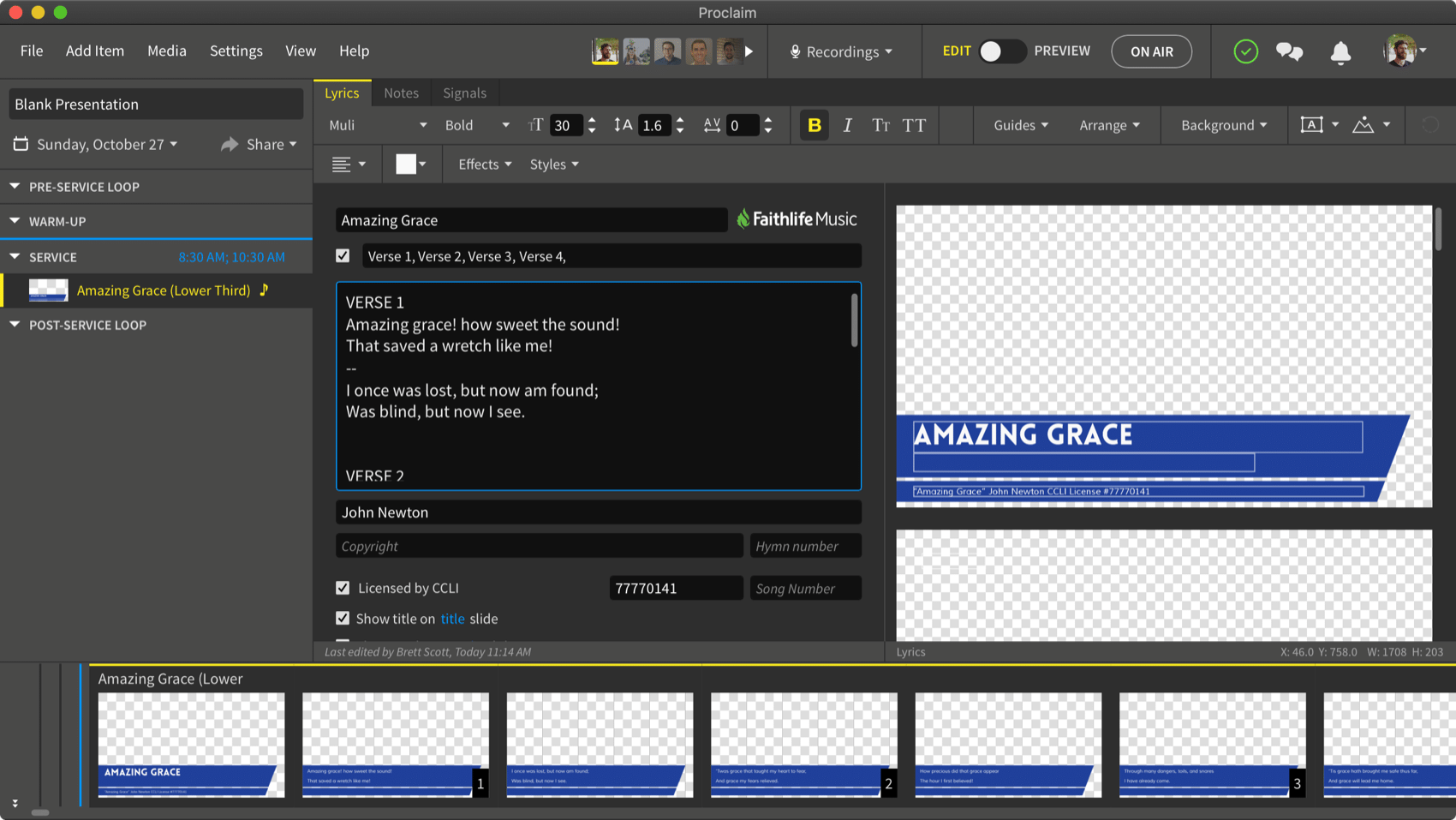 Did you know? Proclaim can remember custom formatting? That means if you always sing a song a certain way, Proclaim can save your preferences. Rename any songs you adjust for lower thirds in your service order so they'll be easy to reuse in a later service. Right-click the item in the order of service panel on the left, select Rename and provide a descriptive name like "Amazing Grace (Lower Third)" (view example above). In future presentations, select reuse item from the Add Item menu and search for "Lower Third" to view all your songs you've custom formatted.