If you create part of your presentation in PowerPoint, Proclaim supports transferring control of your slides to this program. Navigating to the PowerPoint service item in your Proclaim presentation automatically opens PowerPoint at the correct time, saving you the trouble of multi-tasking. Additionally, unlike a basic PowerPoint import (which adds your slides as static images), transferring control to PowerPoint preserves your built-in animations.
Note: Transfer control to PowerPoint is only available on Windows machines with PowerPoint installed.
To transfer control to PowerPoint, follow these steps:
1. Select PowerPoint Presentation
Open your Proclaim presentation and click Add Item. Hover over Import item and select PowerPoint…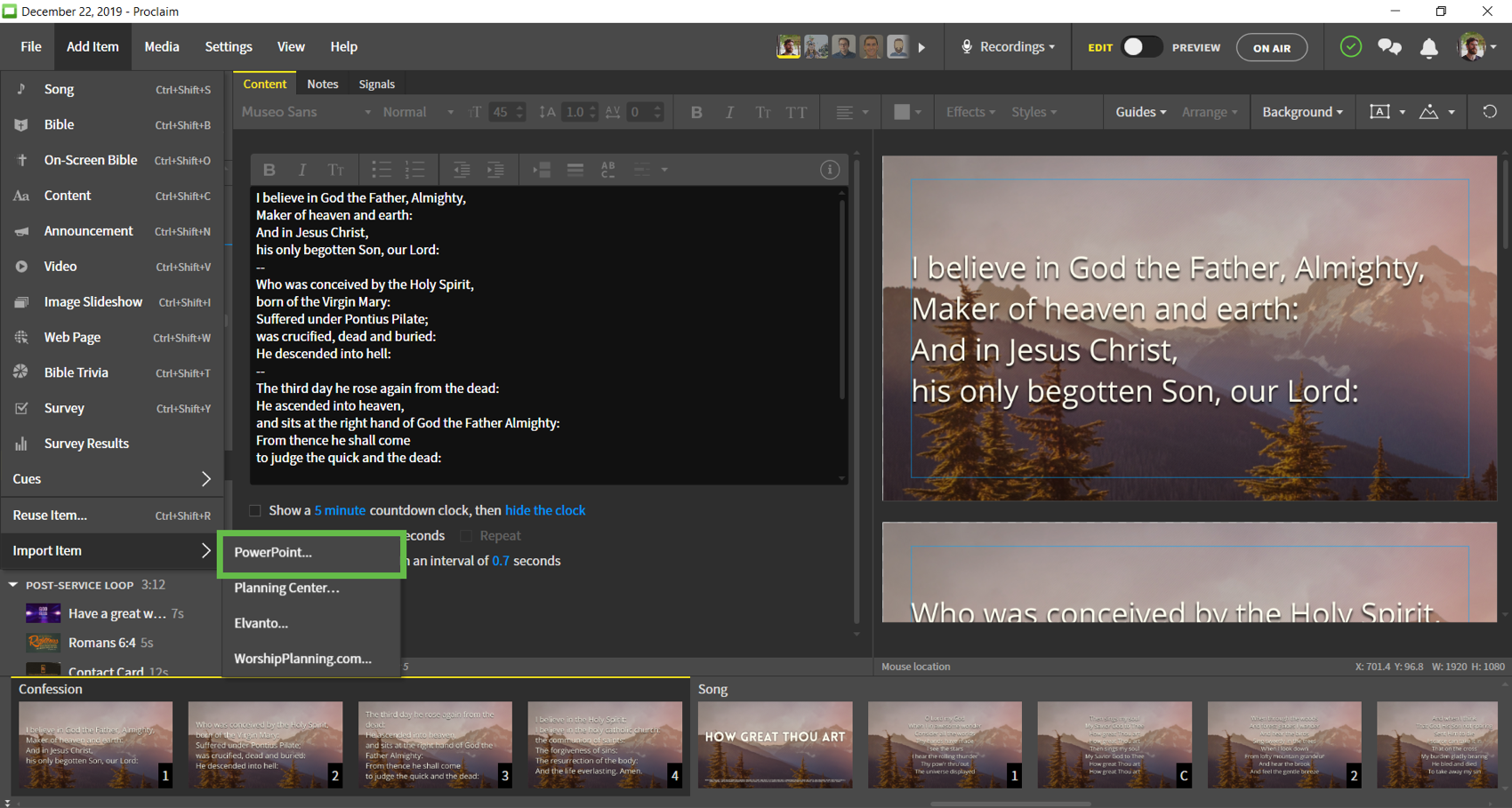 Note: Learn more about importing PowerPoint slideshows.
2. Adjust Import Setting
Select Transfer control to PowerPoint and click Add to import the PowerPoint slides into your Proclaim presentation. Due to formatting differences between Proclaim and PowerPoint, elements in the slides may not display properly. However, when control transfers to PowerPoint, the slides display as they are formatted within PowerPoint.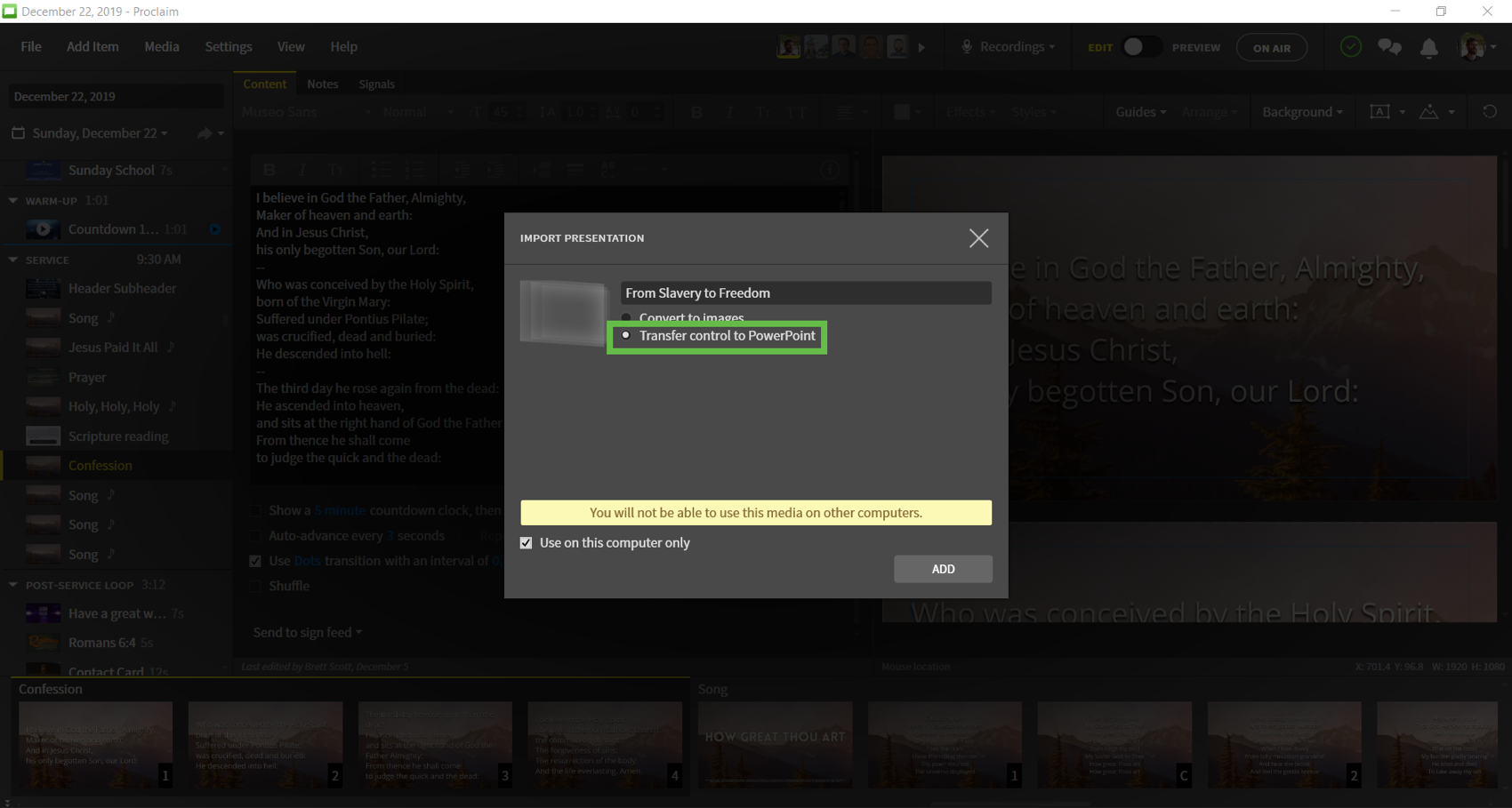 Note: When you select Transfer control to PowerPoint, the file is only available locally and cannot be synced. Ensure that you're adding the PowerPoint slideshow on the computer that will be presenting On Air.
3. Run Presentation in Proclaim
Navigating to the service item containing the PowerPoint slideshow while On Air opens PowerPoint and begins your slideshow. When you navigate past the last slide in PowerPoint, the Proclaim window pops up and continues your presentation.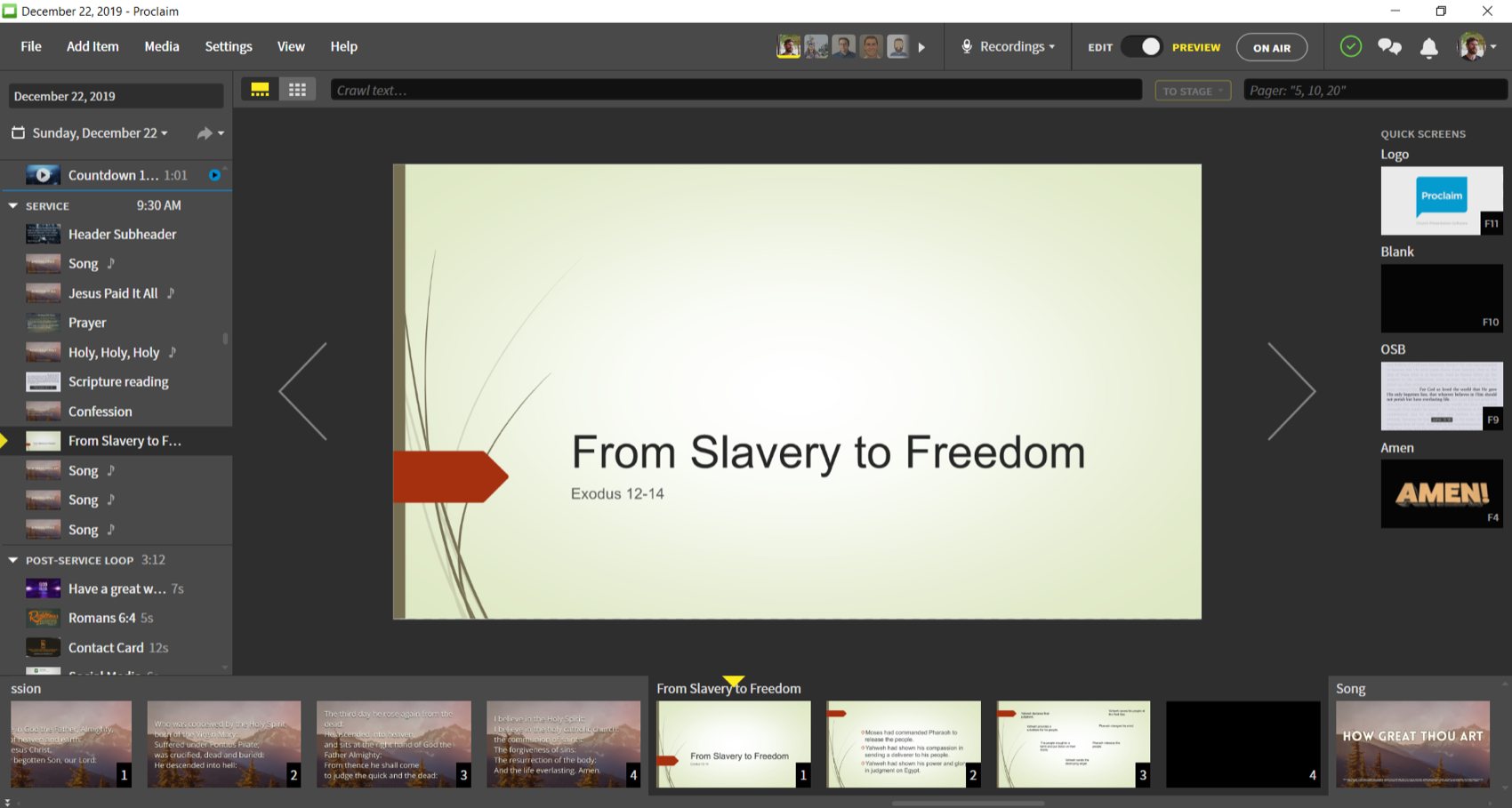 Tip: We recommend opening the PowerPoint application prior to going On Air. Although Proclaim opens PowerPoint automatically, there may be a delay as the application loads.
If you are using the Proclaim Remote to control your presentation…
You do not need to have PowerPoint running at the time of the presentation (although we recommend it: see tip above).
Use the arrow keys to advance slides and trigger animations.
Because you transferred control to PowerPoint, Proclaim controls are inactive during the PowerPoint slideshow (i.e. features like

Quick Screens

are not available).
You may notice a flicker at the beginning of your presentation as Proclaim transfers control to PowerPoint and reclaims control at the end.
Note: Many of the most used features in PowerPoint can be accomplished with greater ease in Proclaim. Learn more about the text features available in Proclaim or watch the video below to learn how to make the transition from PowerPoint to Proclaim.