Now that you're ready to go with Digital Signage, here's how to create your sign feeds.
Creating a sign feed
Once you're on your Presentation Team group's page, click Digital Signage in the menu on the left to manage your sign feeds.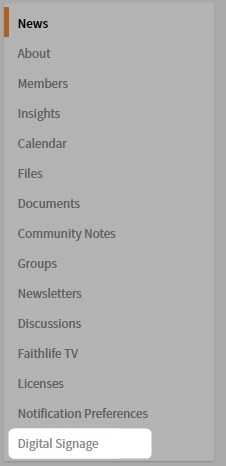 Click Add Feed. Give your feed a name, and choose whether to add Bible Art and whether to allow On Air presentations to take over your sign feed. Click View to see your sign feed.
Your feed is already live; that's all there is to it.
Copy down the URL and enter it into any web browser to show your signs.
Note: Just like presentations, changes to your feed are synced to the cloud, and anyone in your presentation group can make edits.
Adding custom slides
Use Proclaim to add custom slides to your sign feed. If you don't already have Proclaim, download it here.
Once Proclaim is installed and open, click File > Open sign feed to see your available feeds. If you've used Proclaim, you'll notice that your sign feed looks and behaves like the pre-service loop.
Click Add Item to add custom items to your feed.
Displaying your feed
Now that your sign feed is created, learn how to display it, as well as how to select and install your monitors.
Going On Air
Go On Air to show your sign feed on a display connected to your computer. This is ideal if you don't want to use a web browser or don't have an internet connection.