Faithlife groups are online communities for fellowship with other believers. Within your Faithlife group, you can schedule events, share posts, make prayer requests, send newsletters, discuss your Bible reading, and much more.
To get started, navigate to Faithlife.com and Sign in. If you don't yet have a free account, you can create one in a few seconds (click Register).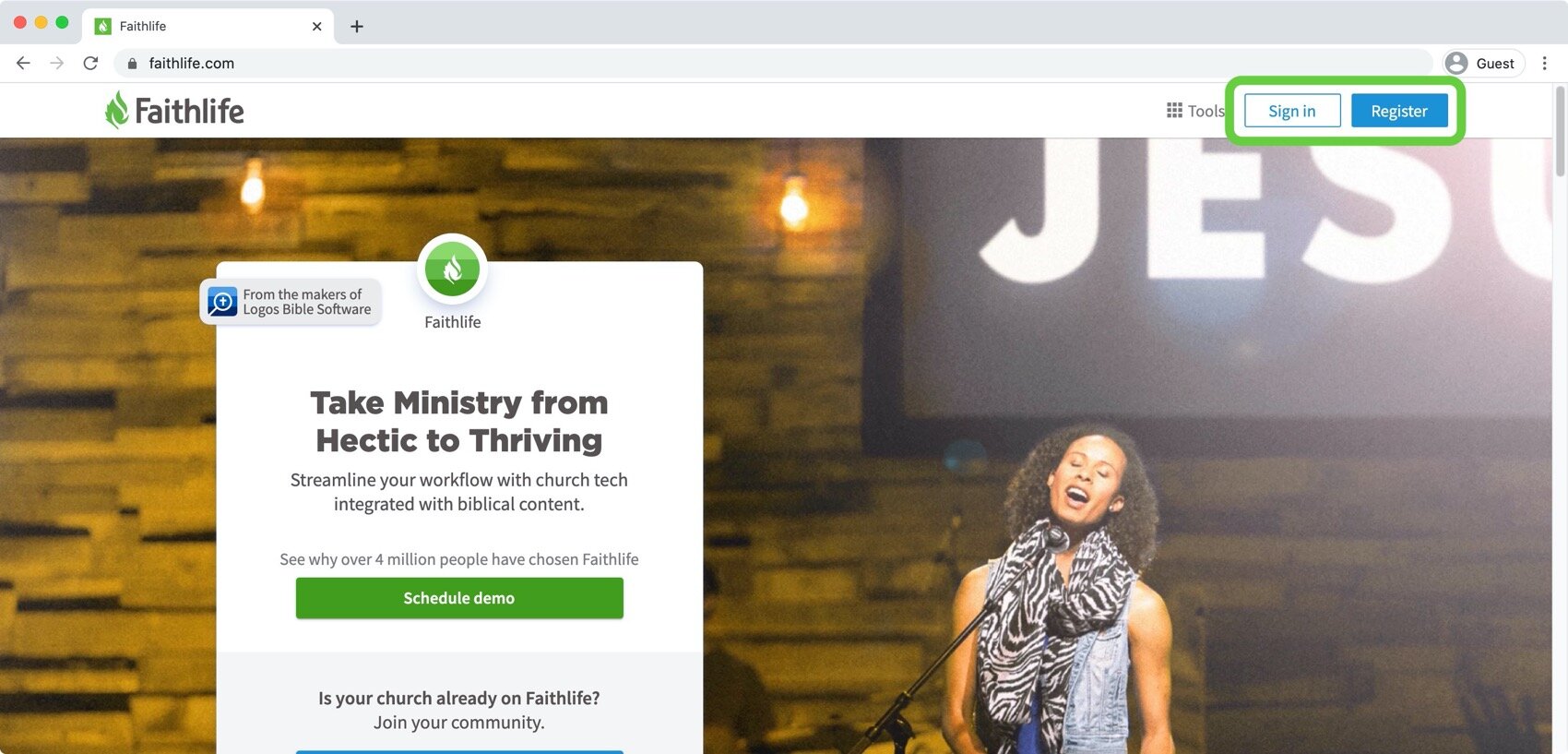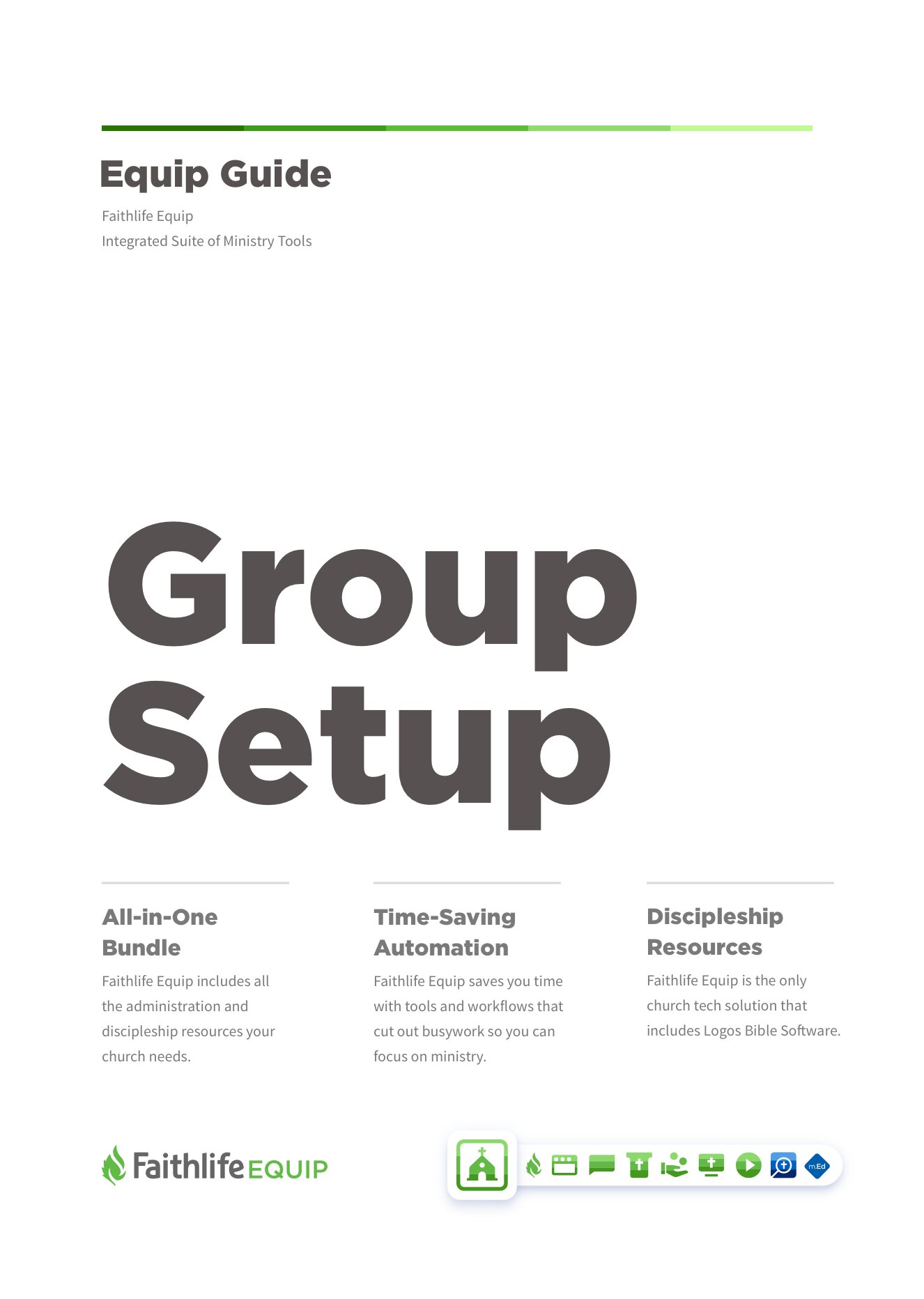 Click here to download the Group Setup printable guide
Skip ahead to:
Note: If you already have a Faithlife church group (e.g., if you purchased a Faithlife Equip subscription or previously set one up), sign in and click your church group in the left-hand Groups panel. Then skip down below to providing group and church info.
Create a Group
Once you're signed in, follow these steps:
1. Select Create group.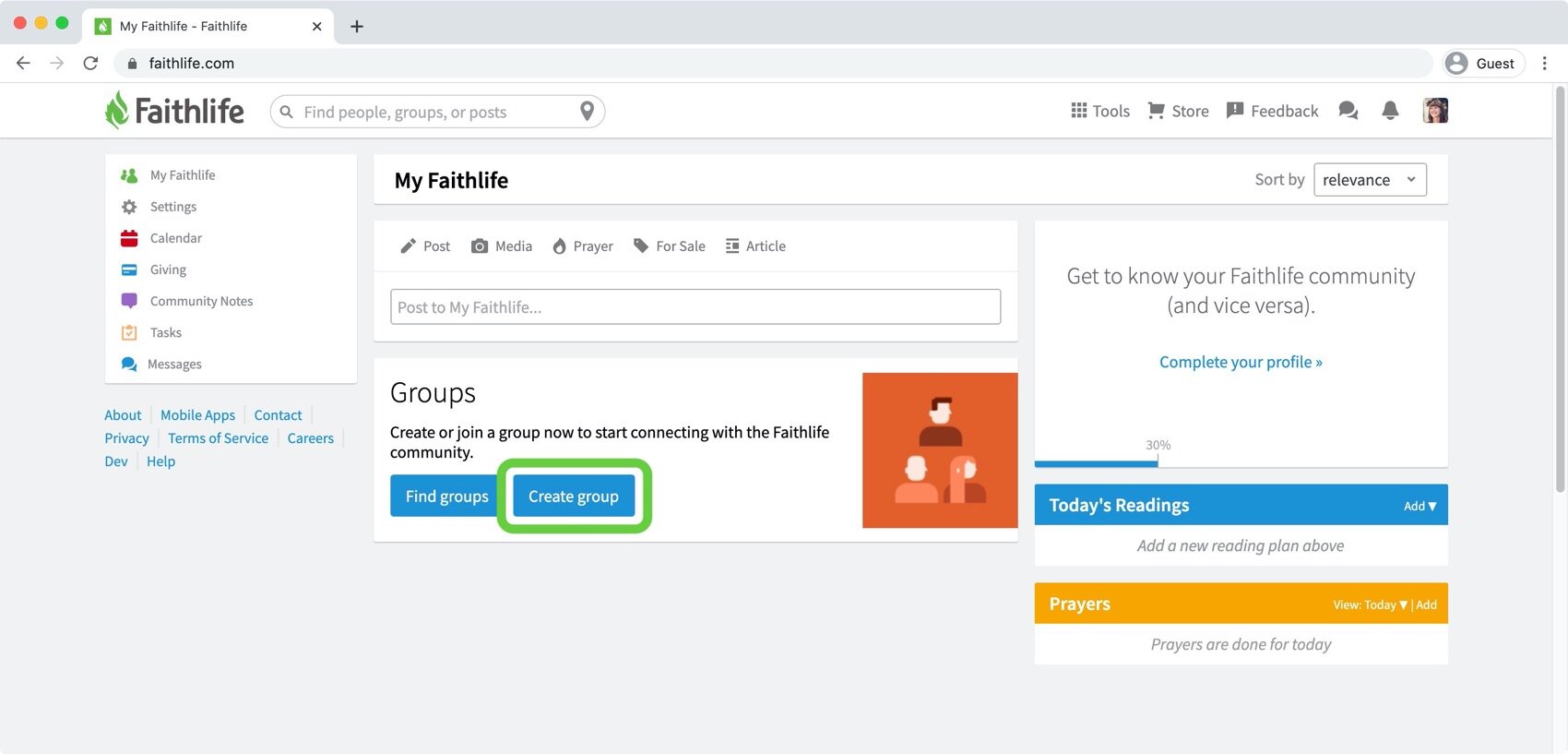 Note: If you are already connected to a group, the Create group button may not display for you. You can still create a group by clicking the gray plus icon

in the Groups panel in your left-hand sidebar.
2. Choose a group type.
Faithlife is perfect for any group, like a church, club, or small group. Choose a group type and select Next.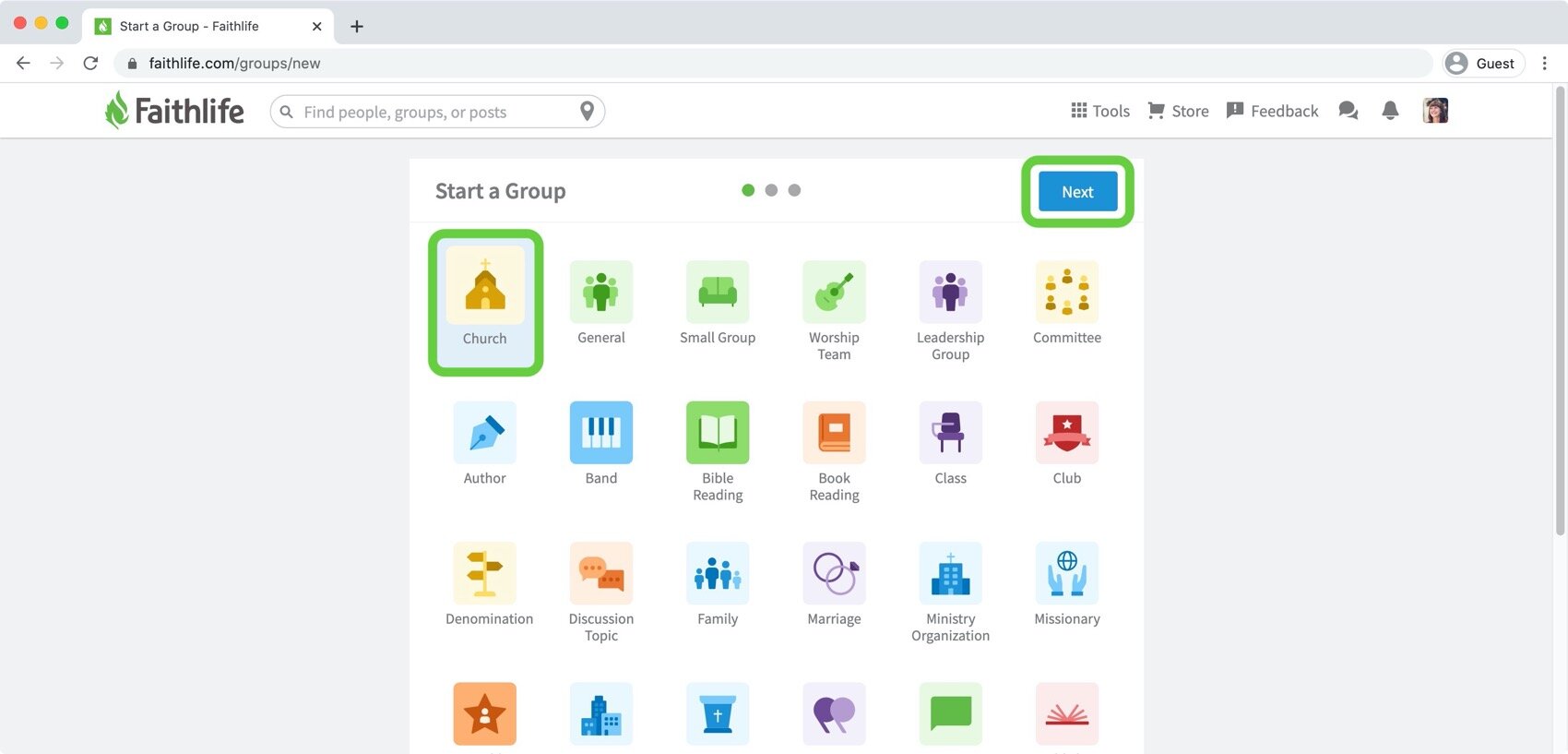 Did you know? Your church group can hold multiple subgroups. Learn more about subgroups.
3. Provide essential group info.
Add a unique Group Name. No other groups on Faithlife can share your exact name. Add a Location, which makes your group more discoverable for others in your area. Your Privacy Level changes how discoverable you are on Faithlife.com. Click Next.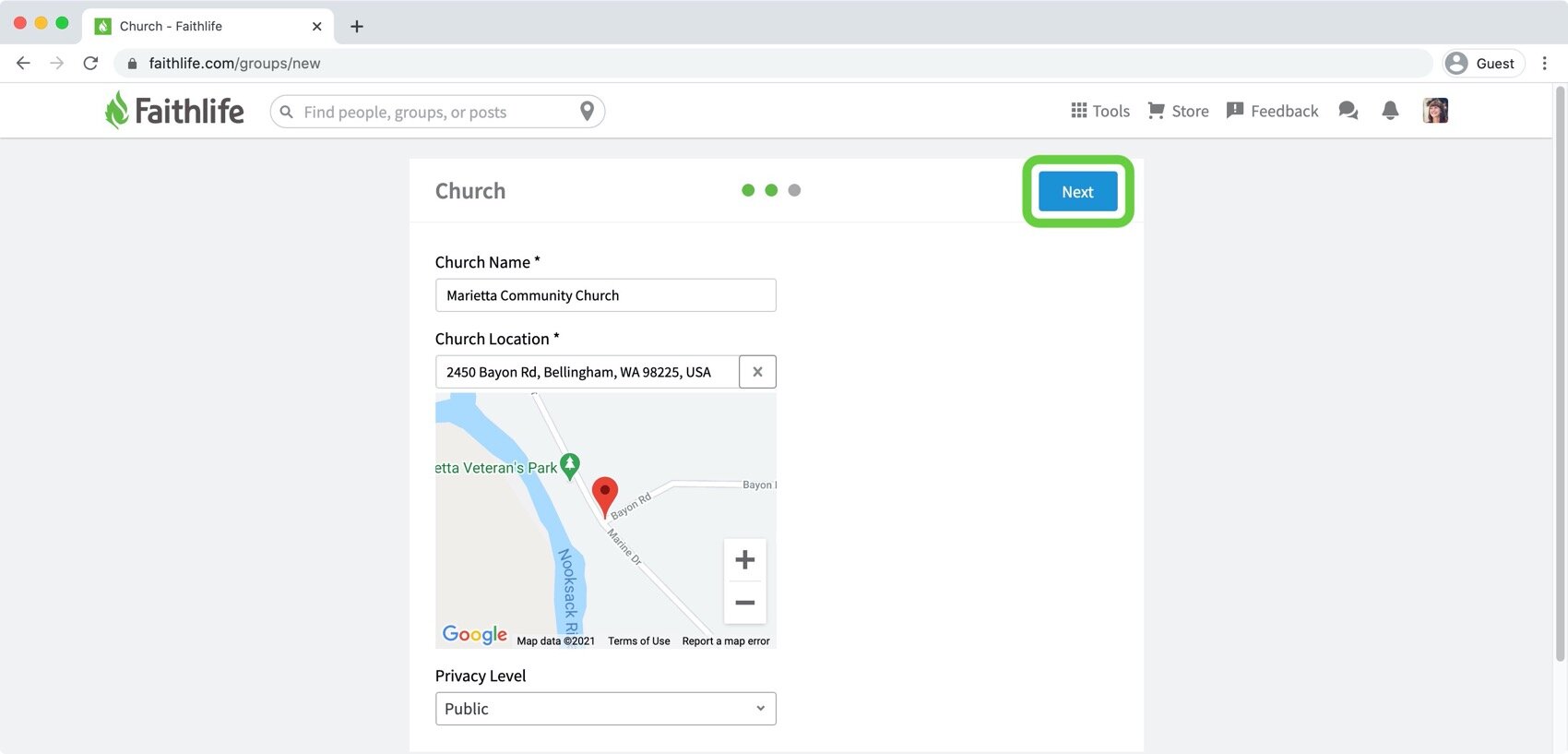 Public: Anyone can find and follow the group. You must be invited to become a member.
Private: Anyone can find the group and ask to join.
Secret: New members must be invited. Nobody outside the group can see it.
4. Add additional group details.
Finally, provide additional group details. The more details you provide, the easier it will be for your people to find your group on Faithlife.com.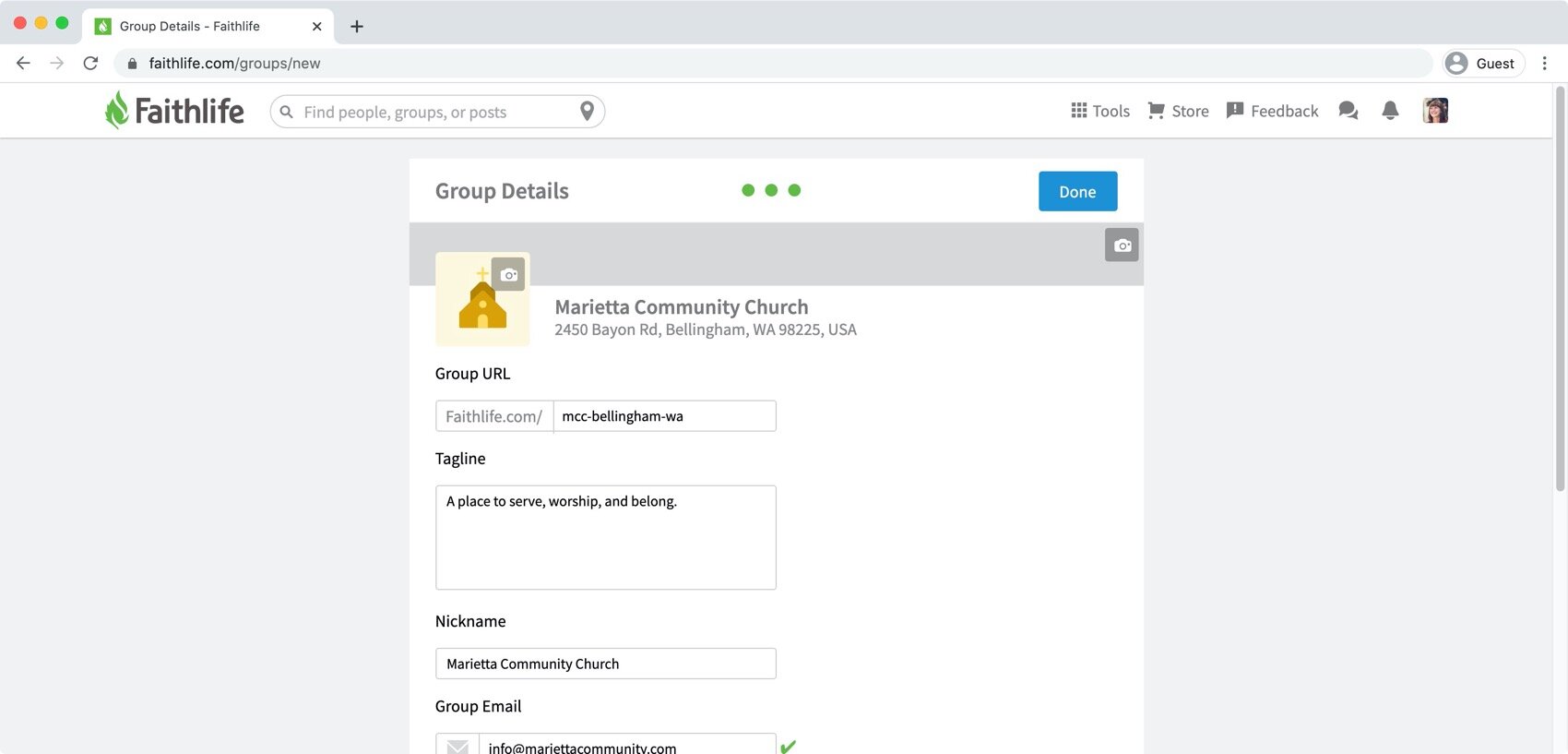 Group URL: This is your group's unique url (what follows faithlife.com/). To customize your group url, select the text in the input box and insert your own text (spaces not allowed).
Tagline: This provides a short description of the group that will appear under the group's name on the group's homepage (and on your Faithlife Site's homepage).
Nickname: This is the shortened name or abbreviation for the group that displays for members of your group.
Group Email: Your group's key contact's email address (e.g., the official church email address).
Group Phone: Your group's key contact's phone (e.g., the official church phone number).
About: Your group's About page will display the description you provide.
Consider providing both a profile and header image for your group to immediately identify your group for your visitors and members. Click the camera icon

to open your church's file vault and upload an image. Click Upload, add an image from your computer, and choose Insert.
Recommended group image sizes:
Group profile image: 1024 x 1024px
Group header image: 2560px x 500px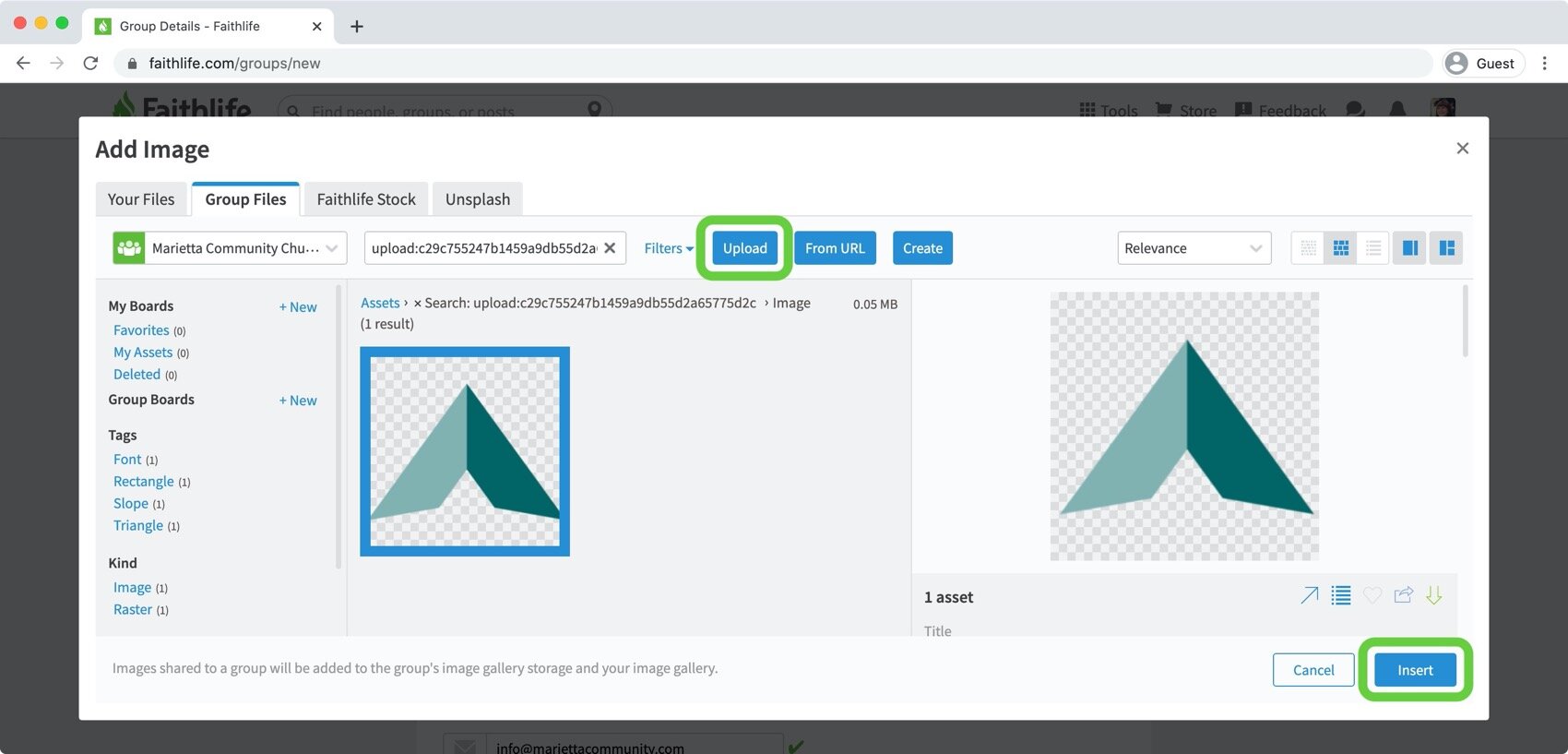 Note: View recommended image dimensions for use across Faithlife.
Group images are accessible to anyone with permission in your group all across the Faithlife platform to save duplicate uploads and make all your files available when you need them. Learn more about uploading files to your file vault.
5. Finalize group creation.
When you're finished, click Done. Your Faithlife group's Activity feed will open.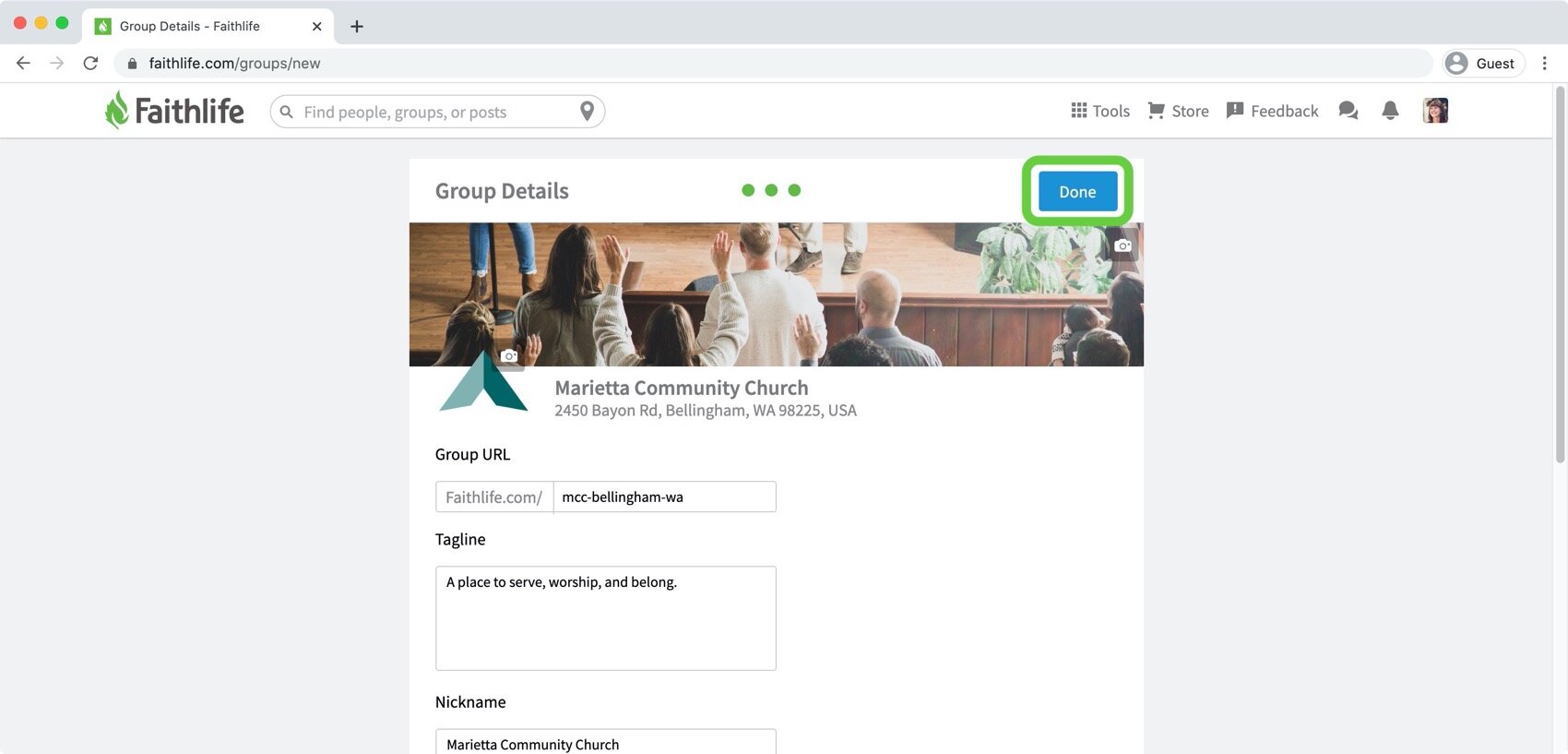 In the future, you can access any group you've created or joined by navigating to Faithlife.com and selecting the group from the sidebar.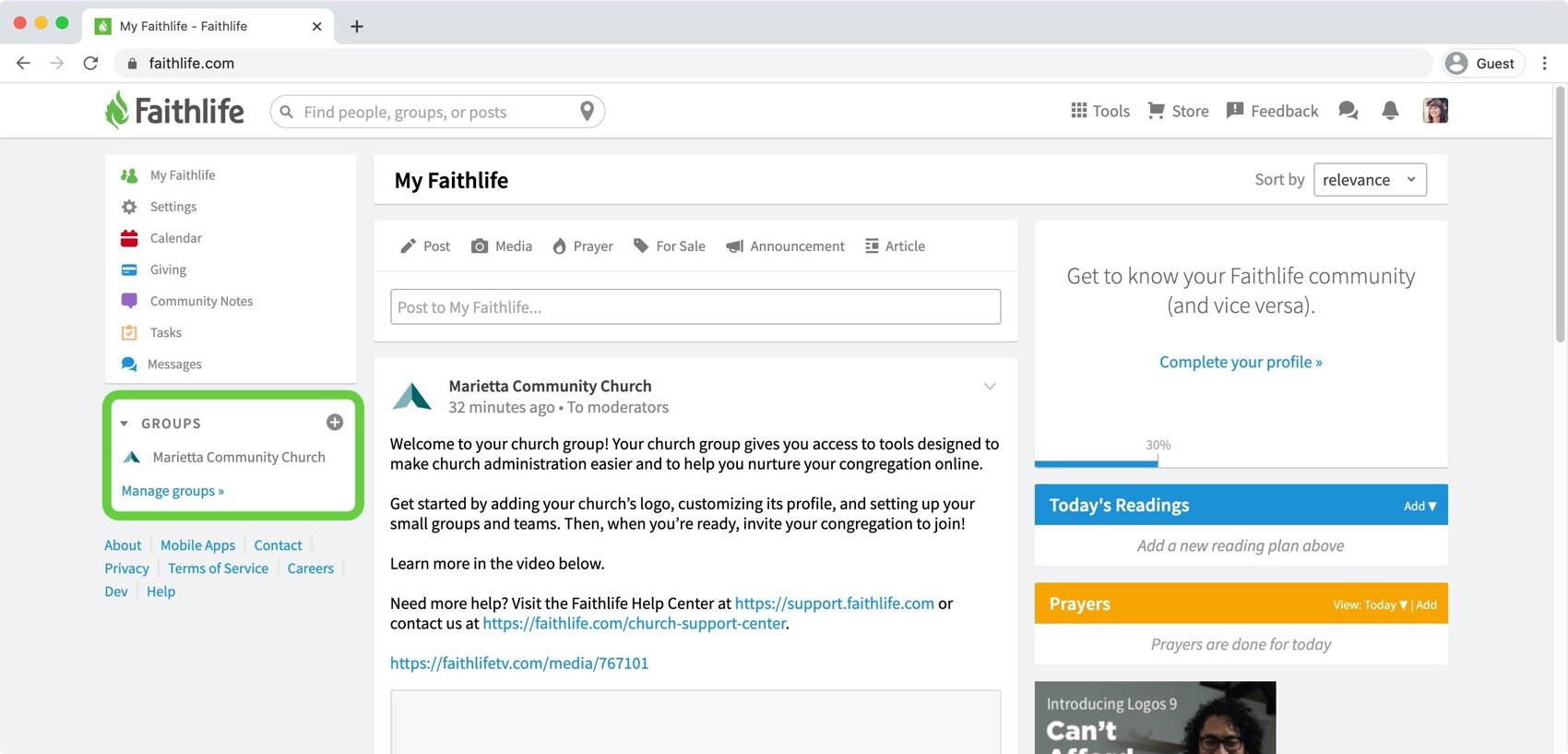 Note: You can also access your Faithlife group from Faithlife's app on your iOS or Android device.
Provide Group and Church Info
Two areas in your group Admin sidebar hold important information for visitors to your group:
Group Settings: settings and information connected to your Faithlife group
Church Settings: information connected to church
Details in both sections often populate to other areas of the Faithlife platform, reducing data entry and ensuring all your info always stays up-to-date. To locate either area, expand Settings in the left-hand Admin sidebar.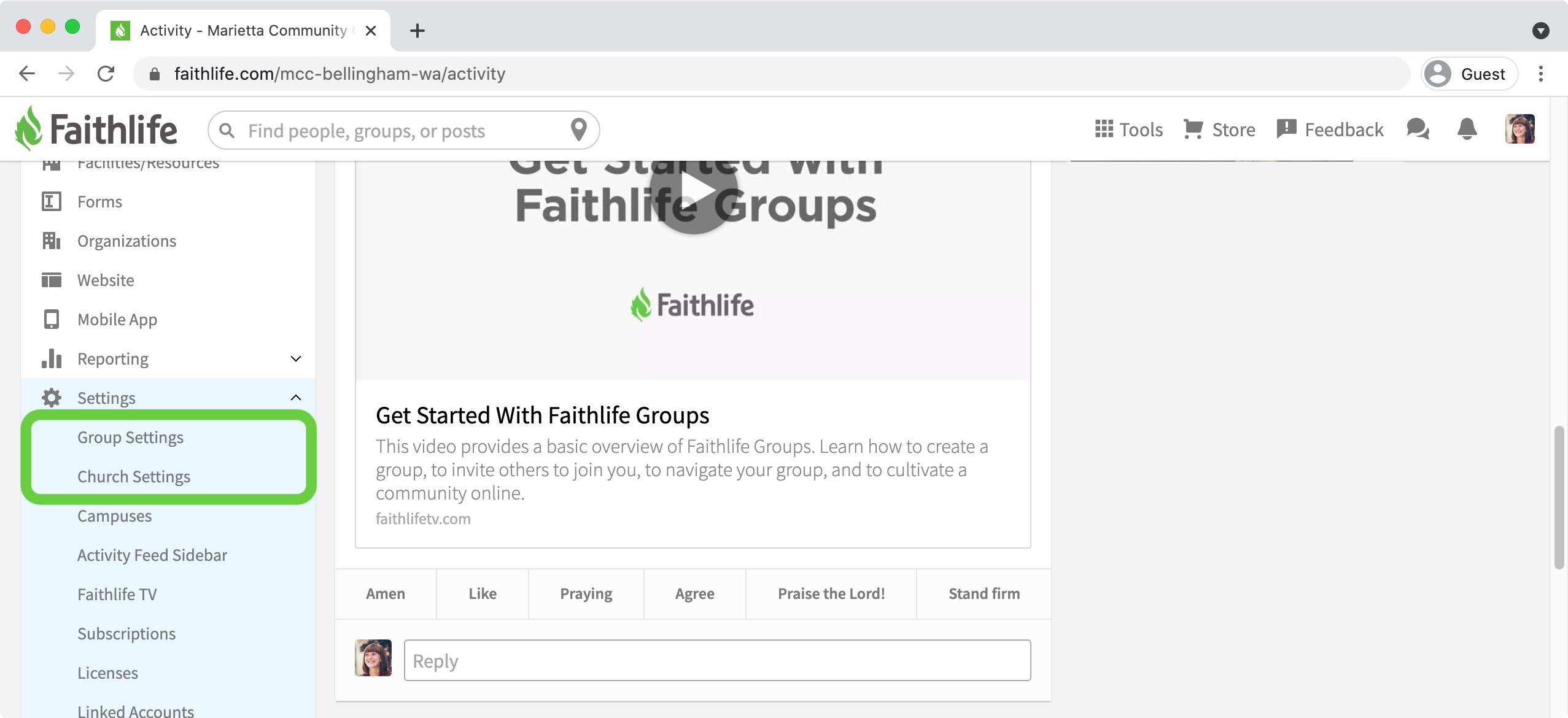 Group Settings
The settings on this page are organized under four headings.
General Settings: holds your group's basic information.
Privacy and safety: controls who can view, follow, and join your group on Faithlife.com.
Contact informant: includes basic contact information for your group.
About: adjusts how your group appears to others on your About page.
Note: View the full details about your Group Settings.
Church Settings
Your church settings provide your visitors with a better understanding of your church's tradition, history, and practices. The more information you provide, the clearer picture visitors will get of your church. Much of the information will add details to the About page of your group.
The settings on this page are organized in four sections.
Ministry details: holds details about your denomination, ministries, church logos and accent color, and more.
Service information: adds service details in the About page of your group.
Statistics: provide details on your weekly attendance numbers, membership numbers, etc.
Leadership: add key leaders at your church, optionally including a photo, role, email, and bio.
Note: Once again, many of the details you add here will be available to you in other areas of the Faithlife platform, so it's worth taking a few minutes to fill out these church settings.
Configure Privacy and Permissions
You always retain complete control over your group's content. Privacy is set on a per-group basis. In other words, you can set your main church group to one setting and each subgroup to a different setting.
To adjust your privacy and permission settings, expand Settings in the left-hand Admin sidebar and select Features & Permissions.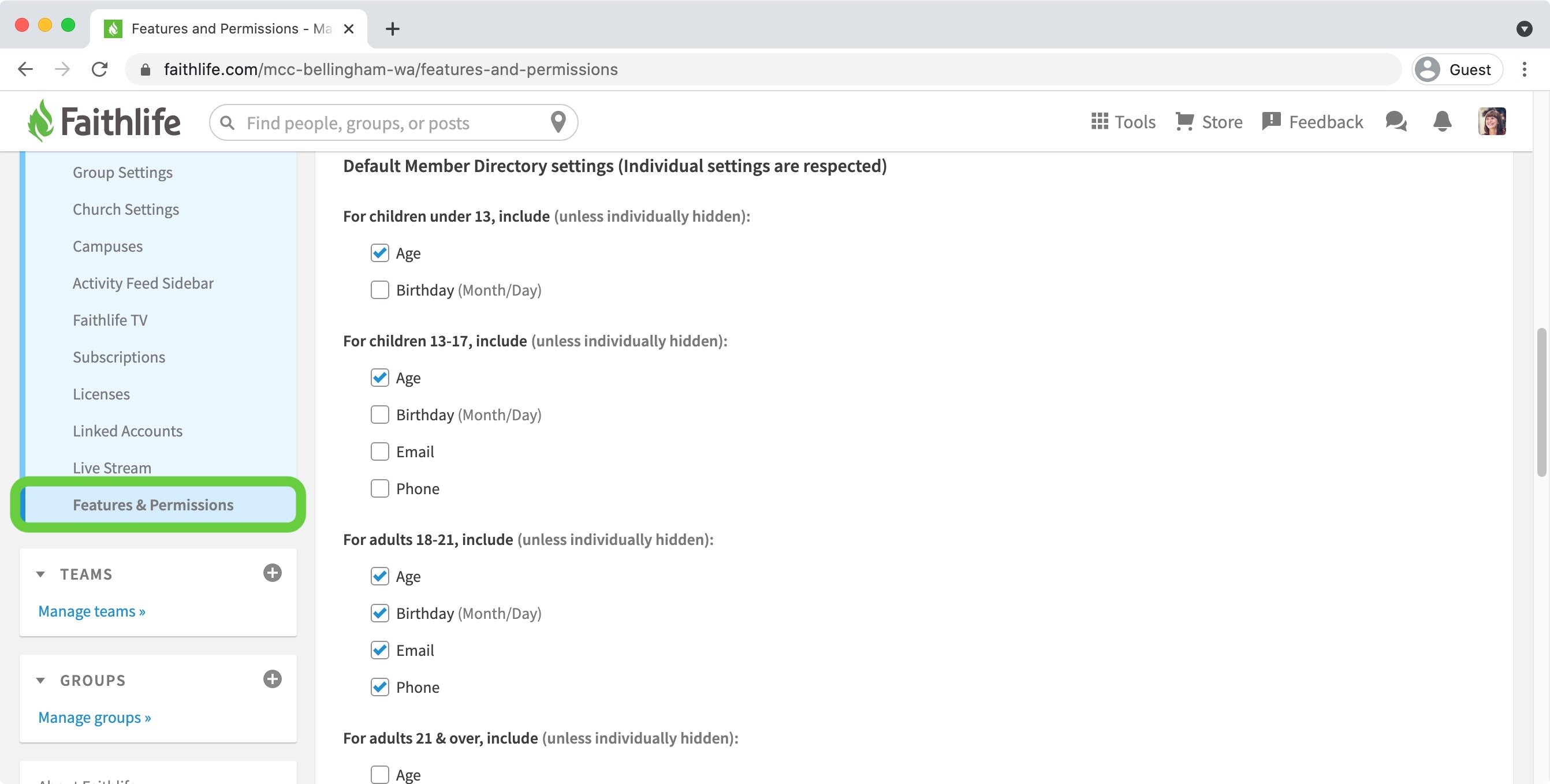 To change the permission levels for any particular setting, move its slider to your desired level.
Admins: complete control over all group settings and actions
Mods: maintain and manage the group
Members: regular members of the group
Followers: those with a Faithlife account who can read group posts without becoming members
Public: anyone online with a link to your content
Certain actions are restricted so you cannot inadvertently extend this privilege too far. Others are more flexible and will require your active adjustment.
Note: View the full details about setting your Group Privacy and Permissions.
Navigate Your Group
There are three basic areas in your group.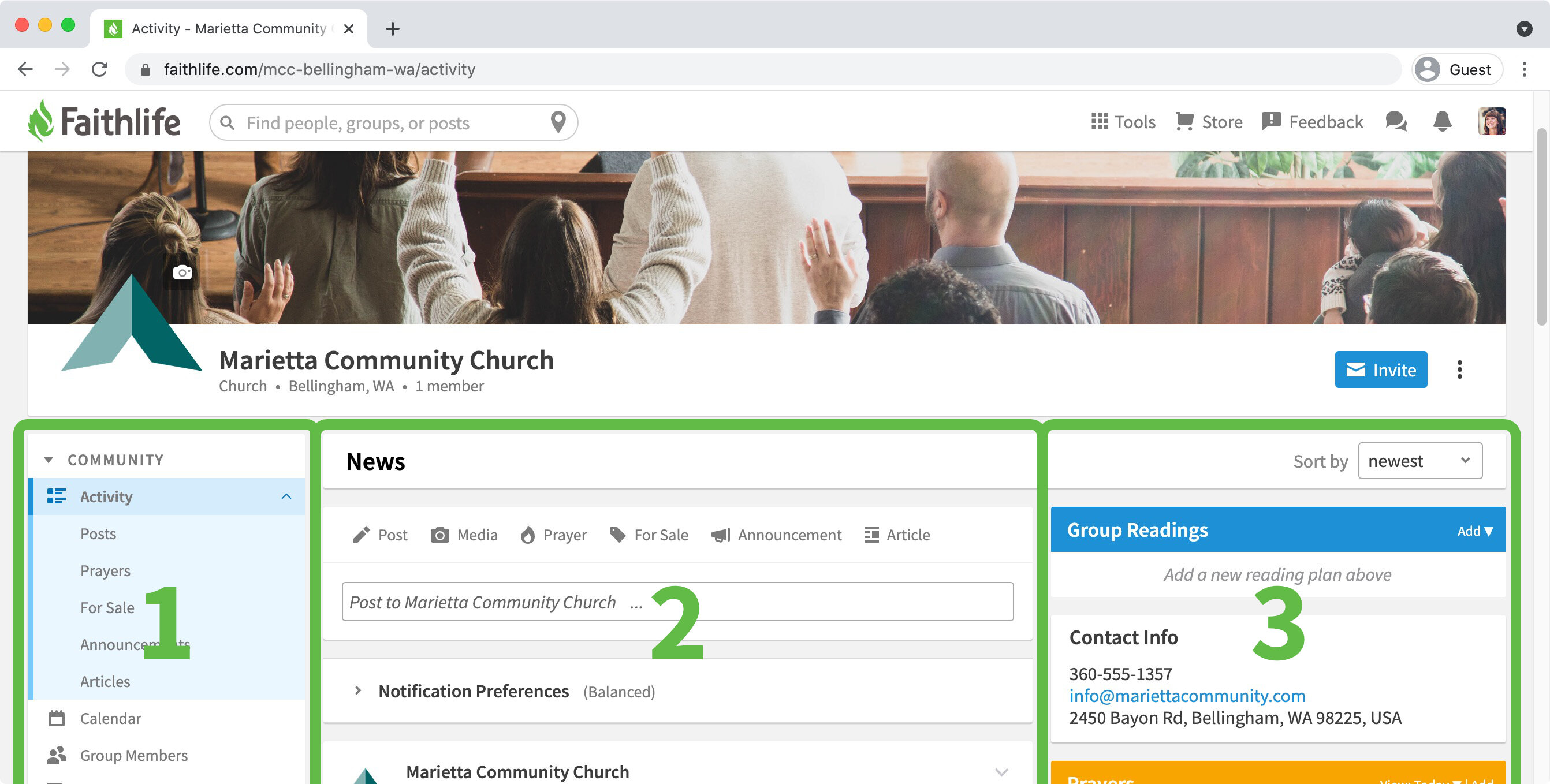 Navigation: The left-hand sidebar is where you navigate your group.
Content: The middle area holds the main content you're currently viewing.
Sidebar: The right-hand panel shows additional information, which you can customize in your Activity feed sidebar settings.
Note: In addition to uploading a group icon, you may also want to add a group header image. Select the gray image icon

and upload a wide image set to 2560 pixels by 500 pixels.
1. Navigation
Depending on your role in your group, this panel will contain the Community, Admin, Group, and/or Team navigation menus.
Community navigation menu
The Community navigation menu is visible to everyone in your group. Depending on your permission settings, some of the options in this menu will also be visible to the public.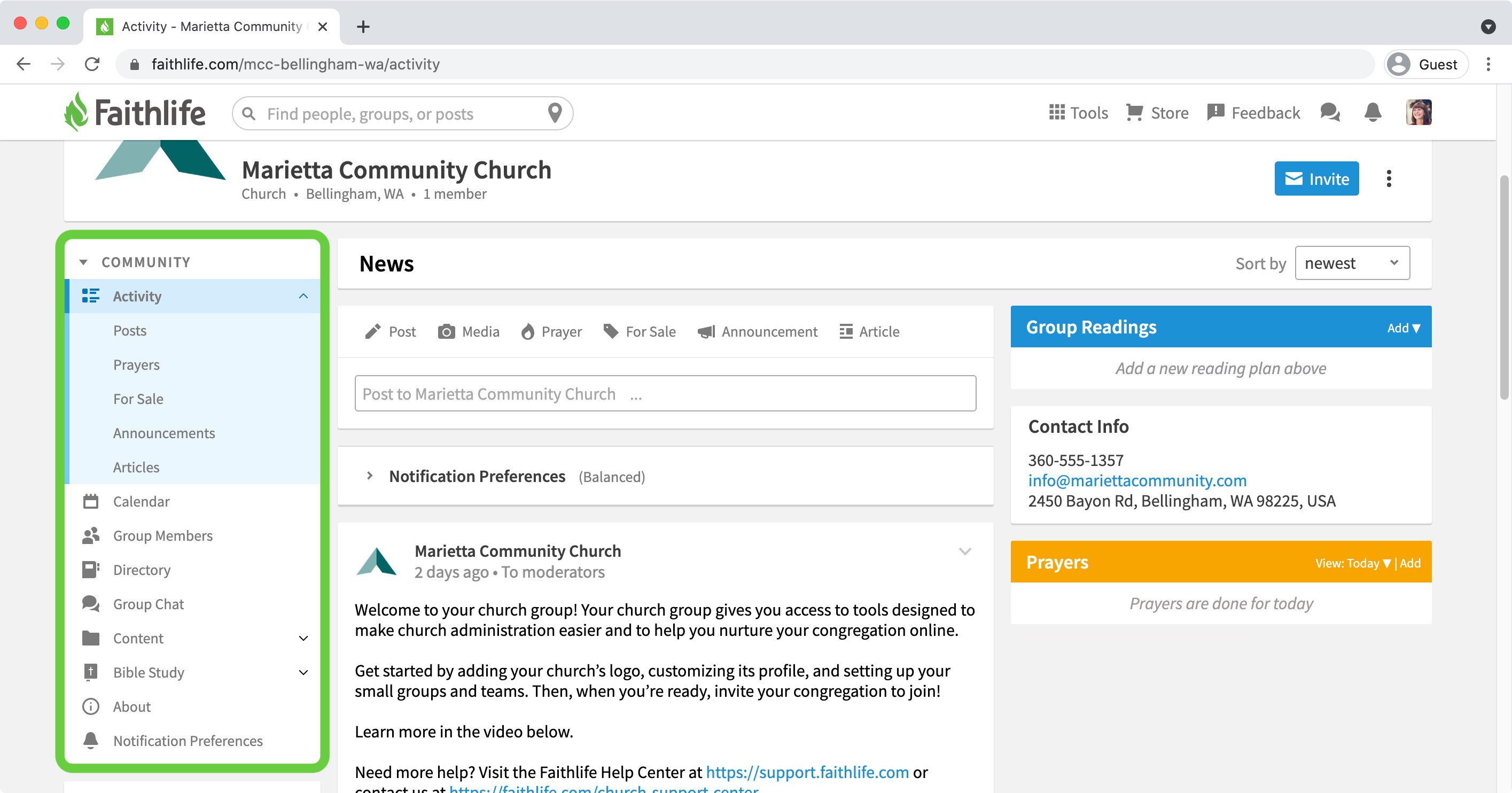 Activity: Activity is the group's activity news feed, which acts as the homepage for your group.
Calendar: Create and share group events with your group calendar. If you already use an external calendar, you can also link it to your Faithlife calendar from the settings.
Group Members: This section holds all members of your Faithlife group. Learn how to invite, remove, and manage members.
Directory: The Directory displays the names, contact information, and other relevant details for people records of a church group with the church status of Member or Regular Attendee. Learn more about the Directory.
Group Chat: Easily communicate with your entire group via short, text-like messages. Any messages sent from here will be visible to the entire group. You can also send a private message to someone in your group or to a group of people from Faithlife messages. By default, whenever you receive a message, you'll receive an email. If you're online, a badge icon will indicate you have a new message. Learn more about Faithlife messages.
Content: The Content folder contains many helpful tools: Sermons (Faithlife's audio archiving service), Bulletins, Newsletters, Files, Photos, and Videos. You can adjust what roles have access to this content in your Features and Permissions settings in the Admin panel.
Bible Study: The Bible Study folder expands to reveal several helpful tools for studying the Bible together, including Reading Plans, Logos Documents, and Community Notes.
Discussions: Discussions for your church group on any given topic. You can show or hide this option from the Features and Permissions settings in the Admin panel.
About: A basic informational page for your group, including current administrators of the group. You can update the about content from your group's settings.
Notification Preferences: Adjust what notifications you receive from your group. Learn more.
Admin navigation menu
This panel is only visible to Admins and Moderators of your church group. To fully view and interact with this panel, you must be an Admin, though Moderators also have access to many of these features depending on your group's settings.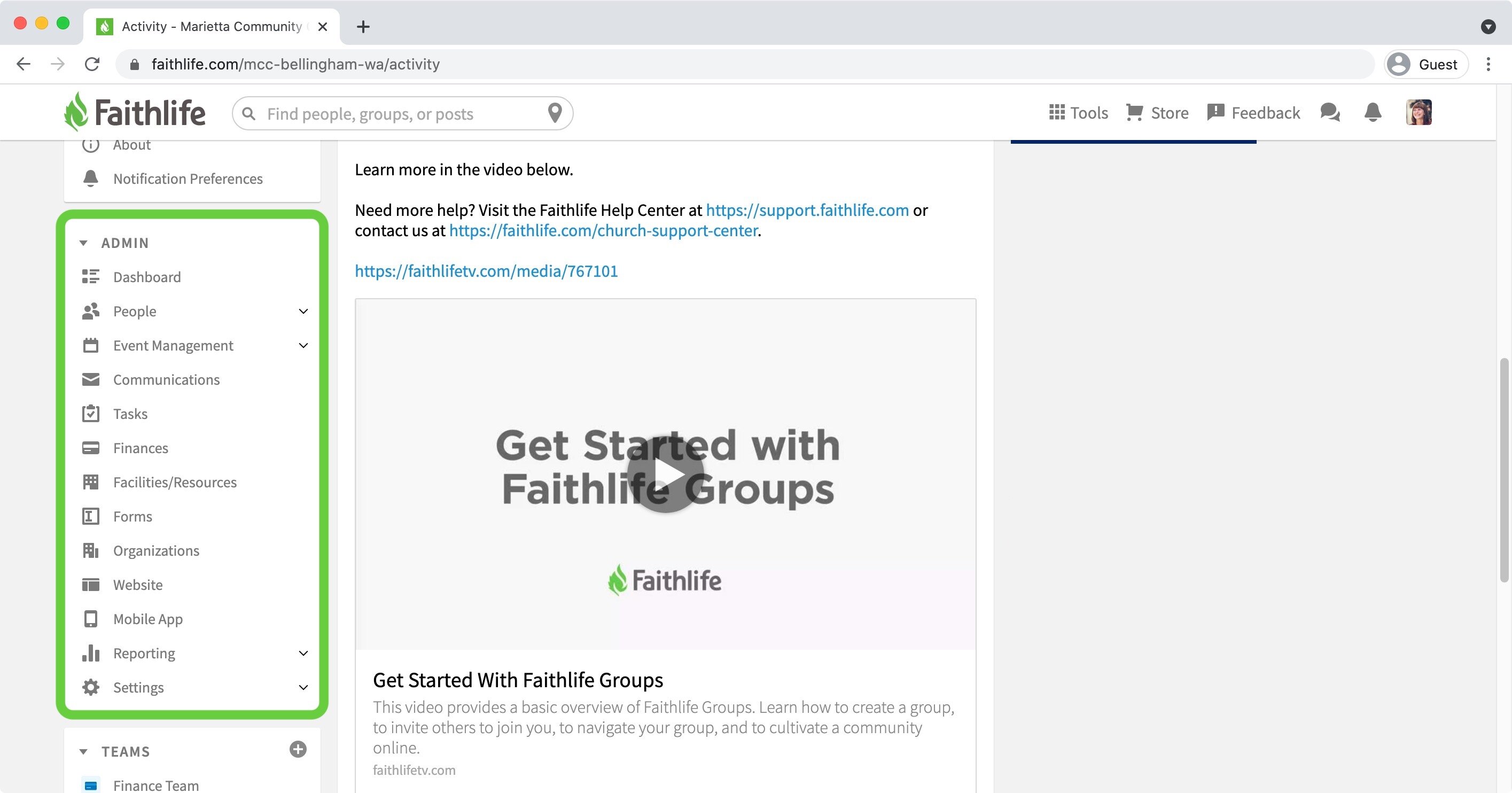 Dashboard: Get an overview of your church group and let Faithlife help you access and configure other powerful options for your group.
People: Create and manage your own customized and simple-to-use database to care for those in your church. Gather phone numbers, anniversaries, allergies, and any other info your team needs to build meaningful relationships with your people. Learn more.
Event Management: Plan events, track RSVPs, conduct check-in and check-out, take attendance, and more.
Communications: Send communication as your church via email, text/SMS, and more. Learn more.
Tasks: Track church admin responsibilities to stay on the same page. Learn more about managing tasks with your Faithlife group.
Finances: Go directly to your Faithlife Giving Finance Team from your Admin panel. Learn more about Faithlife Giving.
Facilities/Resources: Organize and manage resources at your church, including rooms, equipment, decor, tables/chairs, etc. Learn more.
Forms: Create and manage custom forms for use in your ministry. Learn more.
Organizations: Keep track of organizations your church has relationships with, including organizations that give to your church.
Website: Access and edit your Faithlife Site. Learn more about Faithlife Sites.
Mobile App: Customize the Faithlife mobile app for members of your church.
Reporting: Run reports on your people and family records. Learn more.
Settings: Access a variety of settings related to your group, including Group Settings, Faithlife TV, and Group Licenses.
Note: To fully benefit from the admin features in your group, subscribe to Faithlife Equip, our church management ministry platform. Learn more.
Groups/Teams navigation menus
If you have subgroups or teams, navigation panels will display on the left below the admin panel.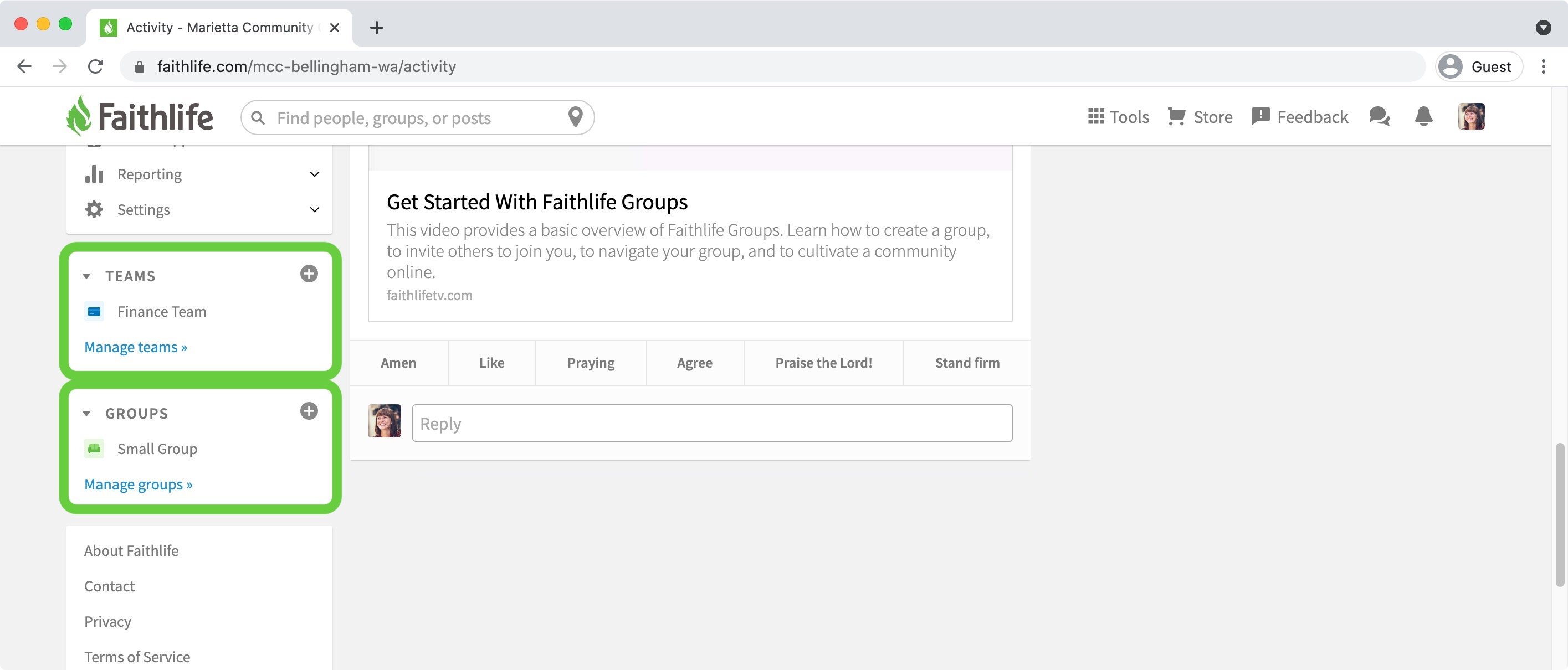 Where subgroups help smaller, specialized groups in your church connect, teams provide special permissions to team members to manage the church's website, data, presentations, or finances. In other words, teams protect your data by limiting it to those who need access (e.g., like members of your Finance Team), and they provide this additional layer of protection by limiting new members to those who've been invited by a current team member or administrator. Learn more about using teams and working with subgroups.
2. Content
The middle section of your group displays the primary content of the page you're viewing. Anyone with permission can post a comment, media, prayer, sale item, announcement, or article. You can also interact with other posts to encourage and care for the others in your group.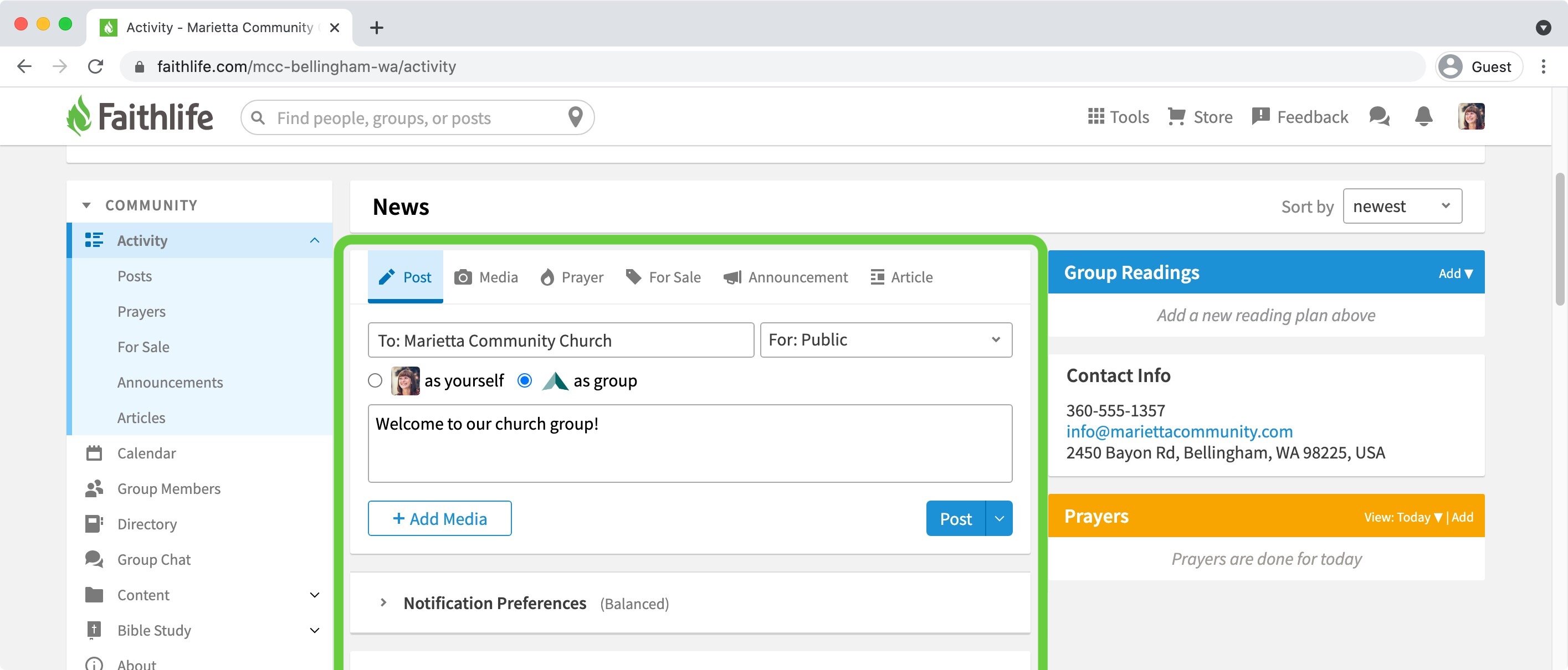 Note: Adjust who can view or post to your newsfeed from your group's settings.
3. Sidebar
The right side of your group home page includes a fully-customizable sidebar. You can add a variety of information, including group reading plans and group prayer lists.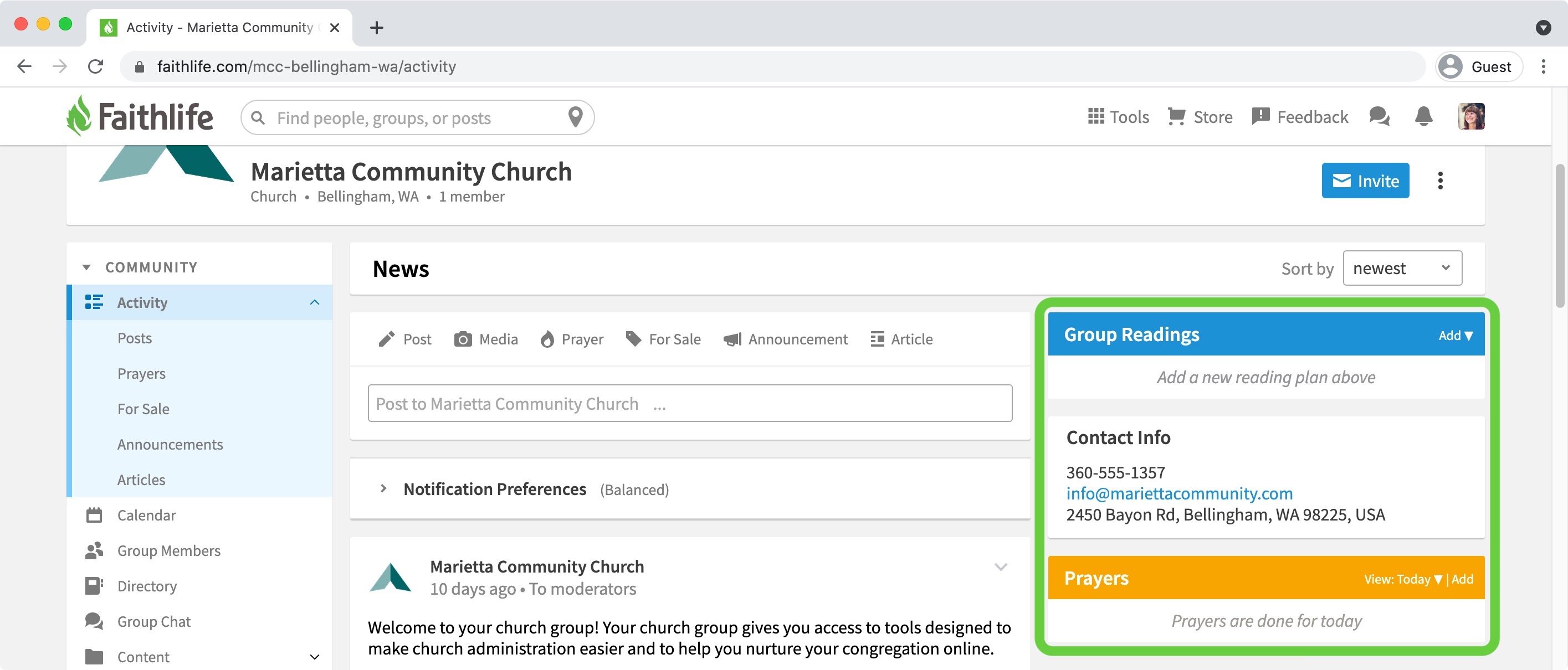 You can adjust what displays in the sidebar from the left-hand Admin navigation panel (Settings > Activity Feed Sidebar). To add a widget to your sidebar, drag it from the left column (Widget list) to the middle column (Active). A live preview shows your changes in real time.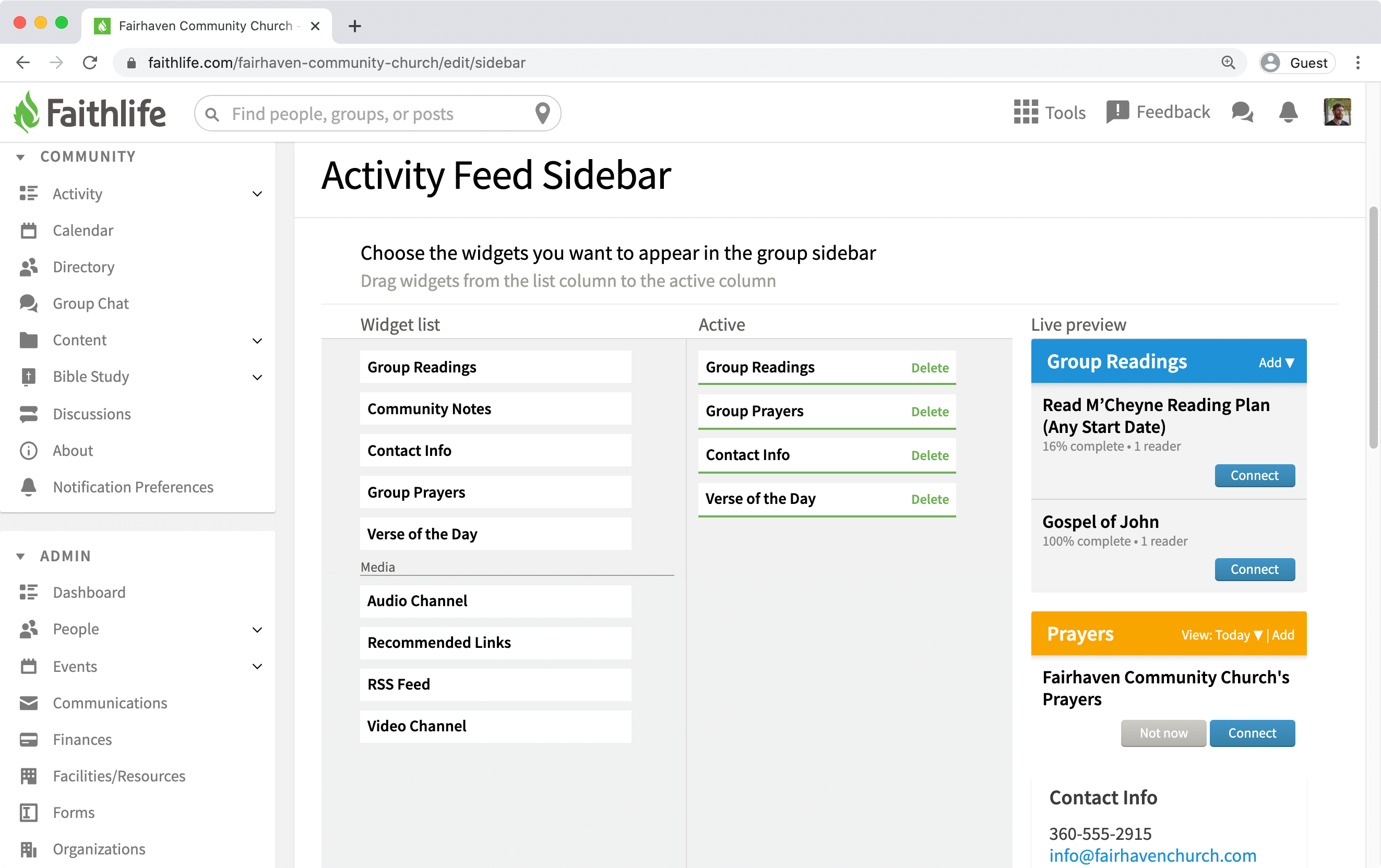 Next Steps
Once you create and configure your group, invite others to join your group.
Other helpful steps: