Note: If you do not have a church group set up on Faithlife, follow these steps to create and configure your free church group on Faithlife.com so that you can activate Giving.
Faithlife Giving encourages generosity by making it simple to donate and easy to manage donations. Once your Giving account is active, a private Finance Team will be added to your Faithlife church group. Members of this team have access to the Admin Stewardship Portal, where you can view and manage gifts, givers, and funds.
Note: Click here to view a recorded webinar on setting up Faithlife Giving.
You can check for service outages at status.faithlife.com. To learn more about using Faithlife Status, click here.
Note: For more information on your giving account, check out the Giving Launch Kit located in the Tutorials and other resources section of your Dashboard.
Skip ahead to:
You can activate and set up giving in a few minutes.
Step 1: Activate Your Account
As an administrator of your church group, you can activate and set up Giving in a few minutes.
1. Go to Faithlife.com, sign in, and select your church group from the sidebar. Then, click Finances in the Admin sidebar.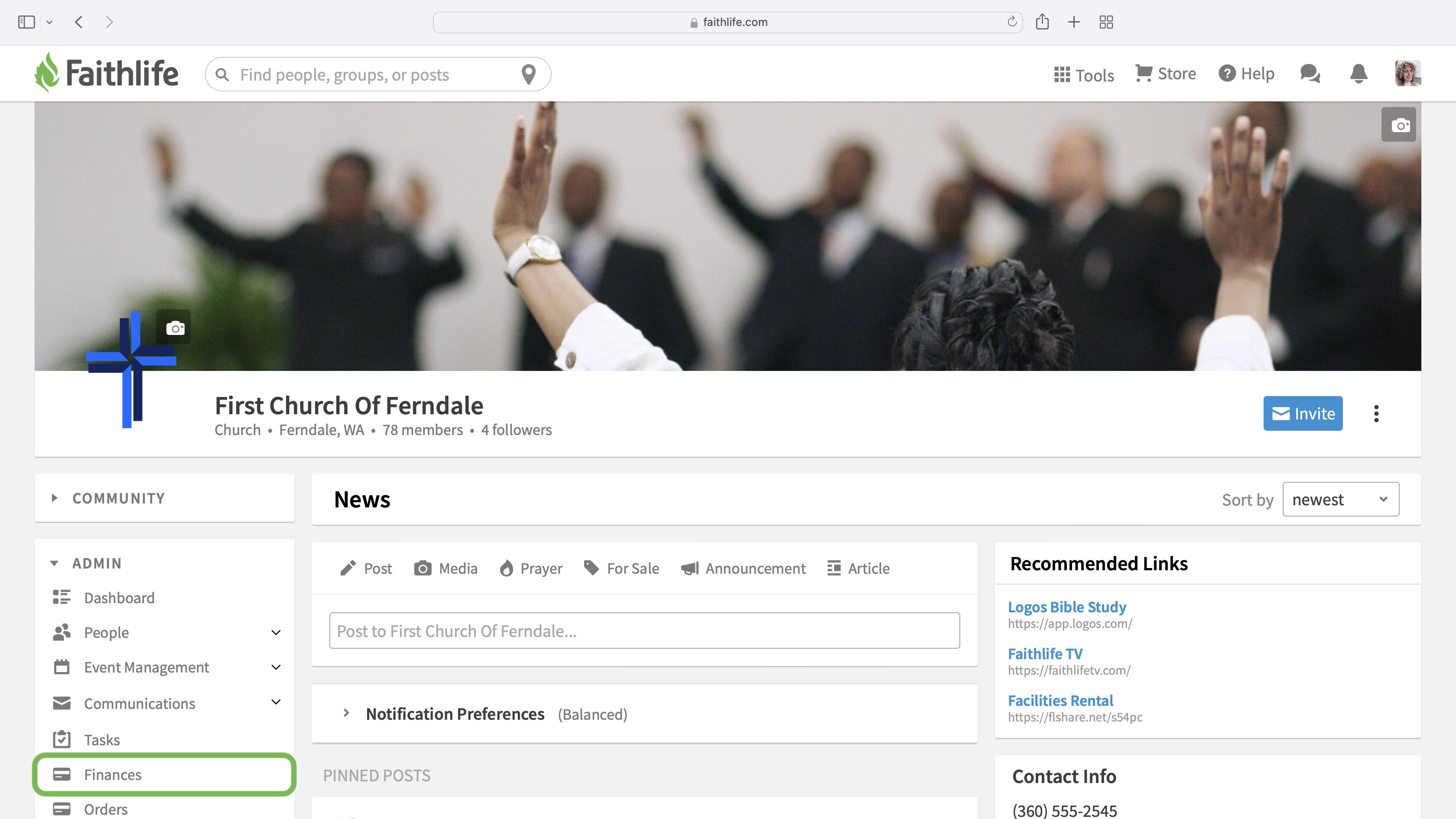 2. Click Activate Giving.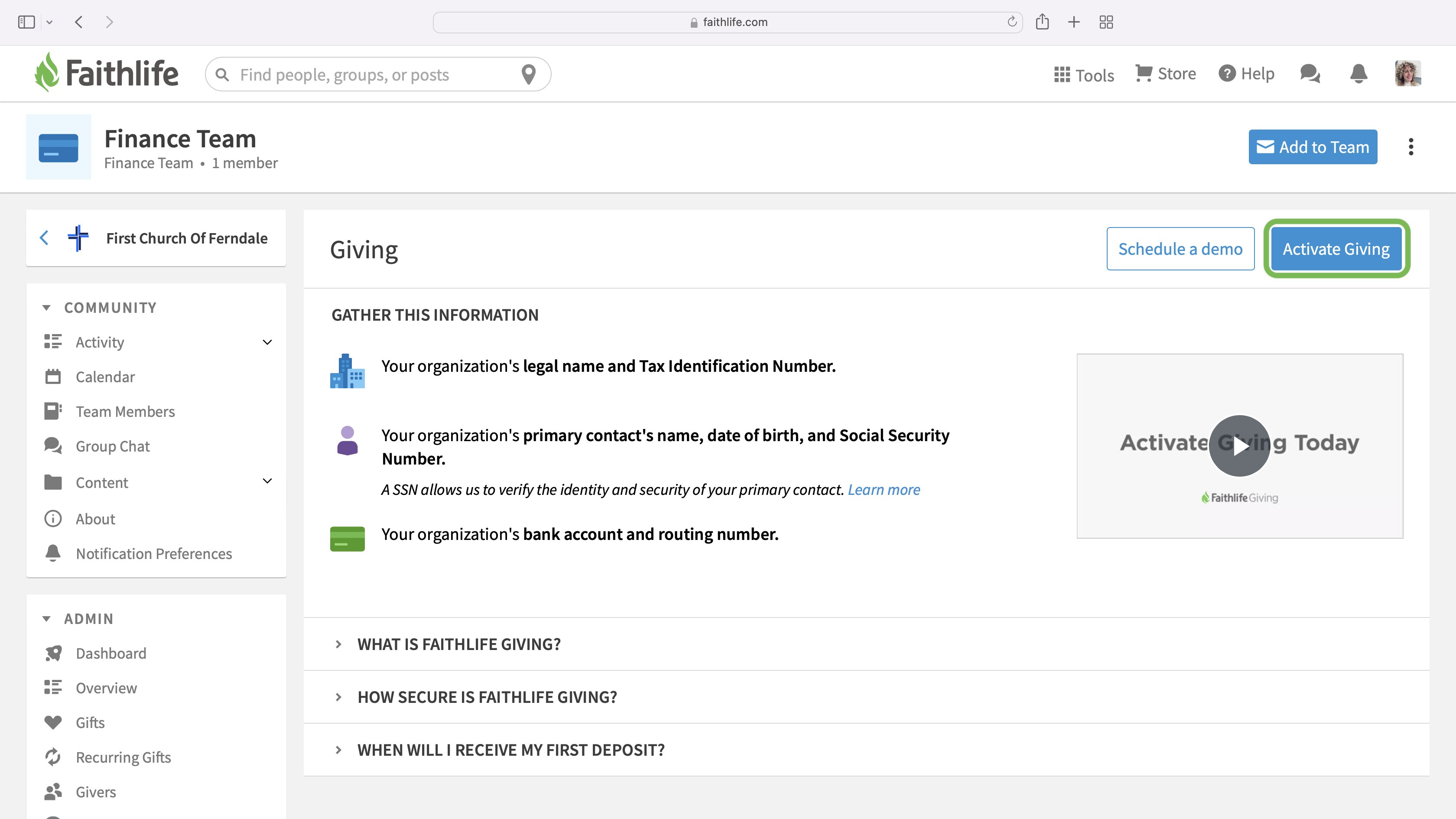 3. Provide and review your account details.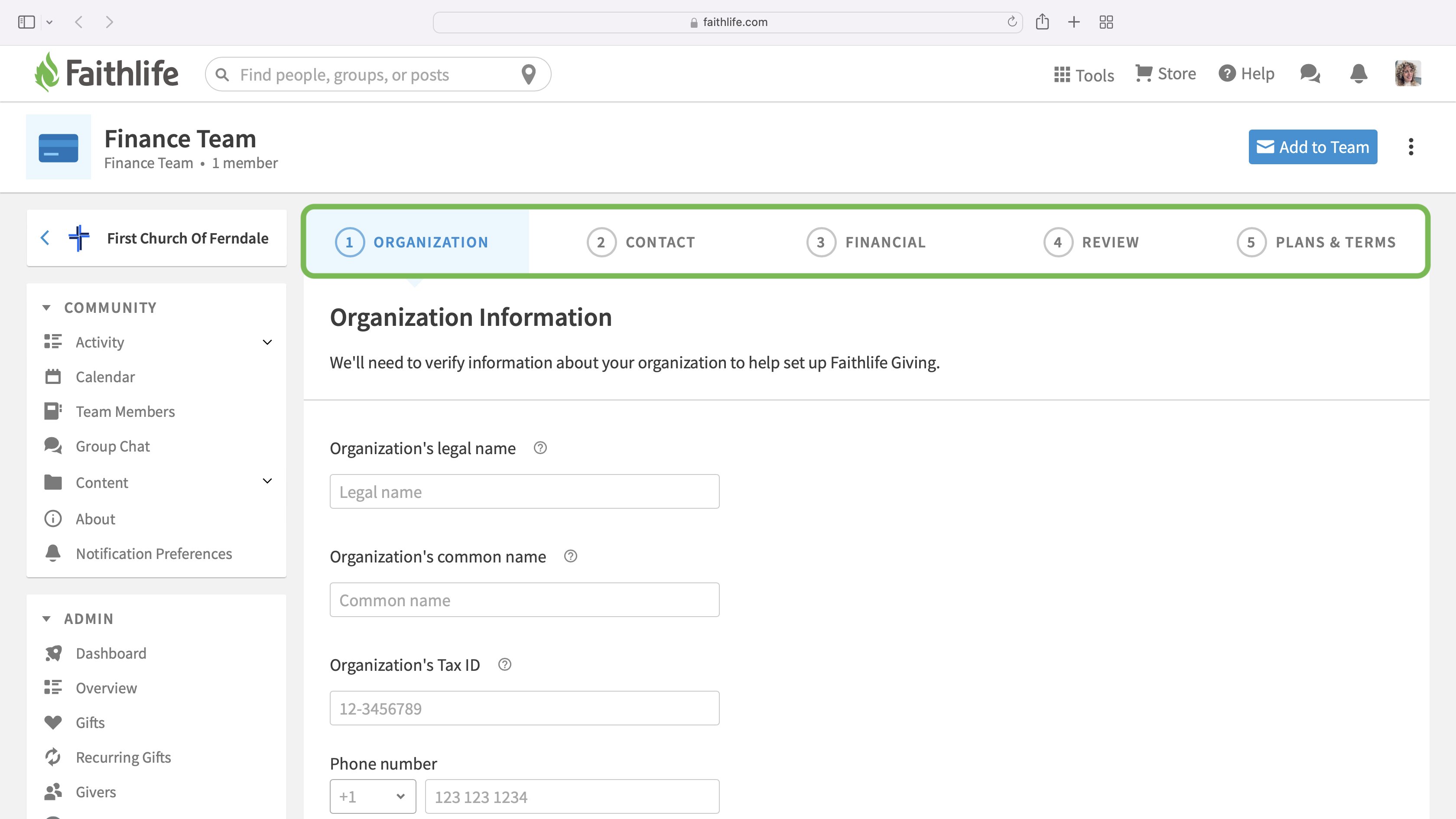 Organization: In order to accept donations, you will need to provide your organization's name—both legal and common—along with a phone number, website, Tax ID, and physical address. After entering your information, click Next.

Contact: Provide the contact information for the individual who will serve as the contact for your church group. You can change this later if necessary. (Note: A new rule requires companies, such as Faithlife, to collect and verify specific information, including social security numbers, at the time a new account is opened. The intent of this rule is to assist in the government's effort to prevent financial crimes.)

Financial: Thirdly, add your bank account details. Faithlife will deposit any gifts into and withdraw fees from the account you provide.

Review: Ensure your information is correct and click Confirm.

Plans & Terms: Select your desired plan, read the Gift Processing Agreement and agree to its terms by checking the box, and click Confirm & Submit.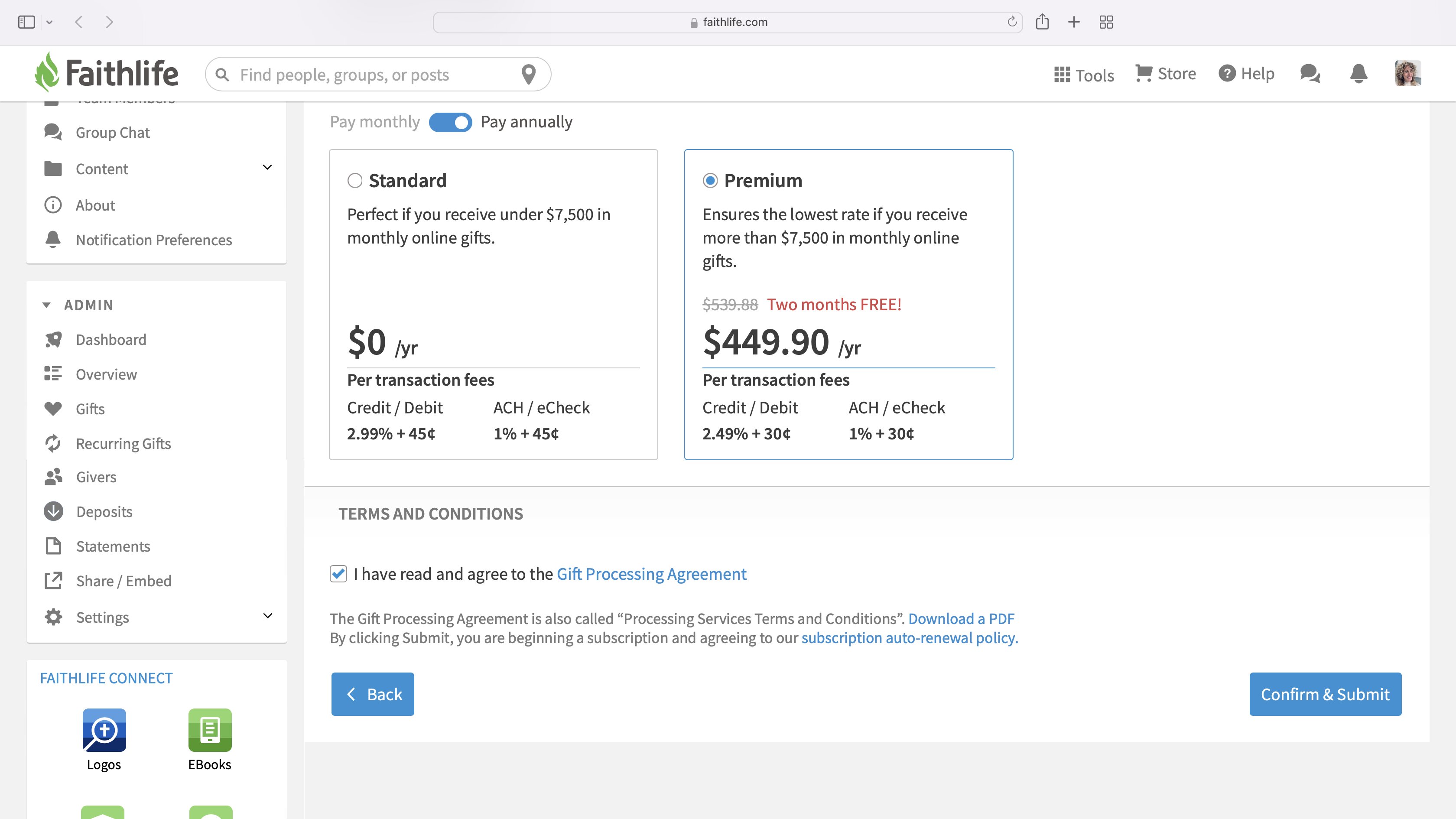 The Standard tier includes no monthly fees and is ideal for churches and ministries that are just getting started or that receive less than $7,500 per month in credit/debit card donations.
The Premium tier includes a monthly fee with lower transaction rates and is ideal for established churches and ministries that receive more than $7,500 in credit/debit card donations or those that want to benefit from lower transaction rates.
The first monthly fee is due a month after the account has been approved to start accepting gifts. Monthly fees are debited from your account based on the date your account was activated. For example, an organization that activated its account on the 18th of one month would receive its first monthly bill on the 18th of the following month and on the 18th of each subsequent month.
Note: For more questions related to privacy, security, or finance questions, see Faithlife Giving's FAQs or contact us.
Once this form is submitted, Faithlife will process the details and immediately activate Giving so you can start accepting donations. If more information is needed, we will connect with the primary contact you provided. The entire process often takes five minutes or less to complete if you have all of your documents at hand.
4. Process a test transaction.
Once you've successfully set up Faithlife Giving, you can process a $5 test transaction to become an established merchant (i.e., you have a bank account specifically established for business purposes where you can make and accept payments). To make a $5 test transaction, simply click the Give button on your church group's homepage. On the giving form, input $5, and follow the steps to complete the gift.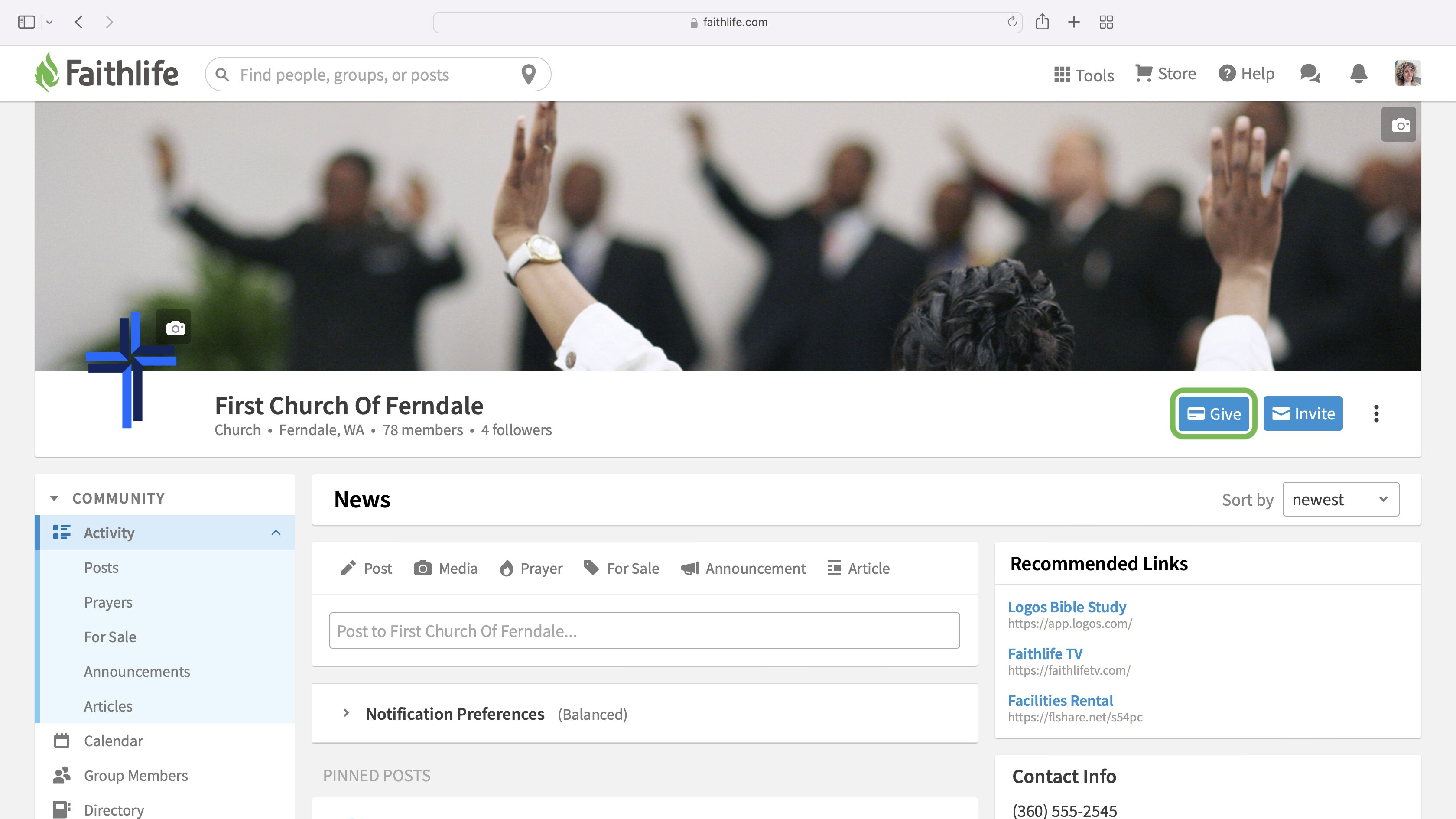 Step 2: Invite Members to Your Finance Team
Once you begin the activation process, Faithlife establishes a private Finance Team as a subgroup of your Faithlife church group. You can access your Finance Team by selecting Finances in your church group's Admin sidebar.
By default, only the individual who activated giving for your church has access to the Finance Team. Even other administrators of your church group will not have access until you invite them or accept their request for access. You can invite others to the Finance Team via the Add to Team button in the top right-hand corner of the group.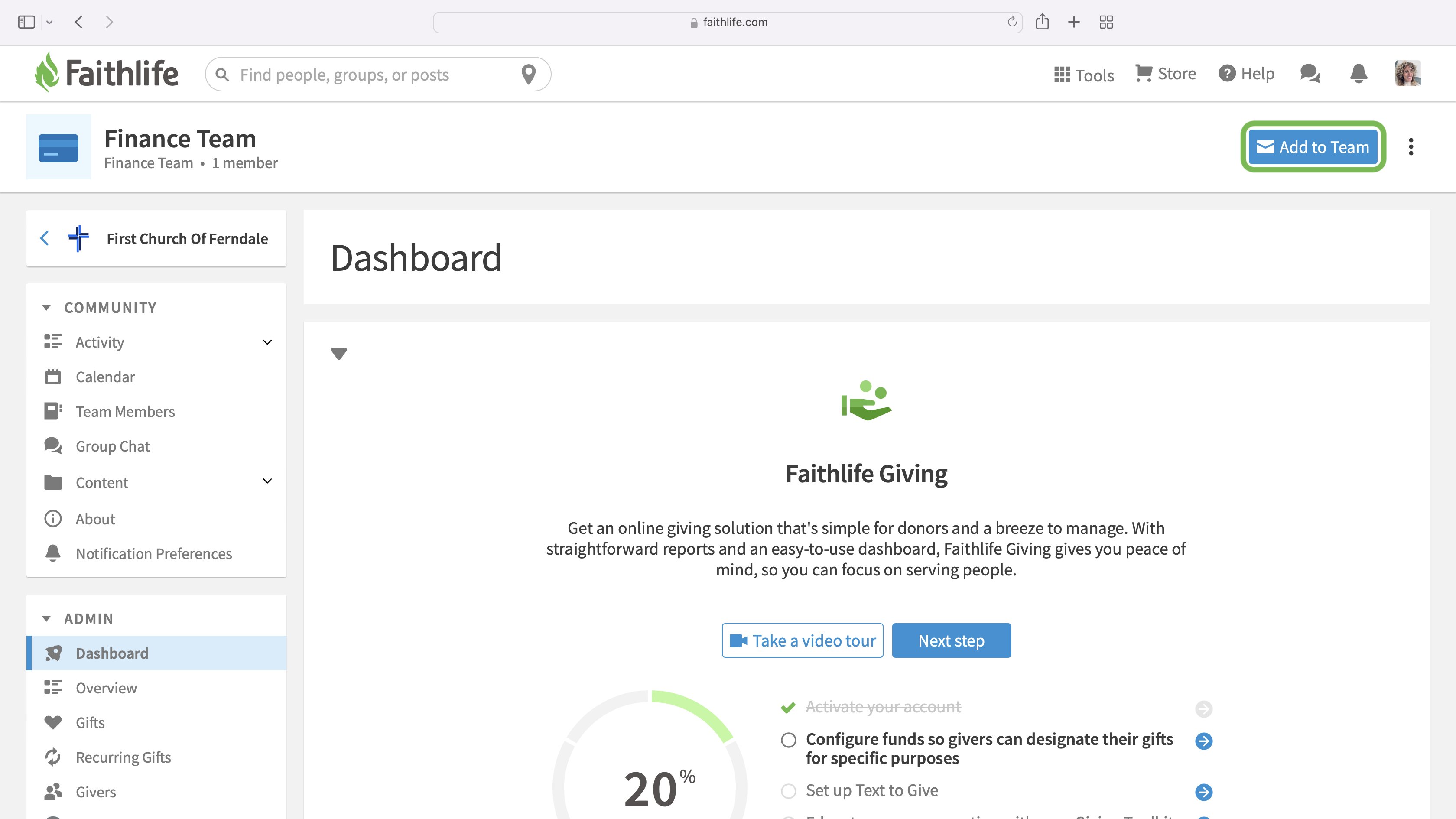 If the invitee doesn't have a Faithlife account, they'll be prompted to create one for free once they get your invitation.
Step 3: Add Funds
You can add funds for people to give towards from the Finance Team page. Funds provide tangible categories for donations, like General, Missions, etc.
Note: You can also create campaigns which are time-bound donation goals associated with a fund. Campaigns are often effective because they provide a tangible target for donations (e.g., mission trip fundraising, building campaigns, etc.). Learn more about creating a campaign.
1. From the Dashboard, click Next step.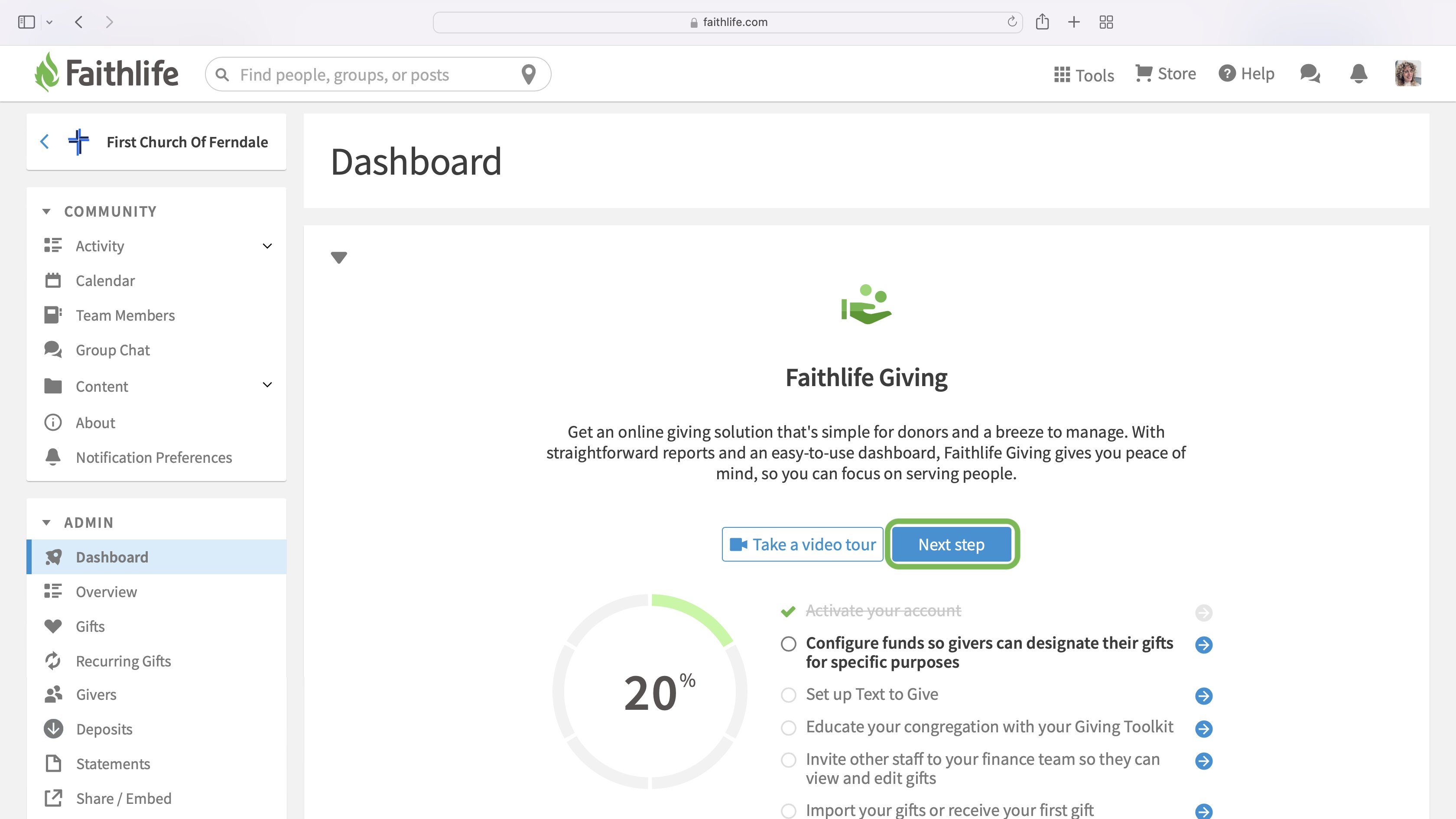 Note: You can also expand Settings in the Admin navigation menu and select Giving.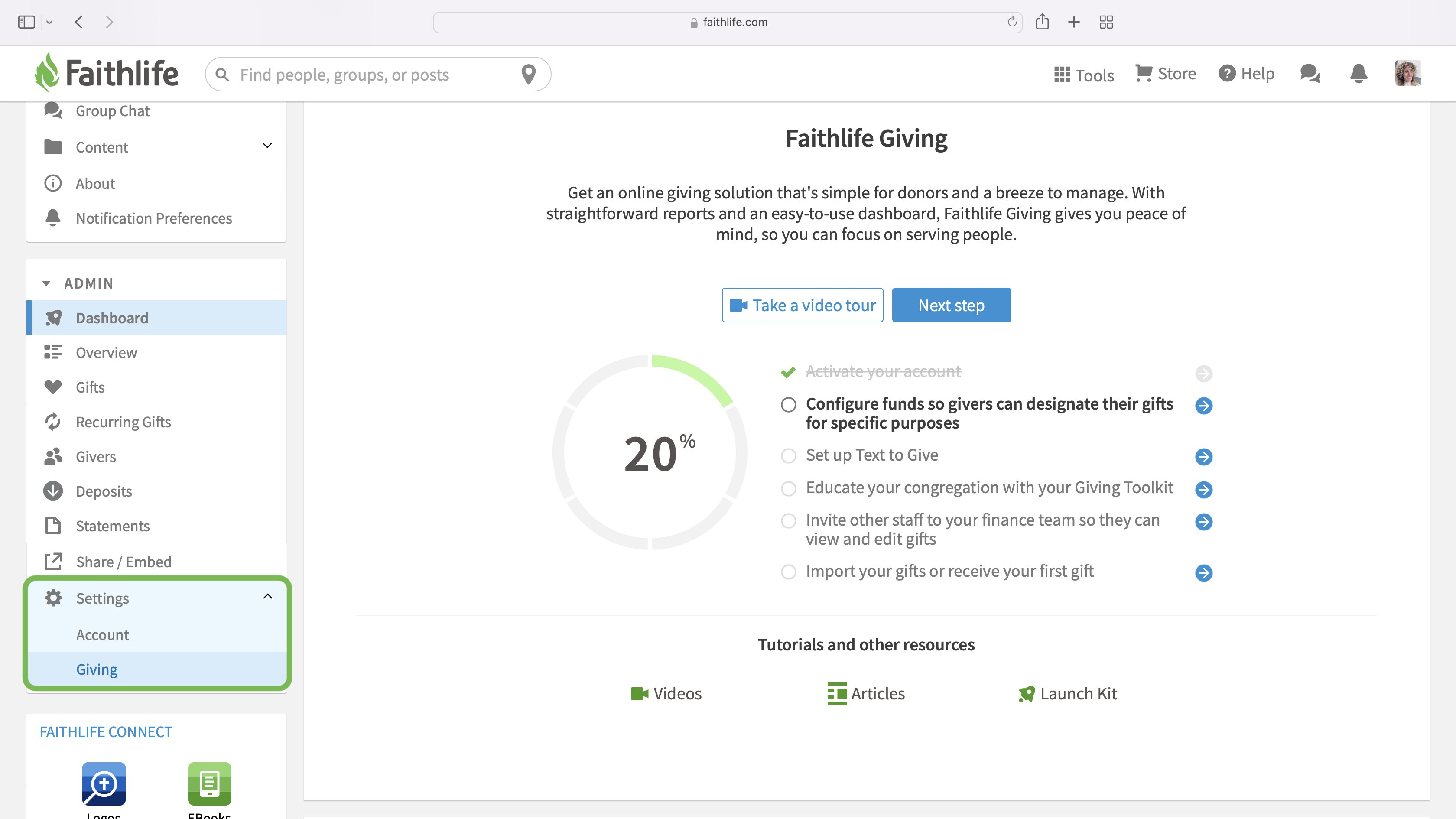 2. Scroll down to the Funds section.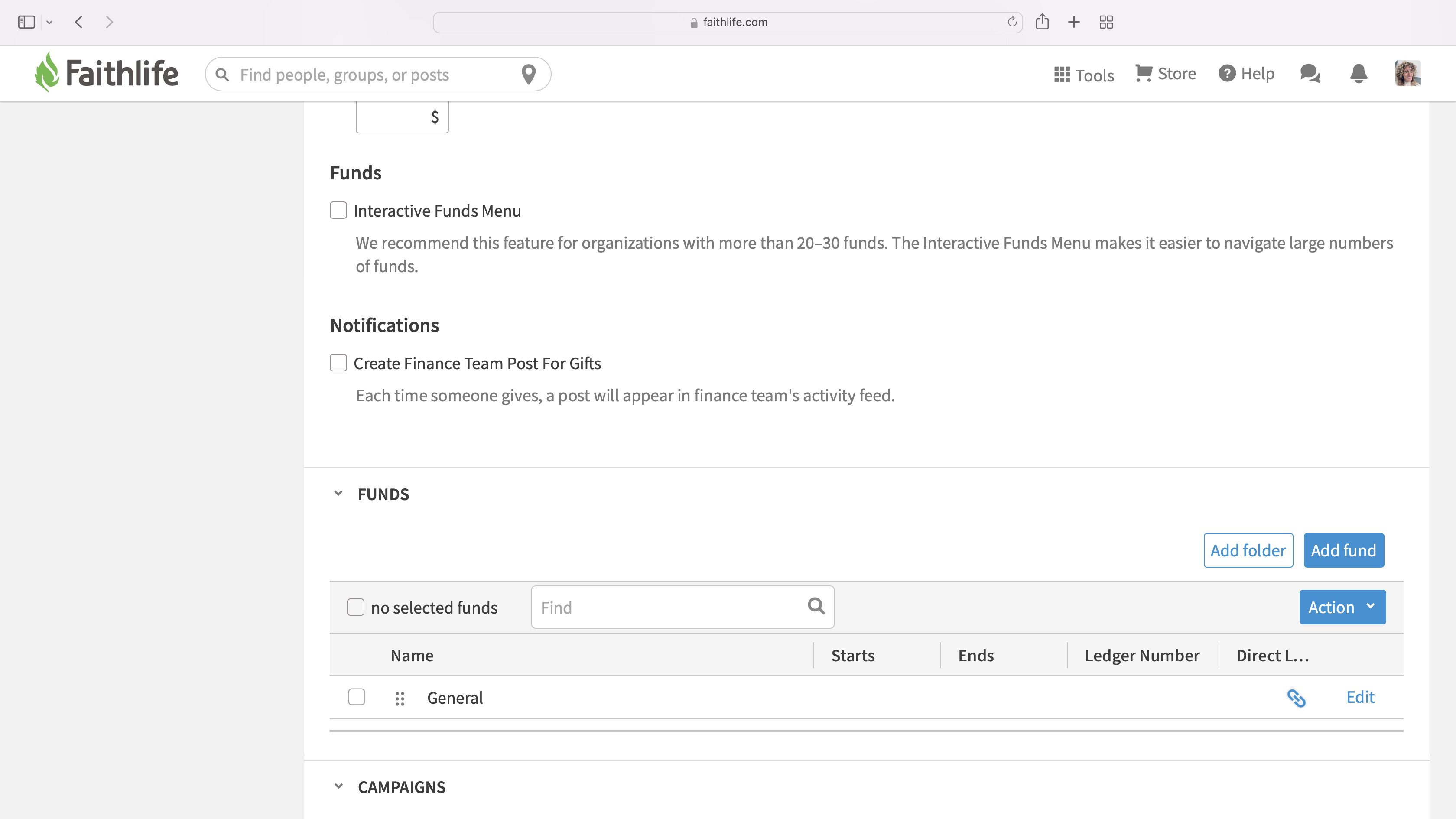 3. Click Add fund.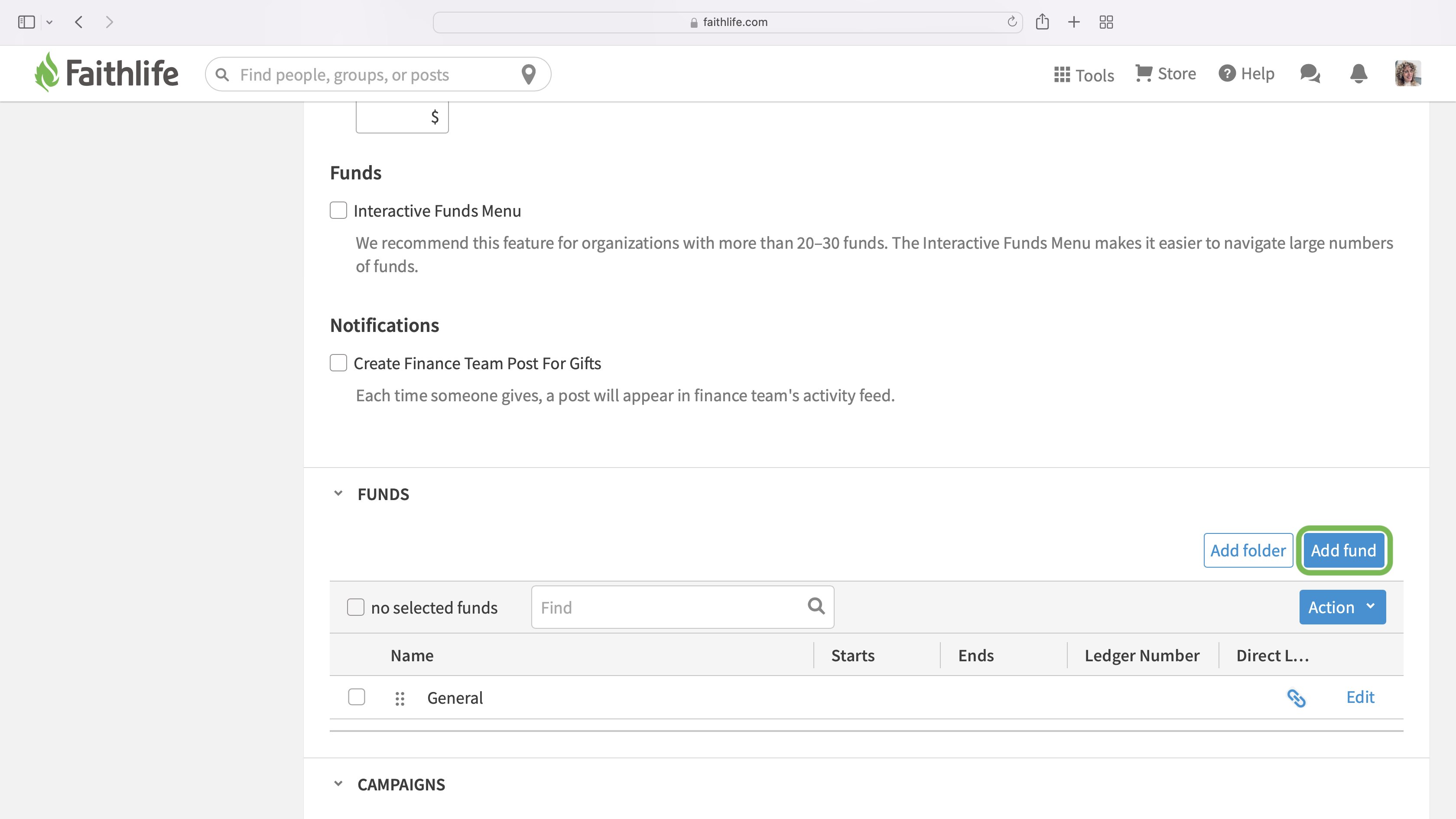 4. Provide the appropriate details, and click Save.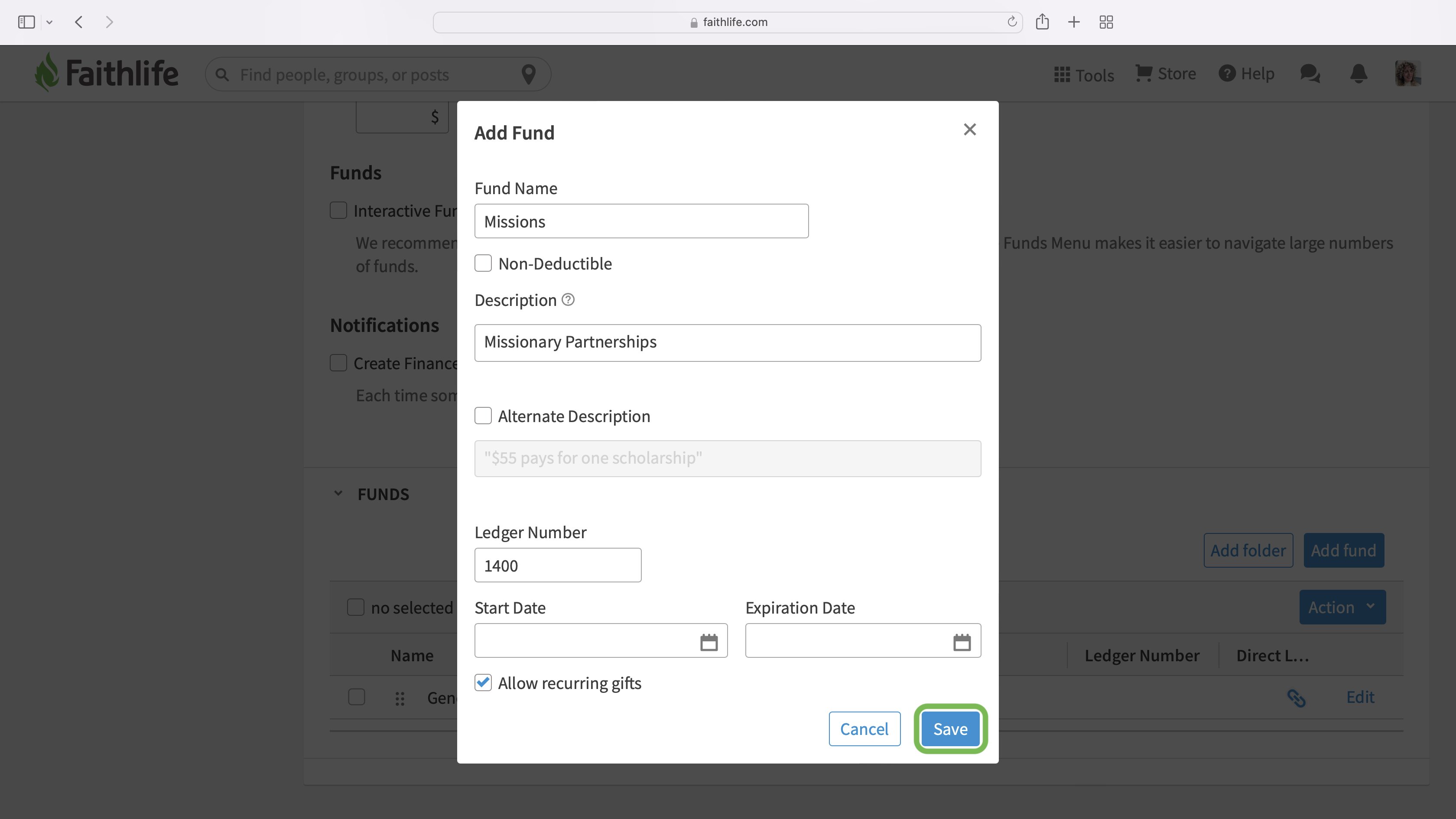 To edit or deactivate a fund select Edit for the fund in question. Deactivated funds appear below (in the Inactive Funds folder) and can be reactivated by selecting Edit and then clicking the Reactivate button. Learn more about configuring funds in Faithlife Giving.
Did you know? If you have Faithlife Proclaim, you can configure a presentation slide to show the balance of a fund in real time. Learn more.
Step 4: Set Up Text to Give
Note: At this time, Faithlife Giving is only supported for church groups in the United States.
1. Navigate to Giving in your Finance Team.
Expand Settings in the Admin navigation panel and select Giving.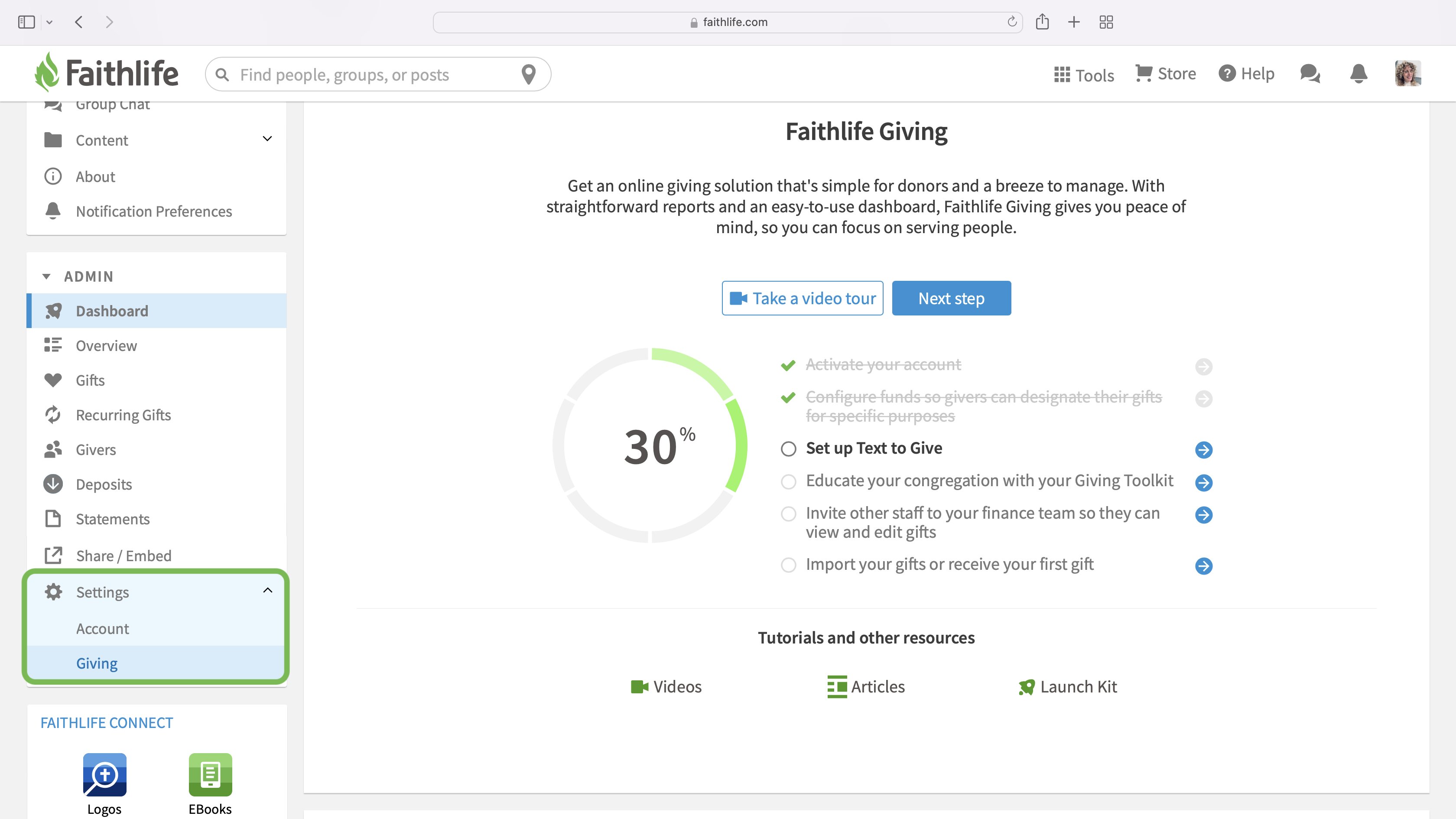 2. Click Get a phone number.
Scroll down until you see the Text to Give section and click Get a phone number.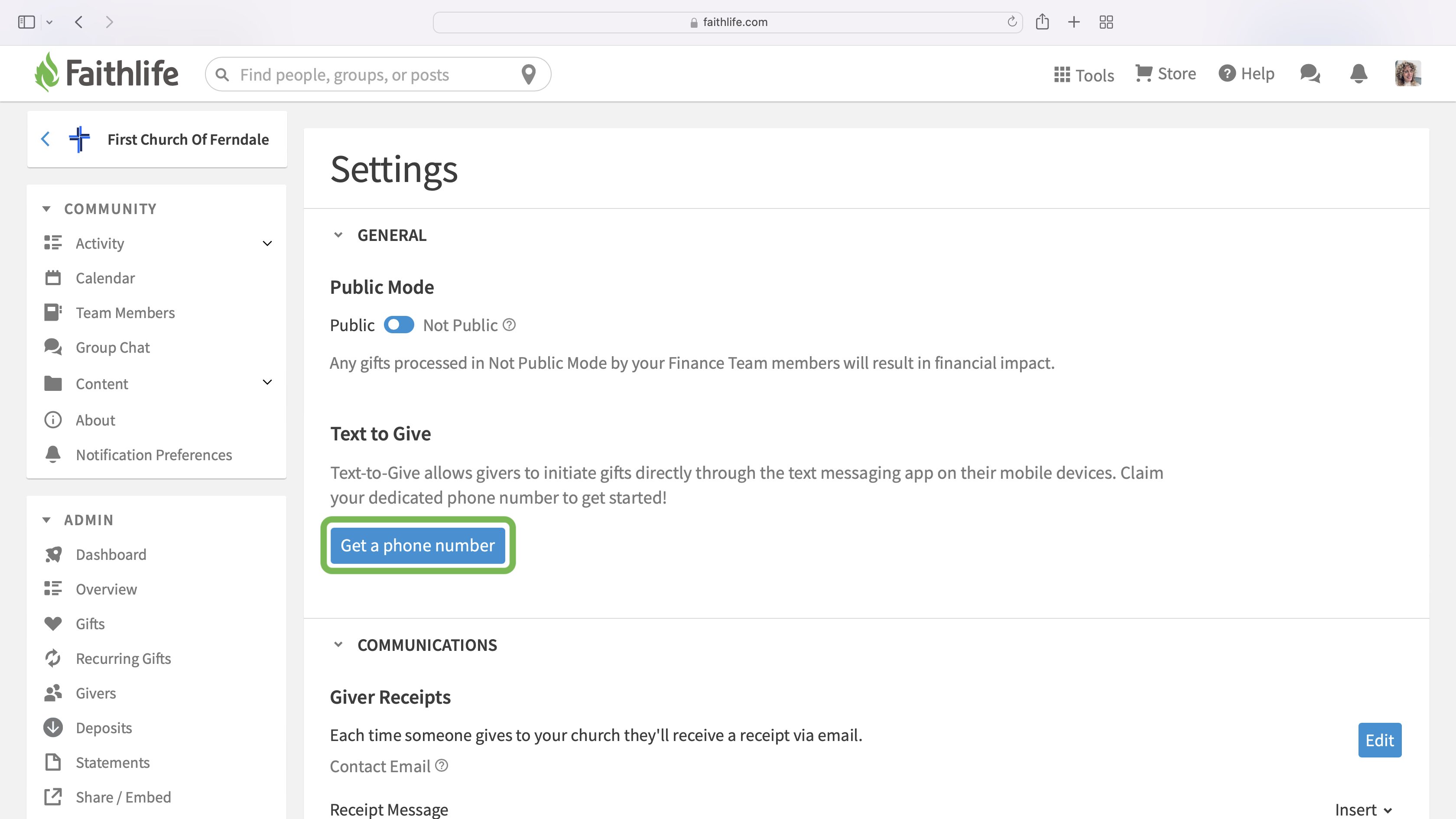 3. Select a phone number from the list of available options.
If you add your area code, a list of local numbers will display. Choose one from the list and click Get Number.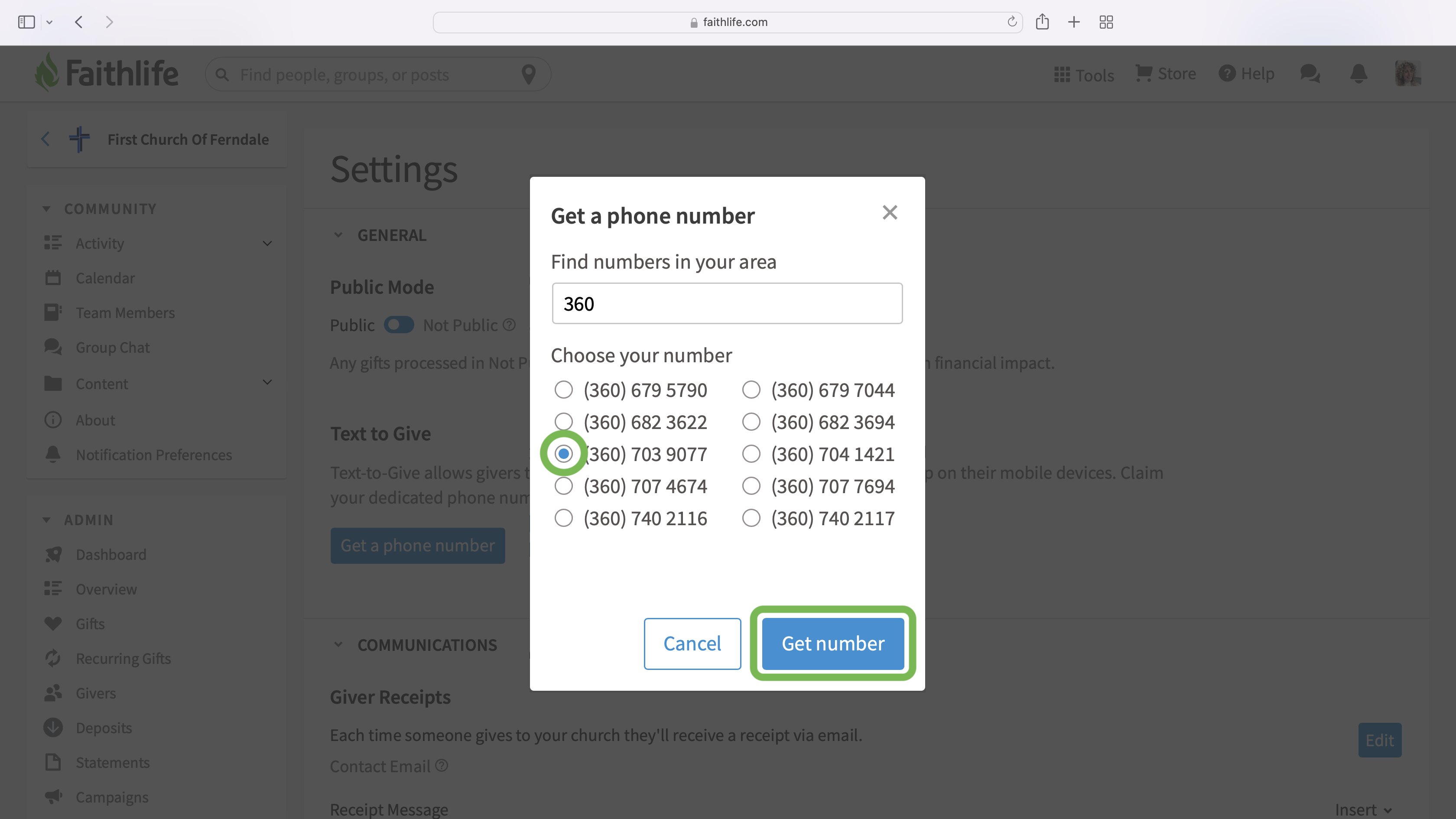 4. After you select a phone number, the Text to Give section of your account settings will display instructions for giving via text.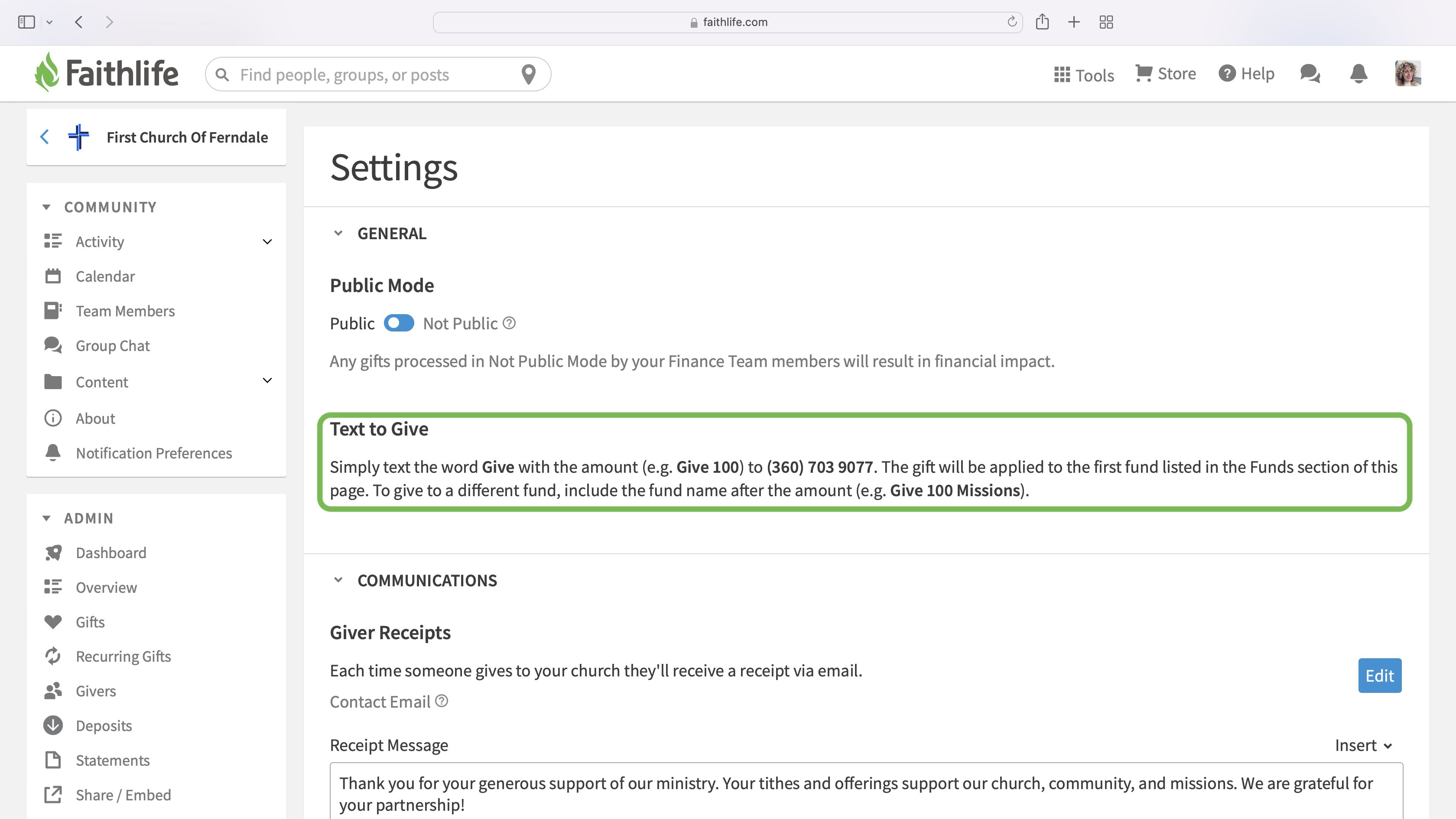 How it Works
Donors can text the number with the word Give and the amount in USD they want to give. If they want to give to a specific fund, they can text FUNDS and receive back a list of the first 10 active funds that appear on your church's giving form. They can then text Give [amount] [fund name].
The first time a donor gives via text, they will receive a link to a form where they can provide payment information as well as an email address where they will receive a receipt. For subsequent gifts, Faithlife Giving will process their gift using the last payment method the donor used. In this case, donors can cancel a gift by texting "cancel gift" within 30 minutes to the same number.
Note: You can use the Text to Give function to process a $5 test transaction to become an established merchant. To make a $5 test transaction, simply text "Give 5" to your Text to Give phone number and follow the instructions you receive to complete the gift.
Step 5: Share Your Giving Form
There are several ways to share your giving form. Each of these methods will bring donors to the same interface. The more access points you give to people, the easier it will be for donors to give to your ministry.
1. Church group on Faithlife.com.
Once giving is active, Faithlife will add a "Give" button to your church group's homepage on Faithlife.com.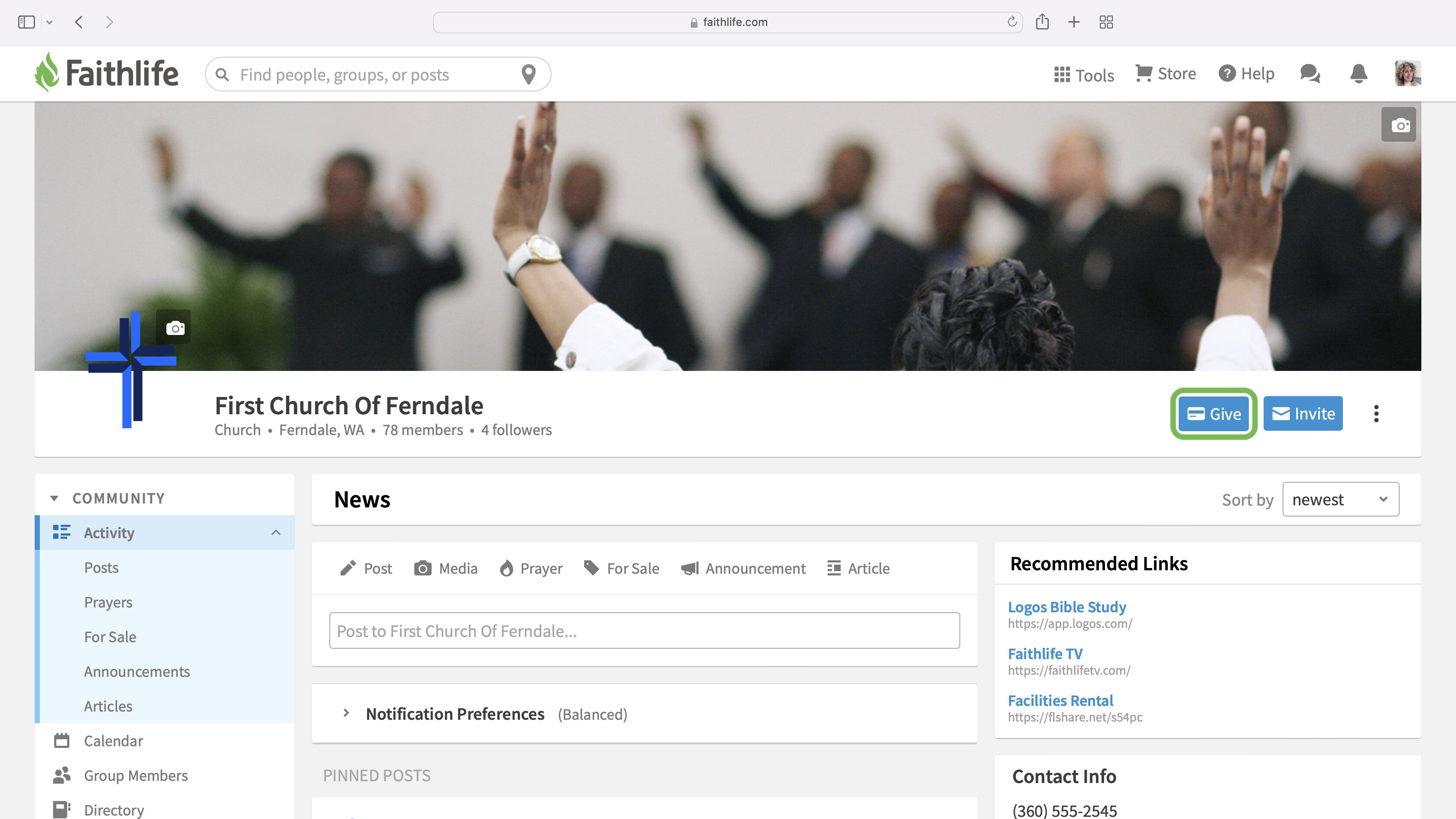 2. Faithlife Site church website
Additionally, if your church has a Faithlife Site, a draft page for giving is already ready to publish. To make it public, change its status to Published in the page's settings menu.
Now anyone who visits your site can give to your church.
3. Direct link or embed code
You can access the Share / Embed item in the Admin panel of your Finance Team subgroup.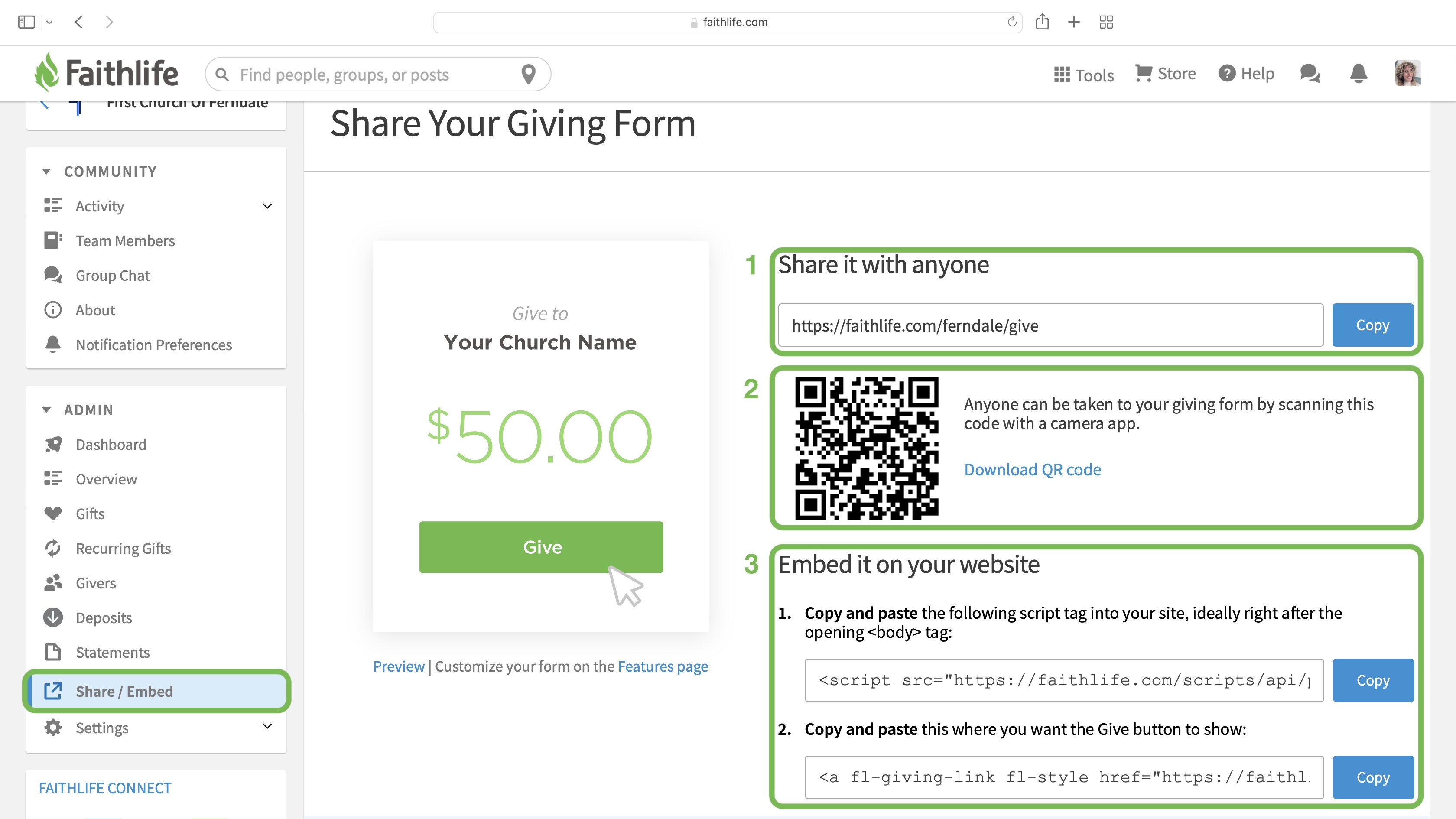 Option 1 offers a direct link you can share with anyone or which you can use to create a QR code in custom Faithlife media. Option 2 lets you download a QR code to use in your own external media. With option 3, you can embed your giving form on any website with the unique embed script.
Note: Learn more about adding your Faithlife Giving form to your website.
4. Faithlife TV Give button
Any video posted to your church's Faithlife TV channel now automatically includes a Give button. Learn how to post videos or sermons to your Faithlife TV channel.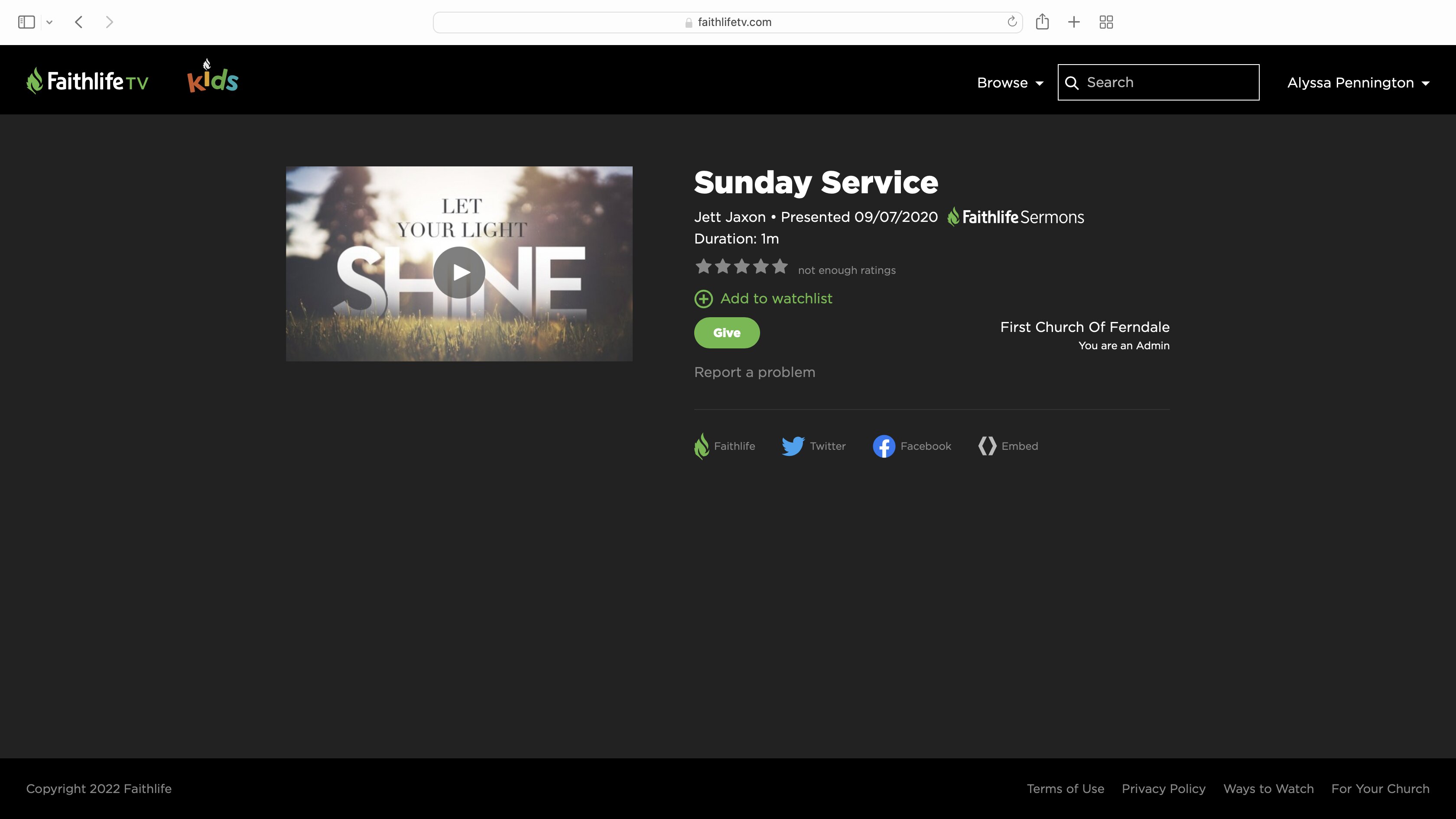 Sign up for Faithlife Giving to start receiving gifts in 5 minutes or less.