If your church already uses an external calendar like Google Calendars, connect it to your Faithlife group's calendar so you don't have to manage both calendars at once.
As you update your external calendar, all future changes will populate to your Faithlife group. Any service that links in with your group calendar—like Faithlife Proclaim or Faithlife Sites—will always display your most up-to-date information. 
1. Click Calendar in the left-hand sidebar.
Navigate to your church group on Faithlife.com and click Calendar in the left-hand sidebar.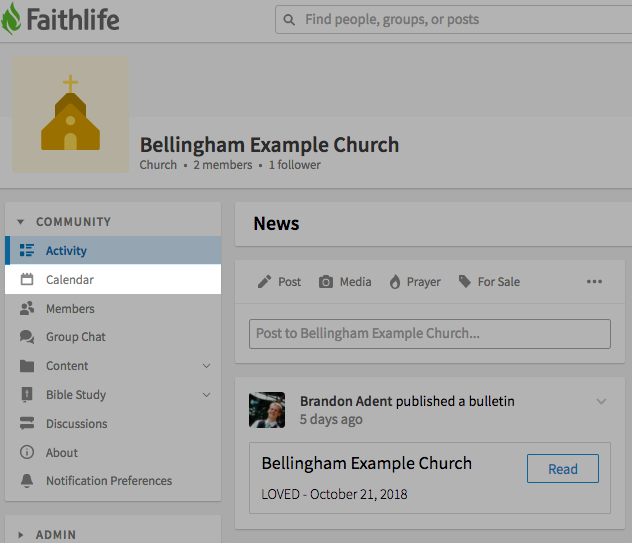 2. Click the gear above the Calendar. 
An administrator or moderator of your Church group will be able to see the settings gear above the right-hand side of the calendar. 

3. Add the URL of an external calendar (ICS format) and click Import.
A Calendar Settings window will appear. Add an ICS format URL and click Import.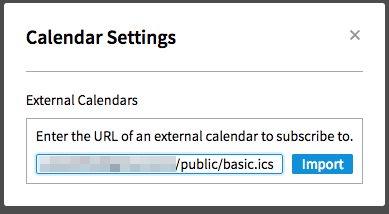 Note: For specific steps on importing a Google Calendar, see the steps listed below.
The title of your newly imported calendar will be listed above the entry field (e.g., "calendar.google.com"). All the externally-created events will display as part of your Faithlife calendar.
Selecting the more options menu provides an indication of when the external calendar was updated and allows you to remove the calendar.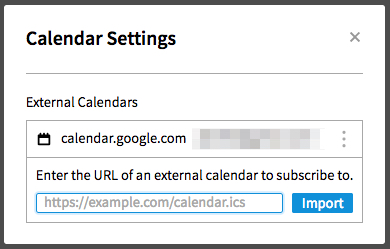 Note: The import process includes a delay, so your events may not populate immediately. It may take up to 24 hours for your events to appear.
Import a Google Calendar
For help importing from Google Calendar, follow the these steps.
1. Navigate to your Google calendar
You can find your Google at calendar.google.com.  
2. Hover over your desired calendar and click the more options menu. 
3. Click Settings and sharing.
4. Scroll down to Access permissions and check Make available to public.
5. Click Integrate calendar on the left, then copy the link to Public address in iCal format. 

6. Enter the URL in the Calendar Settings and click Import.