Your group calendar on Faithlife benefits your church by keeping everyone on the same page.
In addition to advanced features like reserving resources, requesting RSVP, running check-in/check-out on your event, and more, creating events in your group calendar on Faithlife means your events will be available:
Did you know? If you're already using an external calendar, you can import that calendar to your group so any changes on the external calendar will populate to your group's calendar. Learn more.
Skip ahead to:
1. Open Your Church Calendar.
Navigate to Faithlife.com, sign in, and select your group in the left-hand Groups panel.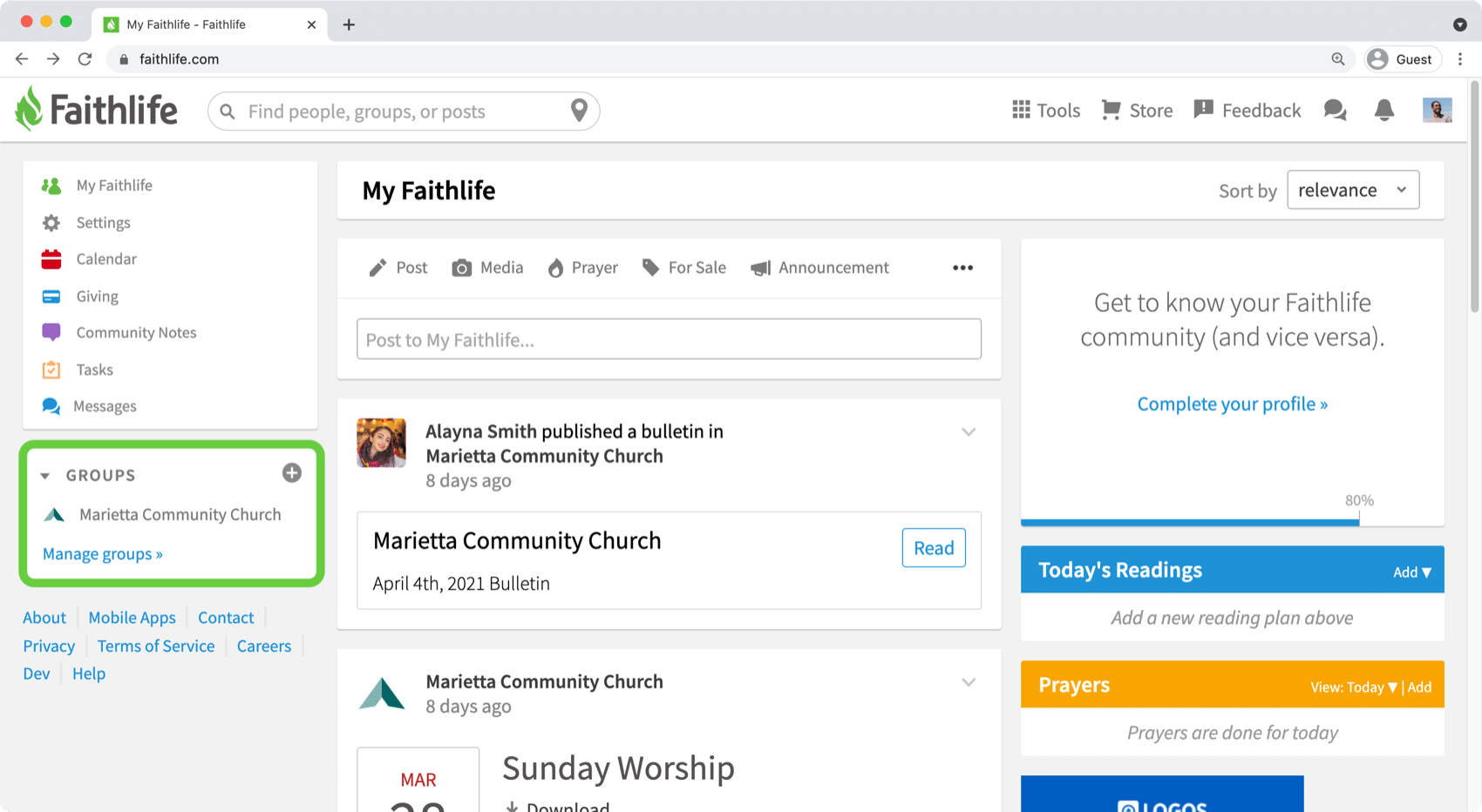 Click Calendar in the Community panel.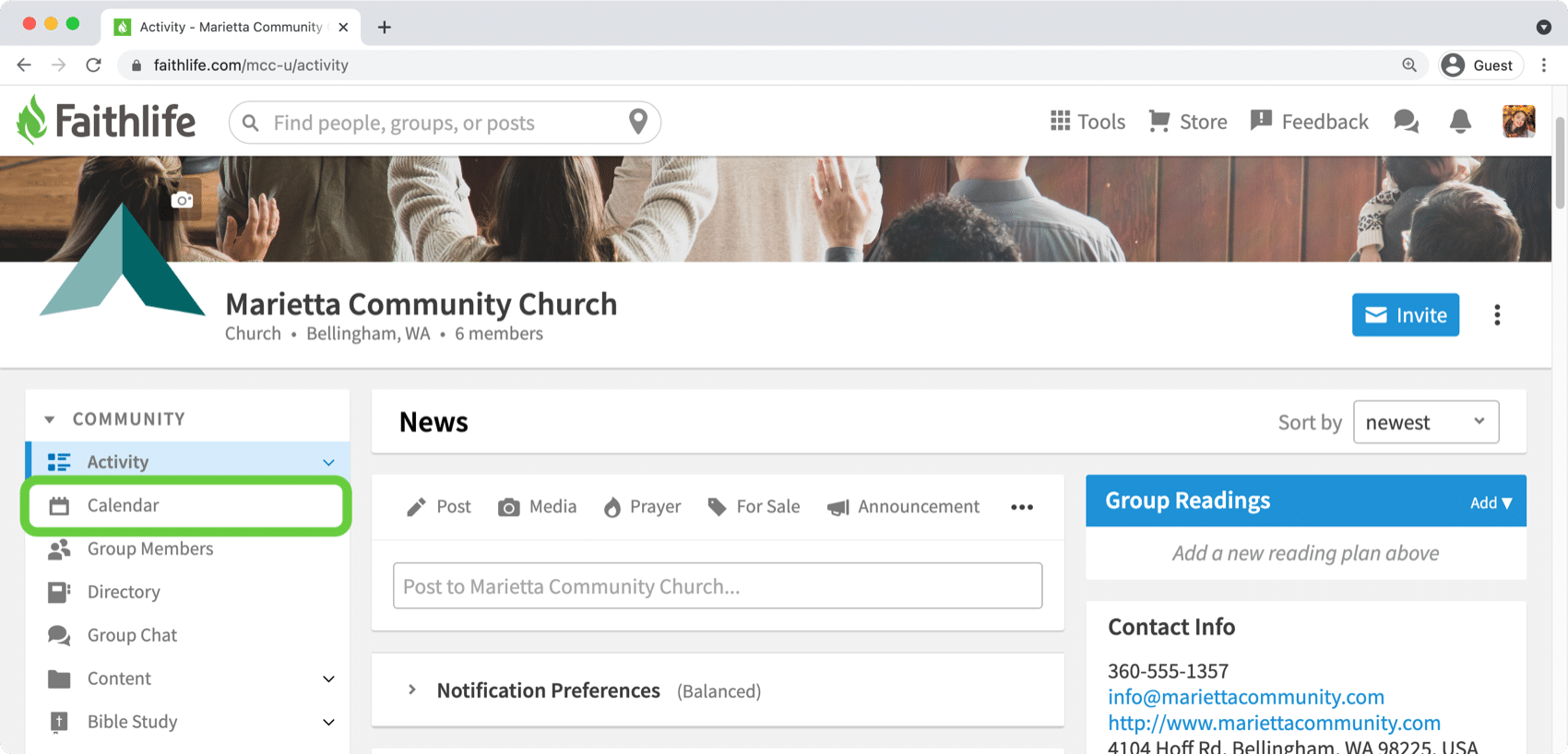 Note: If you need to add an event that only applies to your small group, navigate to your small group subgroup and add the event to the subgroup's calendar. When members of your small group view the main church calendar, small group events will also display for them.
2. Create a new event.
You can create an event in two ways:
Click the New event button above the calendar.
Hover over any day and click the new event icon .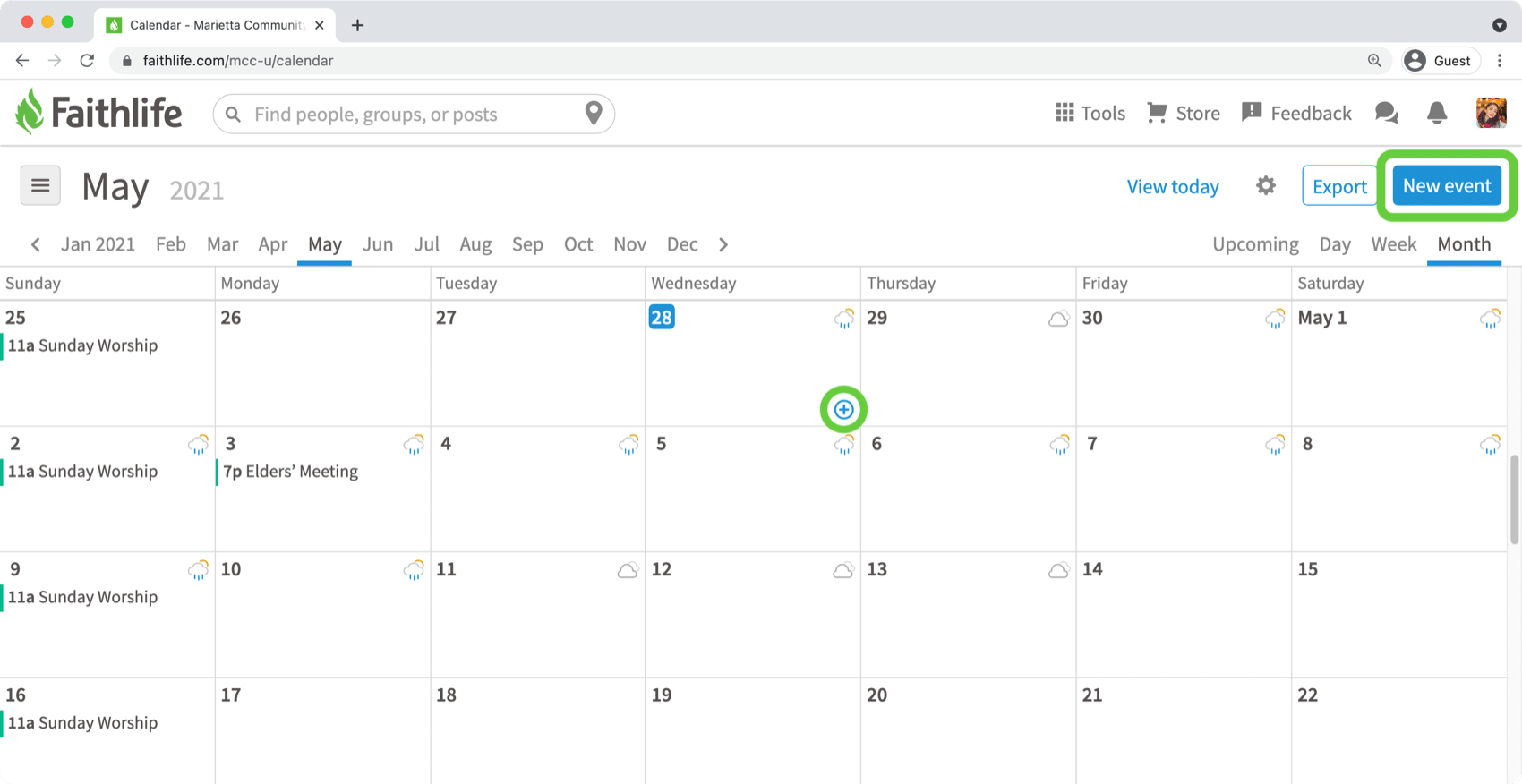 3. Provide event details.
You can create basic events or add multiple advanced event fields. While this section contains detail for each of the advanced event fields, you can quickly create basic events.
To add a basic event:
Type out your event in natural language in the Title input (e.g., "Kids Club Friday at 4pm").
Faithlife will auto-populate the event fields. Click on an option in the dropdown that fits your intentions.
Scroll down and click Create.
For an explanation of each event option, continue reading below.
Set event visibility.
At the top of each event, you can set both the visibility of your post. Each new event defaults to the visibility settings in your group settings, but you can adjust it from the dropdown.
Public: anyone with a link to the event can view the event.
Followers: anyone with a Faithlife account who follows your group (along with all members, moderators, and admins) can view the event.
Members: members, moderators, and admins of your group can view the event.
Moderators: moderators and admins of your group can view the event.
Admins: admins of your group can view the event.
Set event author.
Choose between posting the event from your own Faithlife account or on behalf of your group.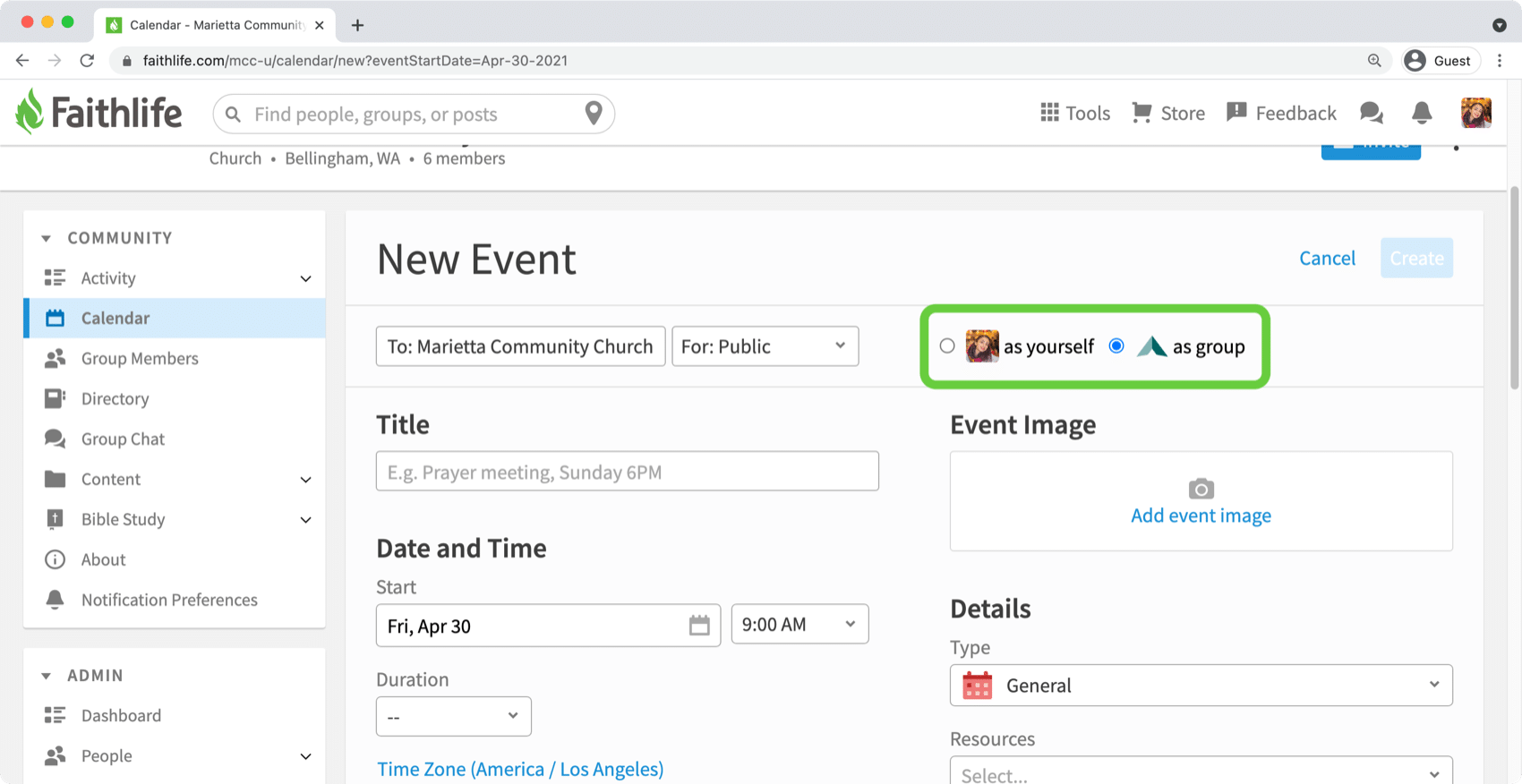 Provide core event details.
You can add the details for your event as a normal sentence and your calendar will parse the language for you. Faithlife will auto-populate the event fields. Click on an option in the dropdown that fits your intentions.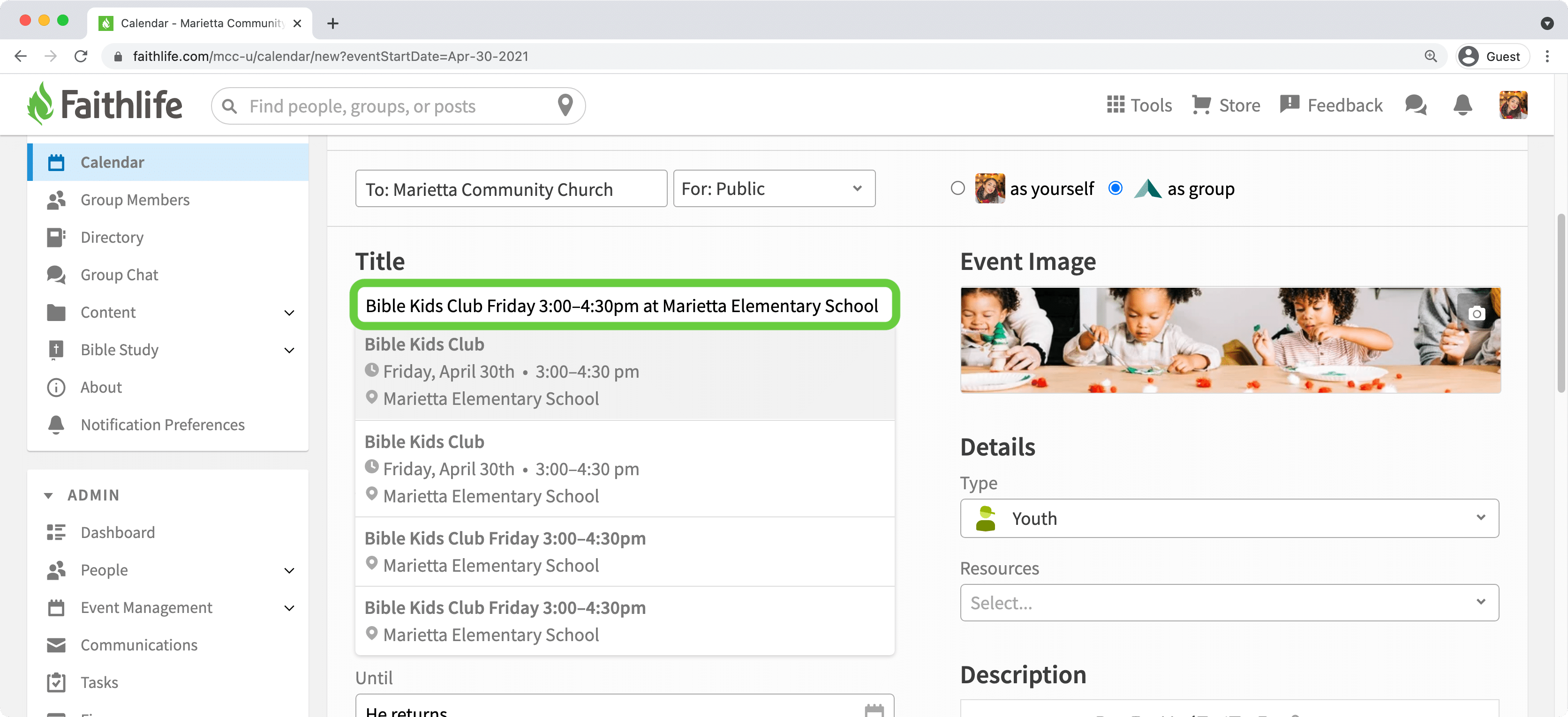 Adjust any daily manually as needed.
Title: the title that will show on your calendar
Start date and time: the day and time your event starts
Duration: the length of the event
Time Zone: the timezone for your event (defaults to the timezone of your church location)
Event Image: Click Add event image to select an image for your event. Faithlife auto-sorts free stock photography to match your event title, although you can also upload your own image.
Type: select an event type from the dropdown to help organize your event as a youth event, general, etc.
Description: a full explanation of your event
Set a repeat schedule.
Check Repeat and choose a repeat pattern. By default, repeated events repeat indefinitely (i.e., Until He returns), though you can change the frequency from the dropdown.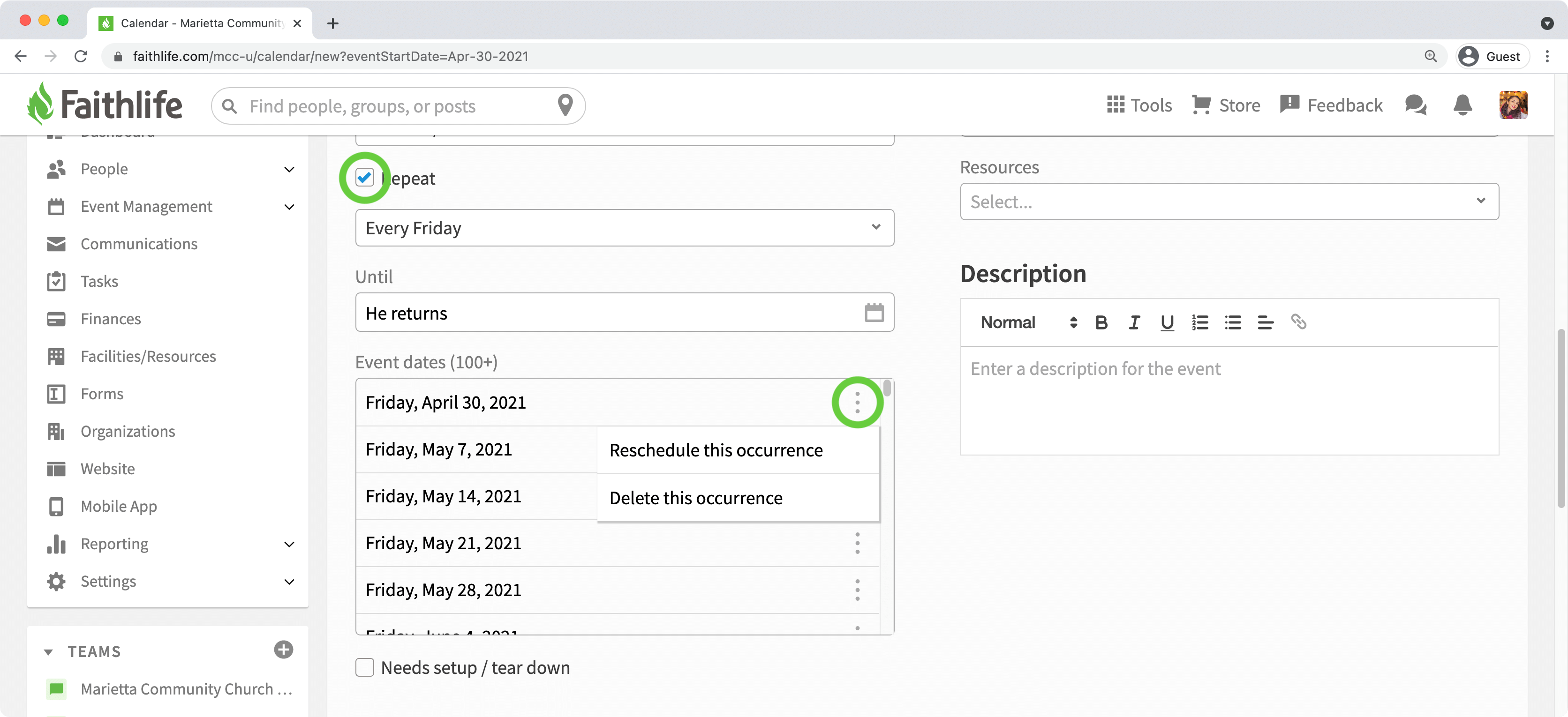 The next event dates based on your selected repeat schedule and frequency show below. Click the more options icon

to reschedule or delete the occurrence.
Reserve setup/tear down time.
Check Needs setup/tear down and provide times in the dropdown menus to mark off time on either side of your event.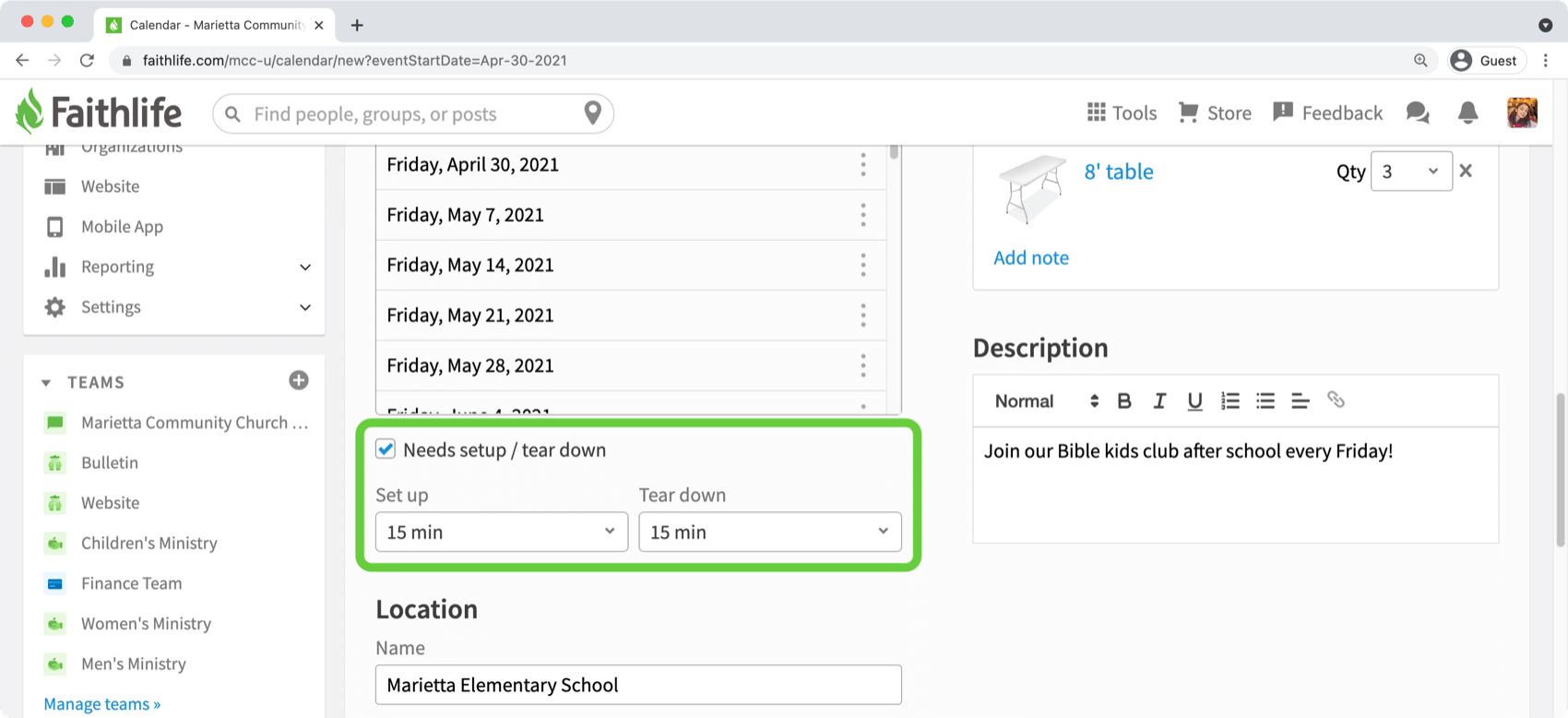 Reserve resources.
Your group includes a facility/resources manager. When you create events, you can reserve resources or facilities to mark them as "in use" for your event.
Select a resource from the dropdown (or create one in the dropdown).
Set the amount of items you want to reserve (e.g., 20 chairs).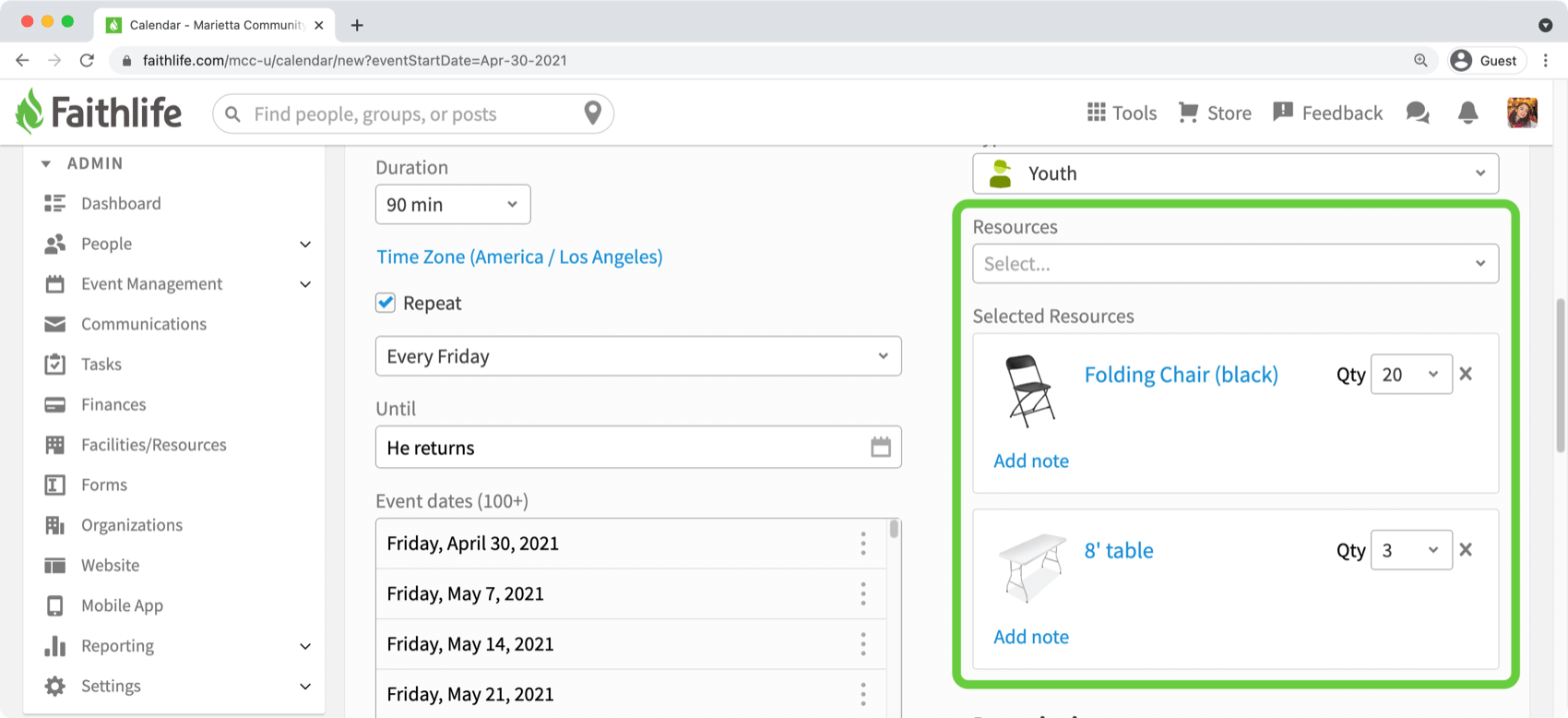 Note: Learn more about managing resources in Faithlife.
Set the event location.
If you provide an address, your event will automatically show an interactive map showing the event location. You can toggle off the map by checking Do not show map.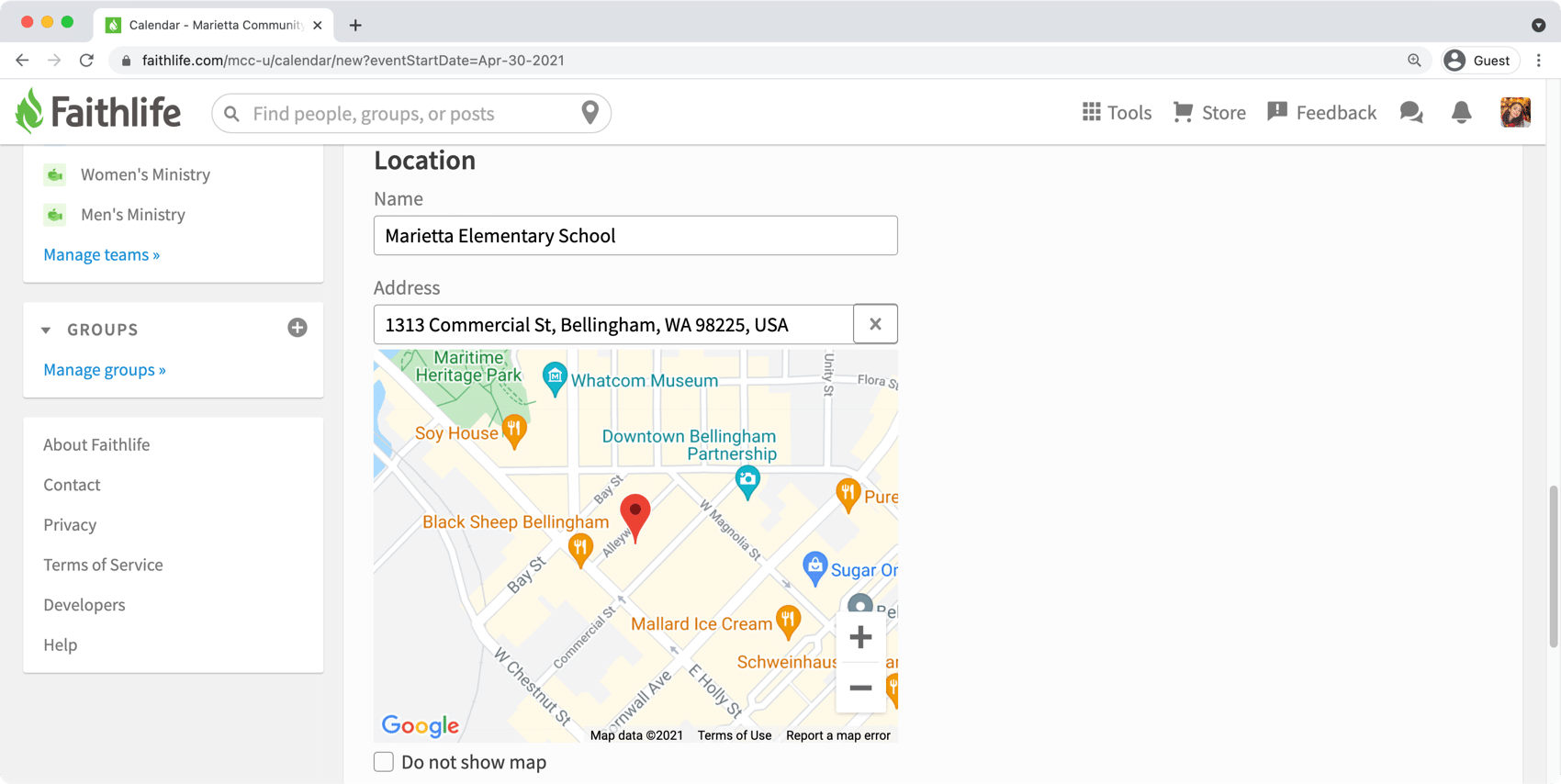 Add remote access.
Your group can generate a free video link access code (click the camera icon

), although you can also manually provide your own meeting link.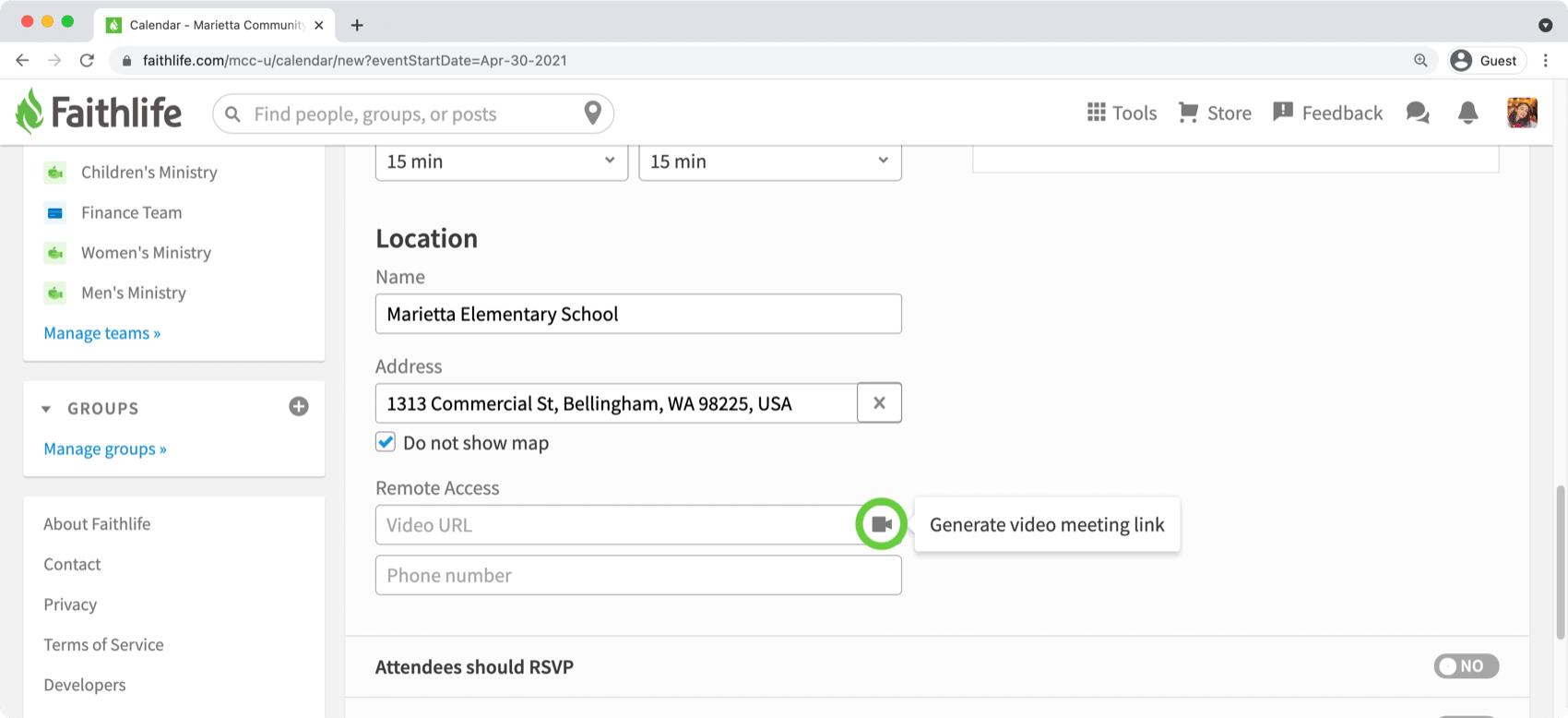 If your remote access has an option for phoning in, provide the details in the Phone number input field.
4. Add additional event options.
Each event offers several addition event options:
Attendees should RSVP
You can request people RSVP to your event by toggling Attendees should RSVP to YES.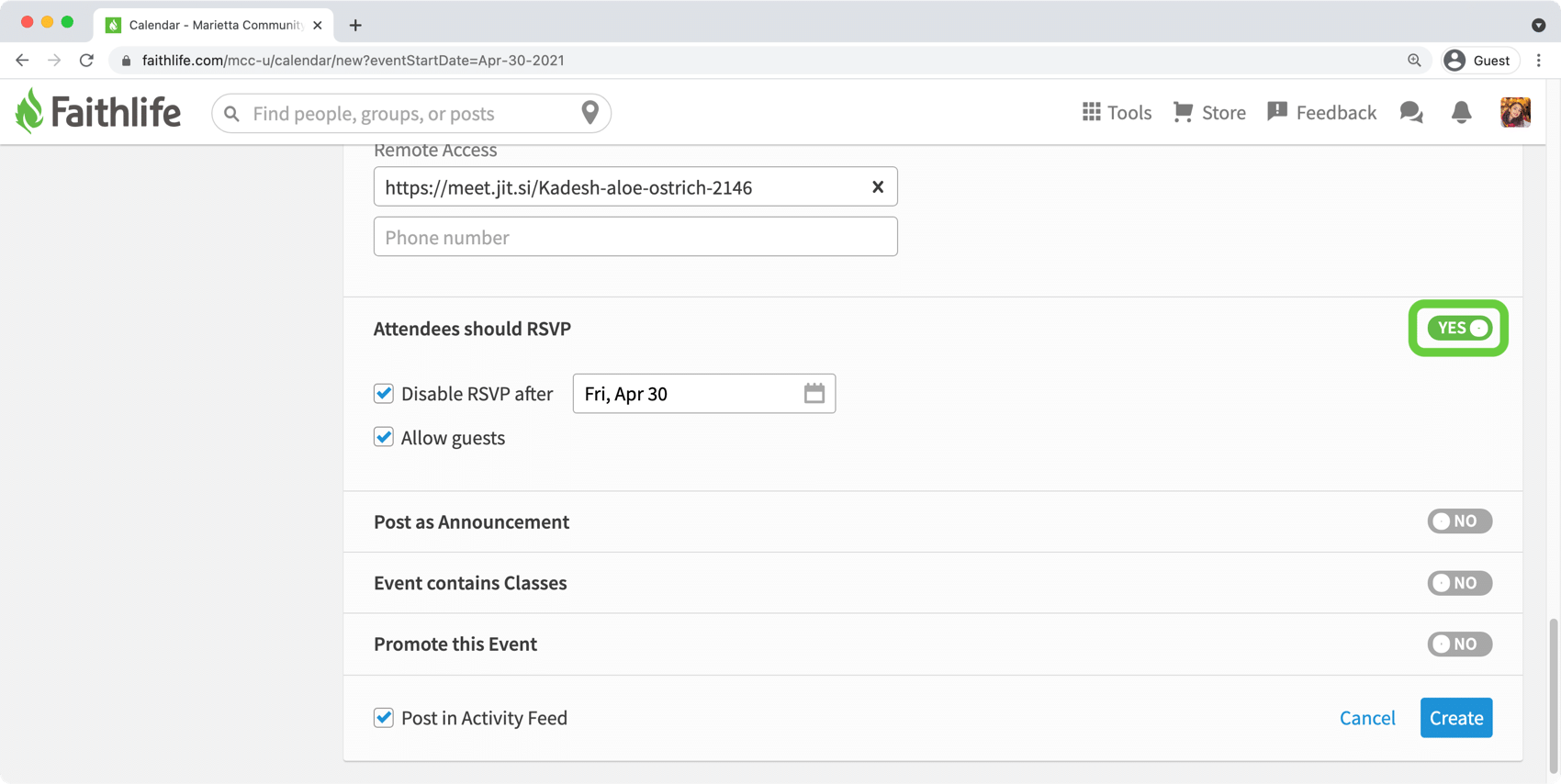 Disable the RSVP after any date (defaults to the day of your event) and decide whether or not people in your group can indicate how many guests they're bringing.
Post as Announcement
You can post an announcement post in your Activity feed when creating the group. Faithlife provides details for the announcement from the event info, although you can customize it to fit your needs. An image is generated with your announcement information as well. Click Customize to open the Smart Media Editor and adjust the details.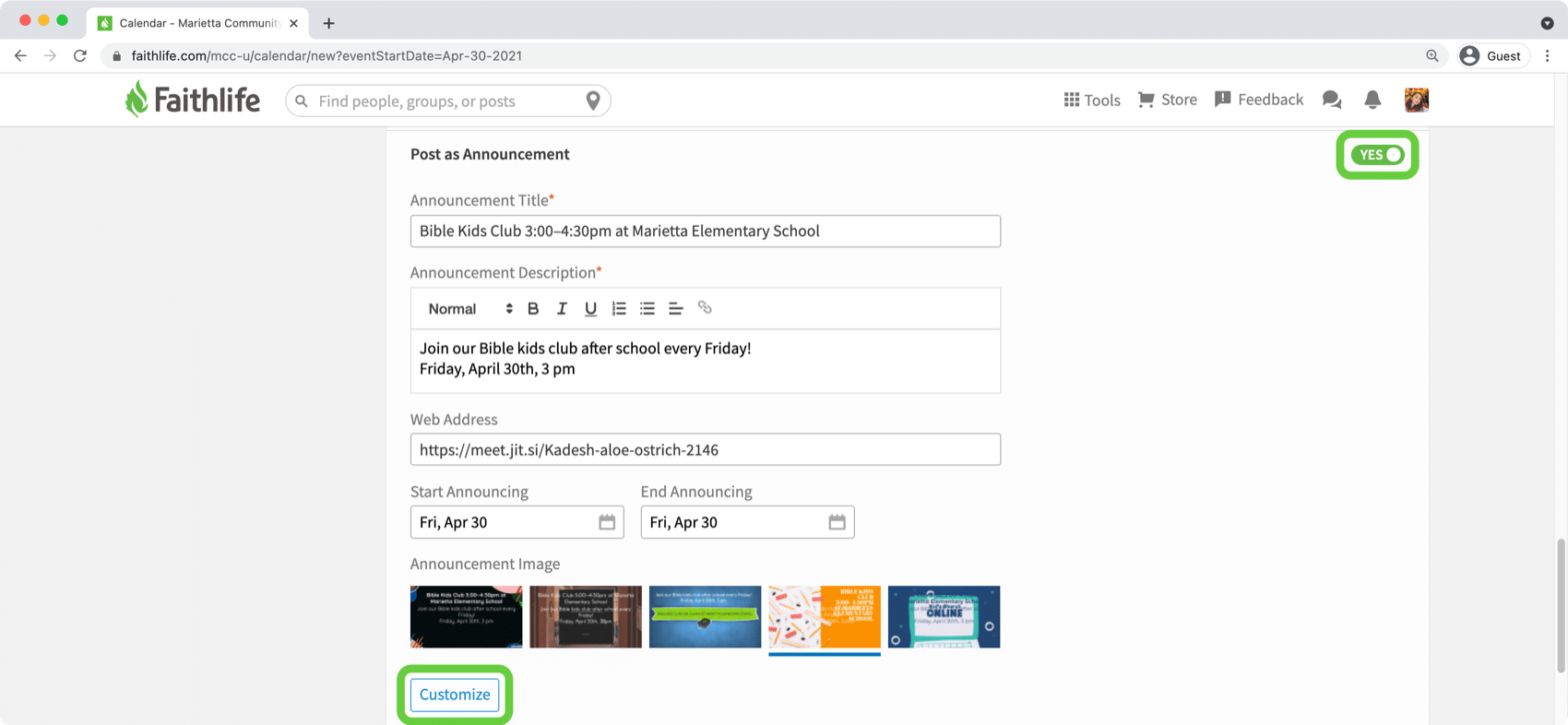 Note: Learn more about working with the Smart Media Editor.
Event contains Classes
You can set up your event to run check-in/check-out either using a self-service Kiosk mode or as an Admin or Moderator of the group using the Class Roster.
Toggle Event Contains Classes to YES and click Add Class for each class.

Limit which names will display in the check-in window with filters. Create your own custom filter or pick from a saved list. Click Done when finished.
Note: Classes will be available for check-in one hour before the event. Learn more about check-in/check-out with your Faithlife group.
Promote this Event
Faithlife can automatically promote your event in two different ways:
Highlight: general promotion on your Faithlife group, Faithlife website, and more by marking the event more prominently.
Special: heightened promotion on your Faithlife group, Faithlife website, and more by marking the event very prominently.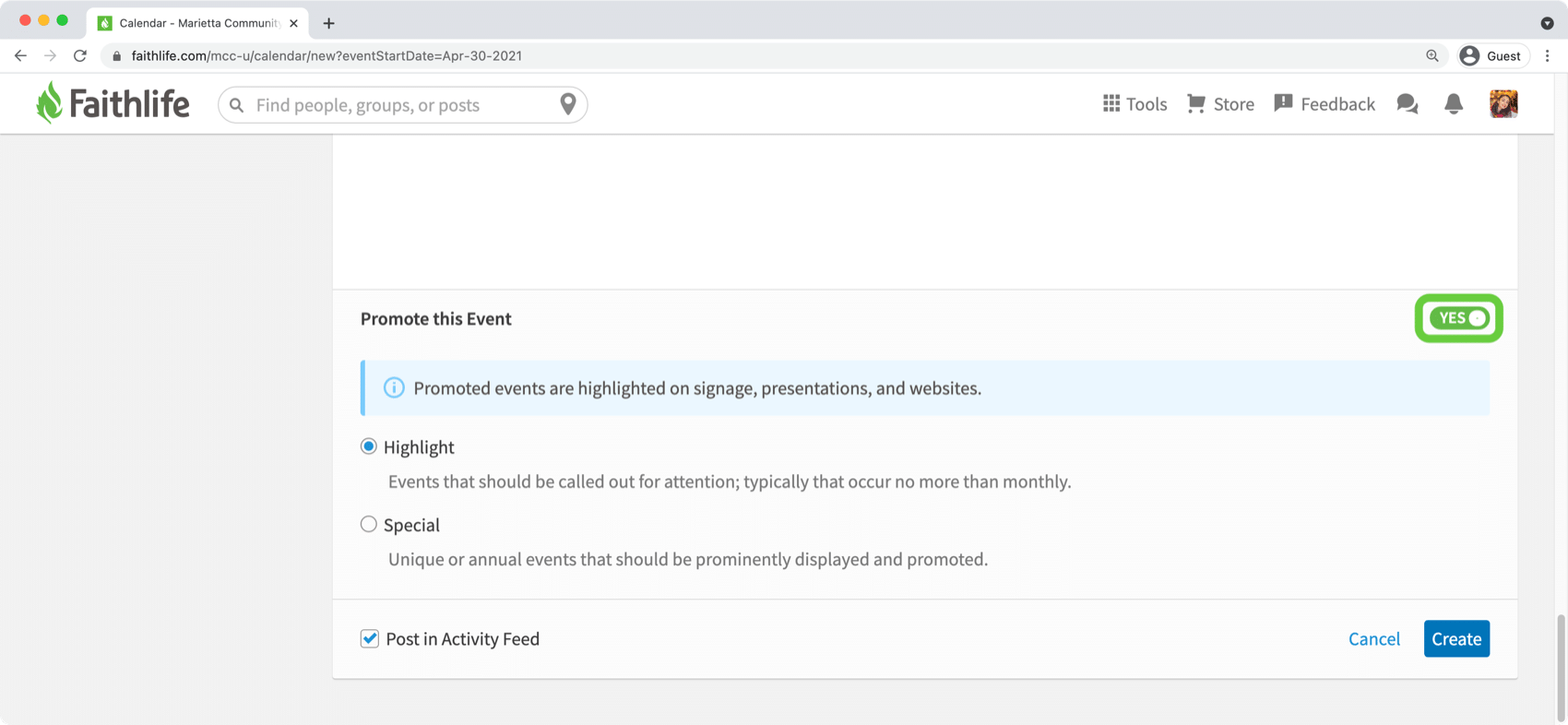 5. Click Create.
When you're finished with your event details, click Create.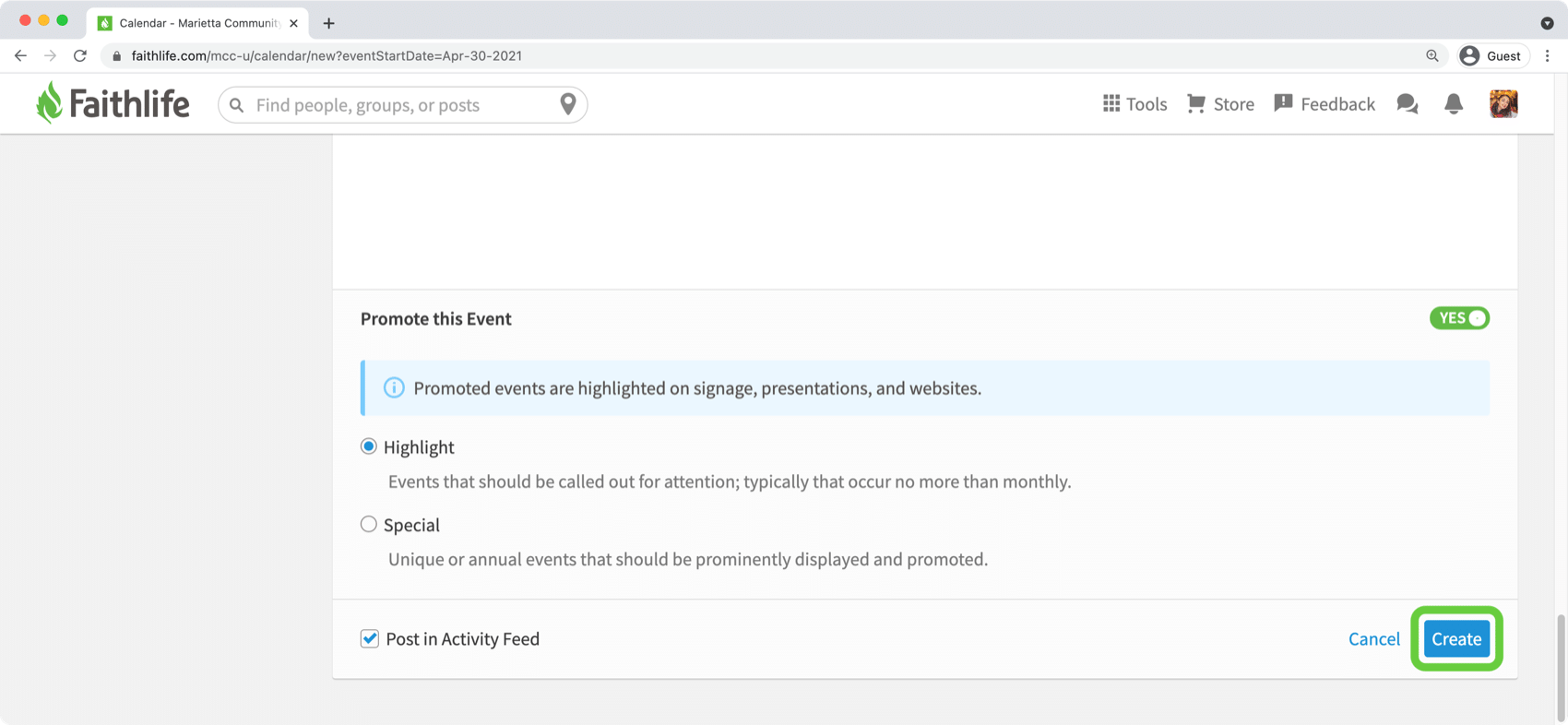 Note: By default, new events post to your Activity Feed. To prevent this default behavior, uncheck Post in Activity Feed before clicking Create.
Who can create an event?
By default, Admins and Moderators of groups can create events. To adjust the calendar event permission for your group:
Open your group on Faithlife.com.
Expand the Settings menu in the left-hand Admin panel.
Click Group Features and Permissions.
Adjust the Create events slider.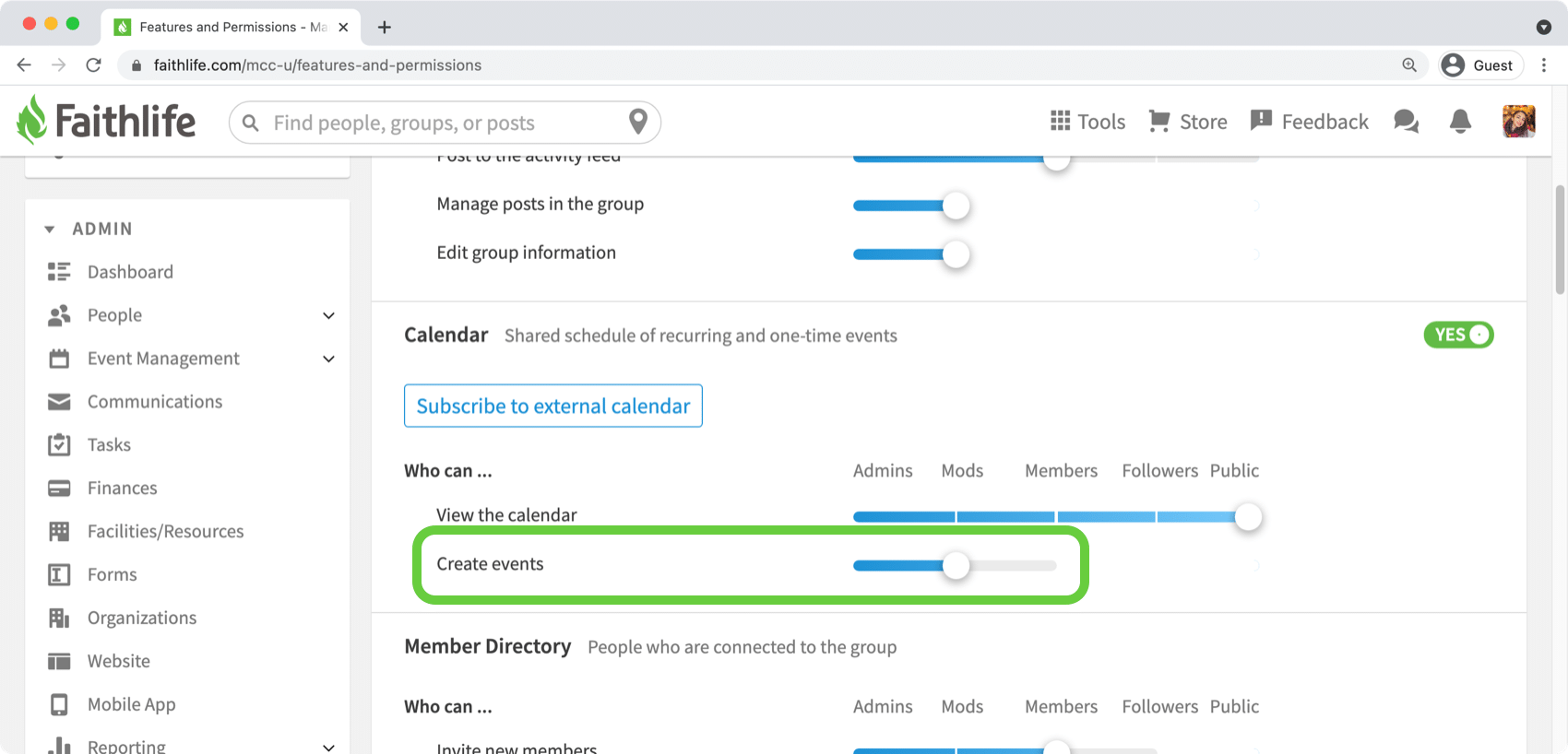 Note: You must be an Admin of your group to have full control over your group's feature and permissions. Learn more.
How do I edit events?
To edit any event, navigate to your calendar, hover over the event, click the more options icon

, and choose Edit event.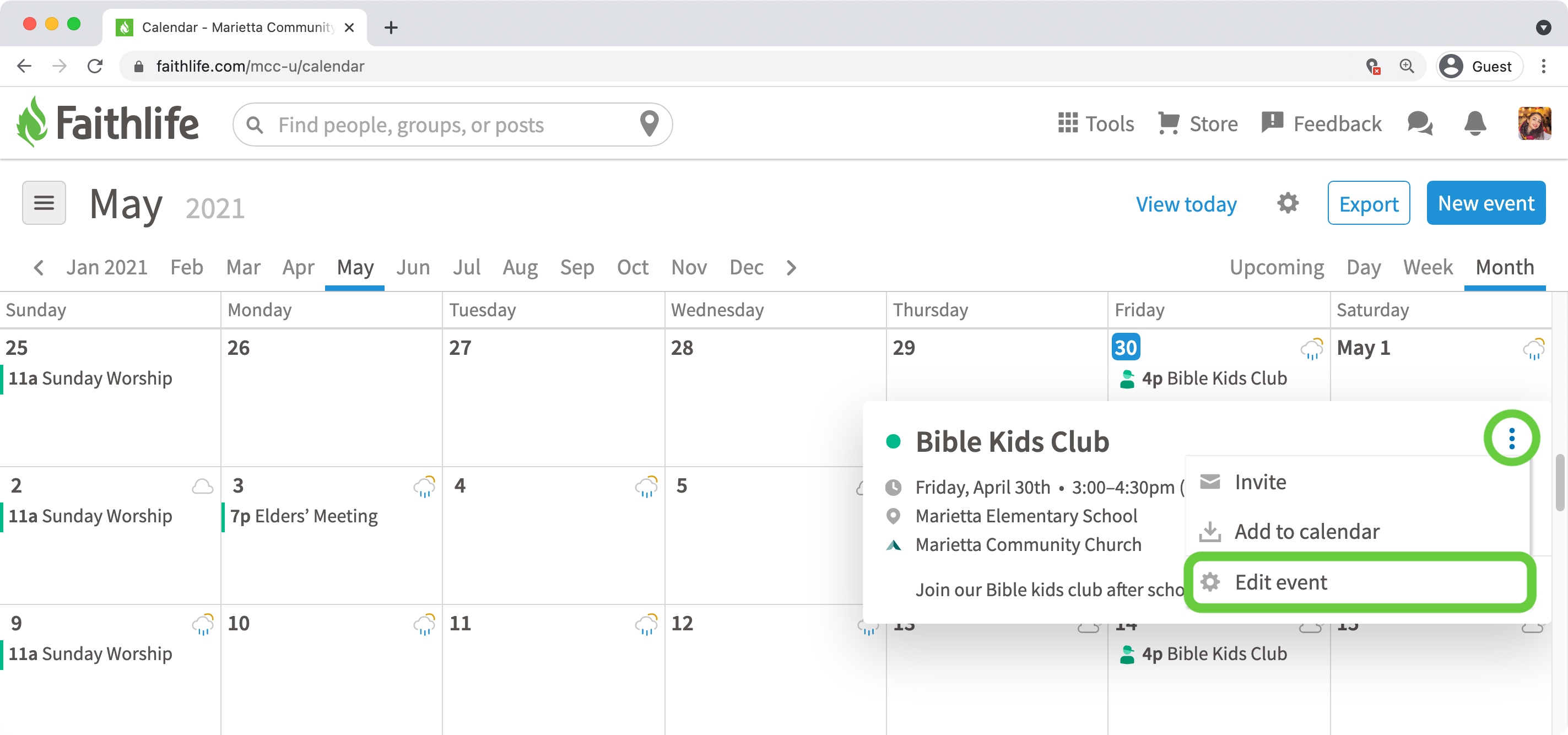 Note: Alternatively, when viewing any event page, click the more option icon

and click Settings.
If you're editing an event in a series, you can choose to edit the single event or the entire series.