Adding your sermons to Faithlife Sermons makes them publicly available online. To ensure people can easily find them, however, you will need to add crucial metadata to each sermon.
Want to edit an existing sermon? If you want to make an existing sermon easier to locate on Faithlife Sermons, you can add metadata to a sermon by editing it and your changes will display anywhere your sermon is published.
1. Add basic sermon information
Once you've signed in to Faithlife Sermons, click Upload Sermon.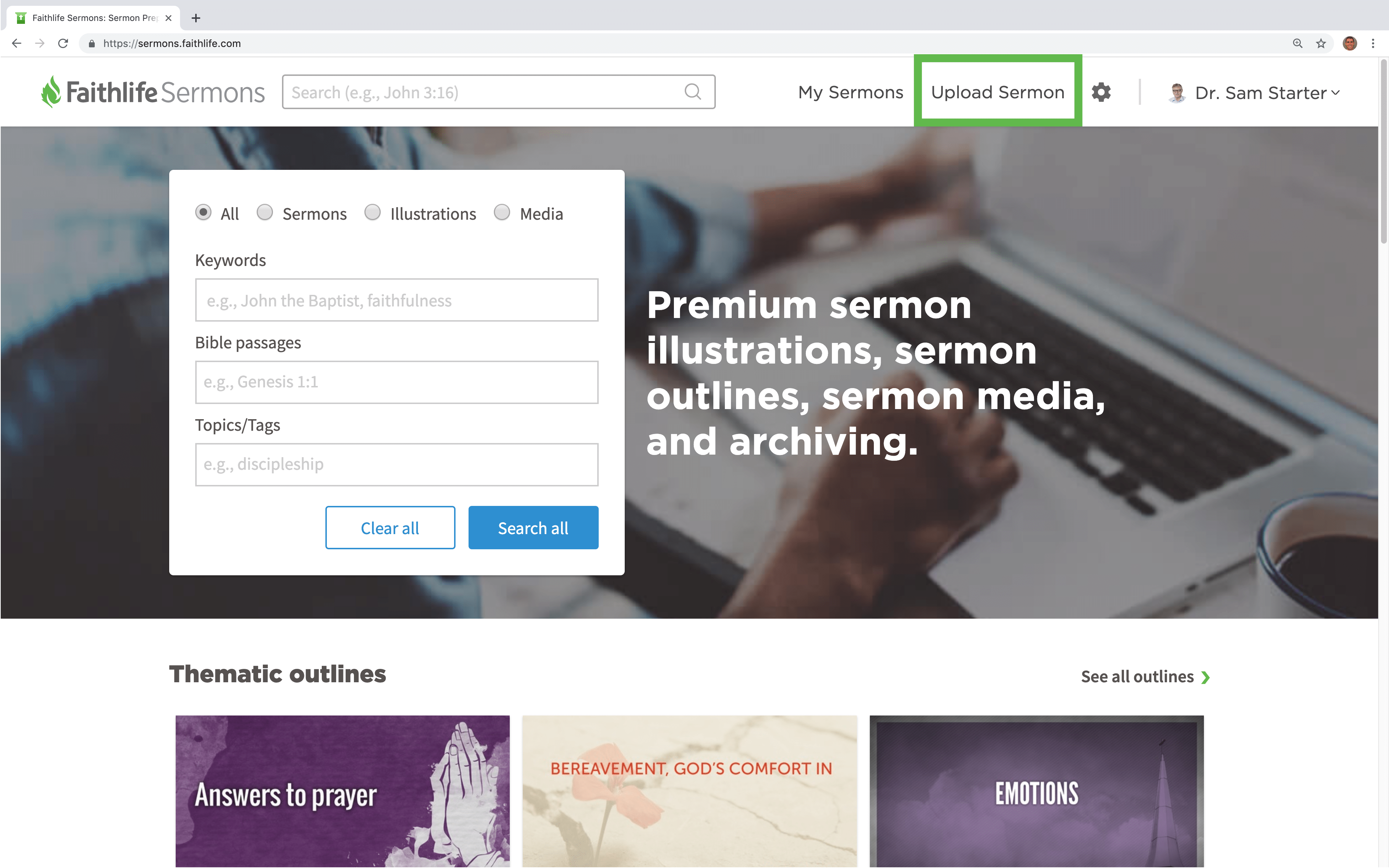 Add a sermon Title and set your Publish as profile. Finally, add a quality cover image to draw attention to and communicate the topic of your message.
2. Upload your sermon files
Add any files related to your sermon—like audio, visual, and text documents. Faithlife Sermons will display text documents in the Notes and Transcripts section below and will auto-generate a full sermon tone analysis.
Did you know? You can also batch upload if your sermon contains multiple files or if you want to upload multiple sermons at the same time.
3. Add advanced metadata
Remember, the more information you add to your sermon the more likely it is that someone else—listeners and other preachers—will see it.
As you add a Speaker, Faithlife will suggest users matching your entered text. Set a Date presented and ensure your content is registered as a sermon. As you add Bible passages and Topics, Faithlife Sermons will help you select existing passages and themes respectively. This process helps standardize phrasing and capitalization, which ensures all sermons related to these passages and themes are easily searchable.
Tags are searchable words not associated with Biblical passages or themes. To add multiple tags, include commas between each tag. Finally, add a description to summarize the content of the sermon in a few words.
4. Save and display your sermon
Select Save to secure your changes.
Your sermon will automatically post on Faithlife Sermons, in your Faithlife church group, and anywhere else your display your sermons—like a self-hosted website or your Faithlife Site.
Did you know? If you build your sermon in Logos Bible Software or present it in Faithlife Proclaim, any metadata you add will display with your sermon in Faithlife Sermons!