The Admin Stewardship Dashboard provides quick access to your church's giving data for your church's Finance Team.
SKIP AHEAD TO
You can locate the admin stewardship portal by navigating to your church group on Faithlife.com and selecting Finances in the church group's Admin sidebar.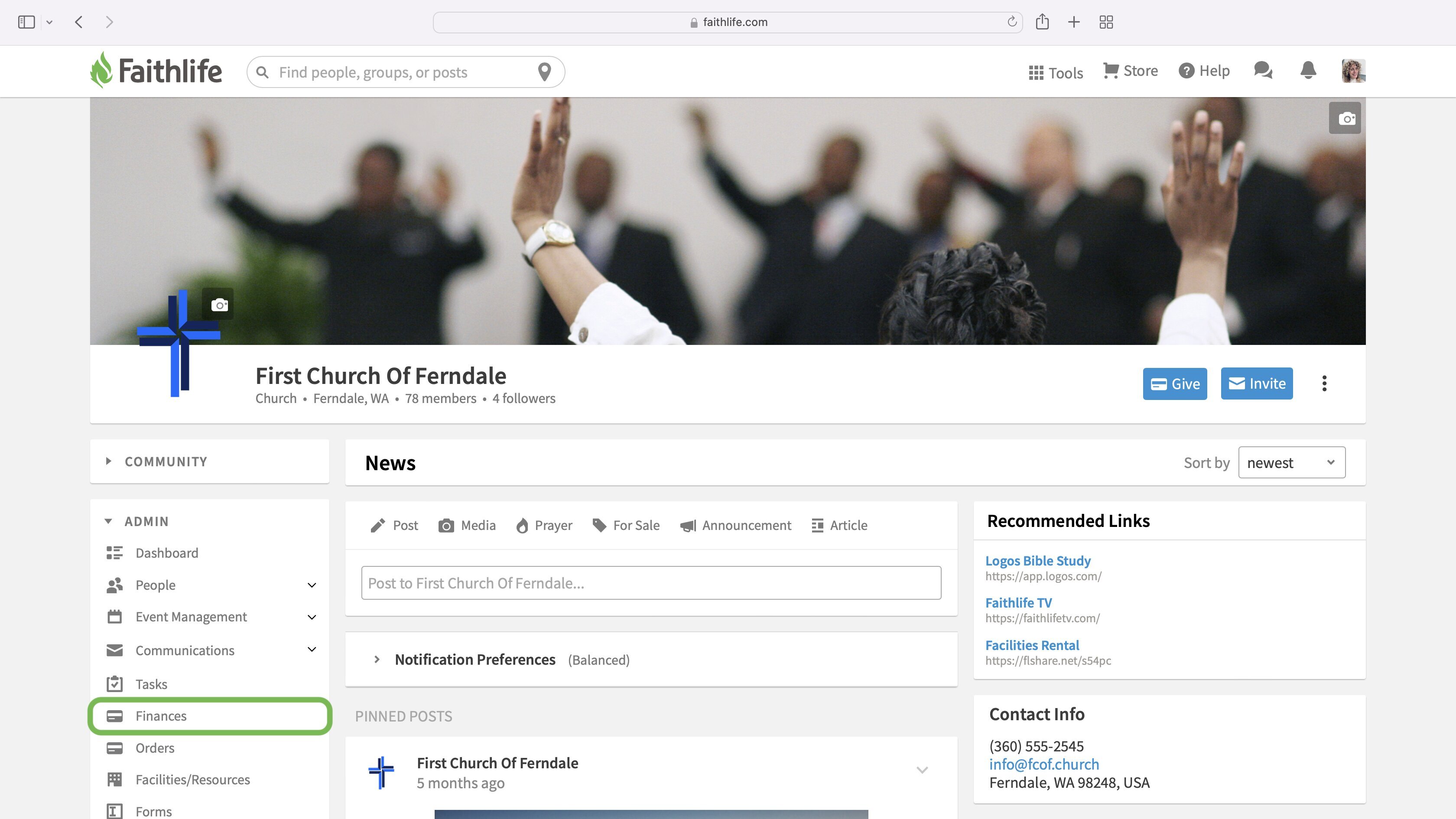 Faithlife will direct you to your Finance Team, the private subgroup created when you first activated giving. This private group keeps your church's giving data secure and allows you to easily manage all donations given to your church.
The admin sidebar of your Finance Team enables you to interact with donations given to your church. Your Finance Team's admin panel contains seven menu options.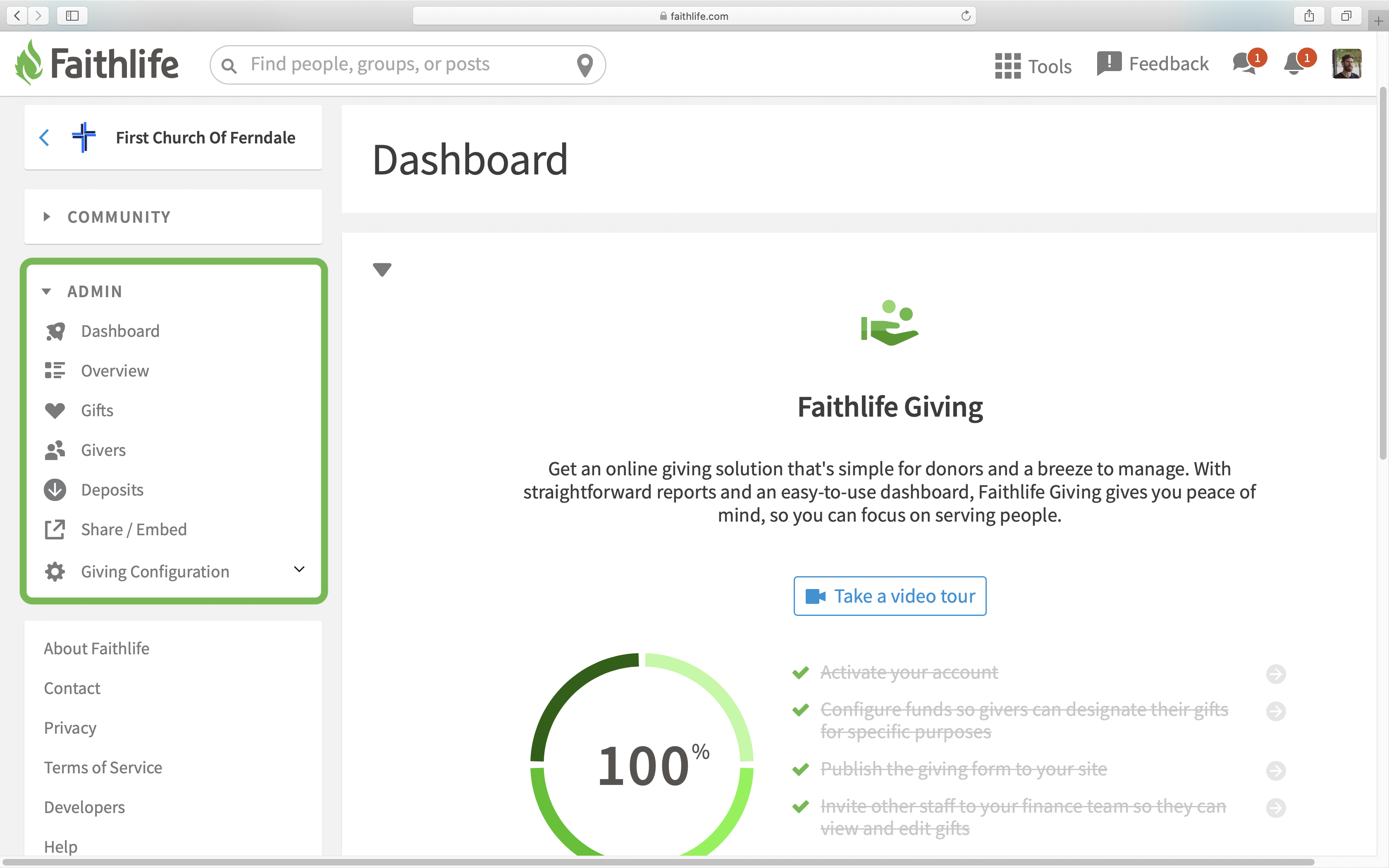 1. Dashboard
Dashboard displays your progress in setting up giving for your group and links out to helpful tools and resources.
The Faithlife Giving section features links to a video tour of Faithlife Giving, a progress wheel tracking your progress through the setup process, training videos, training articles, and the Launch Kit.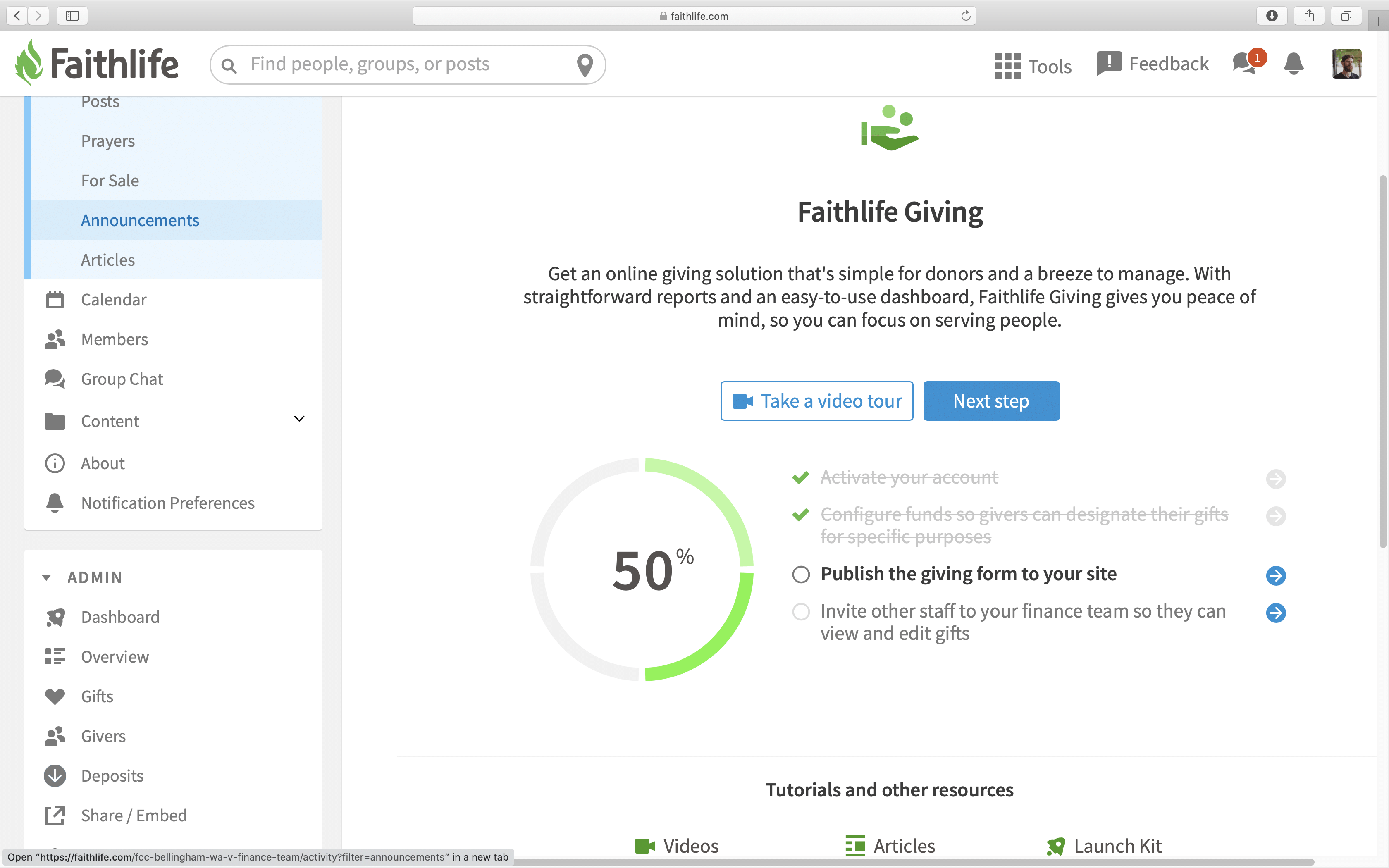 The Resources for Your Church Staff section features links to your dashboards from which you can set up your Faithlife Community, your church's Site, and your media presentations in Proclaim.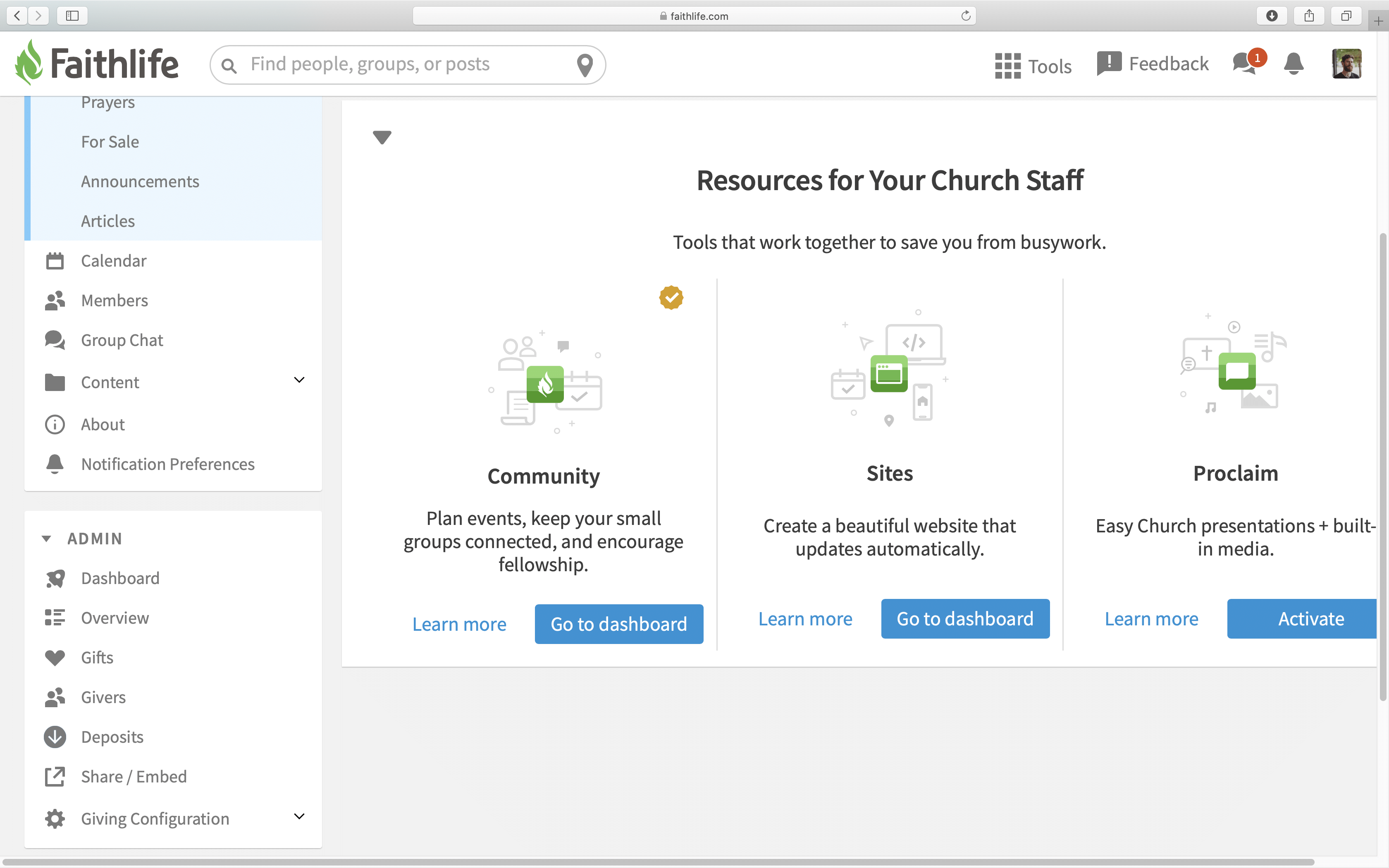 2. Overview
Overview gives you all the basic info you need, right at your fingertips.
The dynamic graph displays gifts given to your church. And dragging your cursor over the available data provides more granular information. You can adjust the data shown via the drop-down menu in the top right-hand corner.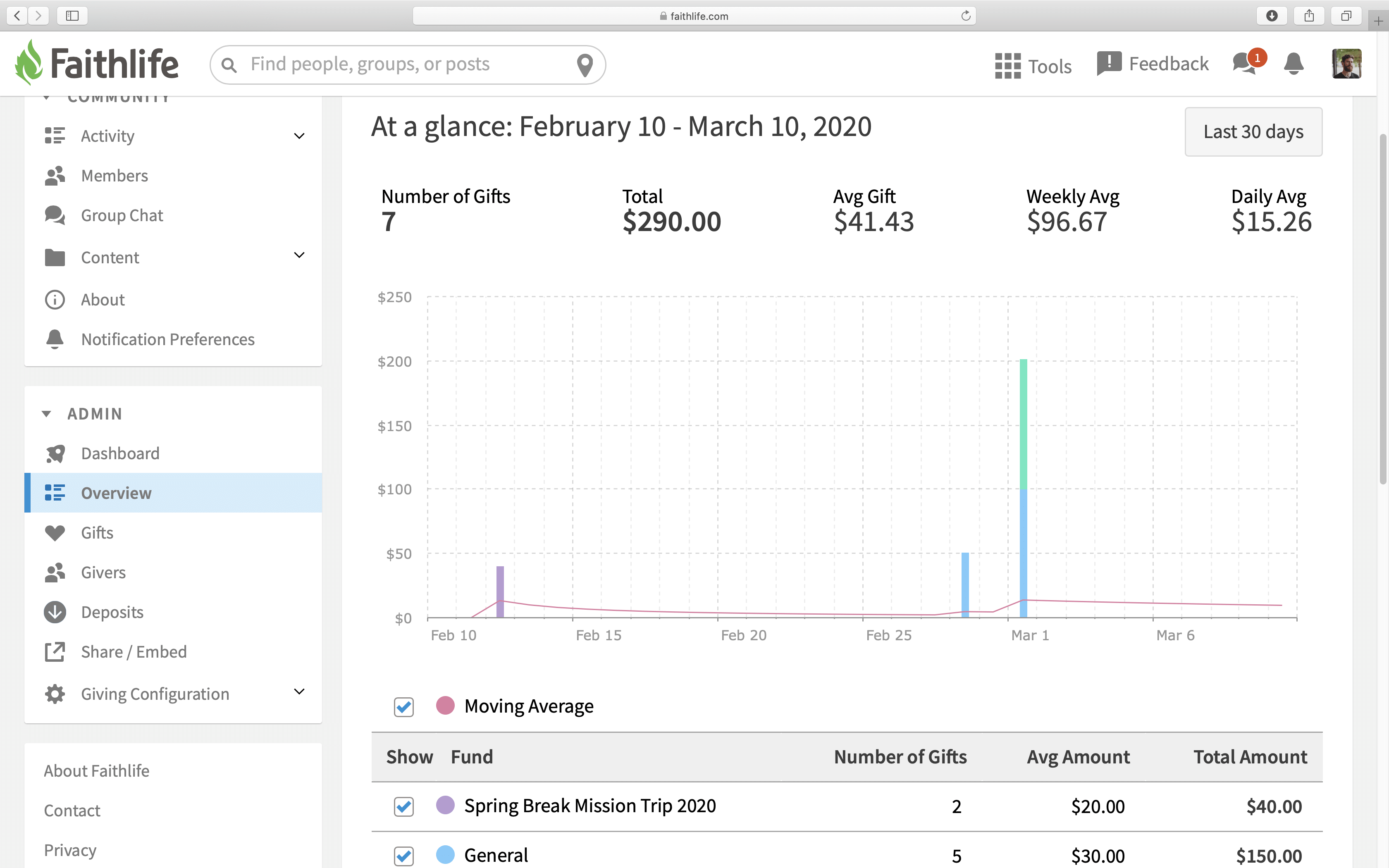 Basic stats like total gift numbers and averages display above the graph, while the table and pie charts below show yet more detailed data.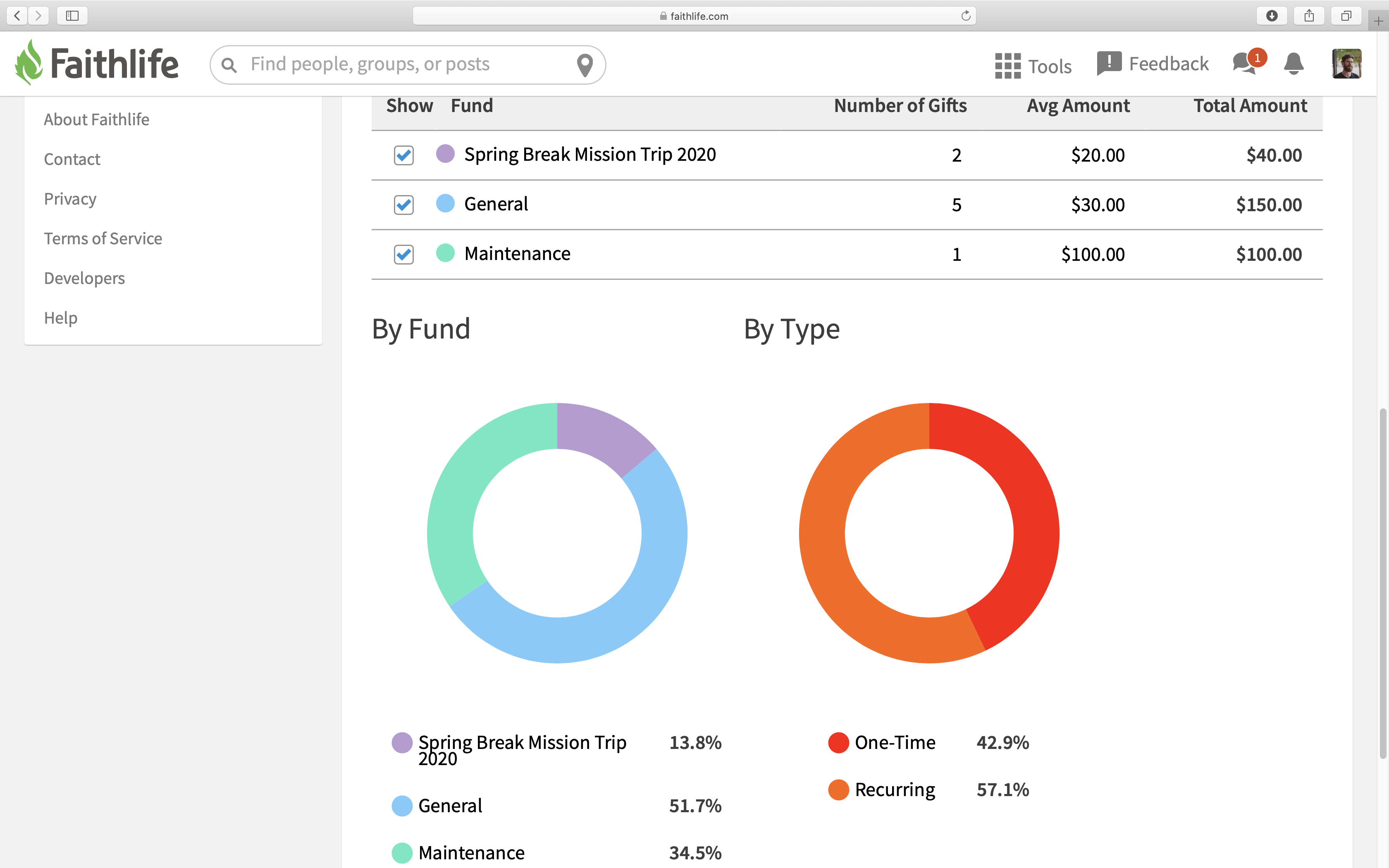 3. Gifts
Gifts displays all donations in chronological order though you can sort gifts by clicking other column headers.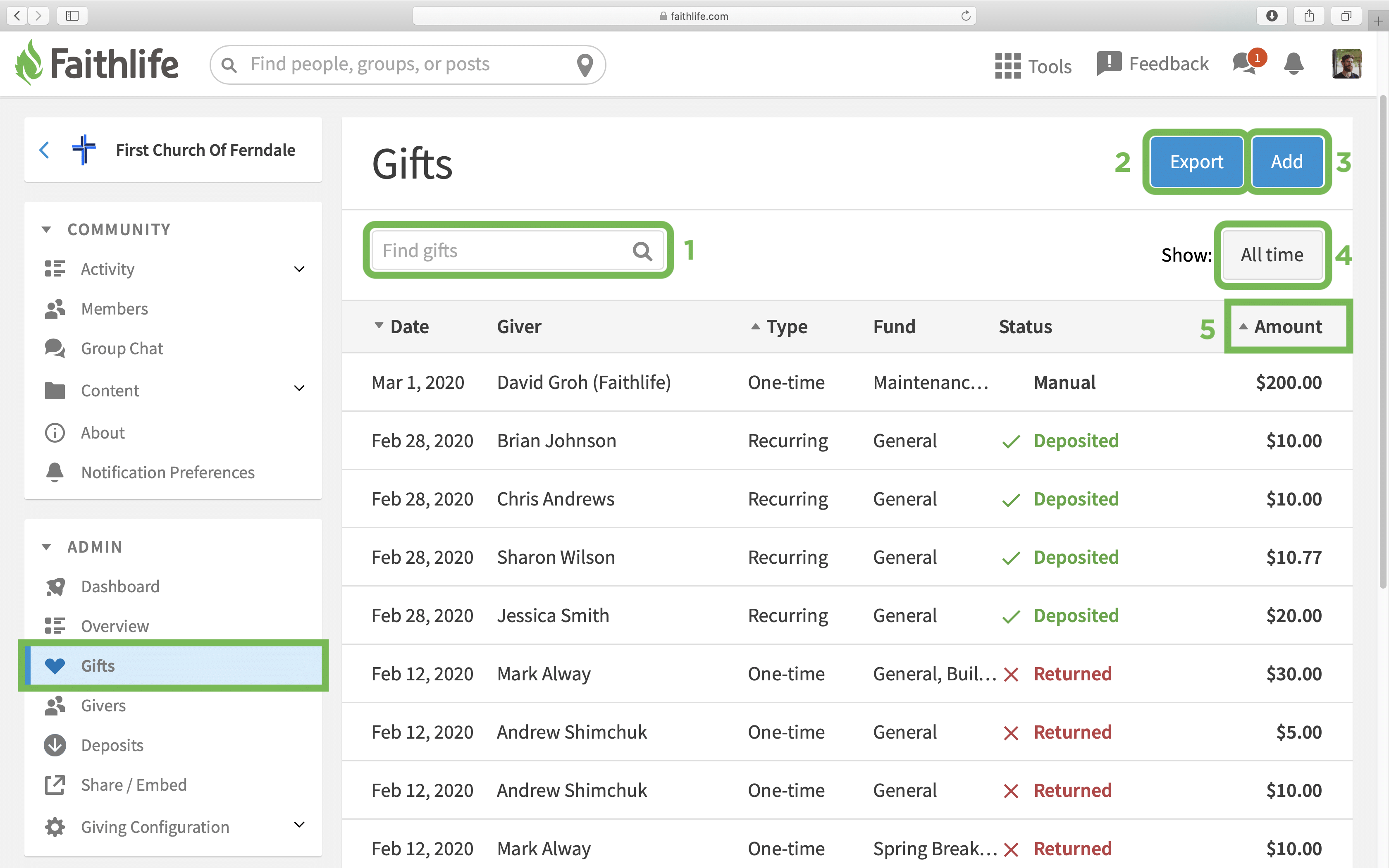 1. Search: Enter a giver or fund name to locate a particular gift.
2. Export: Select the time period and click Export to download a CSV file. Keeping all your giving information in the same location makes it easy to export all your data for easy import into your church's accounting software.
3. Add: While all donations given through Faithlife Giving are recorded automatically, you can also manually add cash, check, Paypal, or other donations via the Add button. Provide the donation details and click Save. When you manually add a donation and assign it to a specific donor, the gift is added to their year-end giving statement. (Learn more about adding and editing manual gifts.)
4. Show: You can adjust the date range of gifts shown via the drop-down menu above the table.
5. Sort: Sort the table by Date, Type, or Amount by clicking the column header.
To get a better understanding of any particular donation, click it to examine its details.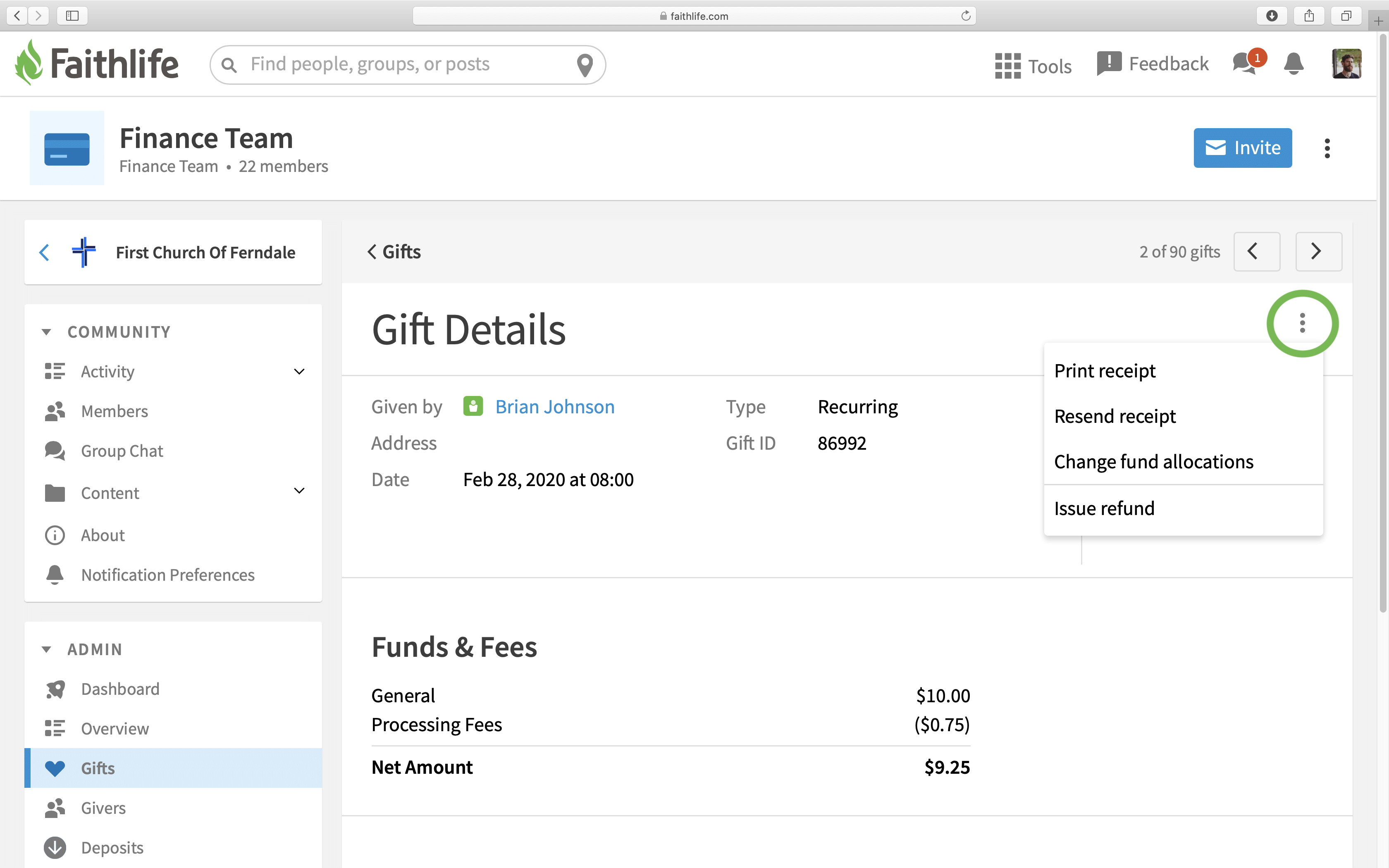 You can interact with any gift from the More options menu
. Choose Print receipt to download and print a copy or save a PDF of the receipt. Resend receipt sends an email to the donor with a receipt attached. If the donor gave online, select Change fund allocations to redistribute gift to another fund(s). Click Issue refund to credit the charge back to the donor's account.
4. Givers
To see everything that a particular user has given to your church, click Givers. The report lists your givers in alphabetical order, though you sort the list by any of the column headers or use the Find givers box to search for a specific individual.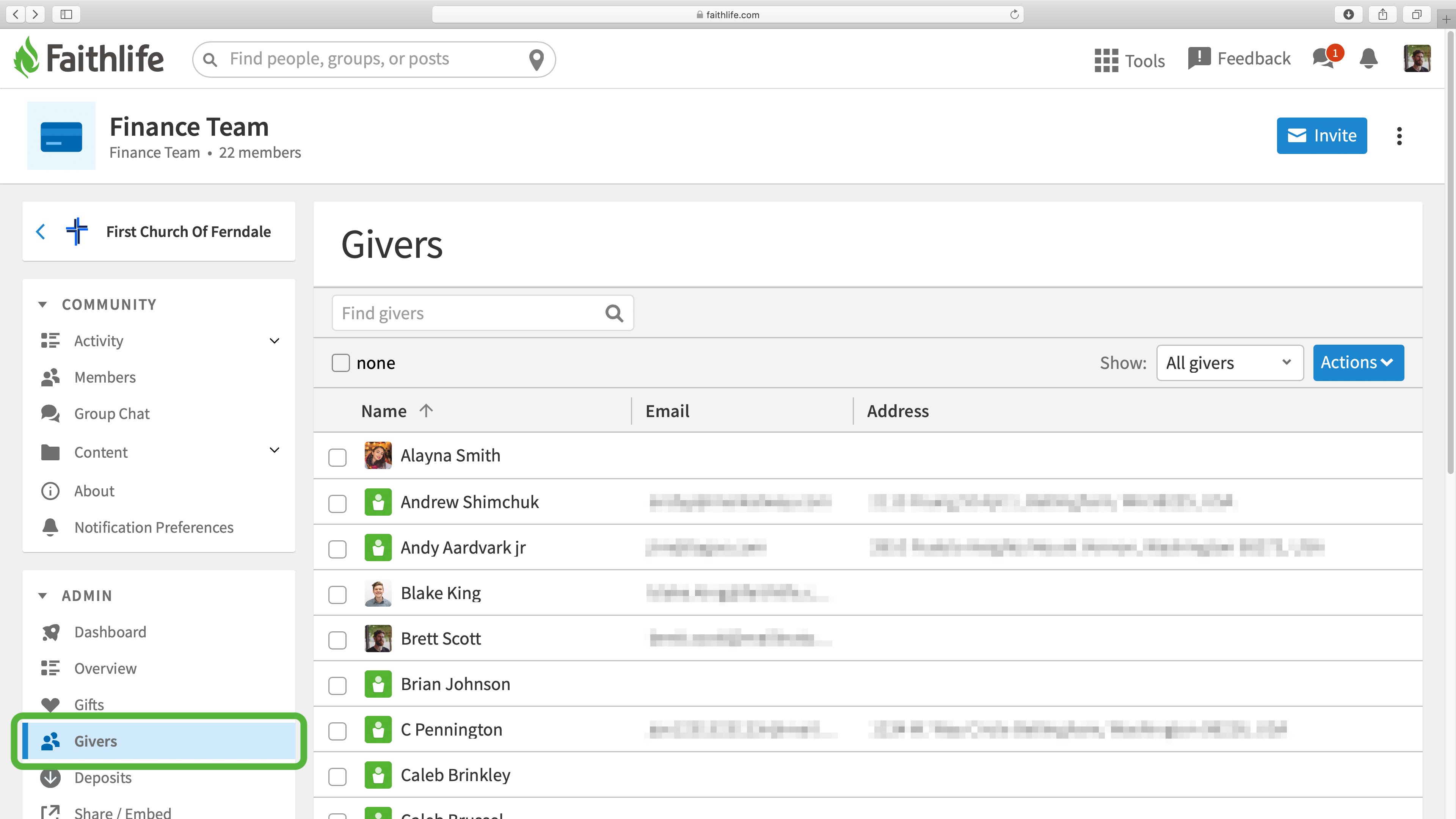 Clicking a name provides a full giving history for that individual.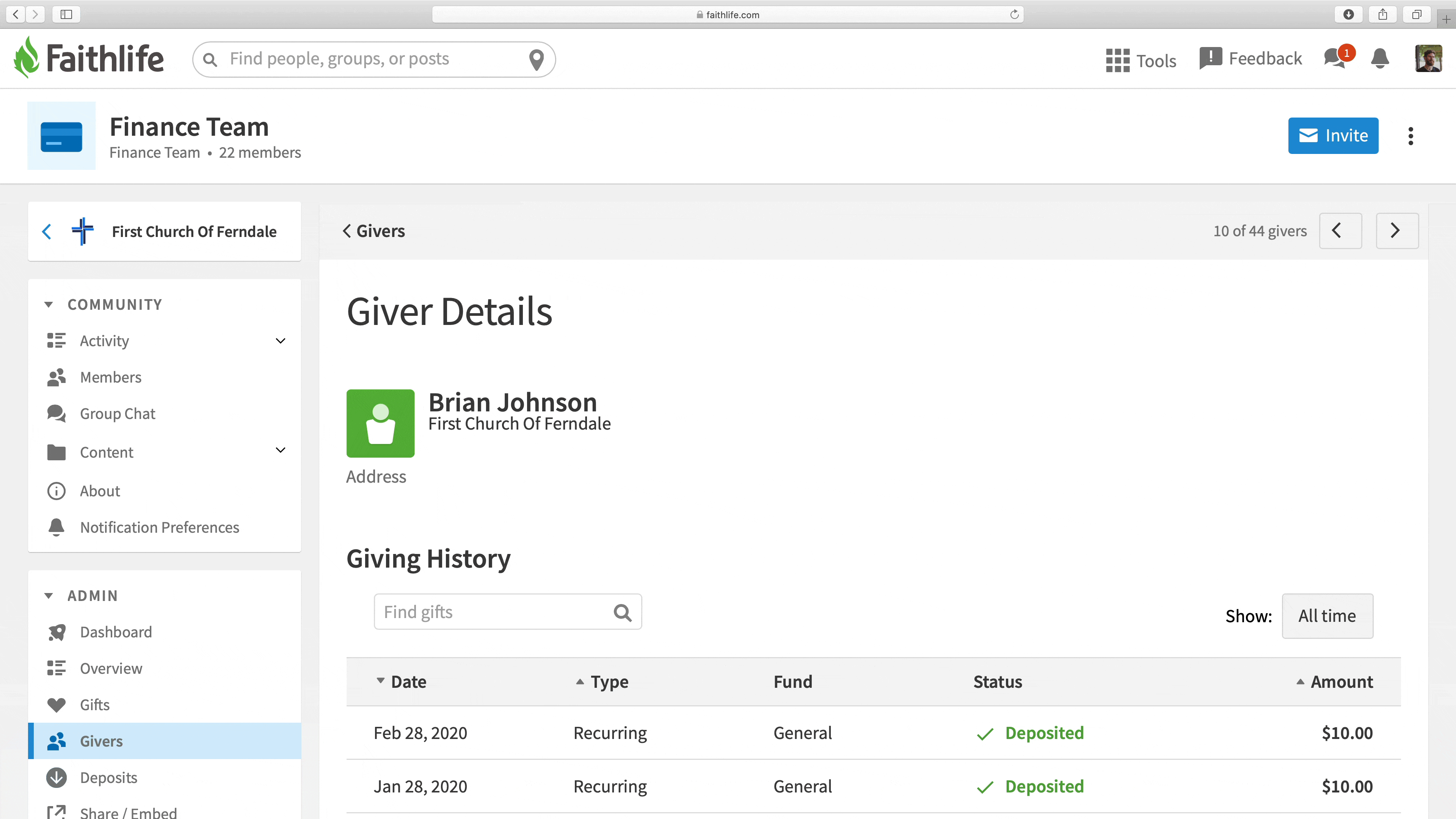 You can access year-end giving statements for each giver. Each giver with an account is emailed when their year-end tax report is available for the previous year (by January 31st). And if you manually add check or cash donations and assign them a donor with an account, the year-end tax statement will include these gifts as well.
5. Deposits
Select Deposits to view the status of your gift deposits.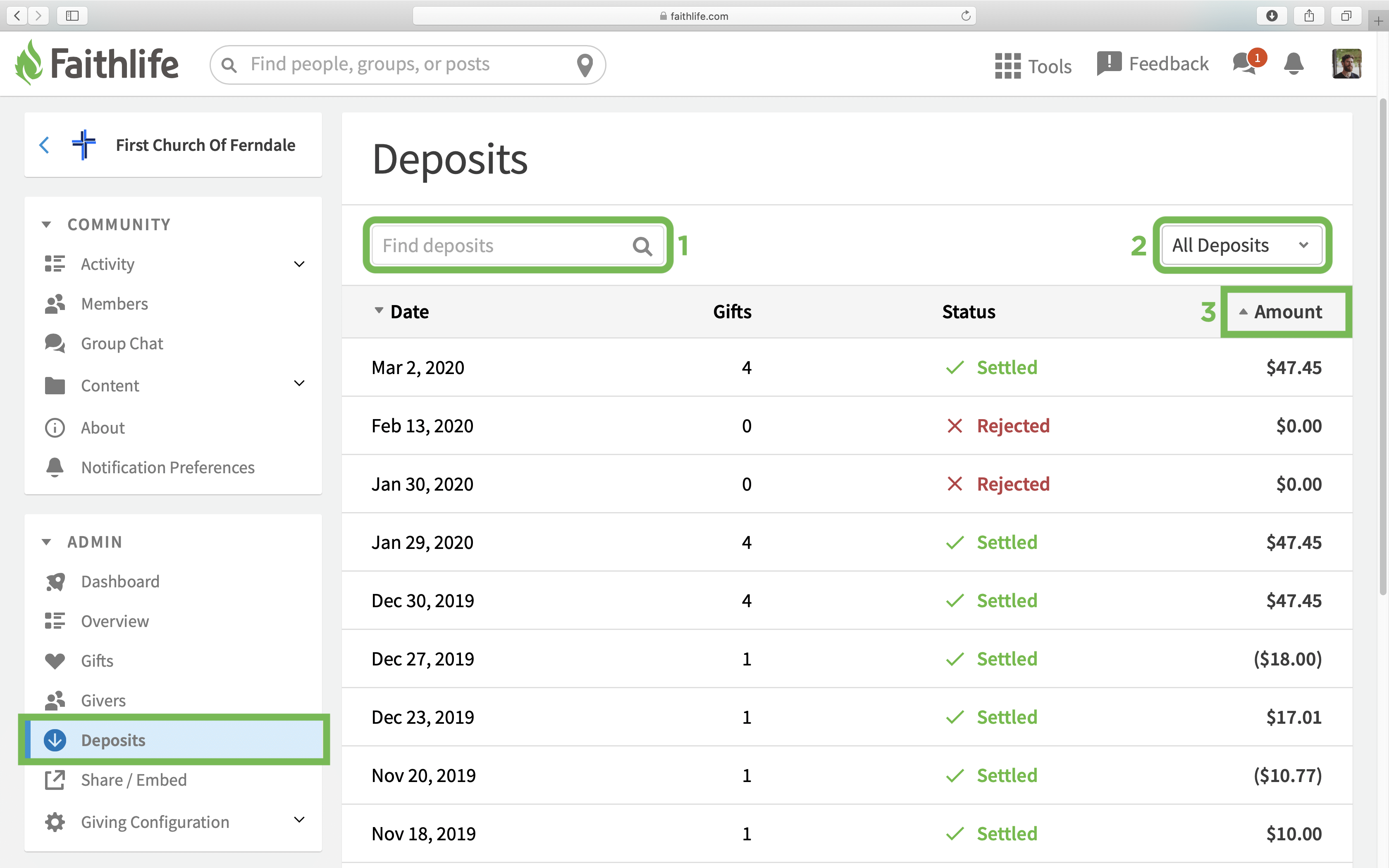 1. Search: Locate a deposit by searching for it.
2. Filter: You can filter by All Deposits, Pending, or Settled.
3. Sort: Click the column header for Date, Gifts, Status, or Amount to sort your data accordingly.
Note: Individual deposits often contain several gifts. The number of gifts per deposit displays in the Gifts column.
To view a deposit, select it from the list.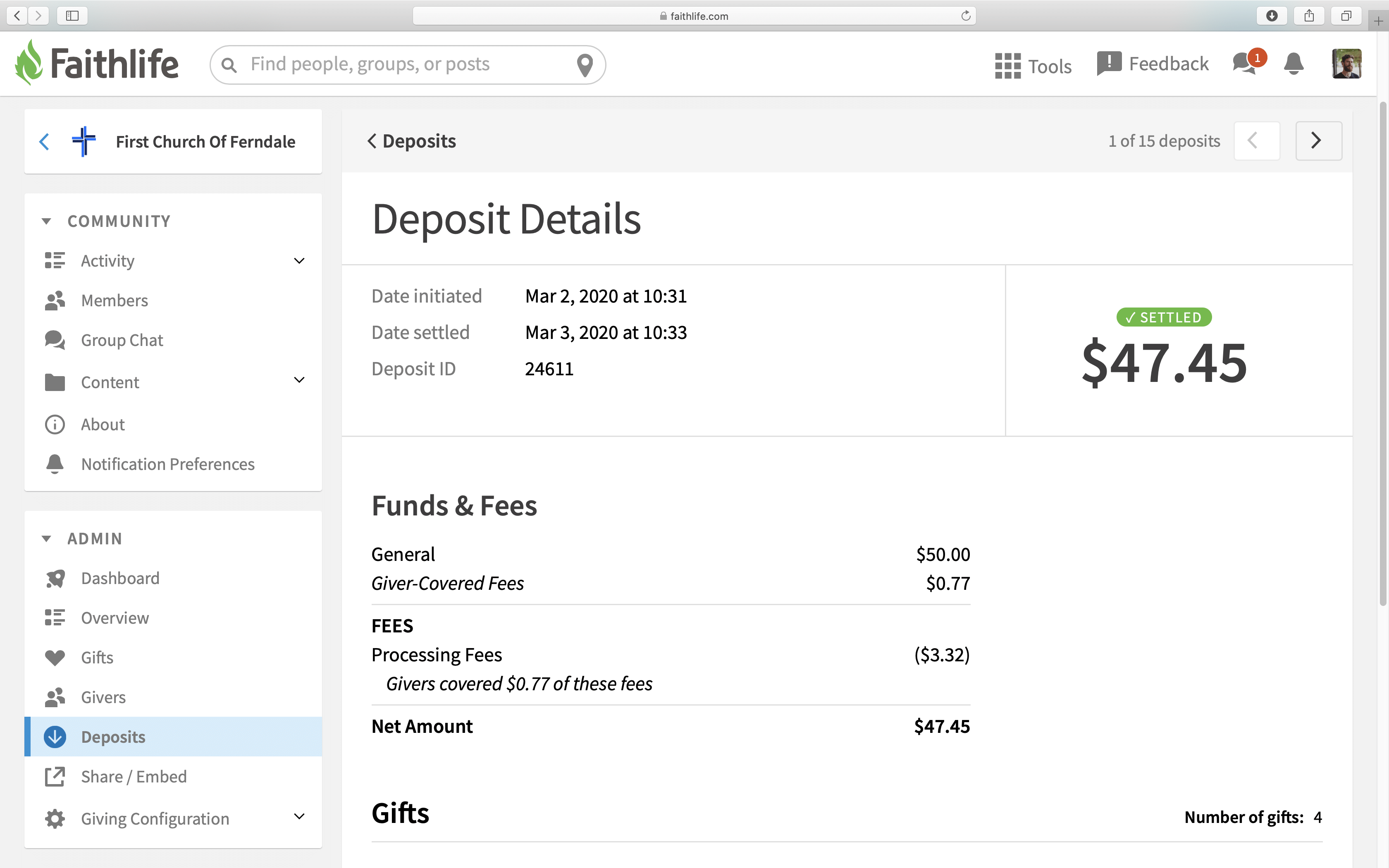 Note: Deposits should appear in your church's bank account 2–3 banking days after a transaction has been made and will contain the prefix "FLC."
6. Share/Embed
There are several ways to share your giving form. Each of these methods will bring donors to the same interface. The more access points you give to people, the easier it will be for donors to give to your ministry.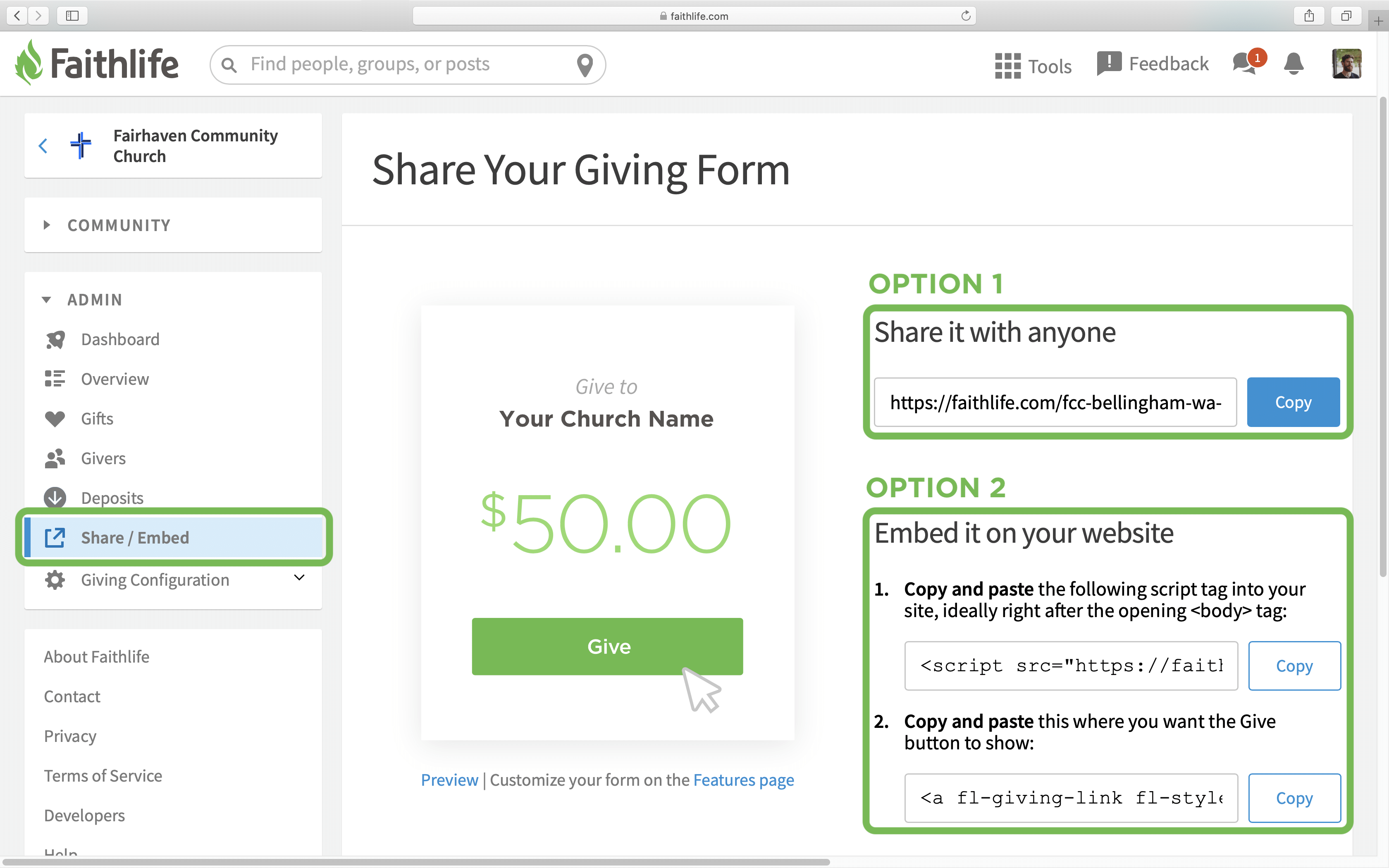 Option 1 offers a direct link you can share with anyone. With option 2, you can embed your giving form on any website with the unique embed script.
7. Giving Configuration
Giving Configuration includes two sections: Account Info and Giving Features.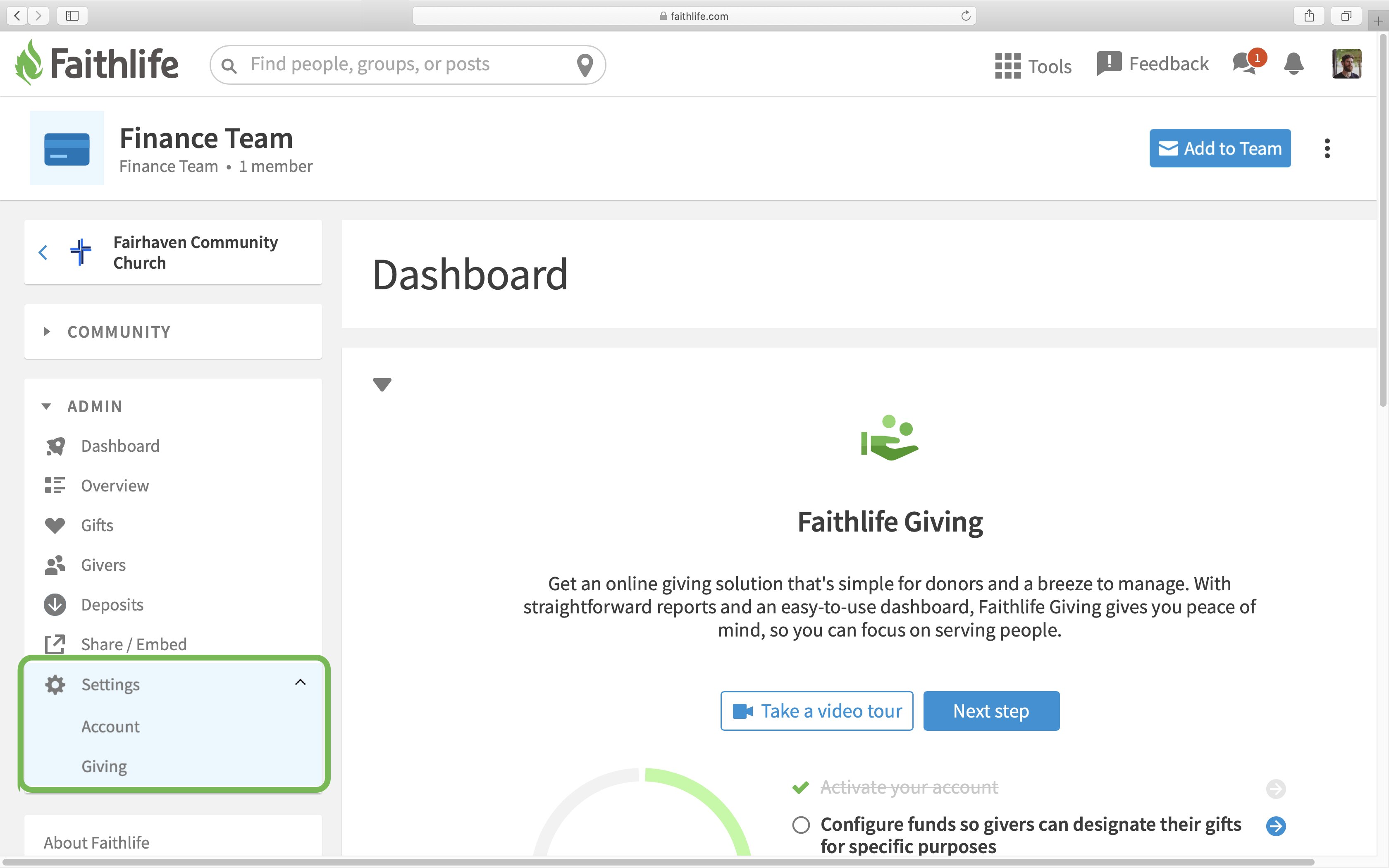 Account Info includes the information you provided Faithlife when you activated giving (like your primary contact, organizational information, banking details, etc.). If you need to change this information, please contact Faithlife Giving support at 888-634-2038 or support@faithlife.com.
Giving Features includes additional options for your Finance Team.
Some of the options within Giving Features include: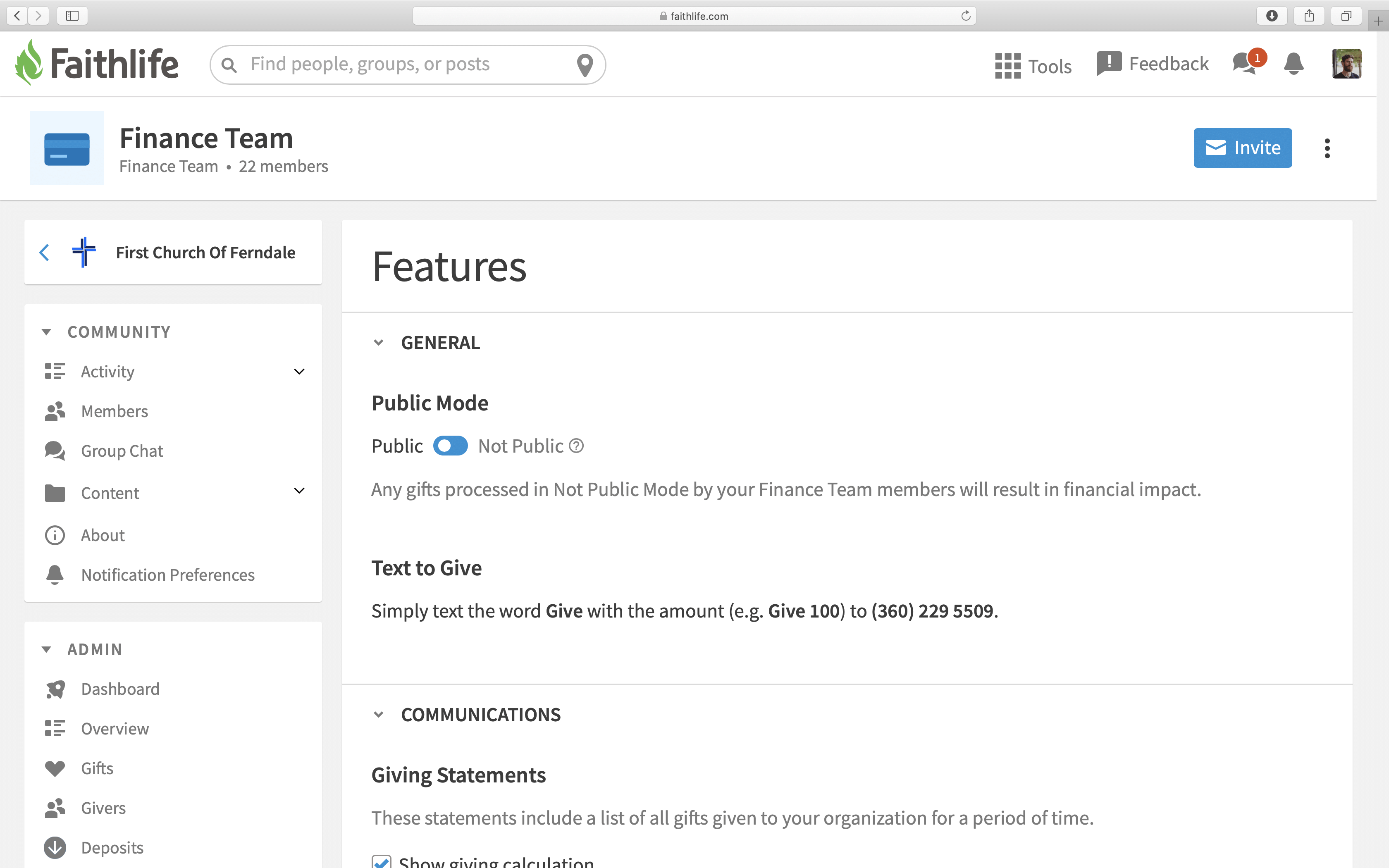 Public Mode: Toggle this option to Not Public to hide all "Give" buttons from your donors.

Text to Give: the instructions for setting up Text to Give are included above.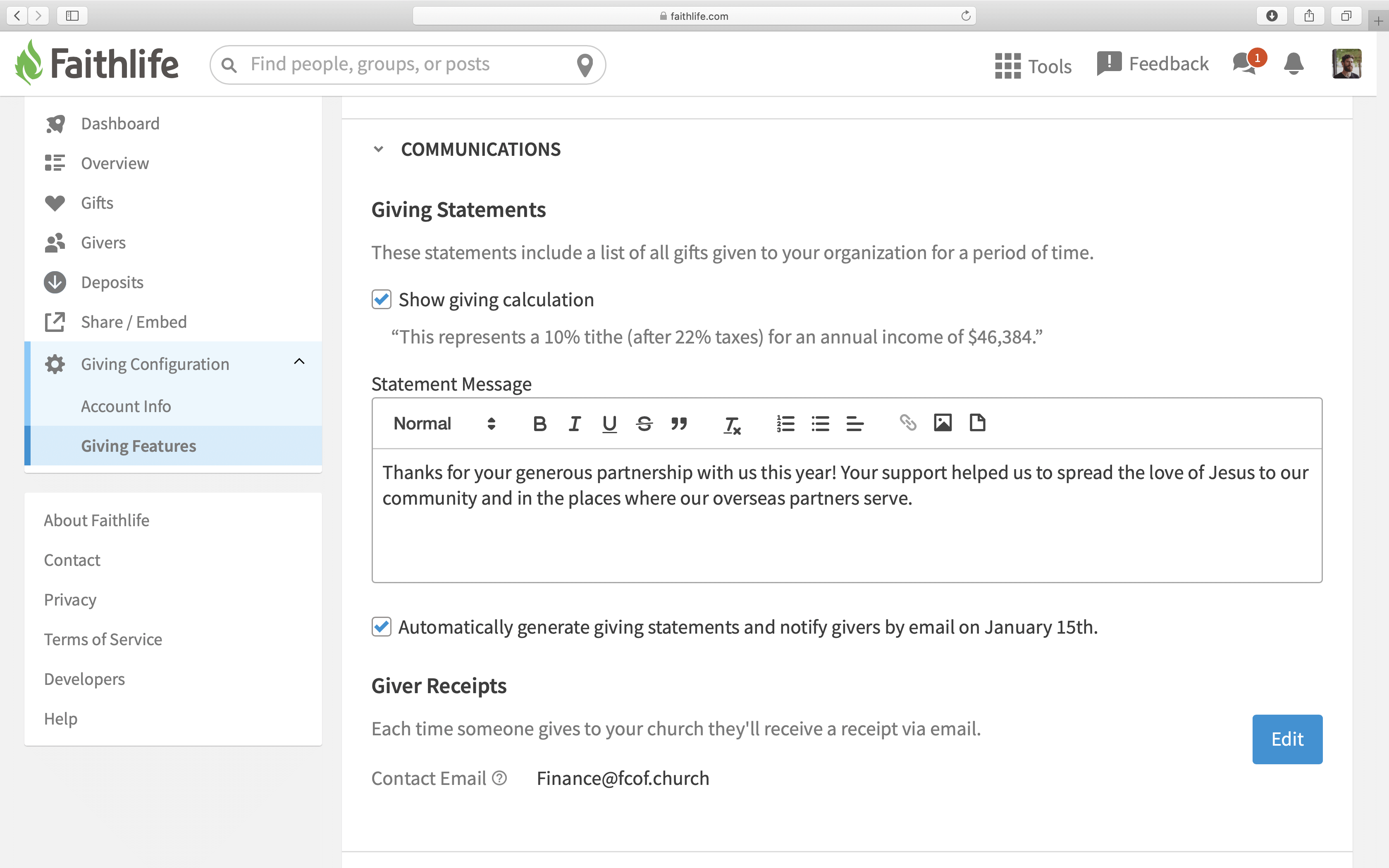 Communications: includes a place to customize the message your givers will receive on their year-end giving statements and the option to change the contact email that will send electronic receipts to donors.
Note: By default, the primary contact you included during activation will be used for your giver receipts.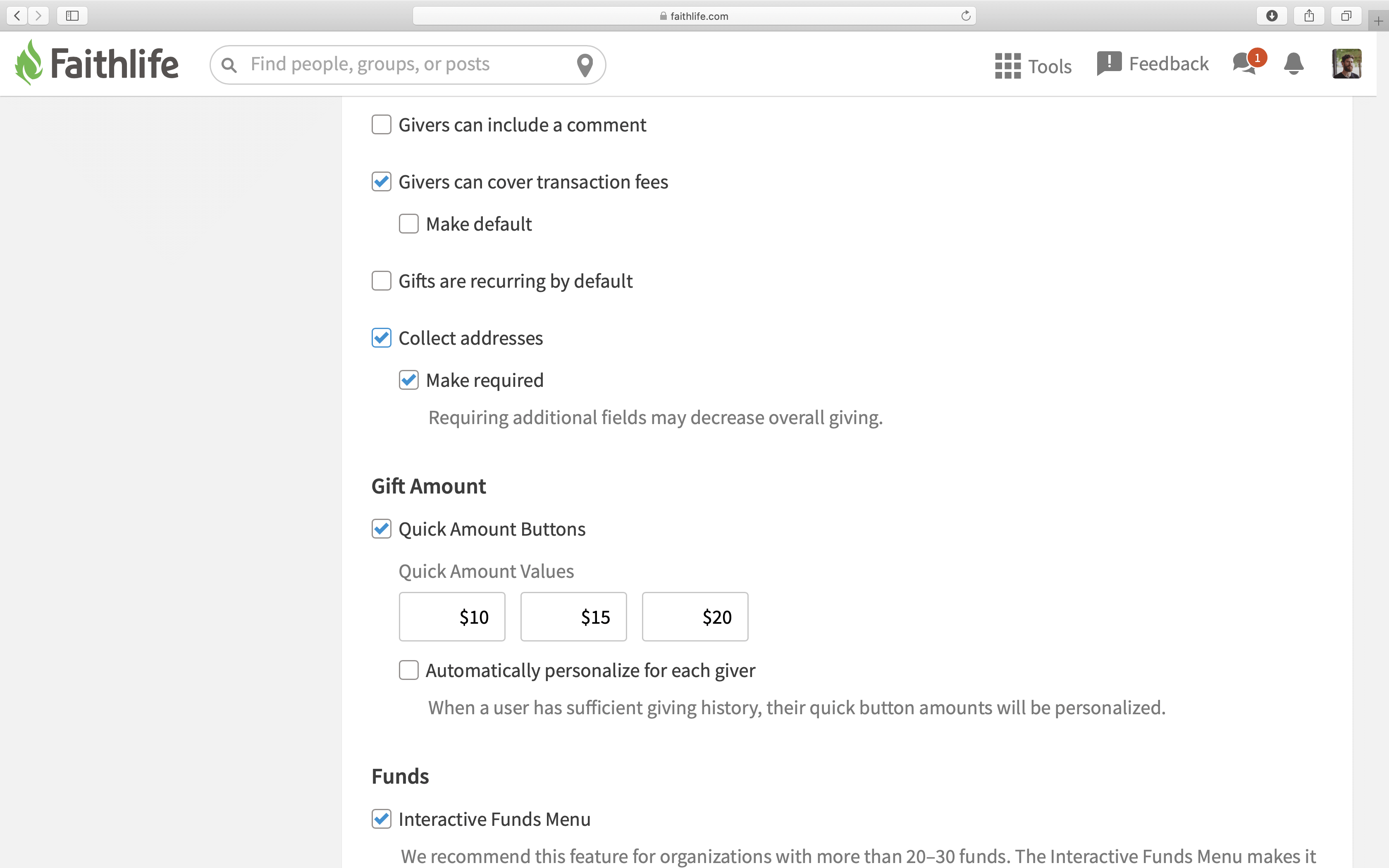 Giving Form Customization: Allows you to customize your church's giving form.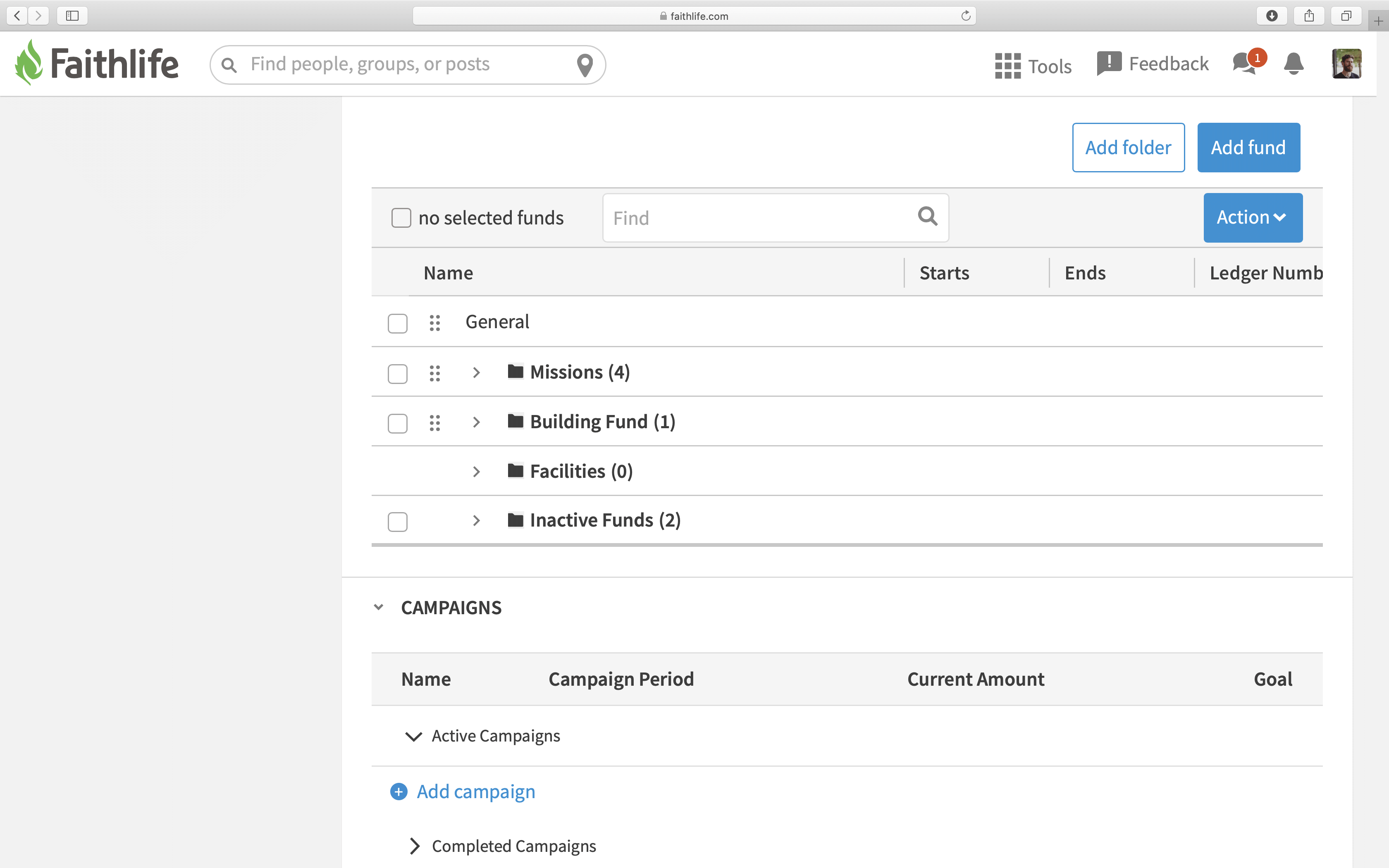 Funds and Campaigns: From this section, you can add or remove funds and campaigns to which donors can give. Funds provide tangible categories for donations, like General, Missions, etc. Campaigns are time-bound donation goals associated with a fund. Click here to learn more about adding funds and campaigns.