Automatically transcribe your sermons with a single click—right from the sermon page! Transcribed sermons include the full, interactive and searchable text of the sermon, enable closed-captioned playback, and auto-generate a comprehensive tone analysis.
You can check for service outages at status.faithlife.com. To learn more about using Faithlife Status, click here.
SKIP AHEAD TO
Transcribe your sermon
Interact with your transcription
Transcribe your sermon
You can transcribe your sermon while viewing any published sermon or while uploading a new sermon directly on Faithlife Sermons.
1. Select Transcript.
Scroll down and select Transcript.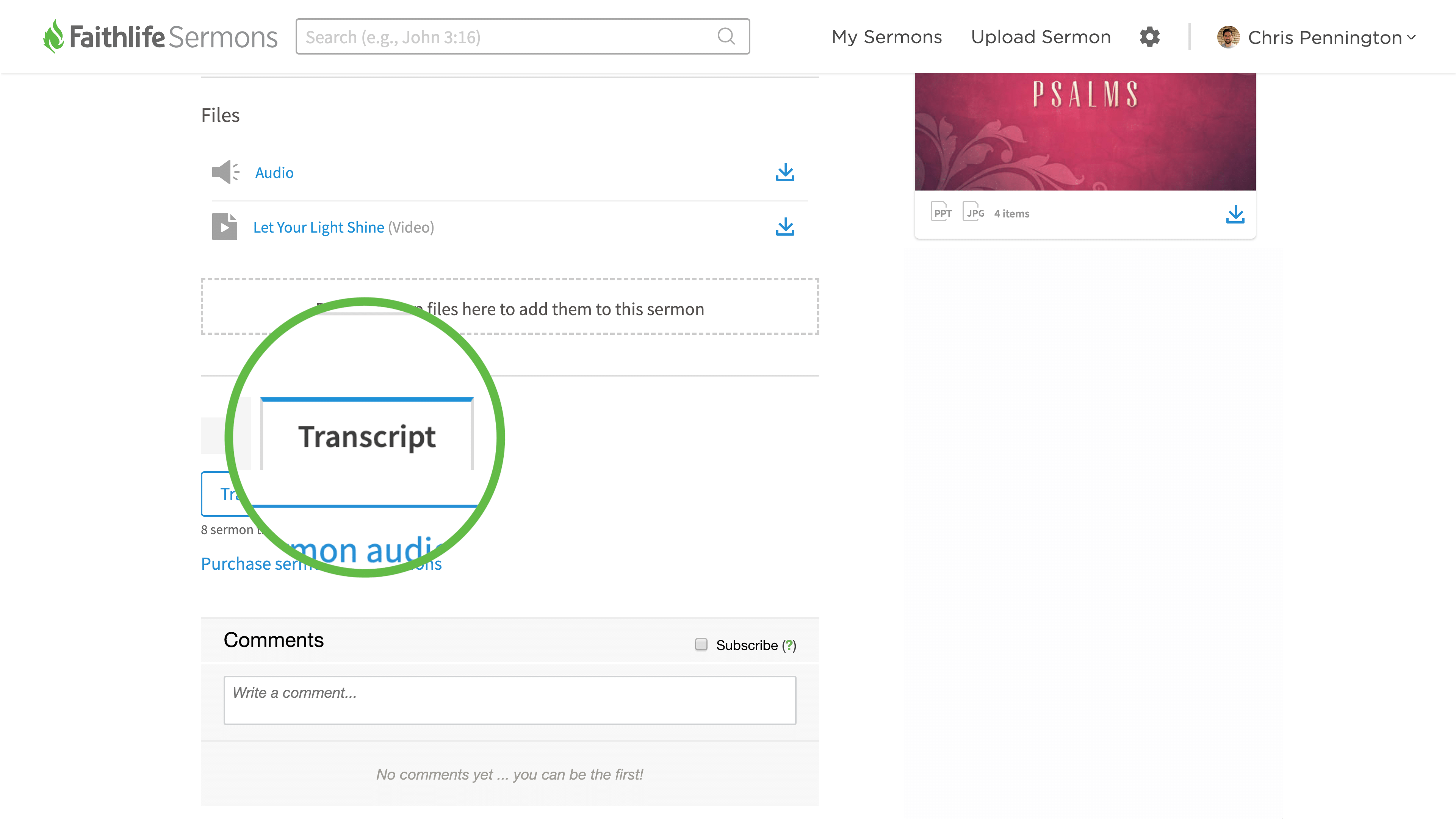 Each sermon requires a sermon transcription credit. If you need more, click Purchase sermon transcriptions. Credits cost as little as $1 a sermon.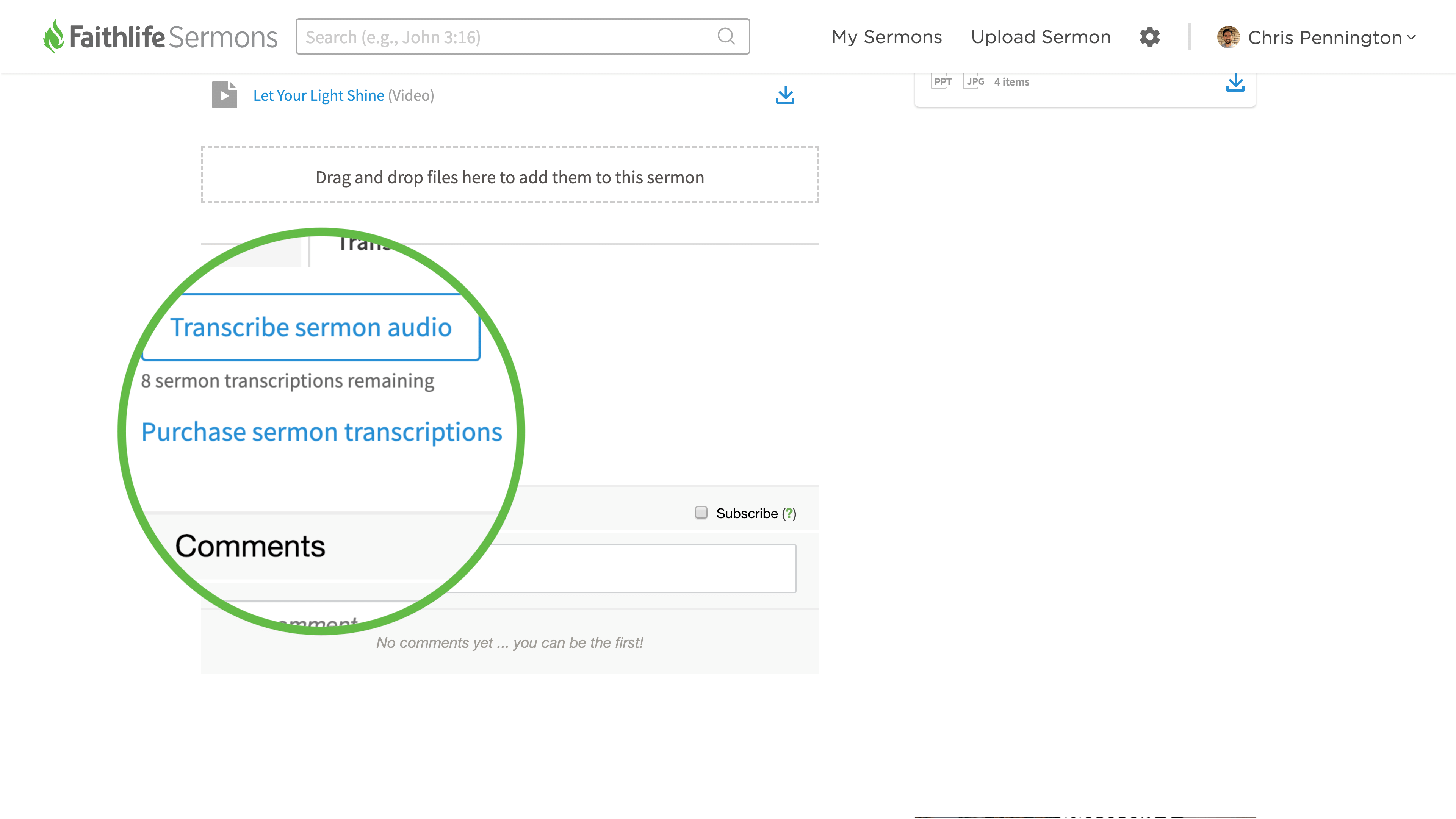 Note: Credits you purchase in Proclaim are only available in Proclaim, as they are tied to your presentation group. If you purchase transcripts through Faithlife Sermons, though, you can use them with Proclaim or Sermons, as they attach to your personal Faithlife account.
2. Click Transcribe sermon audio.
Once Faithlife Sermons processes your request, your transcription will be live.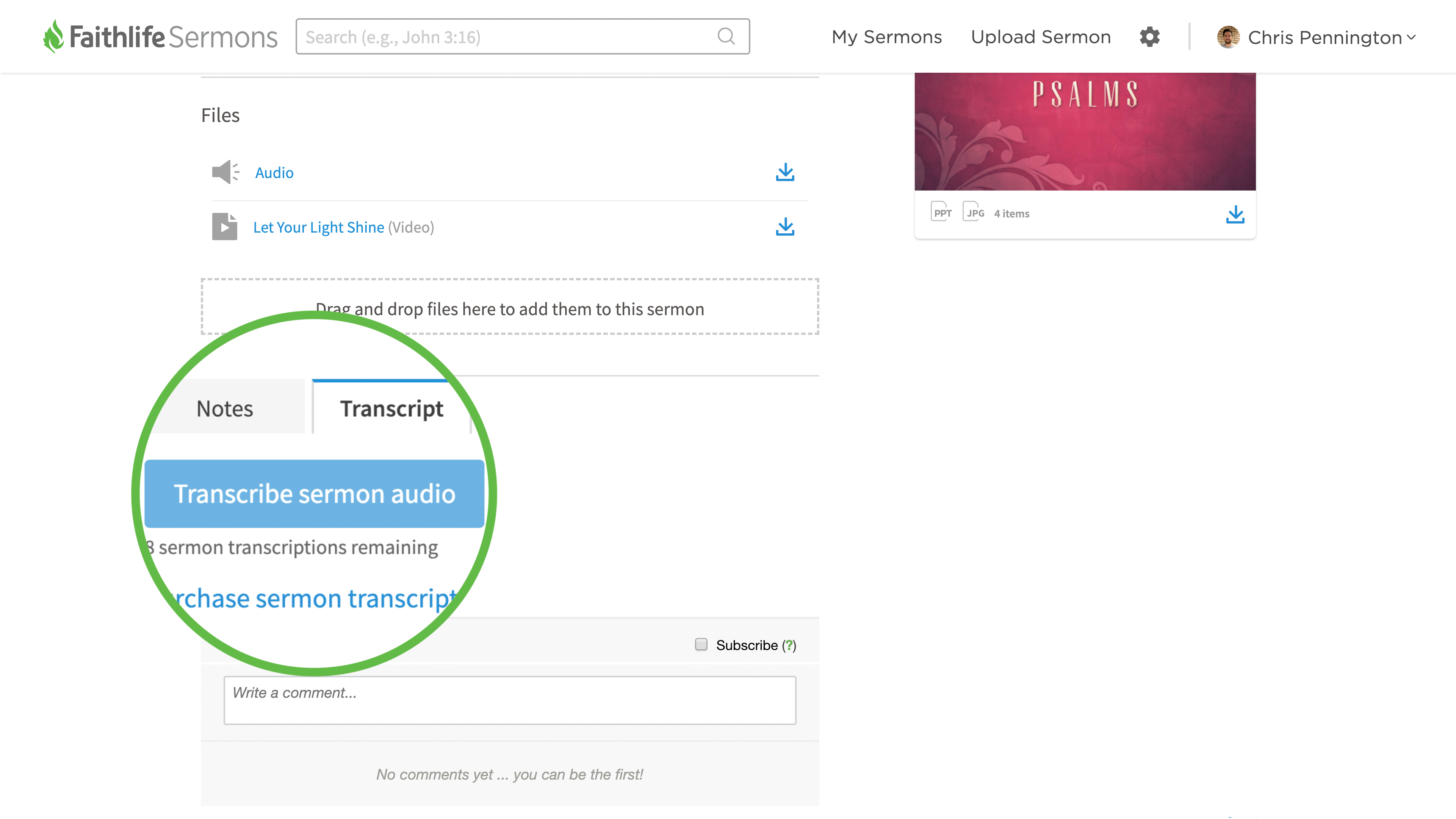 Note: Depending on the size of the sermon, it may take a few minutes for the transcription to display.
Interact with your transcription
From Faithlife Sermons you can search for text within the sermon, enable closed captioning, examine the sermon's tone analysis, and even edit your transcription to ensure its accuracy.
Search for sermon text
Your transcribed sermon will show up more frequently in search results because searches will scan the actual text of your sermon—not the title alone.
In addition to finding your sermon easily, others can also search inside the text of your sermon. When viewing a sermon, enter a search word or phrase and press Return to find text within the sermon.
The audio will advance to that point in the sermon and begin playing. You can follow along with the closed captioning in the video above or audio feed below. Scroll down to read along with the transcript. A red indicator marks your place in the sermon.
Enable closed captioning
To enable closed captioning, select the

indicator in the video or audio feed. Your transcript's text will play along with the recorded sermon audio and video.
Once transcribed, published sermons will show on your Faithlife.com and Faithlife TV church group feed with closed captioning, too.
Examine the Sermon Tone Analysis tool
Transcripts not only provide the text for your sermon but also generate a full sermon tone analysis. Sermon Tone Analysis helps you analyze how your audience will perceive your message by identifying the connotations your wording will communicate.
1. Scroll down to the Sermon Tone Analysis section of the sermon page.
An overview chart displays the basic analysis.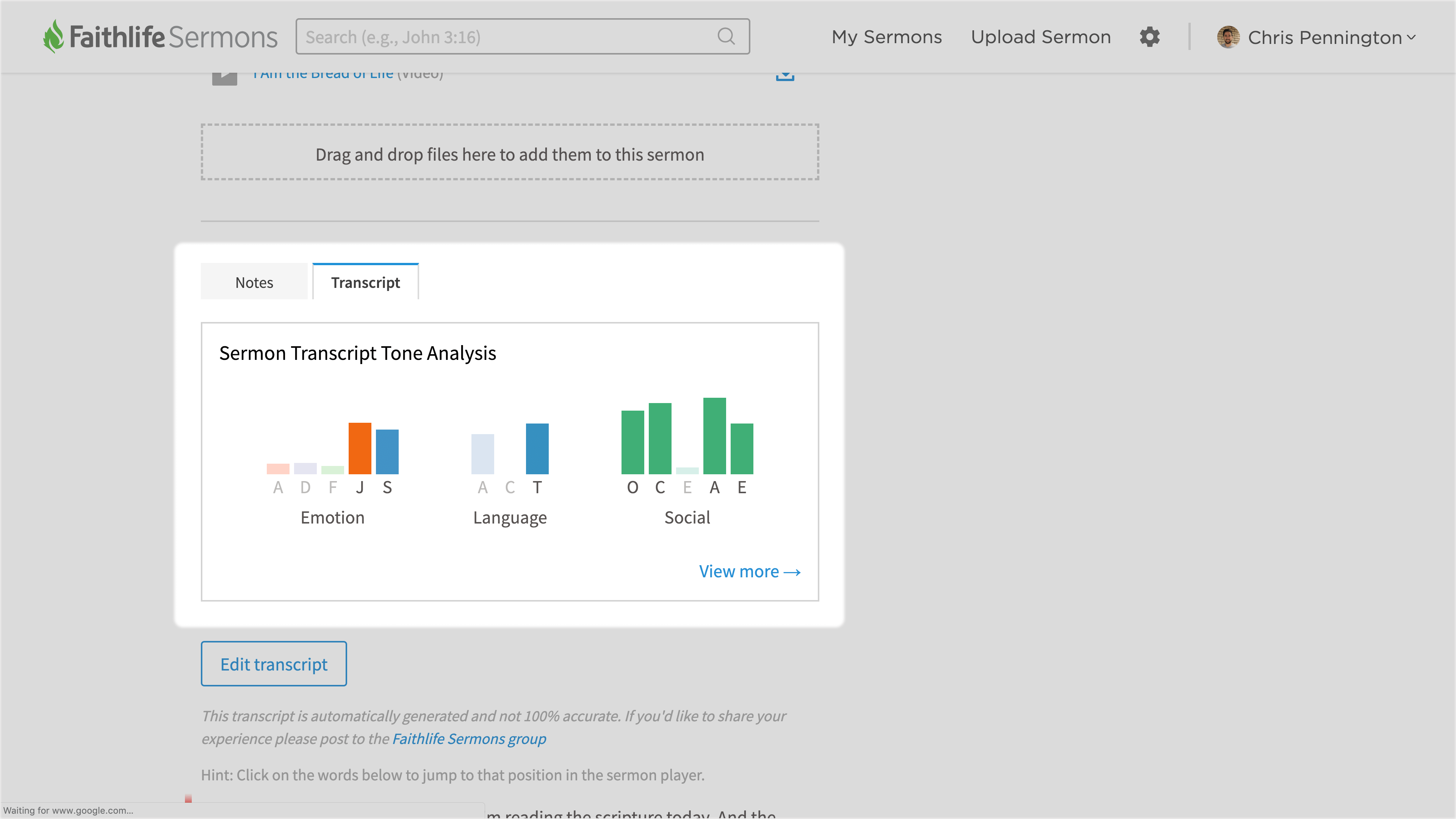 2. Click View more to get a more detailed analysis.
The upper section indicates the presence of different emotional, language, and social tones. A score of 0.5 or higher indicates the tone is likely present.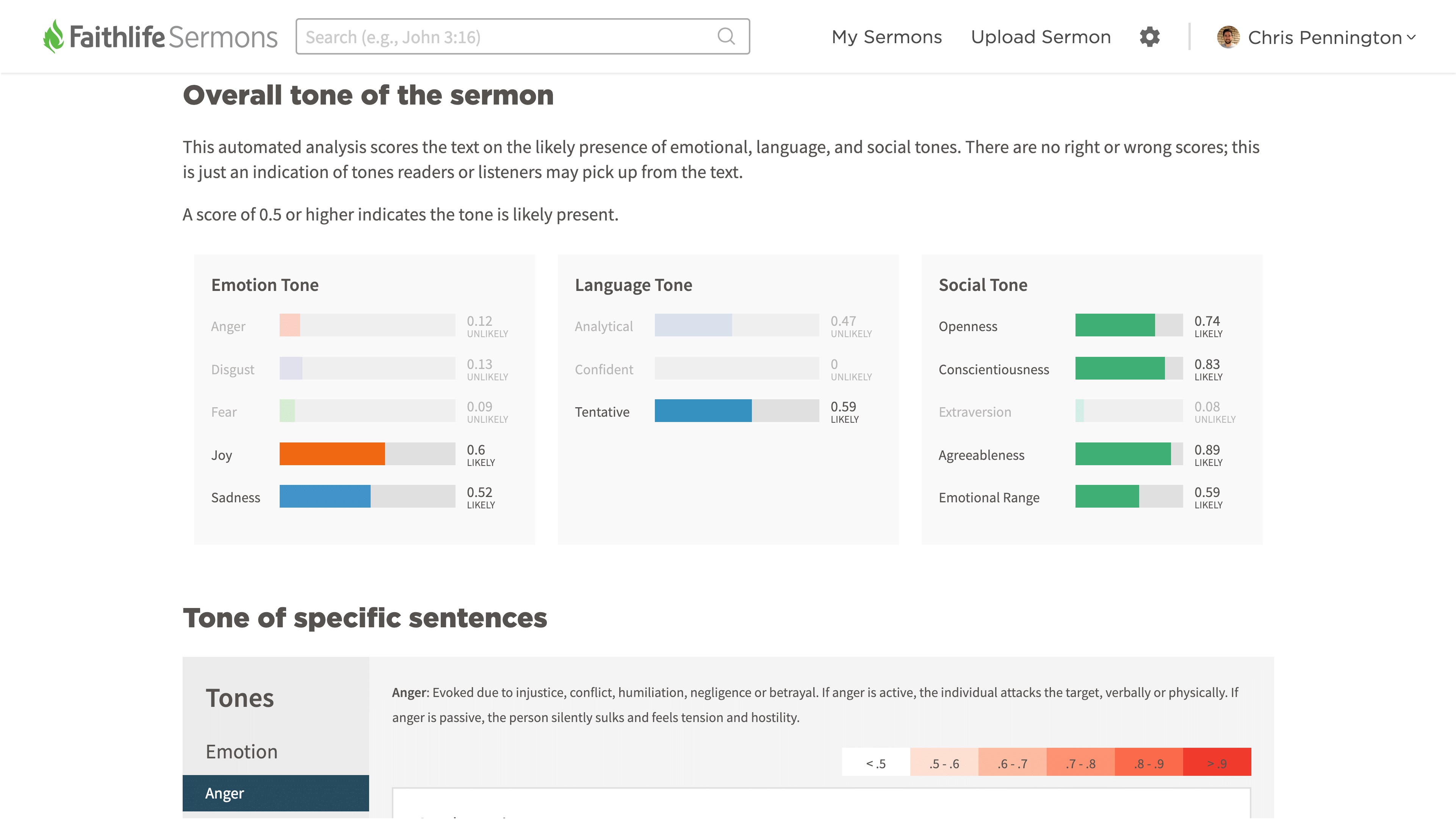 The lower section lists the tone of specific sentences from the transcript. Select an emotion, language, or social tendency on the left and Faithlife Sermons will display the degree to which sentences match your selection with conditional formatting.
This in-depth knowledge can empower you to make changes so you can clearly transmit your message.
Edit the transcription
Because your sermon text is automatically generated, you may find words that don't match the audio. It's easy to edit the transcription.
1. From the sermon's page, scroll down and click Edit transcript.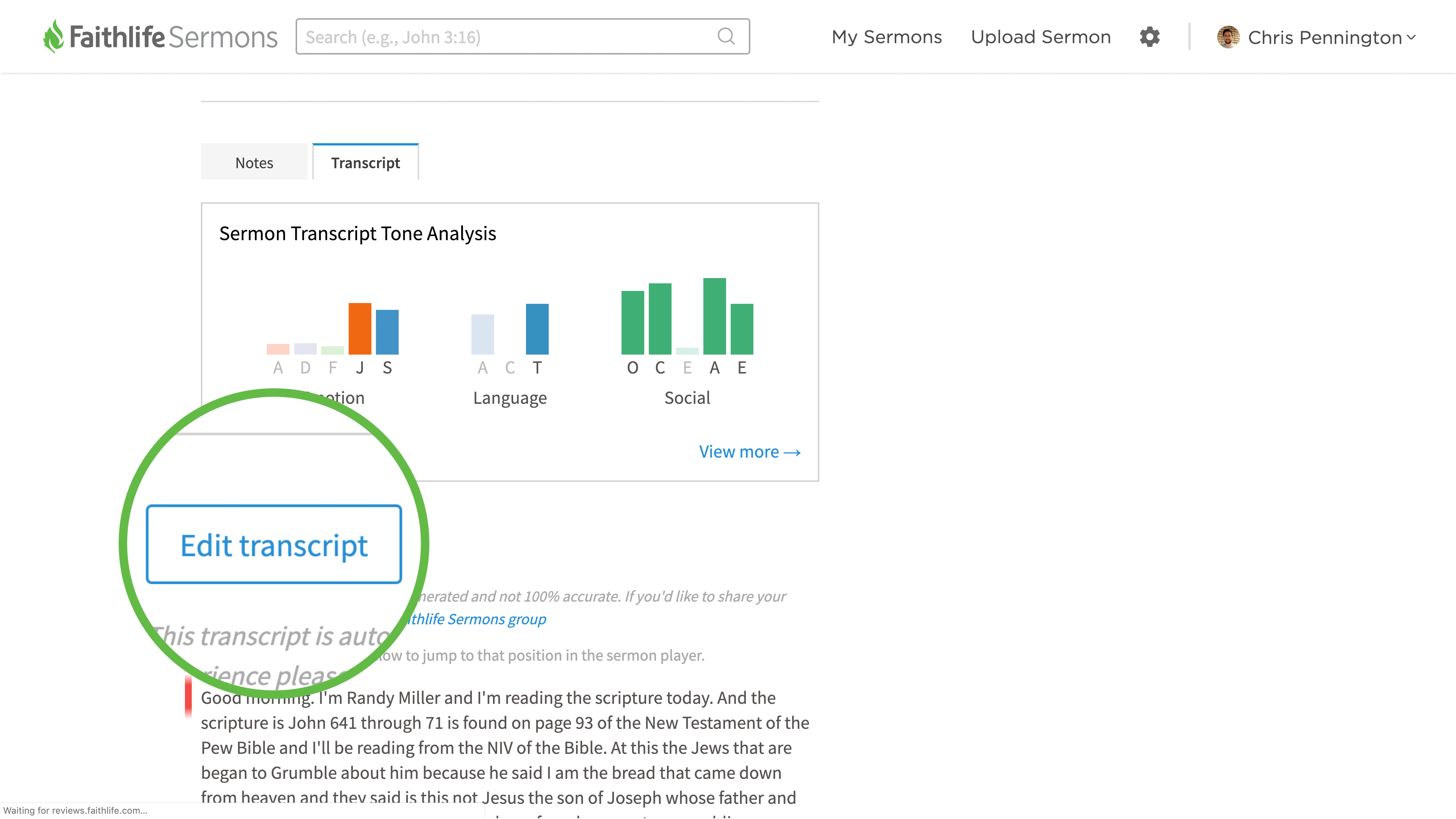 2. Double-click a word to edit it.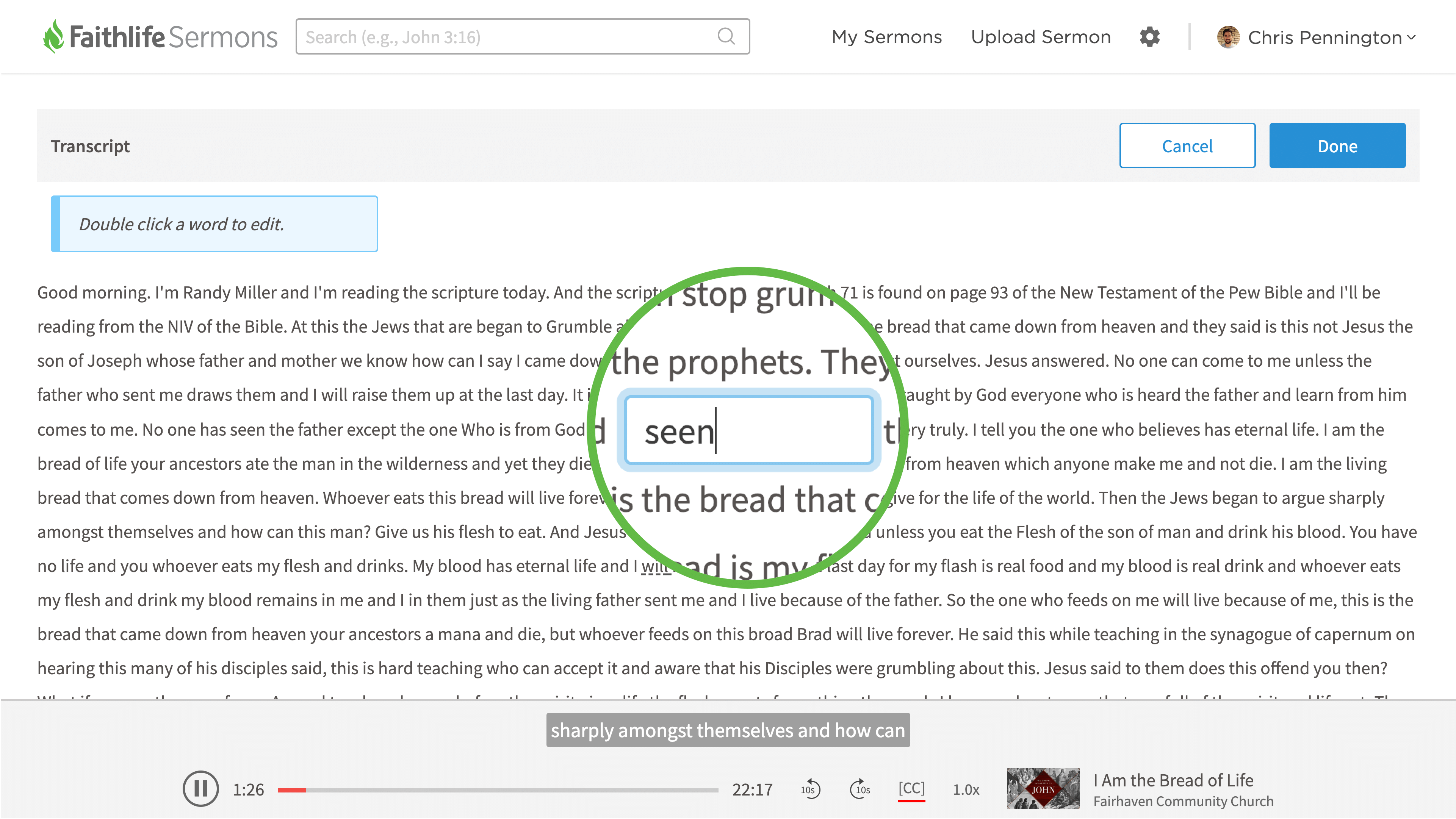 To adjust or add a word, double-click, make the adjustment, and press the Return key. Each word is time-stamped and when you make edits, those time markers are retained.
3. Click Done.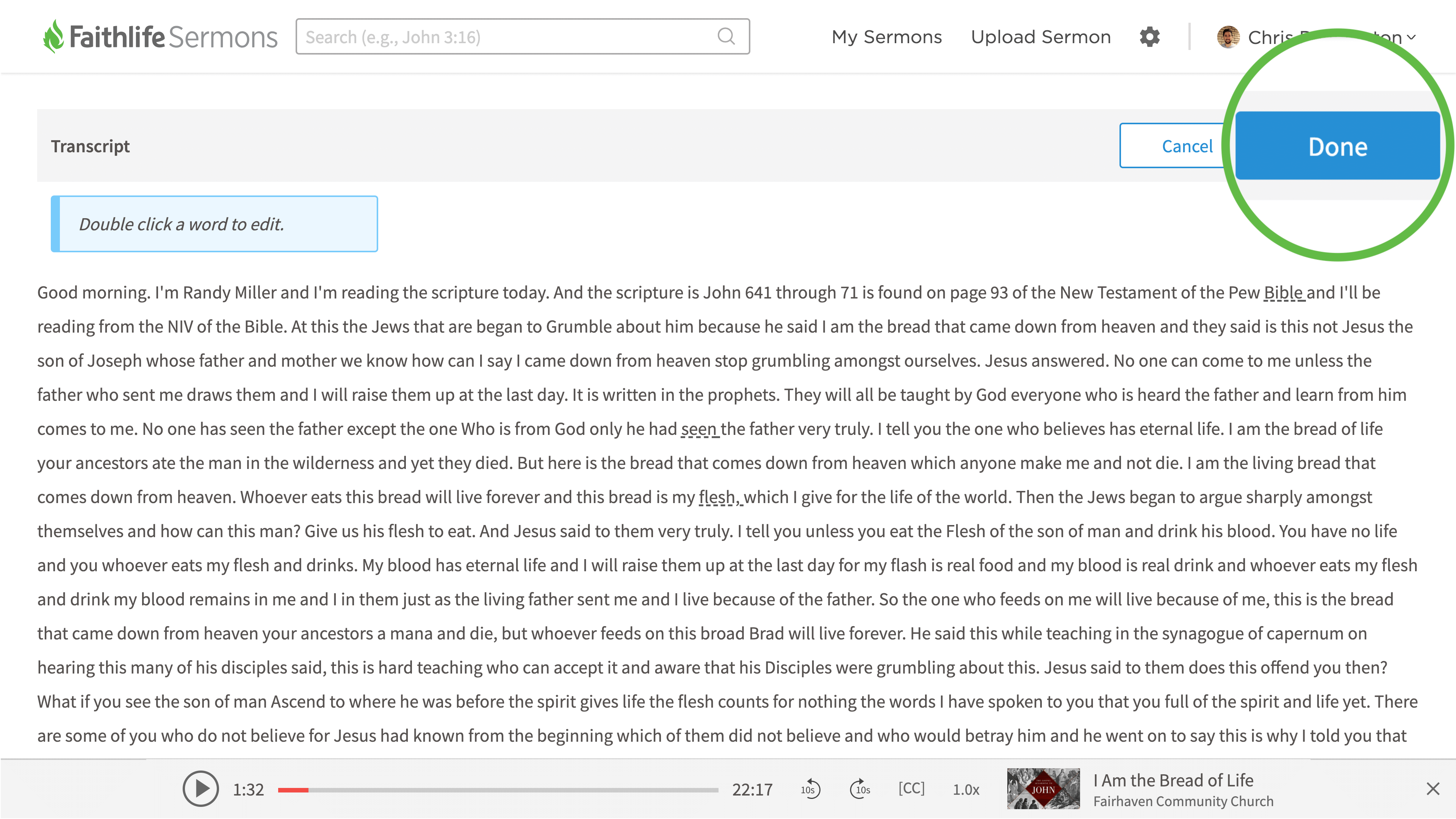 4. Click Save to secure your edits.