Faithlife TV gives you access to movies, shows, and educational content that can build your faith. It makes screen time an opportunity for discipleship.
There are three tiers of content on Faithlife TV:
Free content provided by Faithlife and other organizations
Content available for individual purchase
Content available with a Faithlife TV Plus subscription
This article will guide you through the process of subscribing to and enjoying Faithlife TV Plus. A Faithlife TV Plus subscription, gives you access to great, Christian content—everything from children's shows to documentaries, Christian movies, and advanced Bible courses. And because we're always adding new content, you'll keep getting more value for the same low price.
You can check for service outages at status.faithlife.com. To learn more about using Faithlife Status, click here.
Skip ahead to:
Subscribe to Faithlife TV Plus
Navigate Faithlife TV


Subscribe to Faithlife TV Plus
To begin your Faithlife TV Plus subscription, follow these steps.
If you don't yet have a free Faithlife account, we'll guide you through the process when you start your free trial.
1. Click "Start your free trial."

Note: If you already have a free Faithlife account, you'll be prompted to sign in. If not, we'll create one for you when you subscribe.
2. Add a payment method.
Add a credit card to begin your trial.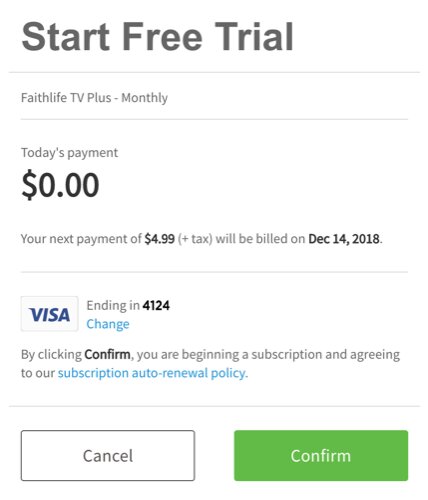 3. Click Confirm
You will receive a 14 days free before your monthly subscription price begins.
If you need to change your subscription details, visit your account subscriptions on Faithlife.com. You can access this link by clicking your name in the corner of your browser and selecting Manage Subscription.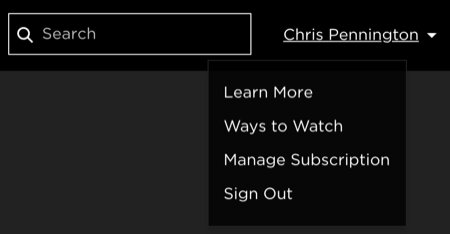 Navigate Faithlife TV
Now that you have access to the TV Plus content, you can watch videos on a variety of platforms and even share links to Faithlife content with your friends.
Watch Videos
Faithlife TV is available anywhere you view video.
For starters, any device with a web browser can access faithlifetv.com. Free apps custom-built for TV are also available for Roku, Apple TV, Fire TV, and with any device that can Chromecast. You can even watch while on a phone or a tablet running iOS or Android. Download the free app and sign in.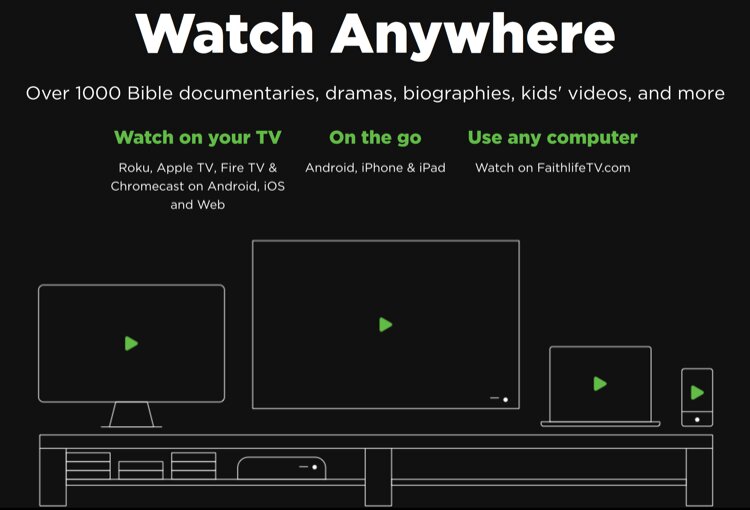 Find Content
However you access your account, Faithlife TV will display your recently watched videos at the top of the interface.

Below, you'll find documentaries, MobileEd courses, movies, and mini-series on a variety of topics. If your church has a Faithlife church group, videos and sermons in that group are available to view as well.

You can also access these categories from the Browse menu. Of course, if you know what you're looking for, you can search for it as well.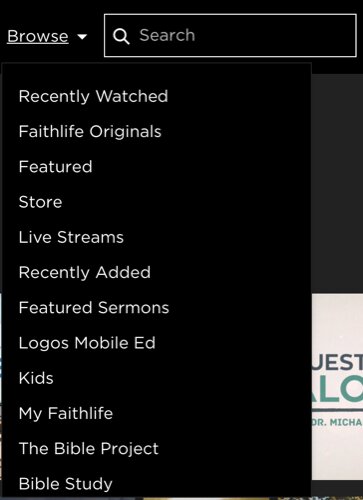 Parents love Faithlife TV because it's safe and entertaining for their kids. To access Kids Mode, select Kids in the top left-hand corner of your web browser.

Note: Depending on the platform you're using, Kids' Mode may be available in the Settings Menu.
Once you enter Kids Mode, Faithlife TV will remember your preference until you click Exit Kids in the top right-hand corner.
Did you know? The Recently Watched section in Kids Mode is logged separately from the full Faithlife TV experience.
Recommend Videos
Faithlife TV makes it easy to recommend videos to others. If they aren't Faithlife TV Plus subscribers, they can begin a free trial.
1. Log in to Faithlife TV and locate a video to share.
Begin by navigating to faithlifetv.com and sign in with your Faithlife account. It's the same login you use with other Faithlife products—like Proclaim or Logos Bible Software.
2. Select a sharing option.
When viewing an item, notice the sharing options below. While you can share your recommendation on a variety of traditional social media sites, sharing through Faithlife means you can directly benefit your church group on Faithlife.com.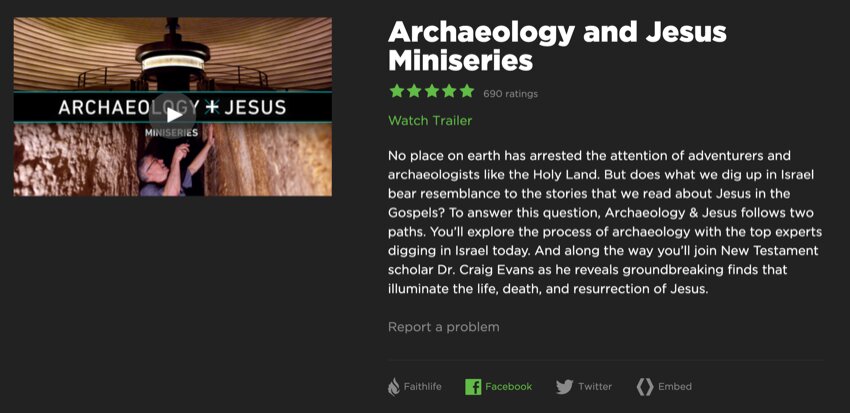 3.Share the video.
A preview of the shared video appears so you'll know what your final post will look like.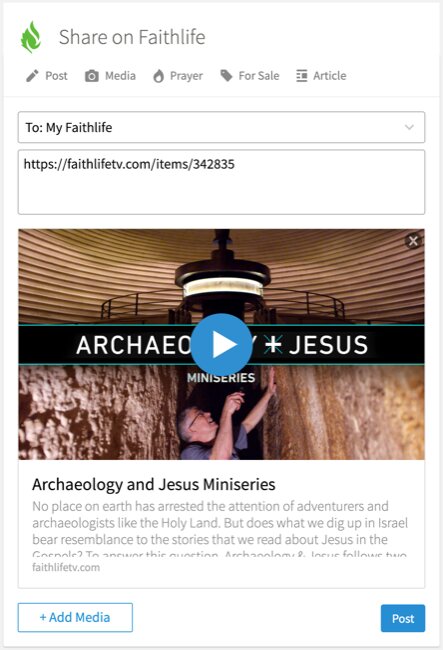 By default, when sharing on Faithlife, your post will be available to anyone who shares membership in a group with you. You can share it with a specific group—like your church group—via the drop-down menu.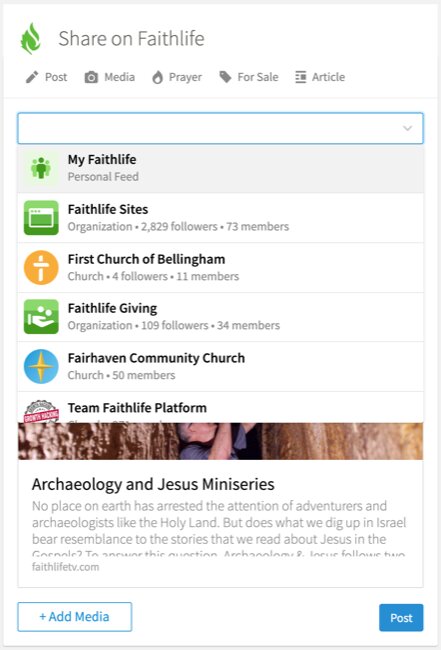 If you're an administrator or moderator of your church group, you can post with your personal profile or as your group. Provide a personalized message recommending the video and then click Post.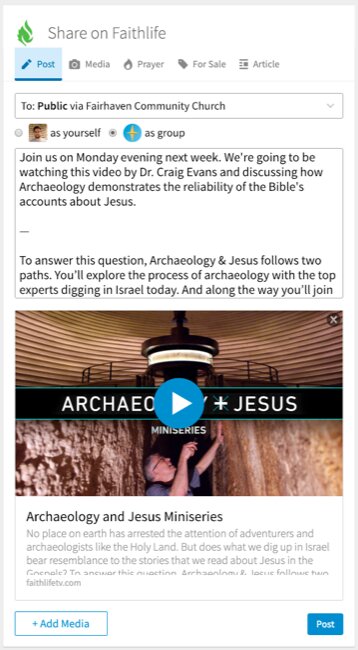 The post will now show in your church group for others to see.