Keep your online church community connected with prayers, events, and church-related news in a well-designed newsletter formatted to look great on both desktop and mobile devices.
Because you can add subscribers manually, your people won't have to create a Faithlife account or sign up for any service. Select your recipients, create a drag-and-drop newsletter, and send it directly to your people.
Skip ahead to:
Locate your group's newsletters.
You can create newsletters for free with any Faithlife group. If you don't have a Faithlife group for your church, it's easy to create one.
Navigate to Faithlife.com and sign in. Select your church group in the left-hand sidebar.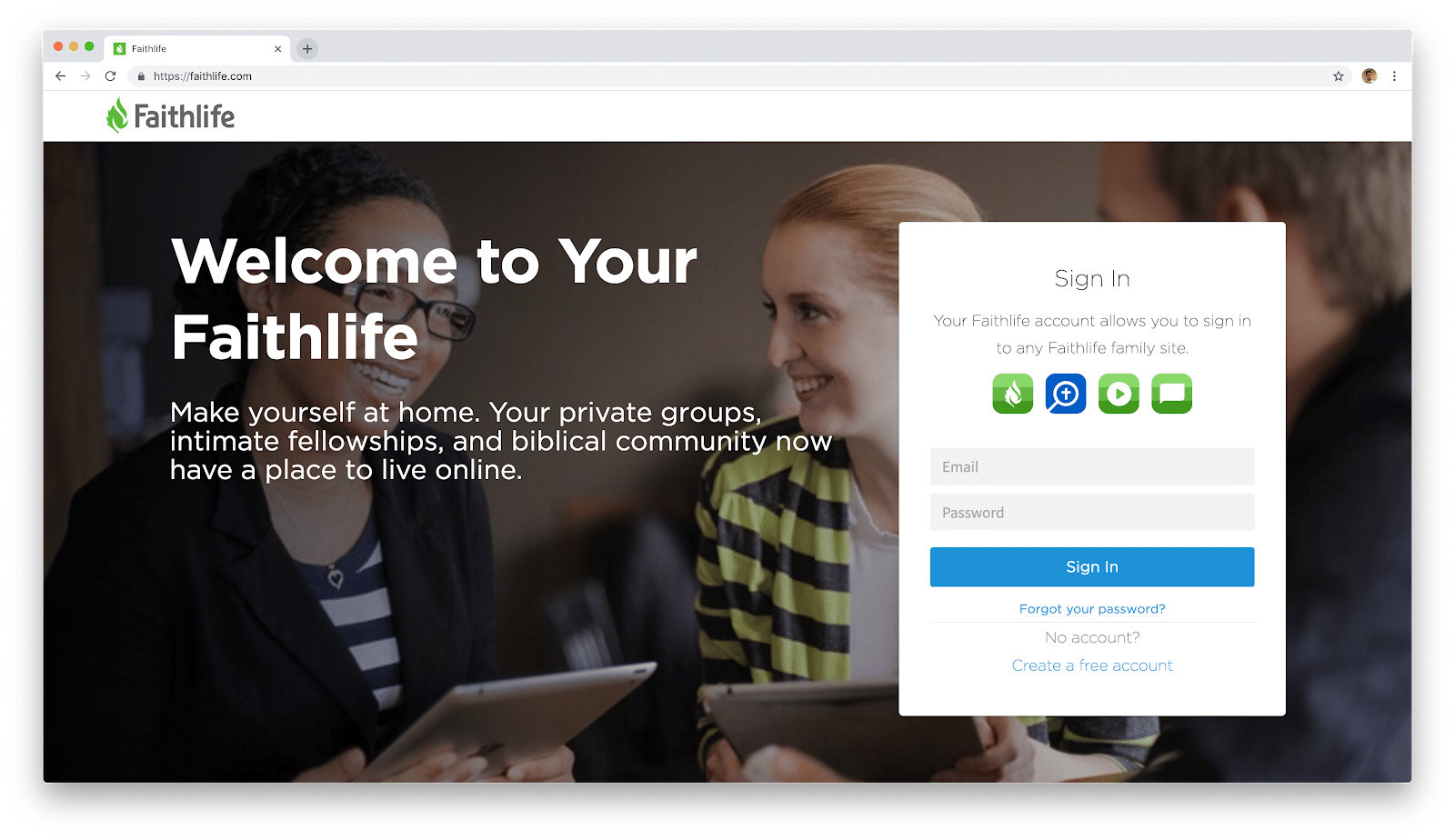 Expand Content in the left-hand Community menu and click Newsletters.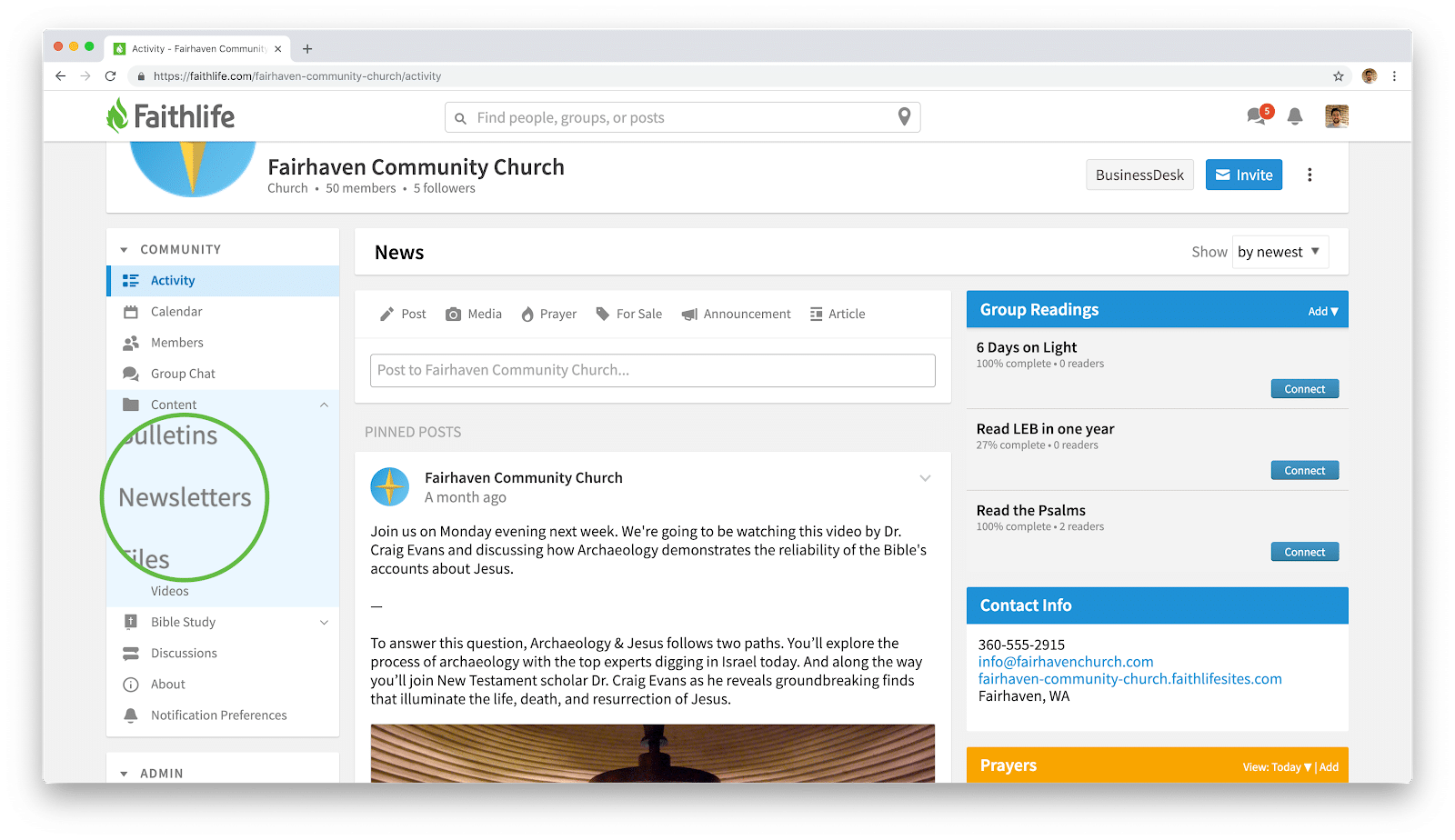 Anyone who is a member of your group can view any previously-published newsletters. As an administrator or member of your church's Newsletter team, you can also see unpublished drafts and open rates for any published newsletter.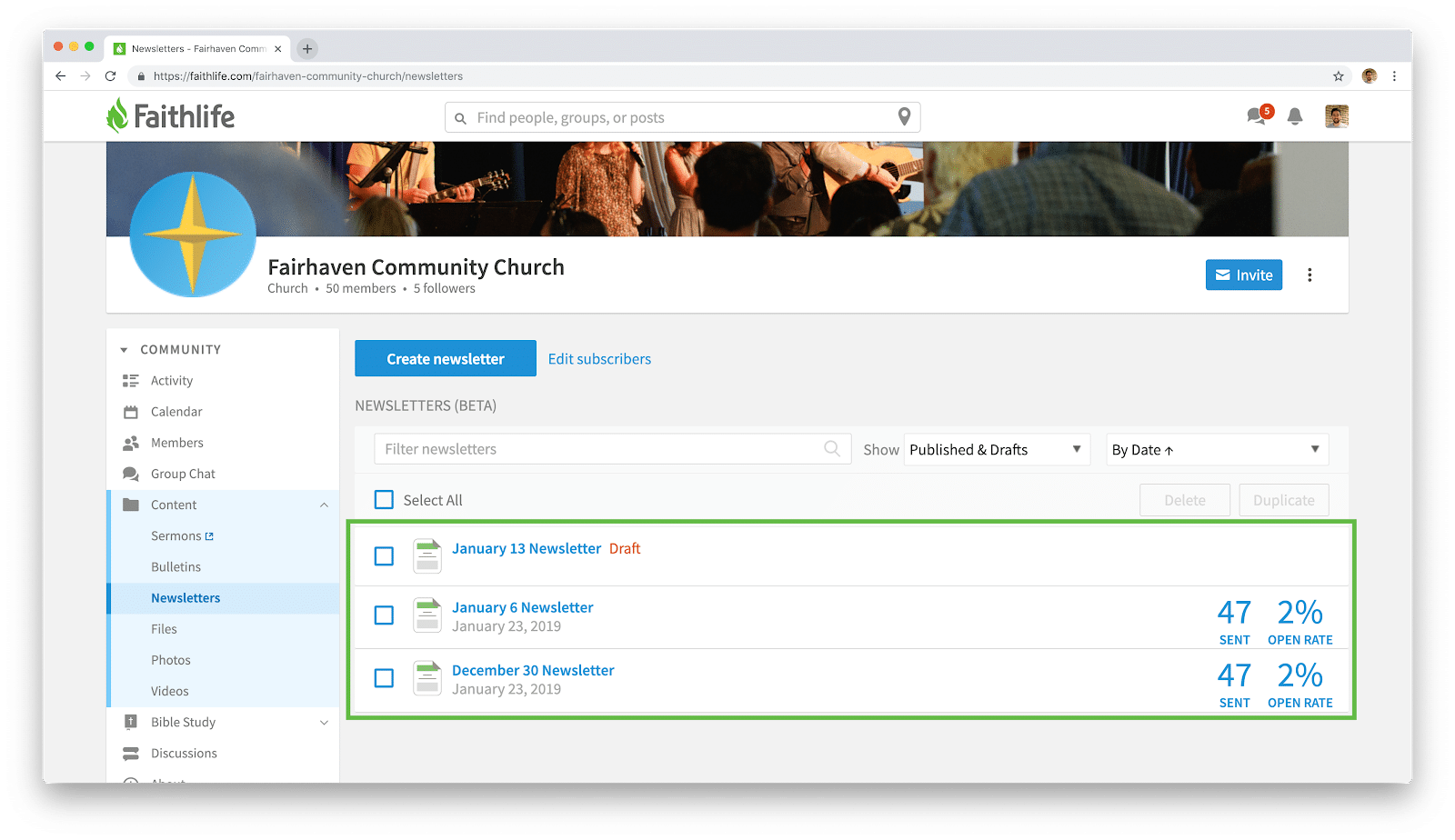 Add Email-Only subscribers.
By default, newsletters send to members of your church group via email, but you can also manually add email-only subscribers. This means you can send your newsletter to people who aren't formerly members of your church group or people who don't yet have a free Faithlife account.
Note: Any newsletters you publish will also display as a system notification on Faithlife.com for members of your church group.
To add email-only subscribers, click Edit subscribers.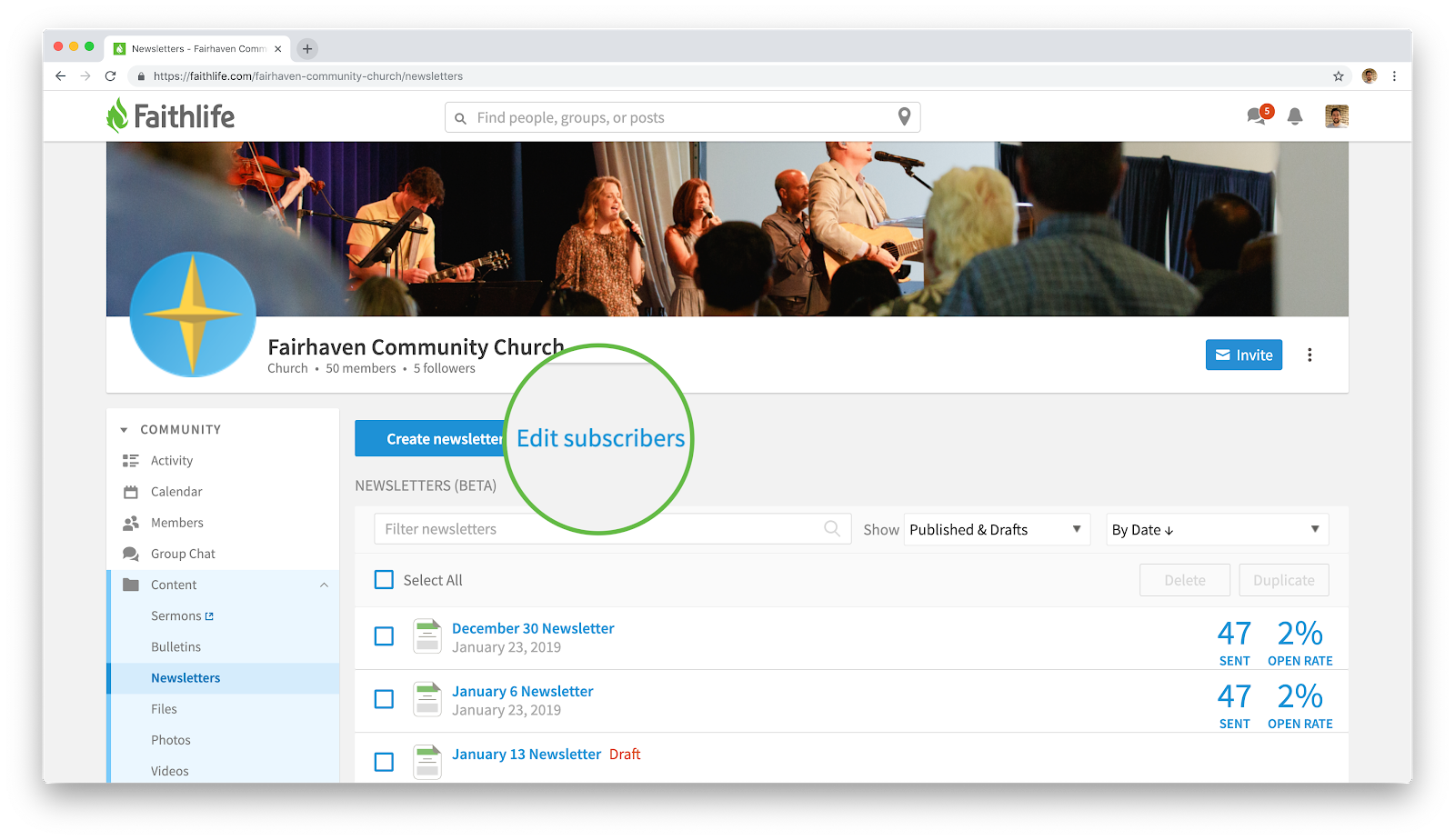 Manually type email addresses separated by a comma or semicolon and click Add.
Tip: You can import from a CSV file (i.e., spreadsheet) by selecting Import from csv.
To remove names from your list, click the X next to the email address you'd like to remove. When you're finished adding subscribers, click Save.
Your newsletter will send to all members of your Faithlife church group and to the email-only subscribers you've added.
Create a newsletter.
To create a newsletter, click Create Newsletter.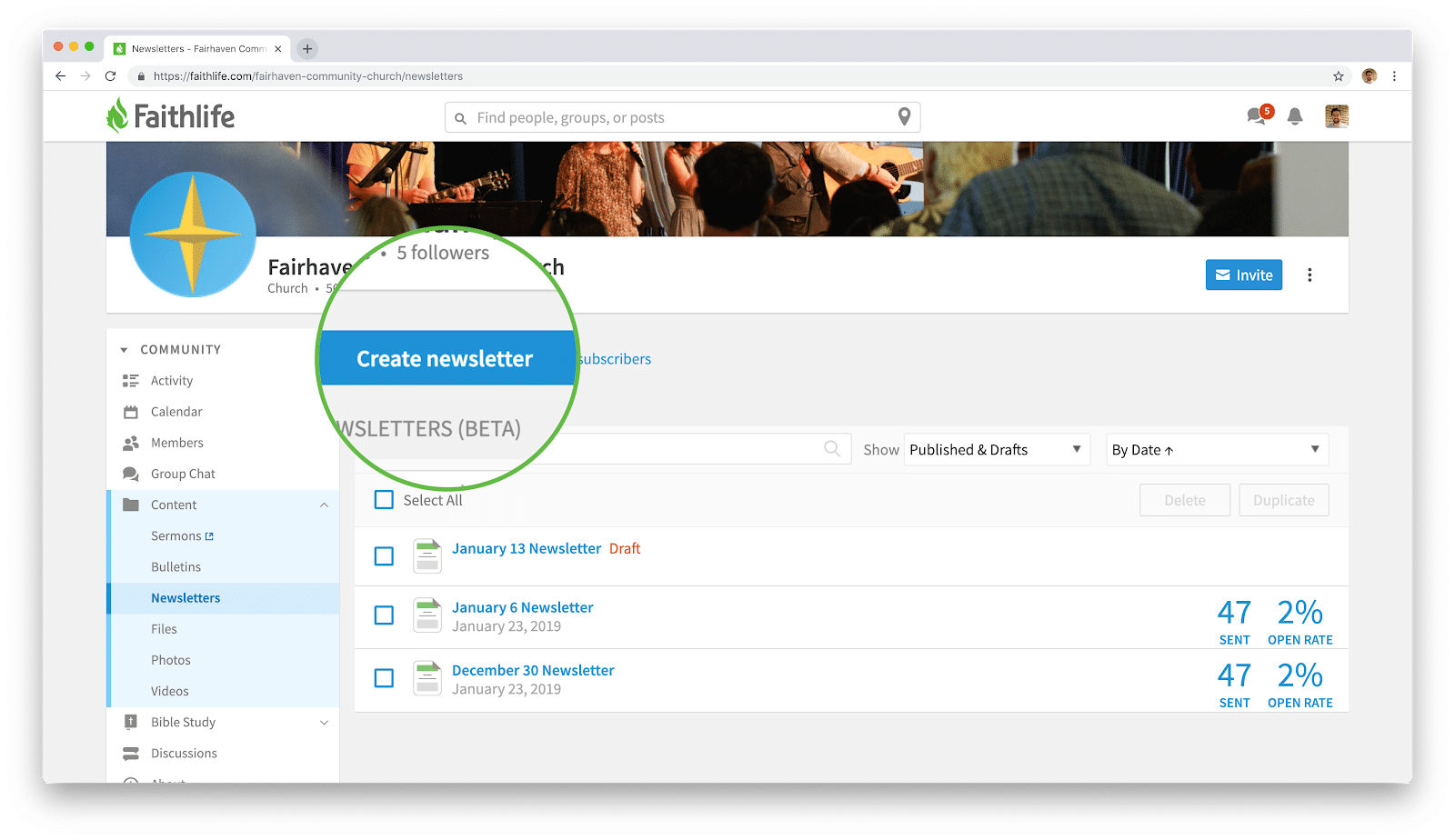 Tip: You don't need to start your newsletter from scratch each week. Duplicate a previous newsletter to save time. Select the box next to the newsletter you wish to duplicate and select Duplicate.
Newsletter Layout
Newsletter edit mode contains three sections: top navigation bar, widget section, and newsletter builder.
The top navigation bar contains five options.
Done: Returns to the main newsletter page.
Preview: Displays a real-time preview of your newsletter. When previewing, you can return to editing by selecting the Edit button.
Send Test: Sends a test newsletter to your email address.
Save: Secures your current progress. You need to add a newsletter title before saving. If you attempt to exit the newsletter before saving, Faithlife will prompt you to save.
Publish: Publishes your newsletter on its planned schedule, sending it to all members of your group and all email-only subscribers.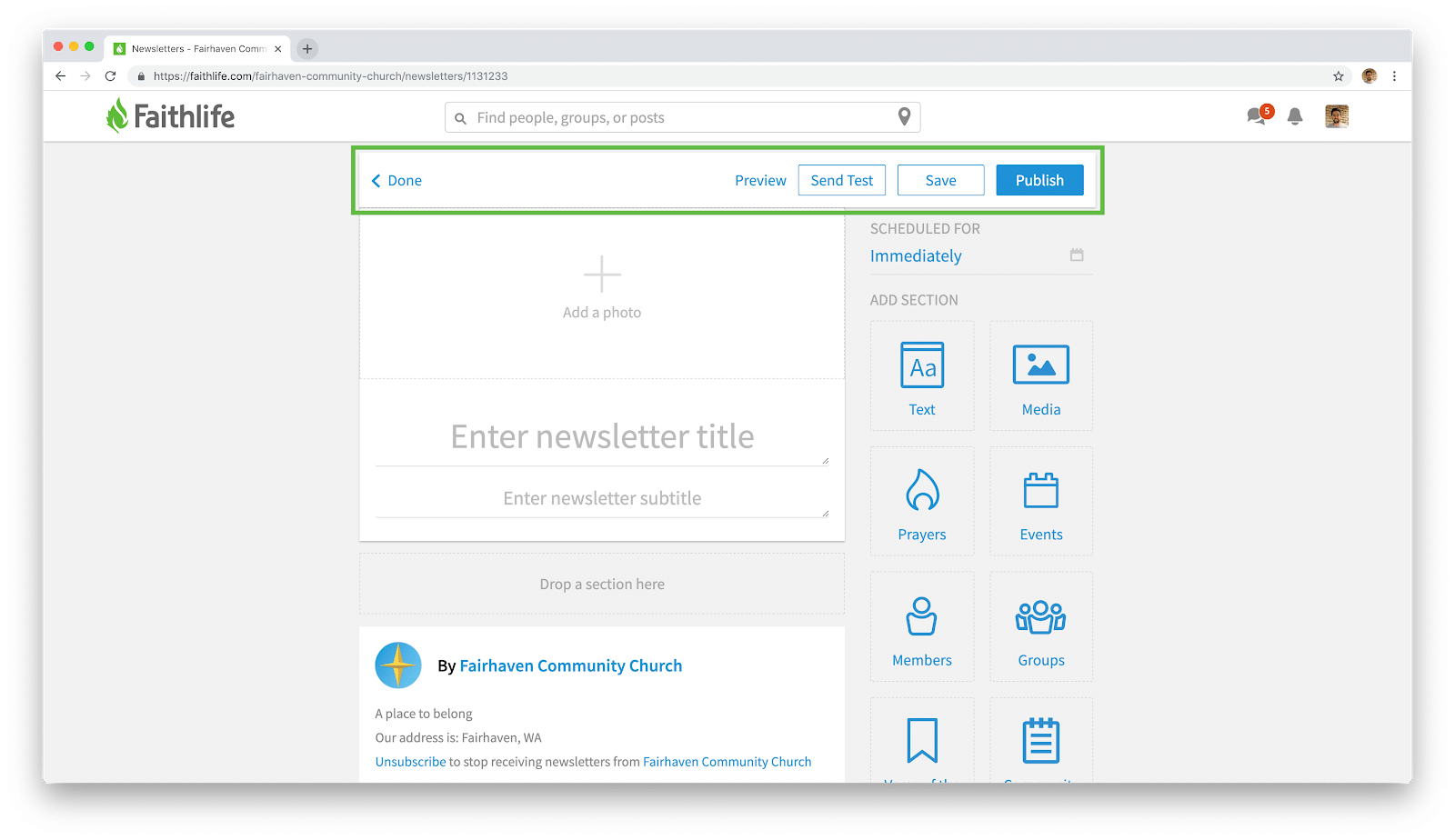 The right-hand widget section lets you set a publishing schedule and contains the building blocks for your newsletter.
Text: A basic text section with (and hyperlinks).
Media: This media section supports images and gif animations (minimum width: 600px). Videos are not currently supported.
Prayers: If you have prayers in your group's prayer list, you can add prayer requests directly into your newsletter. Check as many requests as you want to appear in the final version. Only prayer list items can be added using the prayer section. You can add newsfeed prayer requests to your newsfeed via the News section (below).
Events: Any Faithlife calendar events you've created for your group can be added to your newsletter with a single click.
Members: Recognize members of your church group by searching for them, then add a heading to explain why you're recognizing them.
Groups: If you have another Faithlife group you'd like recognized, like a Youth Group, you can add it to a groups section. Subgroups associated with your church group will display as suggested groups.
Verse of the Day: Free daily verse art from Faithlife with a memorable passage beautifully illustrated.
Community Notes: Notes shared with a group through Logos.
News: Select any post published in the church group's news feed to highlight it—including Posts, Media, Newsfeed prayer requests, For Sale items, Announcements, or Articles.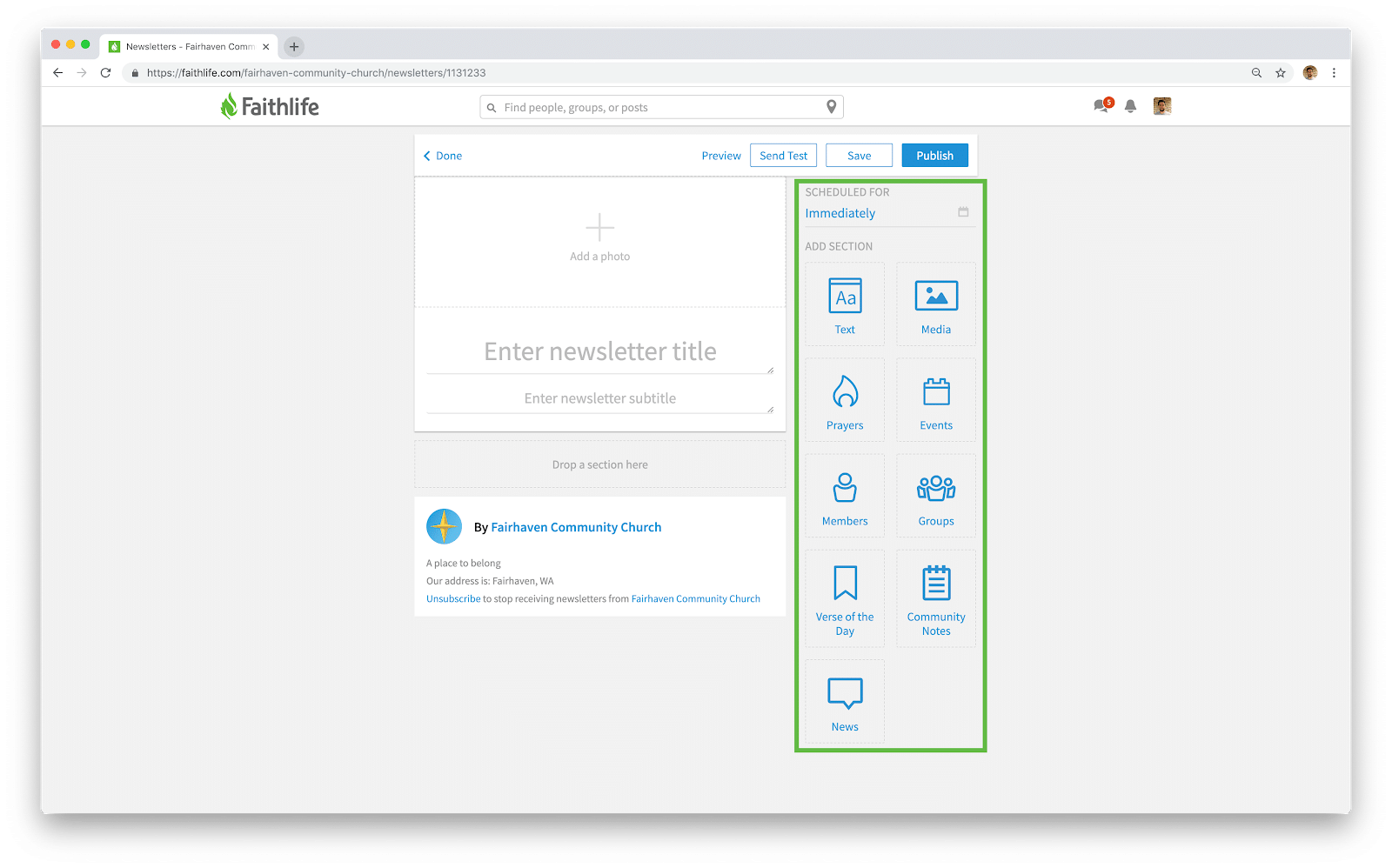 The main section is where you build your newsletter. You can add widgets from the right by clicking them or dragging and dropping them to your newsletter builder. You can also drag sections in the newsletter builder to rearrange them.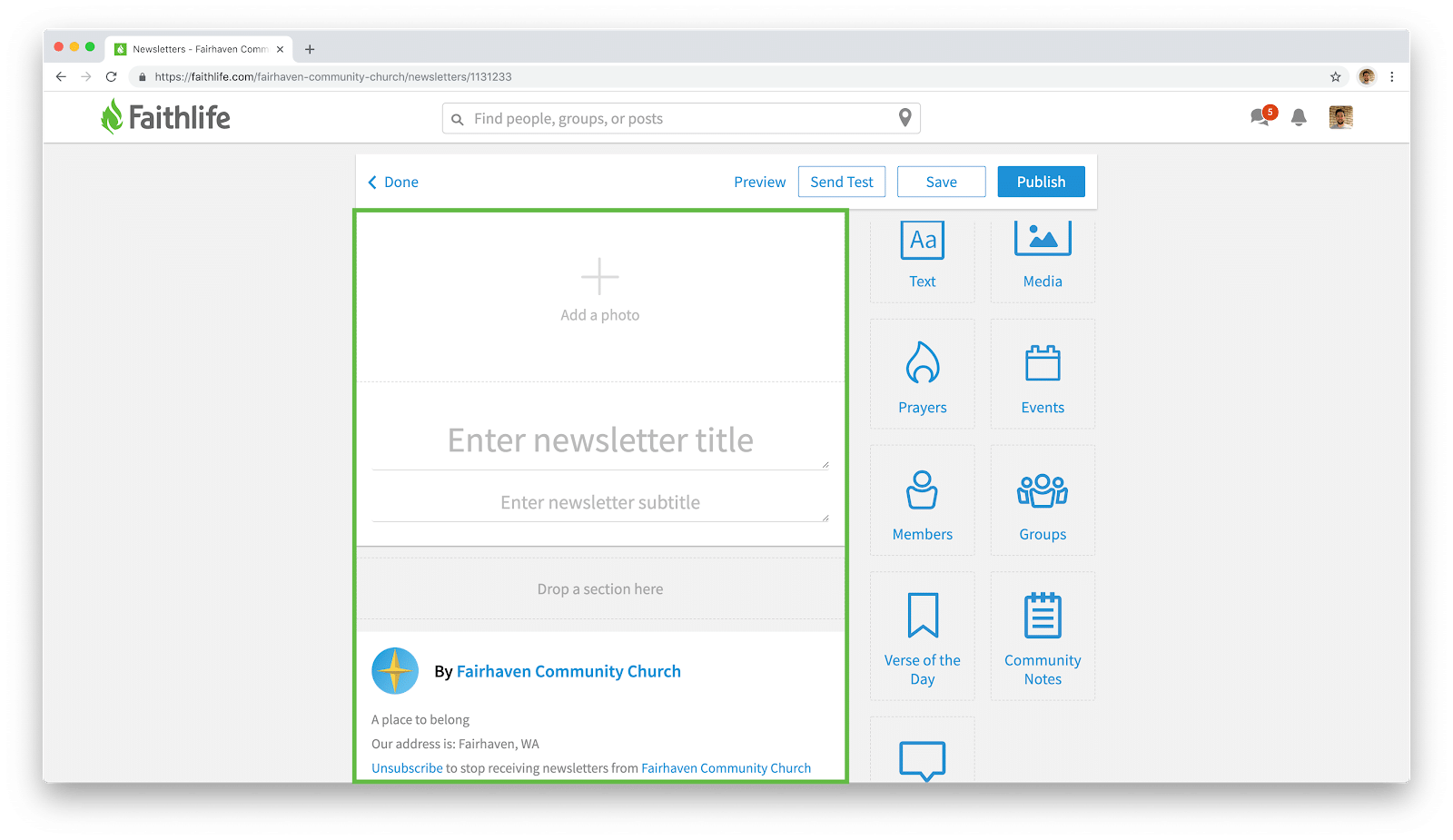 Newsletter Example
Click or drag to add any items from the Widget section to your newsletter. Because you create your newsletter with items you've already made (e.g., from your newsfeed, prayer lists, calendar, etc.), it's easy to create a beautiful newsletter in a few moments.
Note: Your church group includes a free cloud file manager. This means you don't have to re-upload images or upload multiple sizes of the same image. Upload it once and access it wherever you can add images.
To preview your newsletter, click Preview in the top navigation bar. You can also send a test newsletter to your email address by selecting Send Test.
Schedule and publish your newsletter.
Once you're satisfied with the way your newsletter looks, set the date of publication in the top section of Widget sidebar. The publication date can be immediate (default) or in the future.
To change the scheduled publish date, click Immediately.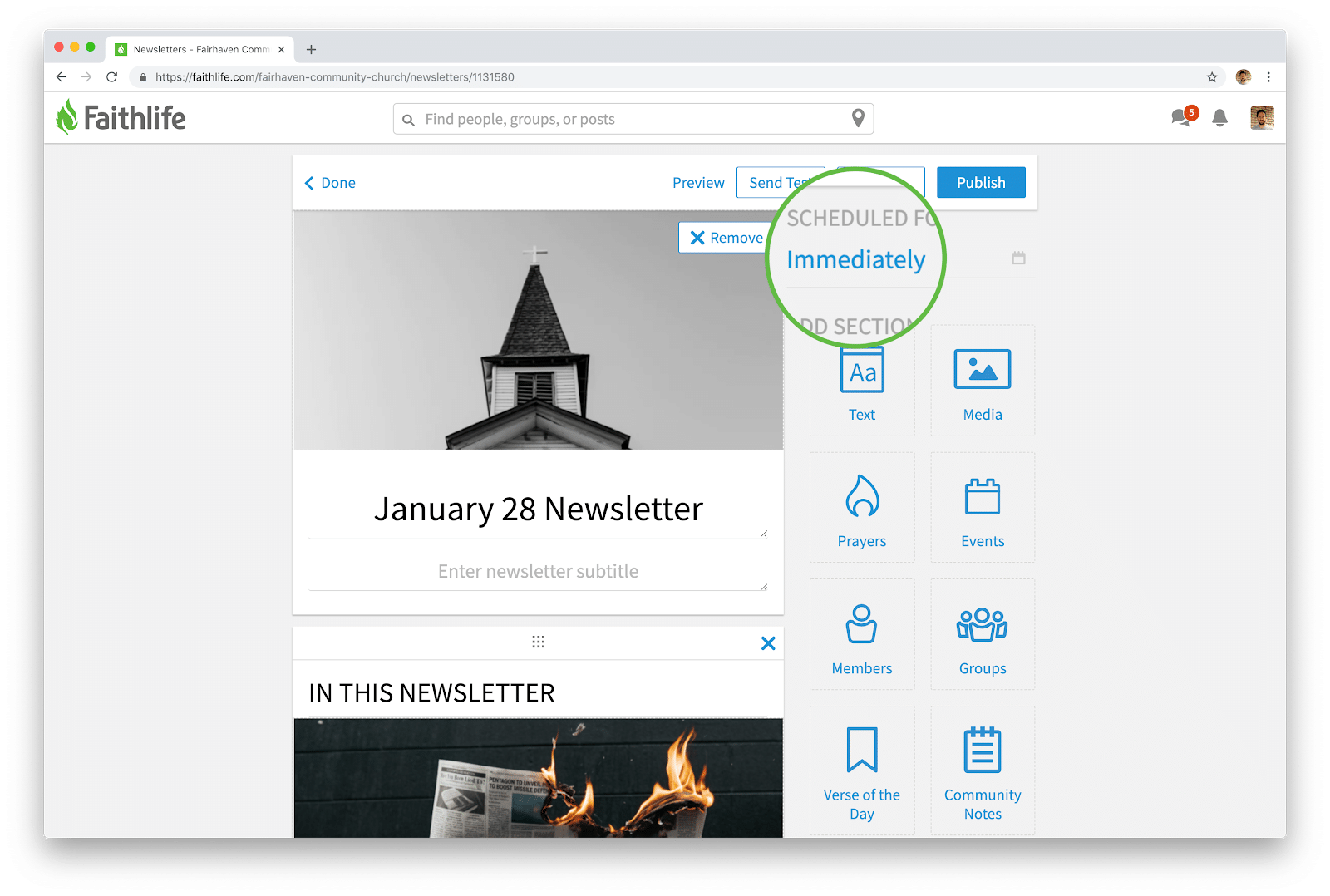 When the Scheduled for section expands, select the date and time you want to publish your newsletter.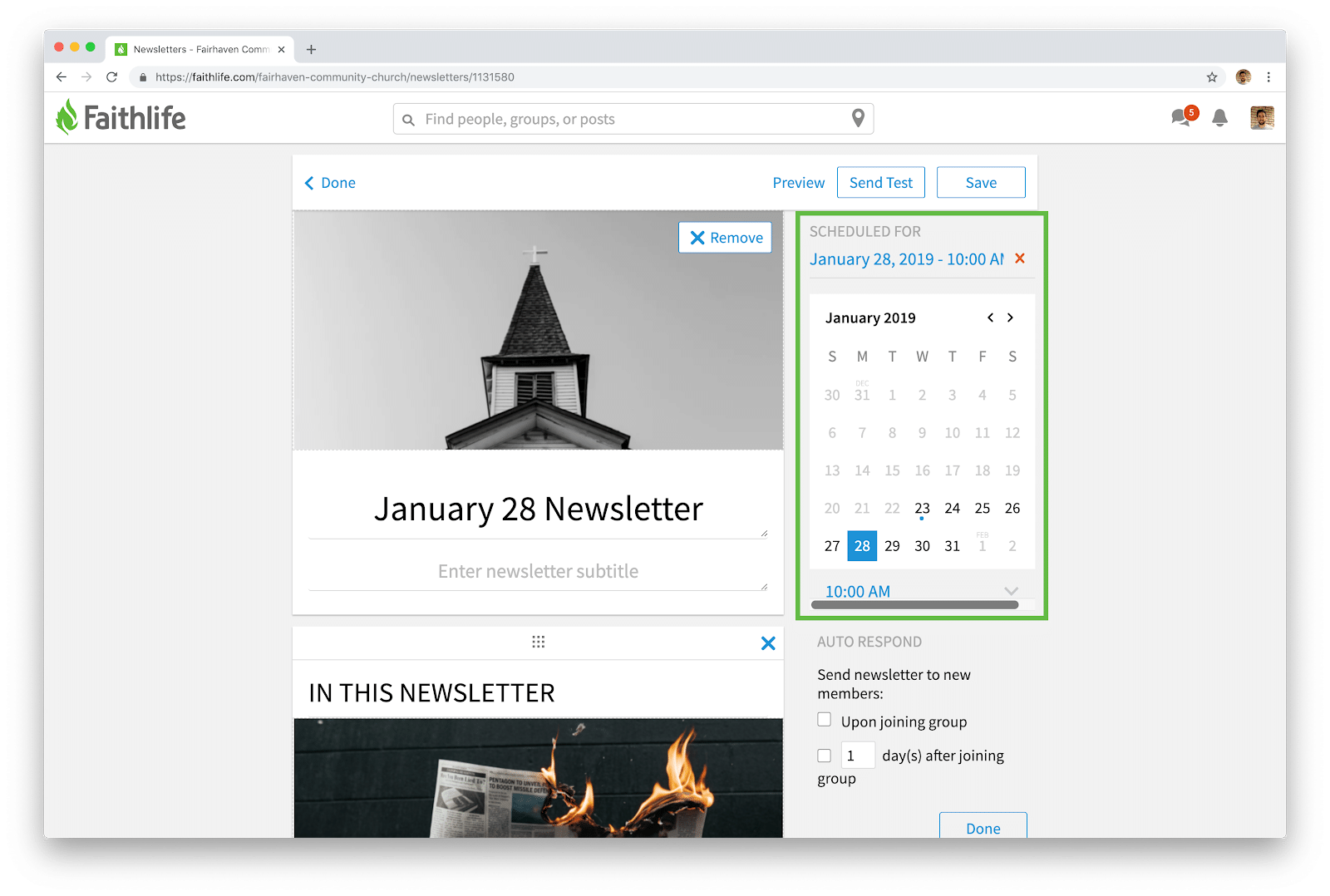 To schedule an autoresponder, select Upon joining group. You can offset the email by checking day(s) after joining group and providing a number of days. Setting up a series of autoresponder email newsletters can help your members feel welcome and orient them to your Faithlife group.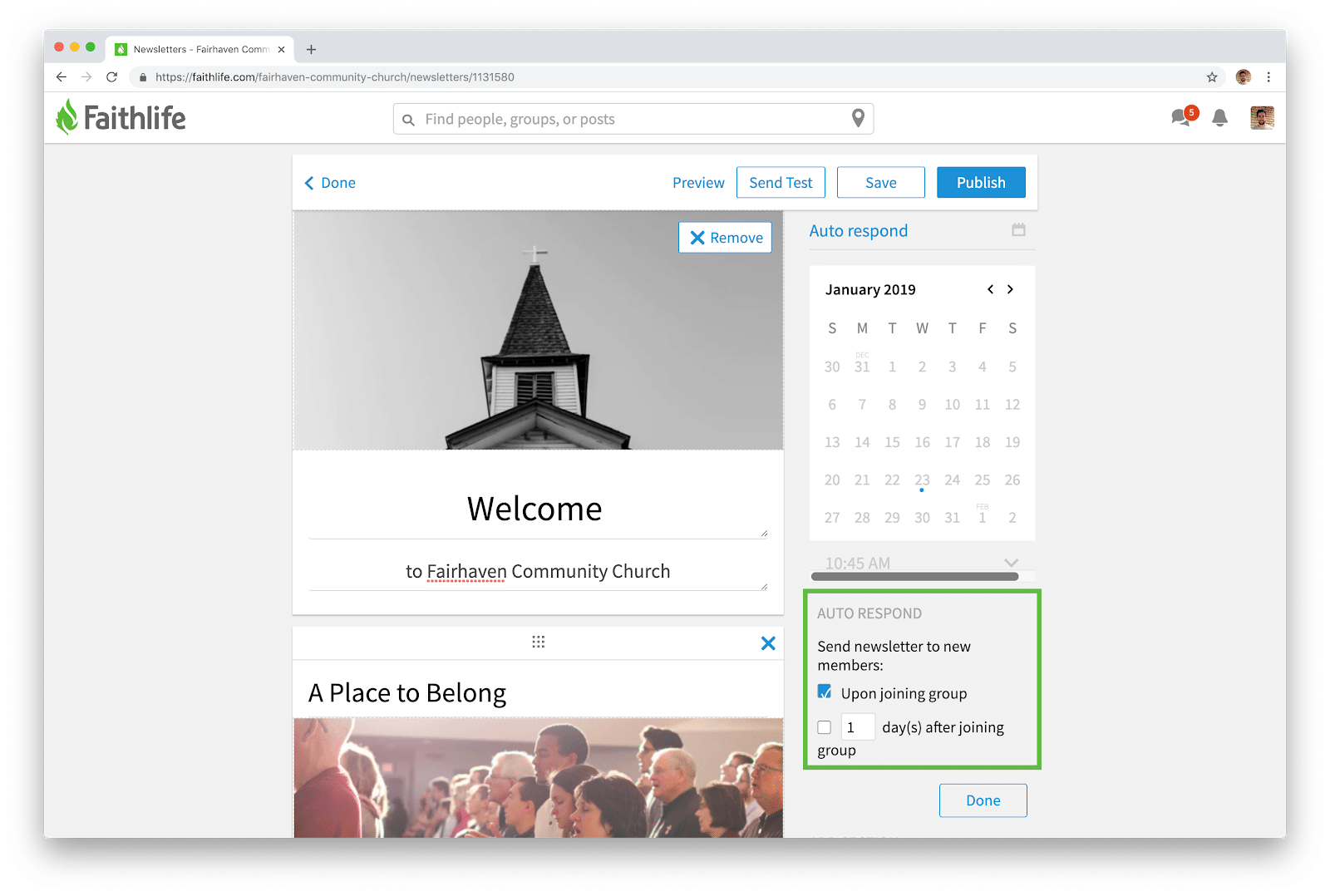 Once you've set your schedule, click Done to secure your changes.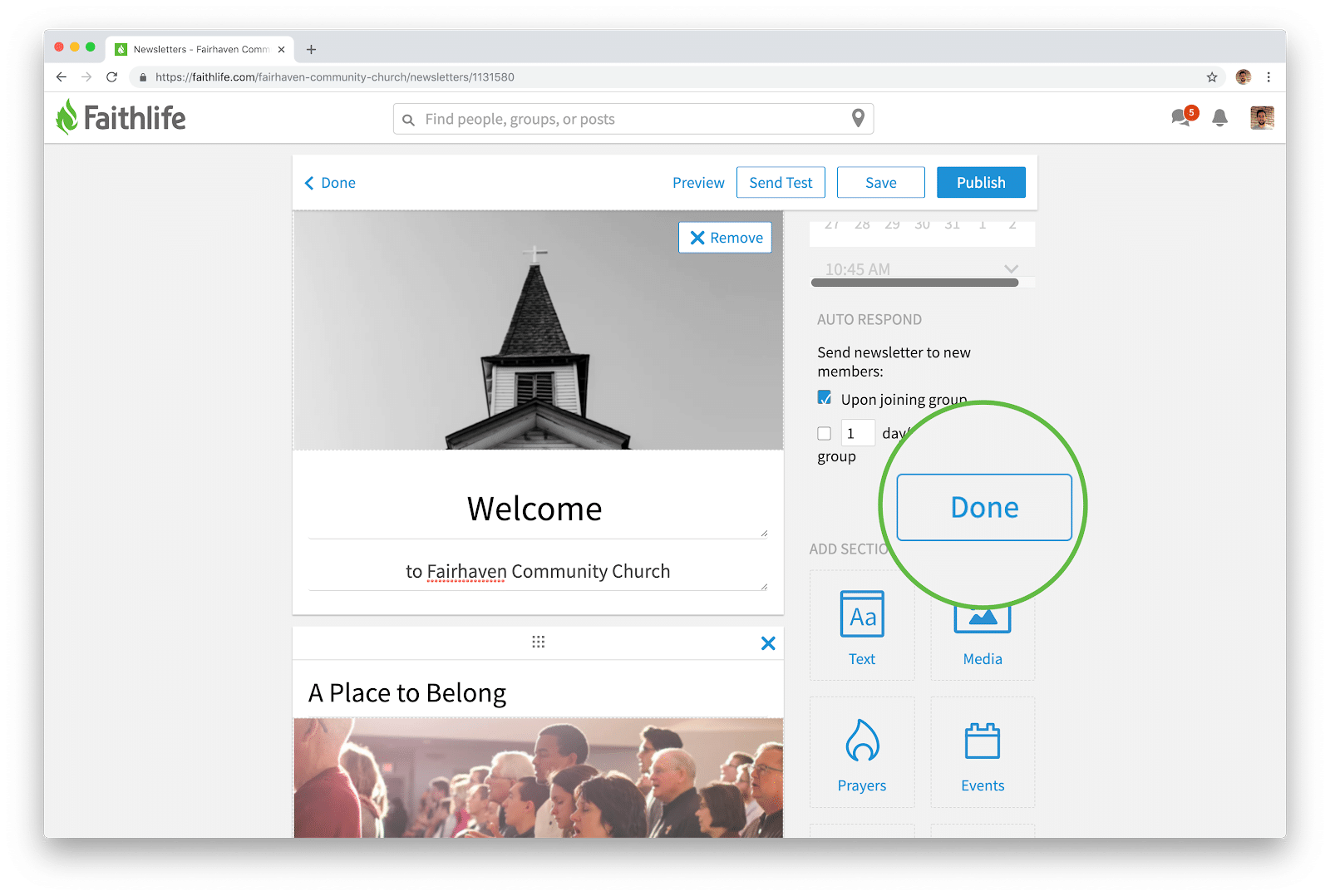 Click Publish to send out your newsletter at its scheduled date and time.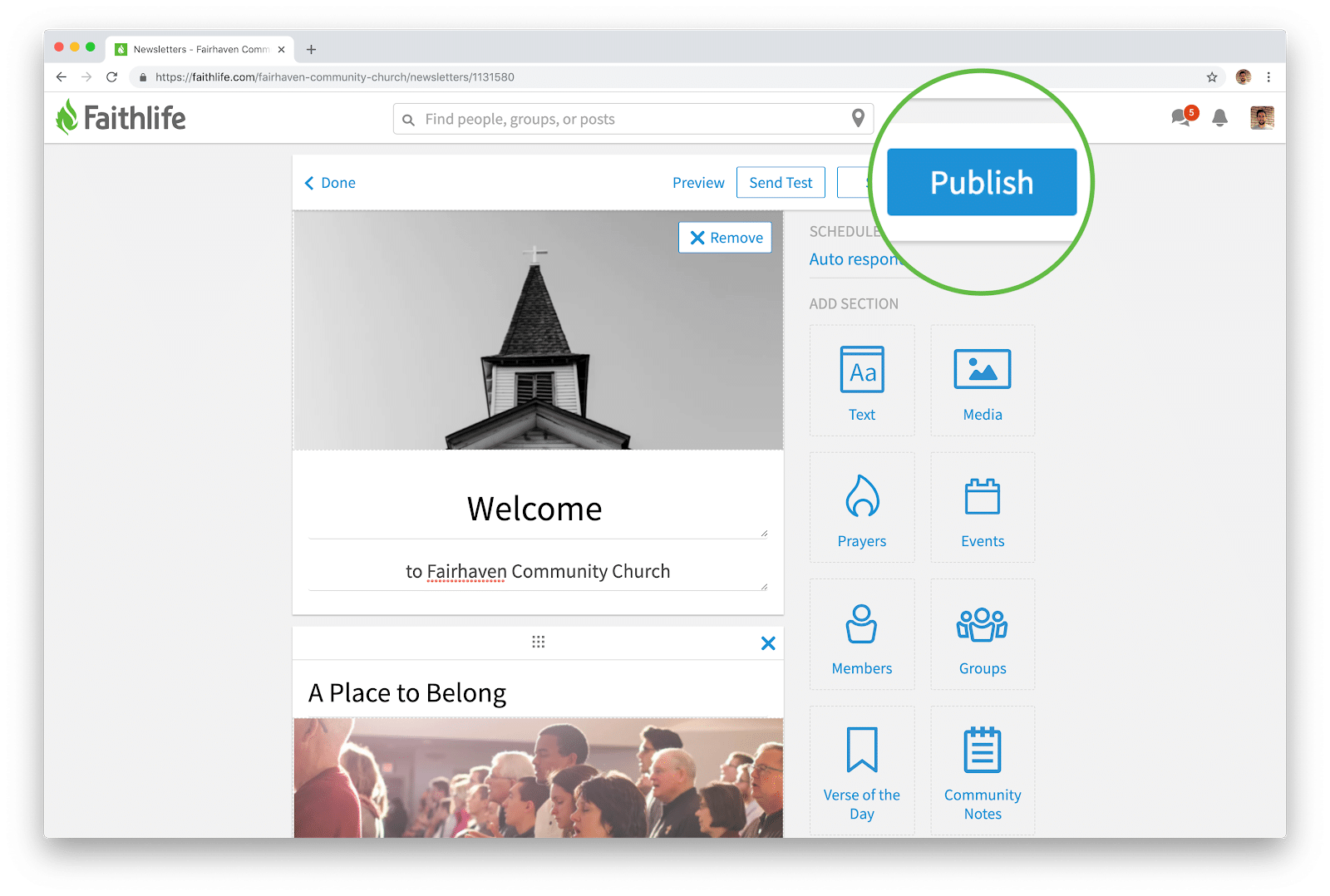 Edit or delete published newsletters
Now that your newsletter is published, you can immediately view the number of recipients as well as the open rate by navigating back to Newsletters.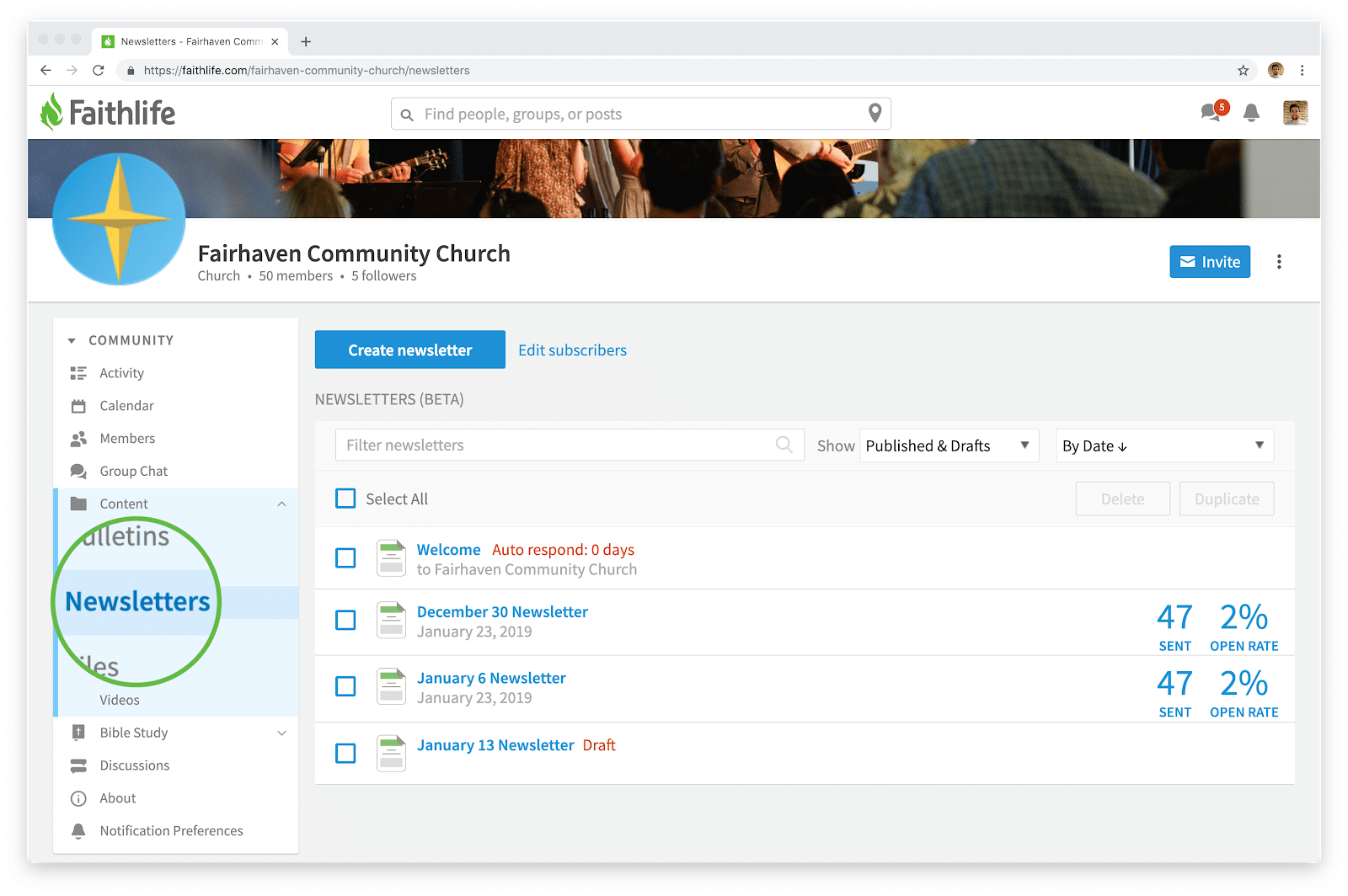 You can edit any newsletter by selecting its title. Once it opens, click Back to Edit to edit its content.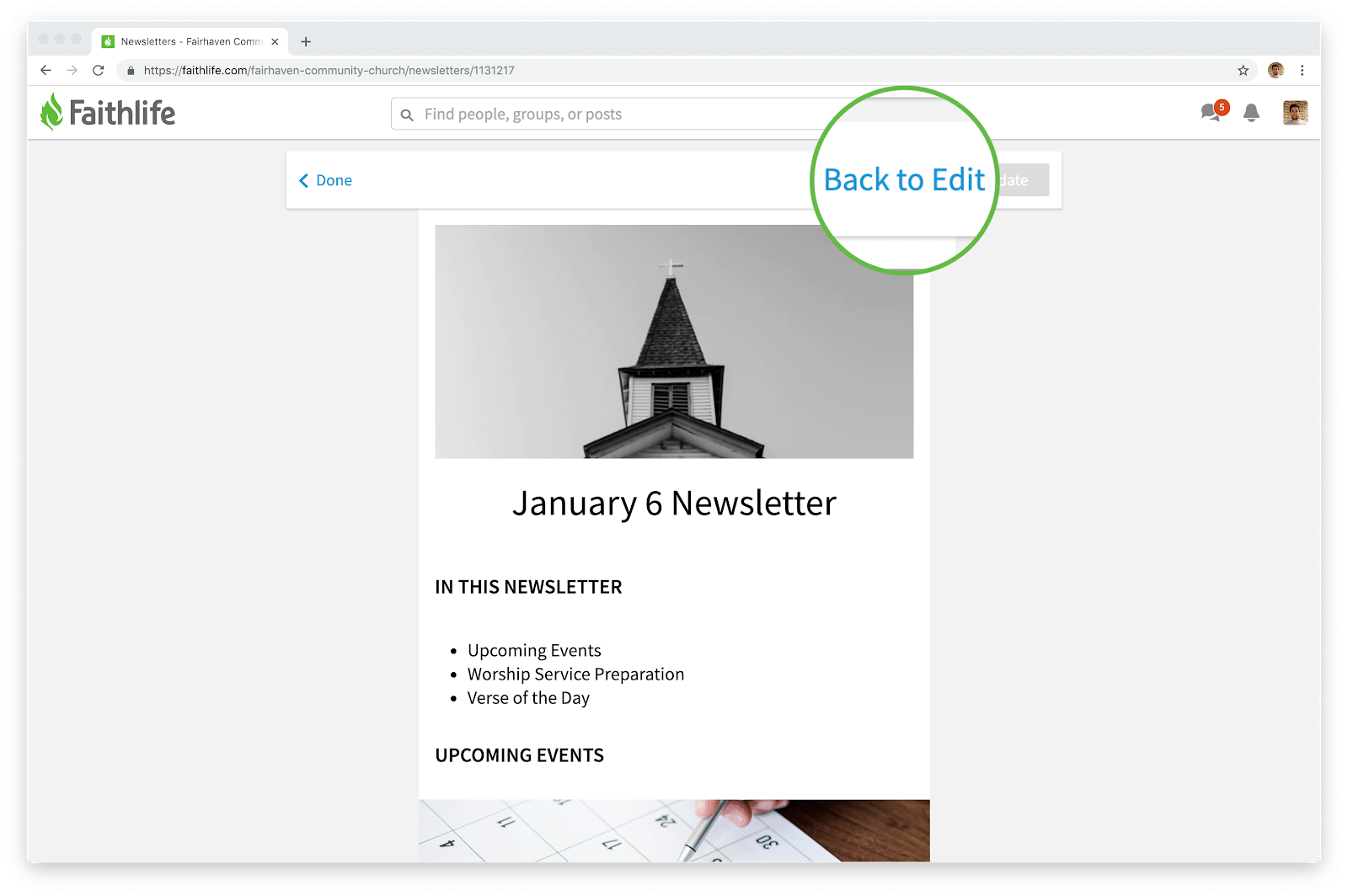 Note: You can even edit previously-published newsletters and the changes will show for members as they view the newsletters on Faithlife.com.
To delete or duplicate a newsletter, check the corresponding box and click Delete or Duplicate.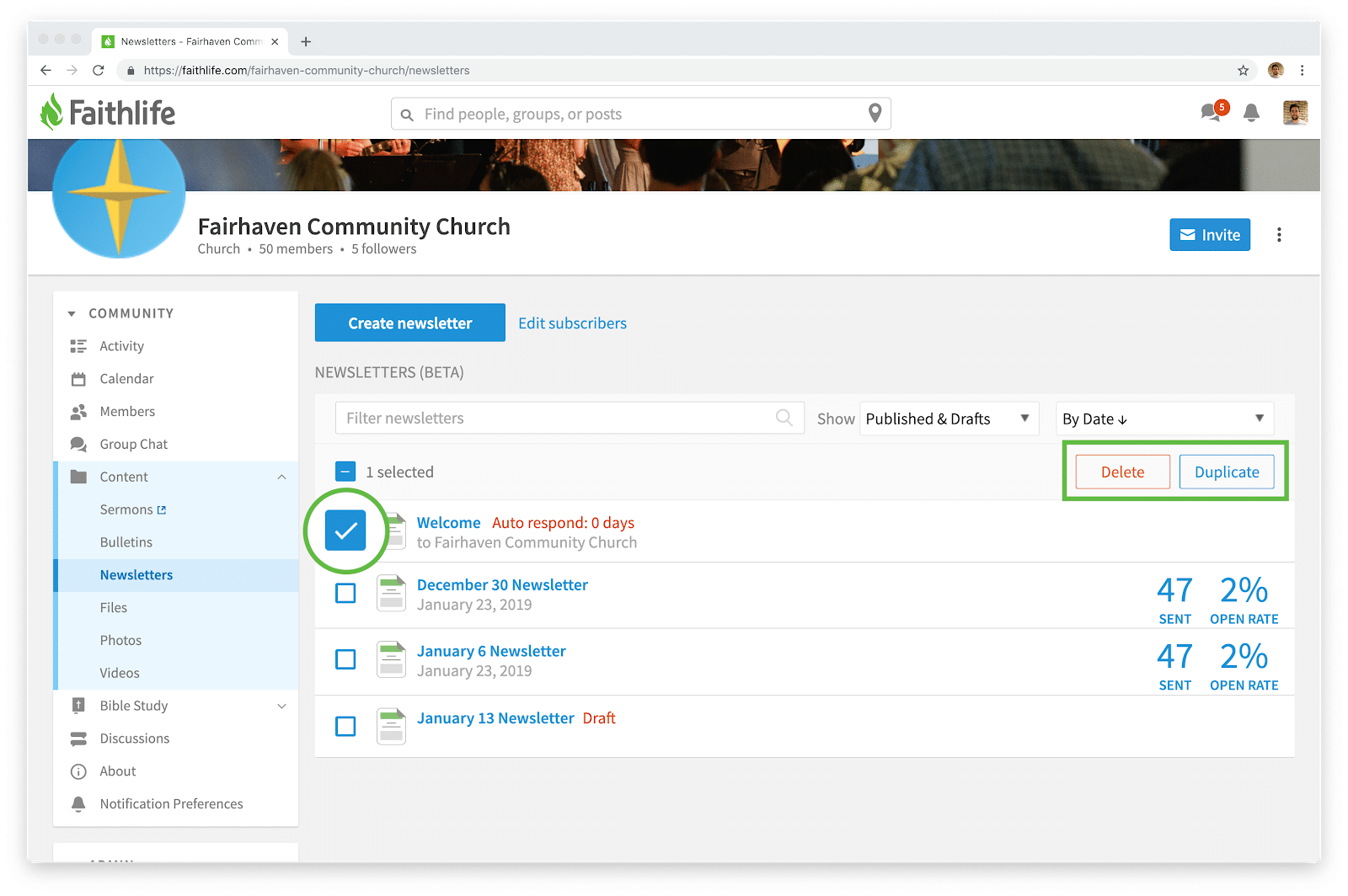 Tip: Duplicating newsletters often speeds up the creation process, especially if you send newsletters out weekly. Duplicate last week's letter and make changes only where necessary.