Keep your congregation connected with prayers, events, and church-related news in a well-designed newsletter formatted to look great on both desktop and mobile devices. Published Newsletters will automatically display on your Faithlife Site.
Skip ahead to:
Create and Publish a Newsletter
You can create newsletters from your church group on Faithlife.com. Follow the steps below.
1. Navigate to Newsletters.
Go to your church group on Faithlife.com and expand Content in the left-hand Community menu. Select Newsletters.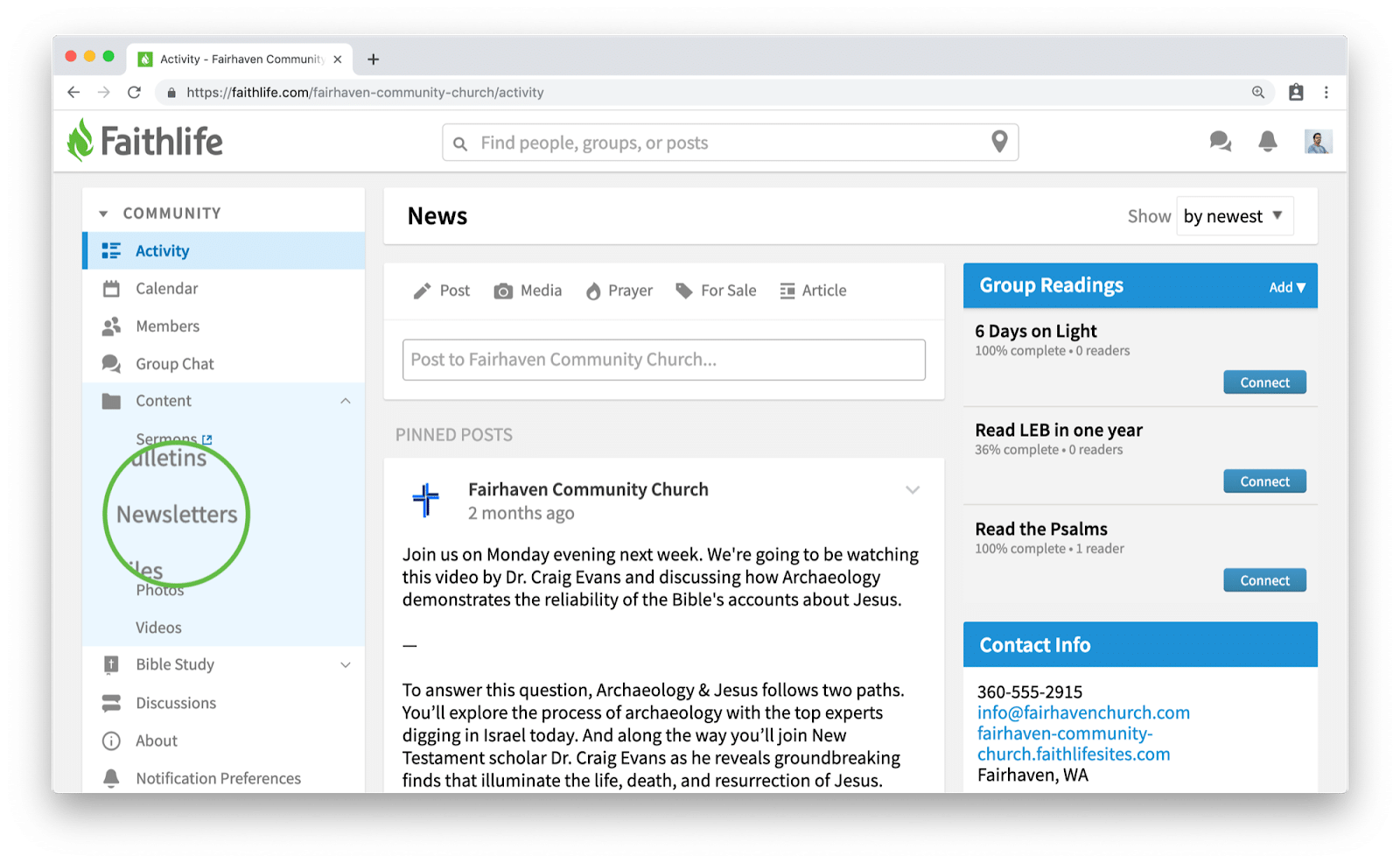 2. Click Create newsletter.
As an administrator or member of your church's Newsletter team, you will see any unpublished drafts and open rates for any published newsletter. To create a new newsletter, click Create newsletter.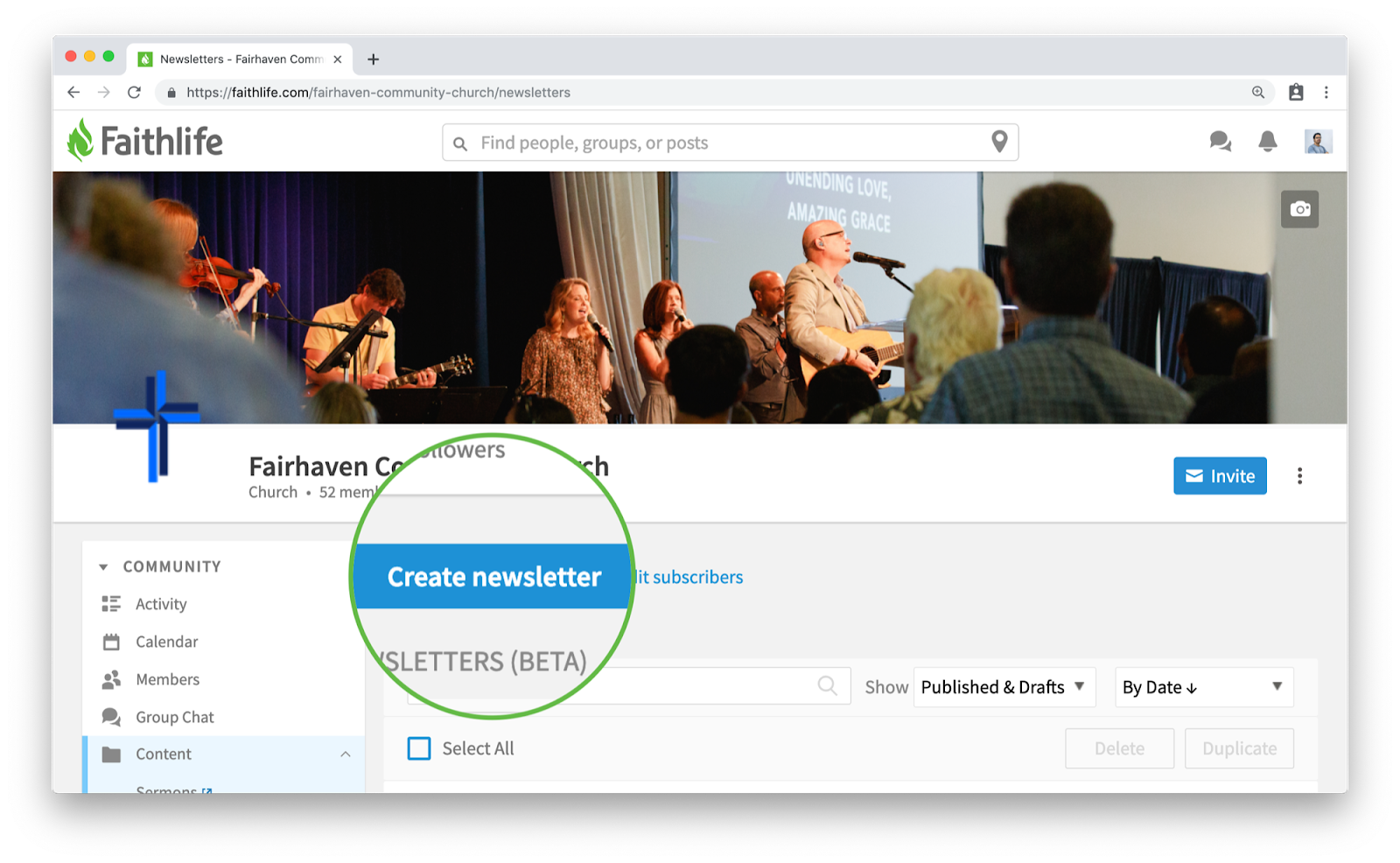 Tip: You don't need to start your newsletter from scratch each week. Duplicate a previous newsletter to save time. Select the box next to the newsletter you wish to duplicate and select Duplicate.
3. Add Newsletter items.
You can add any items to your newsletter from the left-hand Widget section. Because you create your newsletter with items you've already made (e.g., items from your newsfeed, prayer lists, calendar, etc.), it's easy to create a beautiful newsletter in a few moments.
Note: Your church group includes a free cloud file manager that integrates with your Faithlife Site. This means you don't have to re-upload images or upload multiple sizes of the same image. Upload it once and access it wherever you can add images.
To preview your newsletter, click Preview in the top navigation bar. You can also send a test newsletter to your email address by selecting Send Test. Click here for more help creating your newsletter.
4. Schedule and publish your newsletter.
By default, your newsletter will publish immediately. Click Immediately to schedule your newsletter to publish at a later date.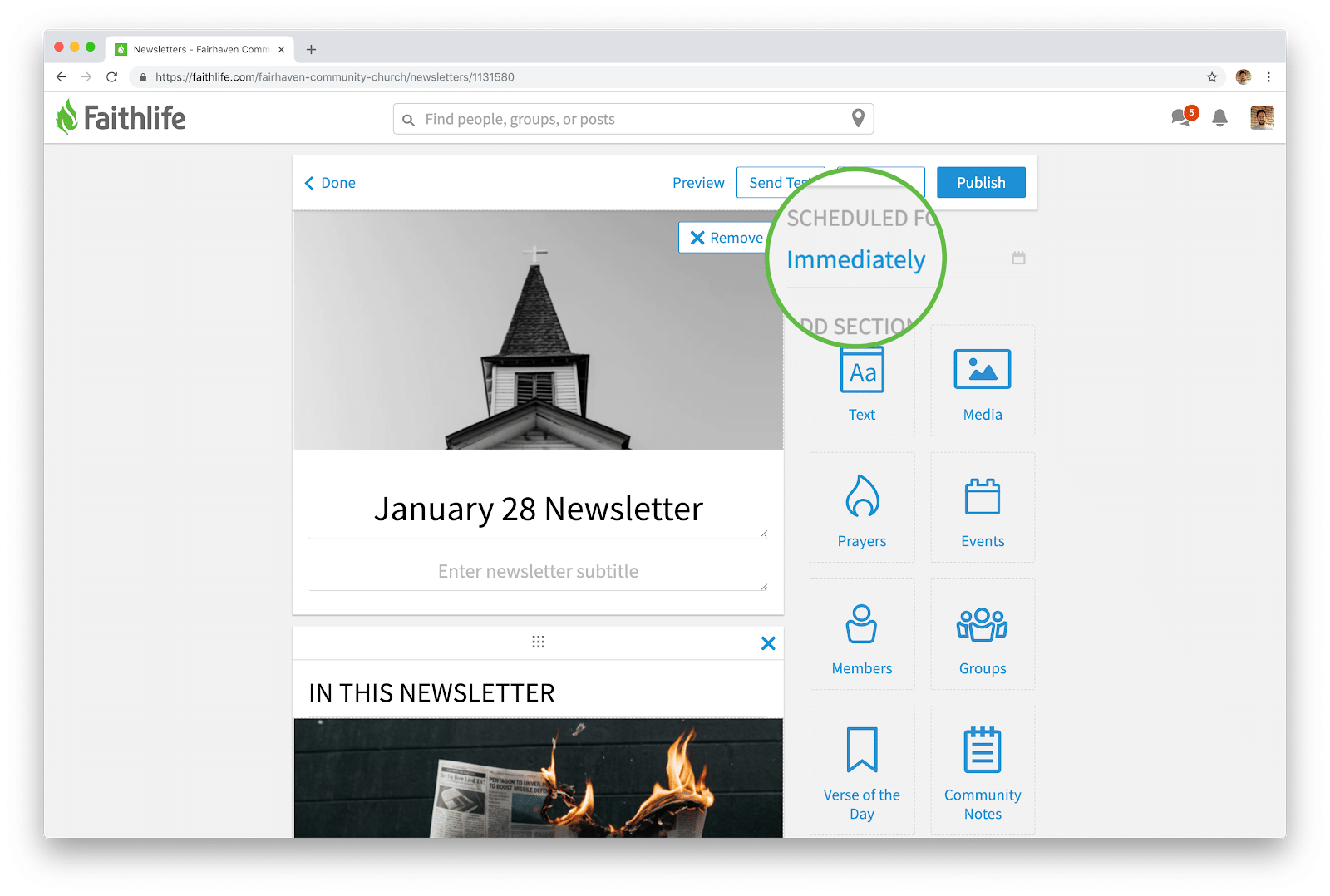 Set a new publish date and/or time using the date and time picker.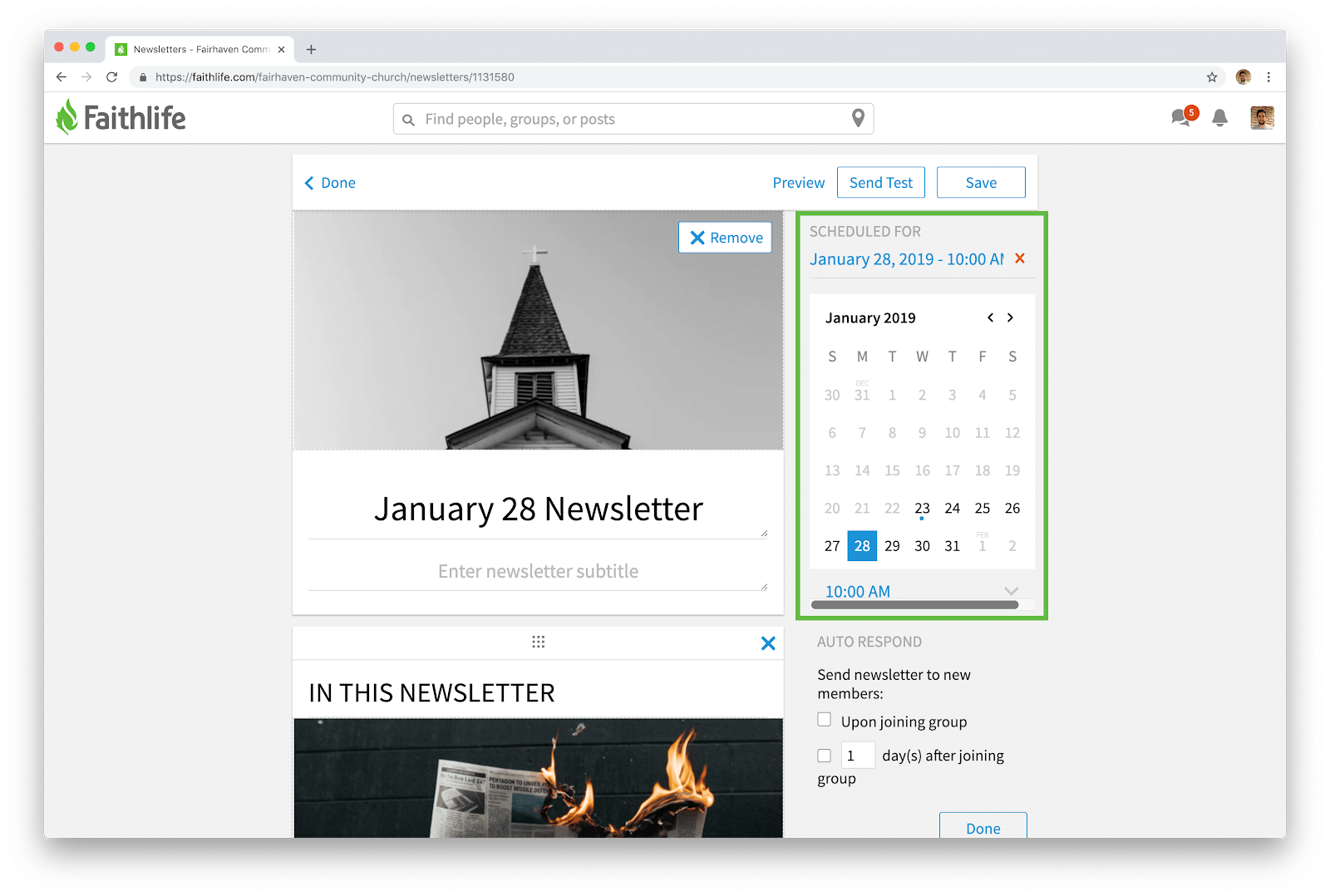 Click Done to secure your changes.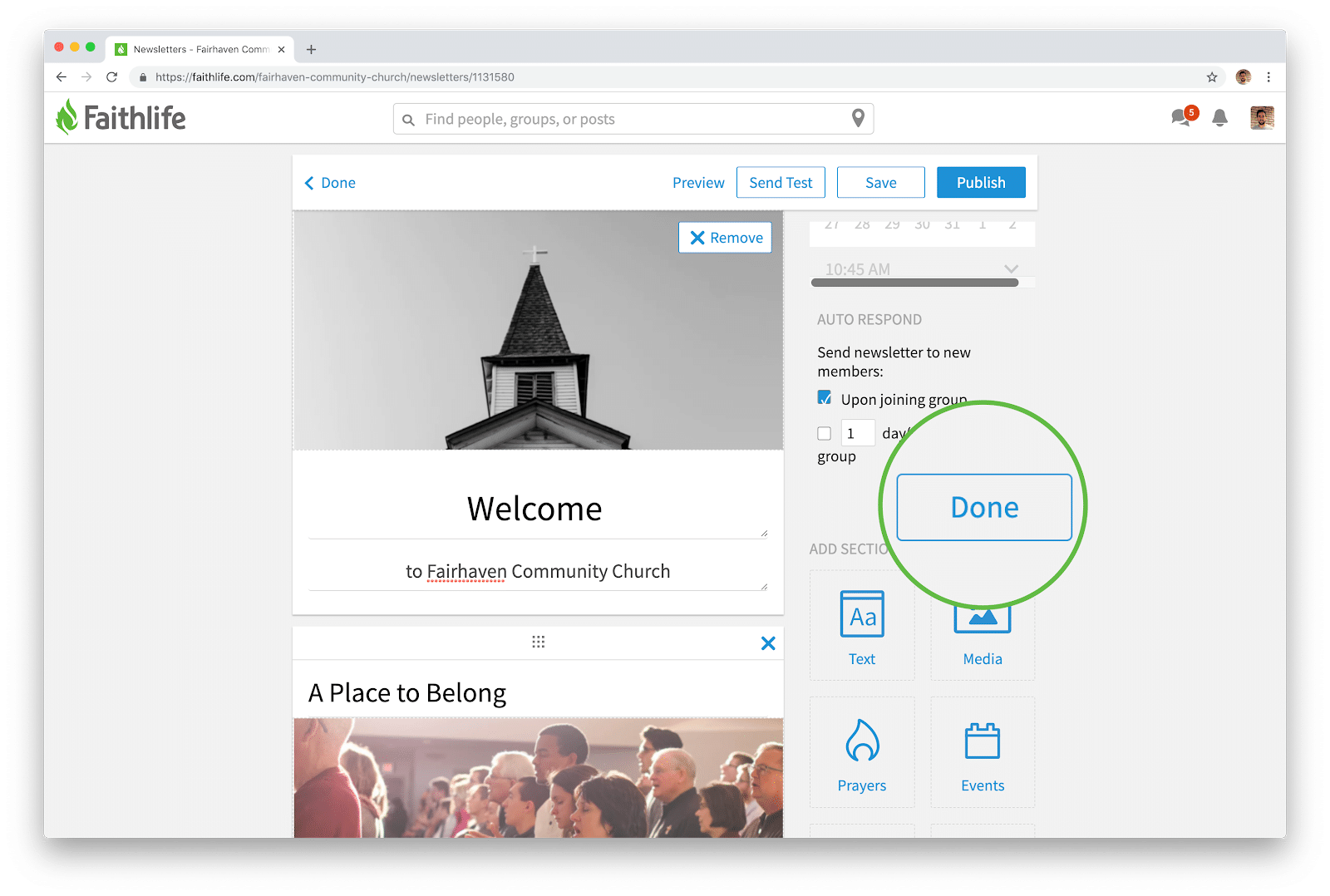 Click Publish to send out your newsletter at its scheduled date and time.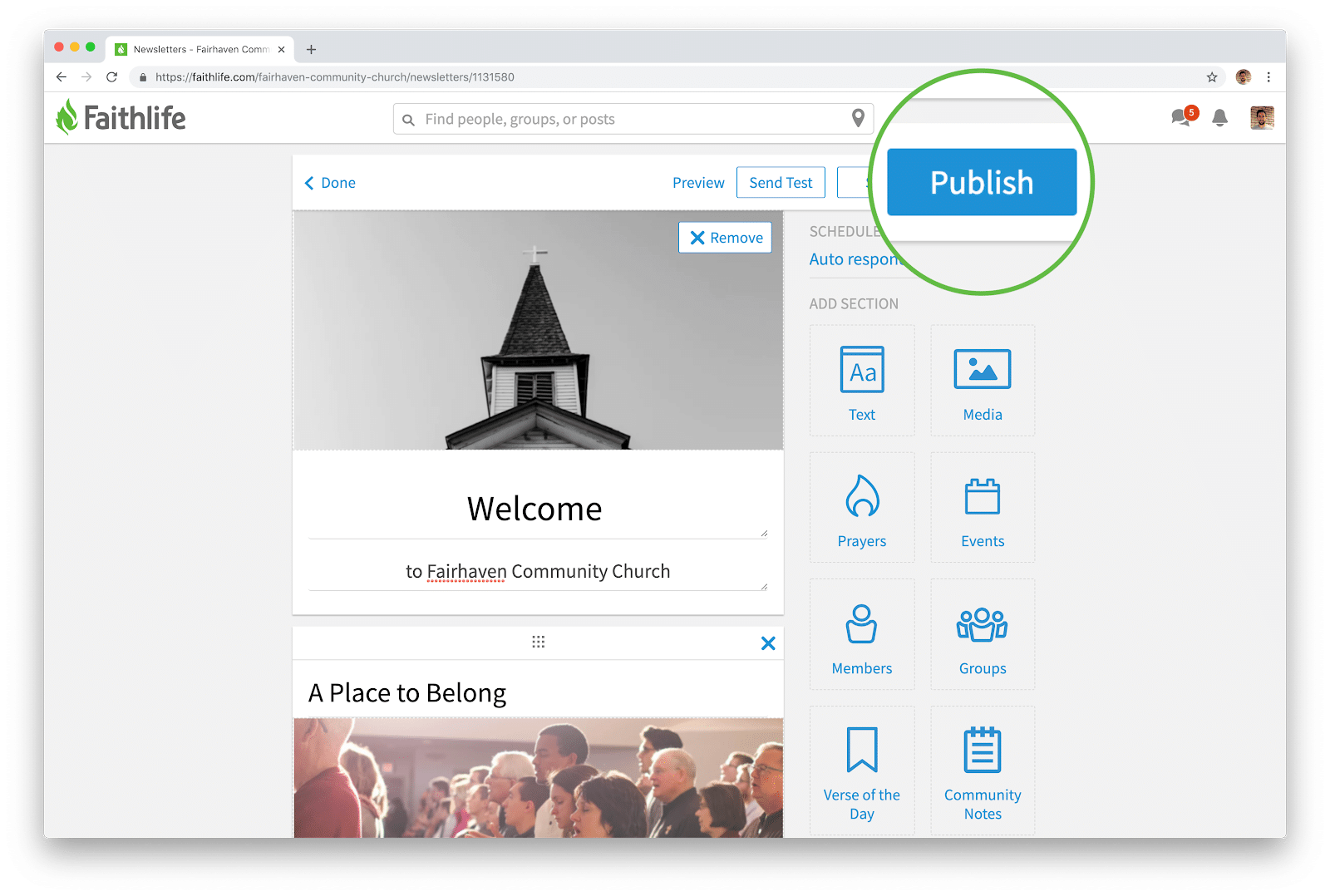 When your newsletter publishes, your website's public Newsletters page will automatically show the newsletter as well.
By default, newsletters will also send to members of your church group via email. You can, however, manually add email-only subscribers for those who are not members of your church group. Click Edit subscribers when viewing your newsletters on Faithlife.com and provide email addresses.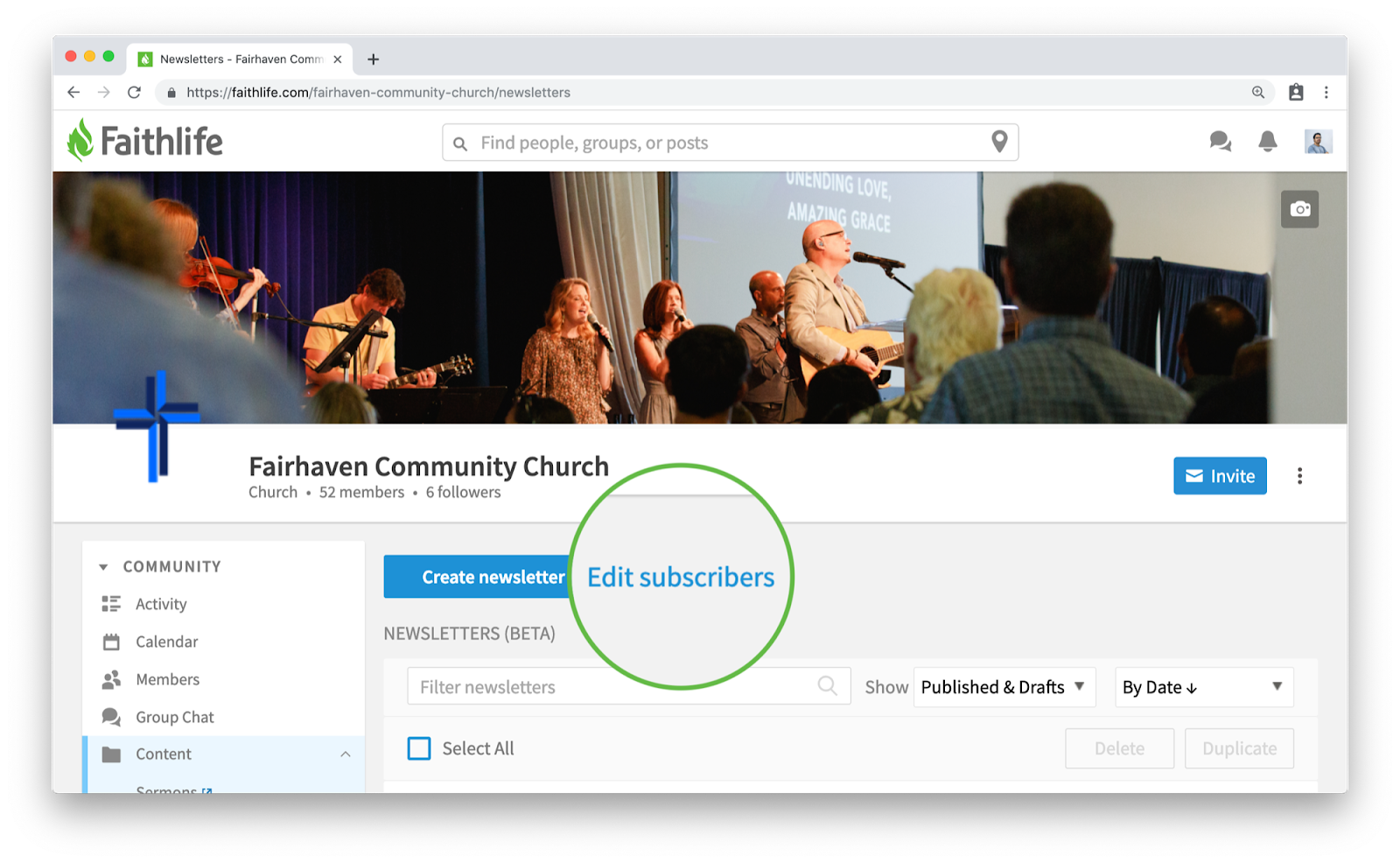 If your Faithlife Site includes a newsletter signup form, anyone who signs up will be added to your email-only subscriber list.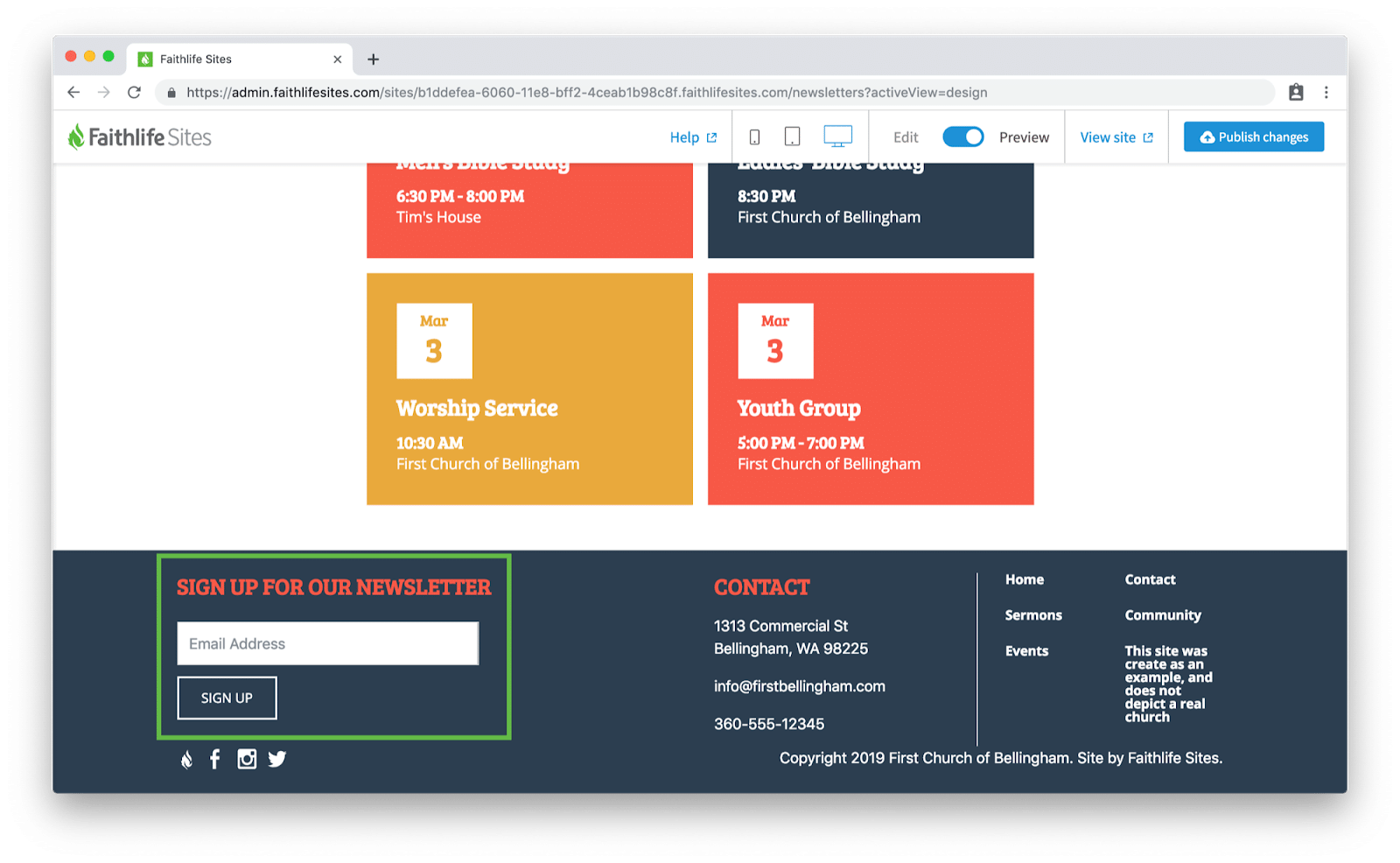 Show Newsletters on Your Faithlife Site
Any newsletter you publish automatically displays on your Faithlife Site's Newsletters page. You can adjust how newsletters display by following these steps:
1. Go to your church website.
If you haven't signed in, click Sign in in the top right-hand corner.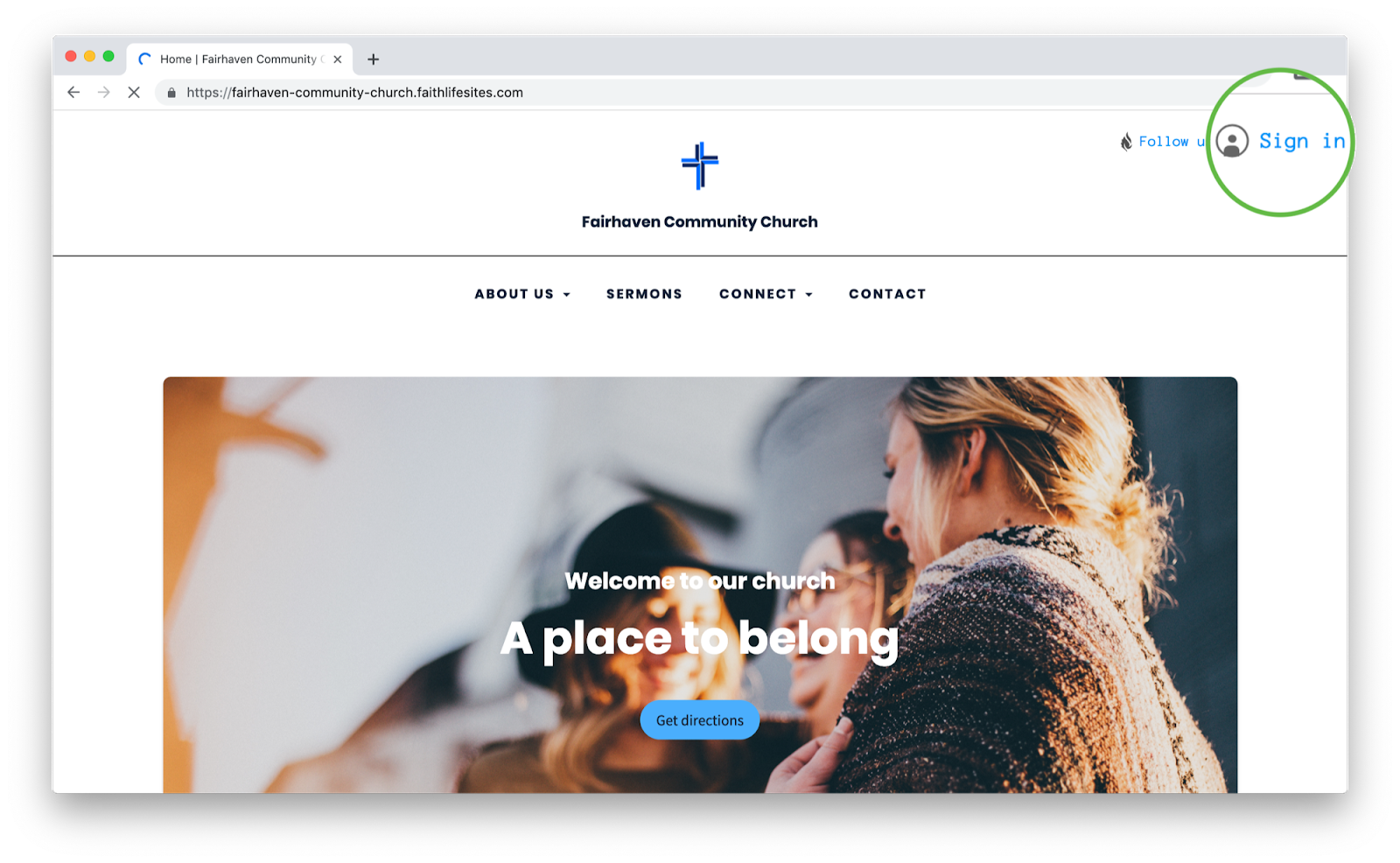 Once you're signed in, select Edit site.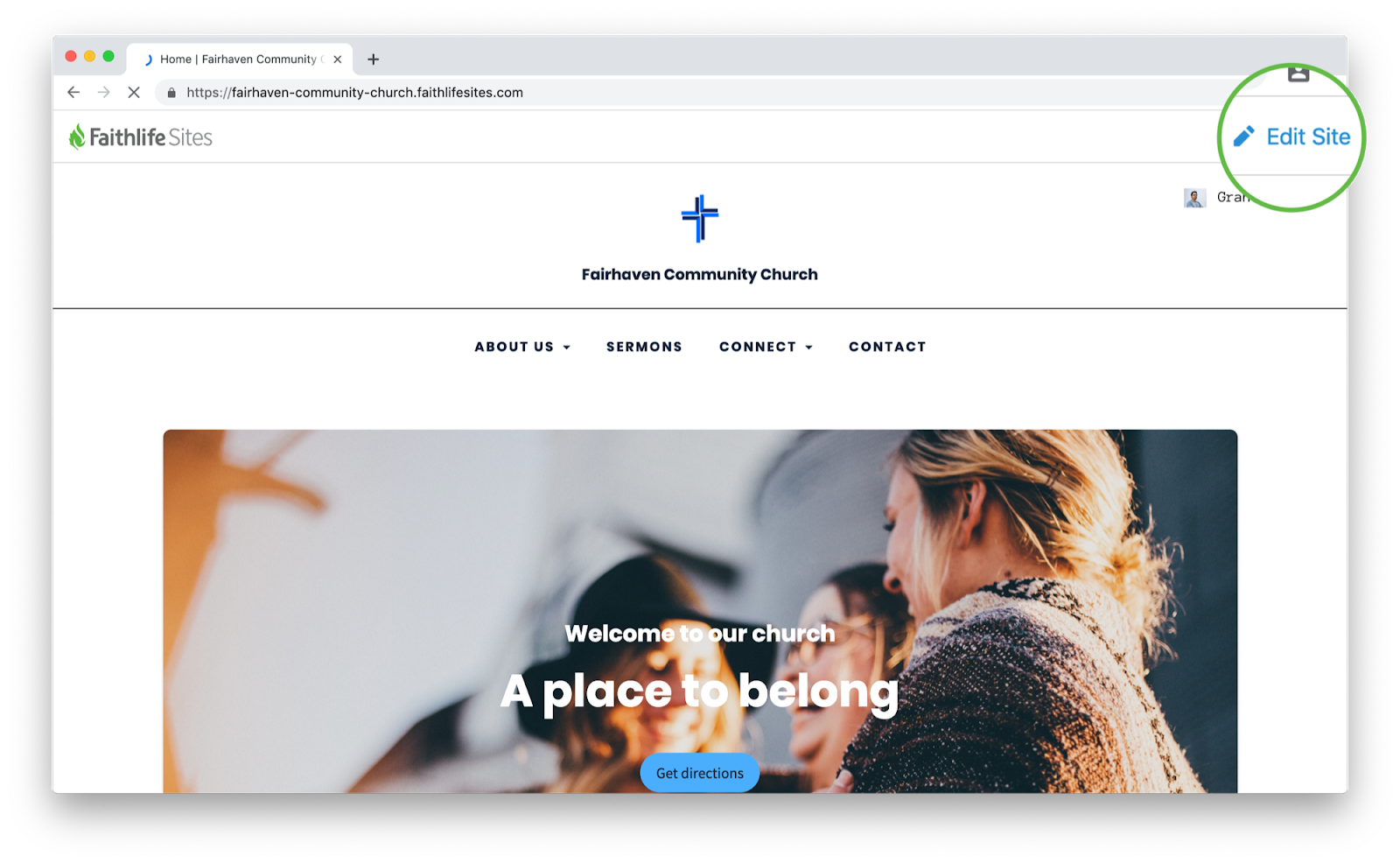 2. Navigate to your Newsletter page.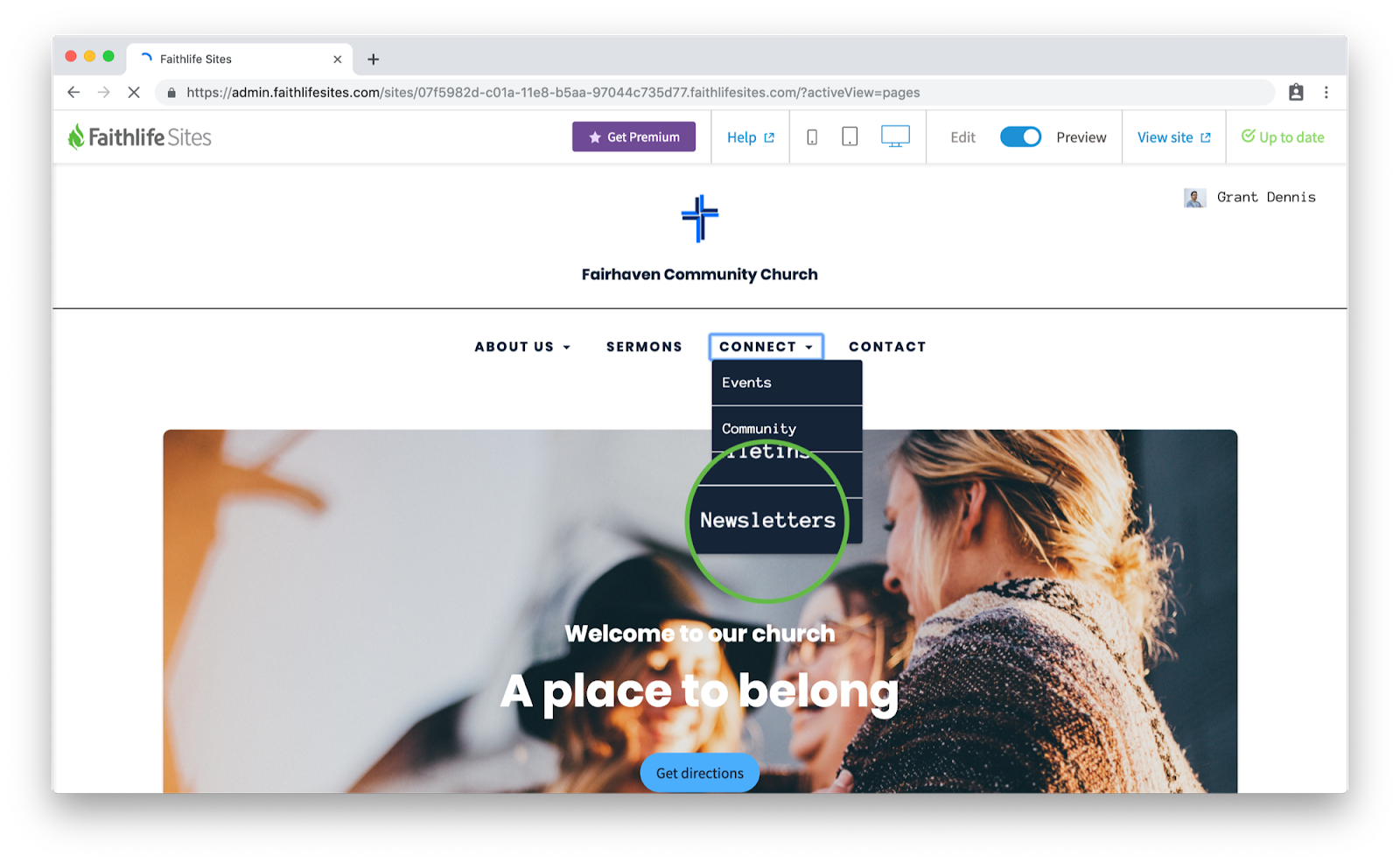 3. Edit the newsletter widget.
Ensure the slider is moved to Edit and select the blue edit icon

to adjust the newsletter widget.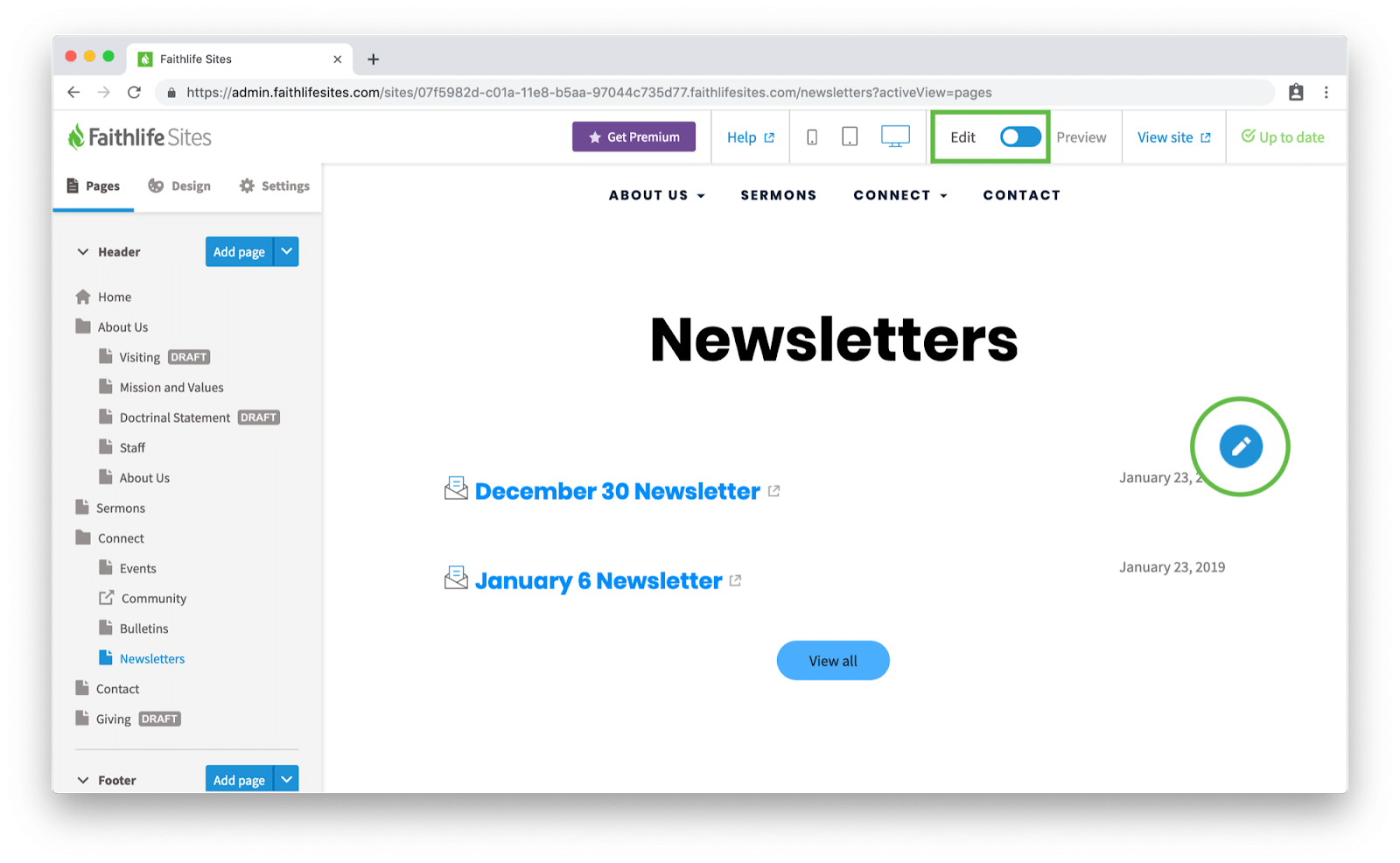 Remember: Your Faithlife Site is made up of widgets, which are customizable blocks of content. The auto-generated Newsletters page includes a newsletter widget that you can edit like any other widget on your website.
If desired, add a title and adjust the layout style. You can also choose to show All available newsletters or only a certain number (e.g., like the last five). Check Show "View All" link to provide a link to all your previously published newsletters.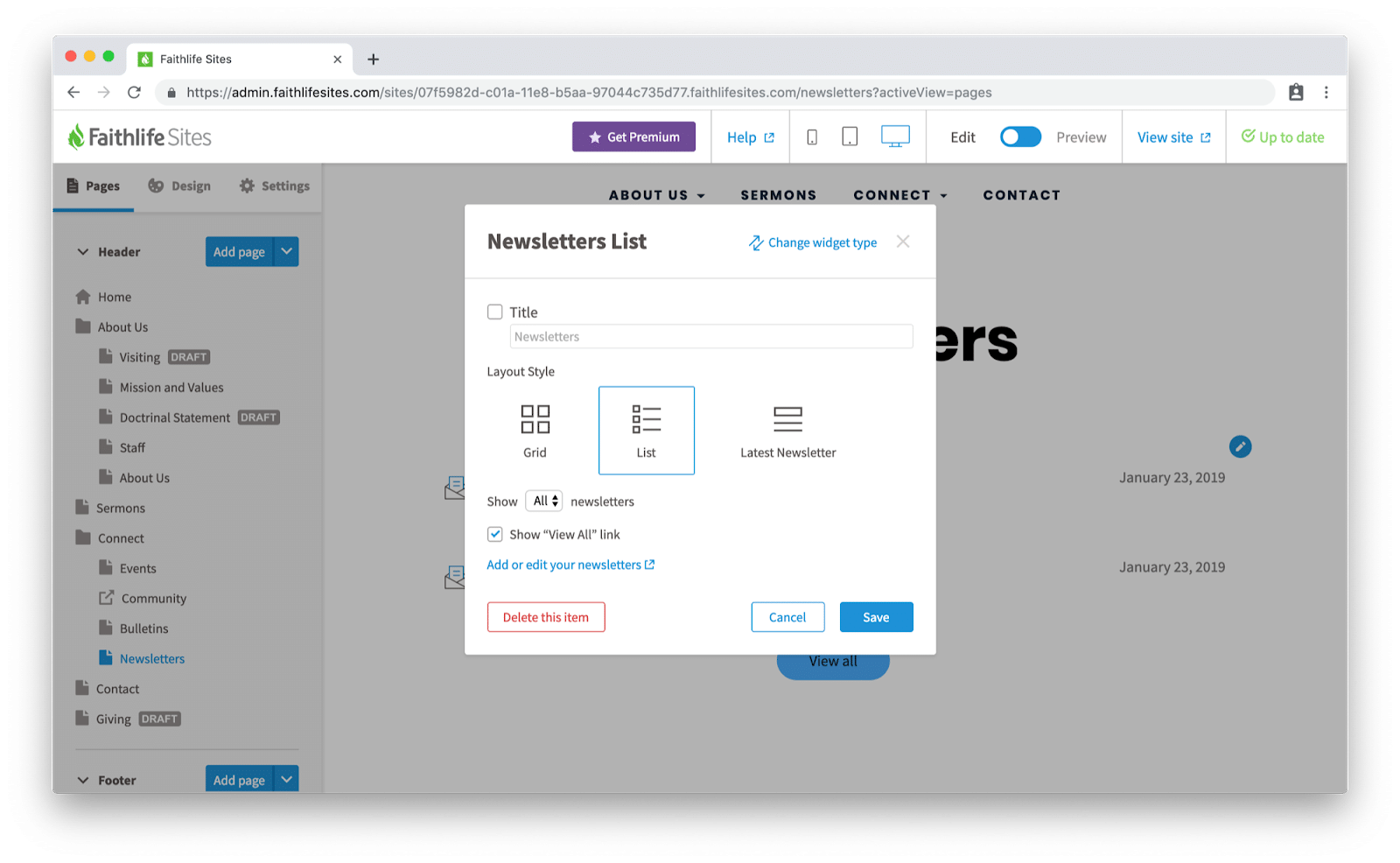 When finished, select Save. Be sure to Publish changes to finalize your adjustments.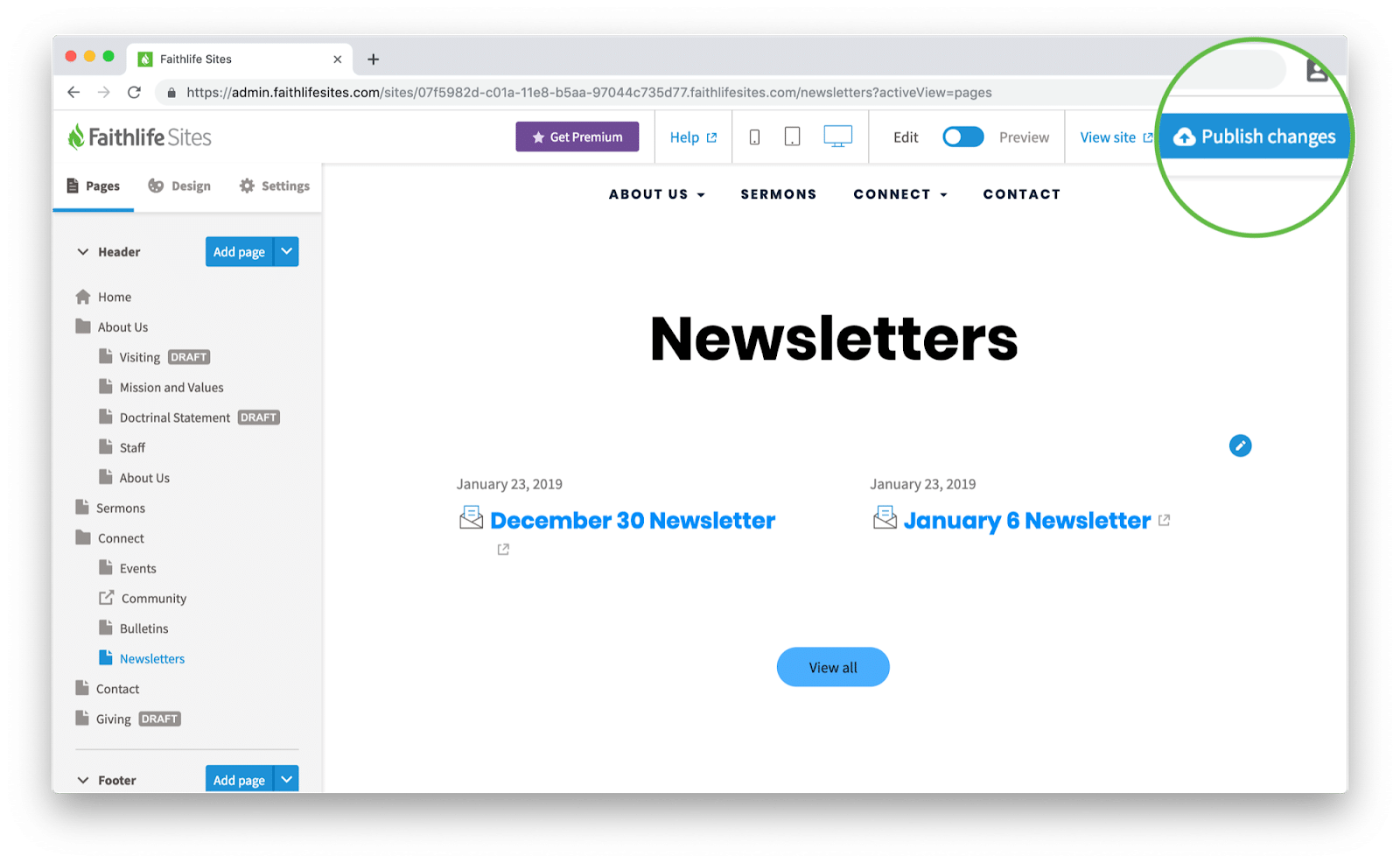 Note: You can display your newsletters anywhere on your site by clicking the blue add widget icon

and adding a newsletter widget. The display settings for each newsletter widget on your site can be adjusted using the methods above. You may, for instance, display all your newsletters on your Newsletters page but add a newsletter widget to your homepage that always shows only the most recent newsletter.