Faithlife Sites allows you to embed different types of files in your church website using widgets: the Photo widget, the Video widget, and the Document List widget. Each of these widgets displays content from your group's file vault.
Photo widget: supports all standard image formats, including PNG, JPEG, GIF, and SVG
Video widget: supports all standard video formats, including MOV, MP4, WMV, and AVI
Document List widget: supports DOCX, PDF, HTML
Once adding your content, make sure your page's status is set to Published, then click Publish Changes.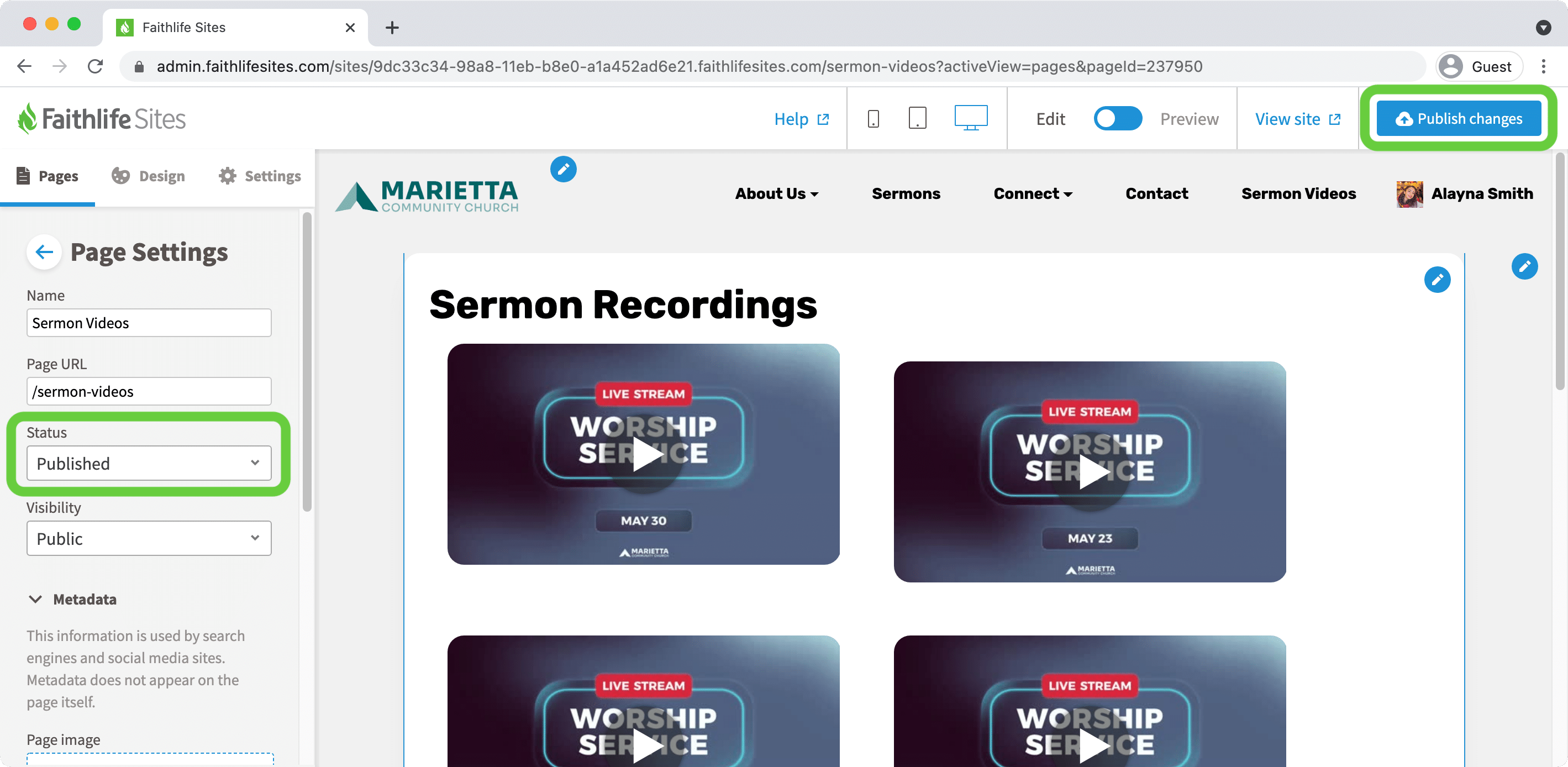 Skip ahead to:
Set proper permissions.
In order for your content to be visible to the public, you must set the content's Can View setting to public. The simplest way to ensure all your content is public by default is to change your group "View files in the group" permissions to Public.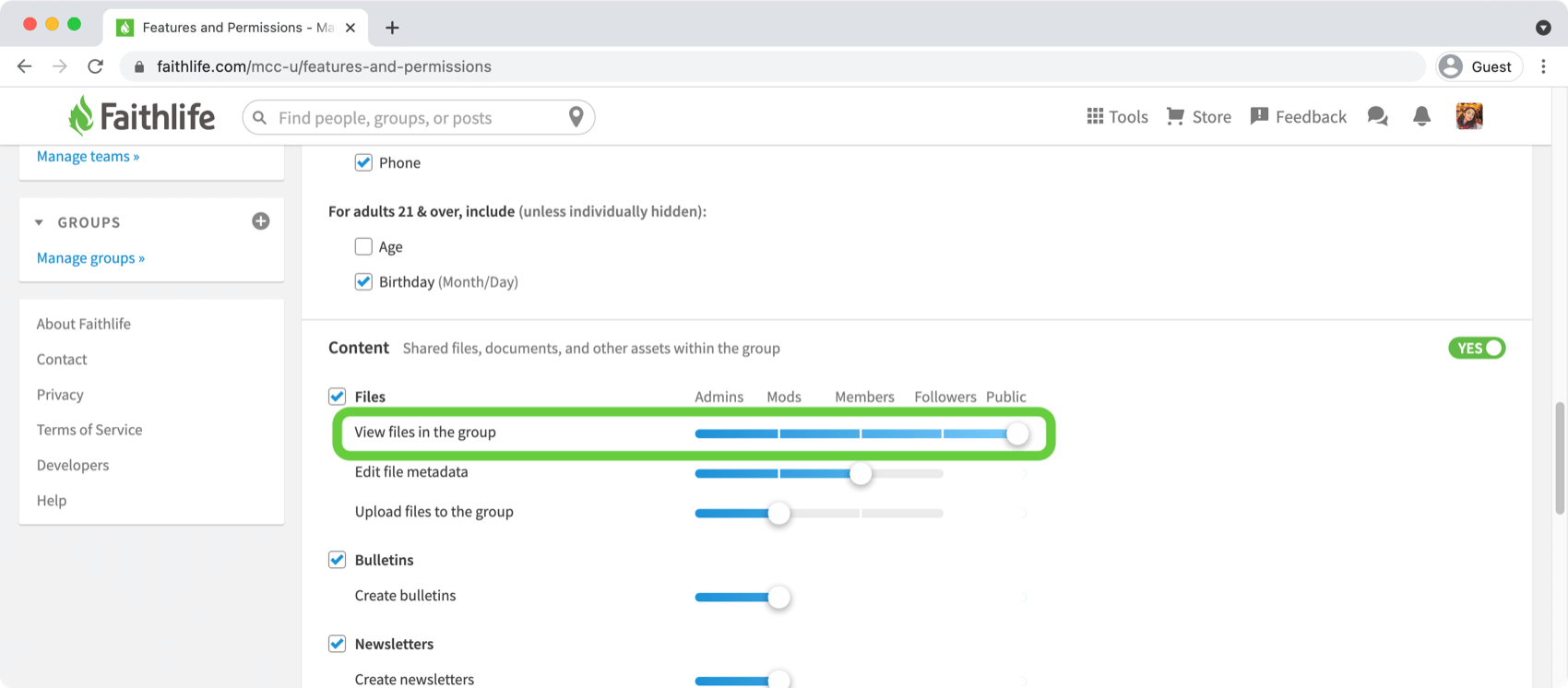 Note: Admins or moderators of your group can change group permissions from the Admin panel of your church group. Expand Settings, select Features and Permissions, and drag the slider to set the permissions. Learn more.
Alternatively, you can set your "View files in the group" master permission to something more restricted and change individual file permissions to Public when needed. Open a file and change the Can View setting to Public. For videos, you must also change the Status to Published.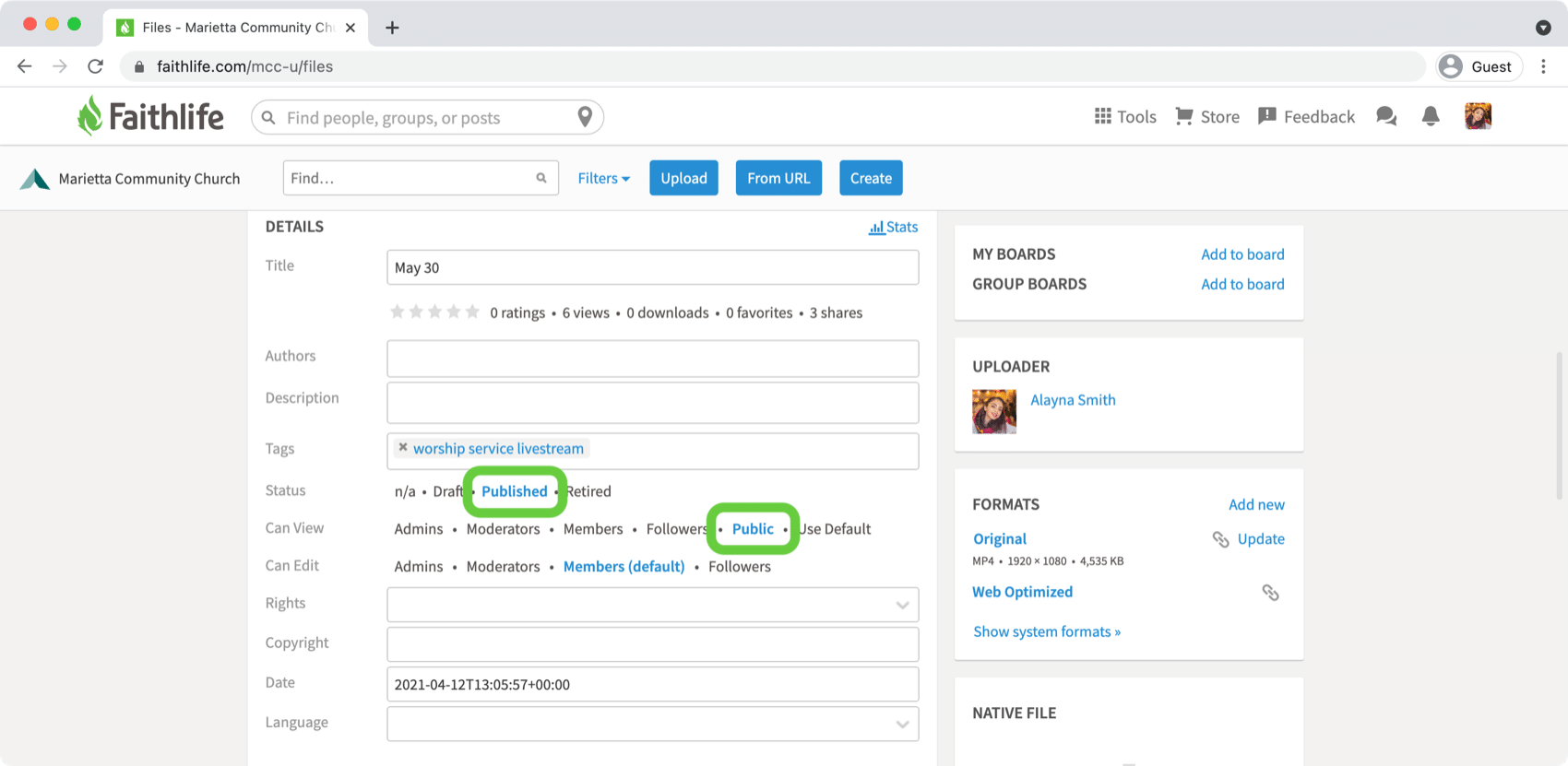 Note: Learn more about uploading, tagging, and setting permissions for files.
Add a widget to your site.
Faithlife Sites distribute information via widgets, which are blocks of space on your church website that hold content. To add a photo, video, or document to your website, add the corresponding widget to your site.
Navigate to your website and click Edit Site. Open the page where you want to embed the video, or create a new page. Click the blue plus icon

in the section where you'd like to add the widget.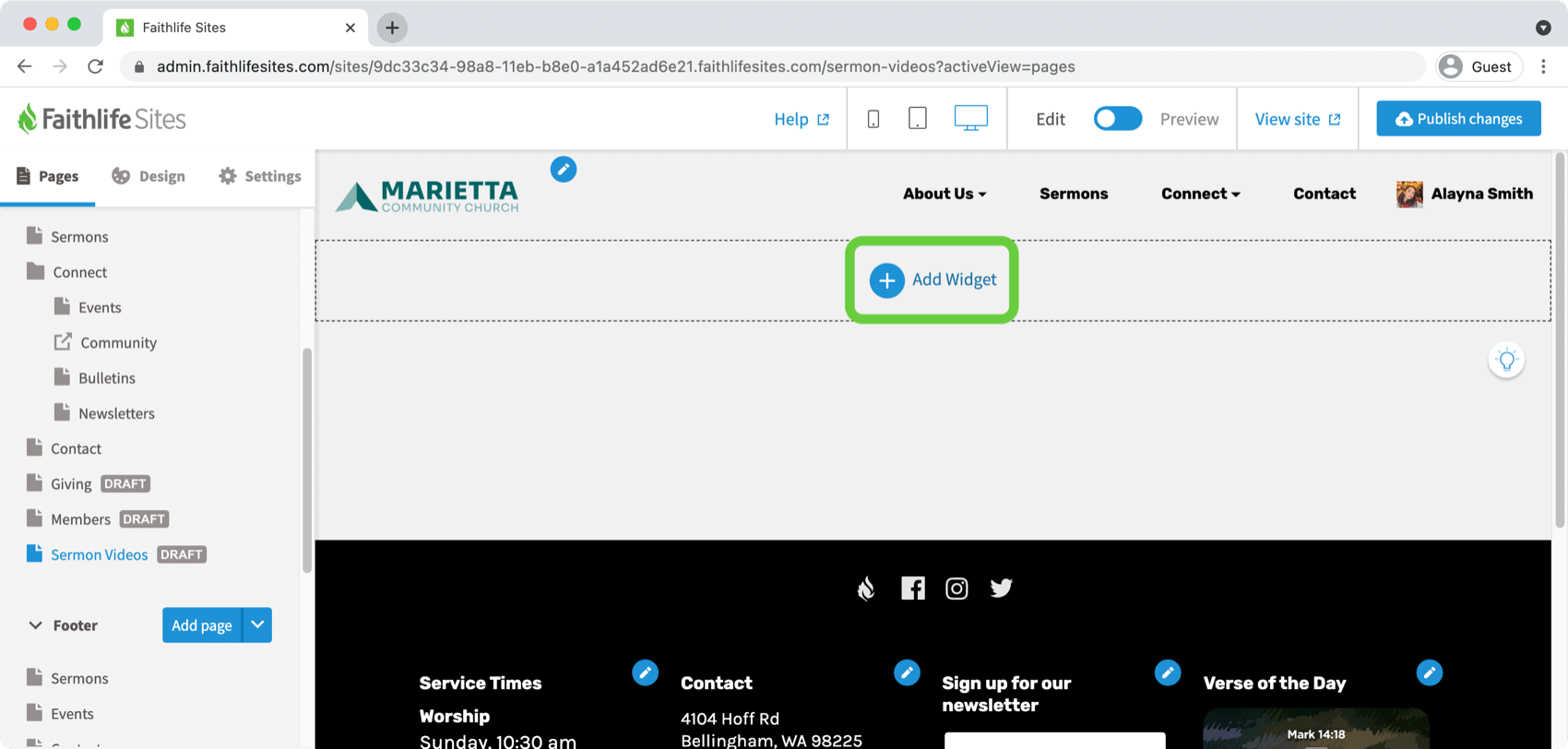 Select the Video, Image, or Document List widget.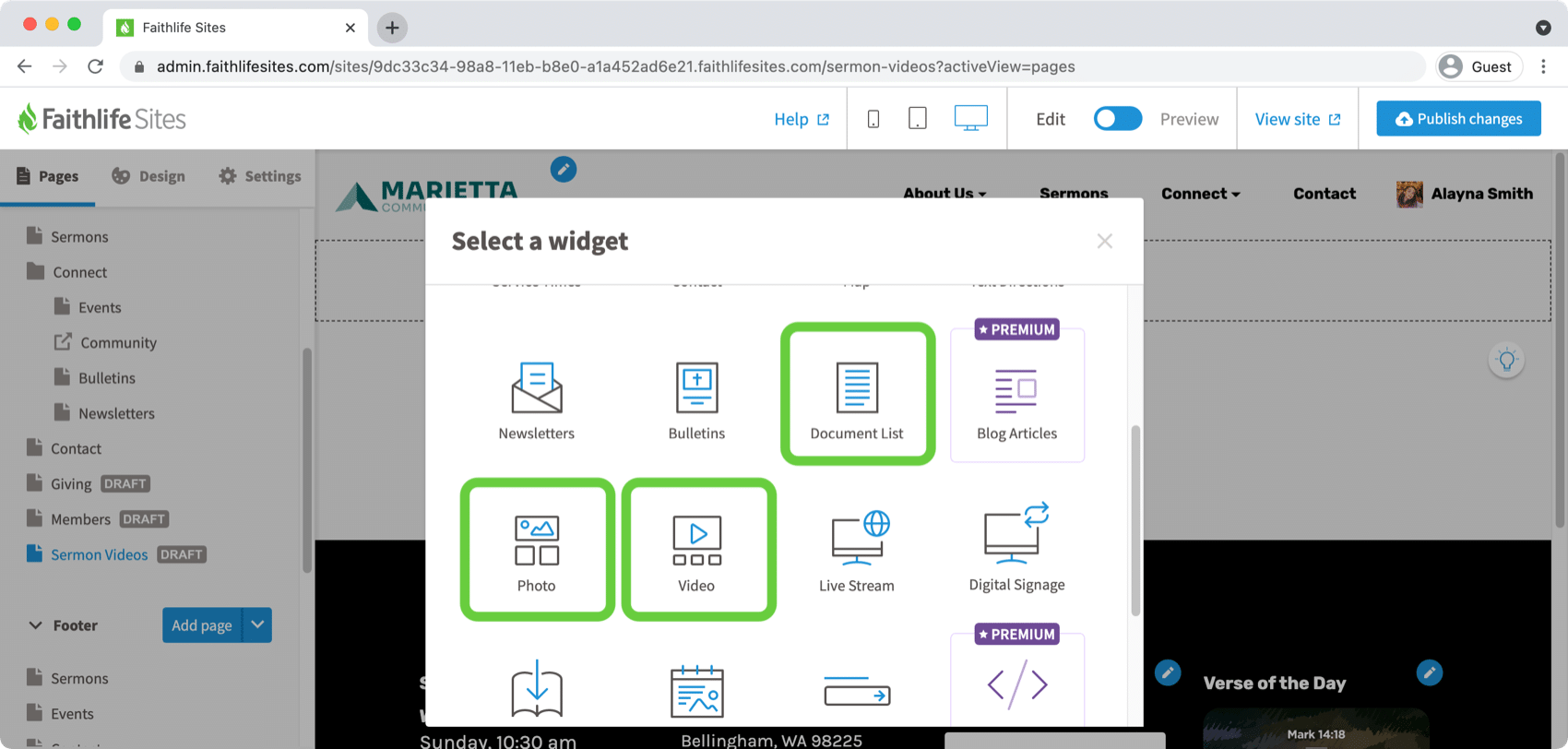 Note: If you want to embed an external video on your site (e.g., from YouTube, Vimeo, etc.), you'll need to use an HTML widget.
Add a custom smart filter.
By default, the Image, Video, and Document List widgets show the most recent photos/videos/documents that have been uploaded to your church group. To specify or upload the files you want to display, click Create smart filter.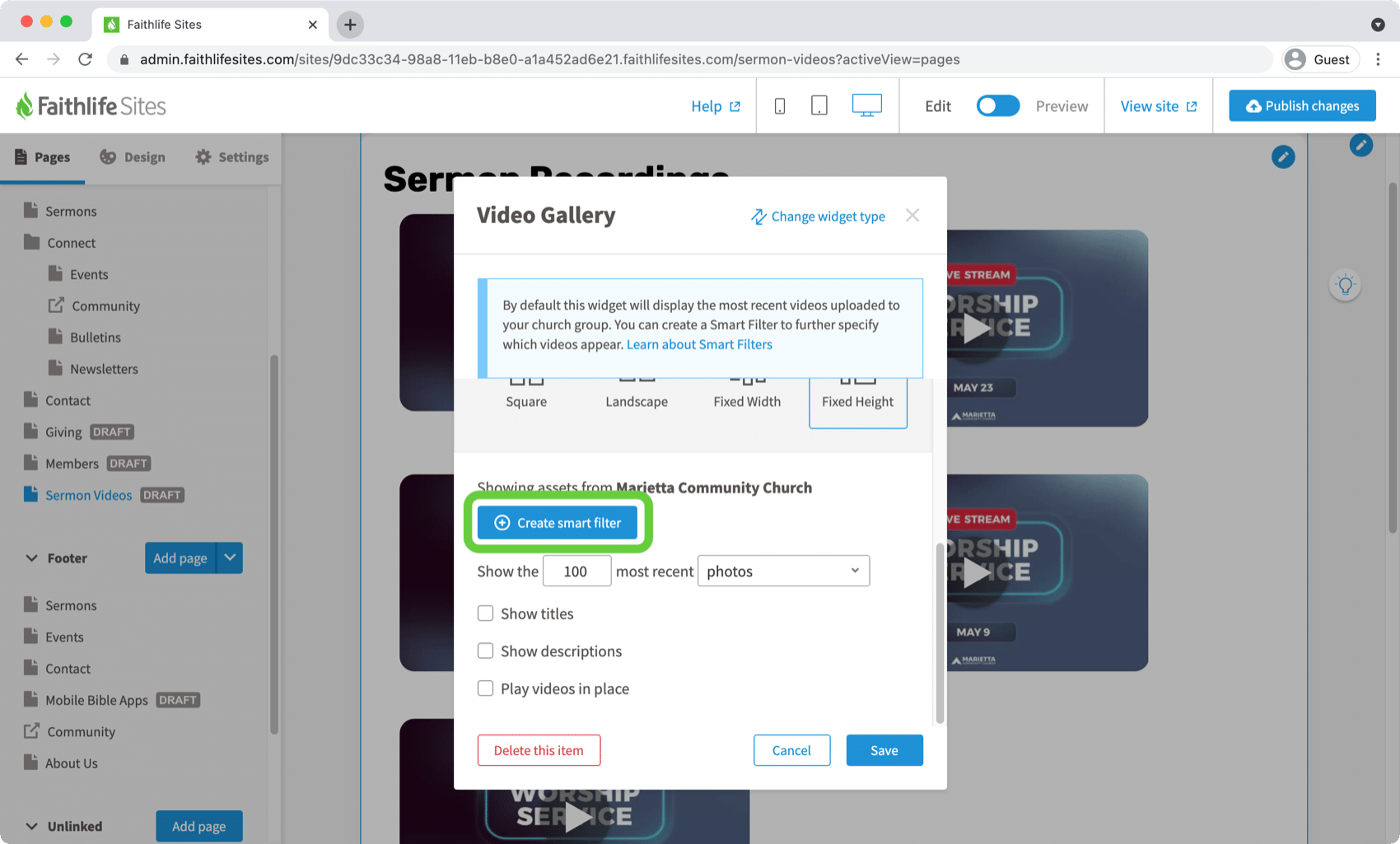 Note: Smart Filters are live, so that as you add more media that matches your filter, that media will automatically show in your widget.
To setup a smart filter, search your files to show only the files you want to display. For example, if you want your page to show videos from your previously live-streamed services only, ensure all of the videos of that service are tagged "livestream" then enter "livestream" in the smart filters search box. Click Done. Learn more about tagging your content.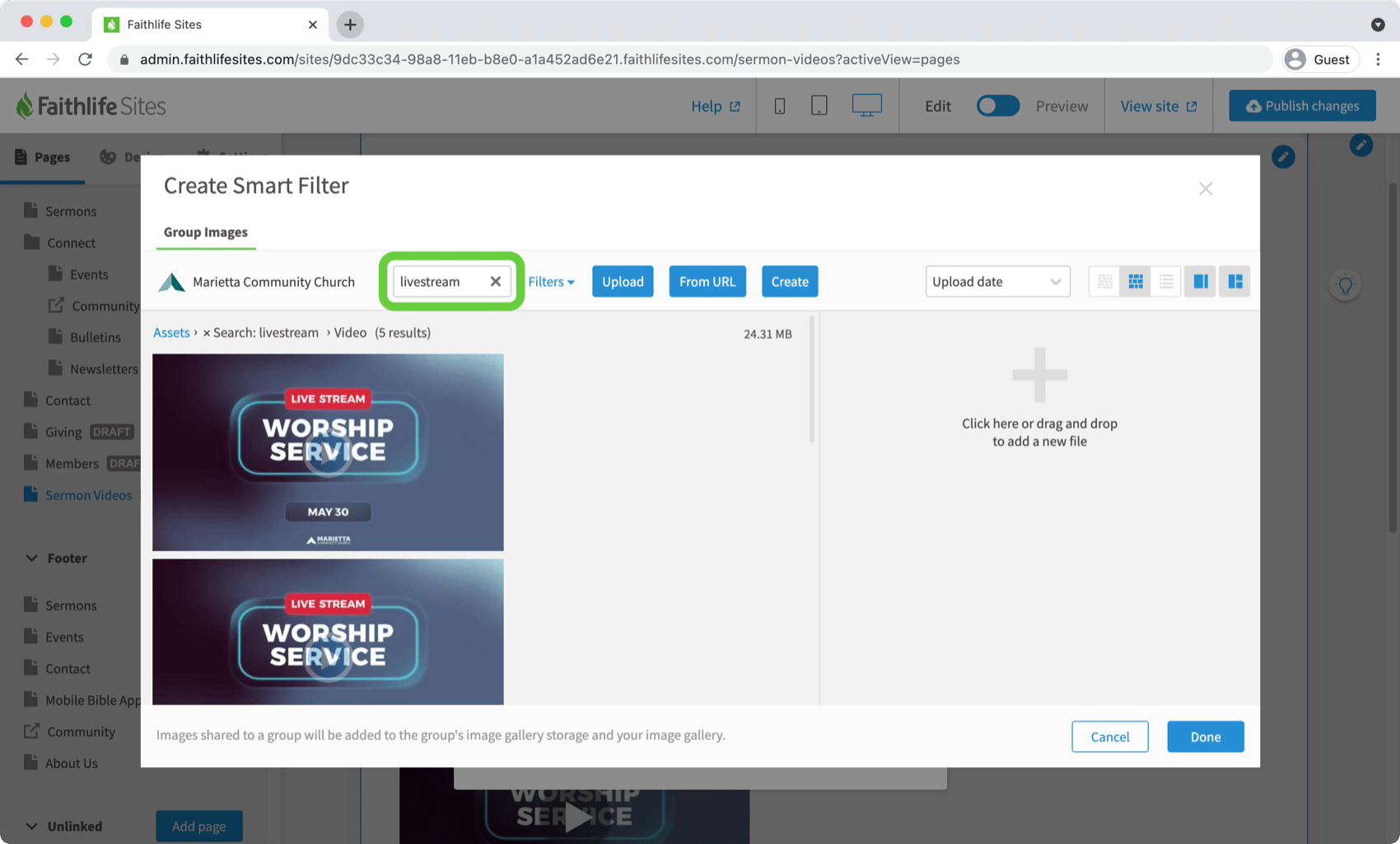 Note: Remember, in order for media to show for public visitors to your site, the media's Can View setting must be set to public. Learn more about uploading, tagging, and setting permissions for files.
Show only specific content.
The easiest way to show only specific content is to upload the files when creating the smart filter. For instance, if you want to add a specific set of photos on a page, follow the steps above to create a new Photos widget and click Create smart filter. Then drag and drop photos into the window, or select Upload Files or Upload from URL.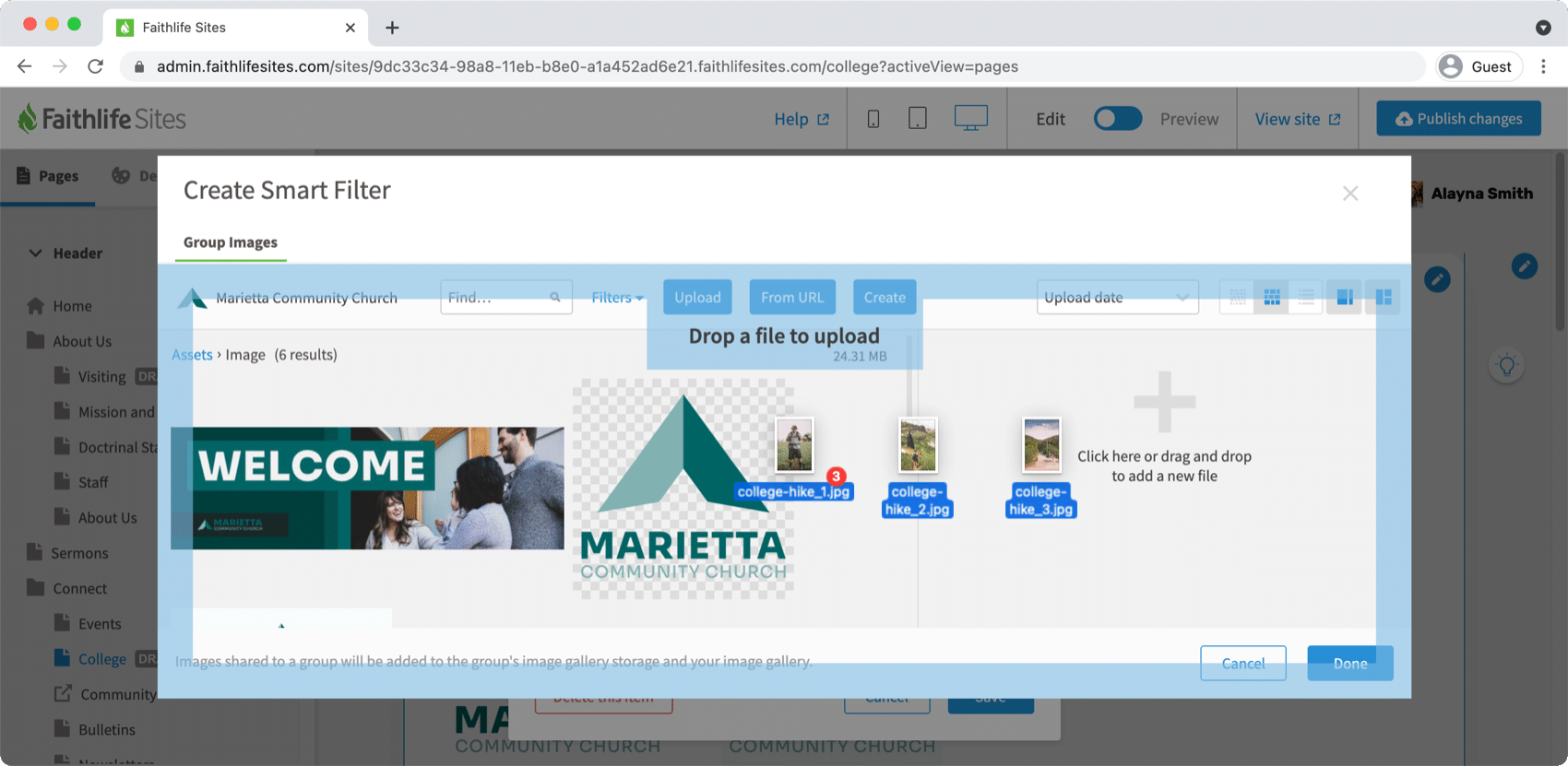 After your files have finished processing, you'll see that the file manager auto-filters to only show the files you've uploaded. Because the smart filter is tied to this specific upload, the photo widget will only ever show the specific group of photos you uploaded.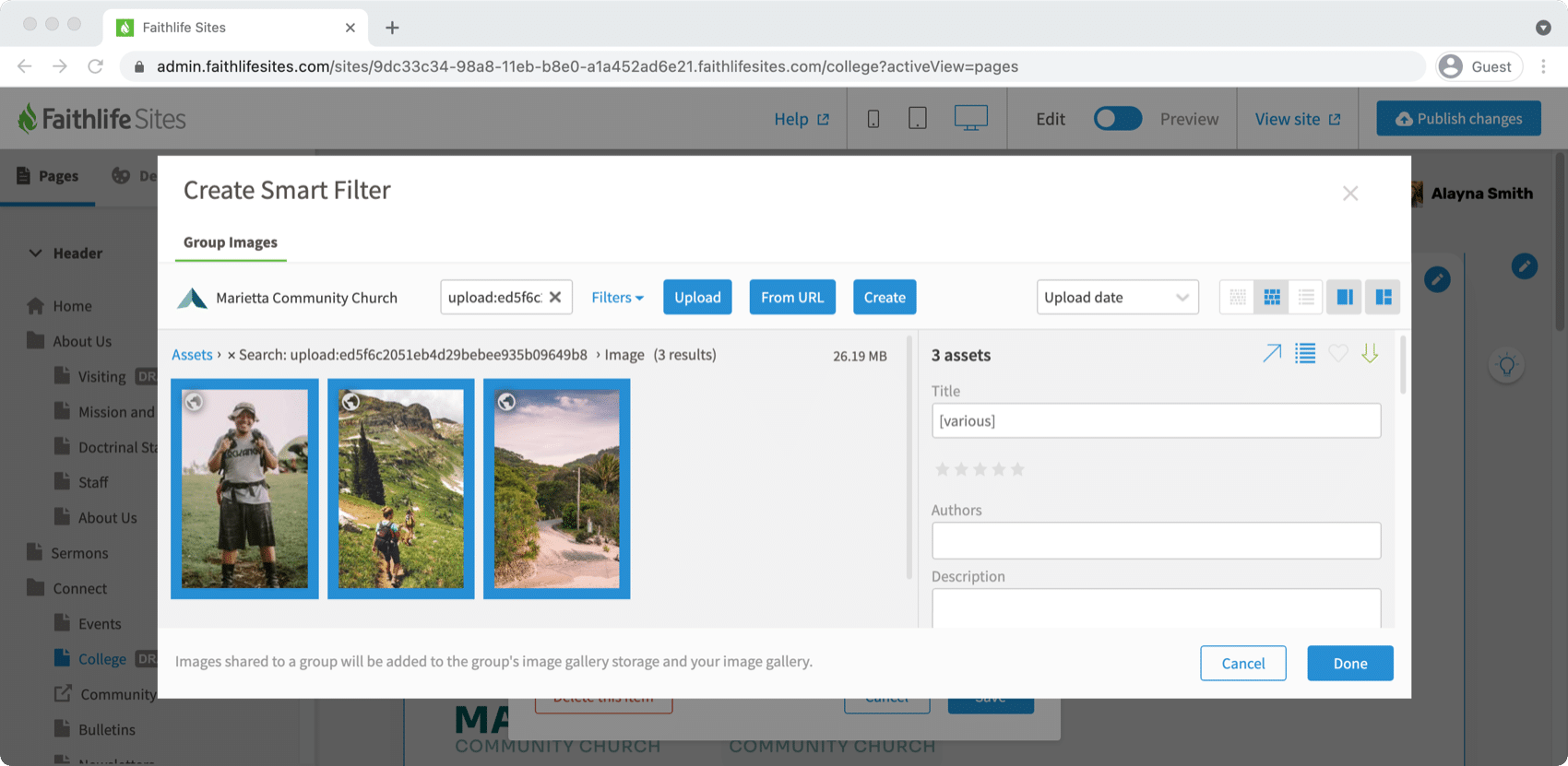 Troubleshooting widgets.
If your content isn't displaying in the widget, ensure that the file manager settings are correct for your content:
Status is set to Published.
Can View permissions are set to Public (unless you specifically want to restrict content to members of your group).
Rights and Copyright fields are empty.