With Faithlife Giving, you can add manual gifts (i.e., cash, check, etc.) from your Finance Team. This means you can keep all donations to your church—those online, check, and cash—together in Faithlife Giving.
Keeping all your gifts together not only helps you stay organized, it also means you can export all your gifts—those given online and those given via another method—from Faithlife Giving directly into your church's accounting program. For your givers, their year-end giving statements will always include all donations to your church.
1. Navigate to the Gifts menu.
Go to your church Finance Team on Faithlife.com. (If you don't know where to find it, log in to Faithlife.com, go to your church group, and click Finances in the left-hand sidebar.) Once in your Finance Team, click on Gifts in the Admin sidebar.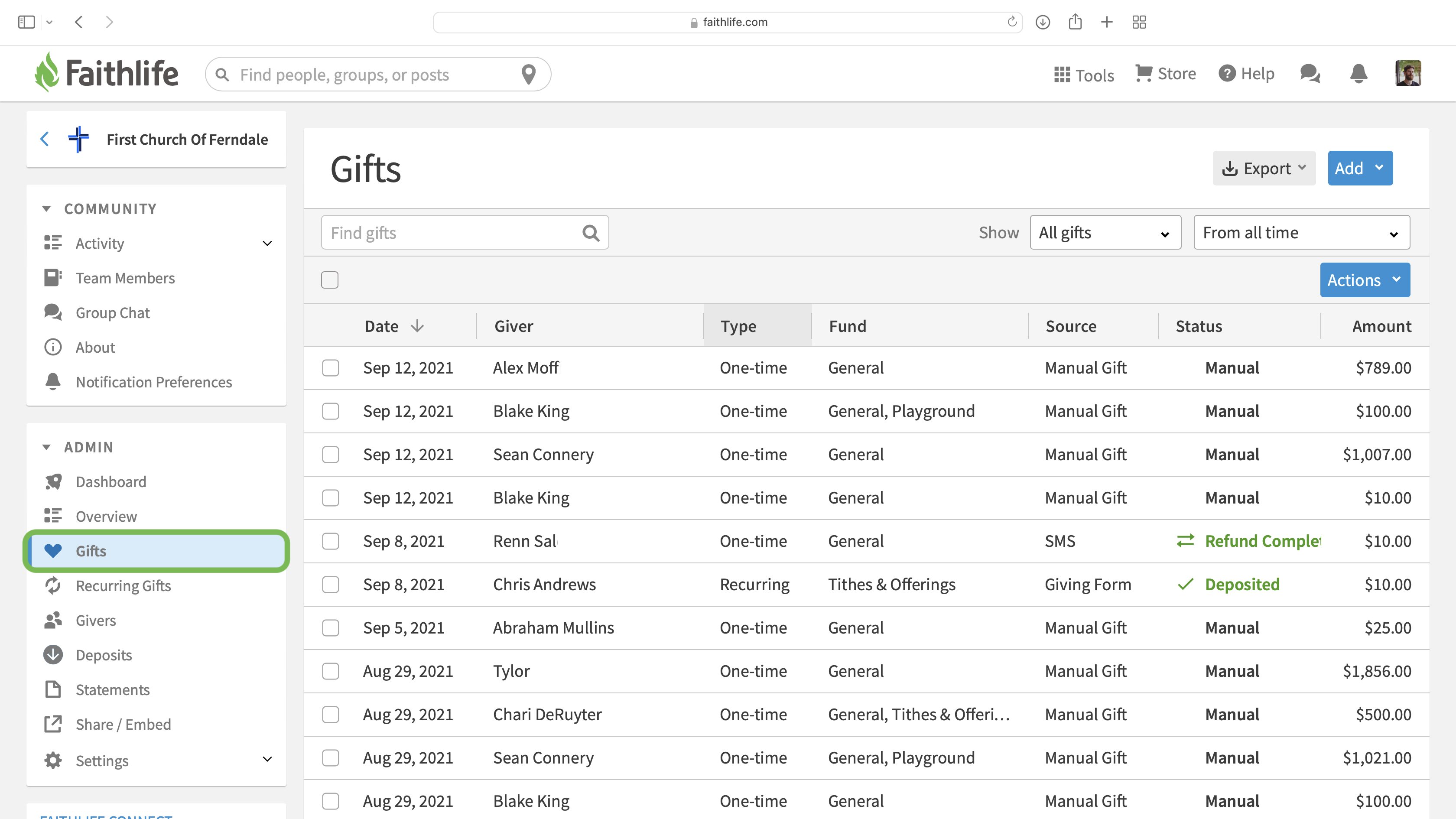 2. Click Add.
Click the Add button above the table showing the gifts given to your church and choose Manual gift.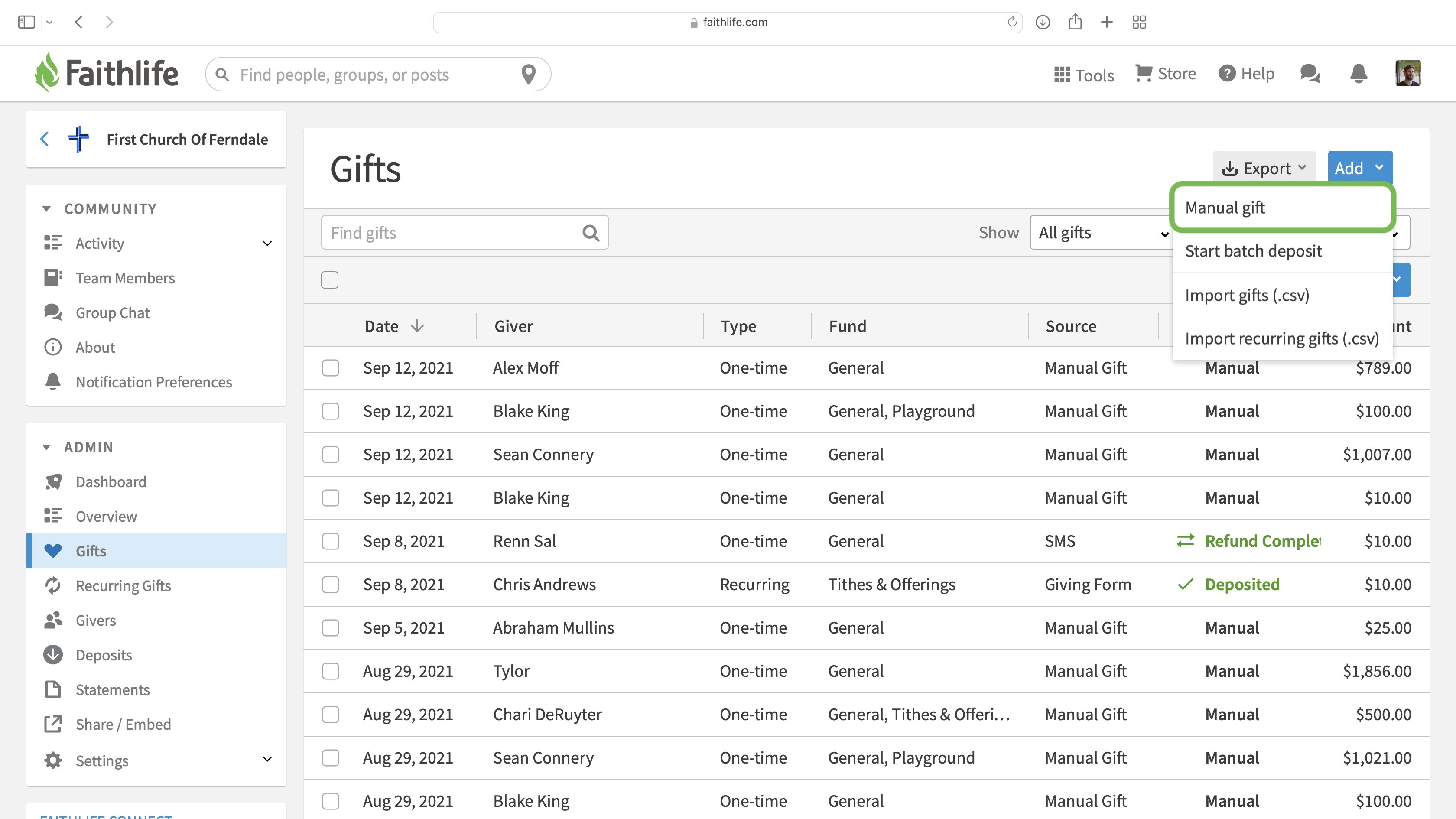 3. Provide the gift details.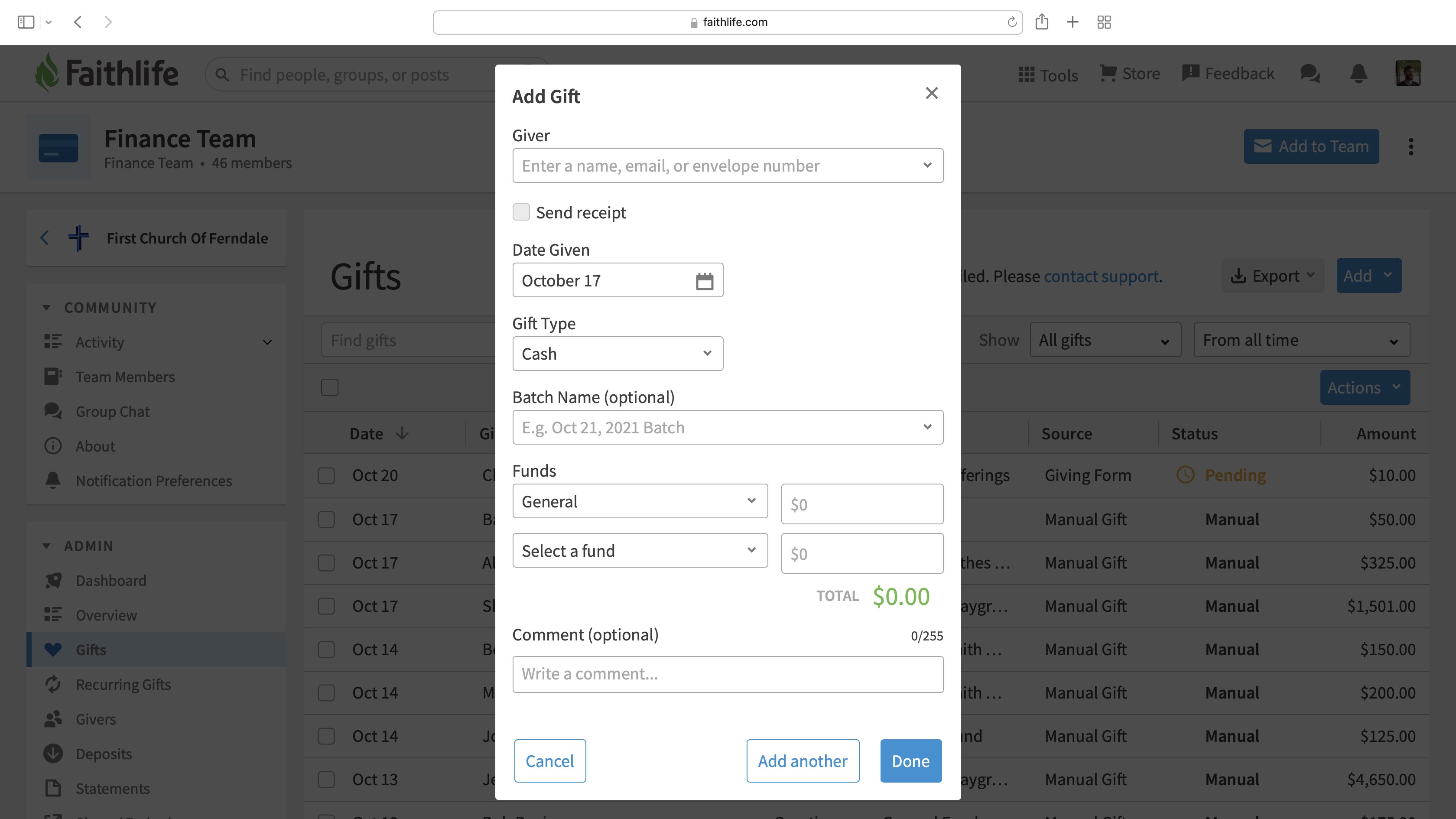 Giver: You can search for a giver by entering a name, email address, or envelope number. Givers can be individuals, families, or organizations. If the giver is part of your church group or has given before manually, their name will appear as you type. Click their name to associate the gift with them. Note: If you select an existing giver, but they do not have an email address, address, or envelope number on their people record, the form will allow you to easily input those here. Email addresses and addresses are helpful if you plan to email/mail a year-end giving statement to the giver, respectively.
Send receipt: If the giver has an email address in their people record or you've added an email address in the field under Giver, check Send receipt to email a receipt when you save the gift.
Date Given: Mark the date the gift was given. This is important for tax purposes, as gifts given will display on year-end giving statements according to the giving date you assign it.
Gift Type: Choose between Cash, Check, In-Kind, Paypal, or Other.
Batch Name: If the gift is part of a batch deposit, you can include the batch name here. Learn more about creating batch deposits.
Funds: You can assign the gift to any fund(s).
Did you know? You can make note of non-cash items like a vehicle, office furniture, catered meals or more. Learn more about in-kind gifts.
4. Save the gift.
Select Done to secure the manual gift (or Add another if you want to add another gift).
Note: Learn how to edit manual gifts.