With Faithlife Giving, you can add or edit manual gifts from the Admin Stewardship Dashboard. If someone donates to your church via cash, check, Paypal, or any other method than Faithlife Giving, you can still add and track it from Faithlife Giving. This means you can keep track of all donations to your church in one place.
SKIP AHEAD TO
Add Manual Gifts
Anytime someone gives to your church online through Faithlife Giving, the gifts are automatically added to your Admin Stewardship Dashboard. But some in your church may prefer to give via another method—like cash or check. You can add manual gifts from the Gifts menu in your church Finance Team.
Keeping all your gifts together not only helps you stay organized, it also means you can export all your gifts—those given online and those given via another method—from Faithlife Giving directly into your church's accounting program. And if you track all gifts in Faithlife Giving, donor's year-end giving statements will always include all donations to your church.
1. Navigate to the Gifts menu.
Go to your church Finance Team on Faithlife.com. (If you don't know where to find it, log in to Faithlife.com, go to your church group, and click Finances in the left-hand sidebar.) Once in your Finance Team, click on Gifts in the left-hand Admin panel.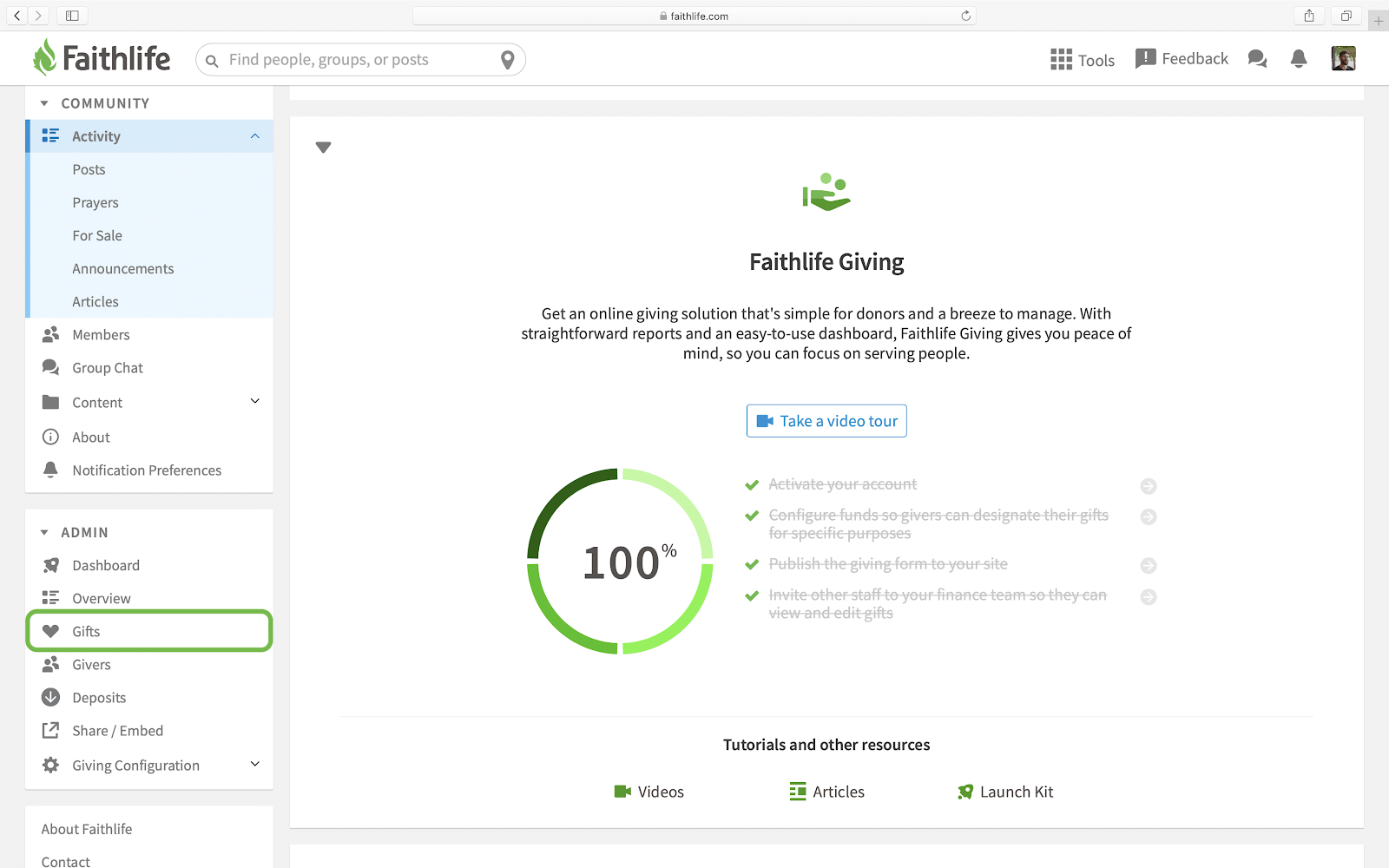 2. Click Add.
Click the Add button above the table showing the gifts given to your church.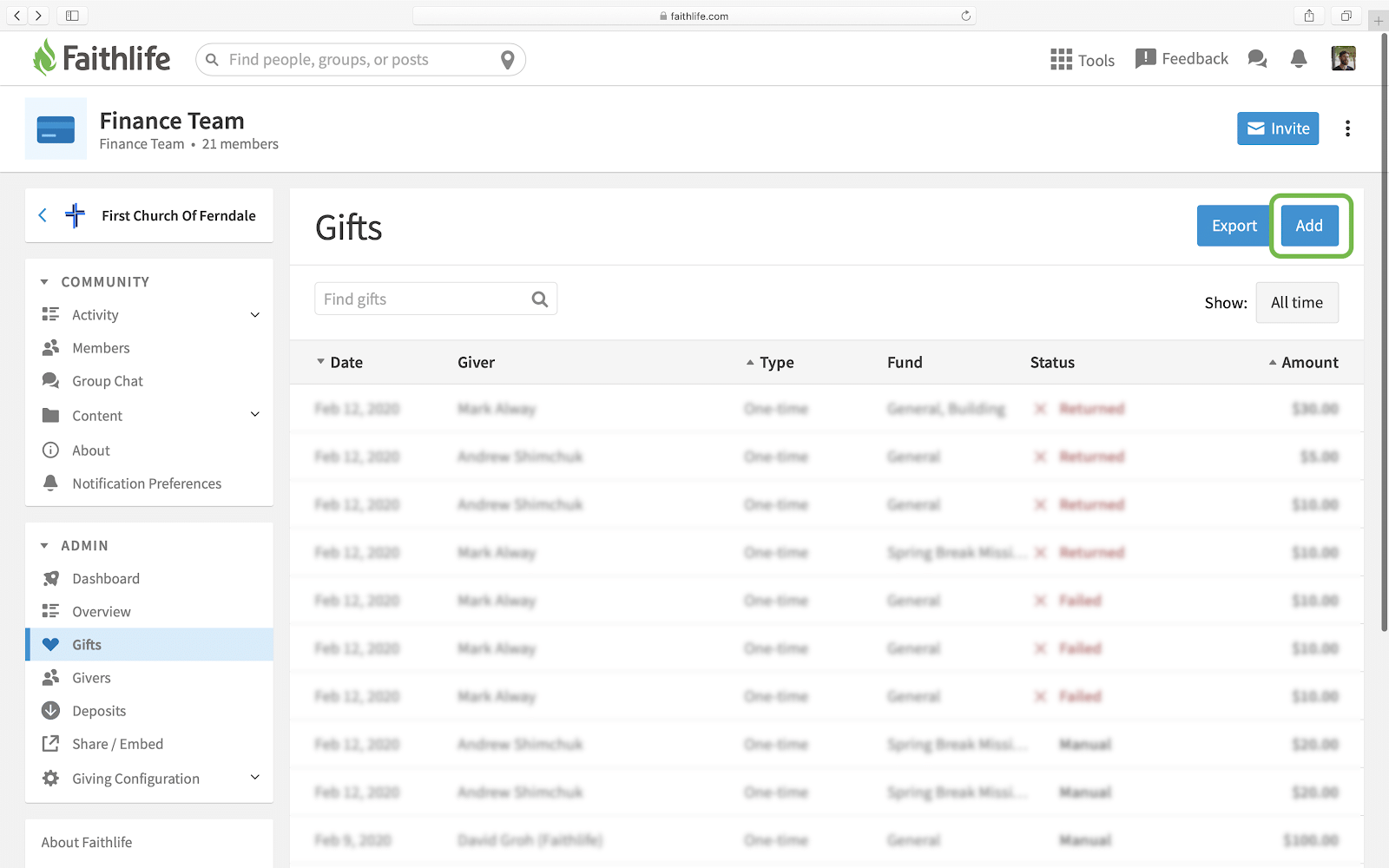 3. Provide the gift details.
Giver name:

If the giver is part of your church group or has given before manually, their name will appear as you type. Click their name to associate the gift with them.

Note: If you select an existing giver name from the auto-fill that has email and address information on file, this information will pre-populate.
Email address:

If you plan to have the year-end giving statement emailed to the donor, provide an email address.

Address:

If you plan to

mail a year-end giving statement

to the donor, provide a mailing address by clicking

+Address

.

Date:

Mark the date the gift was given. This is important for tax purposes, as gifts given will display on

year-end giving statements

according to the giving date you assign it.

Gift Type:

Choose between

Cash

,

Check

,

Paypal

, or

Other

. *

Deposit Date:

If it helps your record-keeping, you can include the date the manual gift was deposited. *

Funds:

You can assign the gift to any fund(s).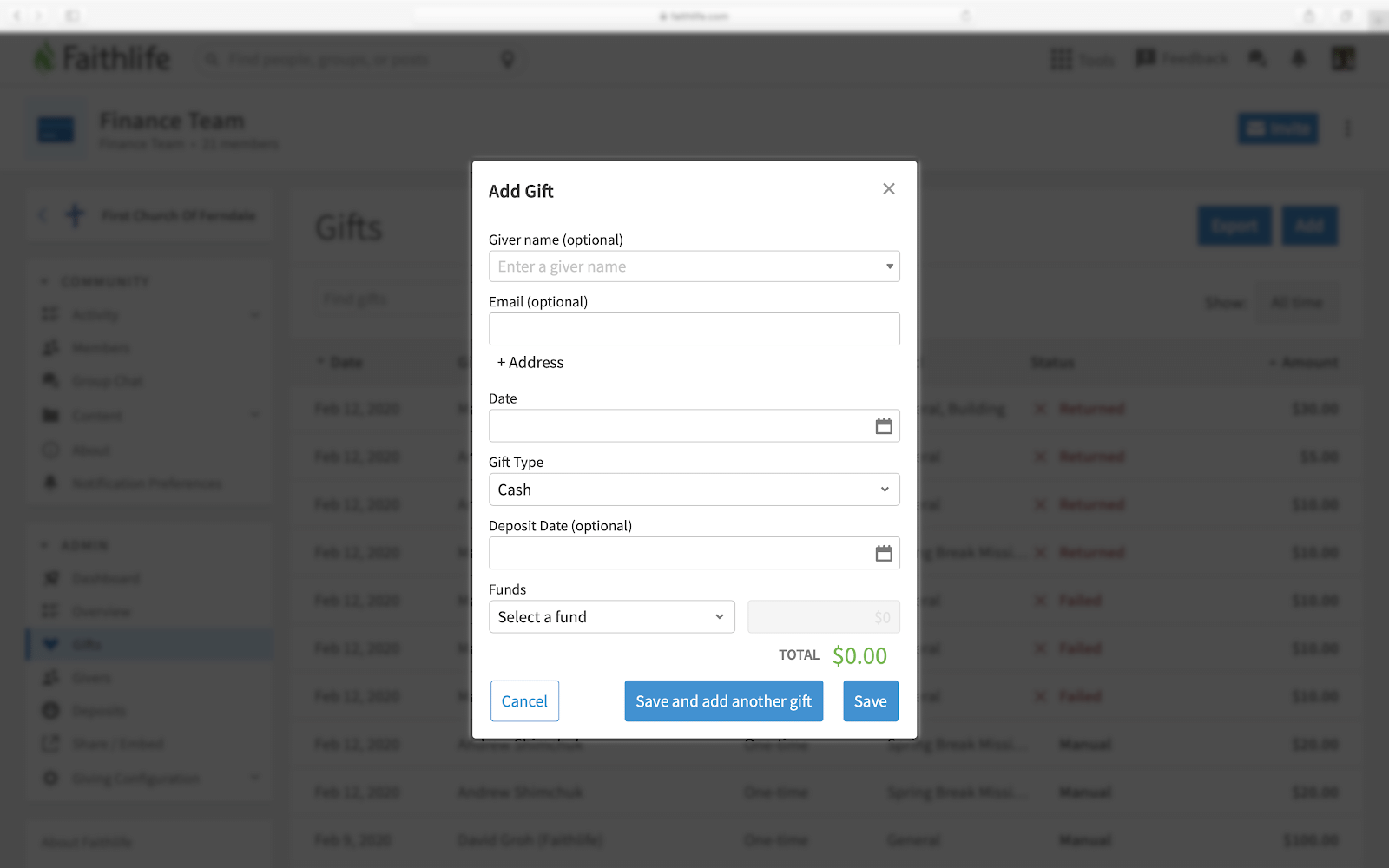 4. Save the gift.
Select Save to secure the manual gift (or Save and add another gift if you want to add another gift).
Edit Manual Gifts
You can edit any manual gift when viewing it and can change any details related to the gift.
1. Navigate to the gift you want to edit.
While you can find manual gifts from the Gifts menu, you can also locate them when viewing a Givers record or even while viewing Deposits. Locate the manual gift you want to edit and view its details.
2. Click Edit.
Expand the More options menu
and choose Edit.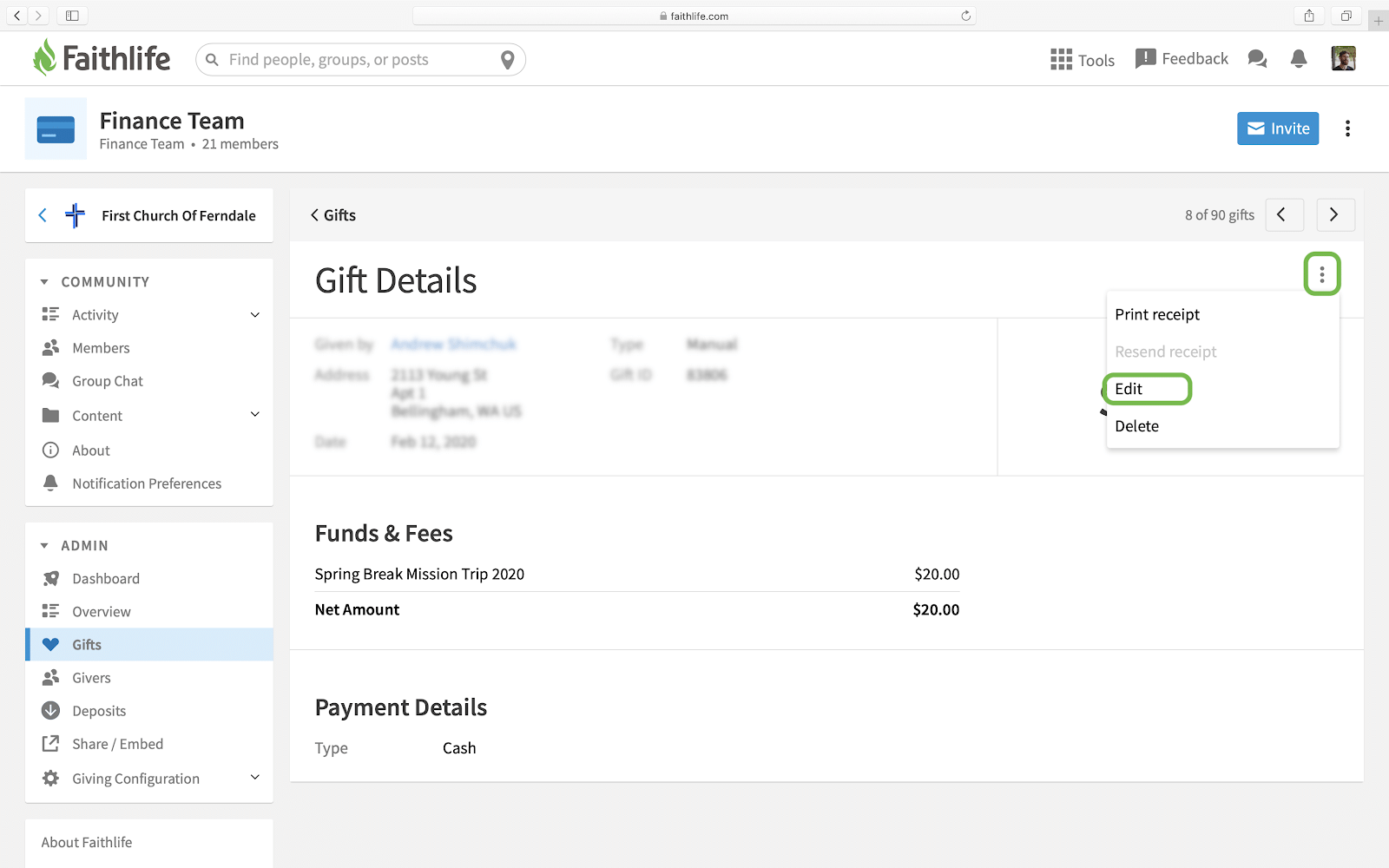 Note: You can also print a receipt, send a receipt electronically (if an email address is associated with the giver's account), or delete the gift from this same menu.
3. Edit the gift's details.
Adjust any of the details connected to the gift, including fund designations and amounts.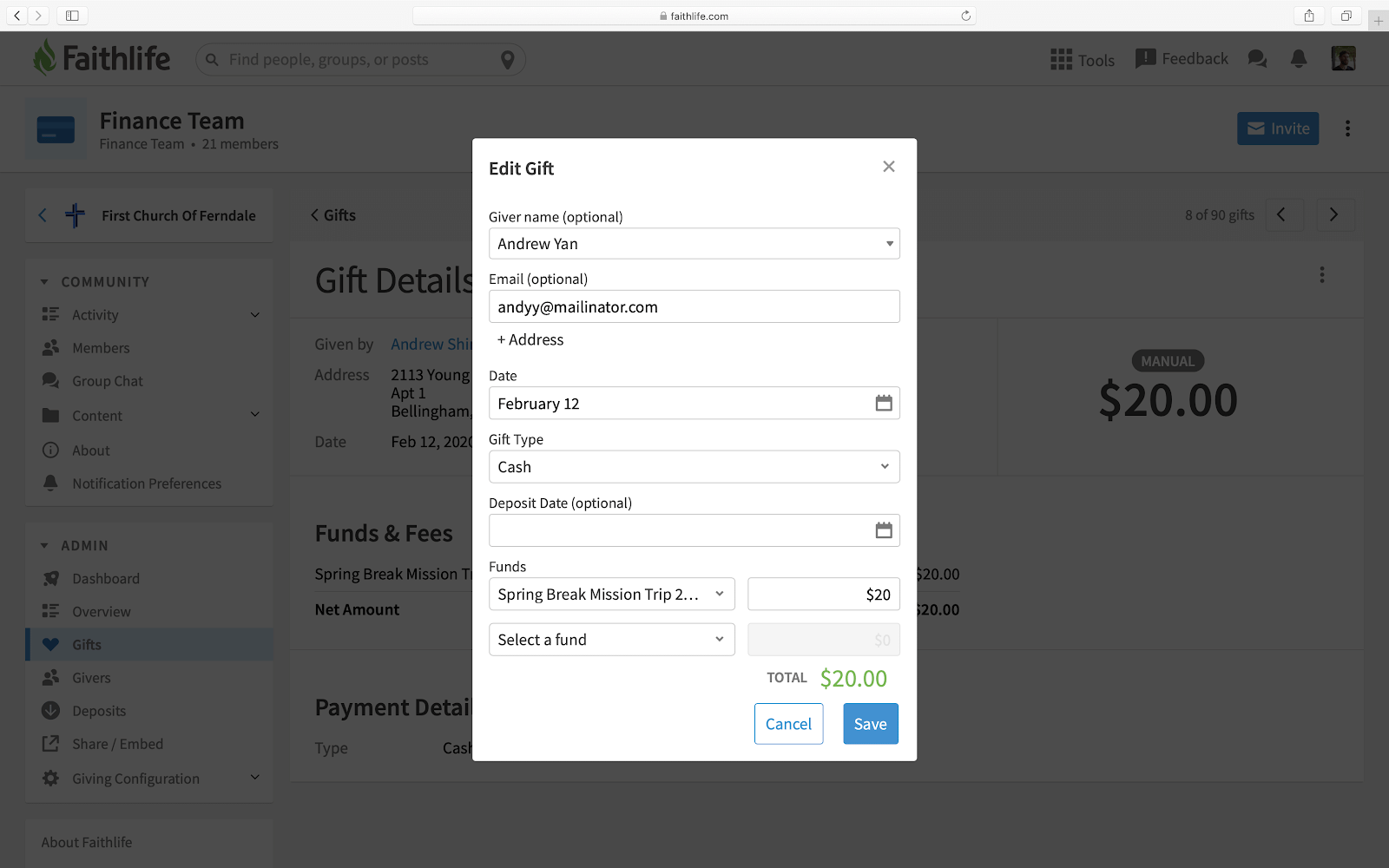 4. Click Save.
When you're done making edits, click Save.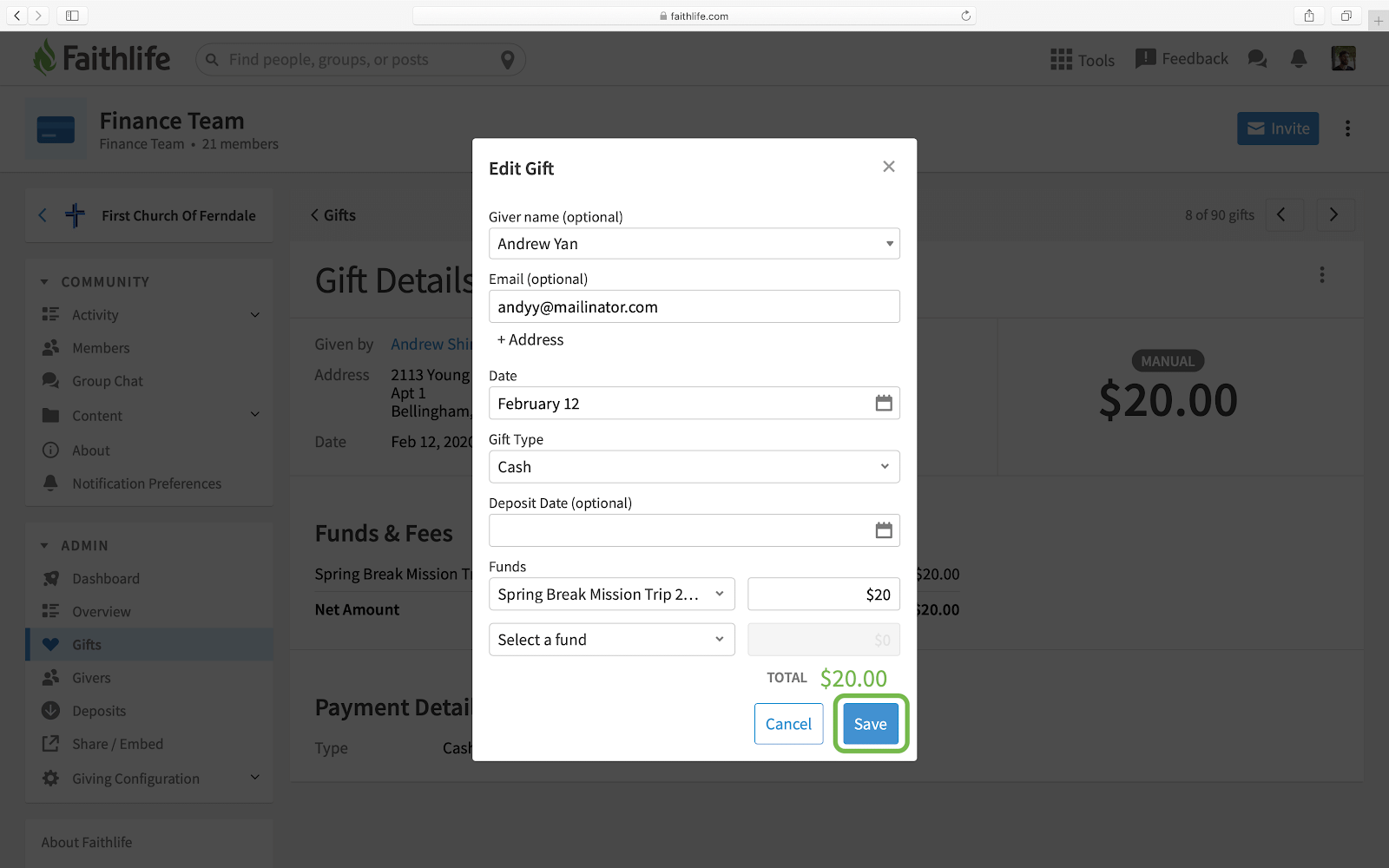 Faithlife will update the information everywhere, the donor's Giver Portal, year-end giving statement, your admin stewardship portal, the person record, and anywhere else the gift is visible.