Among the many advantages to your church's Faithlife group is having a centralized calendar that everyone can access - whether they're parishioners, pastors, or staff members.
SKIP AHEAD TO
View Your Church Calendar
Your calendar, along with the majority of your group's features, lives in the Community section of the left-hand menu.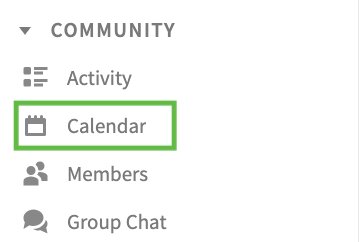 Simply click it to open the full calendar of events. From here, scroll through the list of events to see everything that has been entered. The navigation options on the upper right allow you to choose how your calendar is displayed.

Upcoming displays all of the scheduled events in an endlessly scrolling list.
Day displays all of the events scheduled for your chosen day.
Week displays all of the events scheduled for the selected week.
Month displays your scheduled events in a standard monthly calendar view.
You can hover over any event or click it to view the complete details.
Create Events
You can add events to your Faithlife Calendar from the Calendar tab in your Faithlife.com group. If you're already using an external calendar, you can import that calendar to your group so any changes on the external calendar will also populate to your group's calendar.
1. Select Calendar in the left navigation menu.
2. Click New event in the top right-hand corner of the webpage.

Note: In the Month view, you can also hover over the event date and click the add event button in the box's upper right. 3. Add the event as yourself or as group to indicate who created the event.

Note: The publicity of your calendar displays above your event (e.g., "To: Public via Fairhaven Community Church" above). An administrator can change the publicity of the calendar from the group's settings.
To: Public via Your Group—anyone with a Faithlife.com account can see your events if they view the group's calendar.
To: Followers of Your Group—anyone who follows your group can see your events if they view the group's calendar.
To: Members of Your Group—anyone who is a member of your group can see your events if they view the group's calendar.
4. Add your event's details.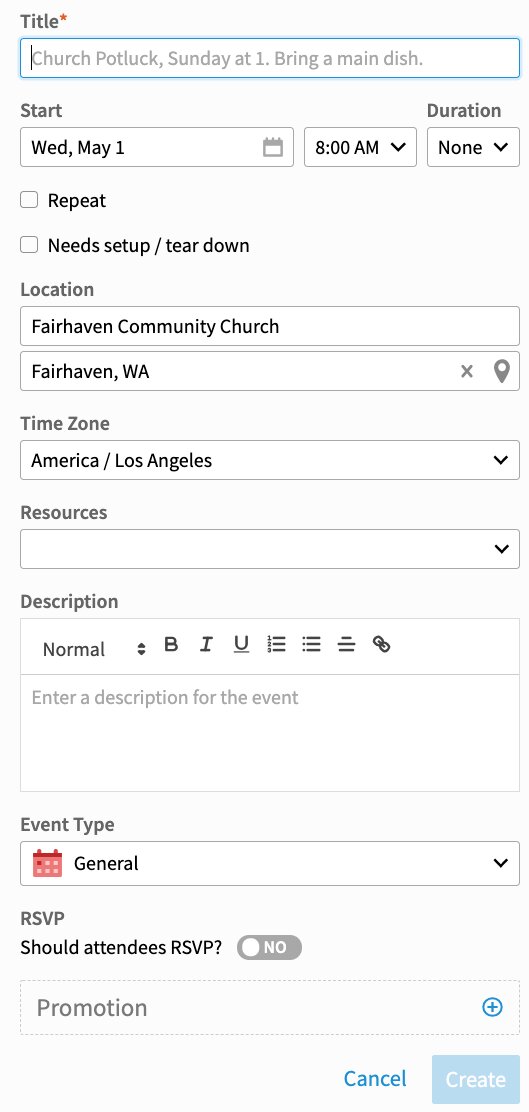 Note: You can add the details as a normal sentence and your calendar will parse the language for you. For example, type "Church Picnic 1–4pm next Sunday at the Community Park. Please RSVP and bring a side dish" in the Title field and your calendar will add the event details for you. You can set up an RSVP by following the instructions below.
5. Select the Event Type. Setting event types helps you organize your calendar. If you're wanting to create subgroup-specific events, add them to the subgroup's calendar and anyone in the subgroup will see all available events.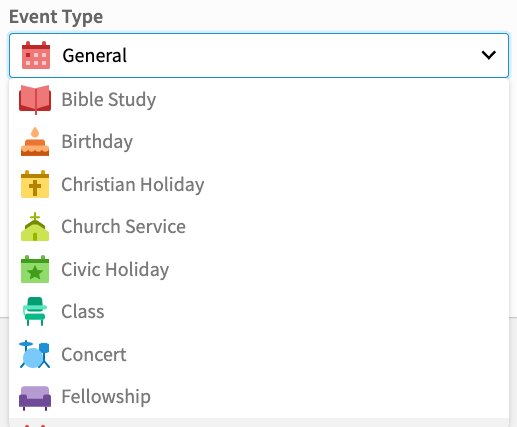 Example: If you need to add an event that only applies to your small group, navigate to your small group's subgroup and add the event to its calendar. When members of your small group view the main church calendar, small group events will also display for them. 6. Click Create. The event will post to your calendar and your group's newsfeed. You will be directed to an event page with all of your event's details. Click the menu icon

and then select Add a cover photo to add an image for your event (minimum width: 600px).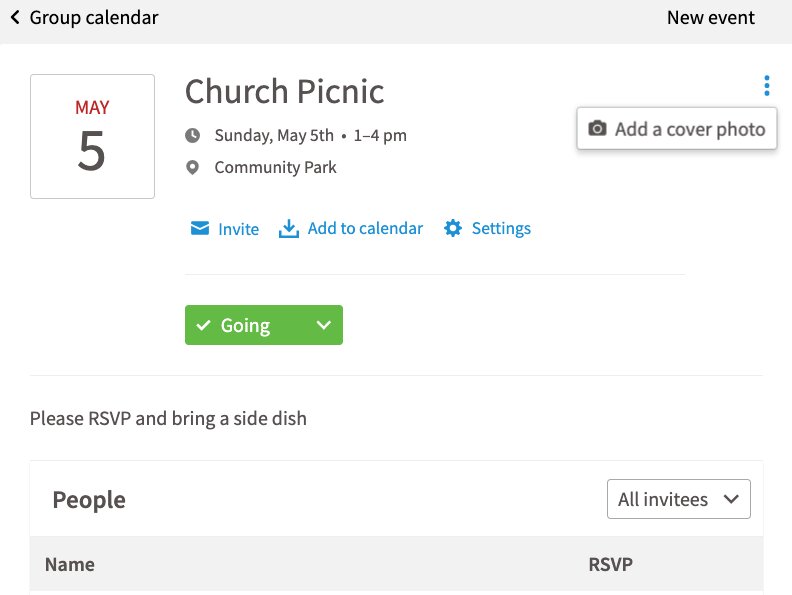 If you have a Faithlife Site, the event will auto-publish to your site as well.
Additional Event Options
Faithlife calendar events can include several additional advanced options: repeat schedules, setup/teardown, resource reservation, RSVPs, and promotions.
Repeat Events
If an event repeats, you can set any repeat option when creating the event.
1. Check Repeat.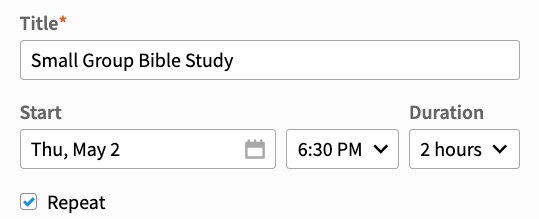 2. Select from the repeat schedule options or create your own.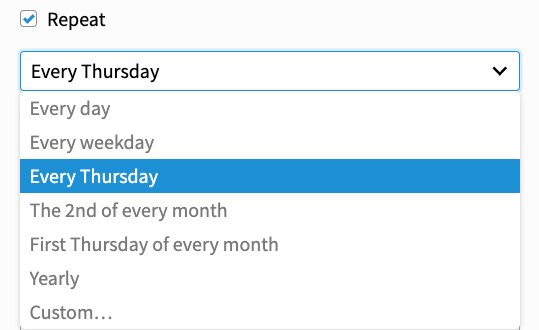 Custom options can be configured in a variety of ways. For example, every other week on Tuesday, Thursday, and Saturday.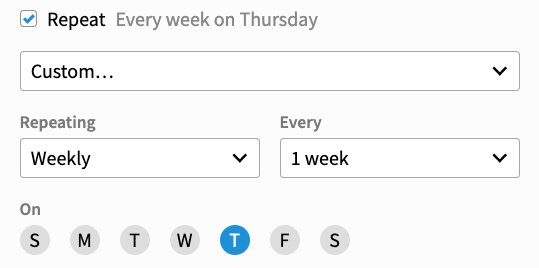 3. Set a repeat end date.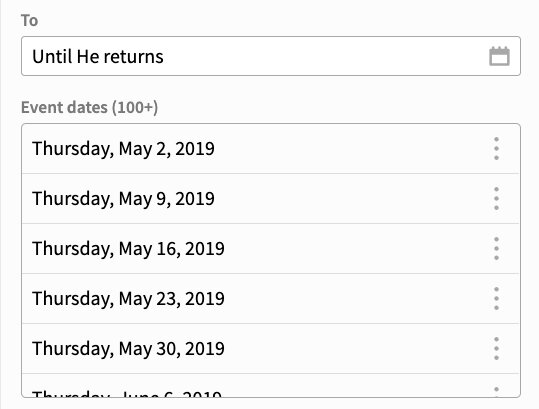 Any future events will display below to give you immediate feedback.
Needs setup / tear down
If an event requires setup or teardown, check the option to set required amounts of time for each.

Marking a setup / tear down time will ensure any resources you select for the event will be available during setup and tear down.
Reserve resources
You can reserve resources from the dropdown menu. If you need a resource that is not yet in your system, click + Add another resource. You can manage all your resources by clicking Facilities/Resources in the left-hand Admin navigation panel.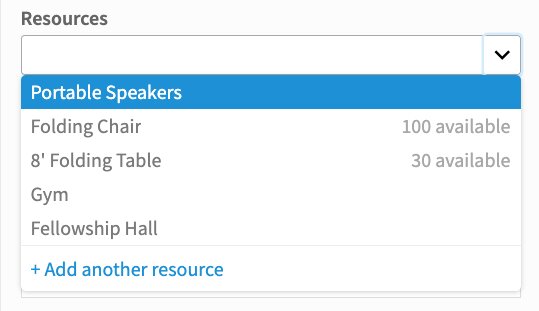 After selecting a resource, select the quantity you want to reserve.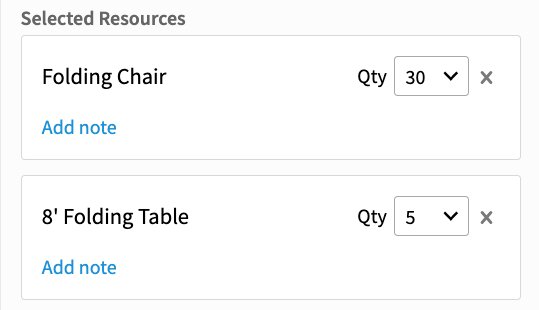 Add a note if applicable by clicking Add note and entering text.

RSVPs
To add an RSVP option to your event, move the slider to Yes.

Check Disable RSVP after to set a final RSVP date. Check Allow guests to let those attending indicate how many guests they will bring. When the event posts, it will include an RSVP selector.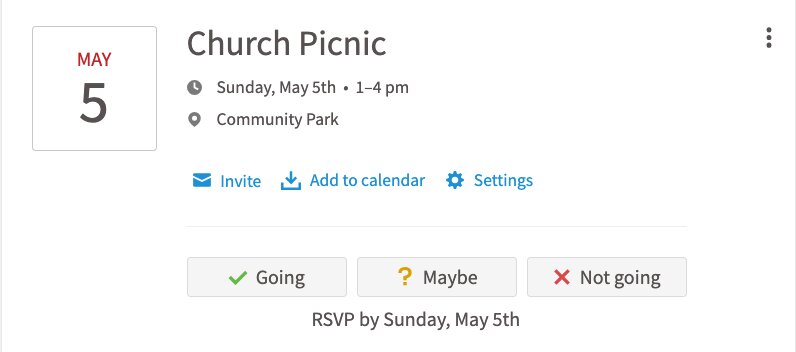 As attendees click Going, they will have the opportunity to add total guests attending.

Selecting the event will show those who have RSVP'd. If you are an admin or a moderator, you will also see a total count.

Promotion
You can promote an event to highlight it on your digital signage, presentations, and Faithlife Site.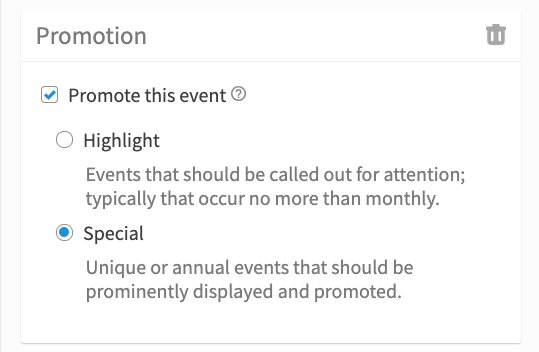 Delete Calendar Events
Anyone with the right permissions in your group can delete any event from your calendar (adjust your group permissions). Follow these steps to delete an event:
1. Navigate to your group calendar (see above if you need help viewing your calendar).
2. Hover your cursor over an event to reveal its details (or tab the event on mobile).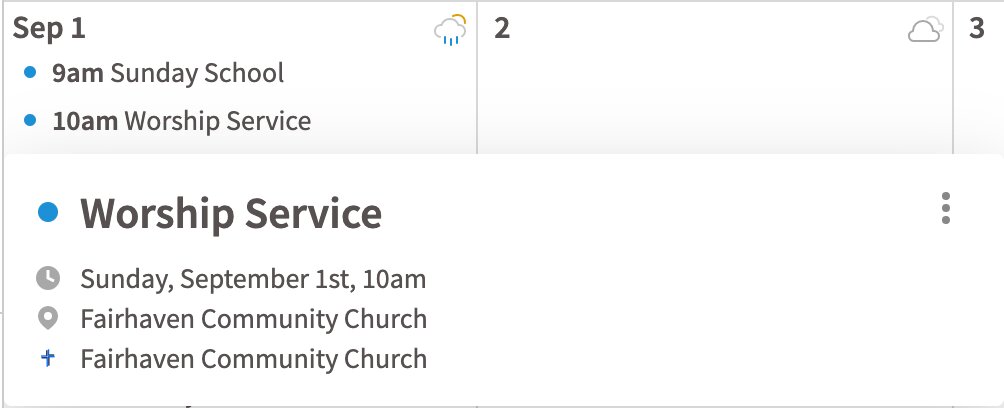 3. Expand the more options menu

and select Edit event.

4. Scroll to the bottom of the page and select Delete event.

Note: If you edit a repeating event, you can delete the individual occurrence using the steps above. To delete the entire series, select Edit series at the top of the event page.
Import External Calendars
If your church already uses an external calendar like Google Calendar, connect it to your Faithlife group's calendar so you don't have to manage both calendars at once. As you update your external calendar, all future changes will populate to your Faithlife group. Any service that links in with your group calendar—like Faithlife Proclaim or Faithlife Sites—will always display your most up-to-date information.
1. Open your group's calendar as previously explained.
2. Click the gear above the Calendar.

3. Add the URL of an external calendar (in .ics format) and click Import.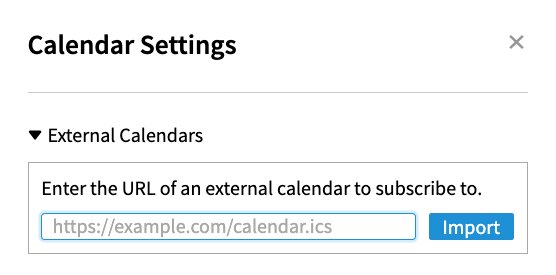 Note: For specific steps on importing a Google Calendar, see the steps below. The title of your newly imported calendar will be listed above the entry field (e.g., "calendar.google.com"). All the externally-created events will display as part of your Faithlife calendar. Selecting the more options menu provides an indication of when the external calendar was updated and allows you to remove the calendar.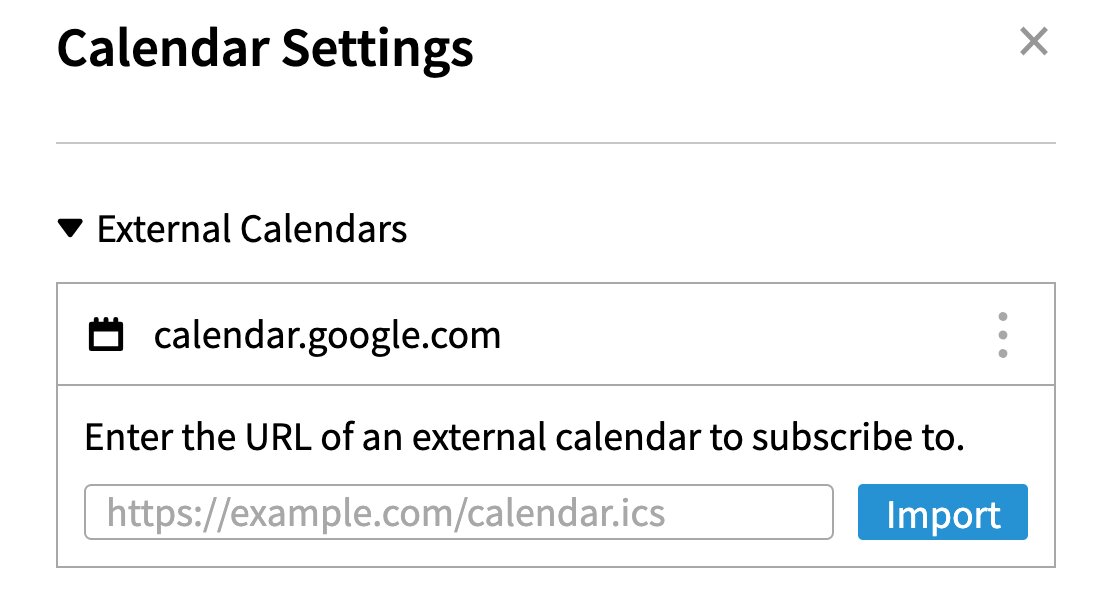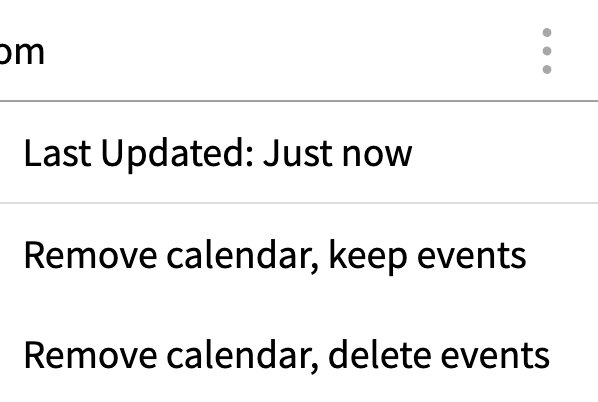 Note: The import process includes a delay, so your events may not populate immediately. It may take up to 24 hours for your events to appear.
Import a Google Calendar
To import your Google Calendar, follow these steps:
1. Navigate to your Google calendar. You can find it at calendar.google.com.
2. Hover over your desired calendar and click the more options menu.

3. Click Settings and sharing.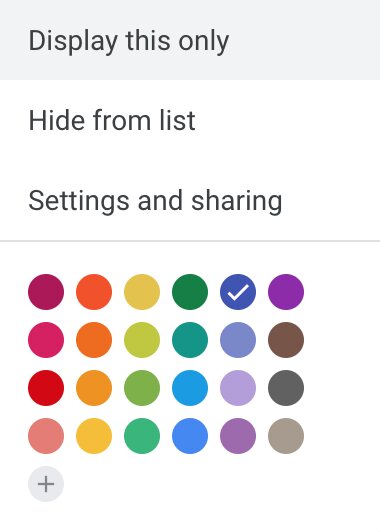 4. Scroll down to Access permissions and check Make available to public.

5. Click Integrate calendar on the left, then copy the link to Public address in iCal format.

6. Paste the URL in the Calendar Settings and click Import.
If you run into any difficulties as you work through setting up your church calendar, don't hesitate to contact support by e-mail or by phone at 1.888.634.2038.