Among the many advantages to your church's Faithlife group is having a centralized calendar that everyone can access - whether they're parishioners, pastors, or staff members.
Skip ahead to:
View Your Church Calendar
You can view two types of calendars on Faithlife:
Your Personal Calendar: Your personal Faithlife account calendar shows every event available to you in all your joined groups. (To view your personal calendar, login to Faithlife.com and click Calendar on the left.)
Group Calendars: Group calendars (like your church calendar) show only group events.
This article will focus on group calendars.
Navigate to your group.
To view any group, team, or subgroup calendar, go to Faithlife.com, login, and select your group in the left-hand sidebar.

Open the calendar.
When viewing your group, click Calendar in the community panel.


Note: Did you know you can also access calendars using the free Faithlife app from the Apple App Store or the Google Play Store.

View/Hide available calendars.
If you've joined subgroups or teams connected to your church group, you can view or hide events from those groups by selecting or deselecting them in the sidebar. (If you don't see the sidebar, click the sidebar icon above the calendar.)

Choose display options
You can view calendar events in a variety of ways. Above the calendar, select a month or a calendar type to change the view for your entire calendar. Additionally, you can hover over any event or click it to view the complete details.

Upcoming displays all of the scheduled events in an endlessly scrolling list.
Day displays all of the events scheduled for your chosen day.
Week displays all of the events scheduled for the selected week.
Month displays your scheduled events in a standard monthly calendar view.
Create Events
You can add events to a group calendar from the Calendar tab in your Faithlife.com group (see above if you need help viewing your calendar).
Did you know? If you're already using an external calendar, you can import that calendar to your group first so any changes on the external calendar will populate to your group's calendar.
By default, Admins and Moderators of groups can create events (learn how to adjust these calendar event permissions). Here are the basic steps to create an event (for a full walkthrough, view our support article on creating events):
Click New event or the plus icon .

Set event visibility.
Choose who can view your event in the dropdown.
Add event details.
You can create basic events or add multiple advanced event fields.


Note: You can add the details as a normal sentence and your calendar will parse the language for you.

Add additional event options. Each event offers several addition event options:

Attendees should RSVP
Post as Announcement
Event contains Classes
Promote this Event



Click Create‌ to finalize the event.
The event will post to your calendar and your group's newsfeed. You will be directed to an event page with all of your event's details.
Edit Events
To edit any event, navigate to your calendar, hover over the event, click the more options icon

, and choose Edit event.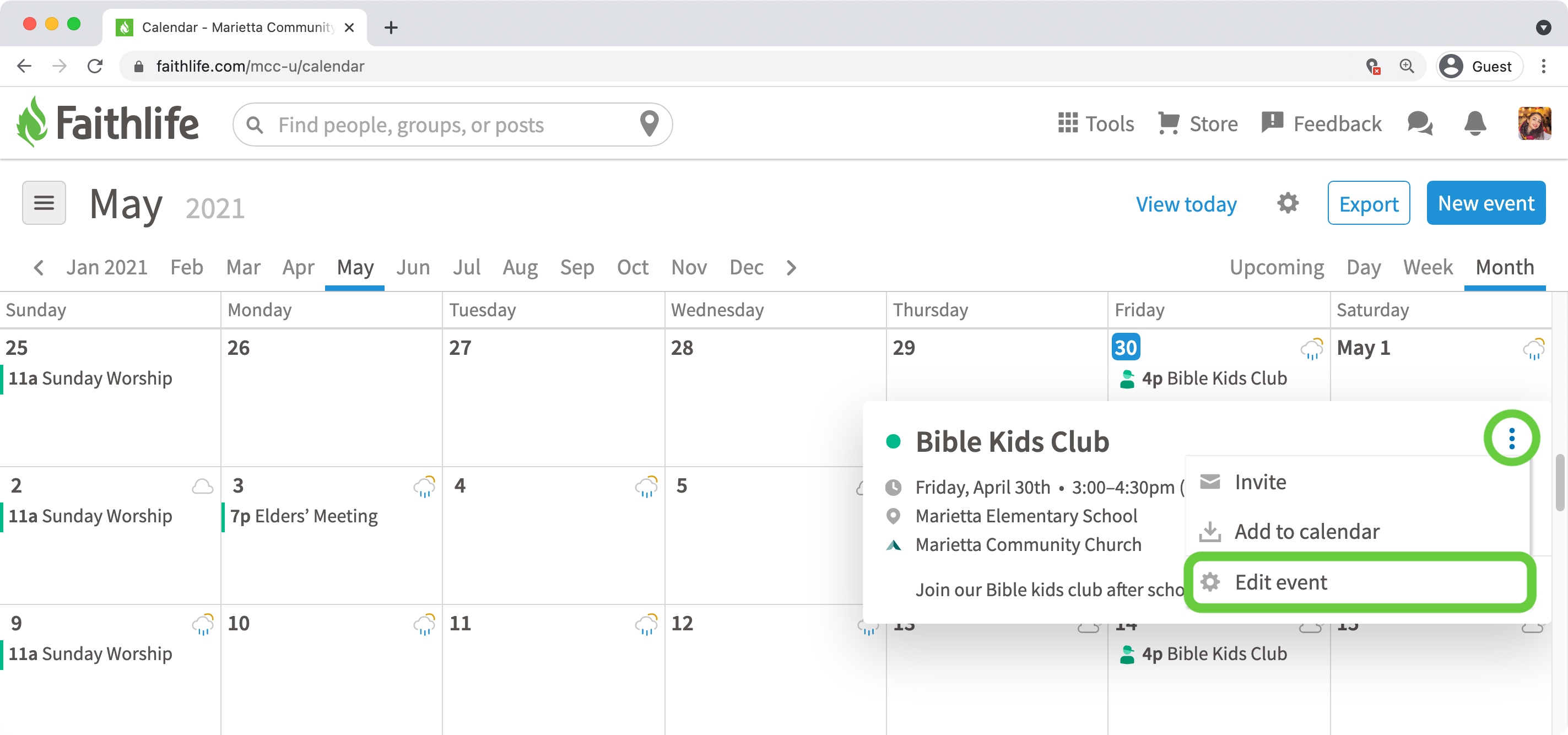 Note: Alternatively, when viewing any event page, click the more option icon

and click Settings.
If you're editing an event in a series, you can choose to edit the single event or the entire series.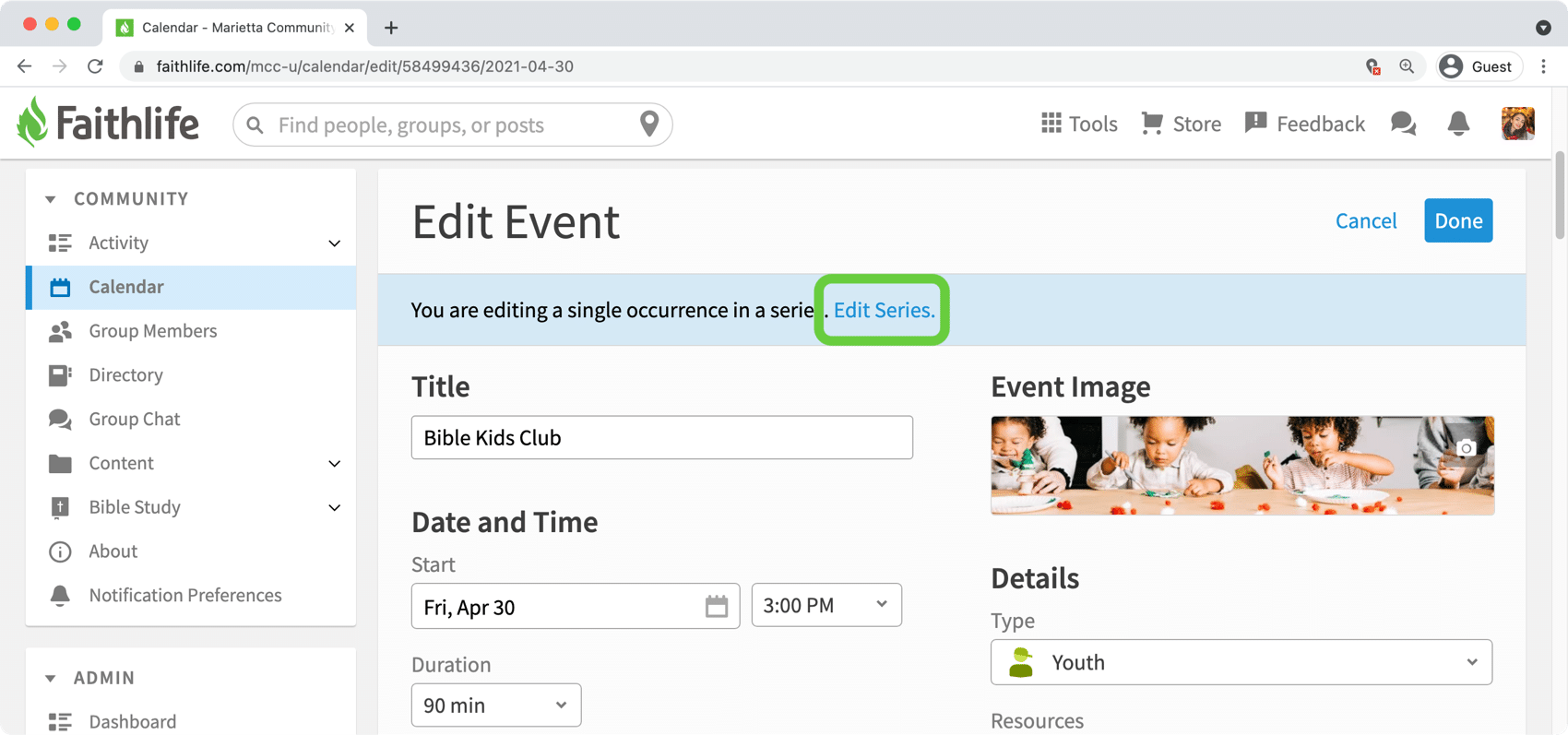 Delete Calendar Events
Anyone with the right permissions in your group can delete any event from your calendar (adjust your default group permissions).
Navigate to your group calendar (see above if you need help viewing your calendar).
Hover your cursor over an event to reveal its details (or tab the event on mobile). Expand the more options menu and select Edit event.
Scroll to the bottom of the page and select the Delete button.
Note: If you edit a repeating event, you can delete the individual occurrence using the steps above. To delete the entire series, select Edit series at the top of the event page.
Import or Remove External Calendars
If your church already uses an external calendar like Google Calendar, connect it to your Faithlife group's calendar so you don't have to manage both calendars at once.
As you update your external calendar, all future changes will populate to your Faithlife group. Any service that links in with your group calendar—like Faithlife Proclaim or Faithlife Sites—will always display your most up-to-date information.
Open your group's calendar (see above if you need help viewing your calendar).
Click the gear icon above and add the URL of an external calendar (in .ics format) and click Import.
All the externally-created events will display as part of your Faithlife calendar.
Note: The import process includes a delay, so your events may not populate immediately. It may take up to 24 hours for your events to appear.
To remove an external calendar, select the more options menu and remove the calendar.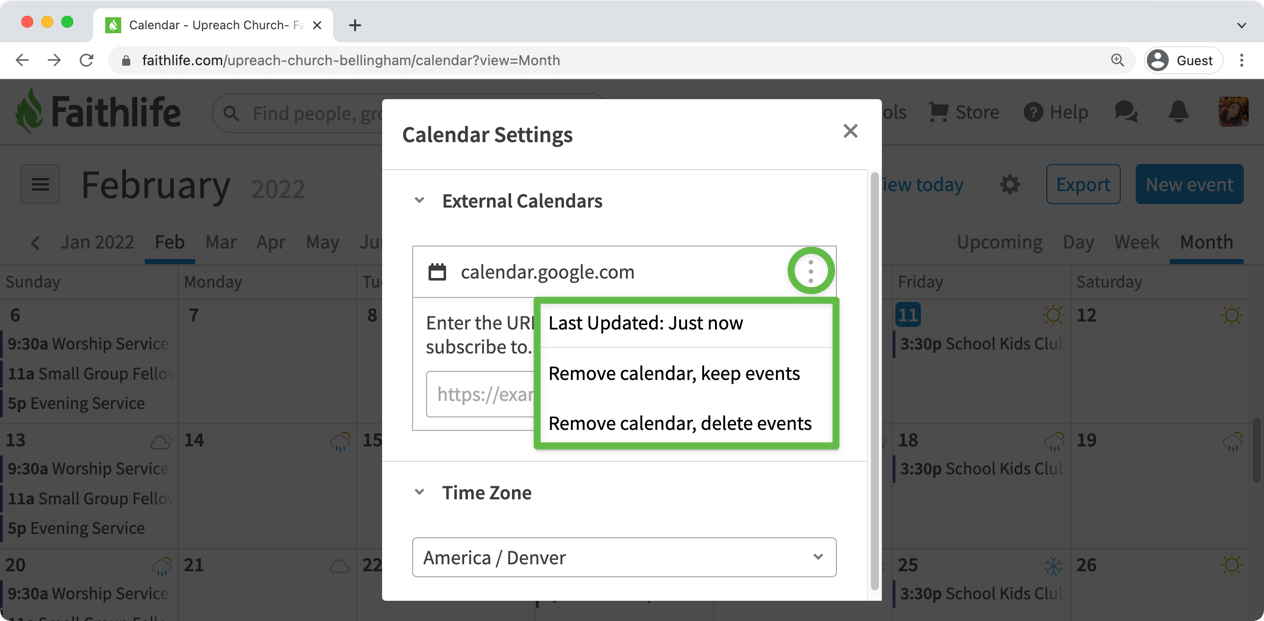 Note: Click here for a step-by-step guide to importing a Google calendar.
Export Your Faithlife Calendar
While viewing you group calendar (see above if you need help viewing your calendar), click Export and copy the link.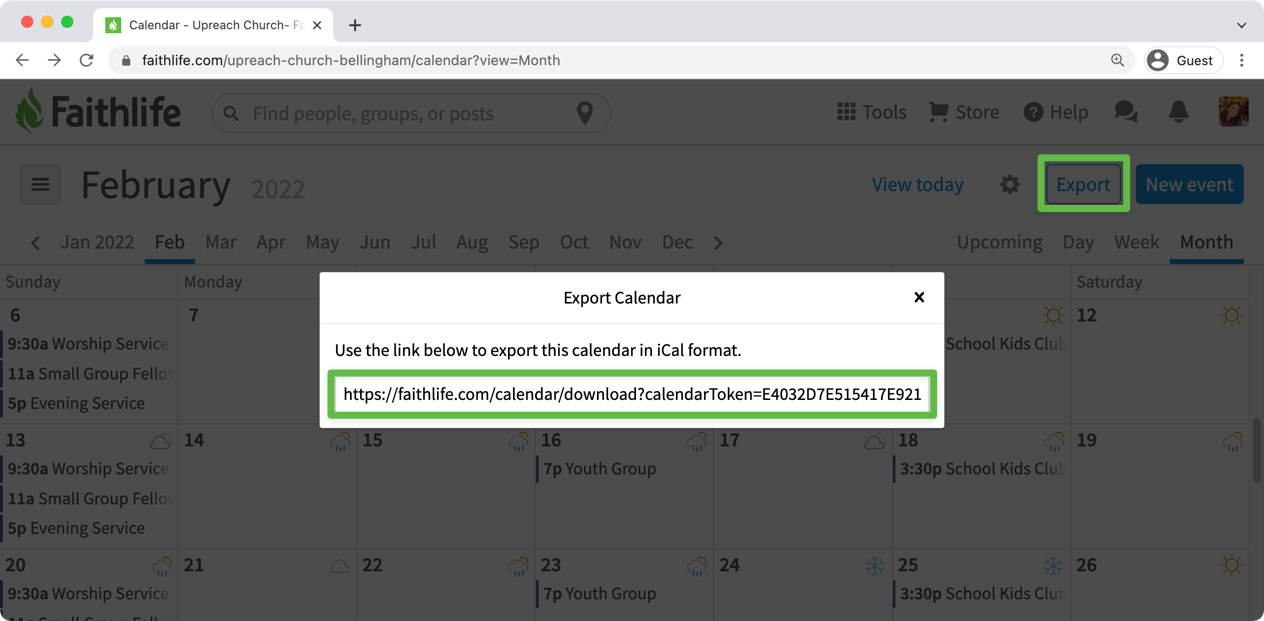 Note: If you run into any difficulties as you work through setting up your church calendar, don't hesitate to contact support by e-mail or by phone at 1.888.634.2038.