You can add blog posts to your website with Faithlife Sites. Any article posted to your Faithlife group will post automatically everywhere your website displays a blog widget.
Skip ahead to:
Compose a post
Faithlife Sites works in connection with your church group to make updating your website drag-and-drop simple. To write a post, navigate to your church group on Faithlife.com and begin to compose a new Article post. Your Faithlife Site can display any published Article as a blog post. Select either yourself or your group as the author.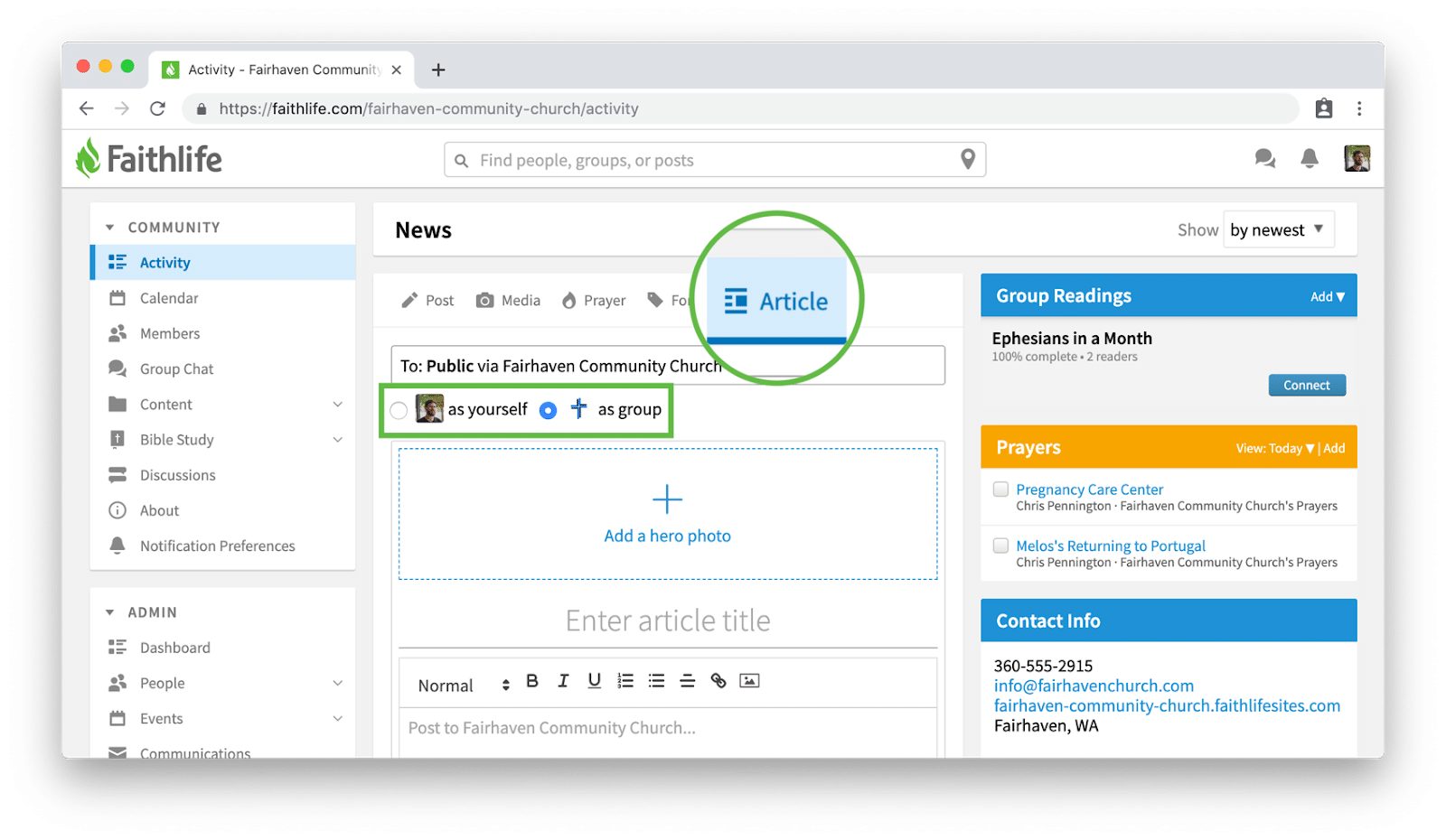 In order for your posts to show on your website, your Read news feed permissions must be set to Public. Notice above that the article above will be published "To: Public via Fairhaven Community Church." If your article does not indicate it will be published to Public, navigate to your Group Settings, scroll down and expand Group Permissions, move the slider for Read news feed all the way to the right (to Public), and then click Save Settings to secure your changes.
Note: If you try to compose your post directly from Faithlife.com without first navigating to your church group, your article will post to your personal Faithlife account (it will read "To: My Faithlife"), not your church group. To publish a post to your website, it must be posted in your church group. Use the dropdown to select your church group or go to your group and restart the post.
Add a hero photo (a hero photo acts as the header for your post).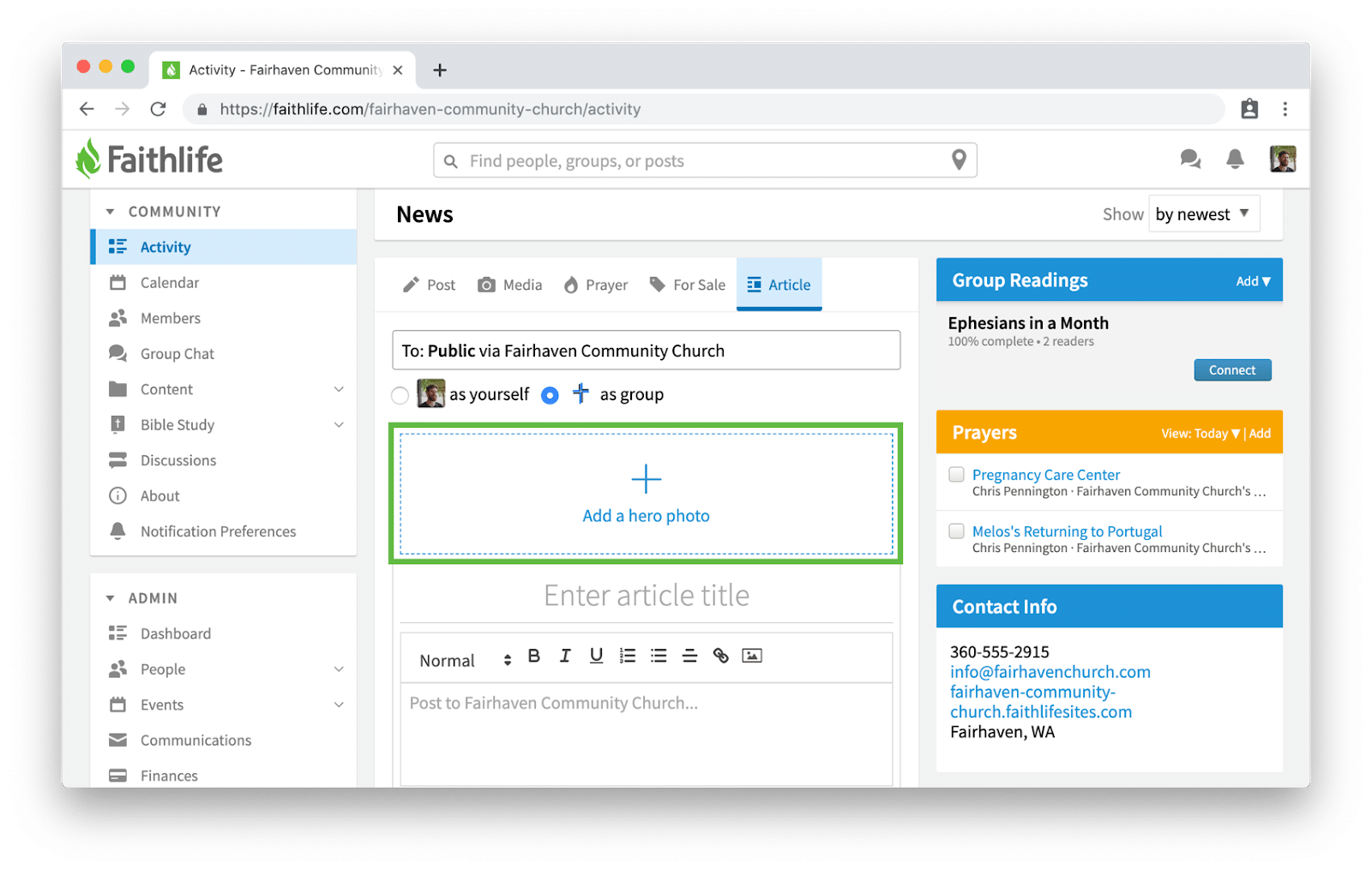 Provide a title and the body of your post. Style the body of your article with a variety of text styles and adjustments, including bold, italics, lists, and text alignment. You can add links and photos as well. Any photo you add will upload to Faithlife Files, so you can use it anywhere on Faithlife without having to upload it again.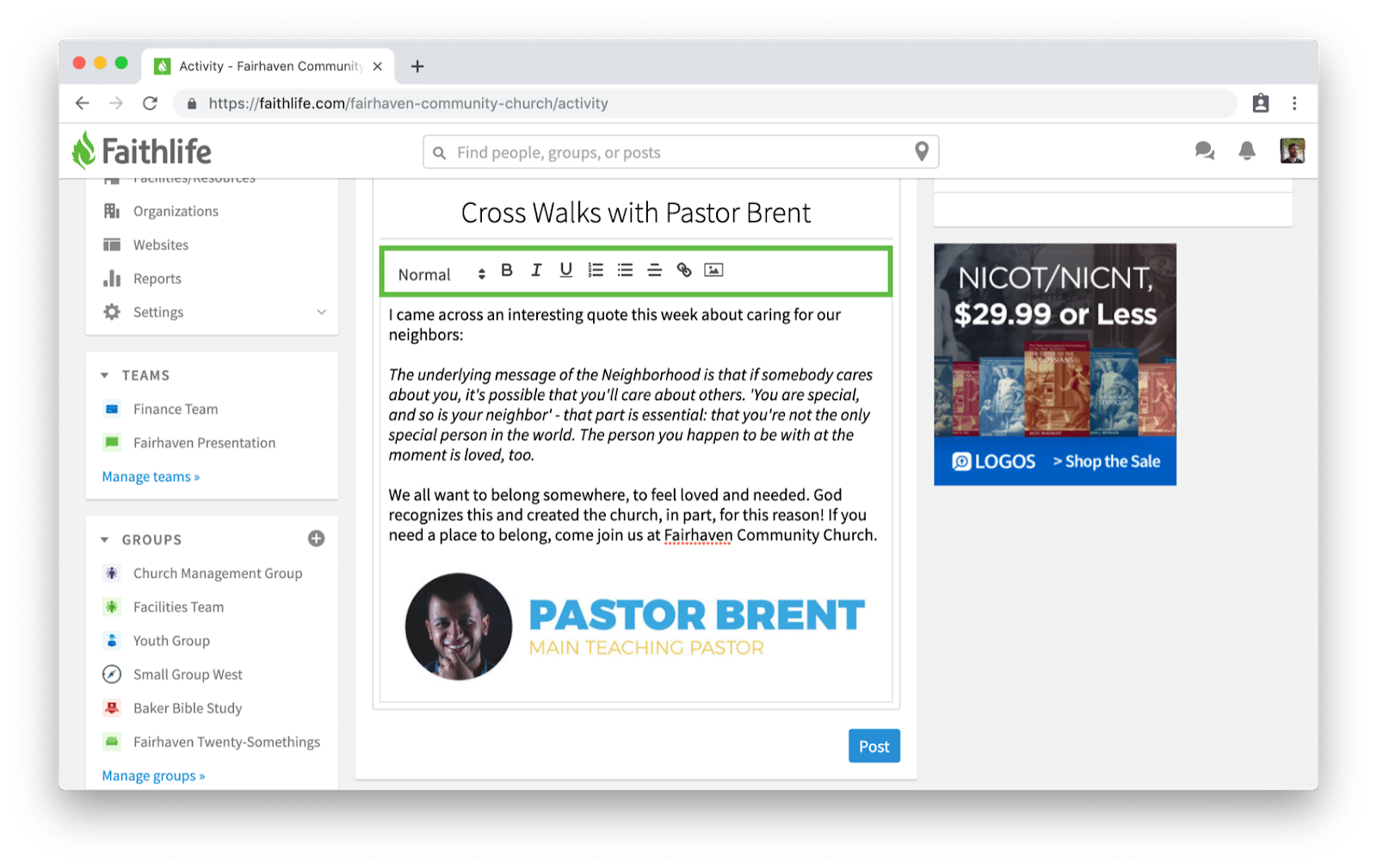 Click Post to publish your article. It will post to your church group newsfeed.
Add a Blog Widget
To display any published articles on your Faithlife Site, add a blog widget anywhere on your website. Once you set up your widget once, it will auto-update with new posts as soon as you publish them in your Faithlife group. Begin by navigating to your church website, signing in (if you're not signed in), and clicking Edit Site.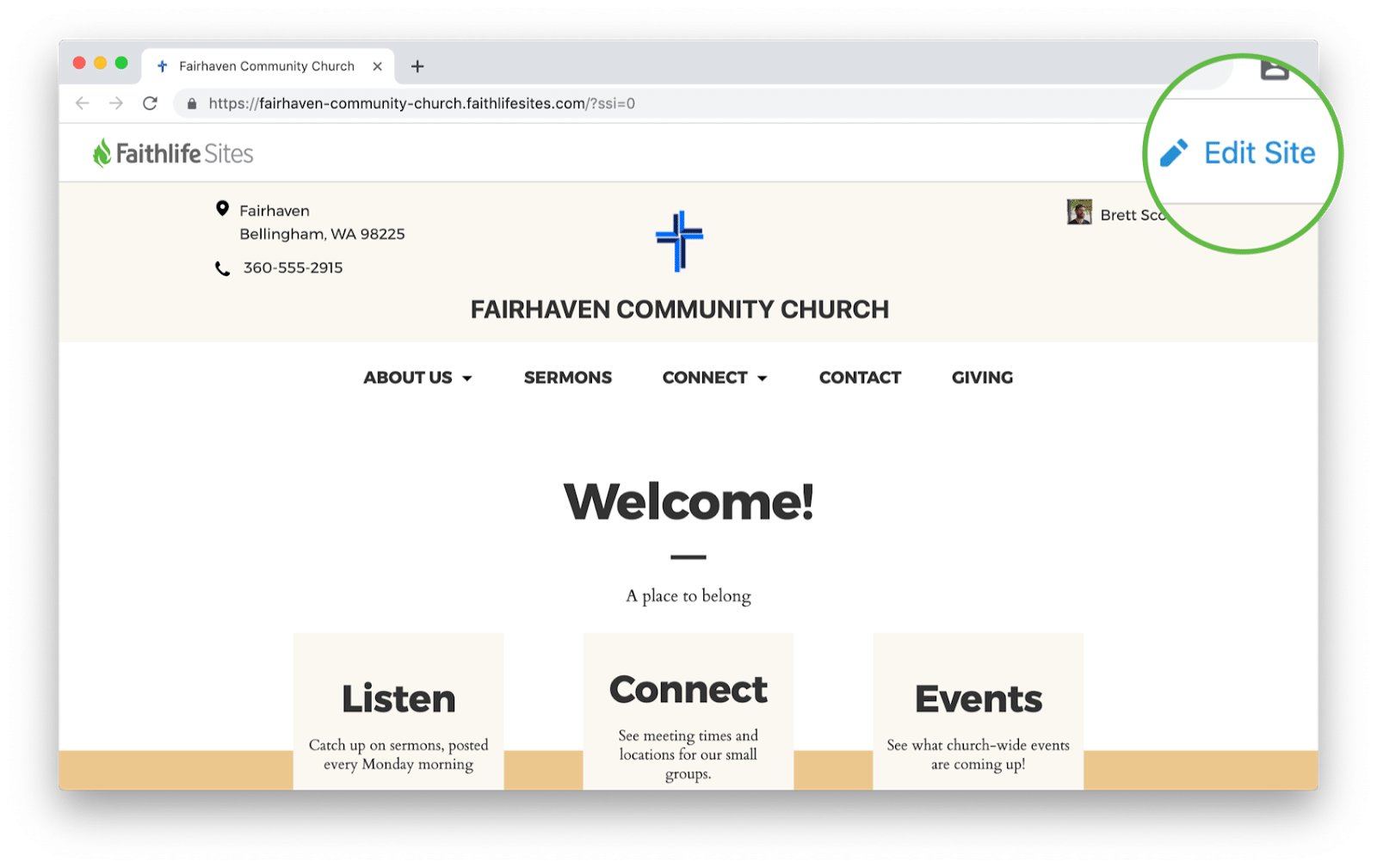 Hover your cursor on any page to reveal the add icon button and select it.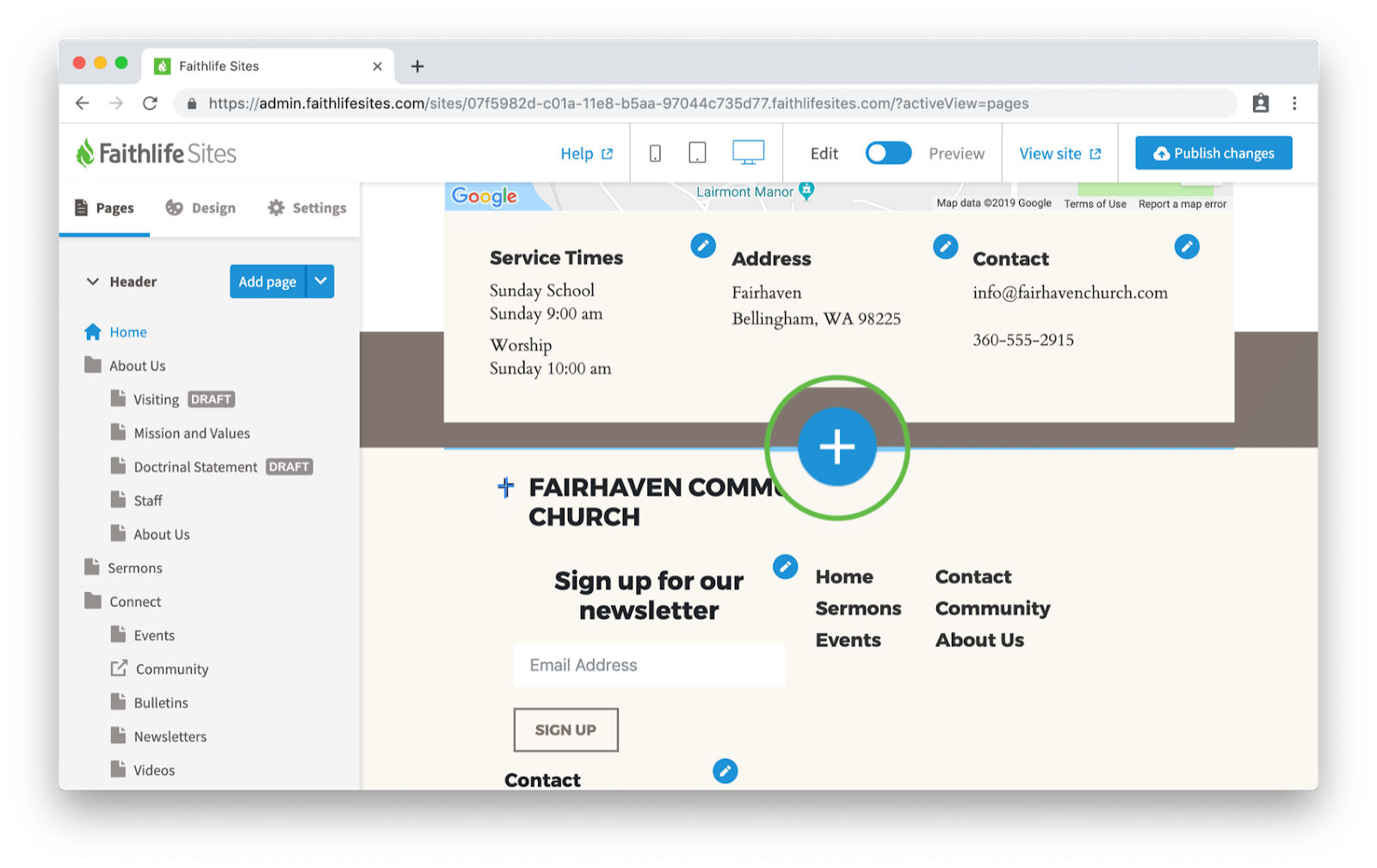 Note: If you want to replace an existing widget with a blog widget, select the widget's edit icon, click Change widget type, and select Blog Articles.
Select the Blog Articles widget.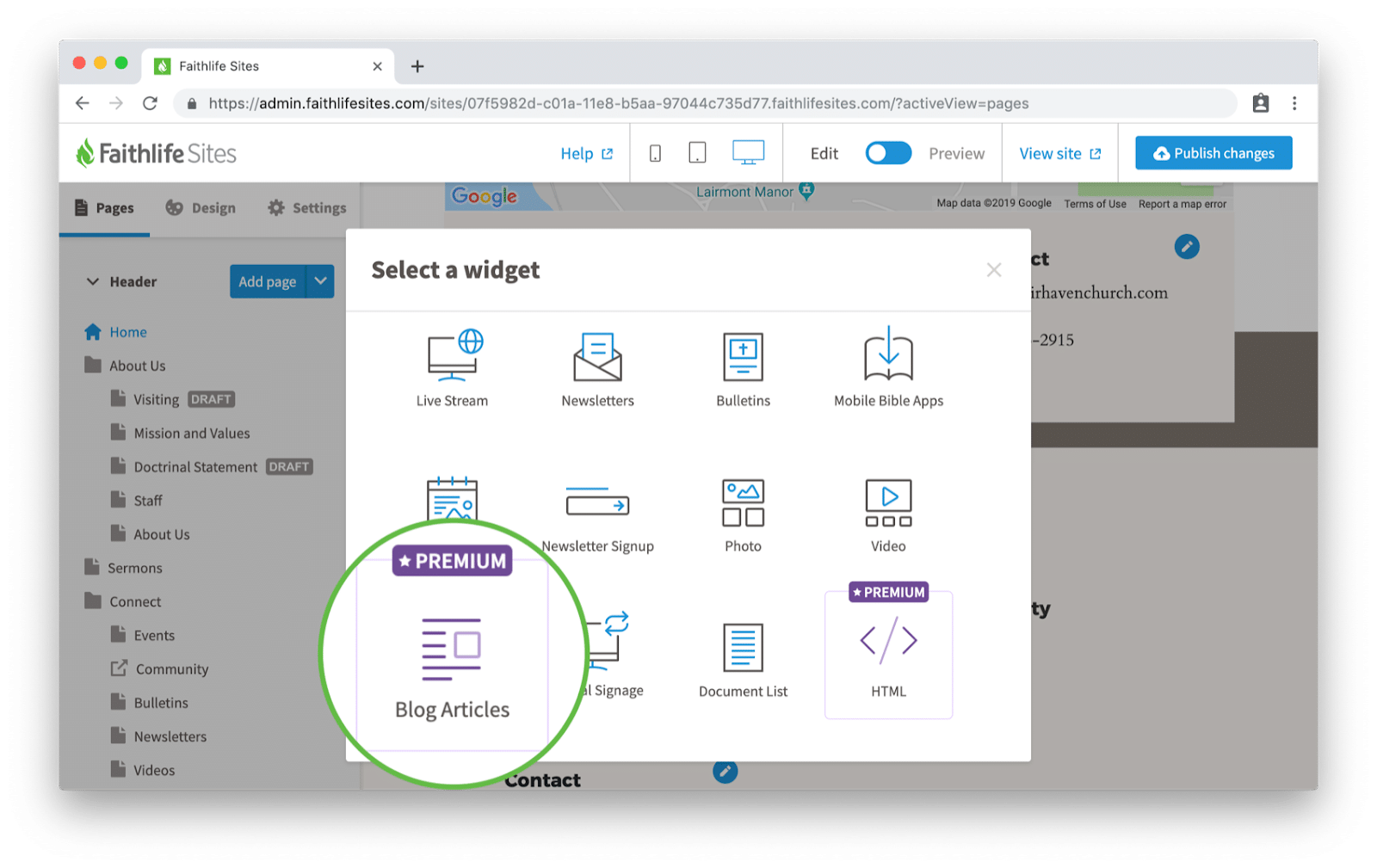 Note: You'll need Sites Premium to add blog posts to your website.
If desired, add a Title for the widget. You can filter your posts by author by adding their name to the Author names entry box. The widget will show only that author's posts. Finally, choose a Layout Style and click Save.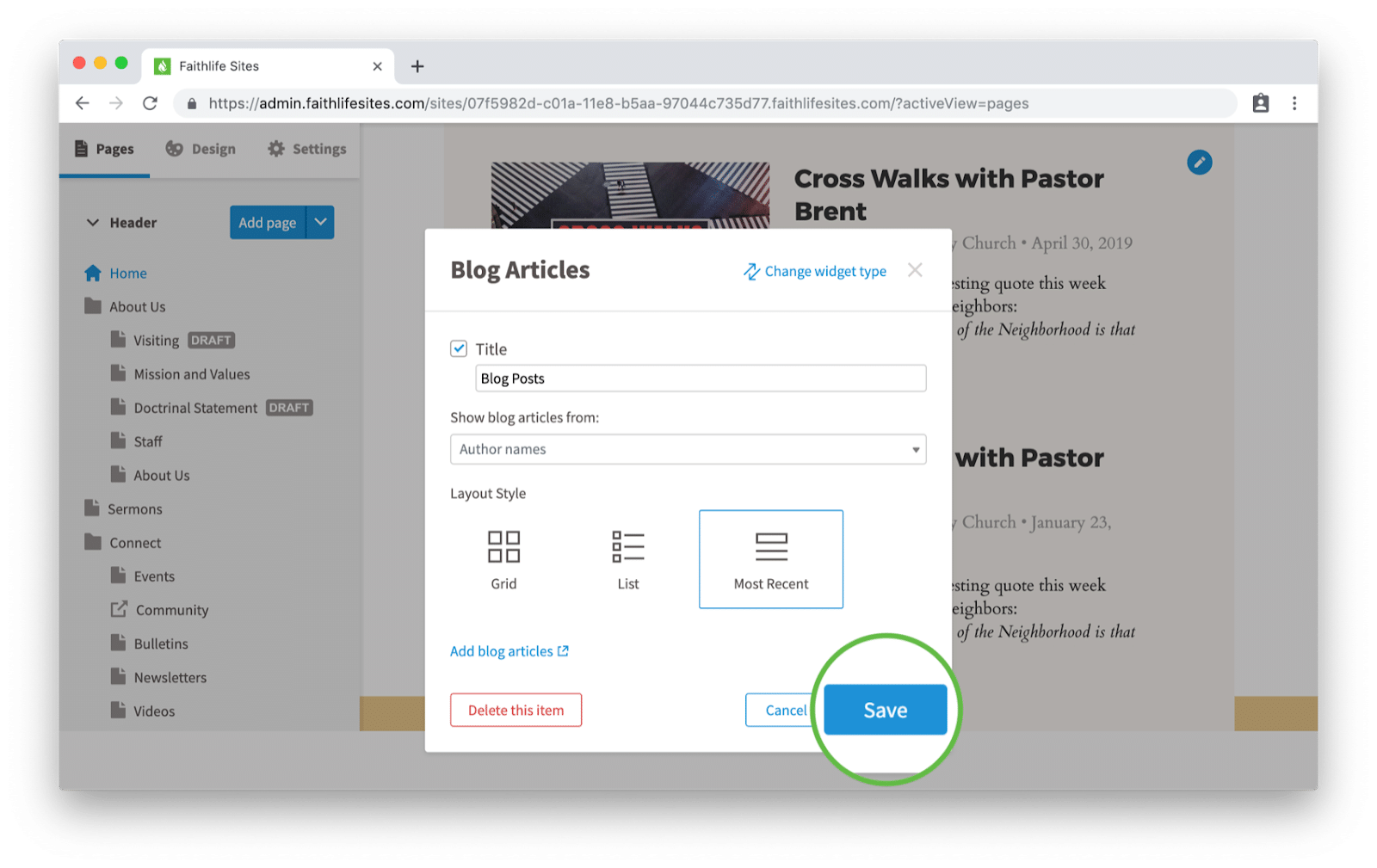 Note: Because each widget's settings are their own, you can set up as many Blog Article Widgets as you want anywhere on your webpage. Each widget will update with new articles when you post them. For instance, you may want to add posts from different authors on different pages throughout your site. You can set up widgets that filter by different authors and each one will update as the corresponding author posts an article.
Your widget will display a live preview. Be sure to Publish changes to make your widget live.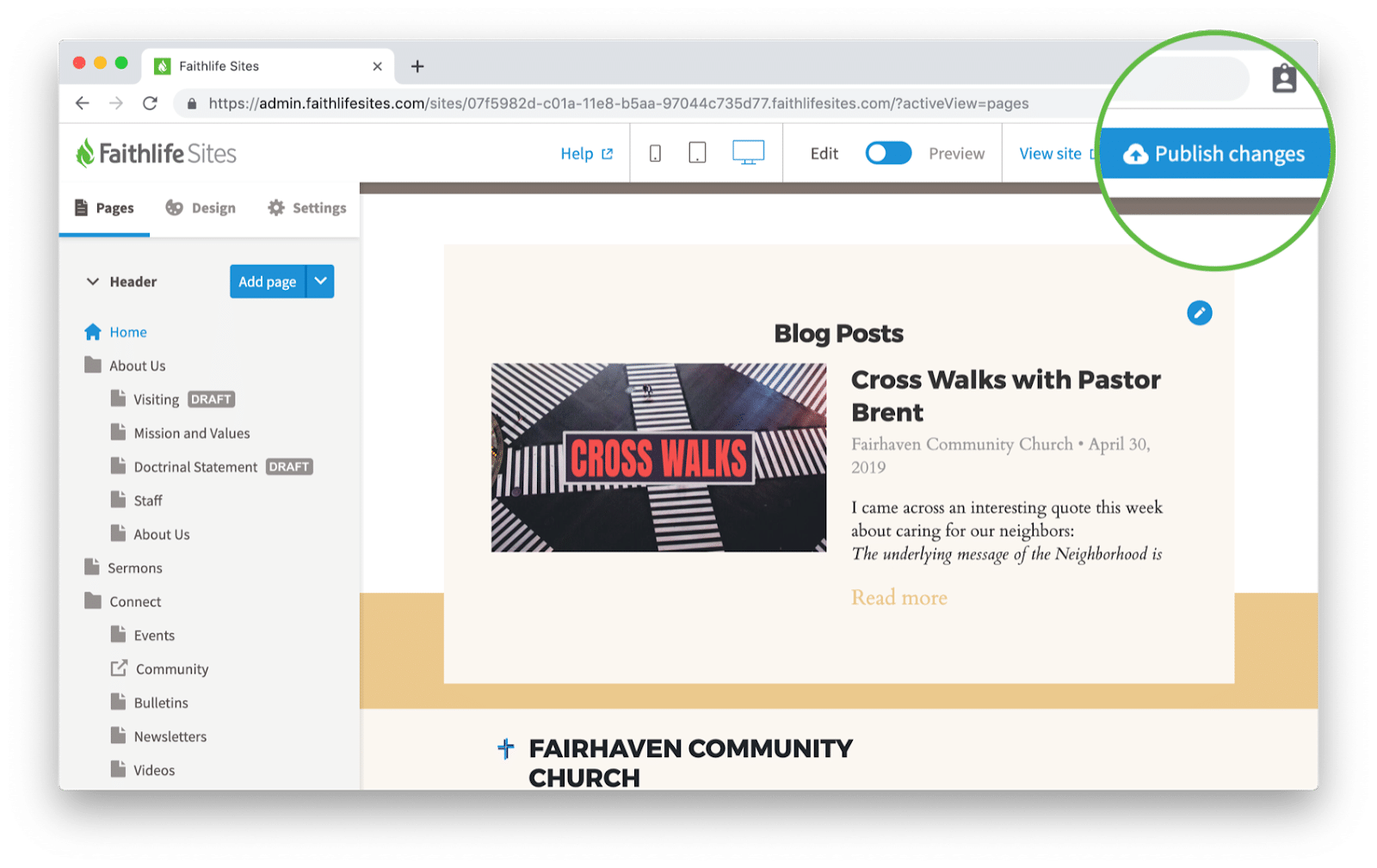 Add a Blog Page
If desired, you can display your blog posts on a dedicated page. Once you set it up, the page will update automatically whenever you post additional new articles.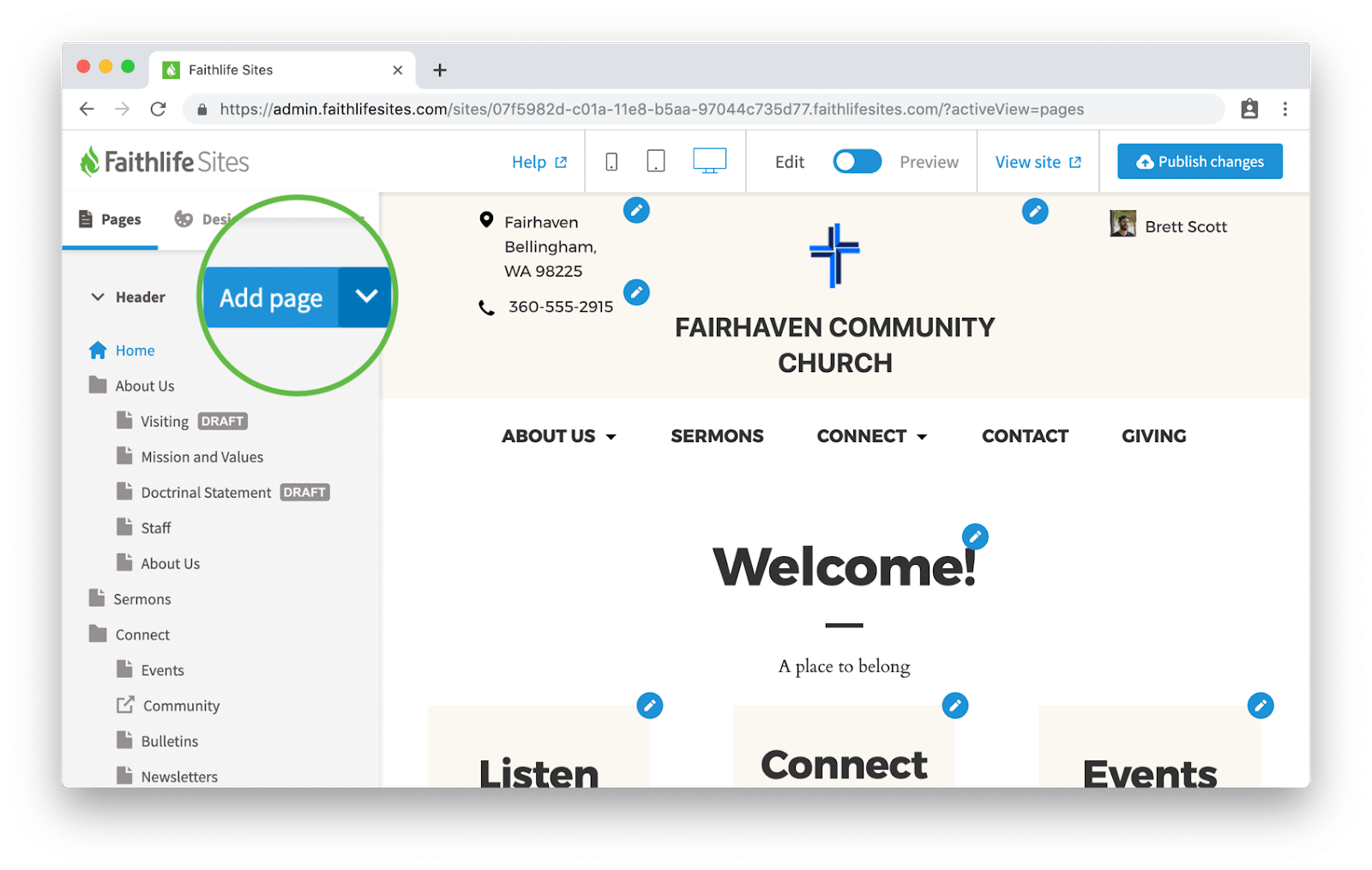 Give the page a name and customize the URL if desired. Click Create.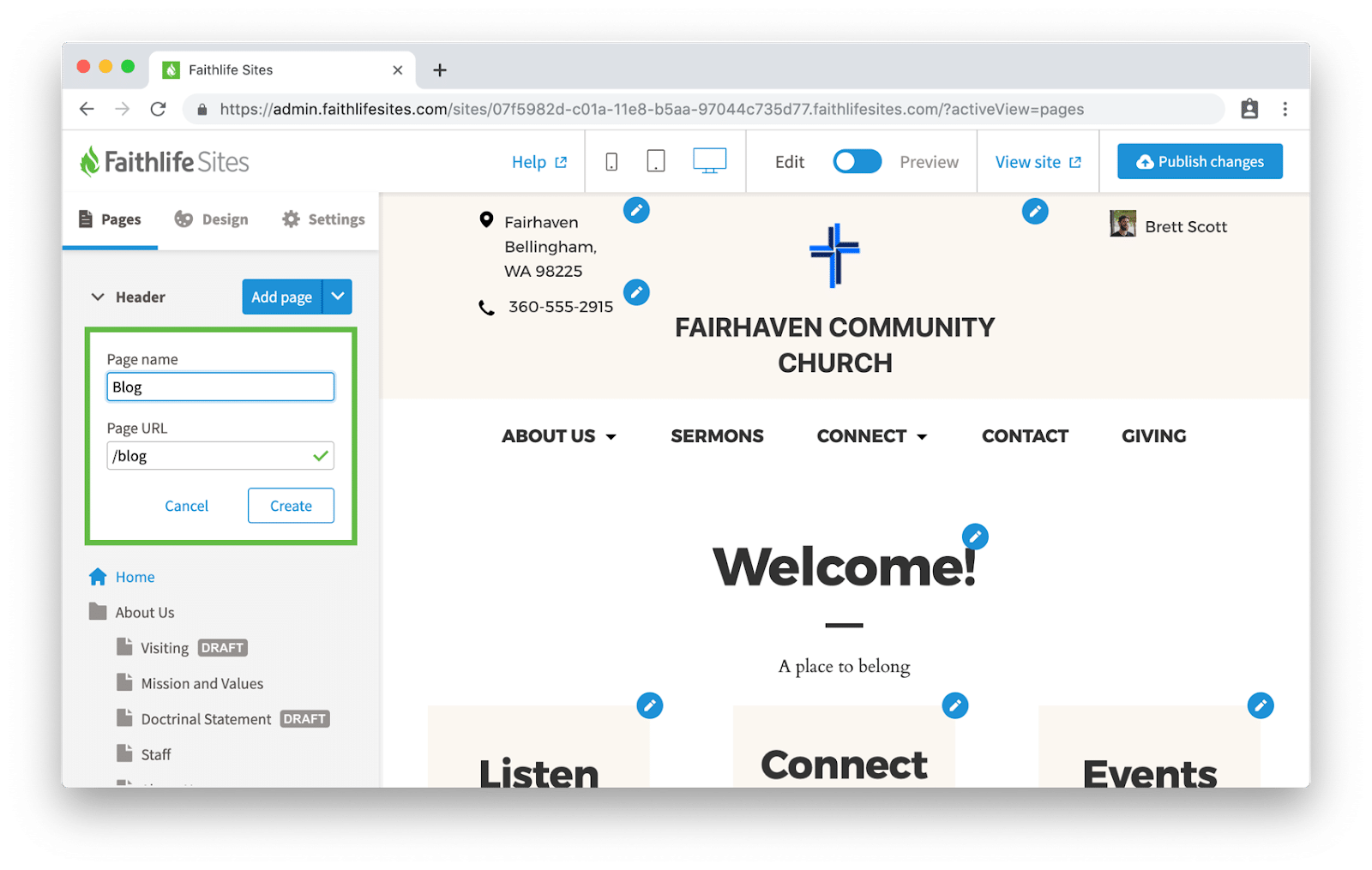 New pages include a content widget by default. You can replace it with a blog widget by clicking the blue edit icon.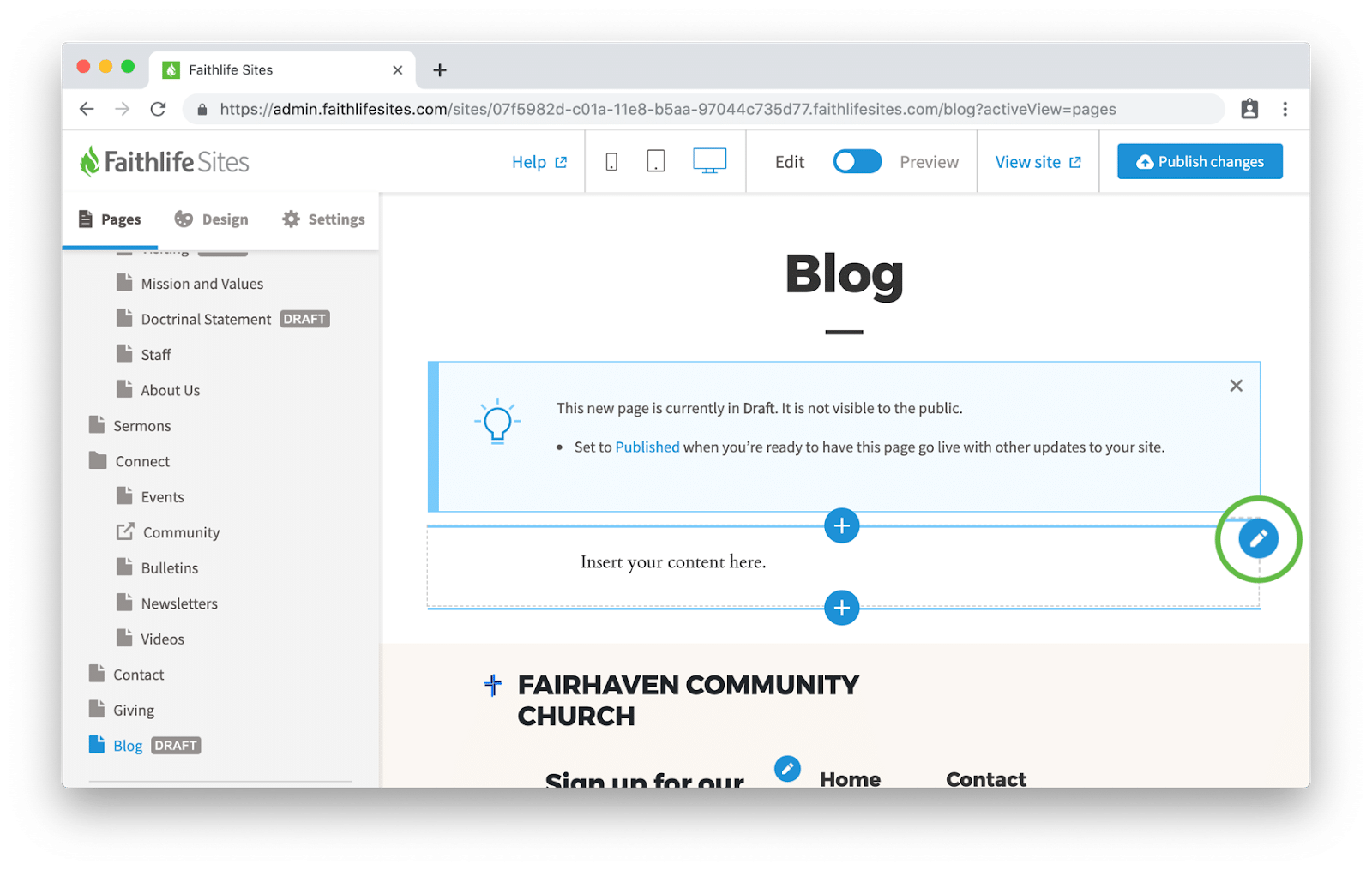 Select Change widget type.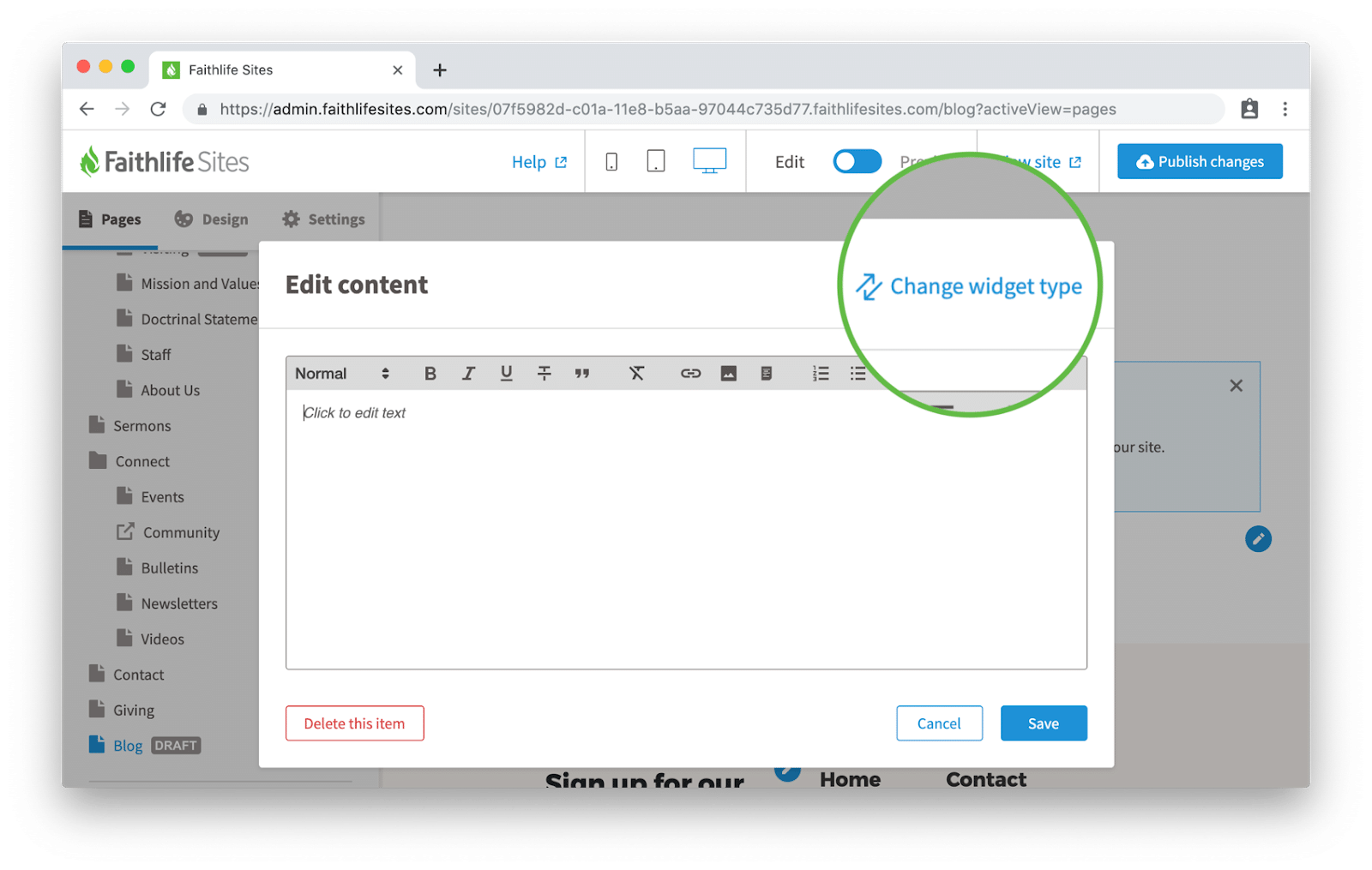 Select the Blog Articles widget.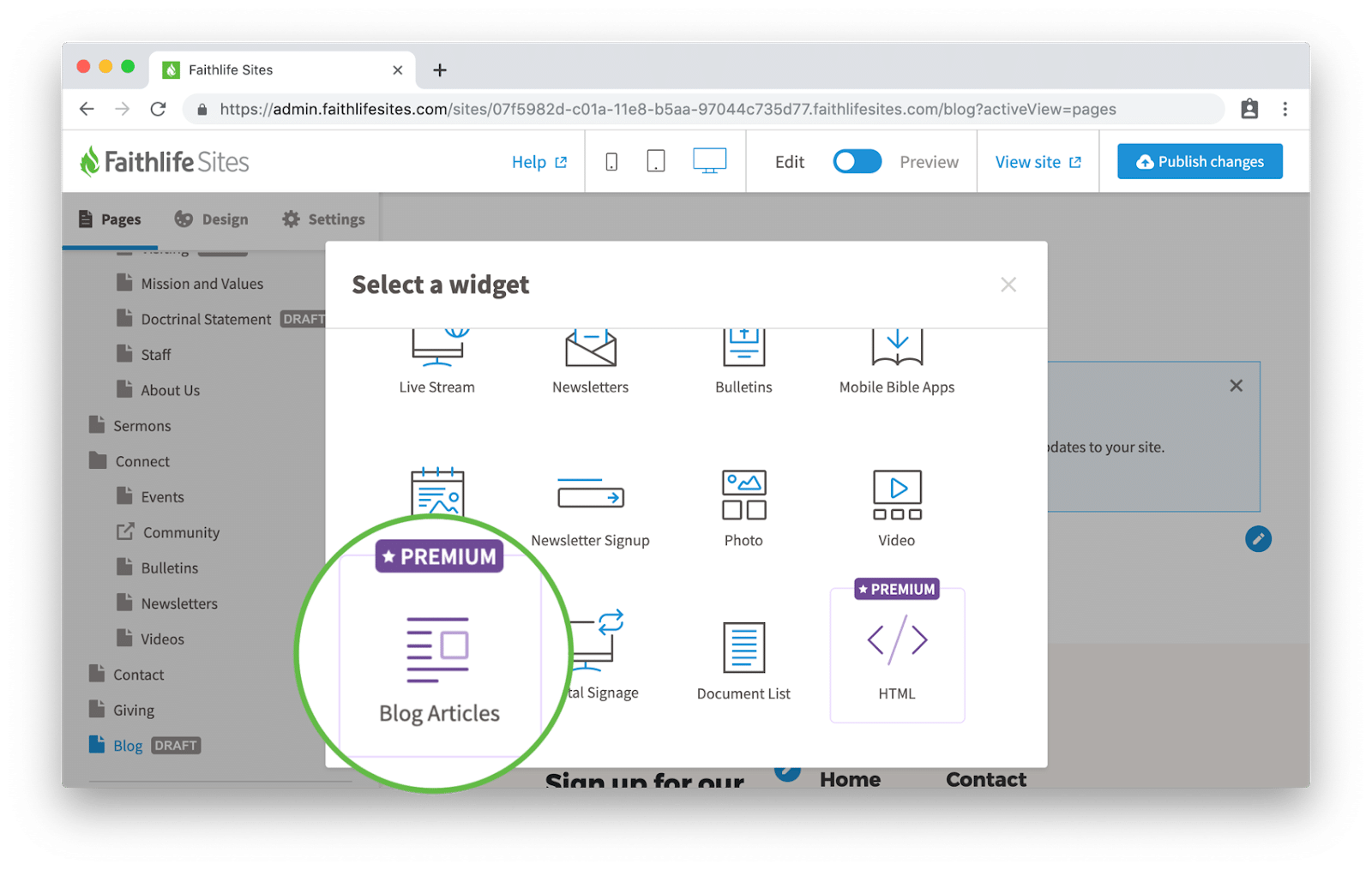 For your blog page, we recommend avoiding filters so every post displays regardless of the author. When you've configured the widget's settings, click Save.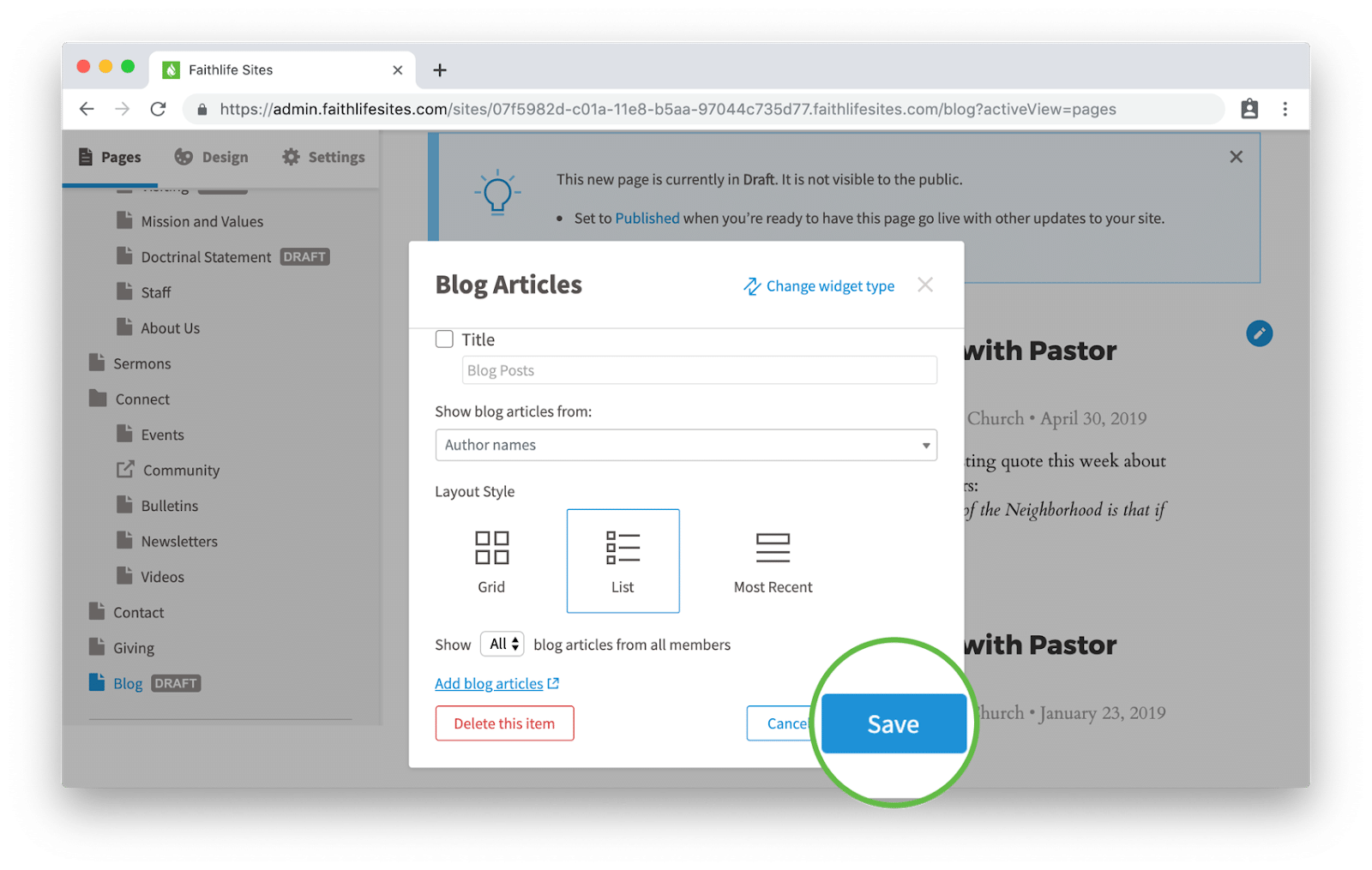 Locate the page's settings by hovering over the page's name in the left-hand panel and selecting the Settings icon

. Set the page's status to Published and then click Publish changes in the top right-hand corner of your web browser to make your changes publicly available.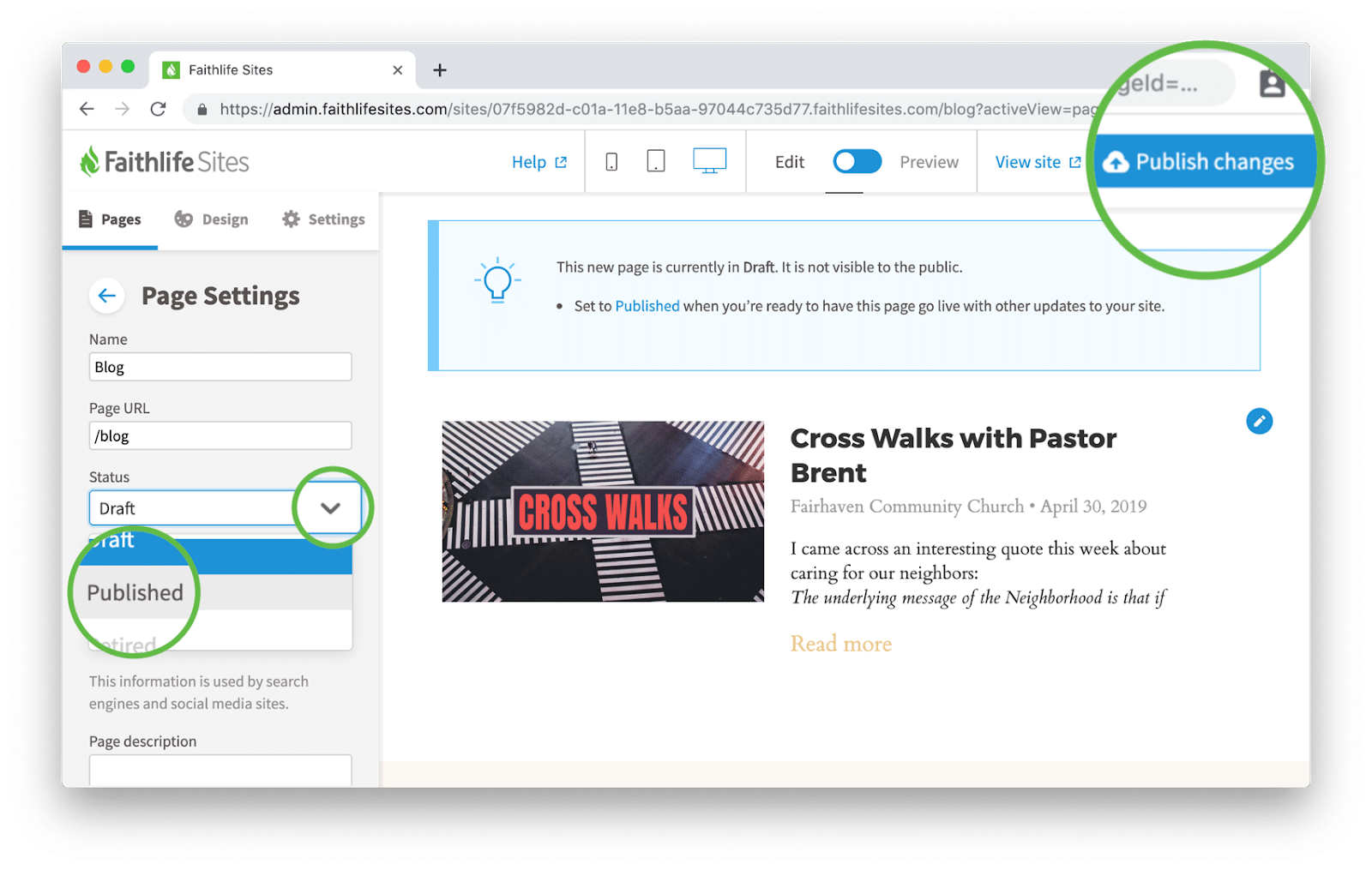 Whenever you post an article in your church group on Faithlife.com, your Faithlife Site will automatically update.
Share Your Blog Post on Social
Many churches want to share blog posts to social media in addition to their website and Faithlife group. You can share a post from Faithlife.com or your Faithlife Site.
Share from Faithlife.com.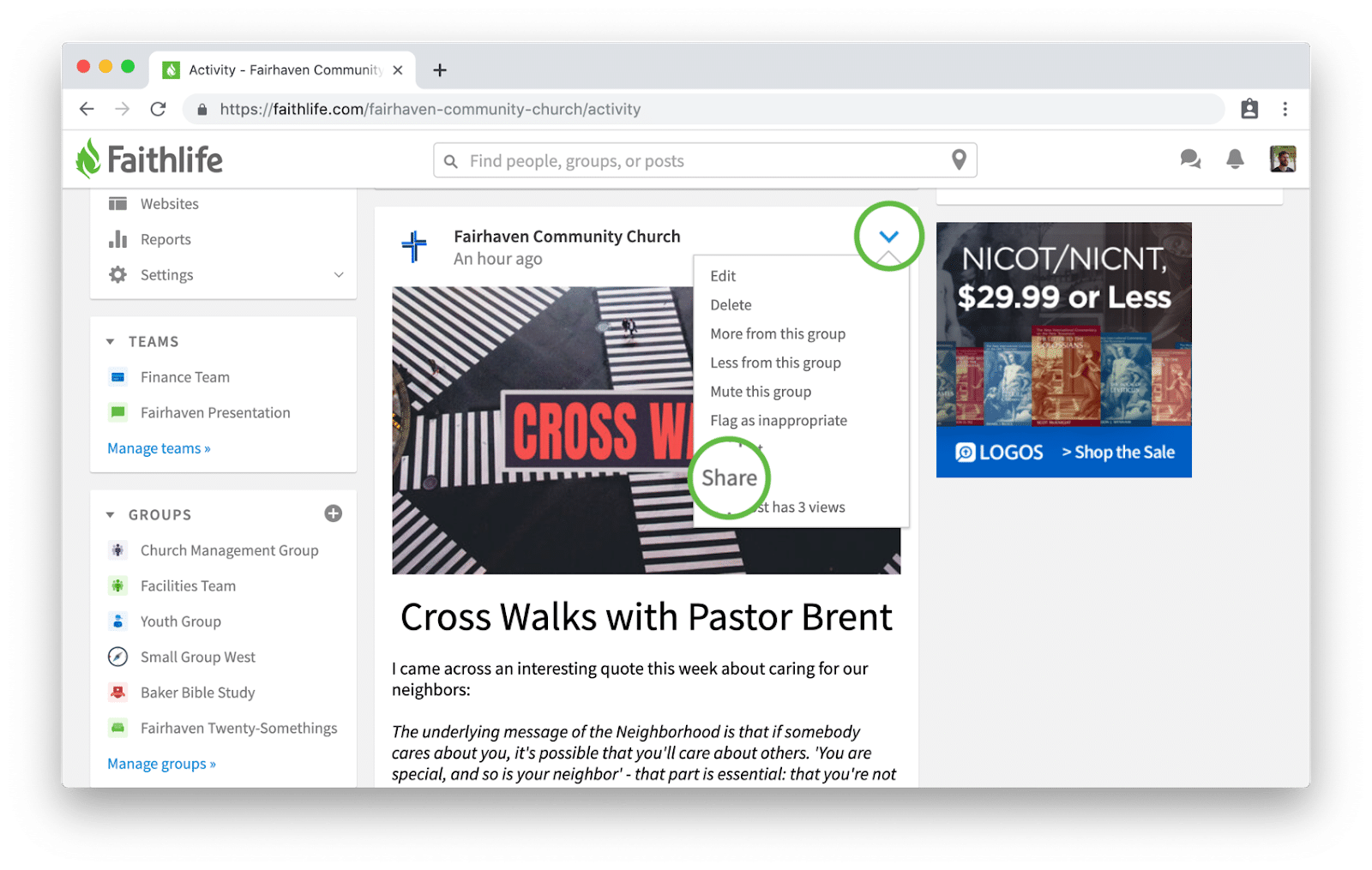 Share from your Faithlife Site.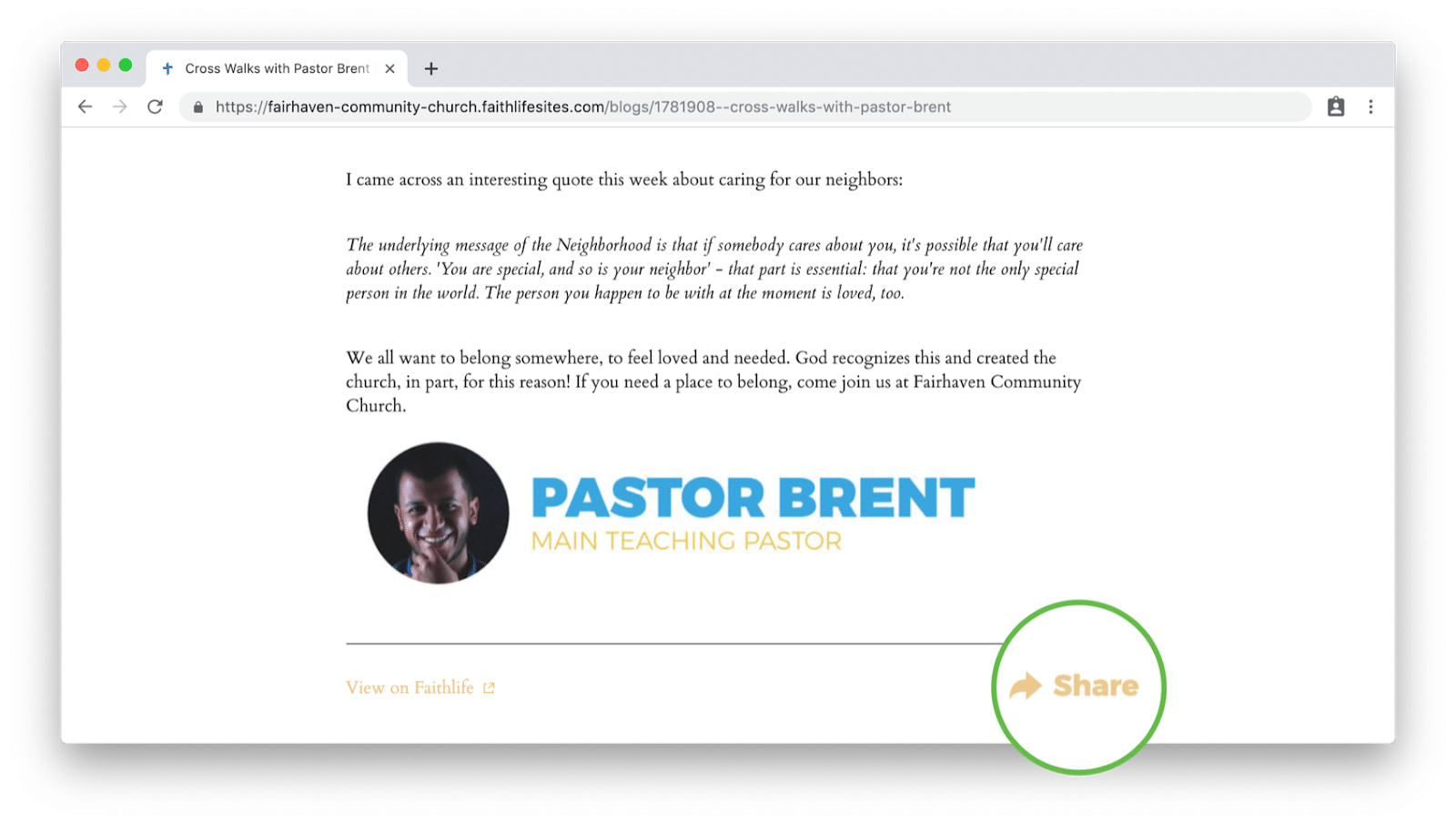 Copy the resulting link and post it on any social media platform to direct anyone to your blog post.
Note: If you receive an error when trying to post your link to social media (e.g., "Page not found"), check your group permissions. In order for your posts to show on your website, your Read news feed permissions must be set to Public. To change these settings, navigate to your Features & Permissions (under Settings in the group's Admin panel) and move the slider for Read the activity feed all the way to the right (to Public).