Your church group on Faithlife.com can have Teams, which are groups that have oversight of specific aspects of your church. Joining a team often grants team members special access to content. For example, those in your Proclaim presentation team can log into Proclaim to view, edit, and run your presentations and those in your Finance Team can view your church's giving data.
You can access any existing team by logging into Faithlife.com and selecting it in the left-hand sidebar. You can also find it within your parent church group in the Teams panel on the left.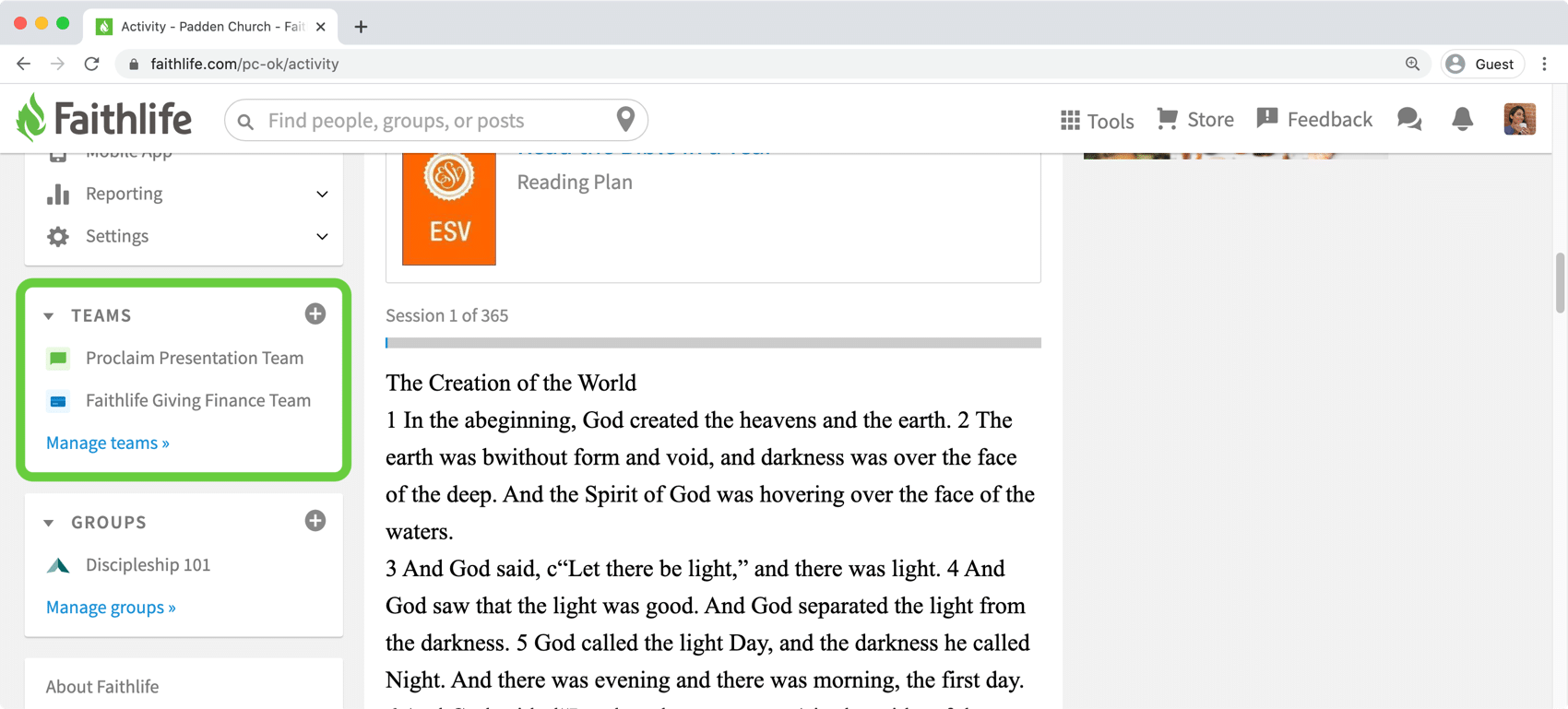 Note: In addition to teams, your parent church group can hold subgroups. They're meant for building smaller communities within your church for fellowship and edification while teams are meant for ministry staff to organize and manage their service. Learn more about subgroups.
Skip ahead to:
Create a Team
Admins of your church group can create teams inside your parent church group. To create a team:
Navigate to your church group on Faithlife.com.
Click the plus icon in the Teams panel.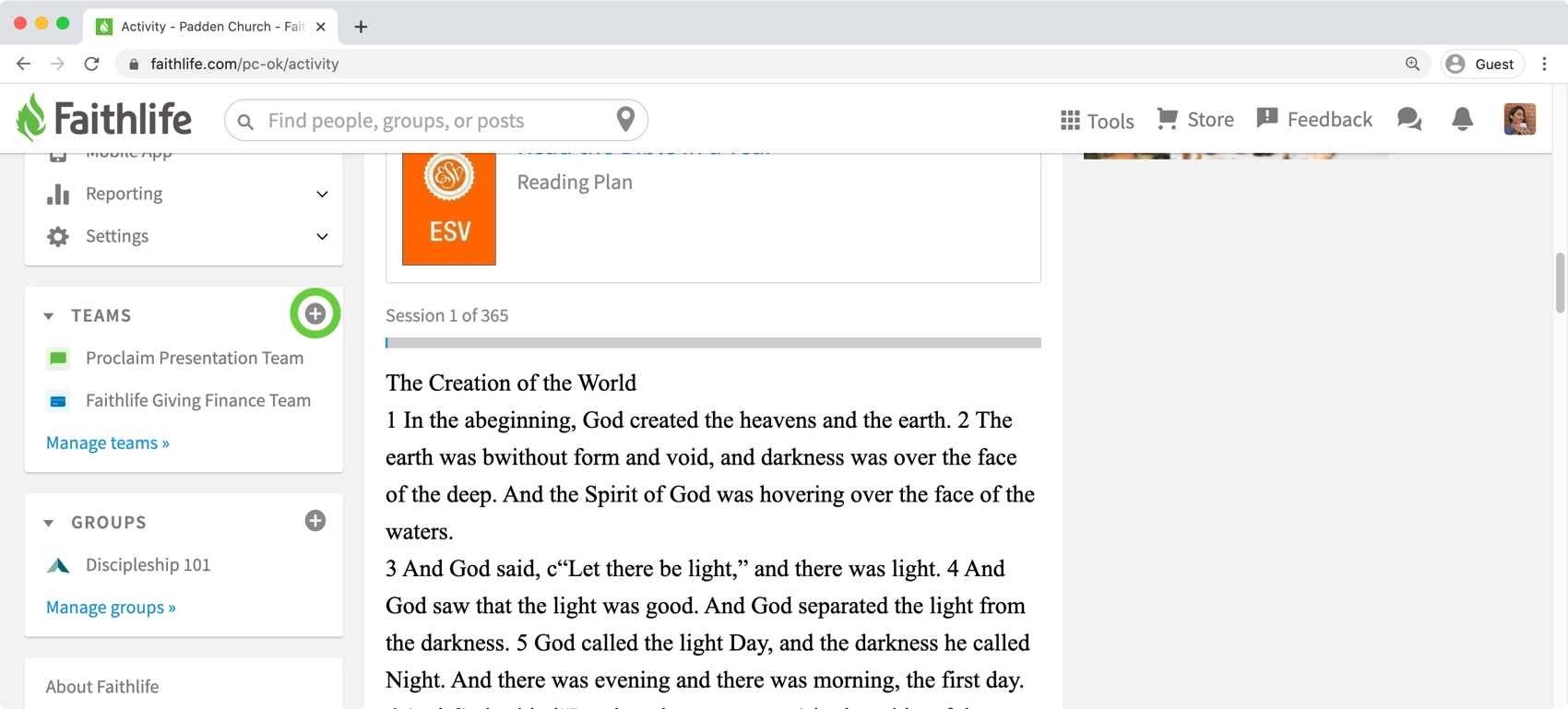 Choose any team(s) and click Add.
You can search, sort, and filter the list to find a team type that fits your needs.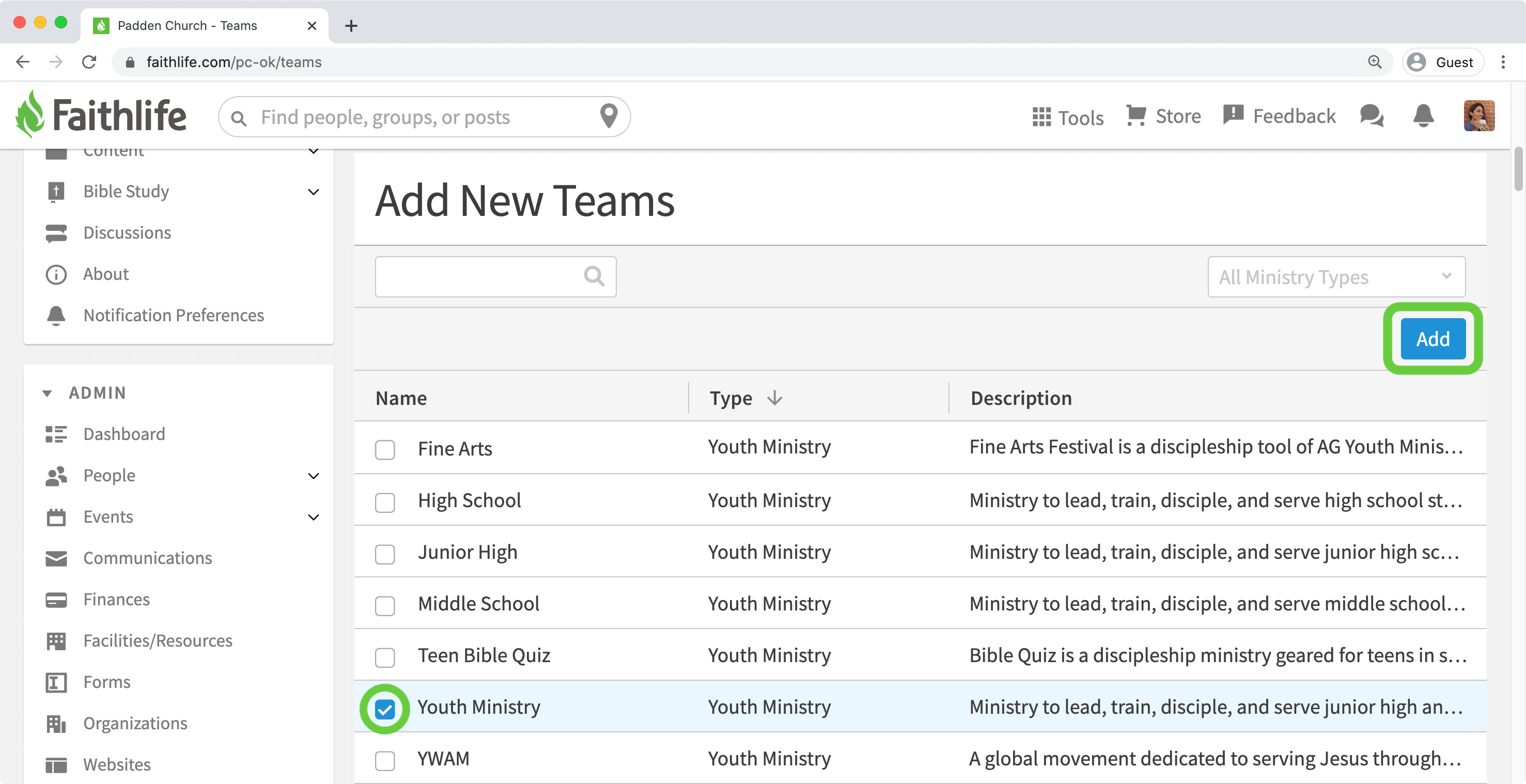 Any groups you've created are displayed at the top of the screen.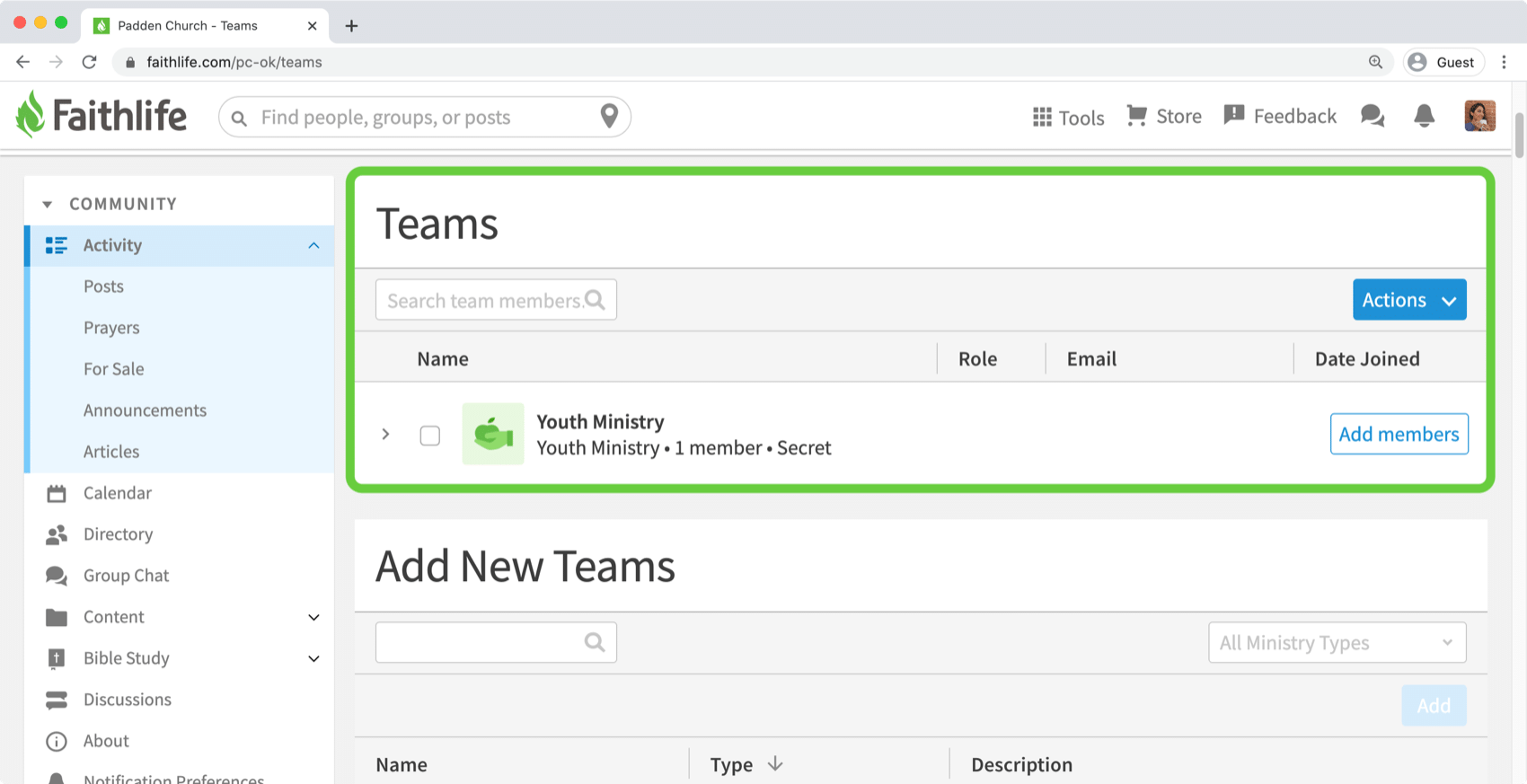 Assign Team Members
To assign team members:
Click Add members.
Choose your invitation level. By default, you will assign people as Members. To add people as Followers, Moderators, or Admins, click Members and choose a different Assign as option.
Add assignees and assign.
We recommend searching for people by name, though this assumes they have a Faithlife account. As a general rule, it's usually best to invite people to your parent church group first and then assign them to subgroups and teams. This process makes it easier on you, as people who already belong to your parent church group can be added to your subgroup or team membership without additional confirmation on their part. To limit the search to people already in your church group, leave Limit search to church checked.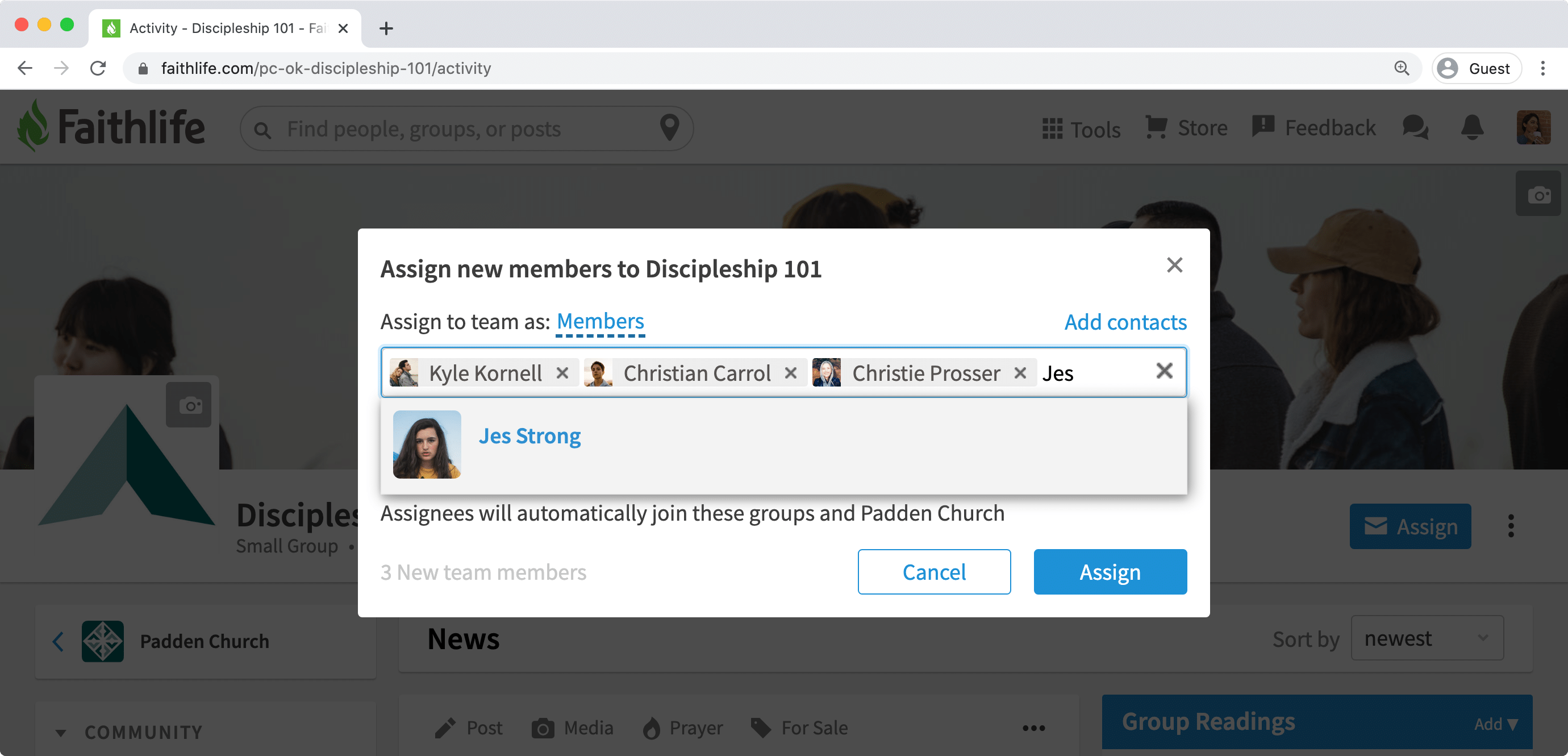 If any assignee is not part of your parent church group, a second checkbox appears. Check Send an email inviting your assignees to create a Faithlife account to send an invite to your parent church group and (if necessary) create a Faithlife account. Some churches leave this unchecked when initially setting up their subgroups/teams so they can get people organized ahead of time before officially extending invitations. Checking this option also enables a personal message you can customize.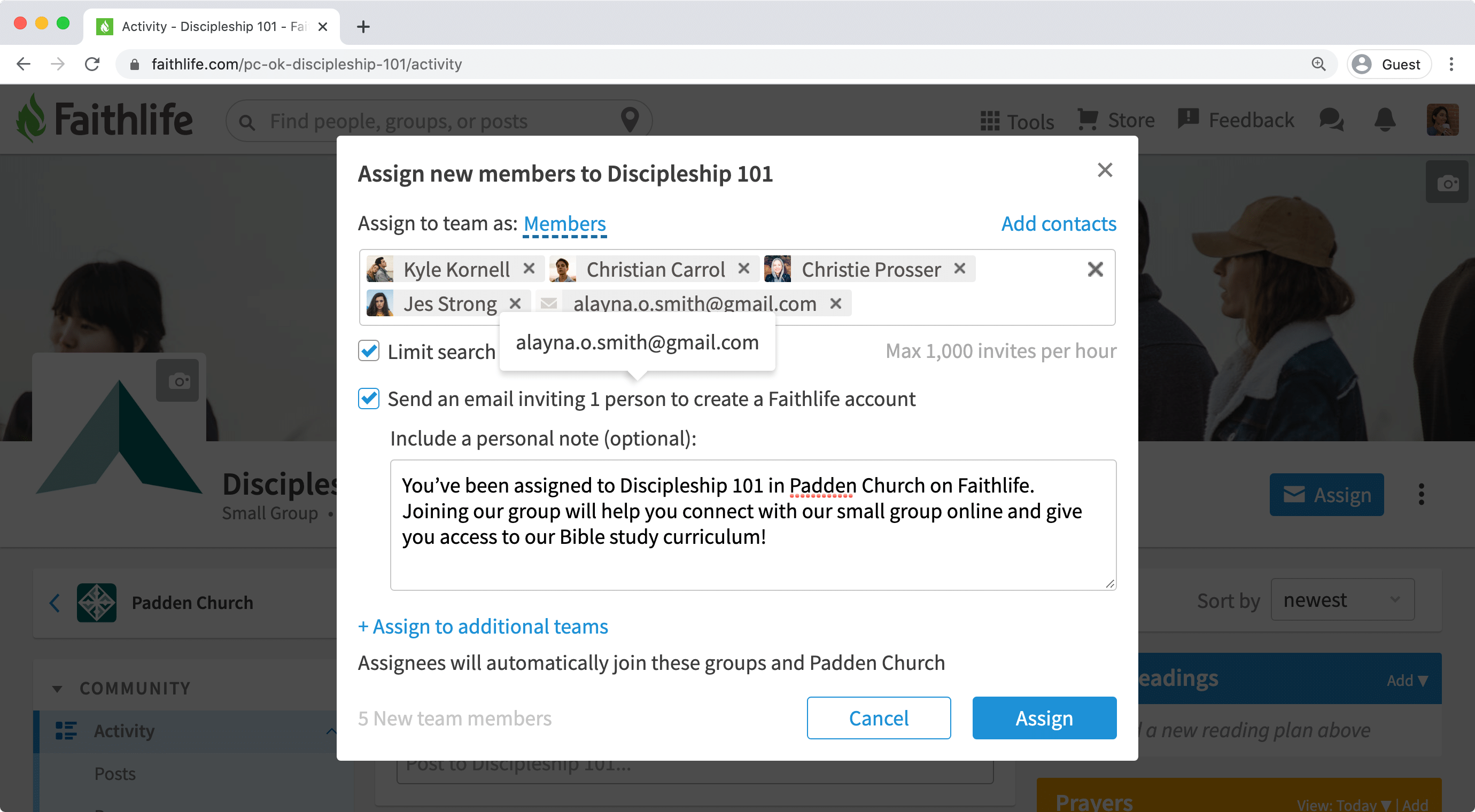 To view someone's status in your subgroup or team, select Members in the left-hand sidebar.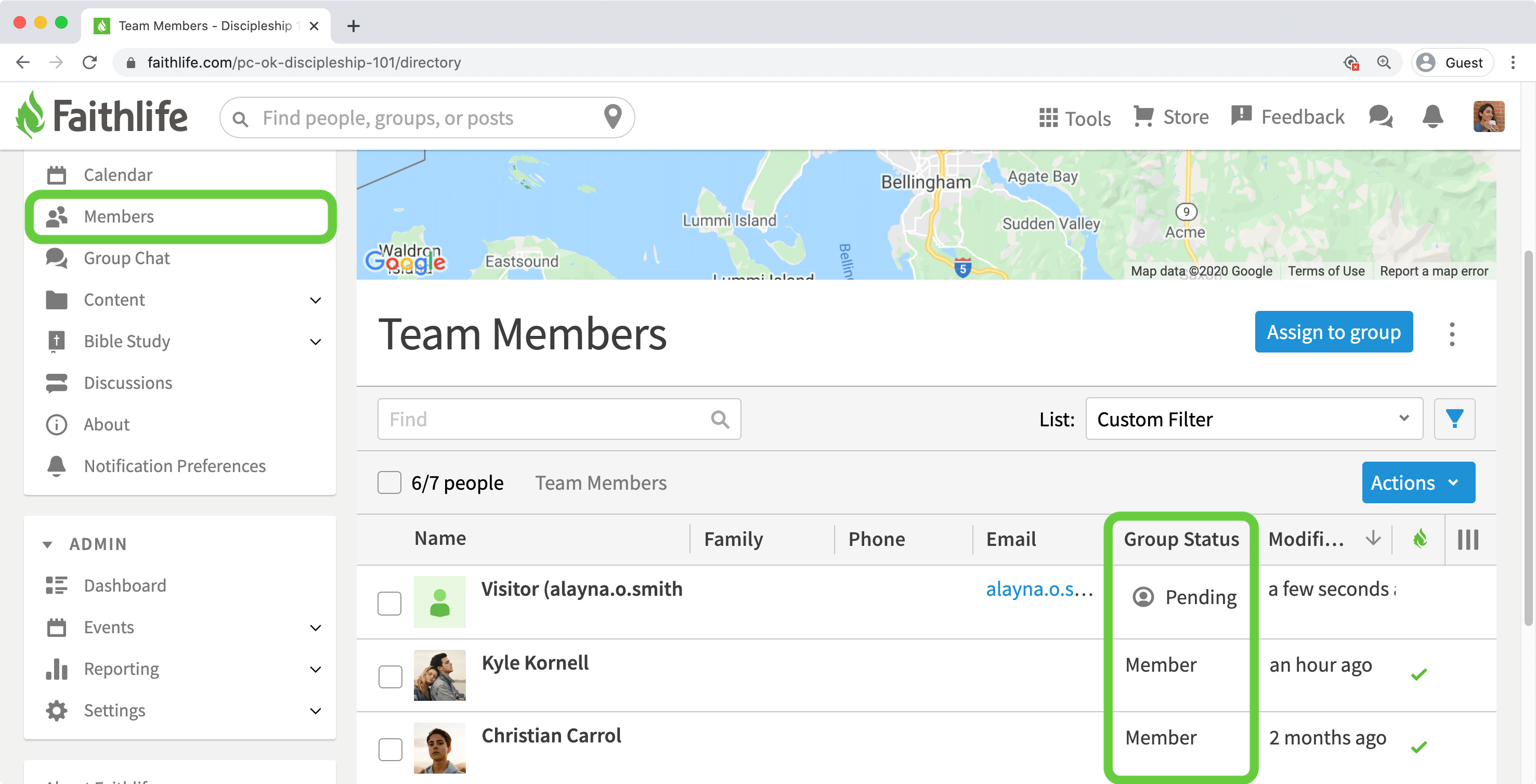 To change an existing person's status, withdraw an invitation, or remove someone from your subgroup/team, select the person's row in your Members section, expand the blue Actions button, and choose your desired action.
Note: View a more detailed tutorial on assigning team members.
Delete a Team
Admins can delete a team. Warning: deleting a team is permanent and cannot be reversed.
Navigate to the team on Faithlife.com
Expand Settings and choose Group Settings.
Scroll to the bottom and click Delete group.
Click OK to permanently delete your team and all its content.