Note: If you do not have a church group set up on Faithlife, follow these steps to create and configure your free church group on Faithlife.com so that you can activate Giving.
As an administrator of your church group, you can activate and set up giving in a few minutes.
Note: Click here to view a recorded Q&A webinar on activating Faithlife Giving.
Note: For more information on your giving account, check out the Giving Launch Kit located in the Tutorials and other resources section of your Dashboard.
1. Go to Faithlife.com, sign in, and select your church group from the sidebar. Then, click Finances in the Admin sidebar.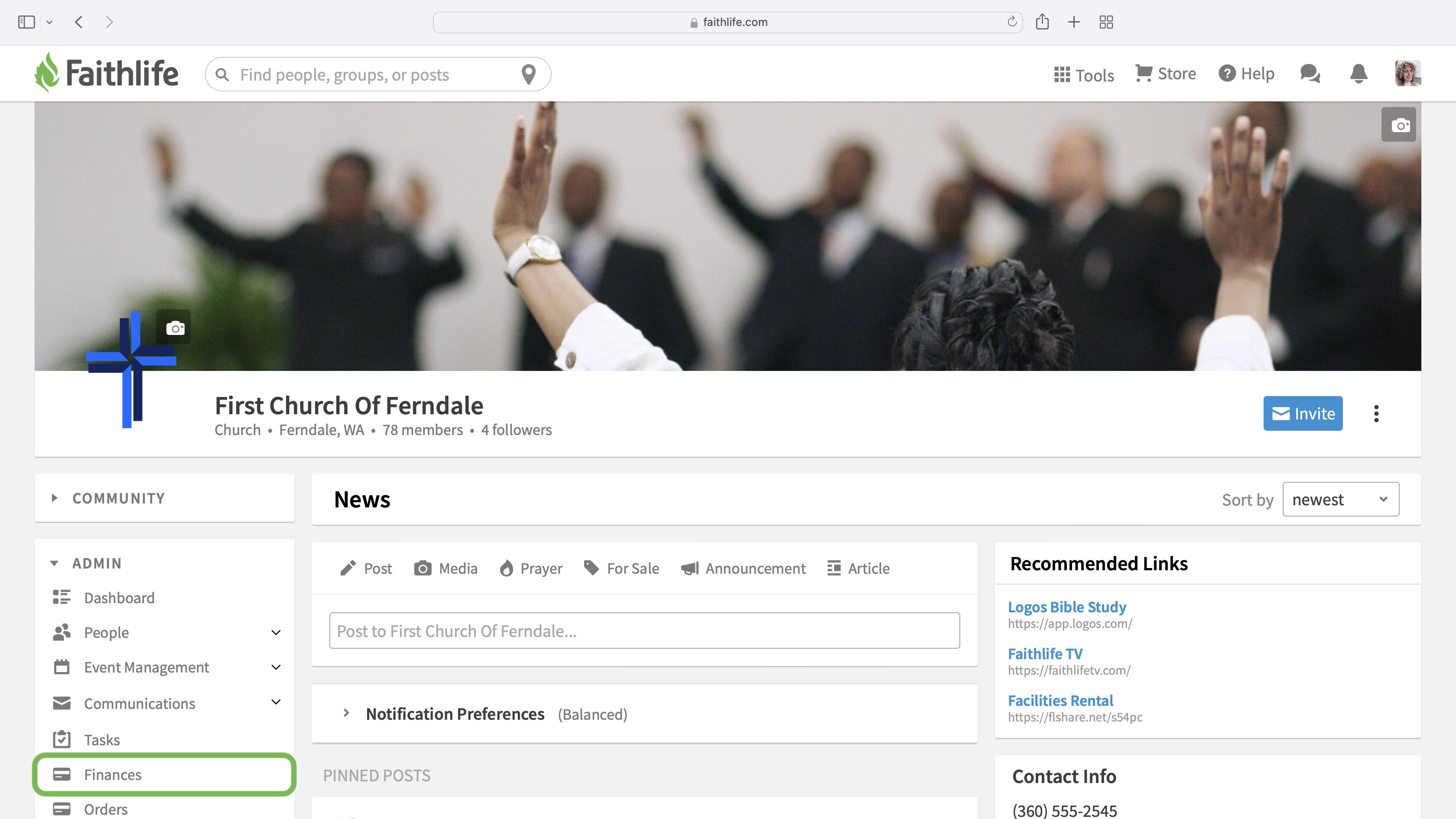 2. Click Activate Giving.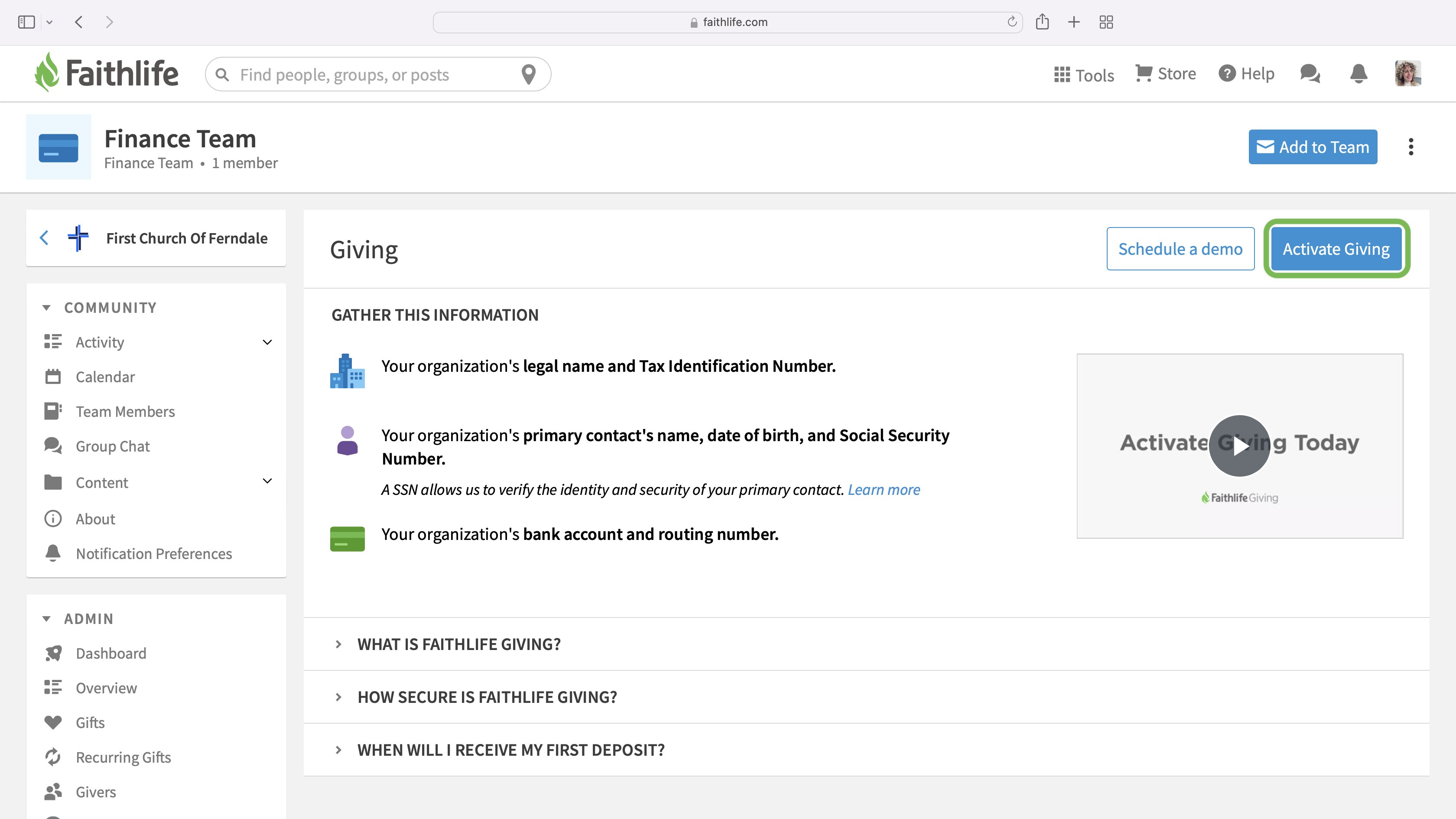 3. Provide and review your account details.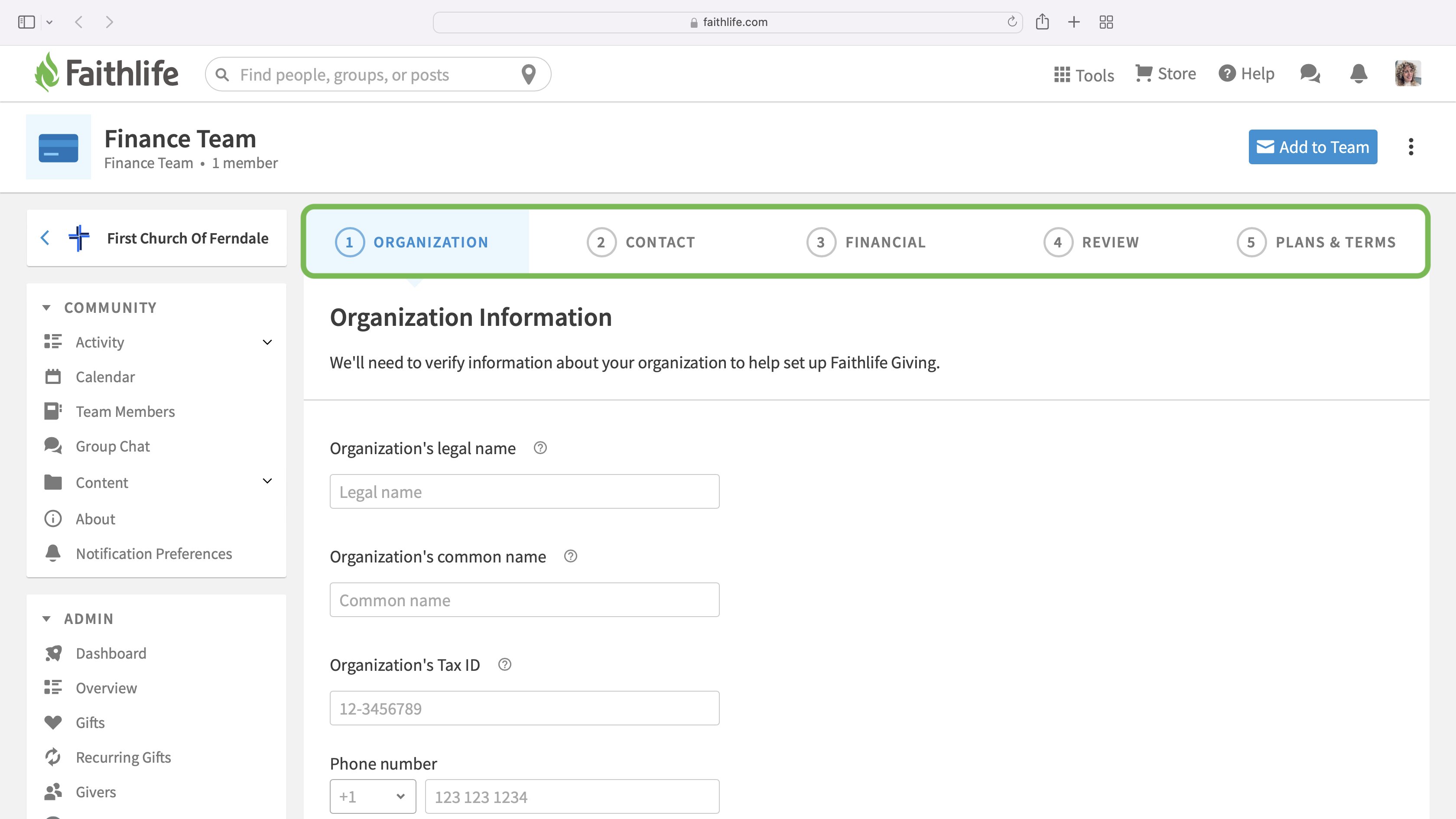 Organization: In order to accept donations, you will need to provide your organization's name—both legal and common—along with a phone number, website, Tax ID, and physical address. After entering your information, click Next.

Contact: Provide the contact information for the individual who will serve as the contact for your church. You can change this later if necessary. (Note: A new rule requires companies, such as Faithlife, to collect and verify specific information, including social security numbers, at the time a new account is opened. This intent of this rule is to assist in the government's effort to prevent financial crimes.)

Financial: Thirdly, add your bank account details. Faithlife will deposit any gifts into and withdraw fees from the account you provide.

Review: Ensure your information is correct and click Confirm.

Plans & Terms: Select your desired plan, read the Gift Processing Agreement and agree to its terms by checking the box, and click Confirm & Submit.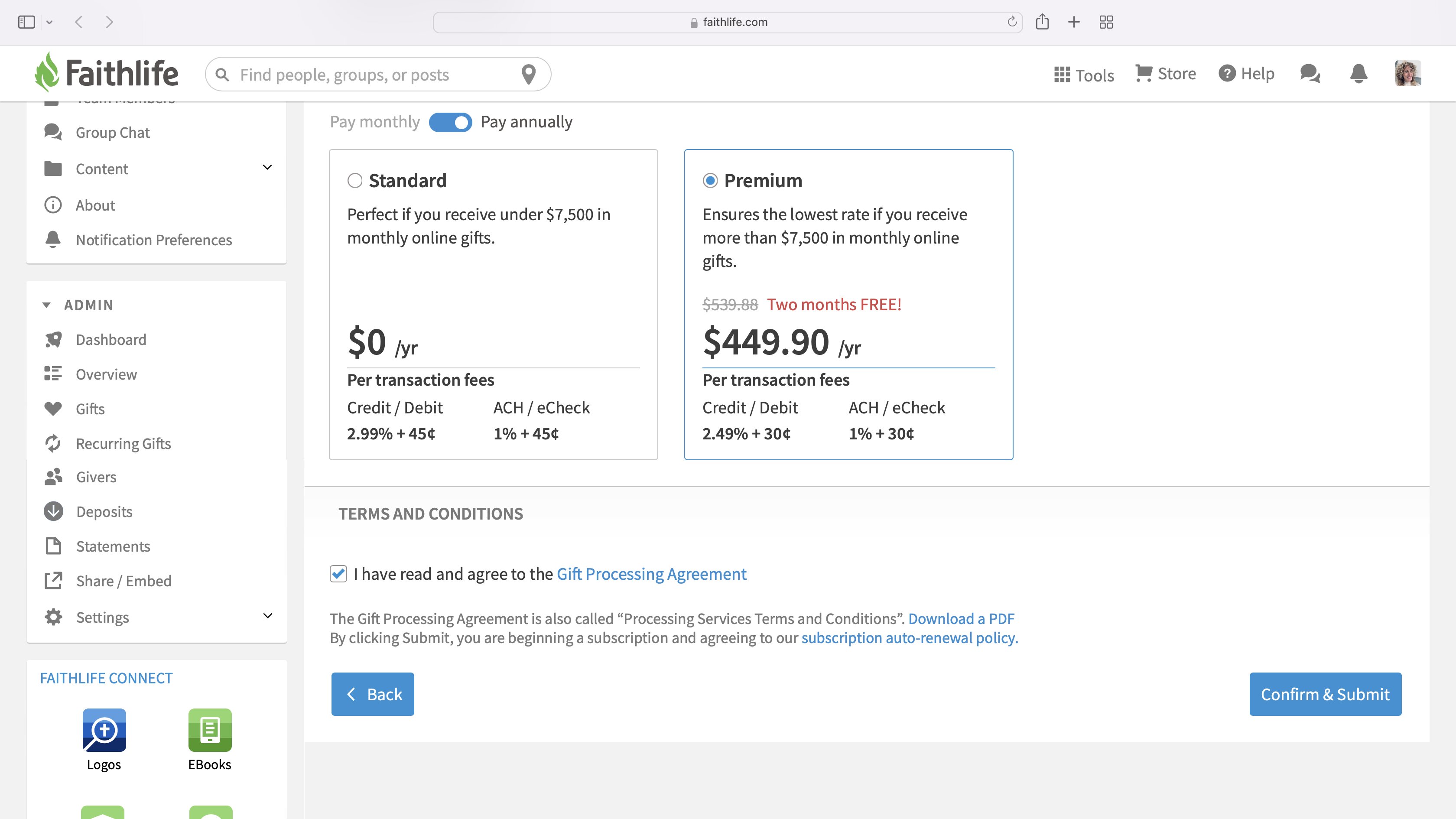 The Standard tier includes no monthly fees and is ideal for churches and ministries that are just getting started or that receive less than $7,500 per month in credit/debit card donations.
The Premium tier includes a monthly fee with lower transaction rates and is ideal for established churches and ministries that receive more than $7,500 in credit/debit card donations or those that want to benefit from lower transaction rates.
The first monthly fee is due a month after the account has been approved to start accepting gifts. Monthly fees are debited from your account based on the date your account was activated. For example, an organization that activated its account on the 18th of one month would receive its first monthly bill on the 18th of the following month and on the 18th of each subsequent month.
Note: For more questions related to privacy, security, or finance questions, see Faithlife Giving's FAQs or contact us.
Once this form is submitted, Faithlife will process the details and immediately activate Giving so you can start accepting donations. If more information is needed, we will connect with the primary contact you provided. The entire process often takes five minutes or less to complete if you have all of your documents at hand.
4. Process a test transaction.
Once you've successfully set up Faithlife Giving, you can process a $5 test transaction to become an established merchant (i.e., you have a bank account specifically established for business purposes where you can make and accept payments). To make a $5 test transaction, simply click the Give button on your church group's homepage. On the giving form, input $5, and follow the steps to complete the gift.