People records let you create, track, and search information about your members. You must be a group admin in order to create or modify people records.
An individual's person record is distinct from their Faithlife account. While a Faithlife account is created and controlled by that individual, the person record is created and managed by an organization. As a group admin, you can link person records to a Faithlife account that is a member of your group. This will add some information from that account to your person record. There are multiple ways to create a person record. Select the method that works best with your workflow.
Skip ahead to:
Create a digital connection card
Invite a member to your group
Faithlife automatically generates a person record for each member or follower of your group. Learn how to invite members to your group.
Add an individual
Navigate to your group on Faithlife.com
In your group's Admin panel, click People.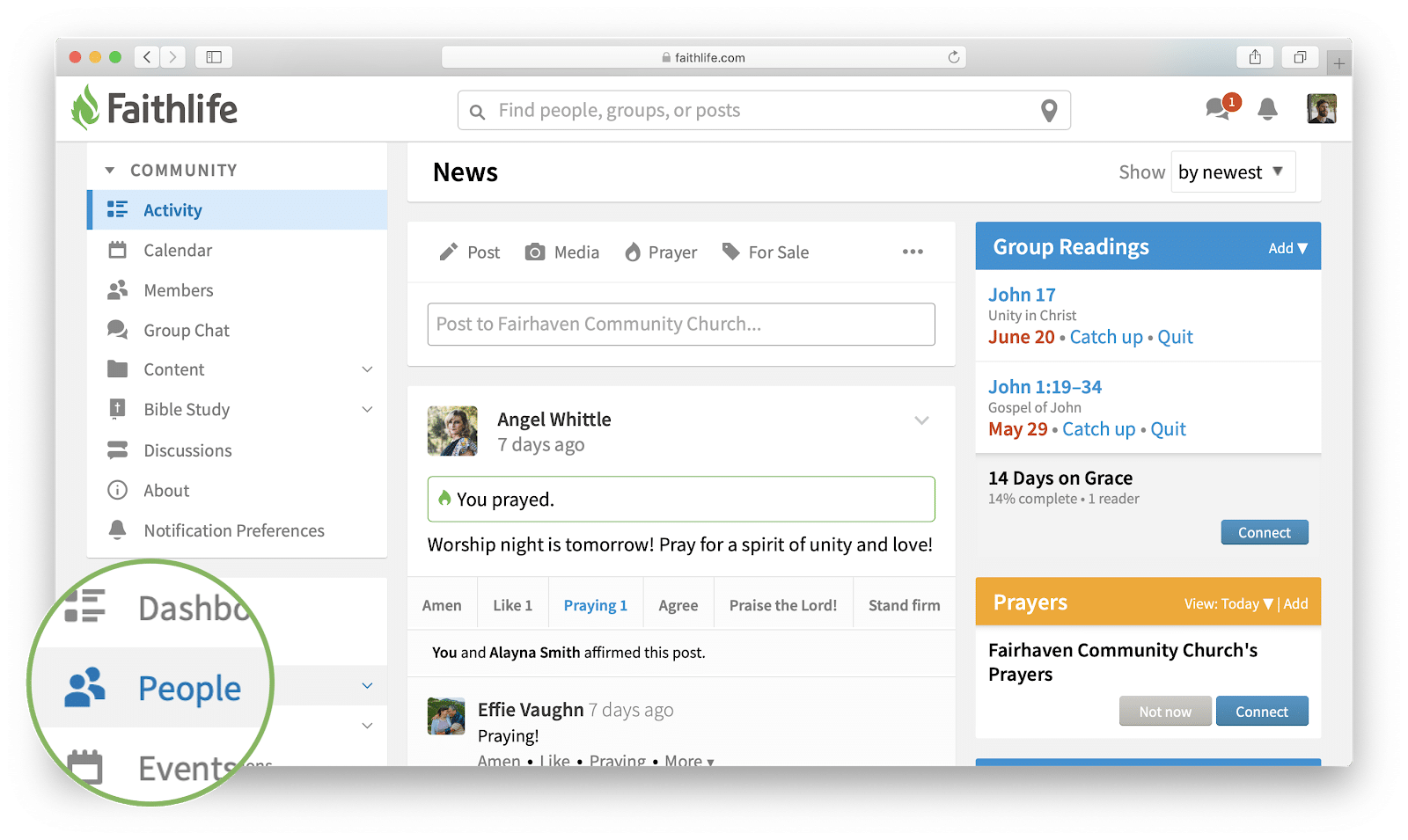 Click Add Person.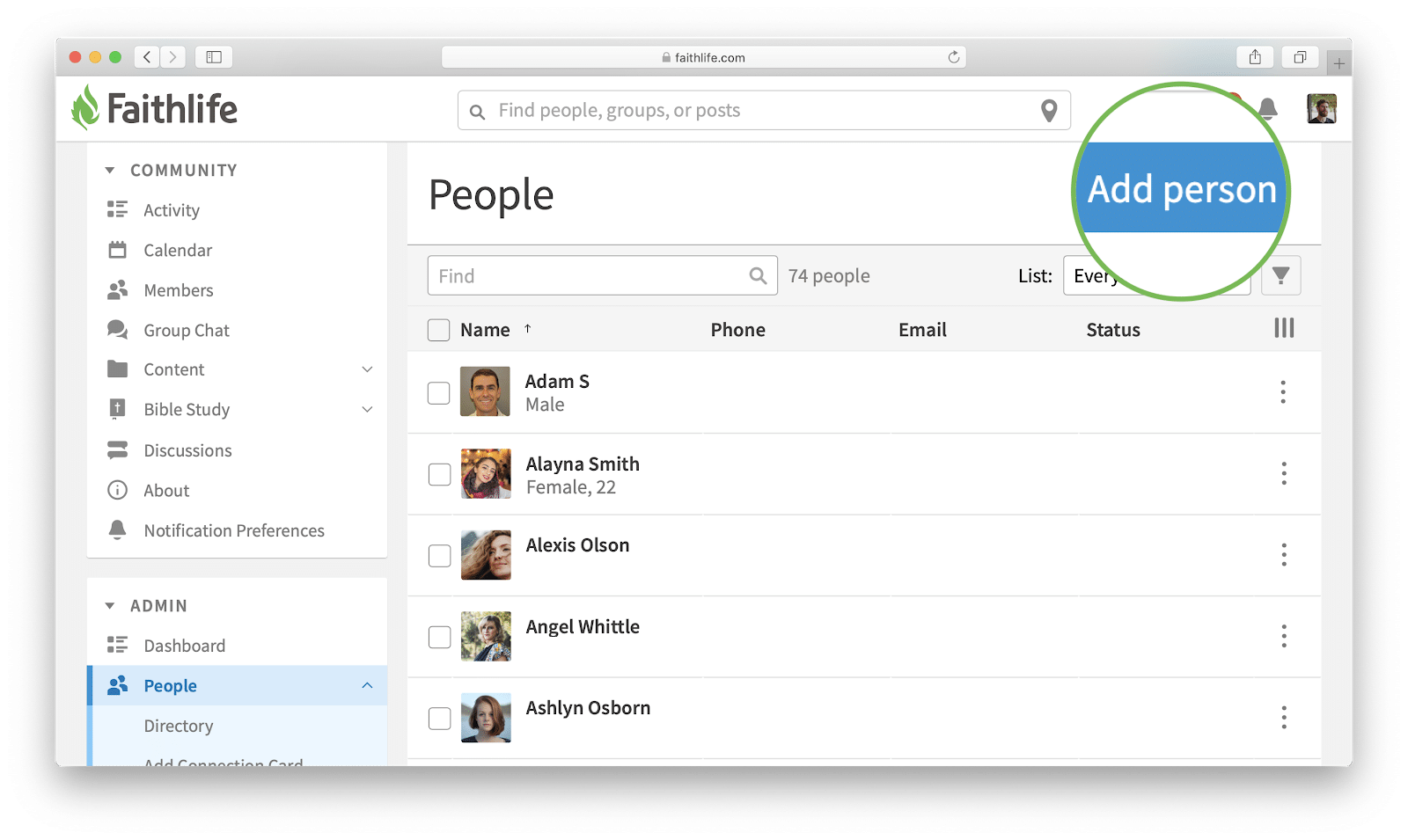 Provide a name, and select whether the individual is a child or an adult. If desired, you can add a photo of the individual (this photo may be visible to any member of your group).
Click Create.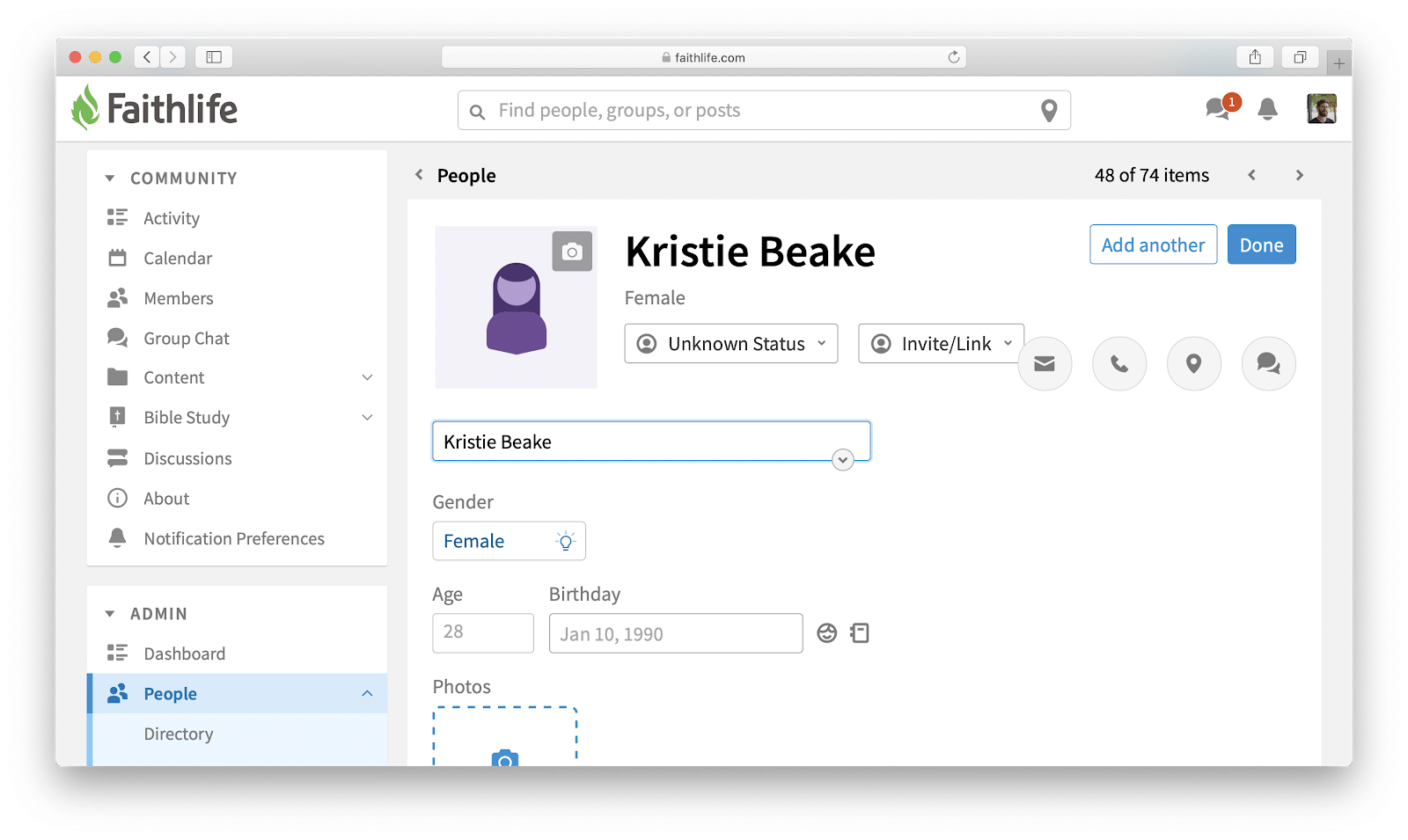 The person record will open. You can provide additional information about the individual (Learn more about populating a person record) or click Done. To add another person record, click Add Another.
Bulk import people records
You can import people records from another system using a CSV file.
Export your people records from your old system in CSV file format. Faithlife can interpret CSV files from most record management systems.
Check your file. Look through the file to make sure all of the data in columns match column headers. To import families, we recommend having a "Family" column in your spreadsheet. Add the family name in that column next to each person in the family. If a family has multiple surnames, separate the names with commas.
Navigate to your church group on Faithlife.com.
In your group's Admin panel, click People.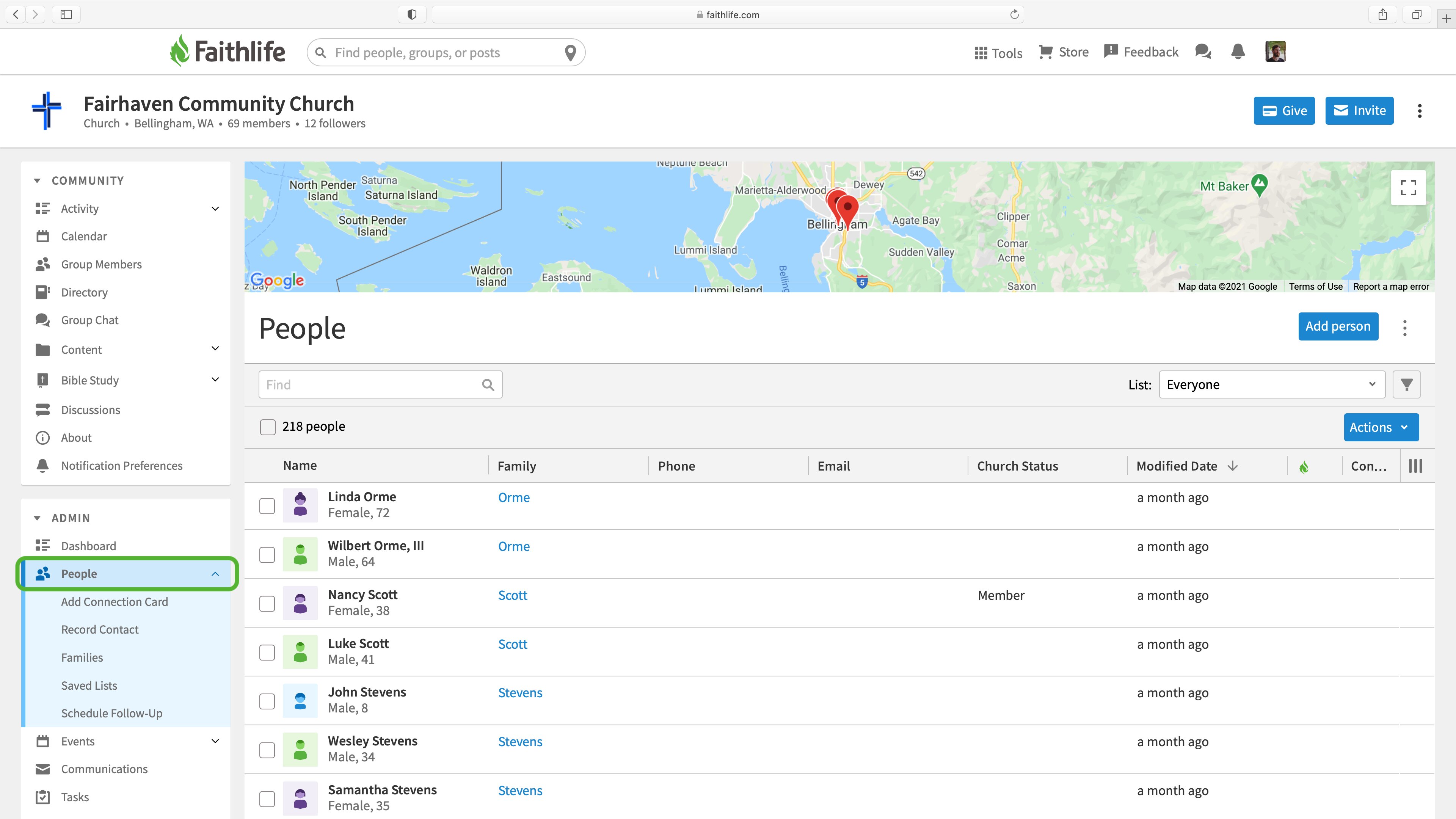 Click the more options icon , then select Import from CSV.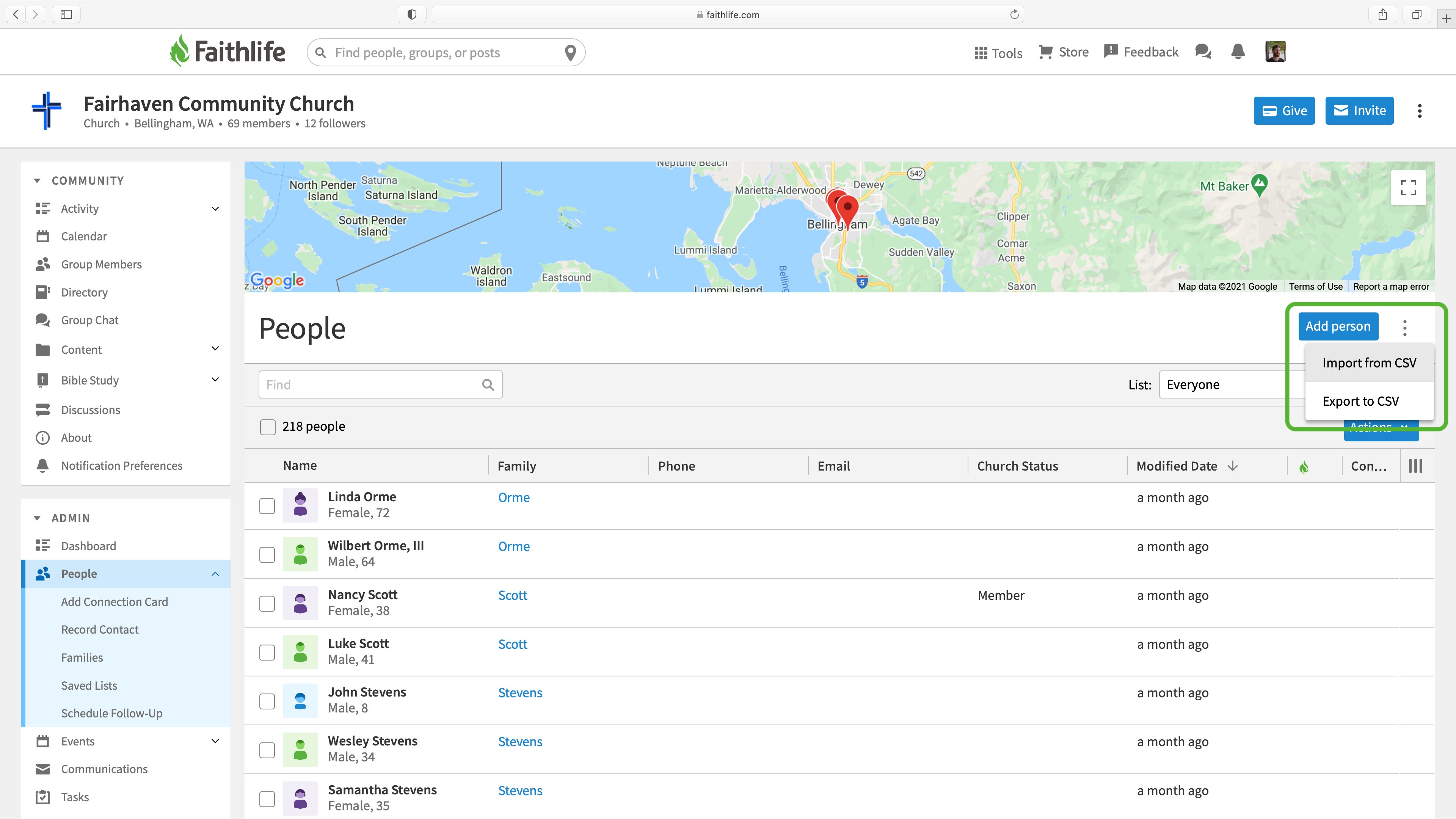 Select the .csv file you exported. A window will appear with three columns.
The first column displays column names from the first row of your .csv file.
The second column displays the corresponding field on the Faithlife platform.
The third column displays the type of data corresponding to each column.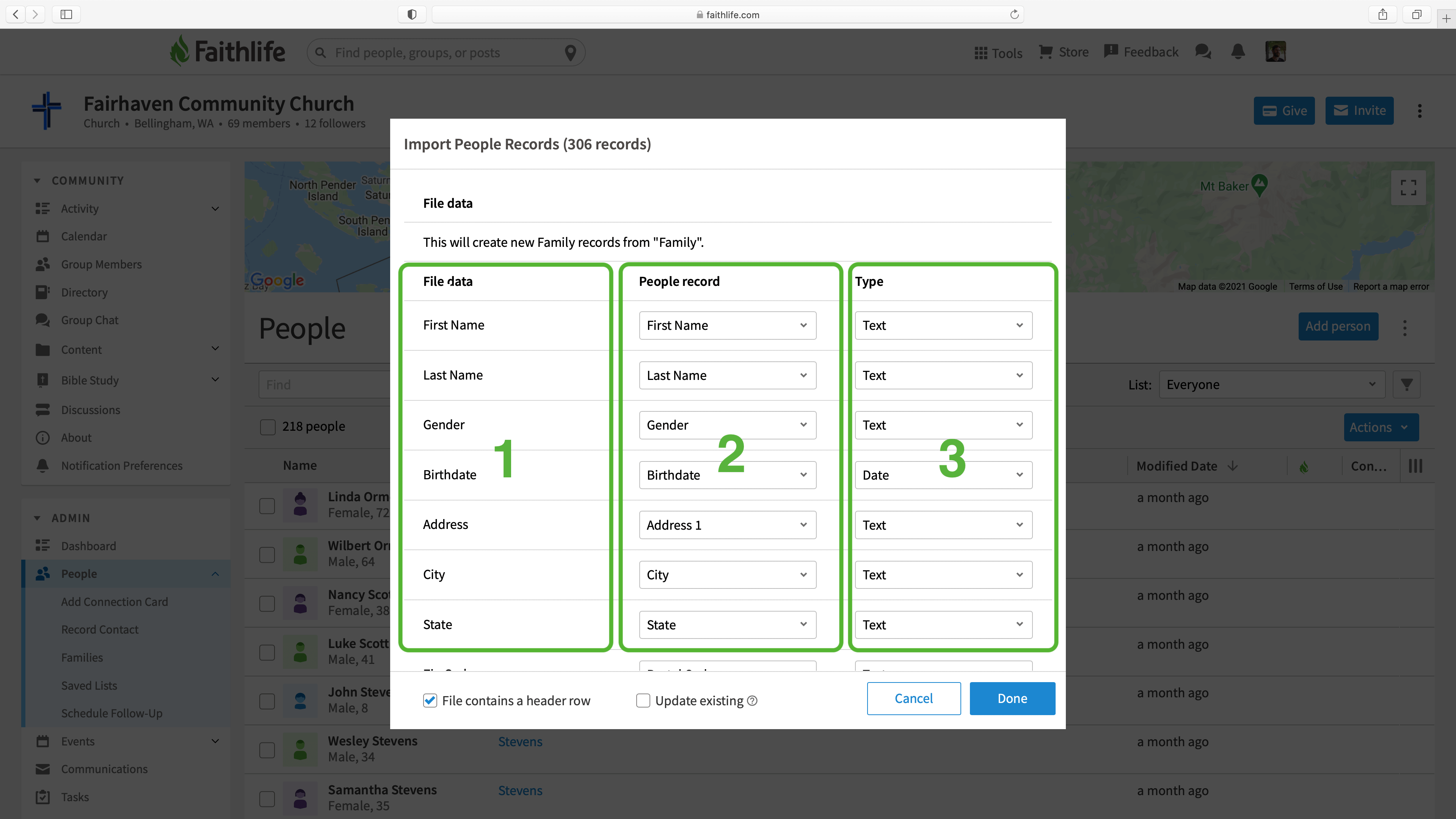 Ensure that the first and second columns match as closely as possible. For anything you can't match, select Notes in the second column.

Do not leave empty rows in the second column

. If you do, that data will not be imported.
Check the data types in the third column and make sure they correspond to the first and second columns. (for example, that email addresses are correctly designated with the email address data type).
Check or uncheck File contains a header row.
Check or uncheck Update existing. If you leave this checked, the system will search for corresponding people records and override them instead of creating new ones (the system will ask you to confirm the changes).
Click Done. It may take a few moments for the system to process all of the data--do not press Done more than once. When it's ready, your people records will appear in the People area of your church group.
Create a digital connection card
Digital connection cards provide a way to quickly create one or more person records, even with limited information.
Navigate to your church group on Faithlife.com.
In your group's Admin panel, click People, then click Add Connection Card.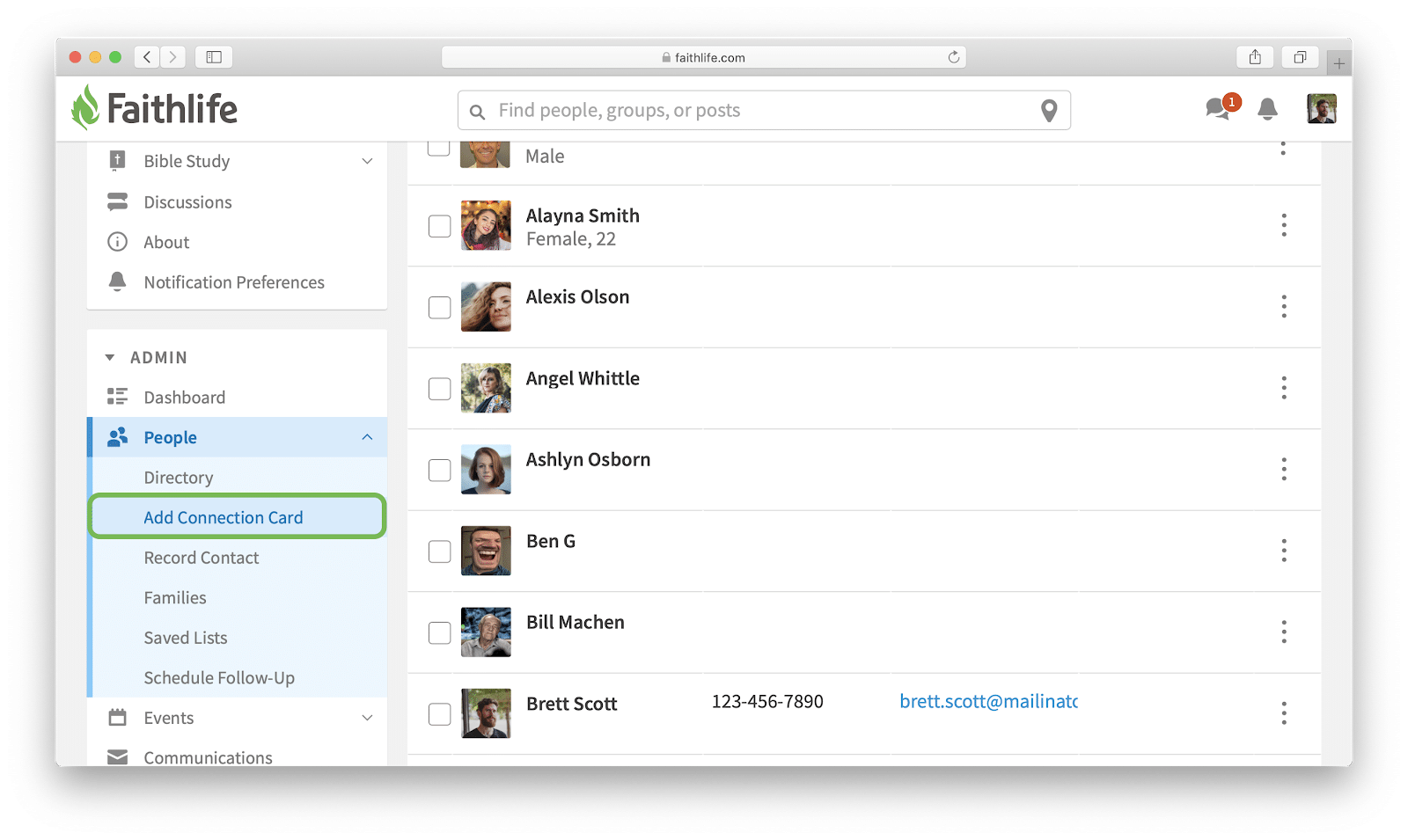 In the text box, type a name and any additional information you want to be associated with that person record (such as age or gender). The system will parse the information you provide and assign it to the relevant fields.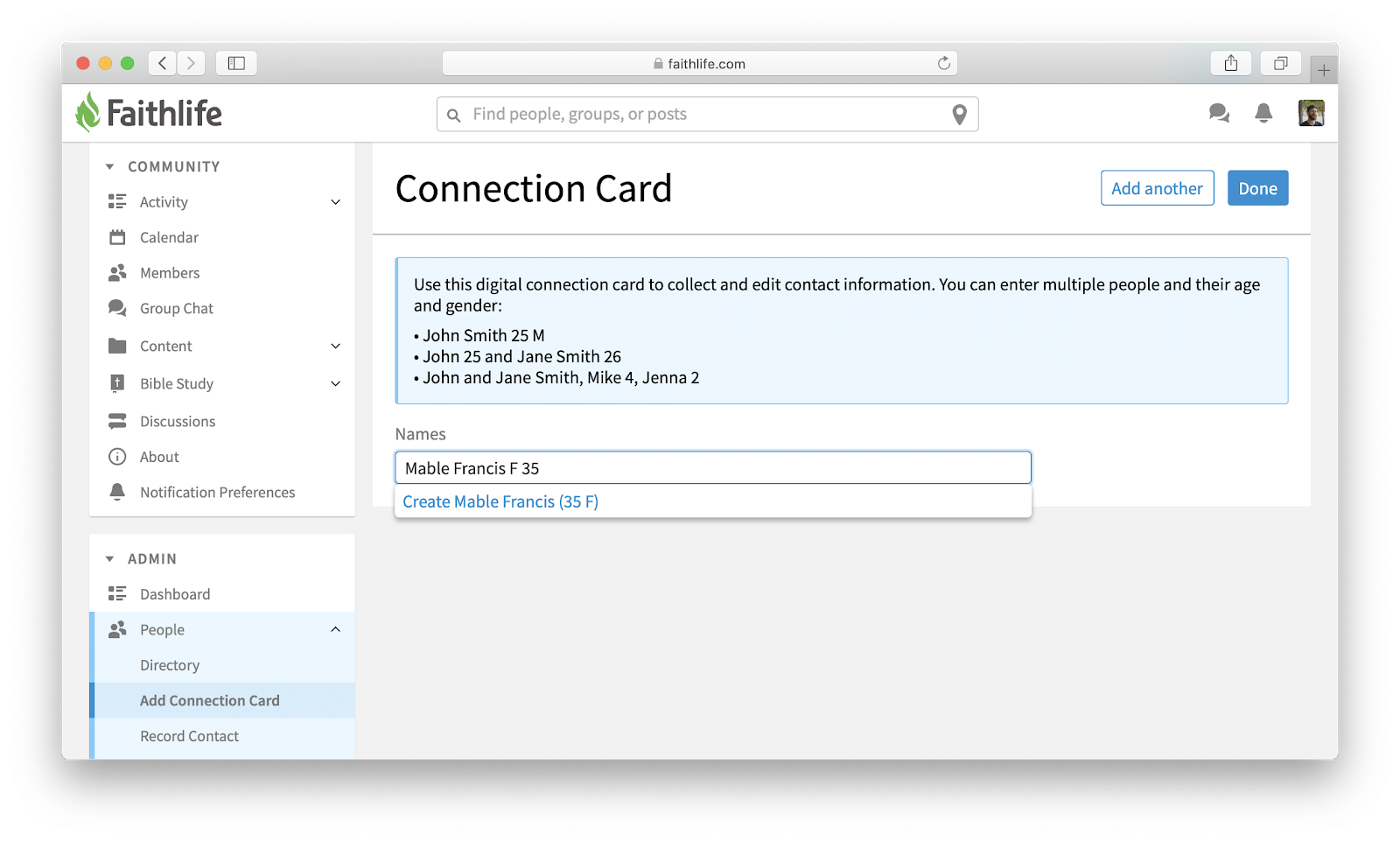 Note: To create more than one person record at a time, insert a comma or "and" between the information for each person.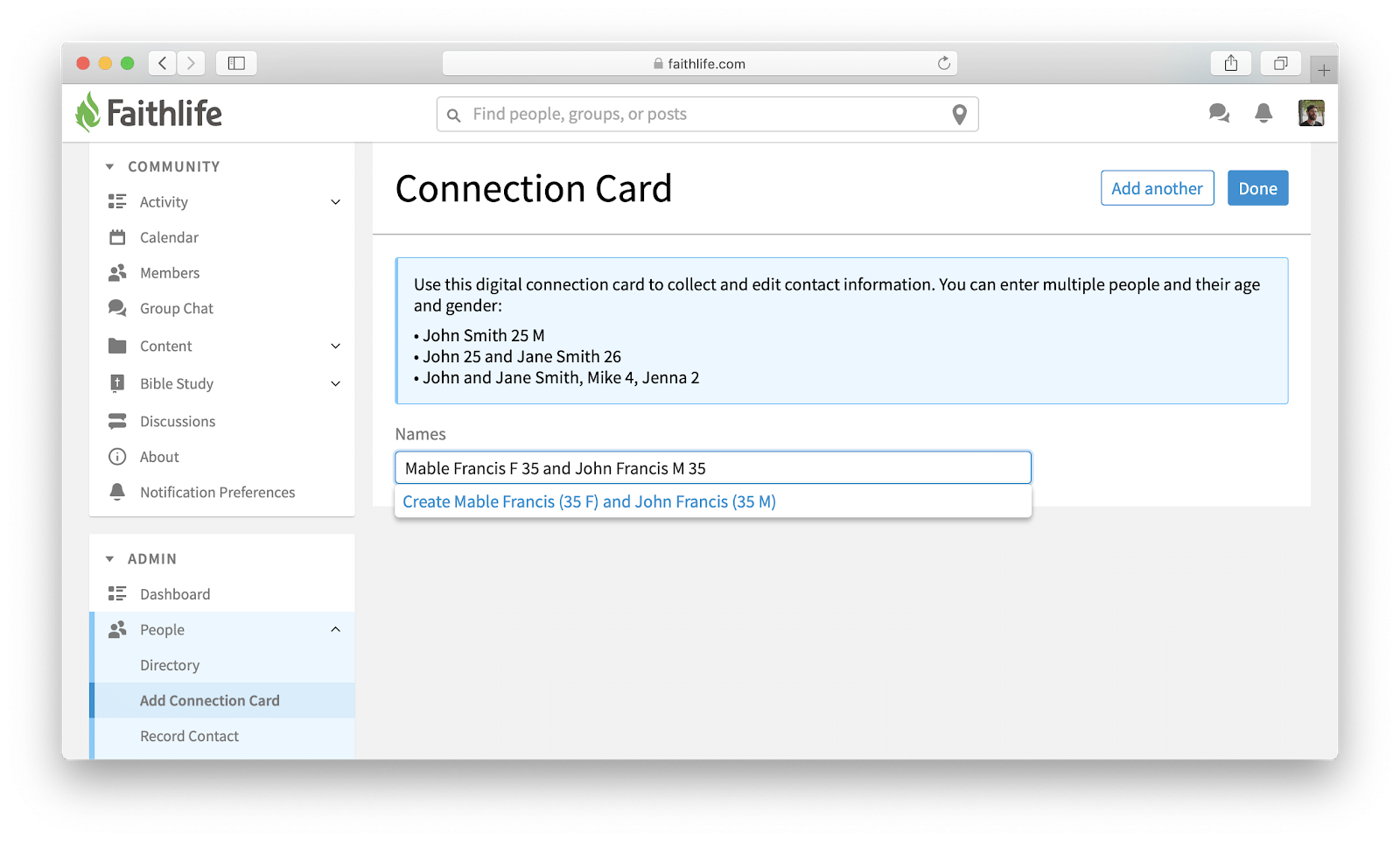 Press Enter. Based on your input, one or more person records will be created. If you add more than one person, the system will ask if you'd like to add all new records to a family record.
Create a family record
Family records link individual person accounts in a family unit, which has certain types of data associated with it (such as an address, phone number, etc.). Adding people via a family record is the best approach when it's more important to get the whole family in the system than it is to provide detailed information to a single person record.
You can create a new family record from existing or new person records, or using a combination of existing and new records.
Navigate to your church group on Faithlife.com.
In your group's Admin panel, click People, then click Families.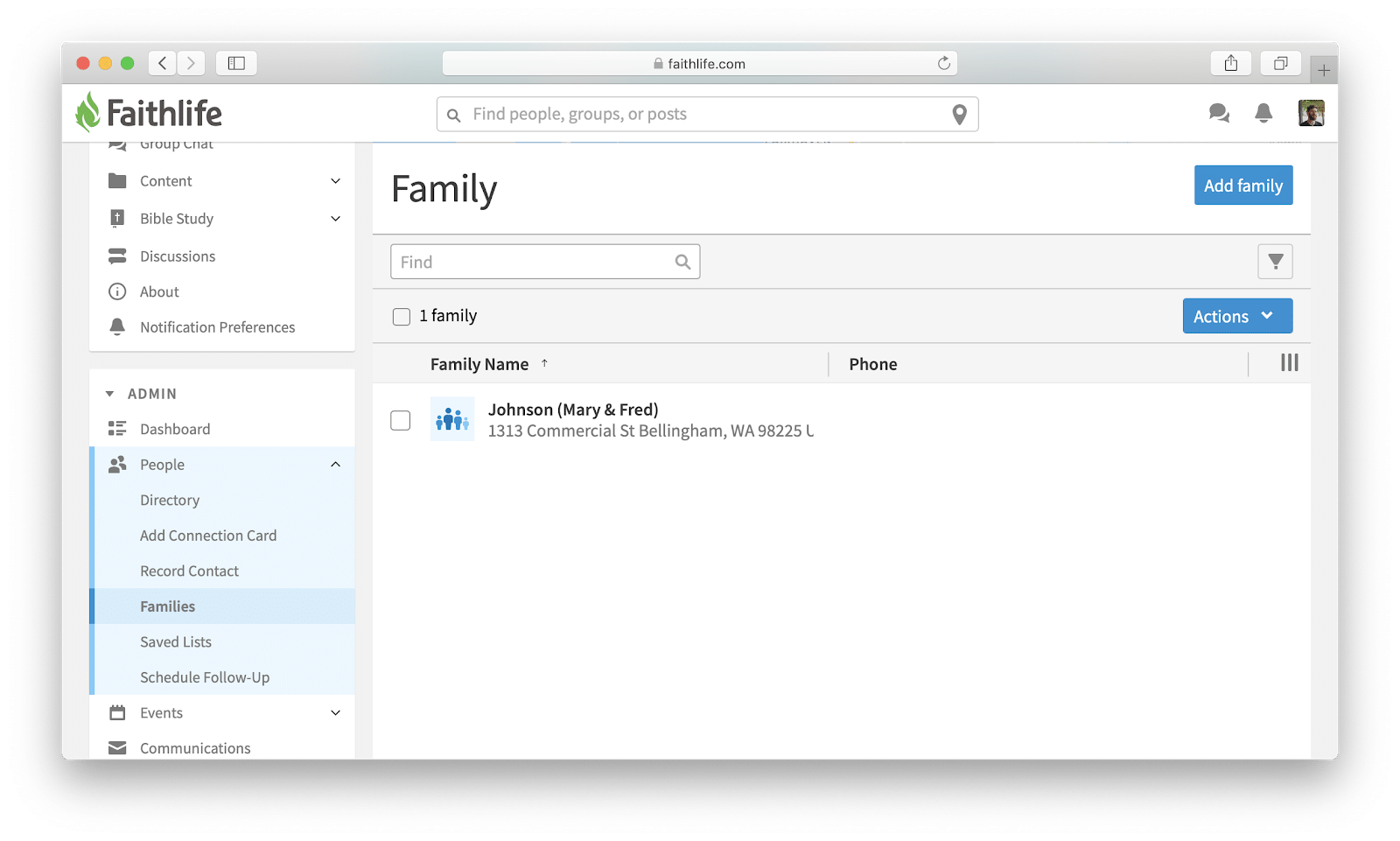 Click Add family
Add individuals to the family by clicking + Add Family Members and typing a name in the search box that appears.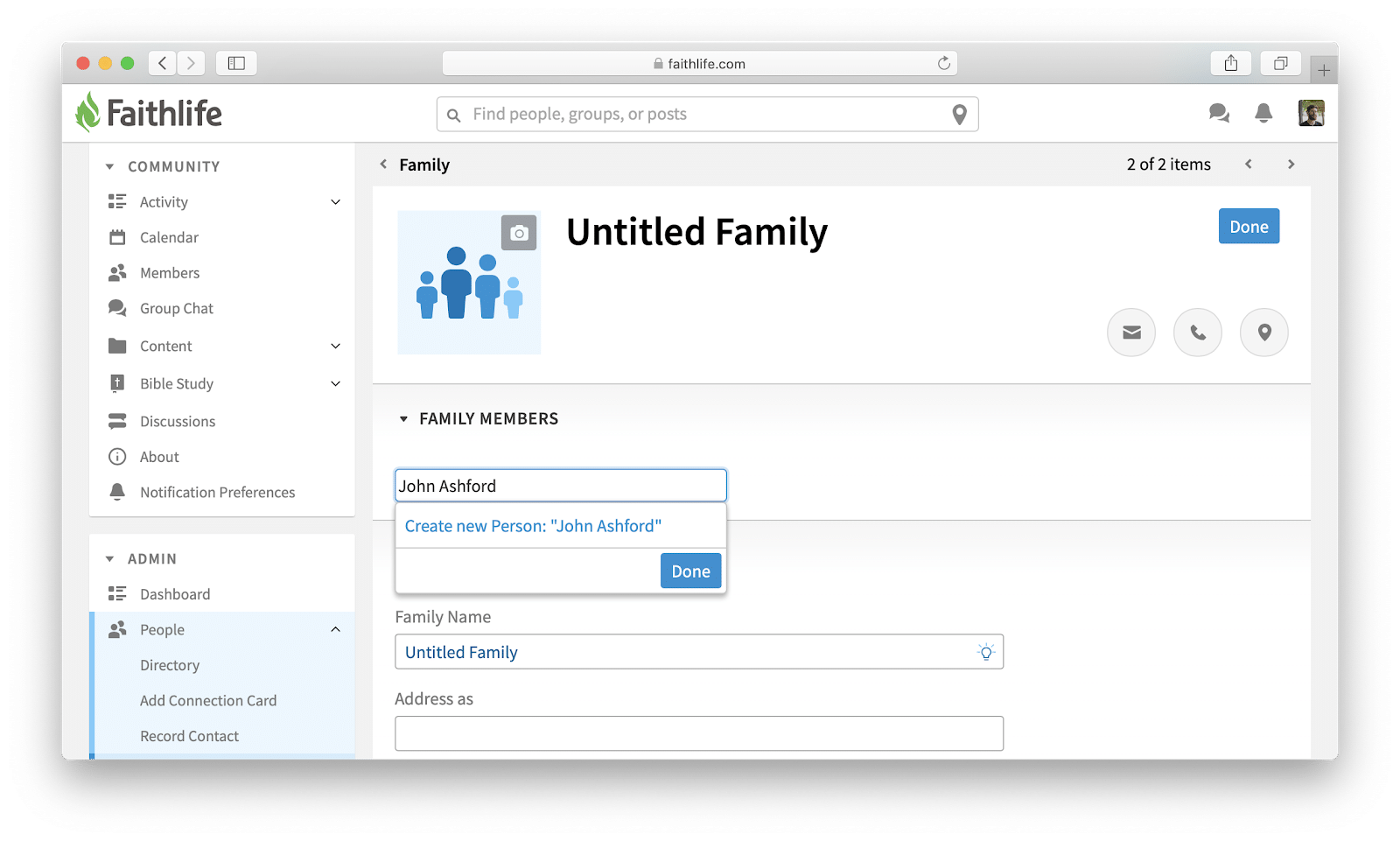 If a person record for that individual exists, click it to add it to the family record. Otherwise, click Create a new record. Repeat this step for each family member.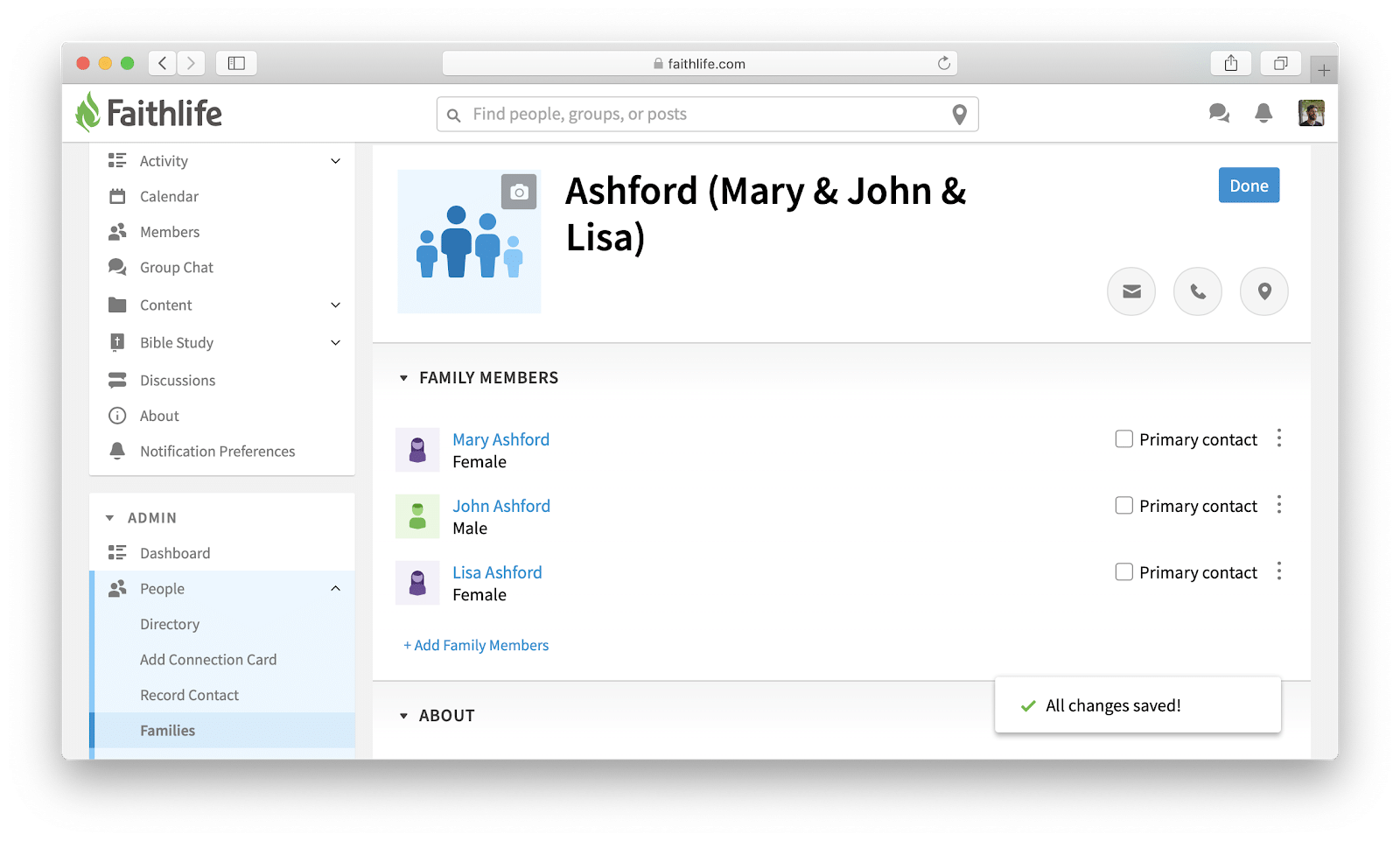 After you've added individuals to the family record, provide a family name, address, etc. in the boxes below.
Learn more about creating Family records.
Search your people records
Once you've added people records to your church group, you're ready to search and create lists of your members. Learn more here.