Person records provide a way for your organization to add, manage, and query data about anyone you need to keep track of. Only group Admins and Moderators have access to view or modify person records. This article describes the different fields and management options for a person record. Learn how to create a new person record.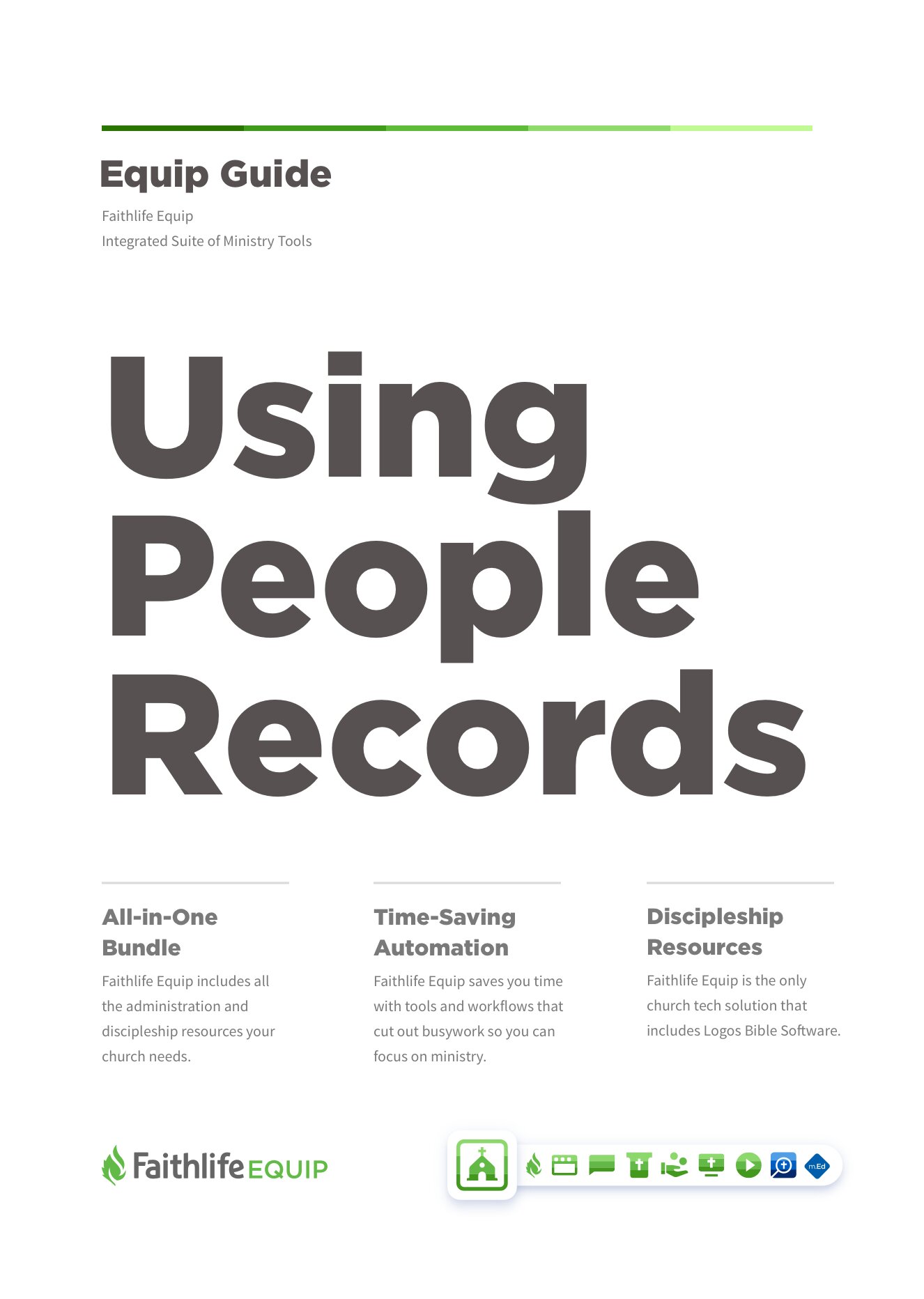 Click here to download the Using People Records printable guide.
Skip ahead to:
Basic Information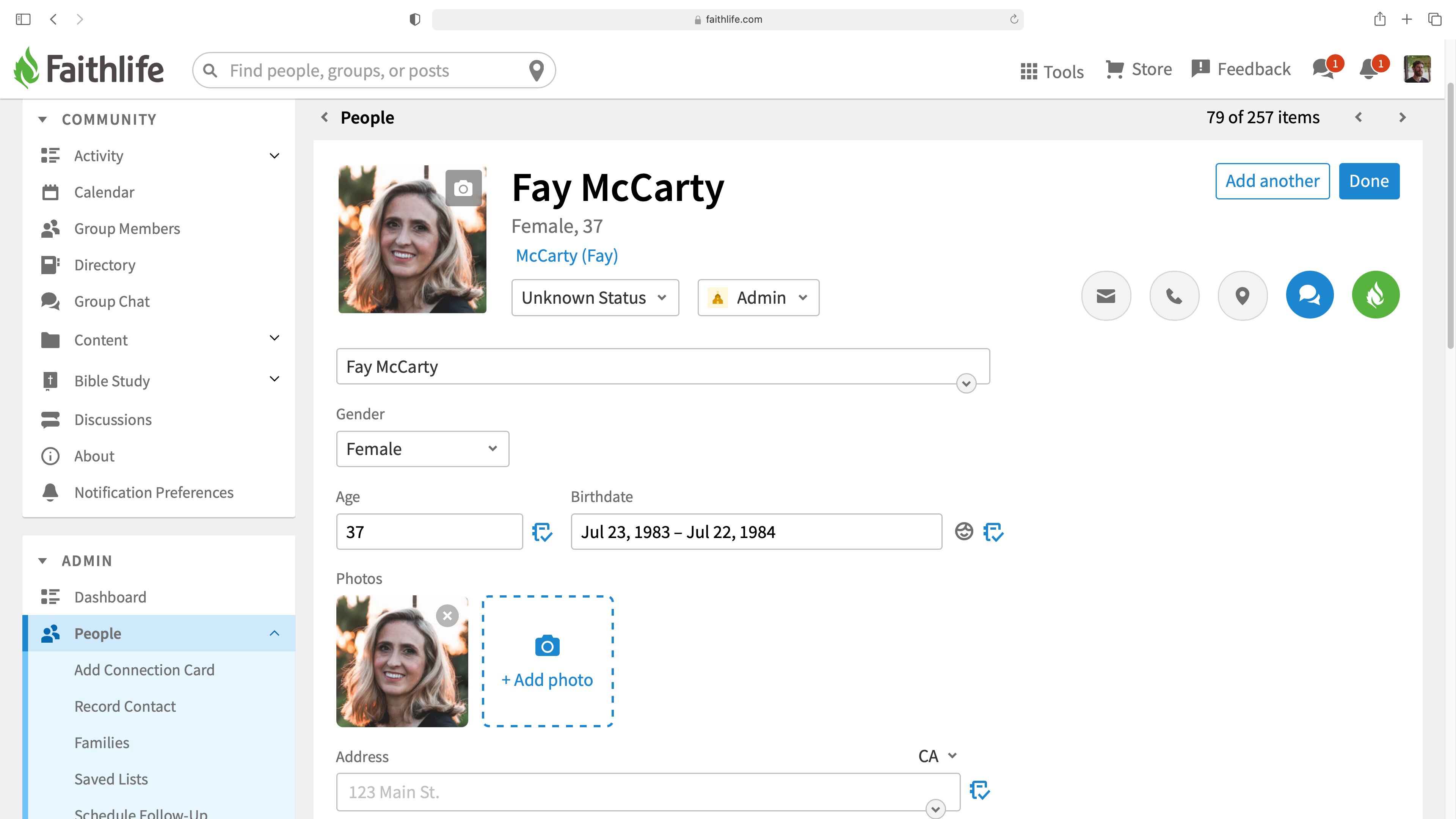 Avatar — Click the camera icon by a person's avatar to add a photo.
Family — Shows the rest of the person's family as recorded in the Family record.
Status — Refers to the person's formal connection to your group (e.g. member, visitor, former member, etc.). The status of each person is only visible to admins and can signify anything you want.
Role — Allows you to view or change the person's role within the group. This changes to Invite if the person is not yet part of your group. Within this dropdown, you'll also find the option to link a person record with an existing Faithlife account. This pulls public data from a user's Faithlife account to populate fields in their person record.
Connection Links — Features quick links to contact the individual through email, telephone, physical mail, or through their Faithlife profile.
Name — You can provide additional information such as a title or middle initial by clicking the small arrow icon below the name field.
Gender — Faithlife guesses a person's gender based on statistical information about their name. When information is based on a computer-guess it's shown in blue, not black, with a light bulb icon next to it. You can hover over the icon for the source of the guess, and click it to confirm the accuracy. Or just change the value.
Age/Birthdate — Enter an age. Age range, or birth date. Faithlife will automatically populate the corresponding field.

To designate a person as a child/adult, click the child icon . A blue icon indicates the person is listed as a child.
You can select whether certain fields are included in your group directory (visible to all group members). To toggle this, click the directory icon . A blue icon with a checkmark indicates the information will be included in the directory. Any field without a directory icon will not be listed in the group directory.

Photos — You can associate additional photos with a person record. Click the star icon on a photo to make it the avatar for this person.
Contact Information — The record has space for multiple addresses, phone numbers, and email addresses person's address in the address field. If you want to provide more specific information, such as the phone type or additional address details, click the arrow to display additional fields.
Social Profiles — Faithlife will suggest public-facing social profiles that may belong to a person. Click the profile to associate it with the person record. Faithlife will also use public information on those social profiles to populate fields in the person record.
Emergency Contact — Provide an emergency contact for a person.


Note: To add a person as the emergency contact, they must have a person record. If one doesn't exist, you must create one. (Using people records for every person helps ensure consistent and up-to-date information. Though you may have youth group attendees whose parents do not attend the church, you should create records for the parents which contain their contact information. This prevents accidental mistakes like updating the parent's phone number on one sibling's Emergency Contact but not on the other's, etc.)

Files — Allows you to drag and drop files to the record.
Teams & Groups
This section displays all of the teams (like the Finance or Media teams) and groups (such as small groups or other subgroups) the person is part of in your church group. Both the Teams and Groups sections allow you to add the individual directly to another team or group from their person record.
Personal Details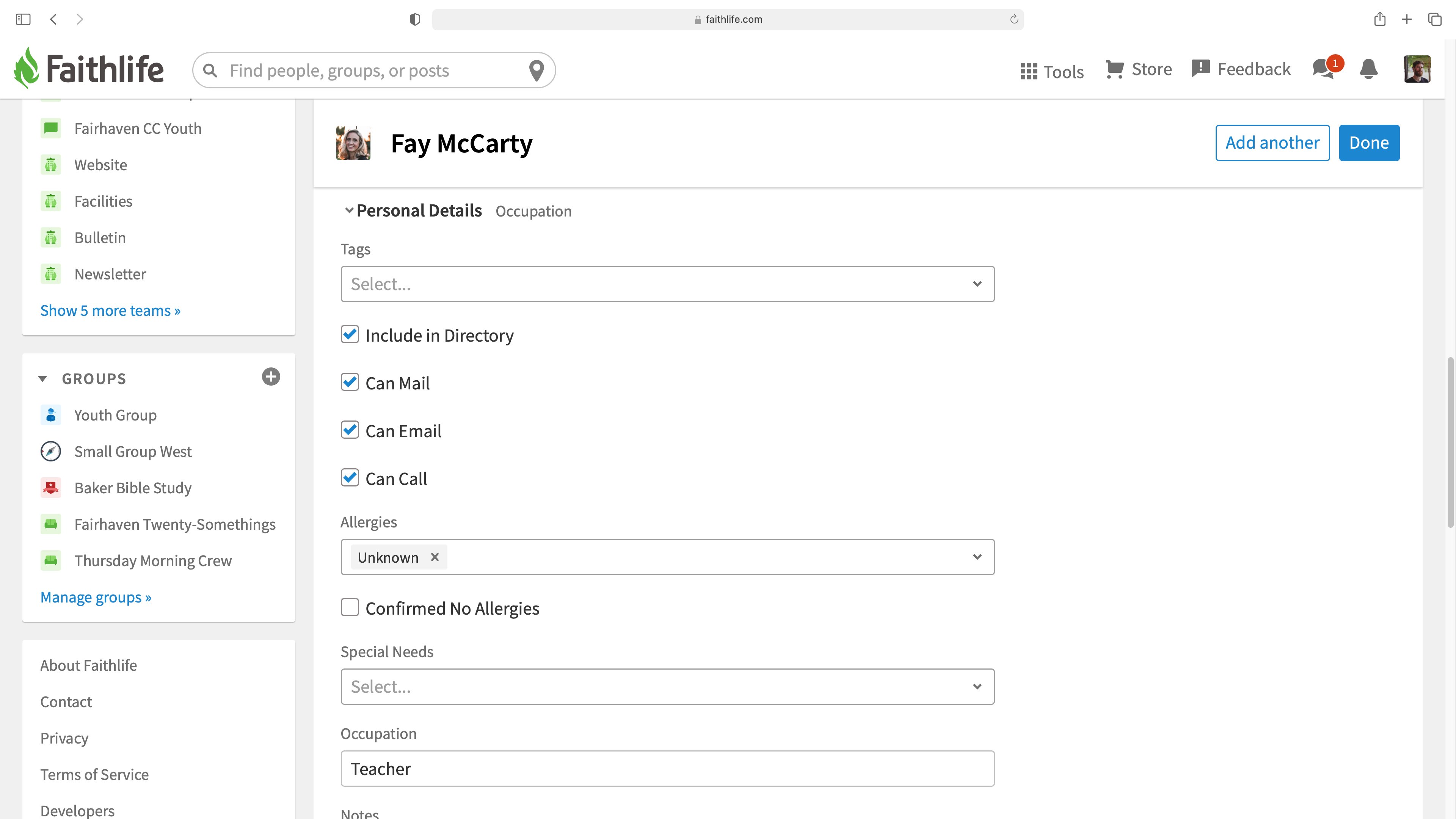 Tags — Add custom tags to a person record.
Include in Directory — Select whether the individual should be listed in your group's directory (visible to all group members).
Can Mail/Email/Call — Denotes a person's contact preferences. This is something that you can look up individually and will impact the way you're able to communicate with that person. For example, unchecking Can Email will remove that person from your list of email newsletter recipients.
Allergies — Provide any known allergies, or select Confirmed No Allergies.
Special Needs — Select from the dropdown, or type and press enter to create a new special needs type.
Occupation — Enter an occupation.
Notes — Type a note in the box, check Private (if desired) and click outside the text box to create the note. You can edit an existing note by clicking it. Two different types of notes are available.

Admin notes (default) are visible to any group admin or moderator.
Private notes are only visible to the account that creates them.

Bio — Provide a biographical note for that person.
Skills, Volunteer Roles, etc. — Select from the dropdown menu, or type a new entry and press Enter. You can query these fields when you create a new list.
Barcode — Enter an alphanumeric barcode associated with the person record.
Envelope — Enter a numeric envelope number associated with the person record.
Faith
The Faith section provides a range of fields related to an individual's membership status, spiritual development, and background.
Campus — If you have a multisite church, you can use this field to record which church campus a person attends.
Family & Relationships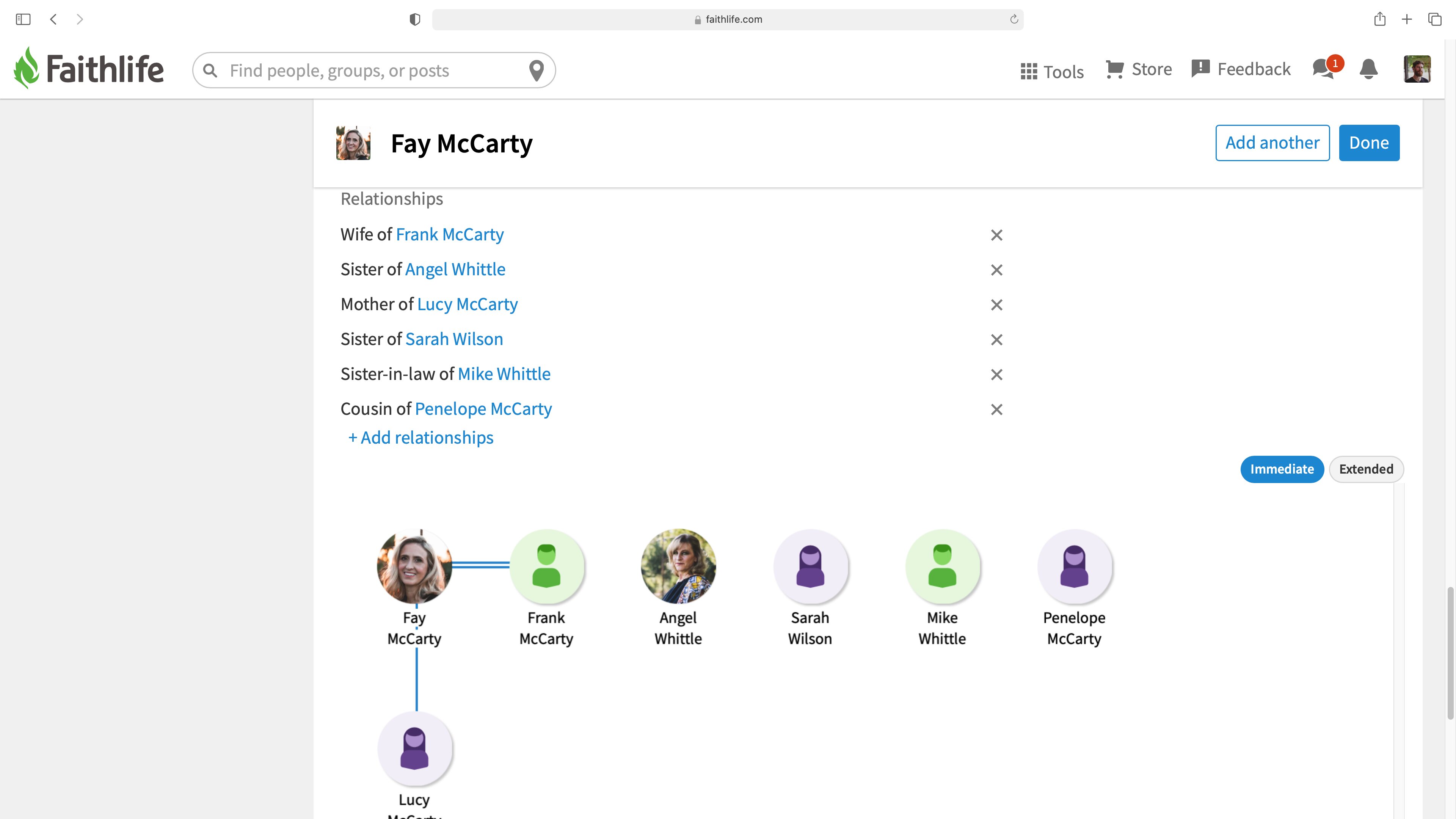 Family — You can associate multiple person records with a family record. Click +Add family and select an existing family record or Create a new family record. Learn more about creating family records.
Relationships — You can store information about a person's relationships. Click +Add Relationships, select a relationship type and the relevant person record. If a person record doesn't exist for that person, select Create a new record.
Marital status & Wedding Date — add the relevant entry. You can select whether one or both of these appear in the group directory by clicking the directory icon beside each field.
Employment & Organizations
The Employer section provides fields for recording an individual's employment history.
Education
The Education section provides fields for recording an individual's educational background.
Background Check
The Background Check section allows you to record a passed background check, date of last check, and the background check renewal date.
Interactions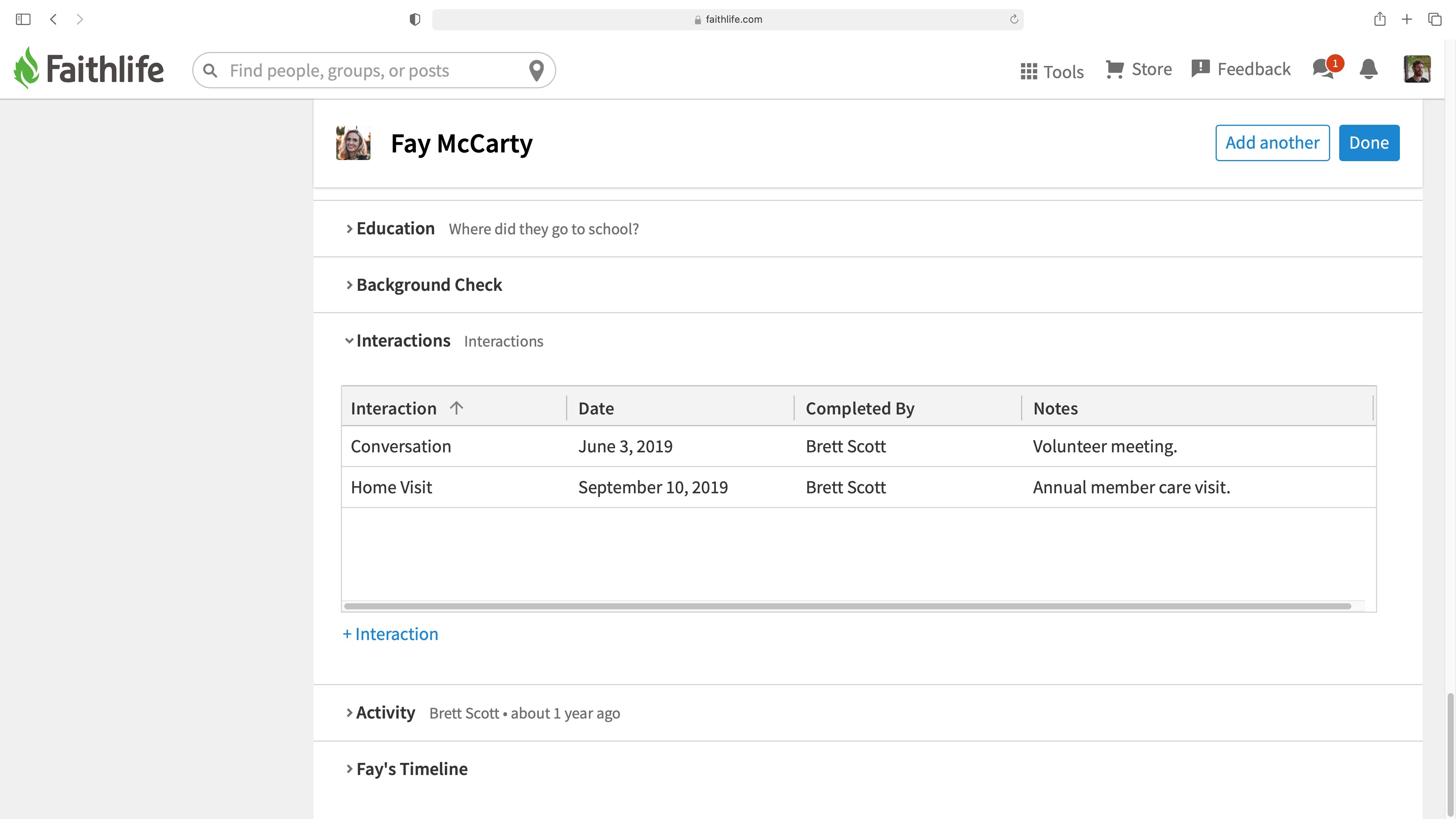 The Interactions section allows you to record interactions between church staff, volunteers, etc. and a person. Click + Interaction and fill out the relevant fields, then click Done. Interactions are visible to any group admin with access to your group's people records.
Activity
The Activity section lists the changes that have been made to the person record.
Timeline
The Timeline section displays all of the significant dates that are recorded in the person record. You can zoom in and out, or click and drag the timeline to view earlier or later date ranges.