Through your Faithlife Equip subscription, you have access to the tools you need to disciple your people, foster community, and steward your resources. Your church group on Faithlife.com connects all these integrated ministry tools in one place. To find your church group, log into Faithlife.com and select your church group in the left-hand sidebar.
Note: This article will guide you through the process of getting started with Faithlife Equip. Depending on your church's priorities, you may want to tailor your approach to your specific needs. If you need help, our team is happy to assist. If you ever have questions or get stuck, you can find answers at support.faithlife.com. For more specific help, post in the Faithlife Equip group, sign up for a live tutorial, contact us at support@faithlife.com, or call us 365 days a year at 888–634–2038 (6am–6pm PST).
Skip ahead to:
Brand New to Faithlife?
This article assumes you have a church group. If you don't yet have church group, take a moment to quickly create a group first and then return to this article.
1. Set Up Your Church Group
Your group serves two important functions, 1) it's an online community (for your congregation) and 2) a central managing hub (for your staff). Most of this article will focus on your staff's ability to manage through your church group. Learn more about how your church group helps you serve your people.
Begin by configuring your group before inviting others to join you. You can do this in two steps:
Add a profile image and a header for your group from your homepage (click the camera icon

and upload a photo). Next, expand Settings in the Admin panel and choose Group Settings to add contact information, and other important group details.
Note: We recommend images 1024px by 1024px for your group profile and 2560px by 500px for your group header image. Learn more about recommended image sizes.
Expand Settings in the Admin panel and choose Features and Permissions. Determine how visible your group appears on Faithlife.com and set specific privacy levels for content in your group.
2. Set Up Groups and Teams
Faithlife Equip provides you an integrated suite of ministry tools. Once again, your church group serves as the hub that connects them all.
Teams are subgroups of your main church group. They provide special permissions to members to manage the church's website (i.e., Faithlife Sites), presentations (i.e., Proclaim Presentation Team), finances (i.e., Giving Finance Team), and more. Start by inviting your team members to their respective teams.
Note: Each group, subgroup, and team has its own members, settings, permissions, and page. This separation gives you complete control over who controls what in your group. For example, many pastors don't want to see who gives to the church, so we recommend the pastor not be invited to the Finance Team, though the Pastor can remain an Admin of the church group.
To invite people to a team or your church group, go to the team/group and click Invite in the top right-hand corner of the page. Add email addresses, change Invite as and choose which membership level you'd like to apply to the invite. Provide a personal note and select Invite.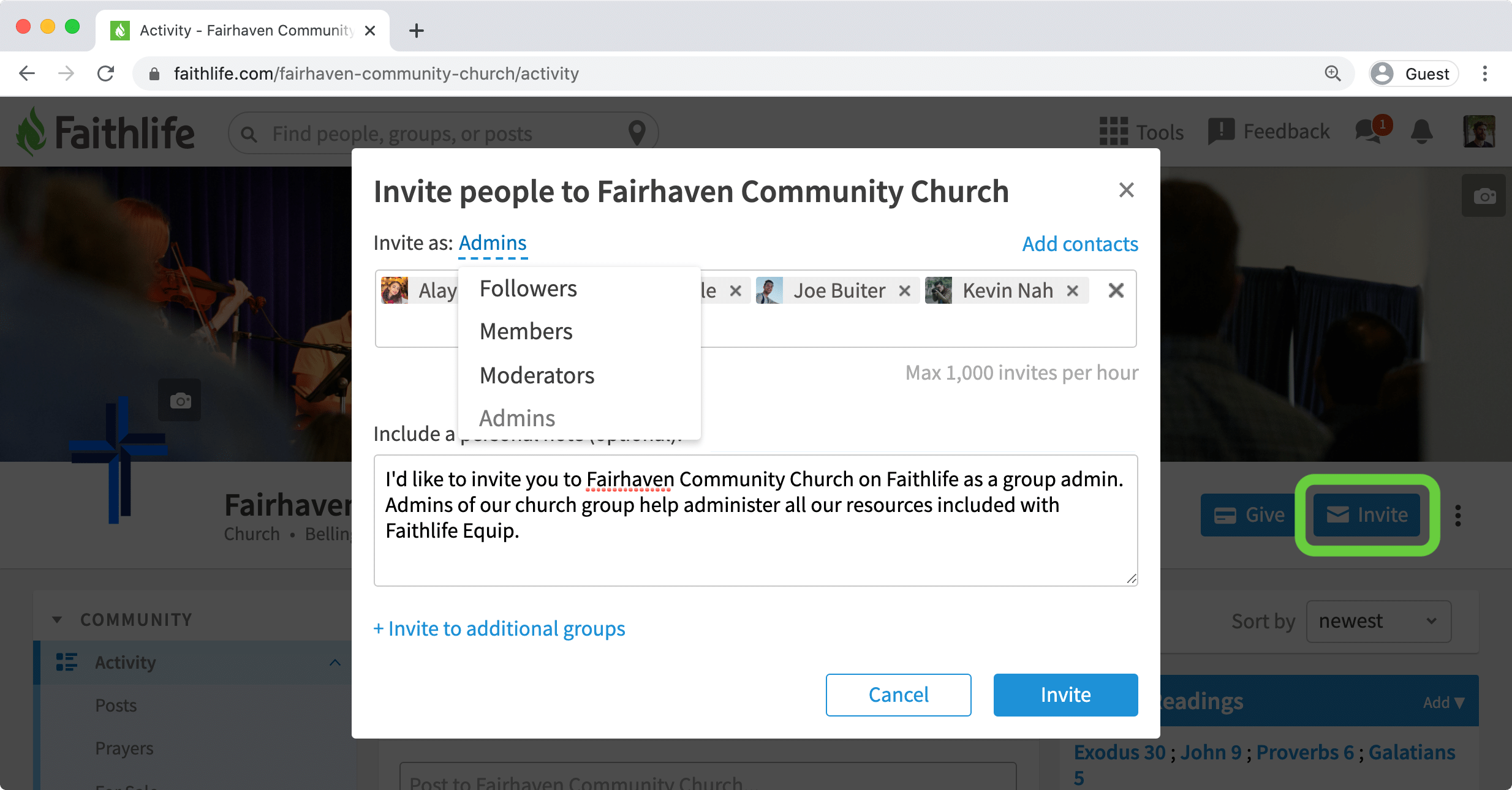 Note: Admin is the highest level of permission in your group. Anyone with the role of Admin will be able to view and manage all your group data. Learn more about roles within a group.
3. Set Up Your Tools
Below you'll find a quick overview to help you get started with each Faithlife tool included in Equip. Send this article to your team so they can set up their respective area.
Skip ahead to:
The easiest way to find any team is to go to Faithlife.com and select the team or your church group in the left-hand Groups sidebar.
Church Management
If you have spreadsheets of church members and contacts or are transitioning from another church management software, you can easily import those records via .CSV file to Faithlife in a few minutes. To begin using your group's church management features like online member directory, family records, interaction tracking and email and text, create or import people records for all those connected to your church In the People section of the Admin panel. We recommend all those on your church management team watch this tutorial to complete the CSV import and to get an overview of your group's management features. Make sure you have your .CSV file handy.
Track Engagement and Stay Connected with Faithlife Equip's Church Management Features
1:01:17 min
When you add a person record, that individual will not be notified you've created a record or receive an email inviting them to your Faithlife group. You can take the additional step to invite a person from their record. Adding people records simply helps your church staff track their care for your people. Learn more.
Faithlife Giving
As a member of the Finance Team, you can activate Faithlife Giving in just a few minutes.
Go to your Finance Team, click Activate Giving, and provide your organization's details. Make sure you have the following information at hand:
Your church or ministry's legal name and Tax Identification Number
Your church or ministry's bank account and routing number
The church's primary contact's name, date of birth, and social security number*
Note: *The government requires giving platforms to collect and verify specific information (including social security numbers) from the key contact person at your church. The aim of this rule is to assist in the government's effort to prevent financial crimes. Learn more.
Click here for detailed help setting up Faithlife Giving or watch the tutorials below.
Set Up Faithlife Giving and Start Receiving Gifts
1:05:48 min
Customizing Faithlife Giving for Top Engagement
54:59 min
Faithlife Proclaim
As a member of the Presentation Team, you can download Proclaim and immediately begin creating presentations. Your single license covers as many people and computers as you need for no extra charge. Every person with a membership in your Presentation Team can contribute to your presentations.
Click here for more detailed help creating presentations with Faithlife Proclaim or watch the detailed tutorial below.
Build a Professional Proclaim Presentation
1:02:23 min
Faithlife Sites
Any admin of your church group can set up your website in a few moments. To get started, select Websites in the Admin panel of your church group and click Start your site.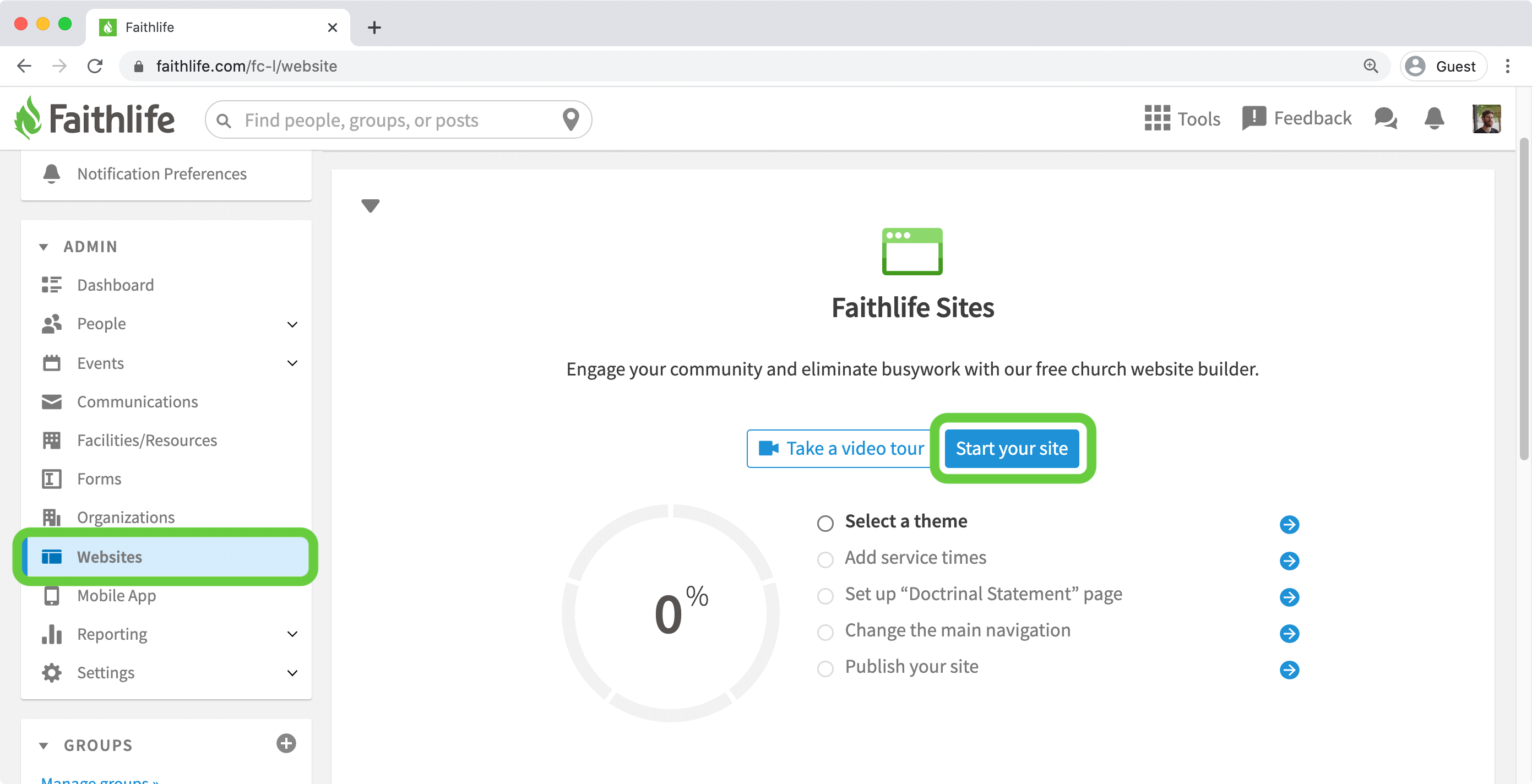 Choose a design theme and begin customizing your website. Because your church group automatically populates your site with basic information, your site will already immediately show your branding and other key details.
Click here for more detailed help setting up Faithlife Sites or watch the extended tutorial below.
Set Up Your Website With Faithlife Sites
33:24 min
4. Invite Your Church!
When your group is set, it's time to invite your congregation to join and to begin cultivating an online community together.
Send Invitations
Since you've already created people records for everyone in your church, you can invite them directly from the People records.
Select People in the Admin panel of your church group.
Select all records with the check box above the table.
Expand Actions and choose Invite to Faithlife group.
This opens an invitation page pre-filled with the contacts who are not yet part of your group. Customize your message and click Invite.
Faithlife will send out invite emails on your behalf. Learn more about inviting people to your church group. Joining your group allows your congregants to connect with each other through messaging, access your group's calendar, and more. Additionally, they can access all of the Logos for the Church, Faithlife TV and Logos Mobile Ed content available to your church through Equip.
Orient Your People to Your Group
We've created a few resources to help your people get the most out of Faithlife Equip. Here's a great place to start:
Send your people this article: Welcome to Your Church Group. It will get them oriented to your church group and connect them to content included in Faithlife Equip.
Introduce your people to the Faithlife app: we've created handouts, presentation slides, QR codes and more to help you! Select Mobile App in your group's Admin panel.
Create a welcome post or automated newsletter (we've included a sample workflow here).
Show or send these video resources to your congregation.
Share Your Bible Study Resources
When your church subscribed to Equip, everyone in the church received access to three categories of resources:
Logos Bible Software: Digital Bible study tools and books
Faithlife TV: Christian TV and movies
Logos Mobile Ed (video only): Bible, theology, and ministry video courses
When people join your church group, they'll receive access to these resources automatically. Some content—like your Logos Pastoral Premiere package—you'll need to manually assign.
How to Share Logos Bible Study Resources with Your Church
57:38 min
Note: Learn more about how your group licenses work or share this article with your people to help them connect to your content.
Organize Your Ministry and Discipleship
Your group is where you can engage together as an online community. Keep group prayer lists, read the Bible together, hold a Bible study discussion, listen to and interact with the latest sermon in your group, and more.
Organize Your Ministry and Discipleship with Faithlife Groups
1:03:27 min
5. Get the Most Out of Faithlife Equip
Congratulations! You've completed the key steps to getting started with Faithlife Equip, but there's a lot more you can do! Pick what's next based on your needs and priorities. We've provided some helpful links below. If you need help, our team is happy to assist.
Note: If you ever have questions or get stuck, you can find answers at support.faithlife.com. For more specific help, post in the Faithlife Equip group, sign up for a live tutorial, contact us at support@faithlife.com, or call us 365 days a year at 888–634–2038 (6am–6pm PST).
Preaching
Bible Study and Prayer
Communication and Events
Stewardship
Music and Worship
Small Groups
Sunday Mornings
Outreach
Administration
Find product-specific help