Live streaming helps you reach your audience in real time. Whether you're streaming your Sunday service, sharing conference sessions, or hosting a live Q&A, our tools will help you manage your stream.
Click here to learn how to livestream with Faithlife Live Stream.
Note: While you can use a variety of live stream providers, this tutorial will use Boxcast.com. For a more streamlined solution, check out Faithlife Live Stream.
Skip ahead to
Hardware Setup
Here's a quick overview of some hardware resources you will need.
Camera
Computer
Video Switcher (optional)
Encoder (software or hardware)
Audio Source
Live Stream Provider
See a full detailed hardware setup.
Note: We recommend at least 5 mbps upload speed to live stream. Here's the quickest way to find your speed.
Faithlife.com Setup
1. Navigate to your Faithlife TV settings.
Go to Faithlife.com and sign in. Select your church's Faithlife group from the left-hand panel.
Scroll down to the Admin panel, expand Settings, and select Faithlife TV.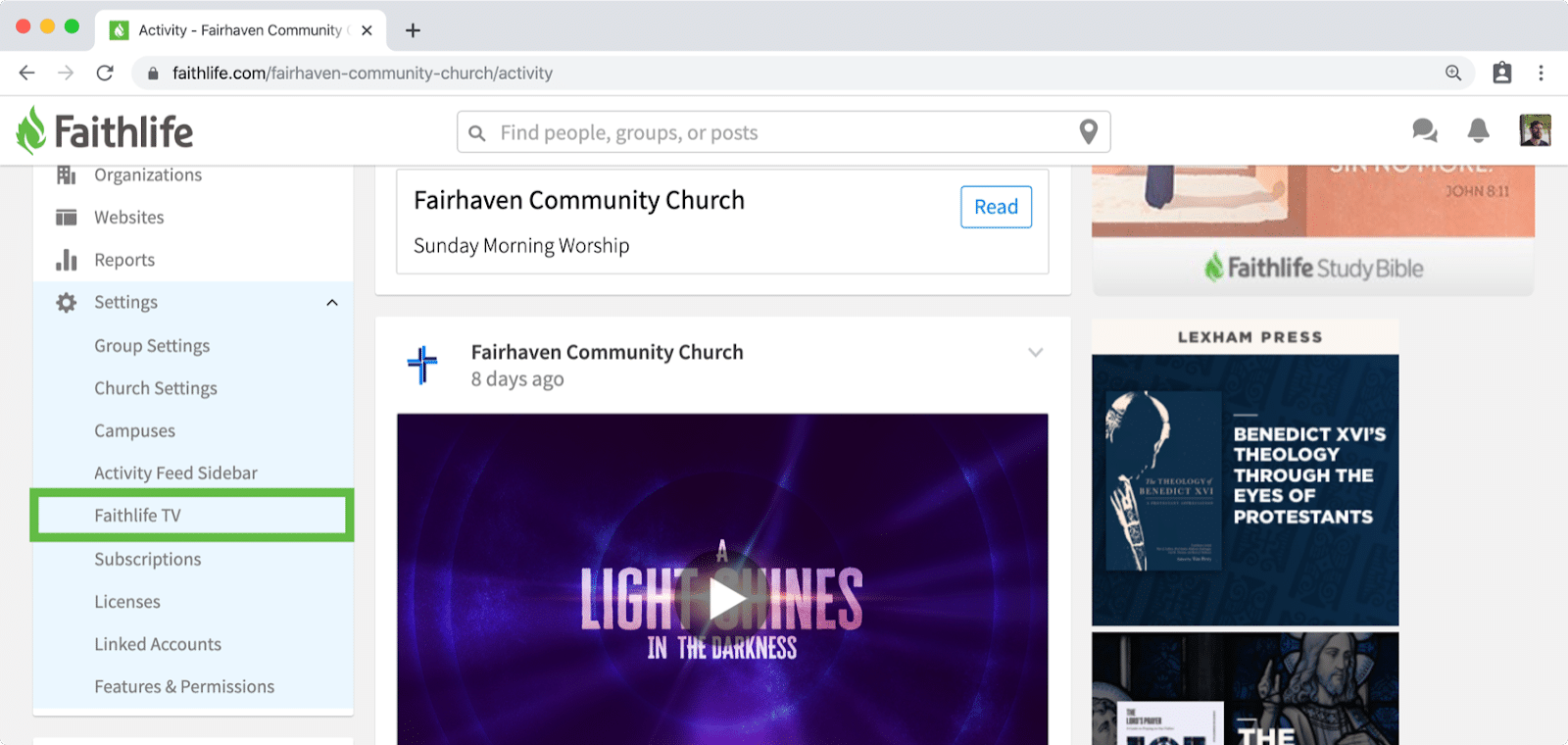 Note: In order to access the Faithlife TV settings, you must be an admin of your church group. If you do not have access, contact a current church group admin. Learn more about setting permissions for your church.
2. Add a Live Stream
From within the Faithlife TV settings, click Add.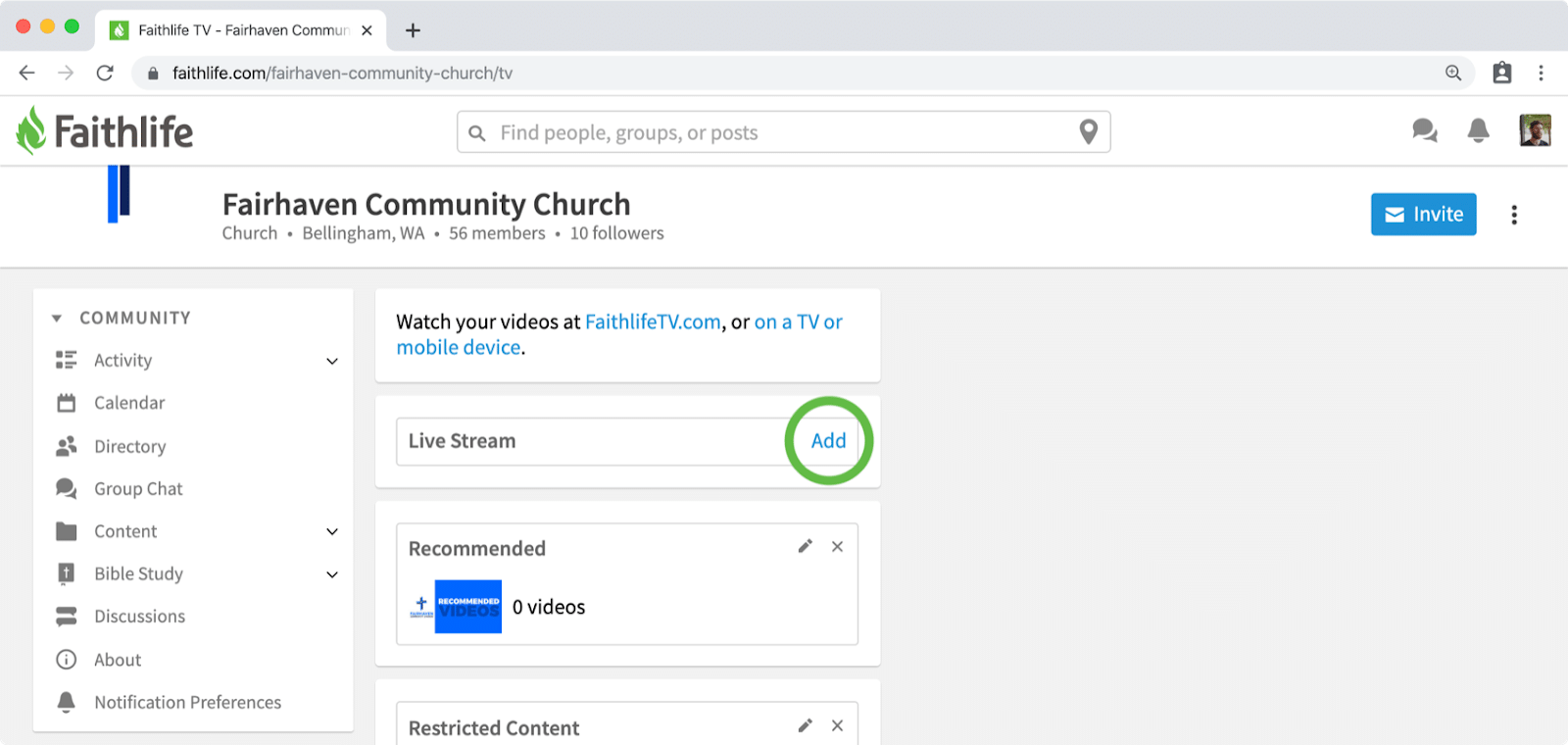 A customizable menu appear. Add an Image, Title, and Description.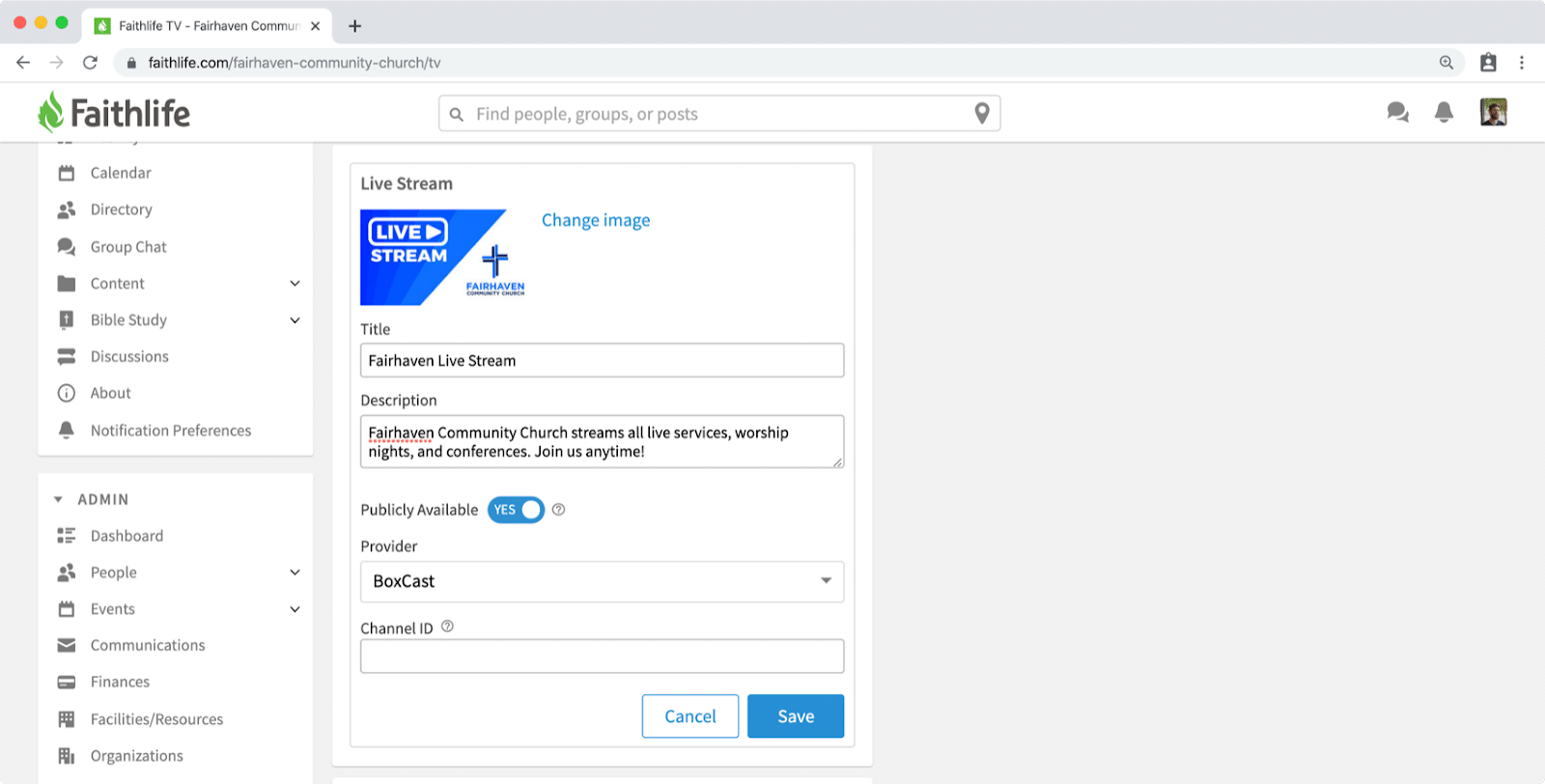 Select your live stream provider dropdown.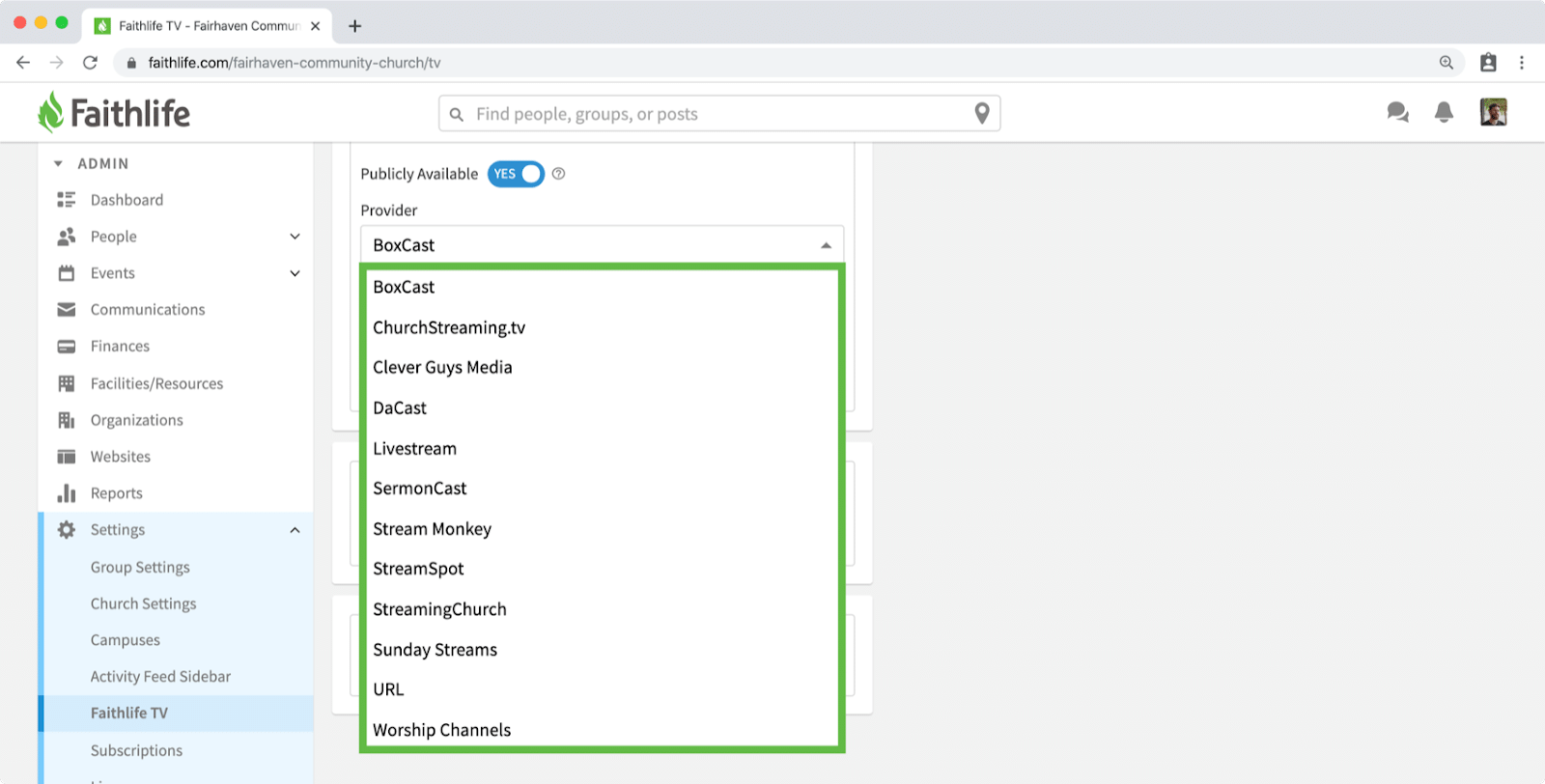 Each provider requires a different verification method. BoxCast asks for a Channel ID (see example tutorial for BoxCast below). Enter your live stream's verification method and click Save.
Note: You'll notice that YouTube is not included in the provider list. You can work around this by embedding a live stream using an HTML widget.
Share Your Live Stream
You can share your stream by 1) sending people to your FaithlifeTV.com channel, 2) posting it to your church group, and 3) embedding the stream in your website.
1) Share the Faithlife TV link.
Click FaithlifeTV.com at the top of the Faithlife TV settings page to locate your church's channel.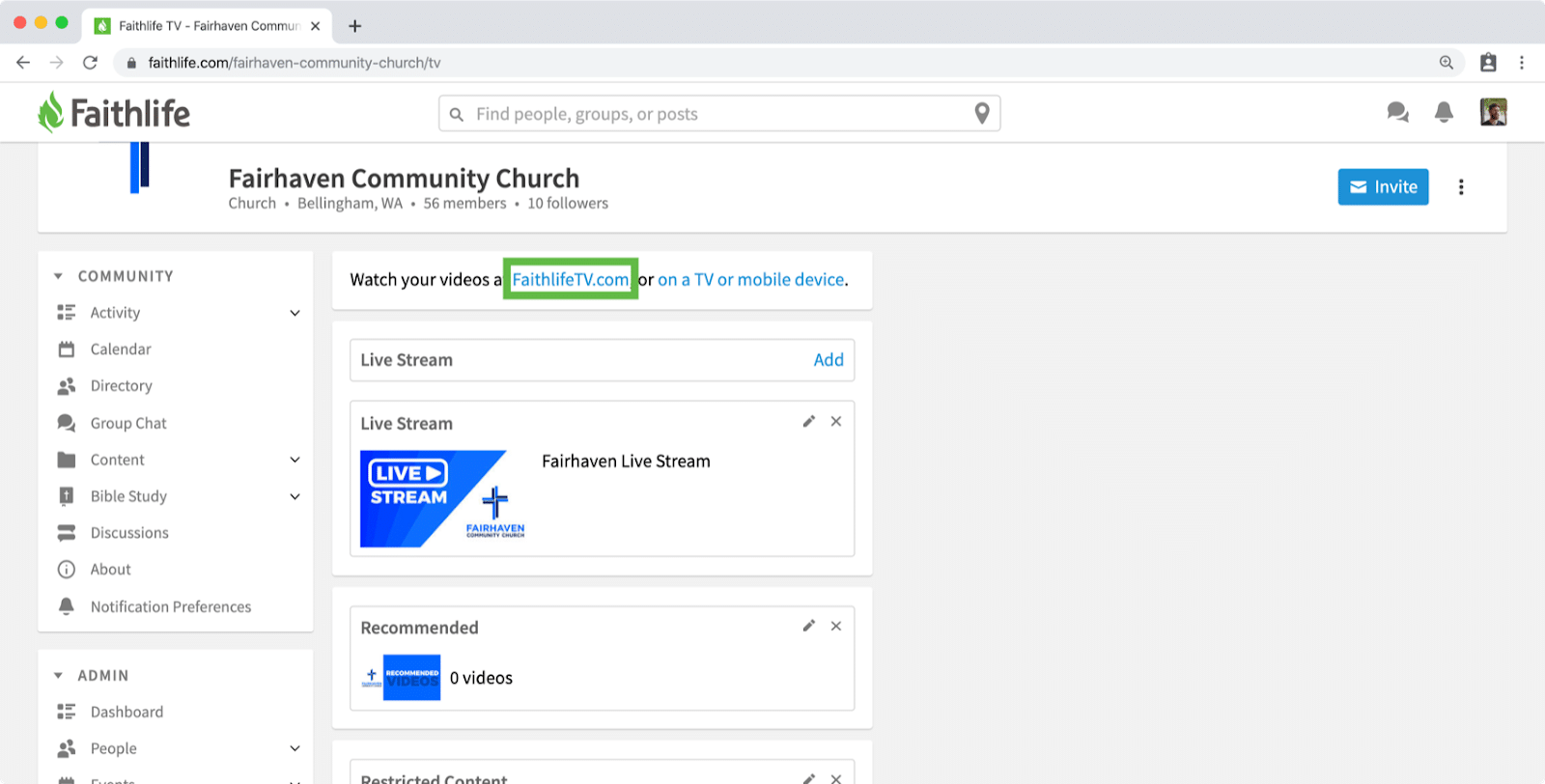 Select your stream to view its page. Share this link with anyone to give them access to your live stream.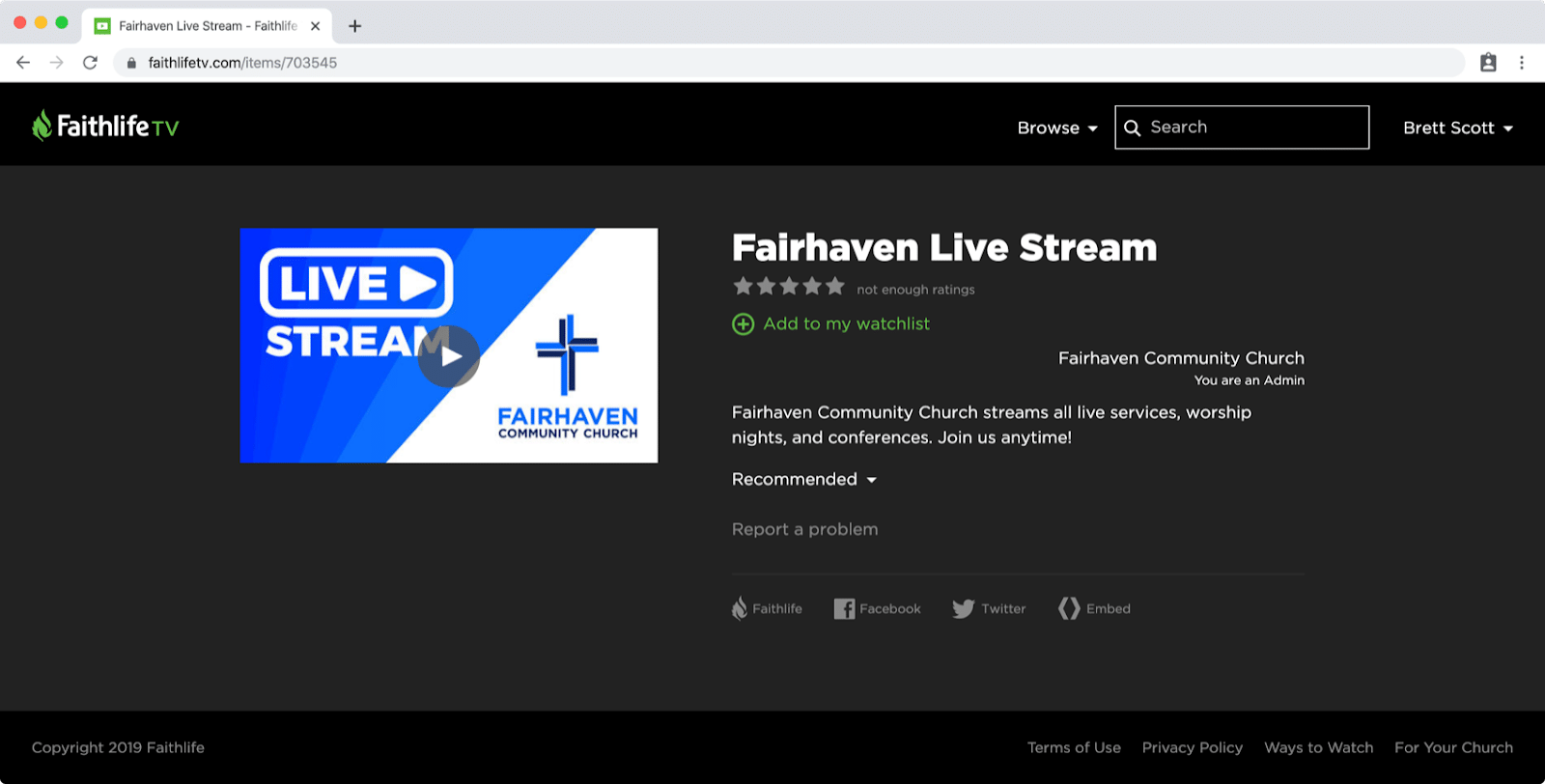 2) Post your stream to your Faithlife.com church group.
Consider sharing the link to your Faithlife church group. Select Faithlife from the stream page shown above. In the tab that opens, select your church from the dropdown menu. (Note: If you do not select your church, the shared link will post to your personal profile, not your church group's page.) Select as group to share as your group.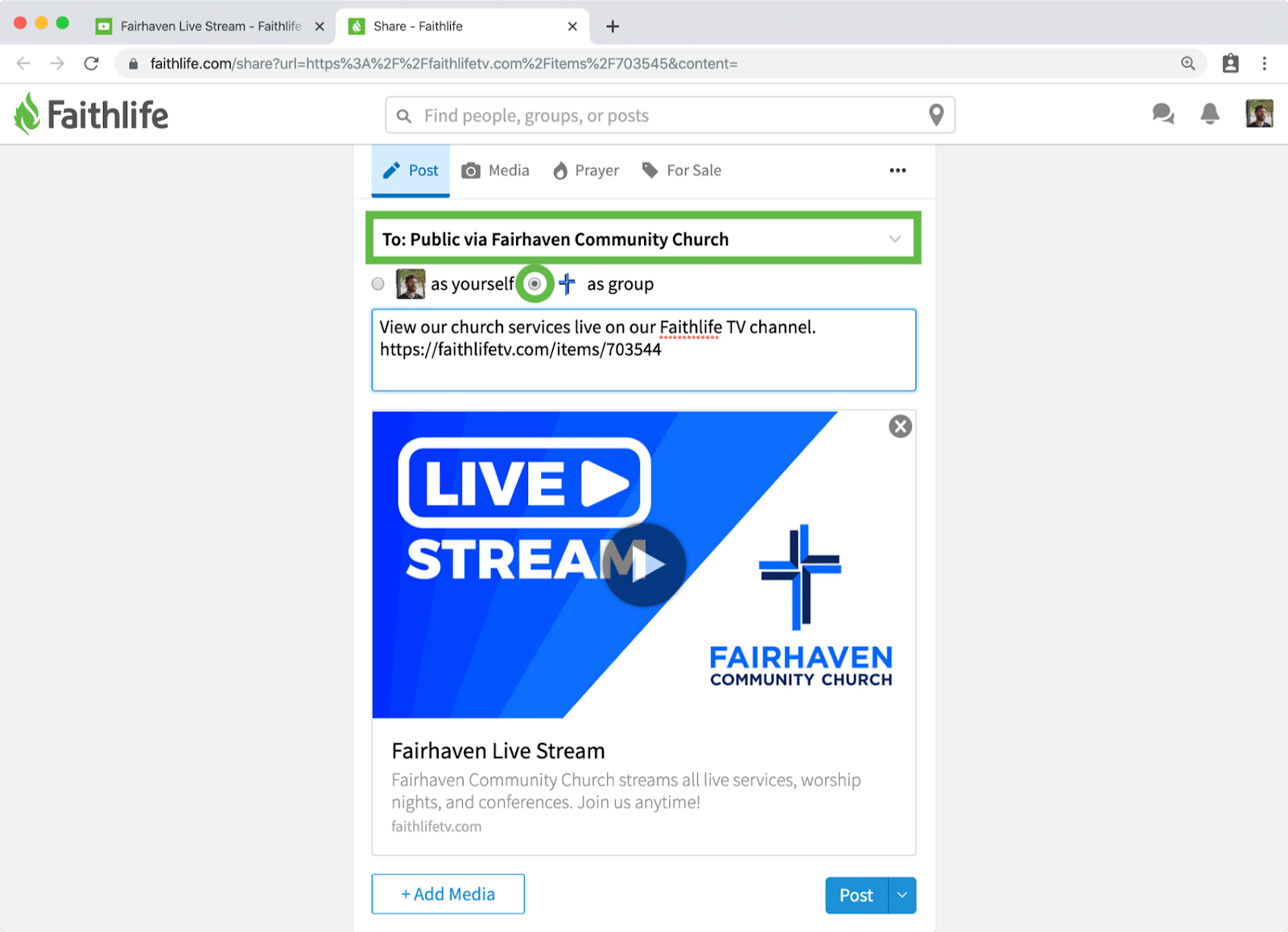 You can pin your post to the top of your group's activity feed via the dropdown menu.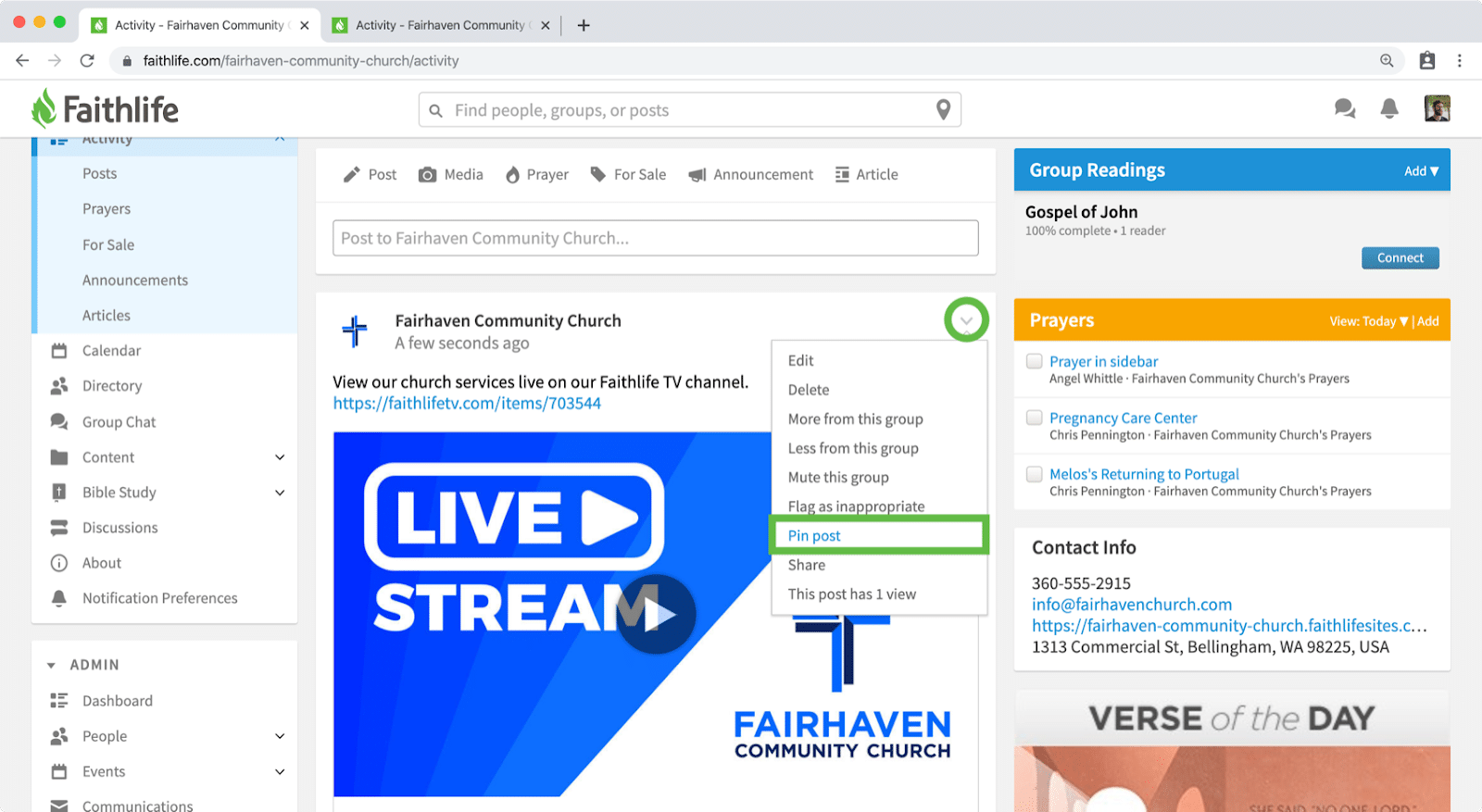 When people visit your group on Faithlife.com, the post will show at the top of the activity feed, where they can watch your services in-browser without leaving your church group.
3) Embed the stream on your website.
You can embed your stream anywhere online.
Faithlife Sites
If your church has a Faithlife Site add a Live Stream widget anywhere on your website. Click the blue add widget button

anywhere on your site to add a new widget and select the Live Stream widget.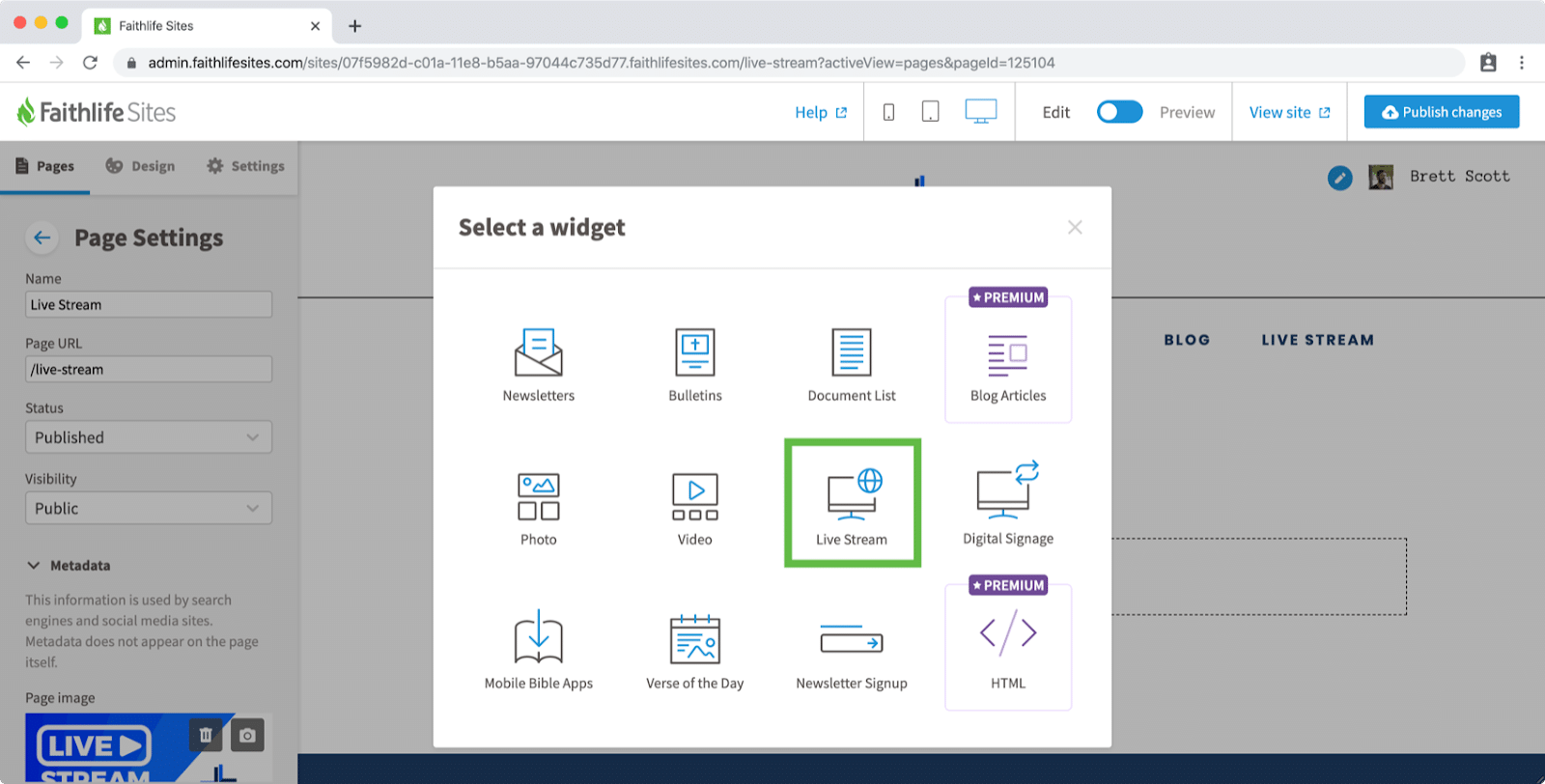 If necessary, choose your stream. Click Save and be sure to publish the changes to your site (click Publish changes).
Note: You can also embed your live feed in any content widget by pasting the URL of the playing stream from FaithlifeTV.com.
Embed Code
While viewing your stream page on FaithlifeTV.com, click Embed and Copy the code.
Paste the script on your church website.
Provider Setup (Boxcast.com Example)
Each live stream provider's setup will be different. Contact your provider for instructions.
Several popular streaming providers we support:
Note: If you have questions about setting up your provider, please contact us at Support@Faithlife.com or 888–634–2038.
1. Log into Boxcast.com and select Channels in the left hand side bar.
2. Create a channel.
Insert a name for the stream and keep the visibility public.
3. Find Your Channel ID
Select <>Embed in the left-hand navigation panel. Choose Custom Channel at the top of the page, select your channel from the dropdown menu, and click Link to BoxCast.tv.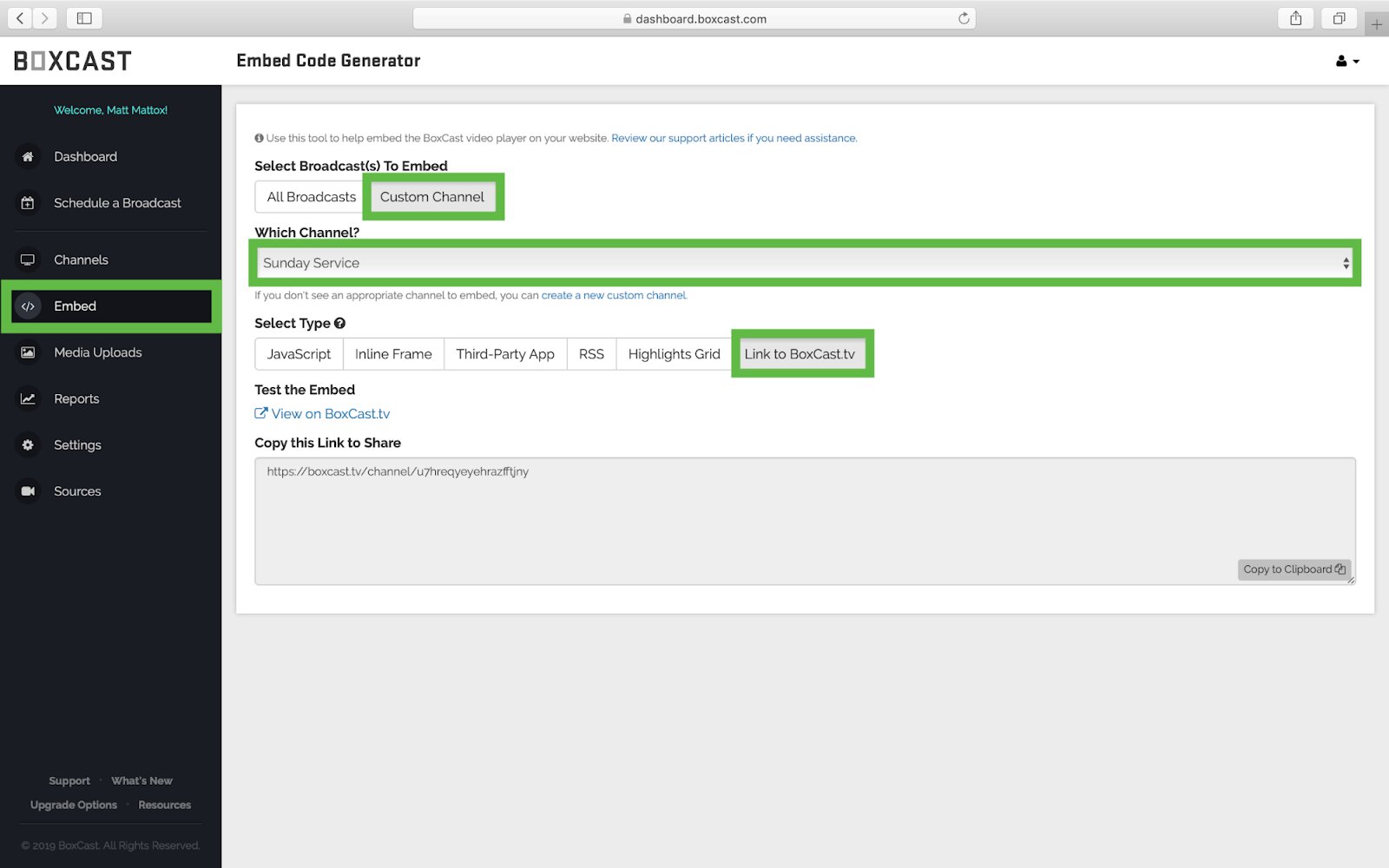 BoxCast displays your shared link below. Copy the text after /channel/.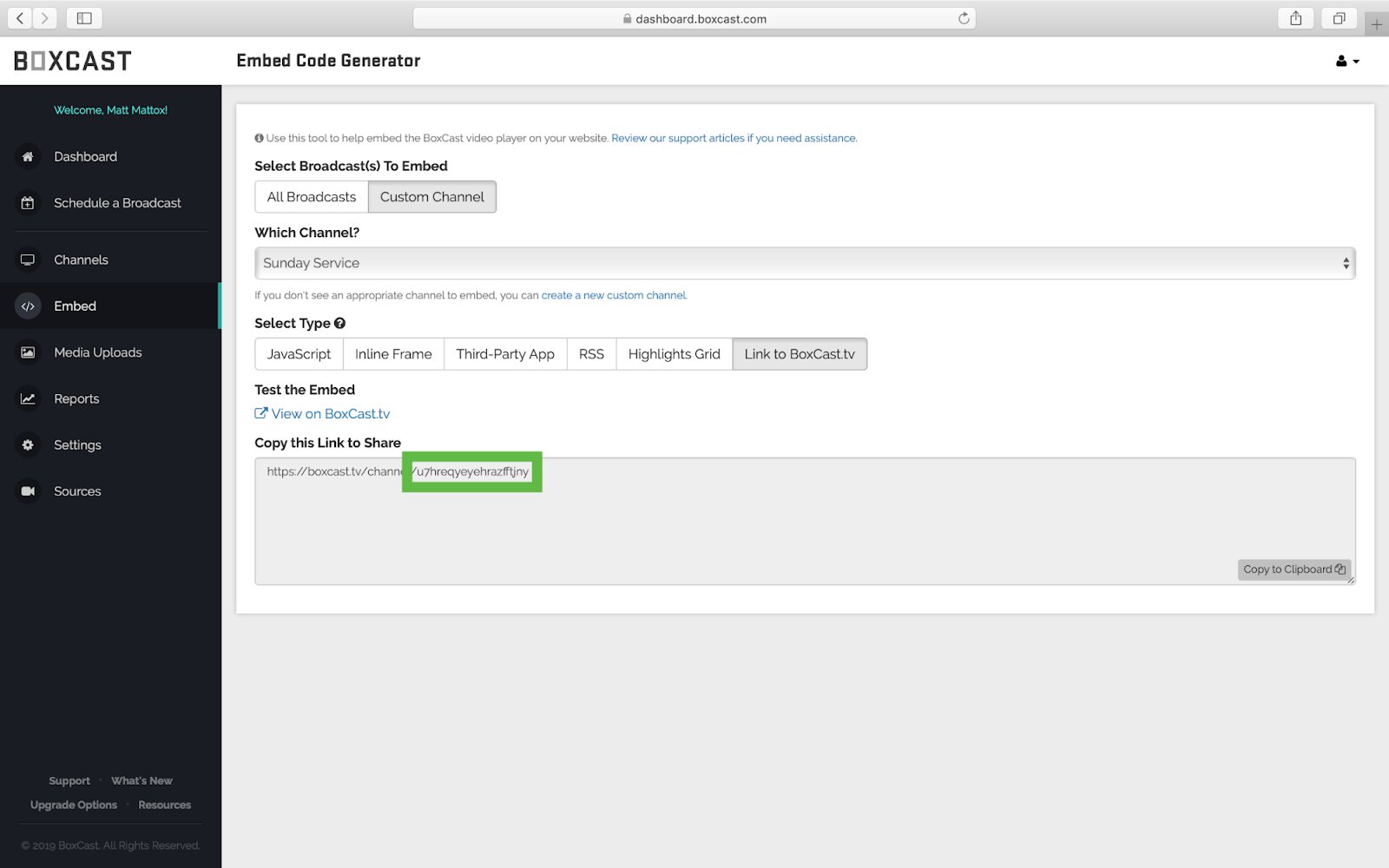 Paste the Channel ID into the Faithlife TV settings as shown above.
4. Schedule Your Broadcast
Select Schedule a Broadcast from the left-hand navigation panel on the left and insert your desired Broadcast Name while keeping the source set to a Static RTMP. Choose a start date, start time and end time. We recommend giving yourself a 15 minutes prior to your live event on the start time. Choose a public Broadcast Type and select the channel you previously created.
When you're finished setting up your broadcast, click Schedule a Broadcast.