With Vimeo Premium, you can livestream your church service and share it on your website, in your Faithlife Group, and more. You can configure your stream to show your sermon slides from Proclaim, a video of your pastor, or both simultaneously.
Did you know? You can set up live streaming directly from your Faithlife group? Click here to learn how to livestream with Faithlife Live Stream.
Skip ahead to:
Prerequisites to Streaming
Audio: Ensure your connected microphone is configured in Proclaim's Settings menu (under Audio). If you are presenting from home, you can use the mic on your computer.
Video: Connect an external camera to your computer and point it at the stage. If you want to stream your sermon from home, you can use your computer's webcam.
Two monitors (optional): To livestream your slides, you will need to capture Proclaim's output. It's easiest to manage your streaming, Proclaim, and stay in control if you can set one display to show your Proclaim. It is possible with one Monitor on Mac, but you'll need to be familiar with full-screen windows and Spaces.
Note: We recommend at least 5 mbps upload speed to live stream. Here's the quickest way to find your speed.
Step 1: Configure Vimeo
Log in to Vimeo.
In the left-hand panel, click Live events and then Create a live event.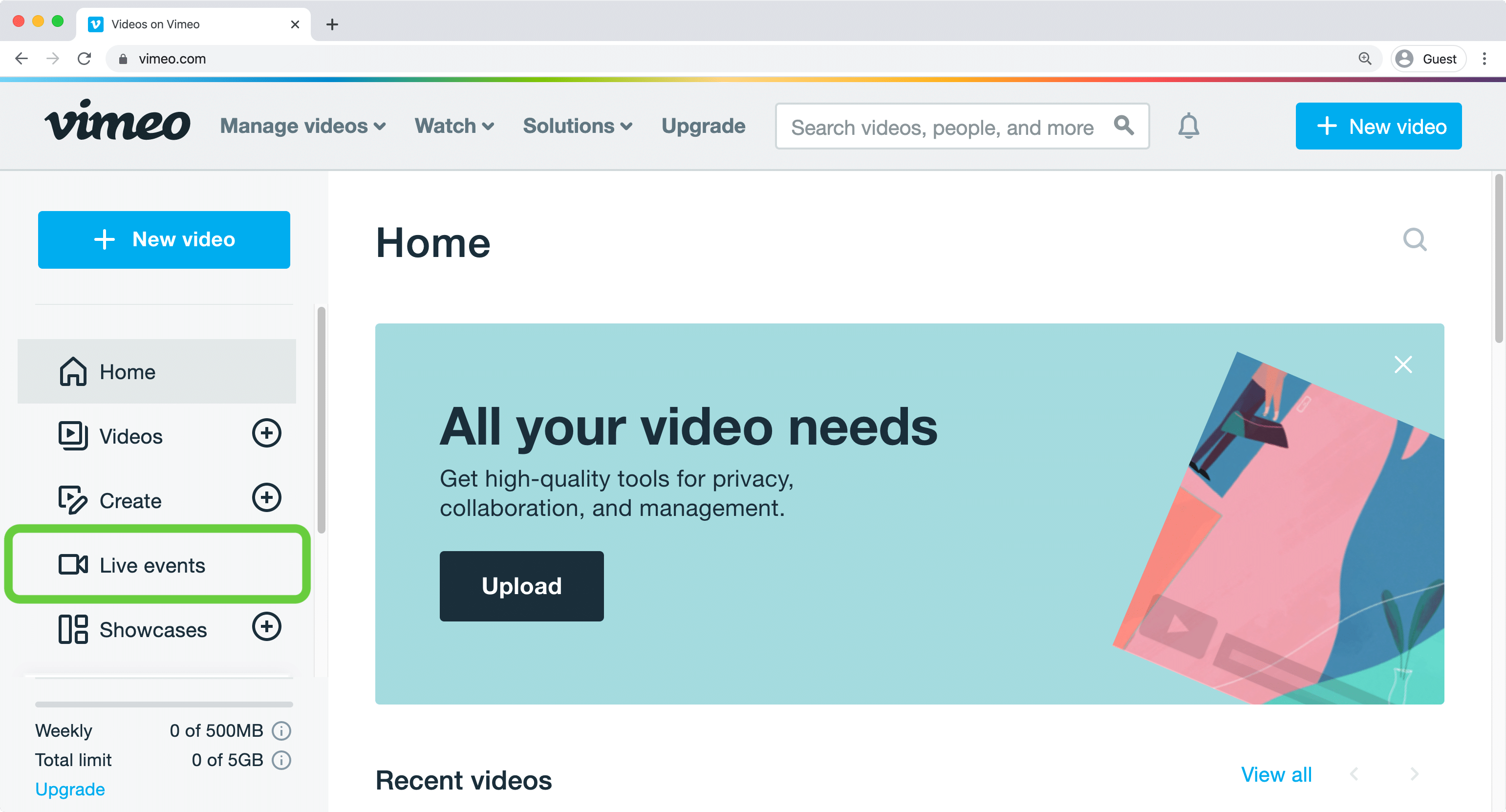 Add your name and then set your stream timing and privacy level.
Note: For more help, view Vimeo Support.
Add details to your stream.
Use the left-hand panel to customize your experience, from adding simulcast destinations, to enabling chat or adding graphics to your stream.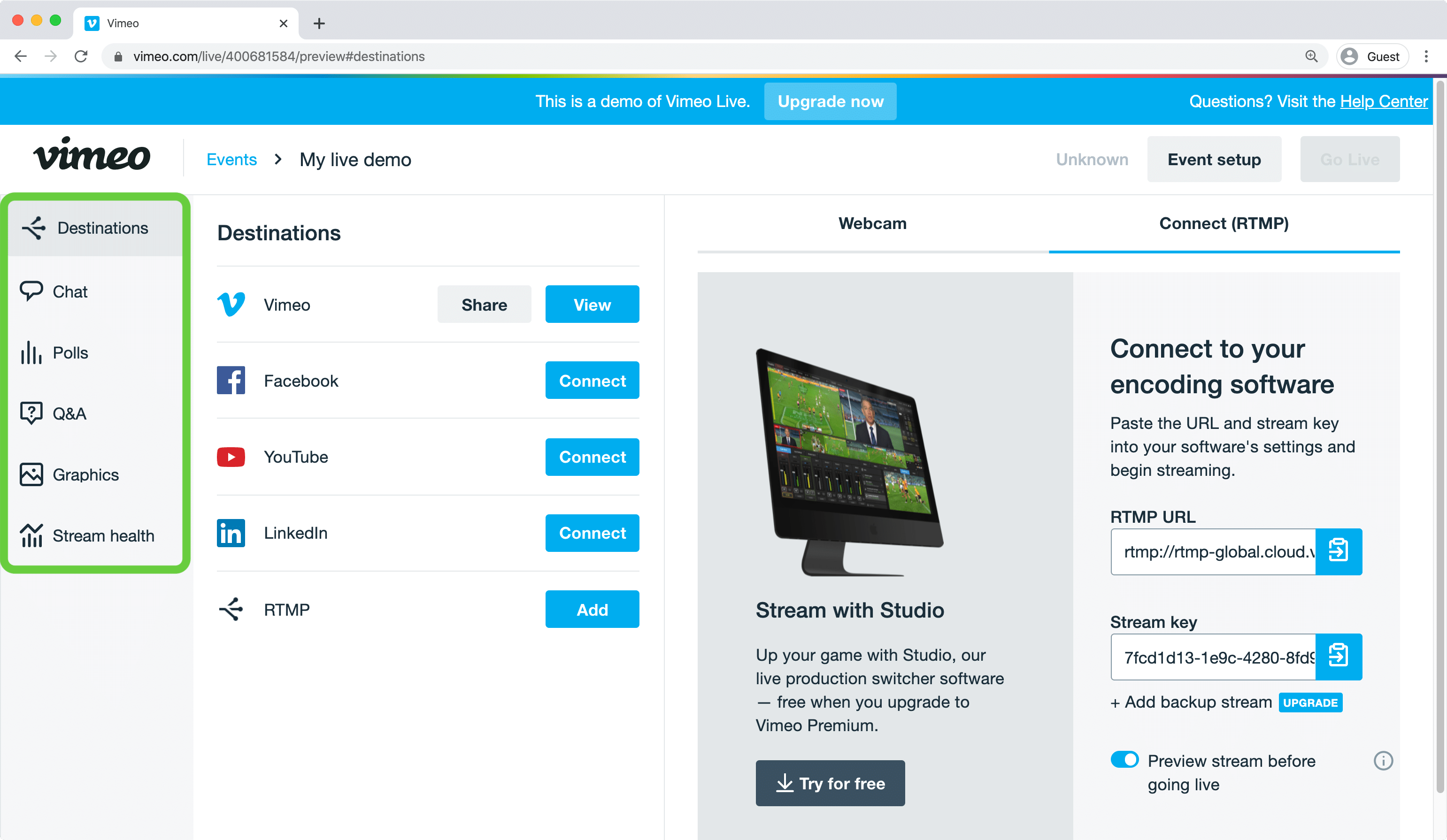 Note your encoding software details.
Vimeo generates both an RTMP URL and a Stream Key. Keep this page open as you'll copy and paste these into OBS (your encoder) in just a moment.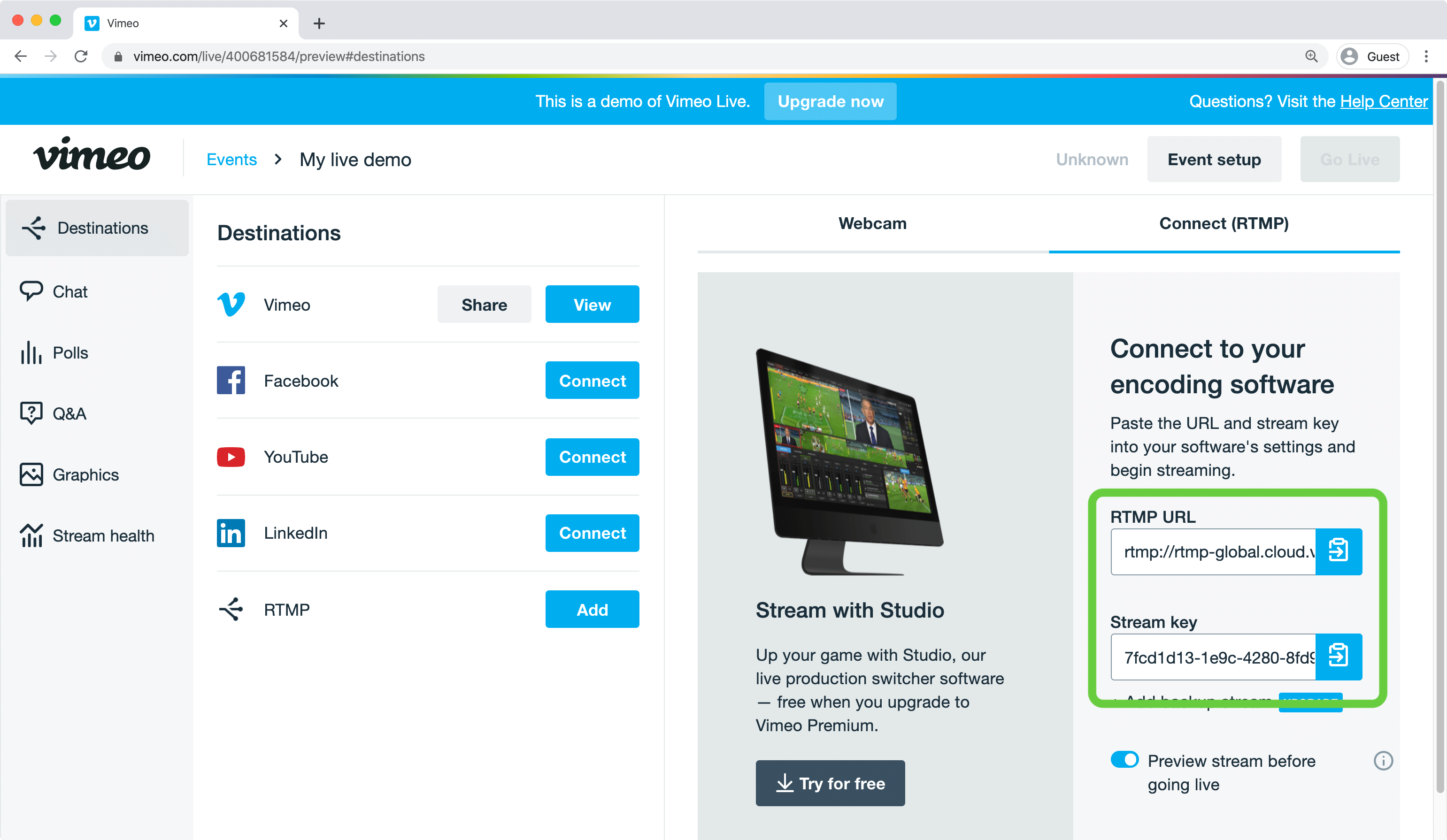 Step 2: Configure Proclaim and go On Air
Launch Proclaim and sign in if prompted.
Note: If you don't have Proclaim, you can download it and then learn the basics to help you get started with Proclaim.
Expand File and open your presentation (or create a new one).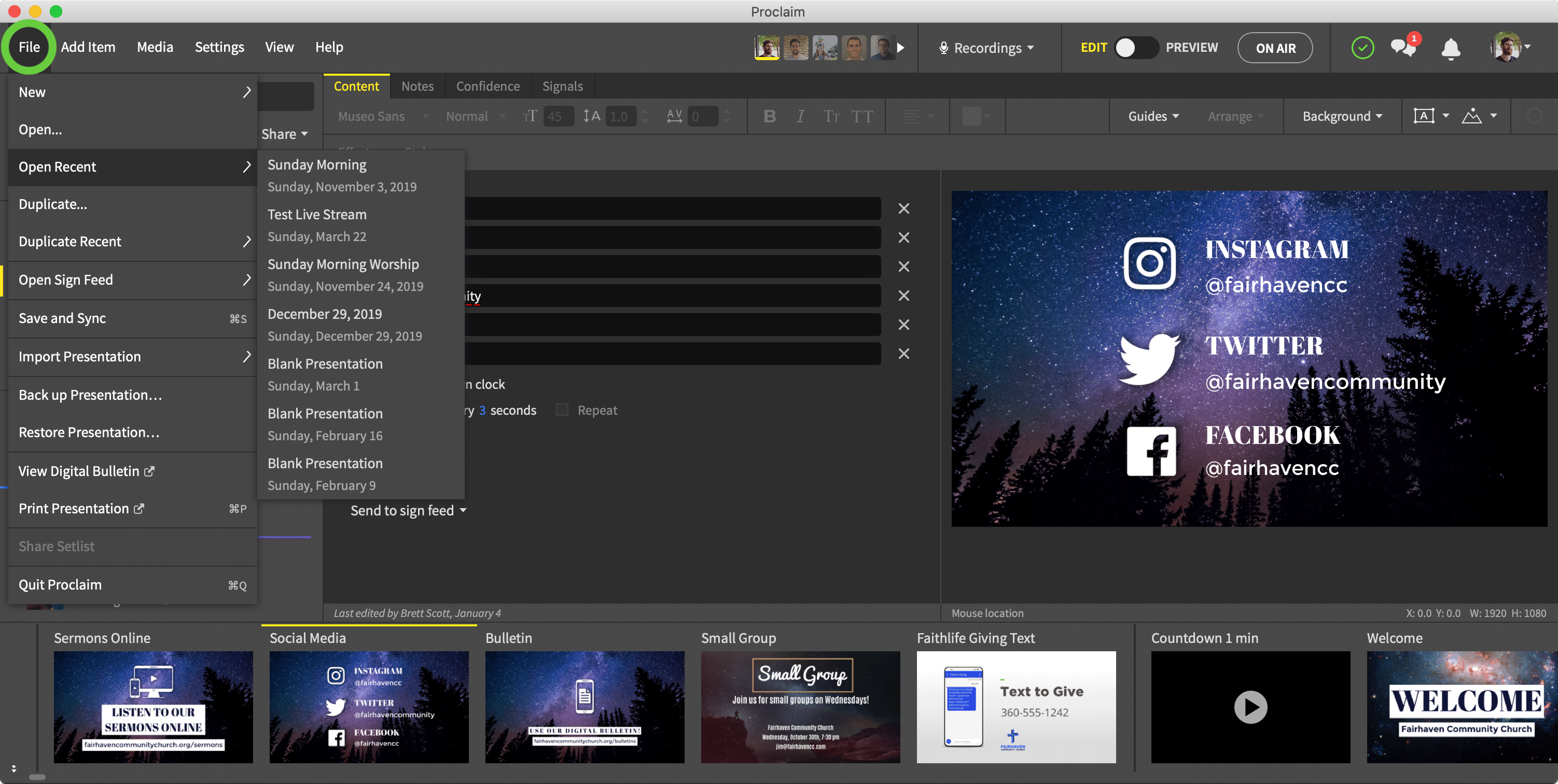 Configure your monitors
Expand the Settings menu and select Displays. Set your second monitor to Slides.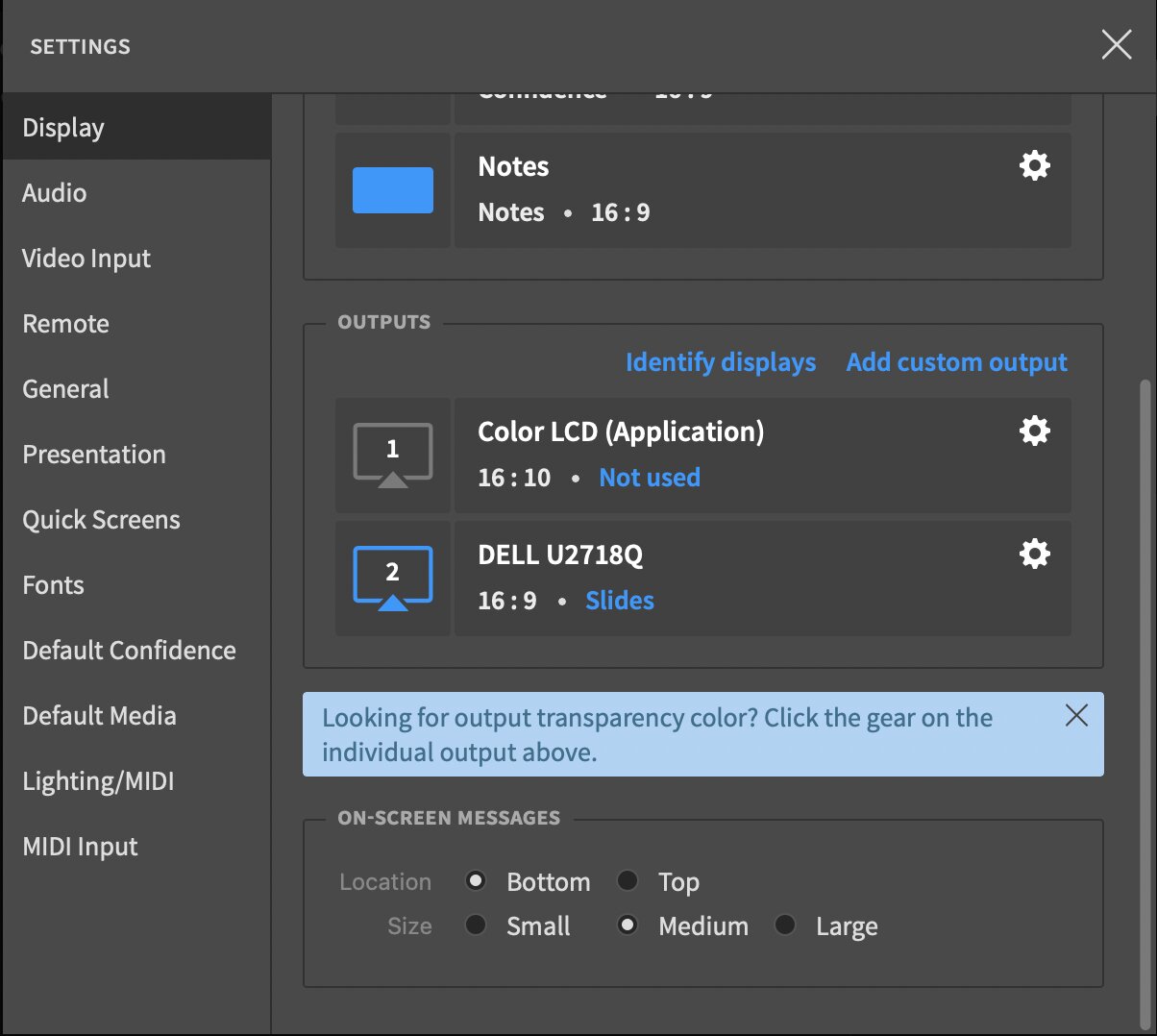 Note: Learn more about configuring display outputs in Proclaim.
Go On Air
Click the red On Air button to start presenting.
Step 3: Configure Open Broadcaster Software (OBS)
OBS is a free video encoding software that enables live streaming. You will use it to capture Proclaim, your audio, and your video and send it to Vimeo.
Note: We recommend OBS because it's free and easy to use, but Vimeo Premium offers its own encoder and also enables live streaming directly. For more help, view Vimeo Support.
Download Open Broadcaster Software.
Go to obsproject.com, select your operating system, and click Download Installer. Follow the instructions to install the software.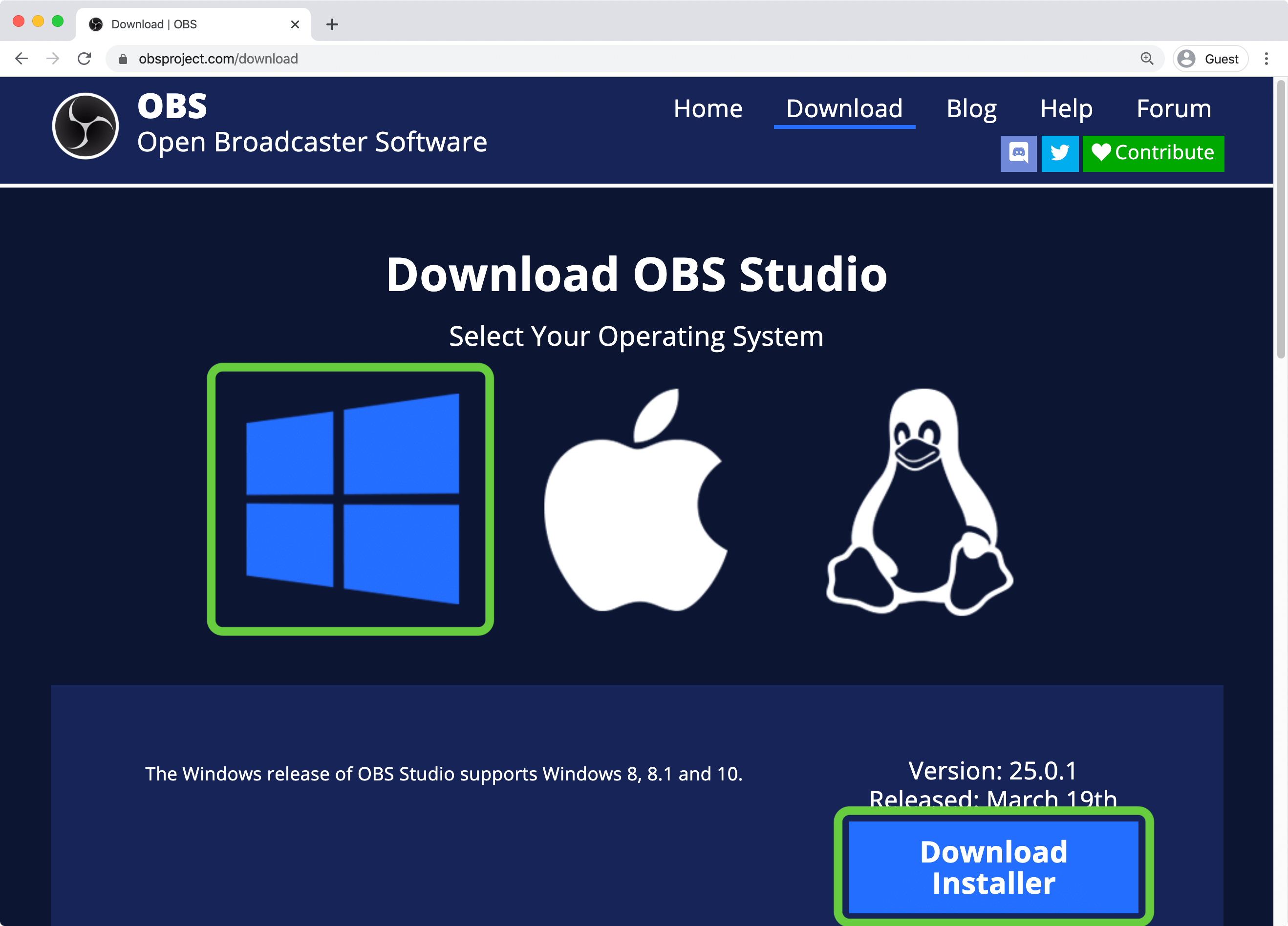 Note: For more information and troubleshooting help for OBS, visit the OBS Wiki.
Add your stream details in OBS.
With OBS installed and open, click Settings.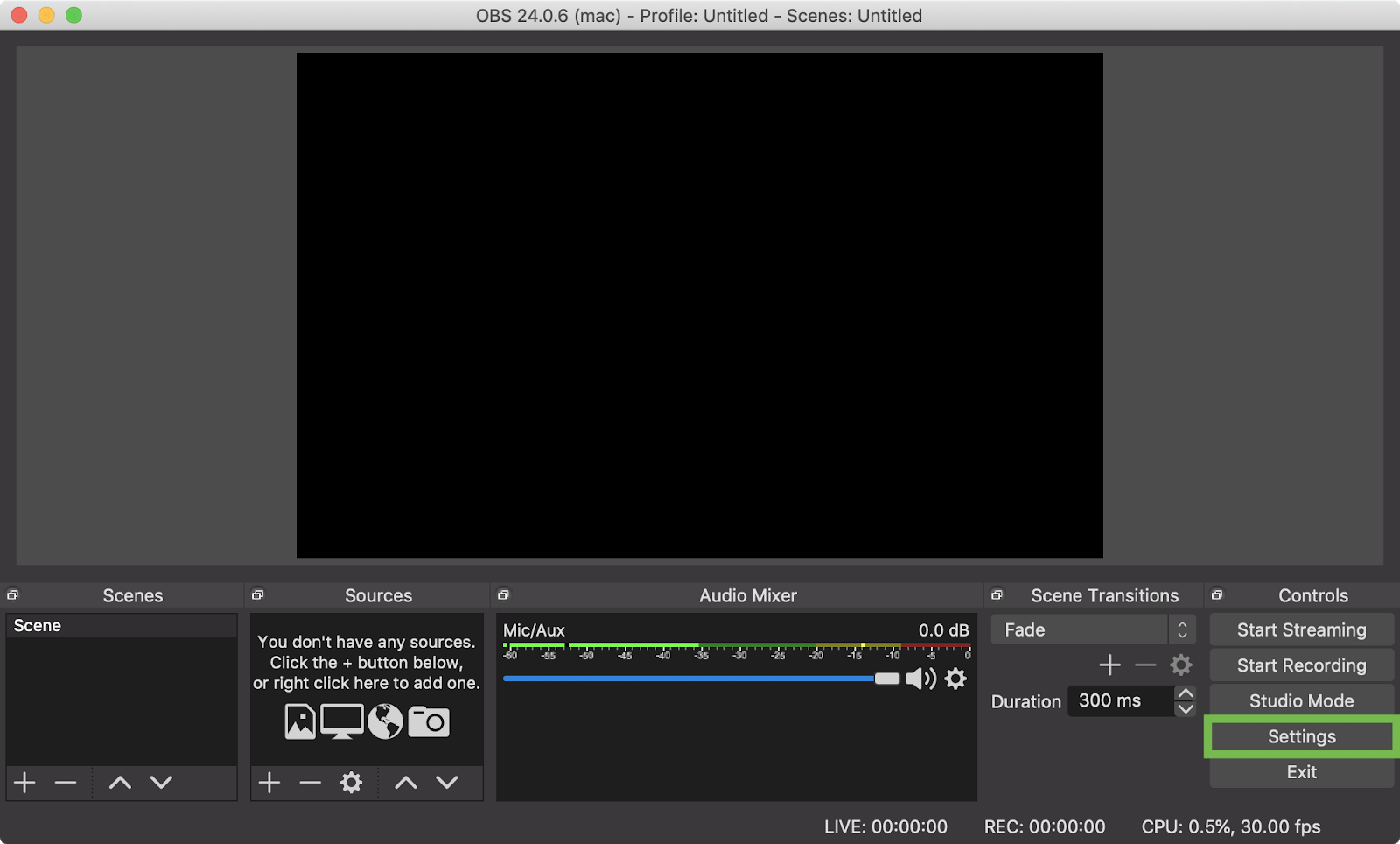 Click Stream in the left panel and make these adjustments:
Change the Service dropdown to Vimeo (you may need to show all options in the dropdown first).
Copy the Stream Key from your Vimeo Live configuration page and paste it into the Stream Key field.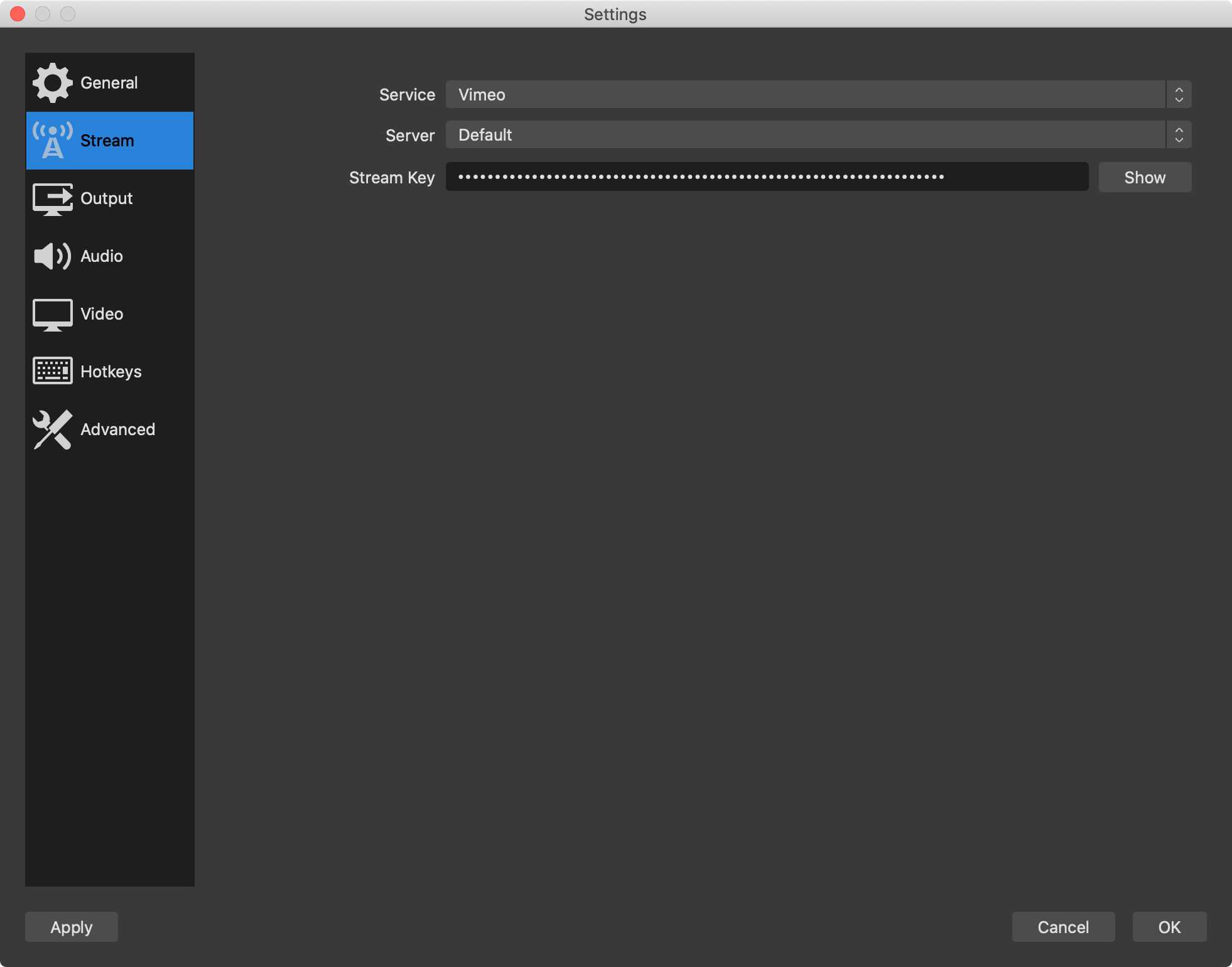 Click OK to secure your settings.
Configure your audio source.
Along the bottom of OBS, in the Sources area click the plus button and select Audio Capture Device.
If you audio input shows in the Add Existing list, select it and click OK. If it doesn't appear, create a new audio input with your desired name and click OK.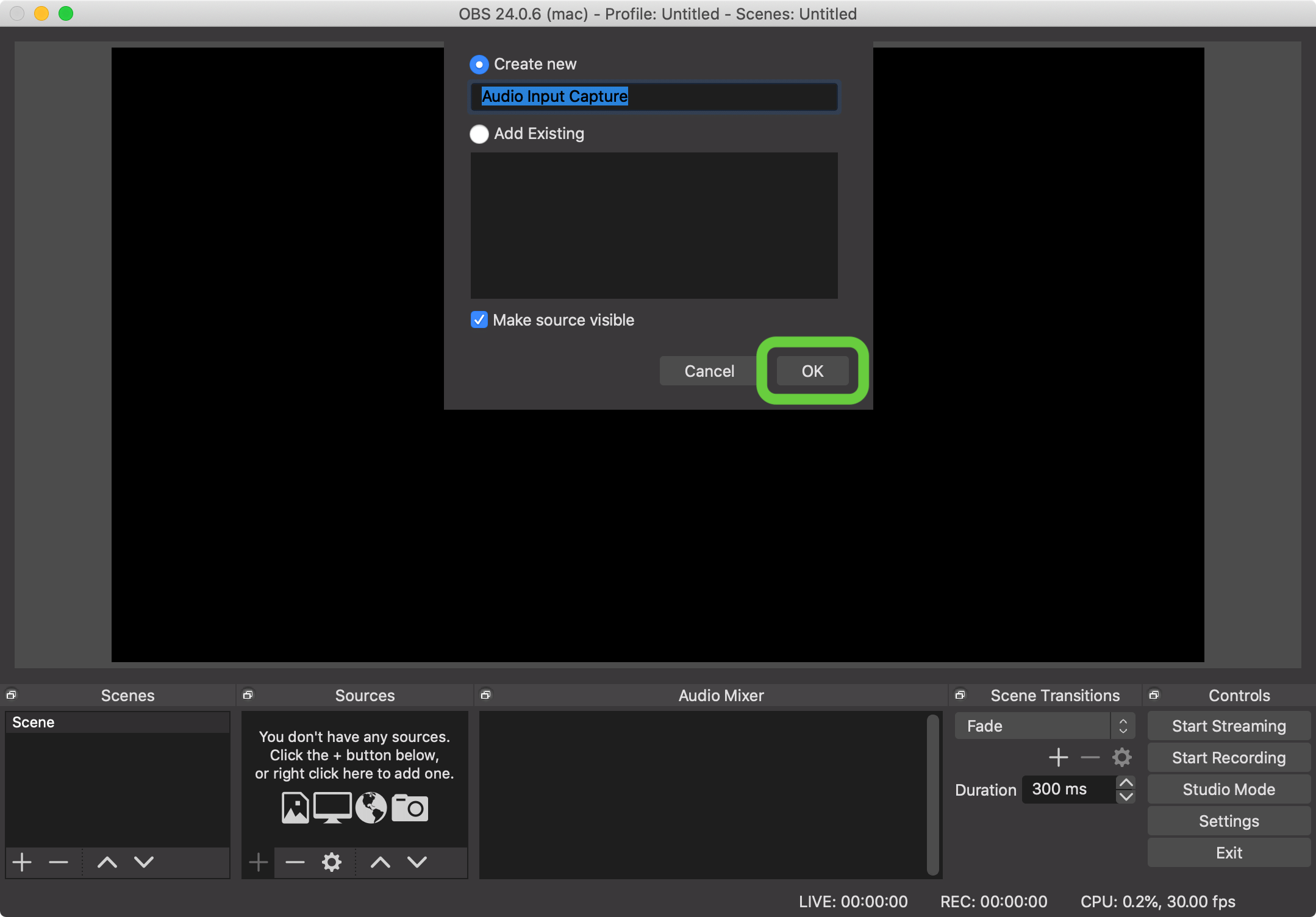 Select your input and click OK.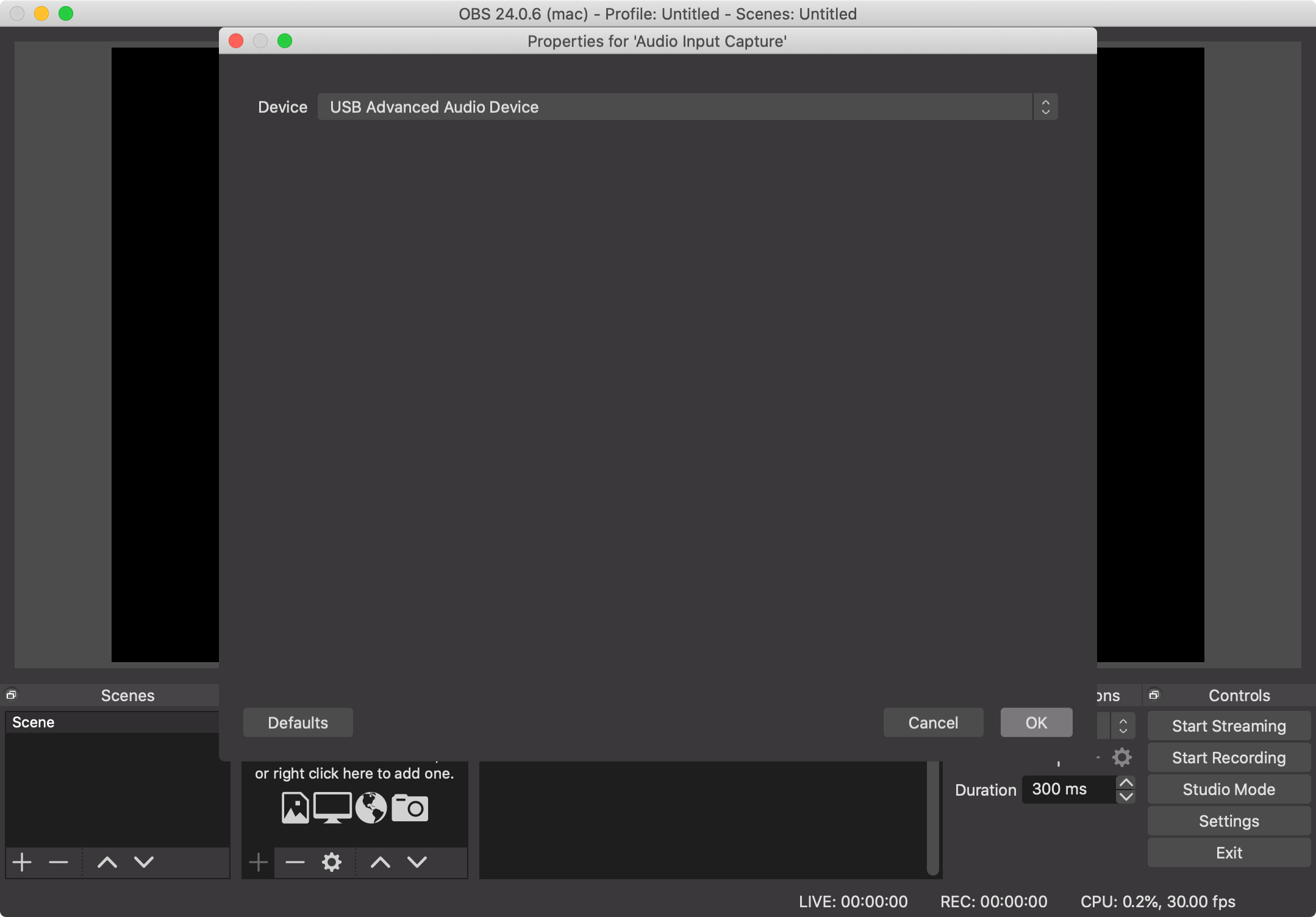 Note: You can change the mic in Settings > Audio if needed.
Add your Proclaim slides.
Note: You can capture slides from any presentation software with OBS. If you're using something other than Proclaim, you can still follow these steps below. Instead of selecting Proclaim as your window capture source, select your presentation software program.
Along the bottom of OBS, in the Sources area click the plus button and select Window Capture.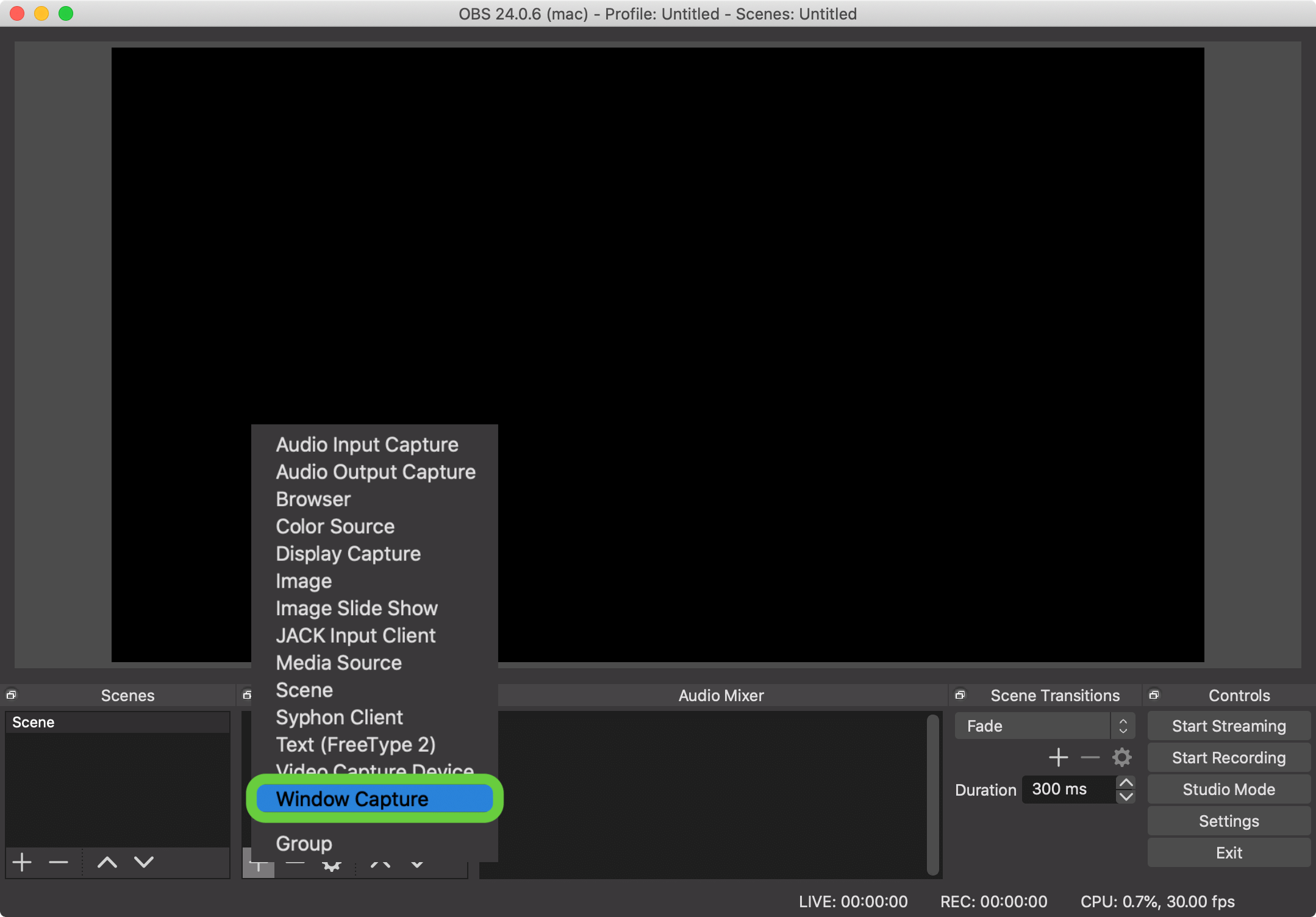 In the dialog that appears, give your window capture the name Proclaim. Click OK. Check the box, "Show Windows with empty names" and then select Faithlife Proclaim from the Window dropdown. Click OK.
Note: If you see multiple Faithlife Proclaim windows in the dropdown, click through them until you find your Slides output.
Your slides might be too large or too small. In OBS, you can click and drag their corners to resize and position them.
Add a live video source (optional).
Along the bottom of OBS, in the Sources area click the plus button and select Video Capture Device.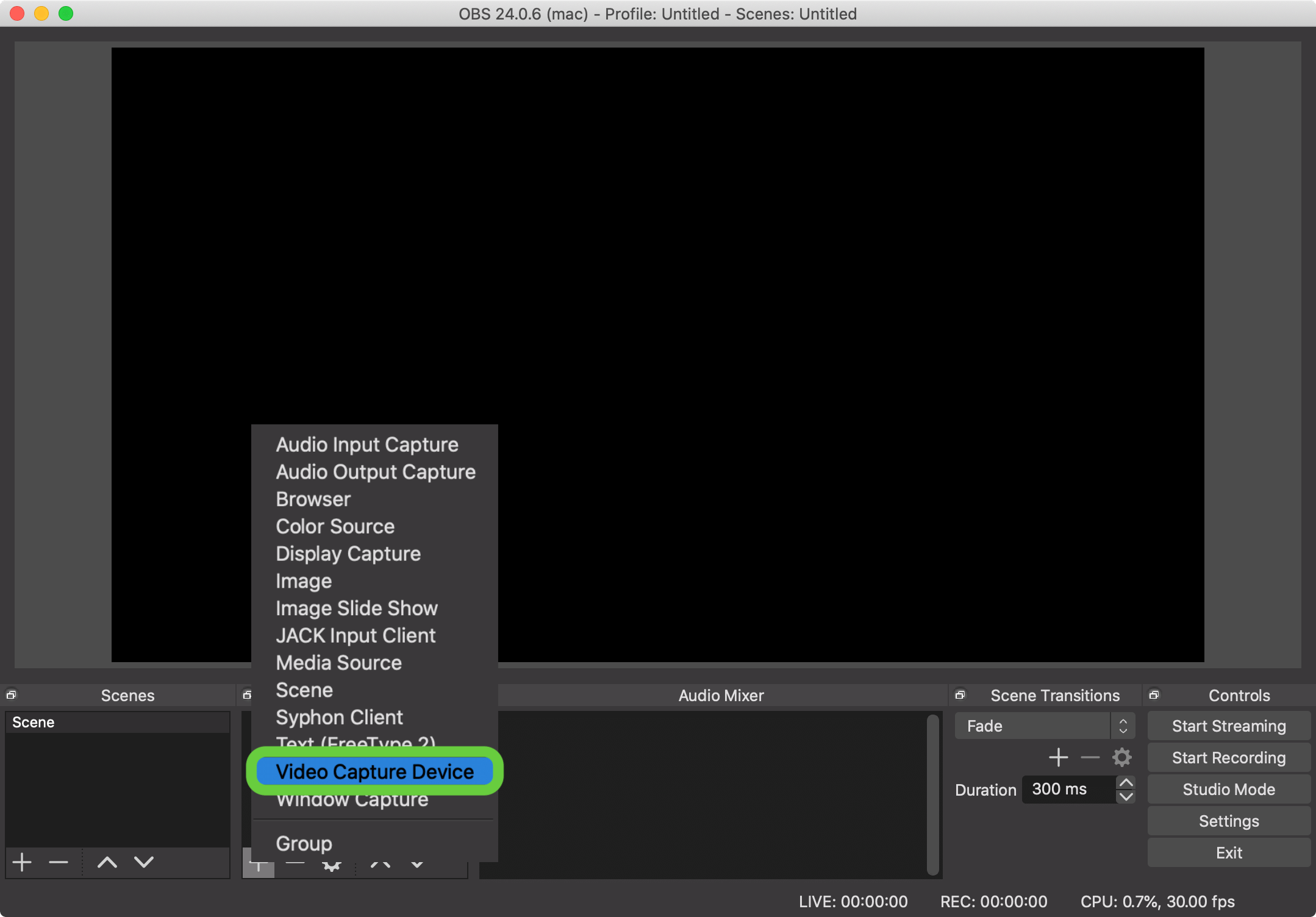 Follow the prompts to name your video capture device, click OK and select your desired camera from the Devices dropdown. Click OK.
Step 4: Start Streaming
In OBS, click Start Streaming.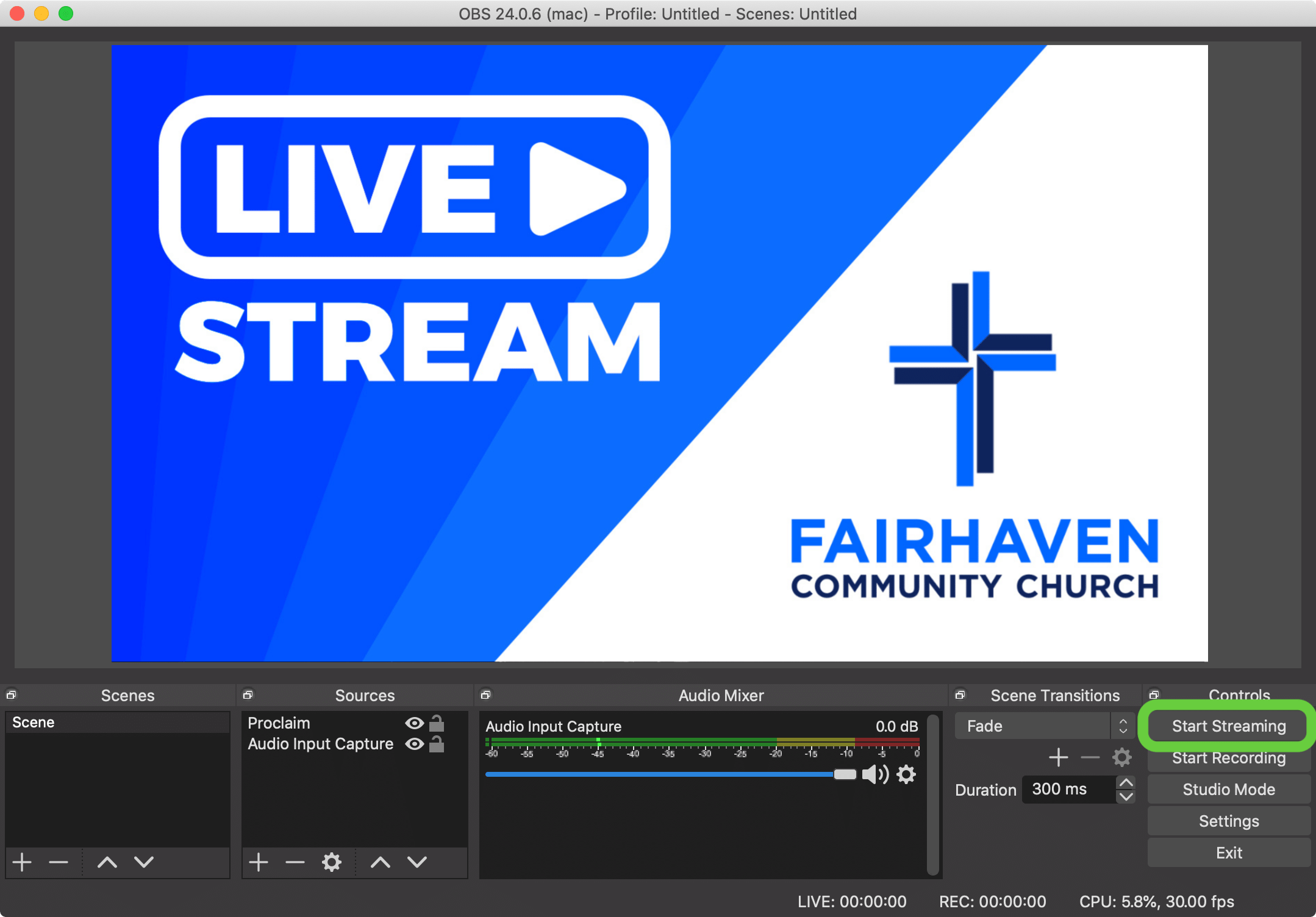 Note: You can create multiple scenes in the bottom-left Scenes panel to easily switch between different configurations. For instance, add one scene showing only your video output, another one for only slides, and a third showing your slides and the video in the lower right (picture-in-picture). While streaming, select a scene to smoothly transition between one scene and the next. Learn more about using Scenes in OBS.
In Vimeo, click Go Live.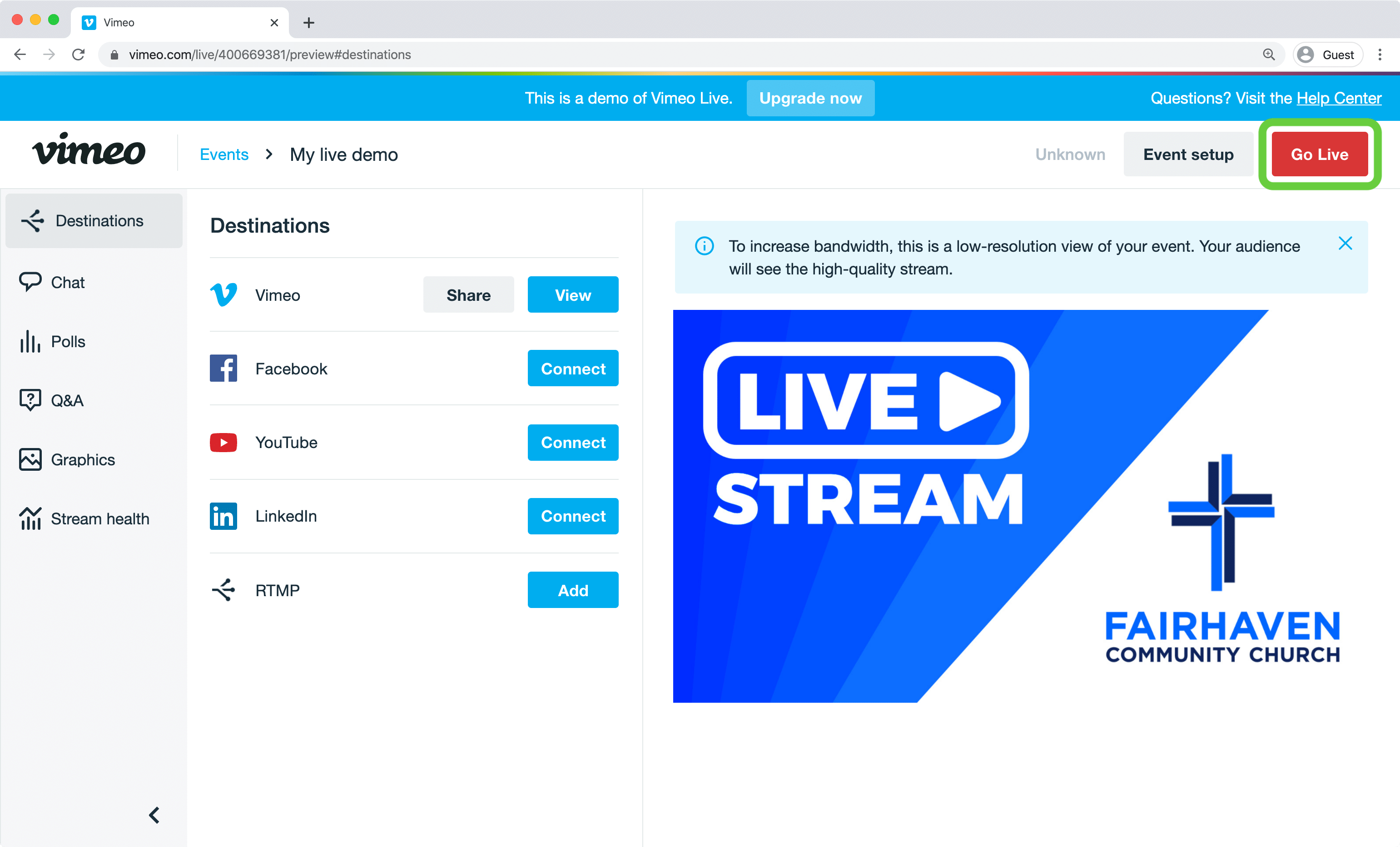 Note: It can take up to several minutes between the time you start streaming and the time it becomes available to viewers.
Step 5: Share Your Livestream
Your livestream is available in one or more places. Expand the Share menu in Vimeo and copy the event link, event embed code, or the chat embed code to share them with others.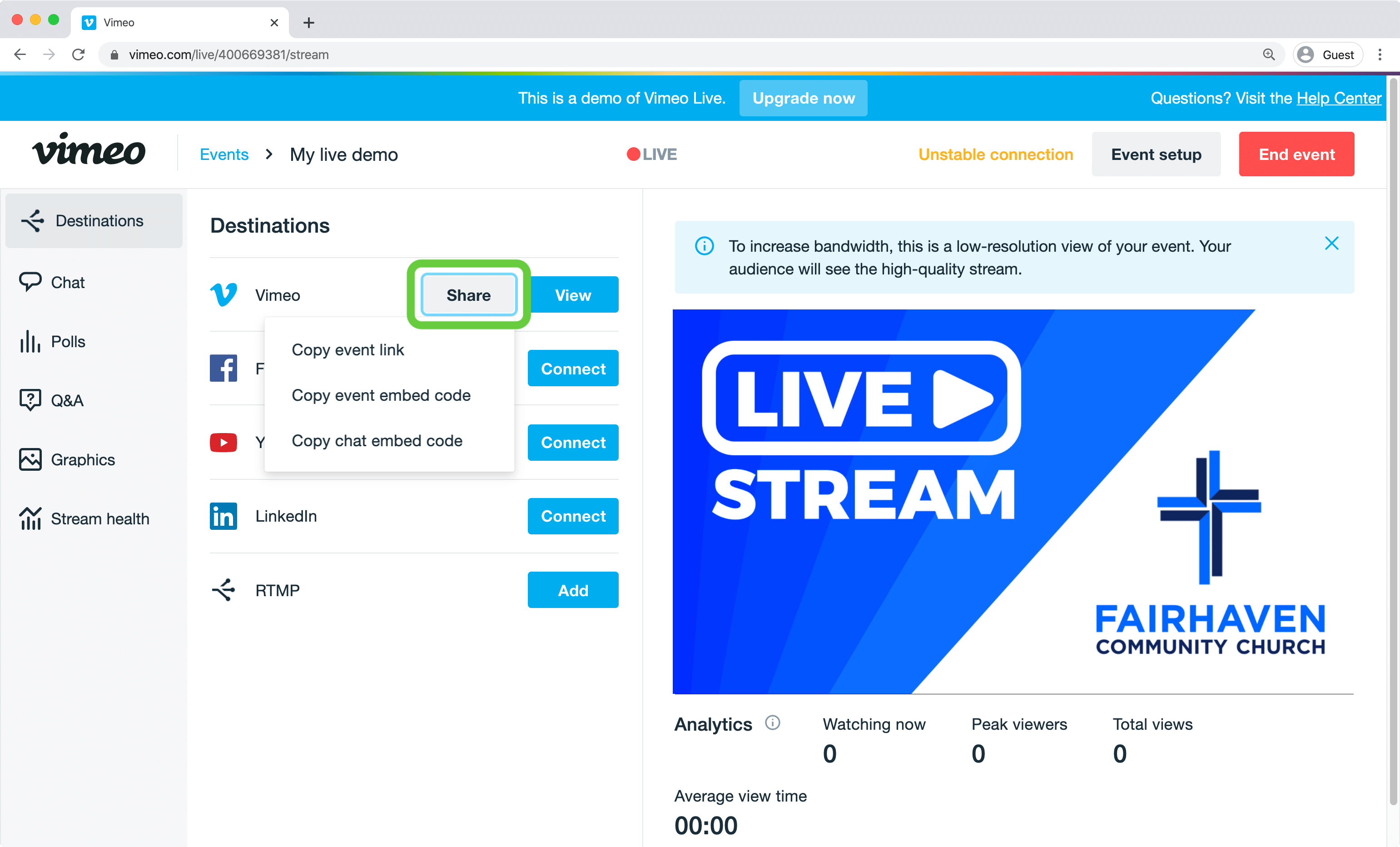 Consider adding feed on your website and sharing it to your Faithlife group activity feed as a starting point.
Note: Remember, you can record your sermon in Proclaim and publish the audio/slides as soon as your service finishes (learn more). Your Proclaim recordings will not, however, include your live stream video. To
share the live stream video use the share link above or manually upload the video captured by Vimeo to Faithlife TV (learn more).
Step 6: Stop your Livestream
To stop the live stream:
Click Stop Streaming in OBS.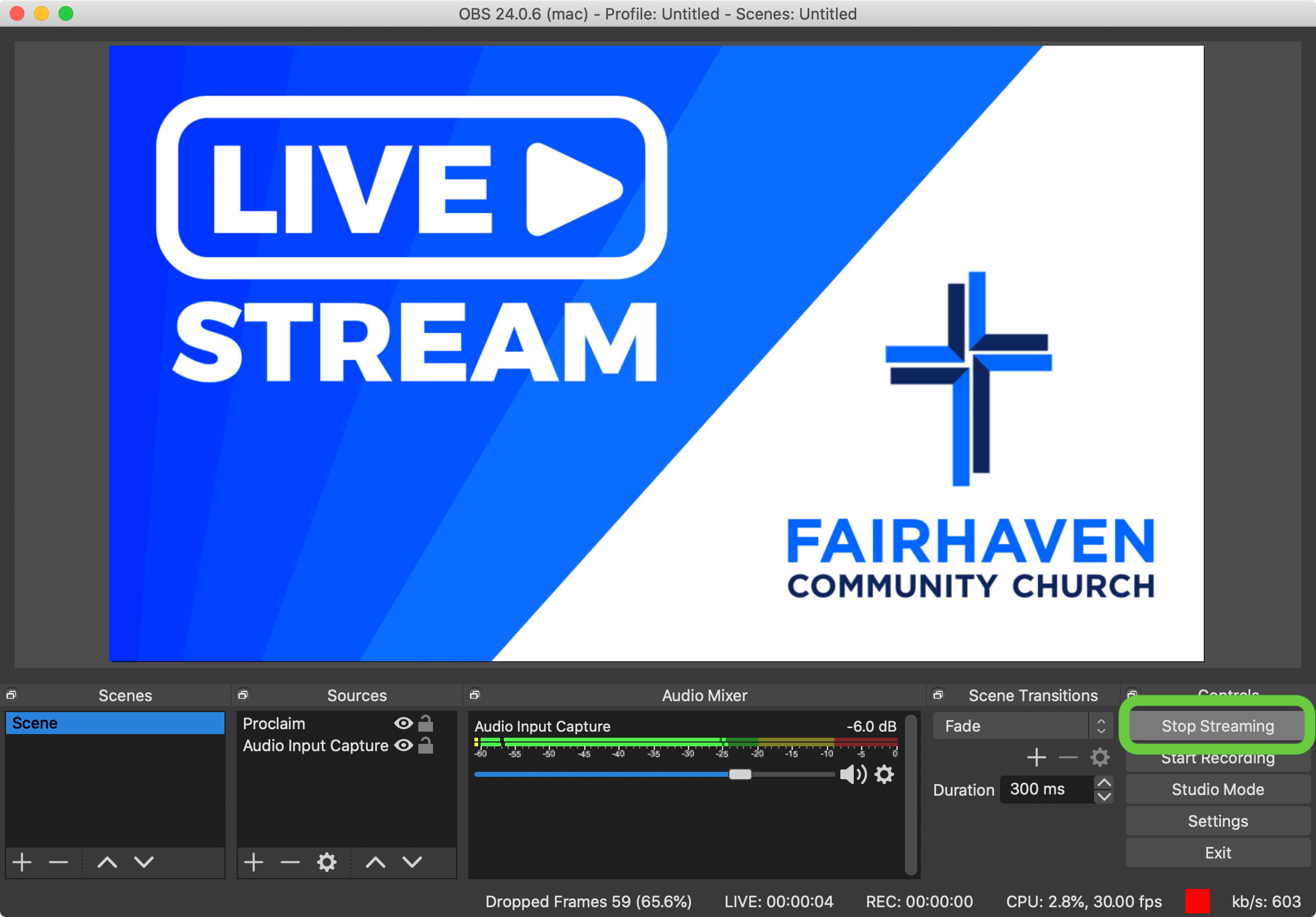 Click End Event in Vimeo.