With the Exportables tab, you can quickly print or export content from your people records for use in mailings, meetings, or other physical communications. To create exportable media, follow these simple steps:
Open Your Exportables.
Expand Reporting in the Admin panel of your church group on Faithlife.com and select Exportables.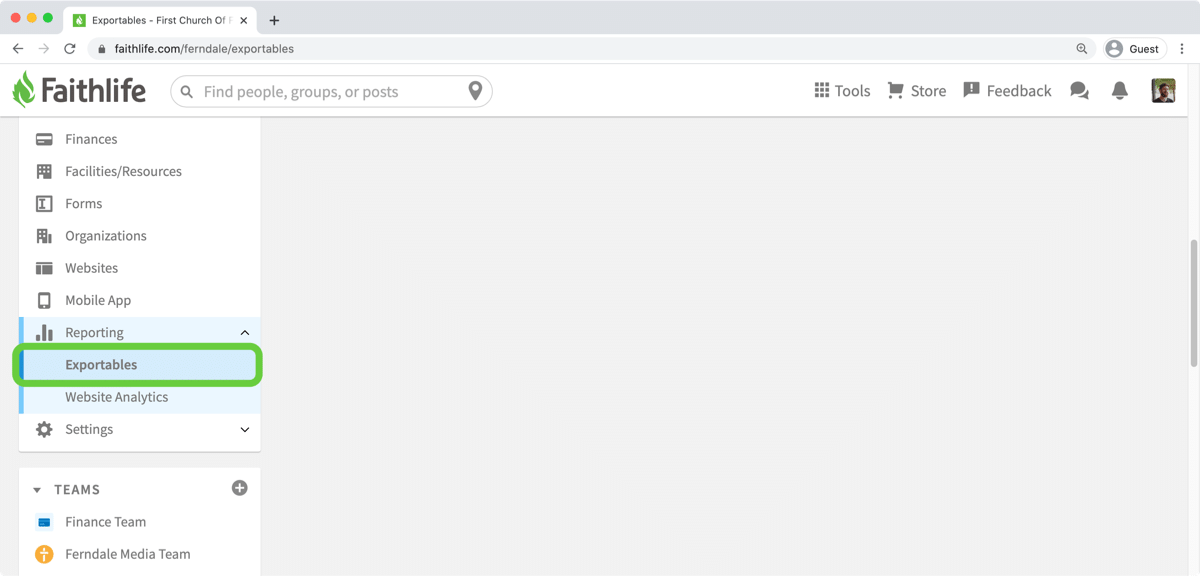 Create an Exportable.
Click Create exportable at the top to begin a new project.

Note: All of the previous exports you've created show below. You can rerun any of these projects by clicking its name, selecting from the available options, and printing or downloading the exportable as shown below.

Choose an exportable type.

You can create several different types of exportable media like address labels, your member directory, name badges, table tens, certificates, and more. Select an exportable type and click Next.

Choose your content.

Select the people records you want to include in the printing. If you've created a list, you can select it from the dropdown. Alternatively, you can filter, sort, and search the table below to select the people you want to include in your printing. When you're ready, click Next.

Note: You can search, filter, and sort the displayed people records just as you would from the Directory or the People tab.

Download or print the exportable.

Select from the available options for the type of exportable you selected, give the project a recognizable name, and choose whether to Download or Print your project.

Note: In the dropdown next to Download, you can choose to download as HTML, PDF, or Plain Text.

Click Done to save the exportable.

Any exportable you've saved, displays in the main Exportables tab.