You can combine your inputs into a variety of scenes with OBS and then transition between them to create a more rich live stream experience.
Note: This article assumes you've already configured your live stream with OBS and a live streaming platform. For general help setting up OBS with Proclaim and Faithlife Live Stream, YouTube, Facebook, or Vimeo, view the linked articles in this note.
Create Scenes
To create a scene, follow these steps:
1. Add a new scene.
Click the plus icon in the Scenes panel to create a new scene. Add a descriptive name and click OK.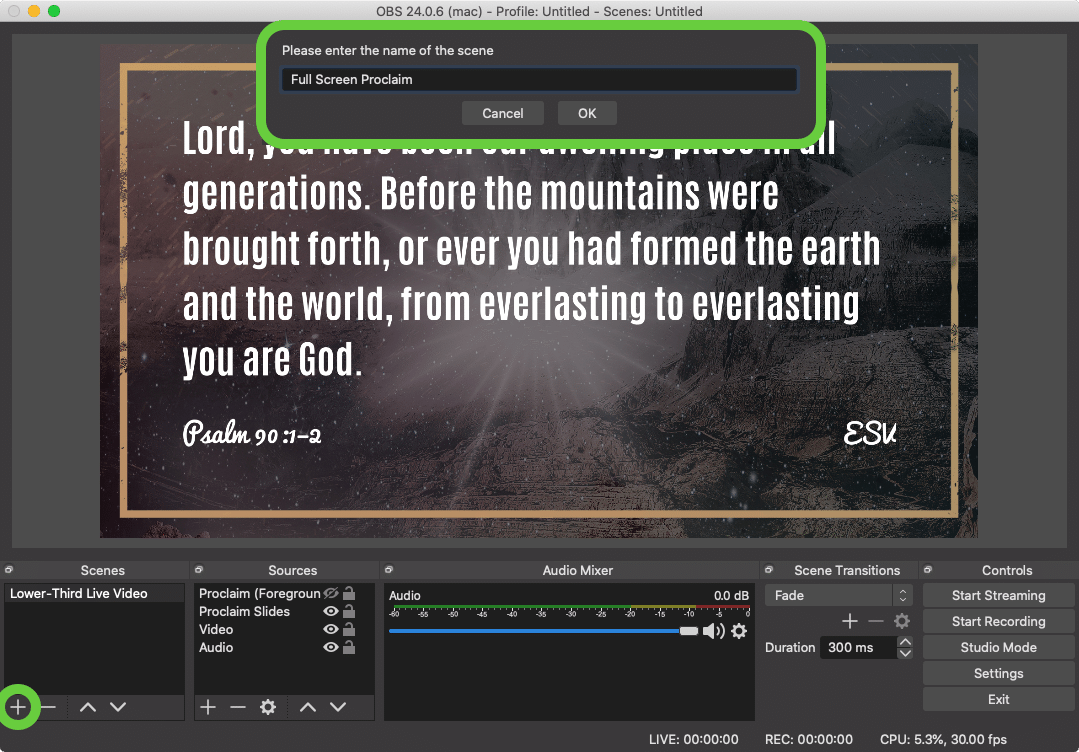 2. Add sources.
Click the plus icon in the Sources panel to add a source to your scene. If you've already added inputs (like video, audio, or window captures), select them from the list below and click OK.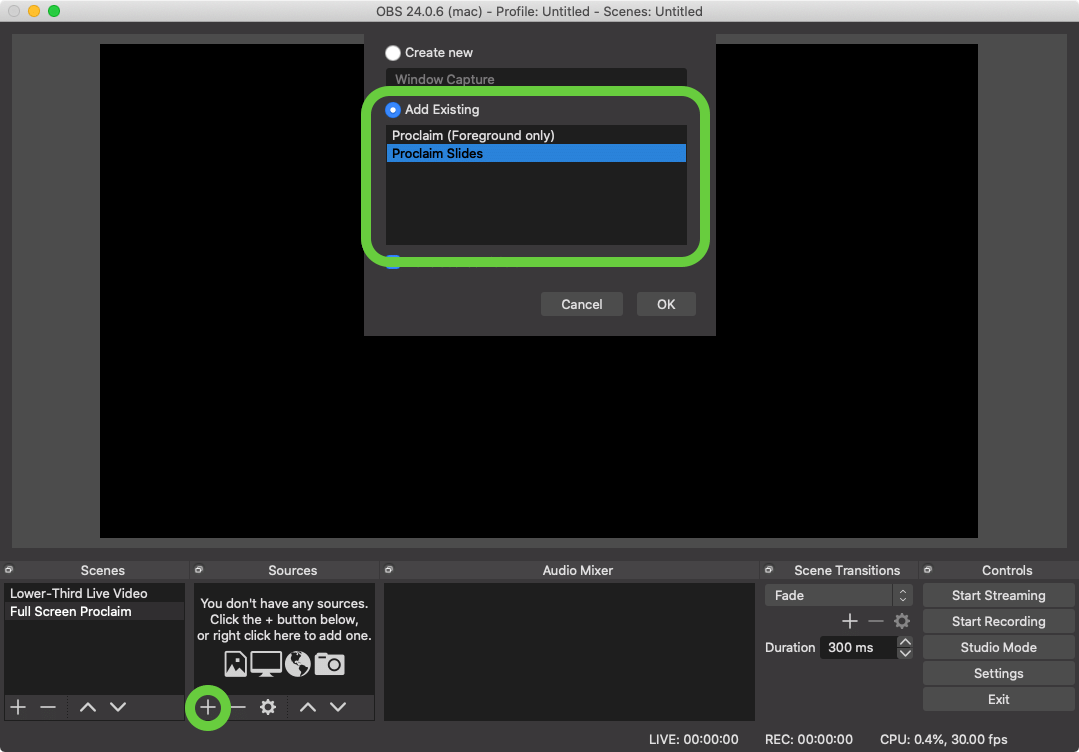 Note: Just like when you first added sources, for OBS to see your inputs, you'll need to put Proclaim On Air and have your video source live.
3. Customize your sources.
The order of your sources tells OBS which source to place above or beneath the others (top-to-bottom). With your sources properly ordered, you can resize each input for each scene to create your desired look (click and drag the red handles that appear when you select an input).
For instance, if you want to create a picture-in-picture scene, layer your video input above your slides and resize the video to the lower corner using the red handles that appear when you select the video feed input.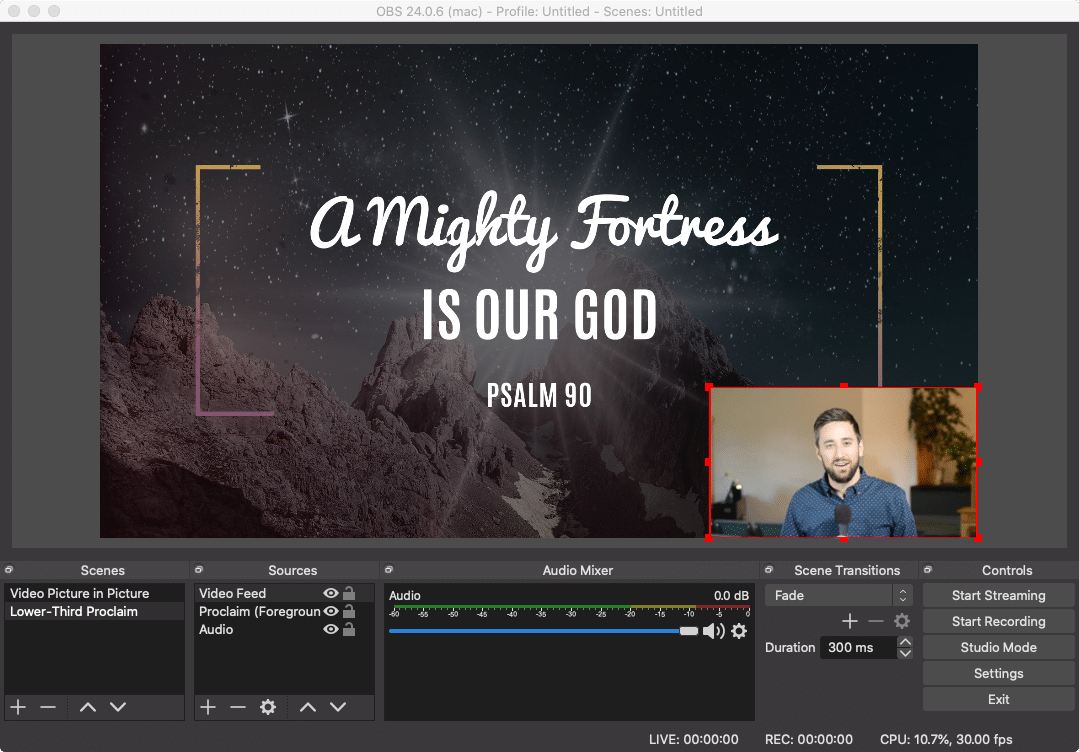 Note: You can also crop inputs by holding Alt on Windows or Option on macOS and dragging the handles that appear when you select the input. Additionally, you can add masks by right-clicking any input and adding an effect filter. For instance, you can add a circle mask to show only your speaker's head in the bottom corner while showing your slides.
Other Popular Scenes
Here are some other popular scenes you can create. Notice the order of the sources used to accomplish the effect.
Full Screen Video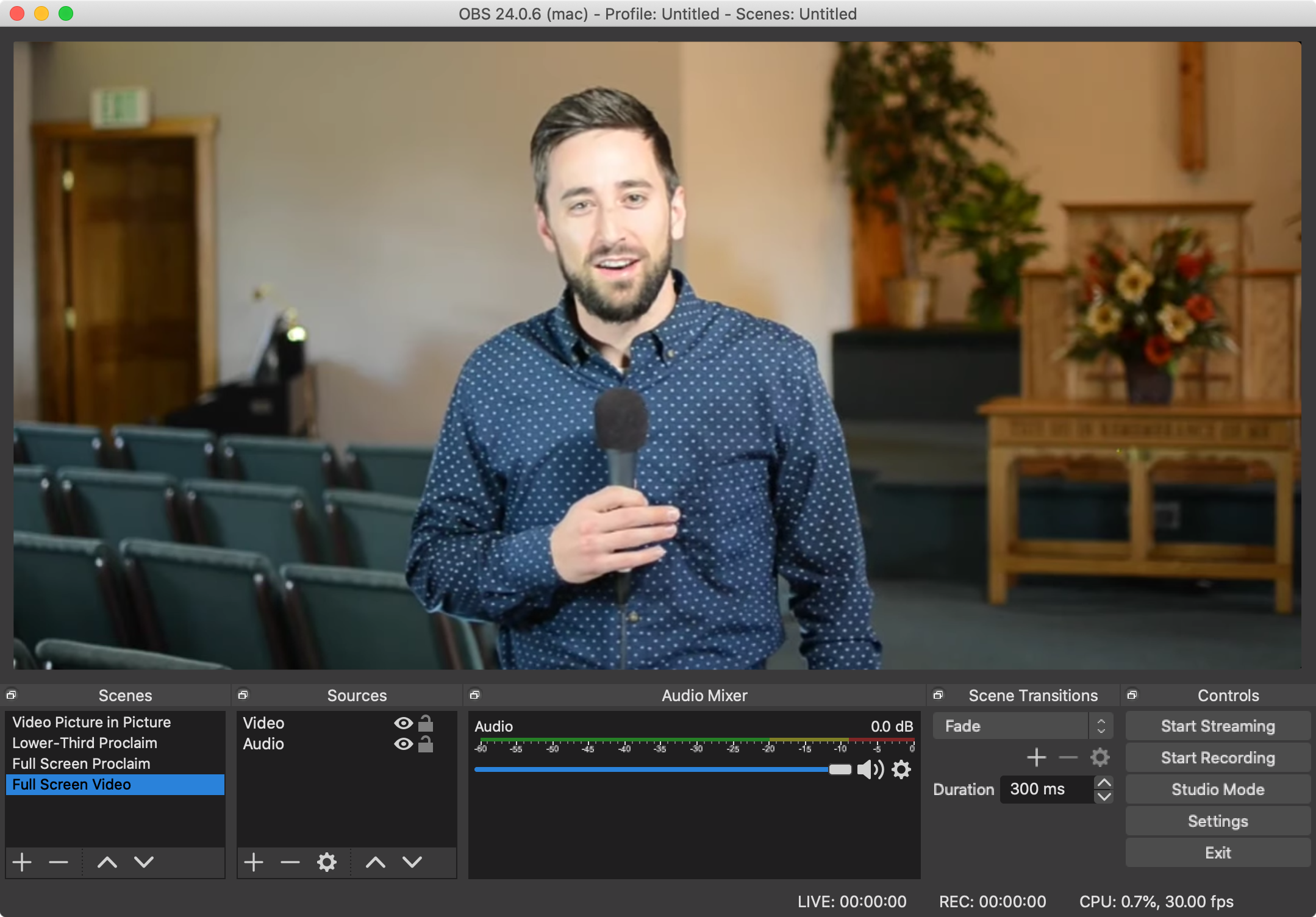 Full Screen Proclaim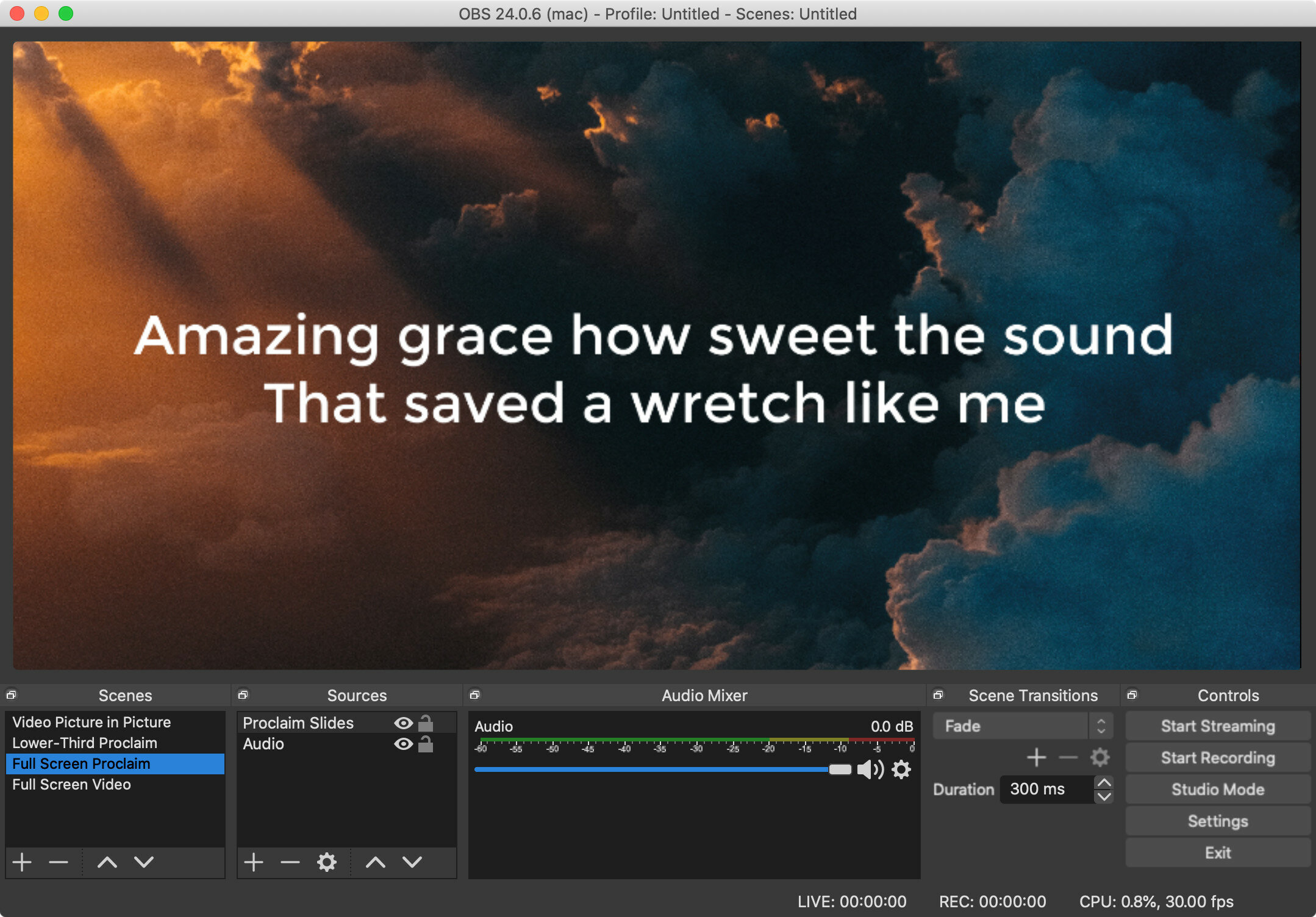 Lower-third Overlay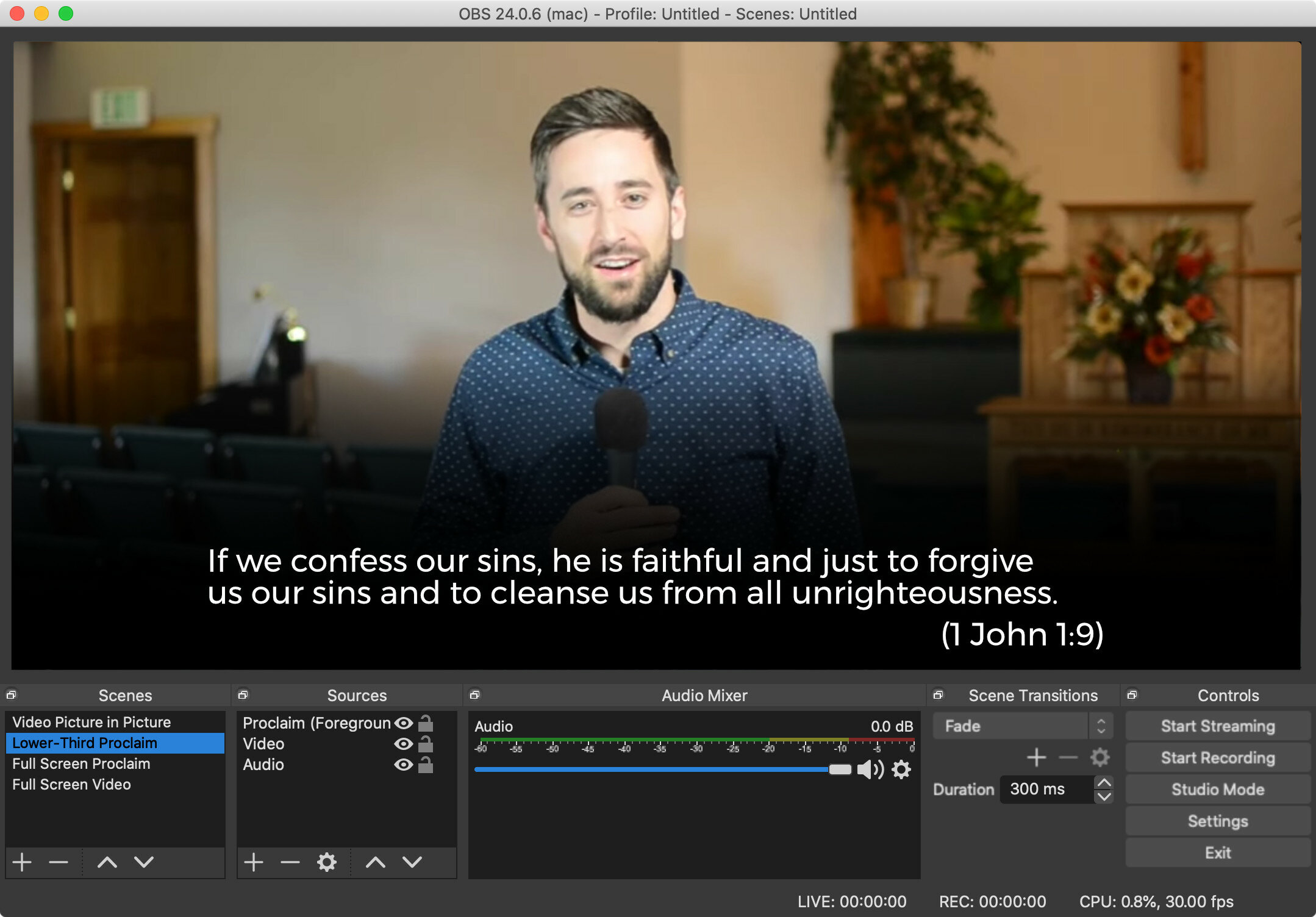 Note: You can even set up Proclaim to project your full slides on your in-service screen while showing only lower-third lyrics in your live stream. Learn more about using overlays with Proclaim during your live stream.
Transition between Scenes
To transition to a new scene, select it from the scene list on the left.
Note: For more help with scenes, view OBS's wiki or this Proclaim user's forum post that shows how to switch scenes using Proclaims lighting/MIDI controls.