Deprecation Warning: This is a beta feature, limited to 64-bit Windows 10 computers. It was added in May 2020 to help physically-distanced pastors live stream without any other set up, and has not been improved since for a number of reasons. Since this feature was released, we have shipped many improvements to Proclaim to make its integration with video encoding software, external switchers, and external encoders a first-class experience. Please look to those options instead of this beta feature
Virtual Screens allow you to create different screens for different places. This is great for multi-screen setups and your live stream. For example, you can send full screen slides to your projectors, while simultaneously sending lower-thirds formatted content to your encoder or streaming app. This essentially lets you run two parallel presentations, formatted for each screen, from the same computer with the same operator. Learn More
SDI and NDI outputs provide great ways to interface with the software and hardware you need to create a polished, professional stream. NDI allows you to send video content to other apps on your computer, across the network to other computers, or to an array of third party hardware devices. NDI supports true-transparency, making overlaying graphics on your stream super easy. SDI support for Black Magic Design products allows Proclaim to send video content straight to thunderbolt and PCIe devices from Black Magic Design. This allows you to integrate with your professional video switchers, encoders, and other SDI-compatible devices. SDI devices from Black Magic support advance keying and key/fill support to easily overlay your graphics and content on your stream. Learn More
Known Issue: Only a corner of the On Air output will show in the live stream if custom scaling is turned on. If this happens to you, turn off custom scaling in your computer's display settings.
1. Configure the video
Navigate to Settings > Video and choose the video source you want to use as a background. You can use a camera, or just the webcam on your laptop.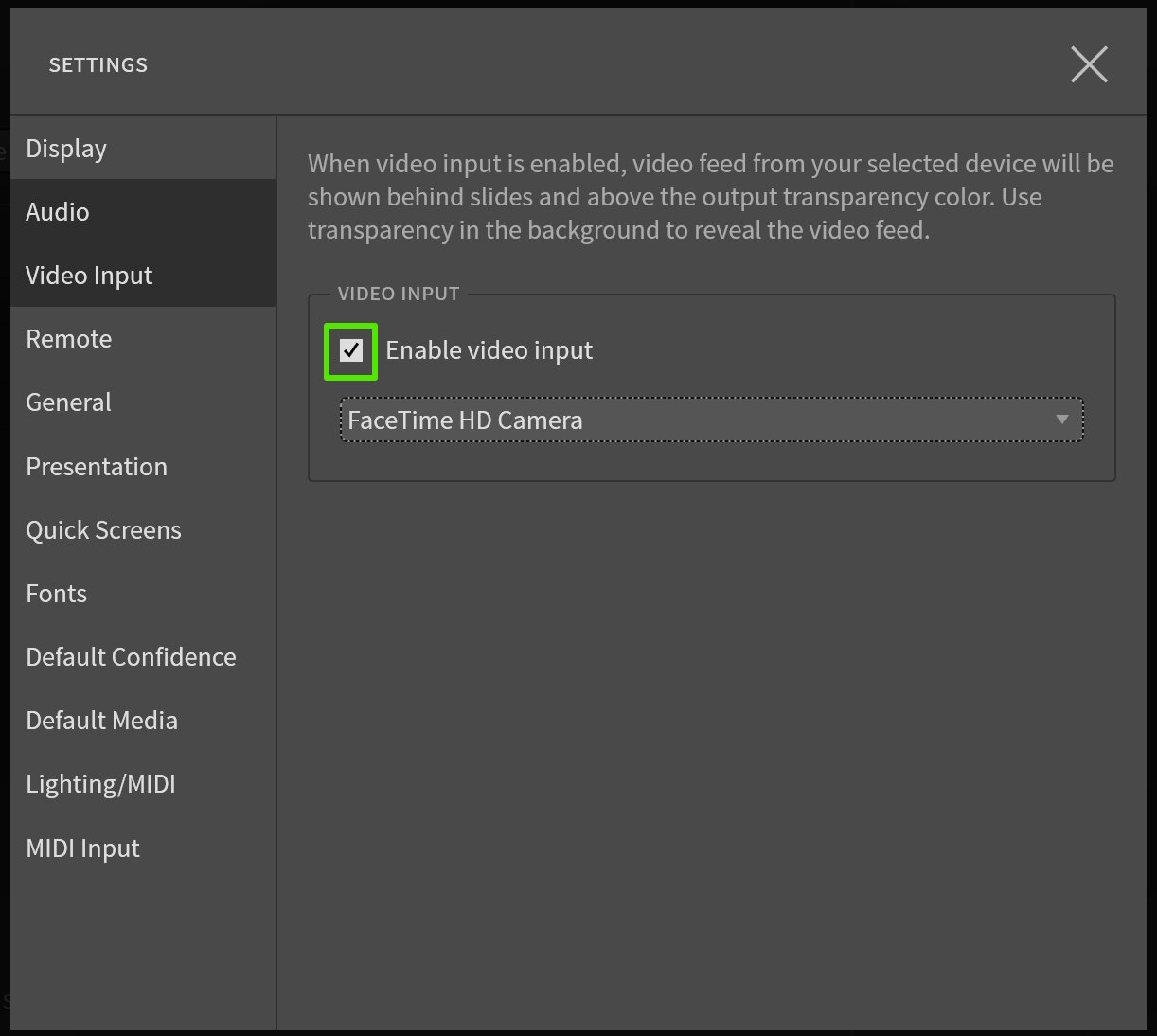 2. Configure your audio
Navigate to Settings > Audio and choose the audio source. This is the same thing you'd use for any sermon recordings. It'll default to the microphone on your computer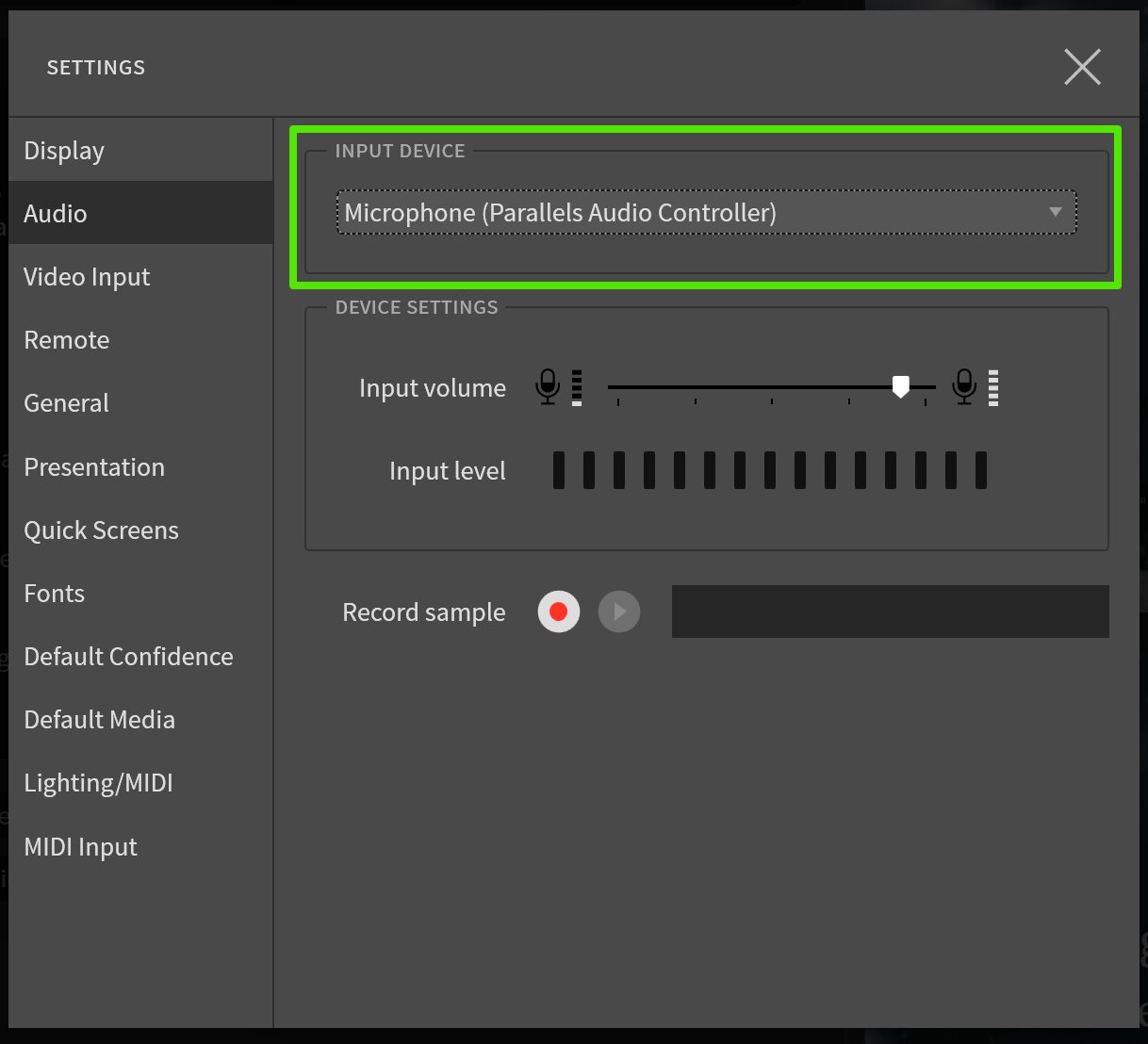 3. Set up your cues
Go to Add Item > Cues and choose Start Live stream. Place them in your order of service around the part of the service you want to stream. If you want your stream to end before your presentation is over, choose and End live stream cue and place it where you want your stream to end. Each set of cues will start a new stream.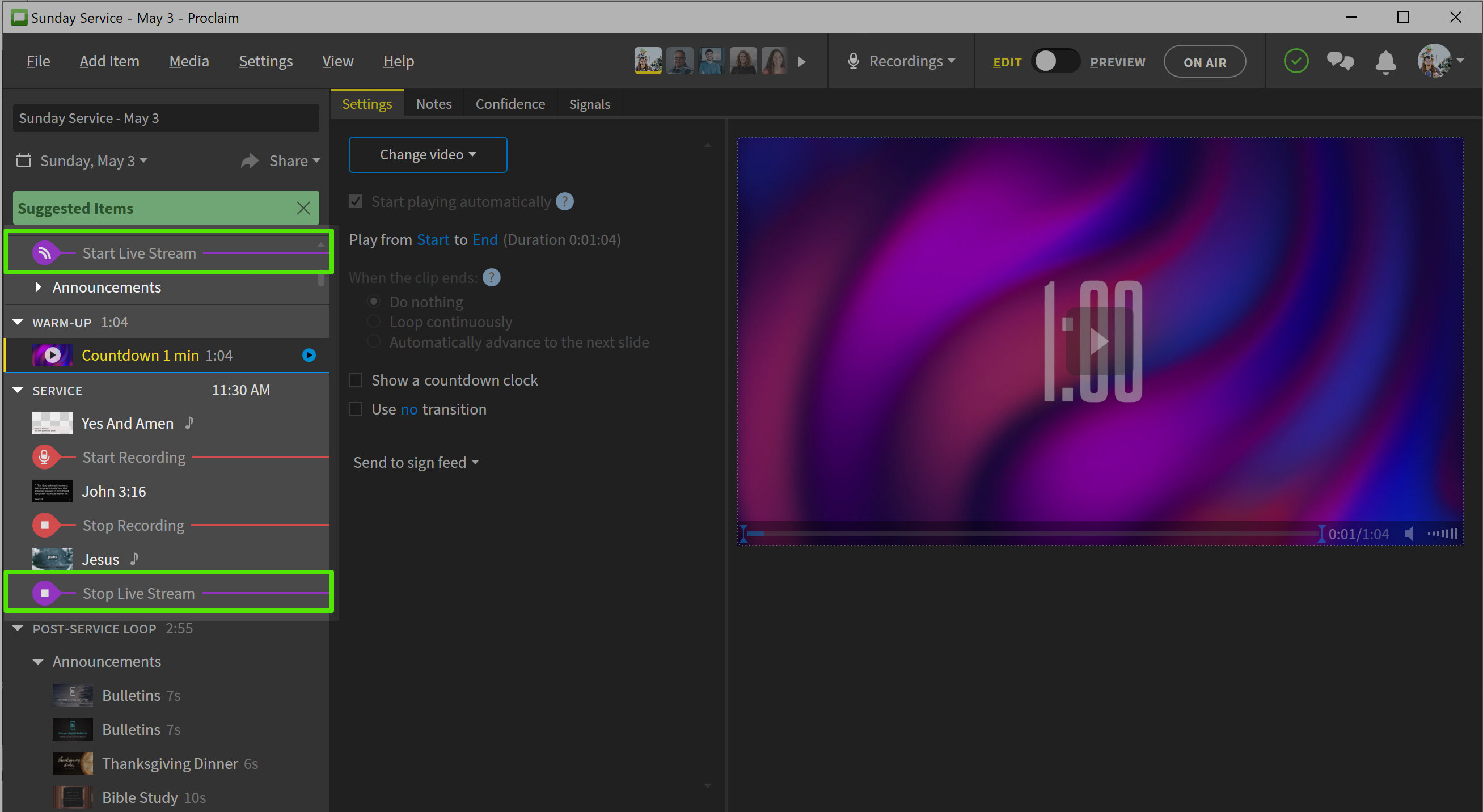 Note: Faithlife Live Stream only supports one stream at a time.
4. Configure your live stream settings
If you have a Faithlife Live Stream license, select your stream. Change your live stream settings from your church group Faithlife TV settings, as well as find where your service will stream.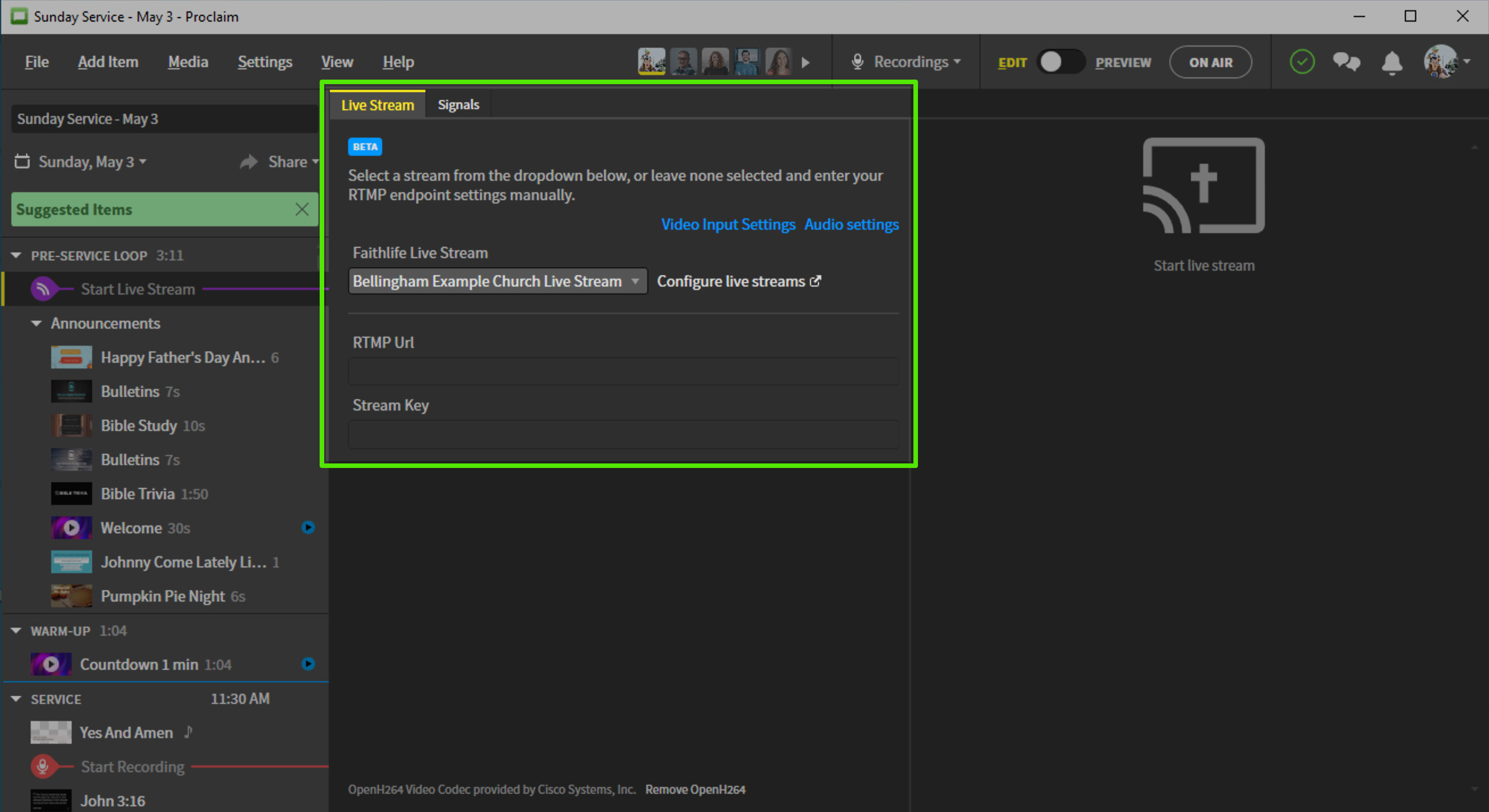 To stream to YouTube or Vimeo, create your stream key and url and point them to your chosen outlet.
5. Choose your media
You'll want to use special media for your live stream so your audience can watch the video. Browse media for lower-thirds options, or make your own with transparent backgrounds so the video can come through. Apply the templates to your media.
Go On Air
Go on air to stream your service. You can find a link to your live stream in your church group's Faithlife TV settings, or in your church group's Content > Live stream.