Faithlife gives you the ability to easily find any person in your church group and filter your person records to view lists of people that meet various criteria, such as everyone who has a birthday this month or everyone who has not attended a membership class.
Note: The ability to search and filter person records is limited to group Moderators and Administrators. Learn more about group roles and permissions.
Skip ahead to:
Search People Records
To find and open a person record:
1. Select your group.
You can find your church group in the left-hand panel of your Faithlife.com account. Click the group name you want to search.
2. Select People.
Under the Admin panel, click People to open a list of all the people in your group.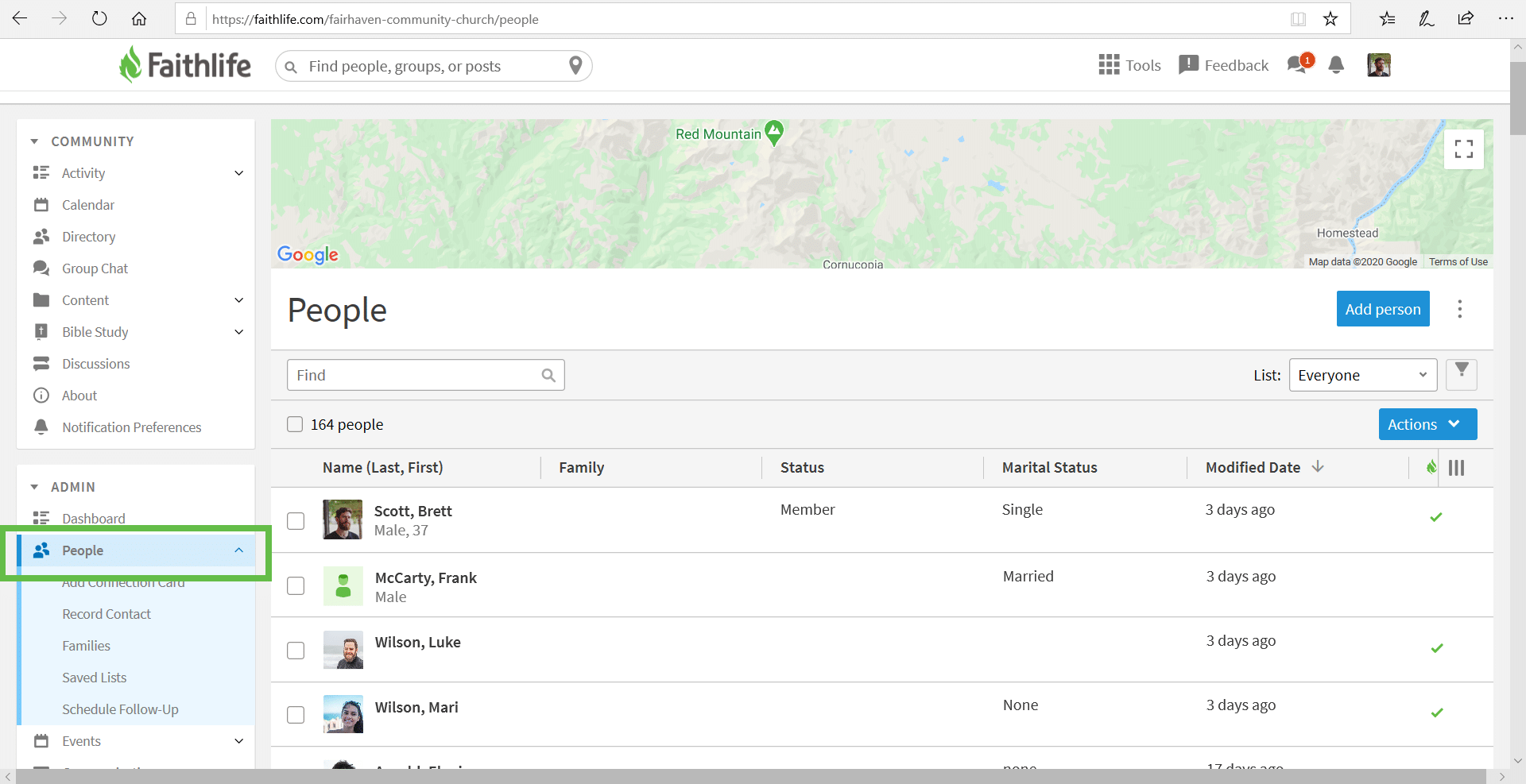 3. Begin entering a name.
Type the person's name in the Find bar under the People heading. As you begin, Faithlife filters your People records based on names containing the string of letters you are entering. In this example, entering wil locates Mari Wilson, Luke Wilson, William Norton, and 7 other records.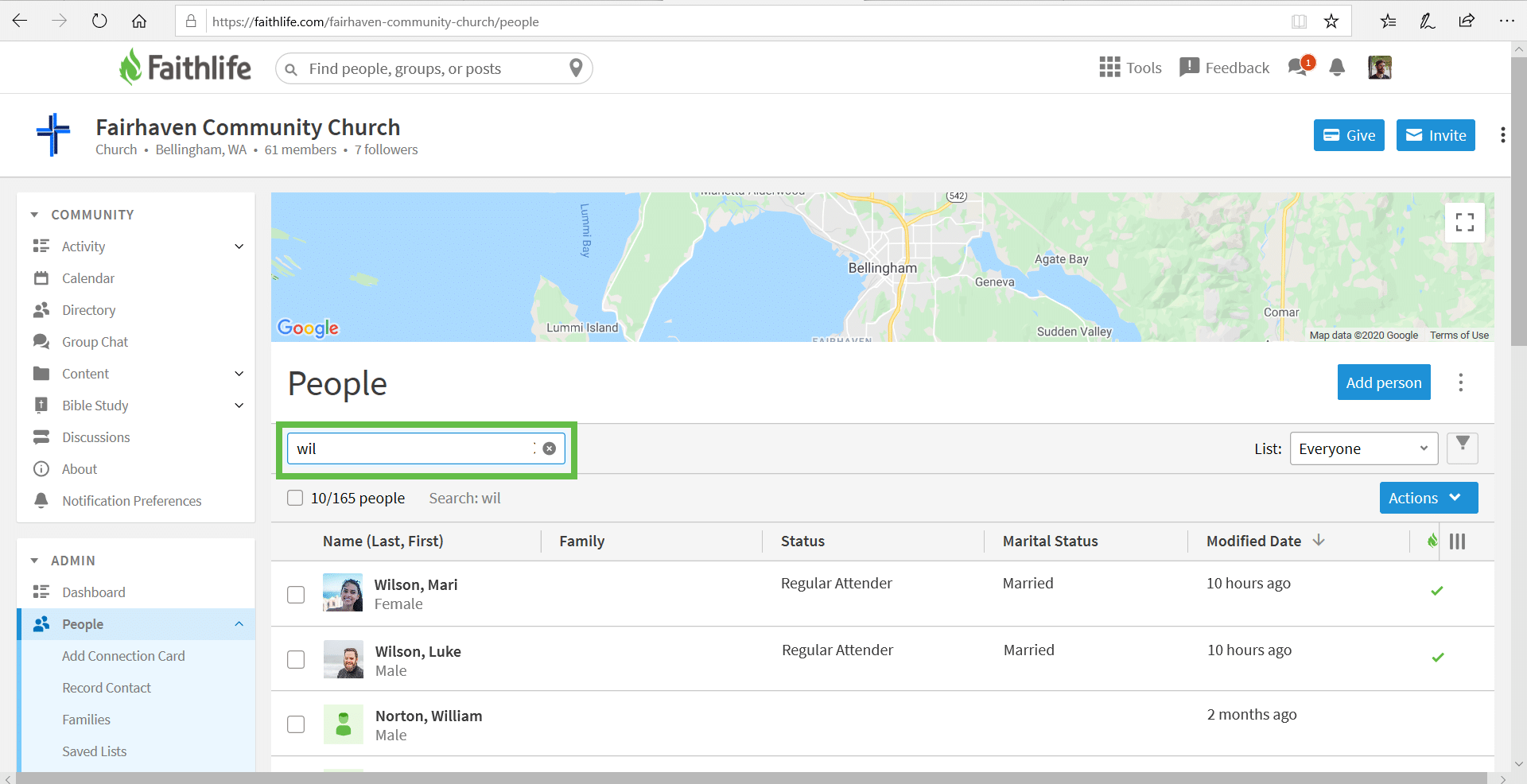 Note: You can use the Find bar to search for records using any field category. For example, entering member displays all the members of your church (Keep in mind that a member of your Faithlife group may not be a member of your church.)
4. Click a name to open the record.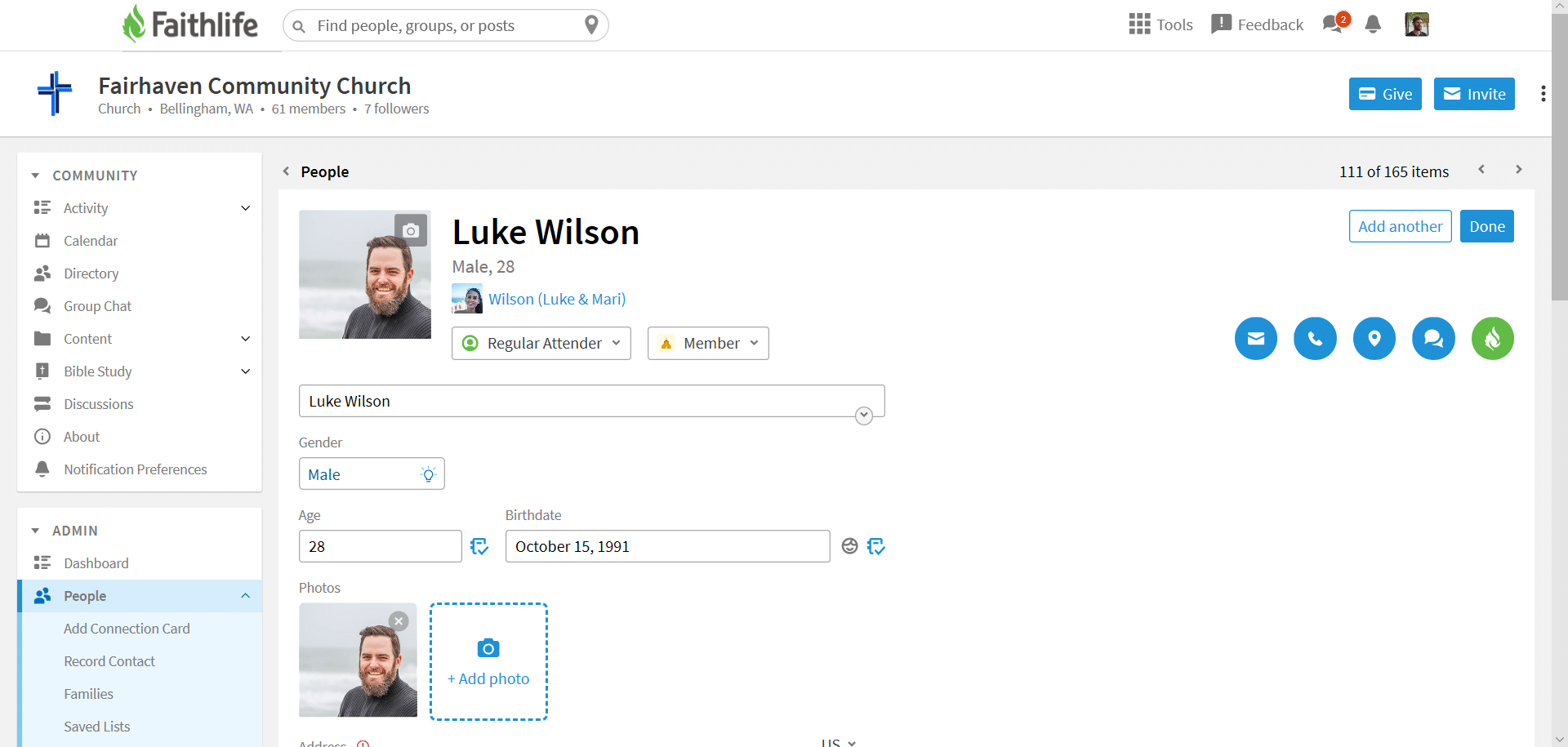 Note: User-created Faithlife.com profiles are distinct from church records and can be accessed by searching by name in the main search box next to the Faithlife banner. Learn more about creating and editing a profile.
Adjust Records Display
You can choose which fields to display on your main People page.
1. Expand the Columns menu.
Click the Columns button

to expand the menu of available fields to display.
2. Select fields.
Check a box to display a field on the main People page. Uncheck a box to hide that field from the display.
Note: Faithlife automatically resizes the columns to fit all selected fields on your screen. You can manually change each column's width by clicking the vertical dividing line in the field header and sliding it left or right to adjust the size.
3. Order your display fields.
Drag and drop a field heading to move it to a different location on the display.
Filter People Records
Faithlife enables you to view People records matching your selected criteria.
Filter using a preset list
Expand available lists.

Click the box next to List.

Select a list.

Click a list name to display all records contained in the chosen list.

For example: Selecting Members displays a list of people who have been entered as Members.
Choose fields to filter
Expand available fields.

Click the filter icon to display available fields to filter your records.

Select field(s) to filter.

Check the box next to a field to select all the labels in that field.

For example: Checking the box next to Gender selects all records that are labeled with a response in this field.

OR

Expand a field by clicking the > and select individual labels under the field heading.
View records.

Faithlife filters your records as you select labels. You can save your results as a list to use later.

Note: You can refine a pre-set list with additional labels to create a custom list. For example, you can select the list labeled Men and add Age with the 30's label. This creates a list of all the men in your church who are in their 30's.
Save a List
You can save a filtered list to use later.
1. Click the filter icon and apply your desired filter.
2. Select Save as list.
3. Enter a name for your list.
For example: If you selected Men, Age and 30's, you may want to name this list Men in 30's. Faithlife saves this list and makes it available under Lists. You can find your saved list any time by expanding the List menu.