Share an uploaded video to your group's digital asset manager with the video widget. Uploading your own content is the ideal way to share content across Faithlife—in your Faithlife group, on your Faithlife TV church channel, and on your Faithlife Site.
Note: Sharing videos uploaded directly to Faithlife Sites uses the Video widget and does not require Faithlife Sites Premium. Learn more.
1. Upload your video(s).
Click Content in the Community panel of your church group.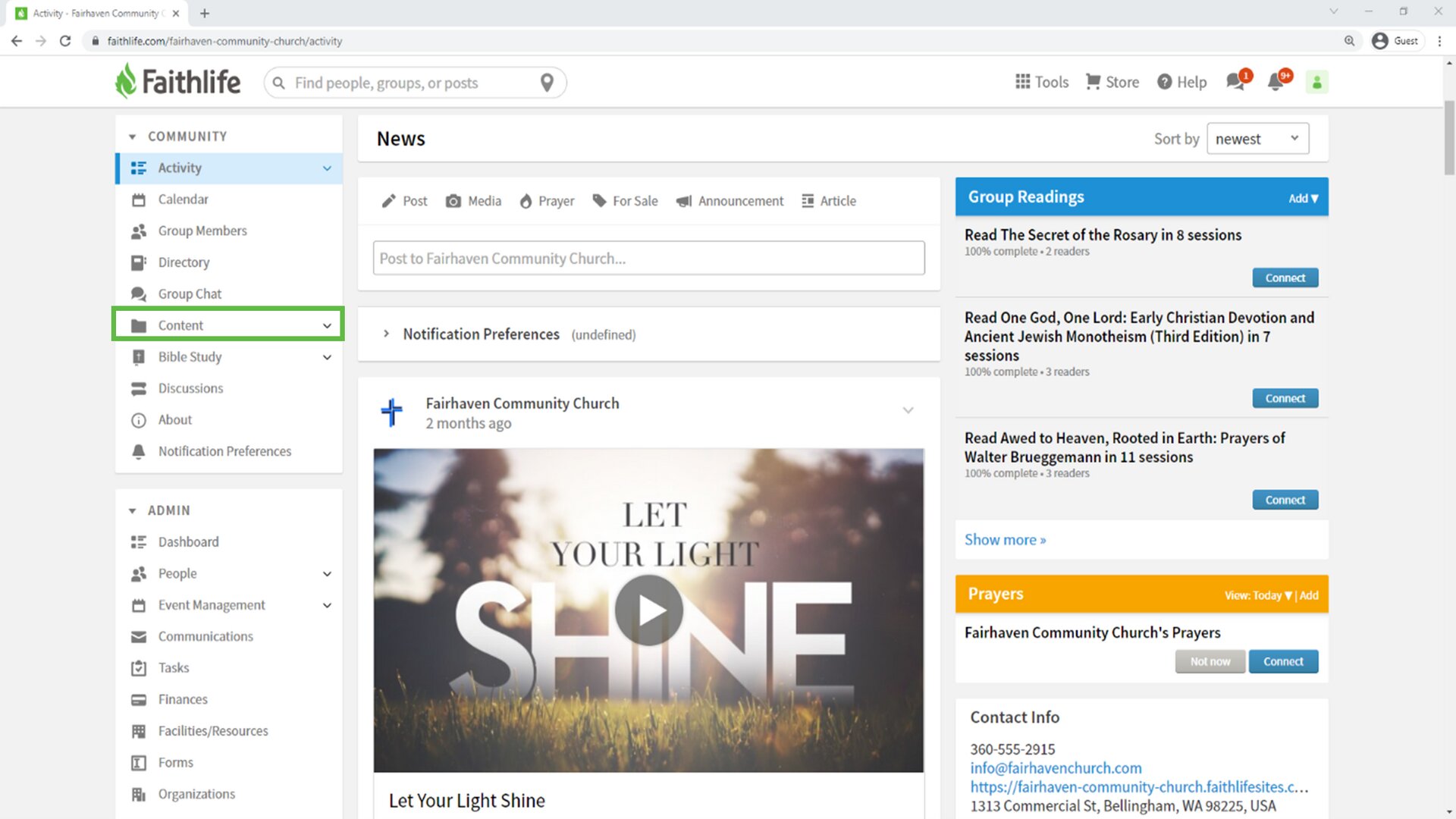 Select Videos.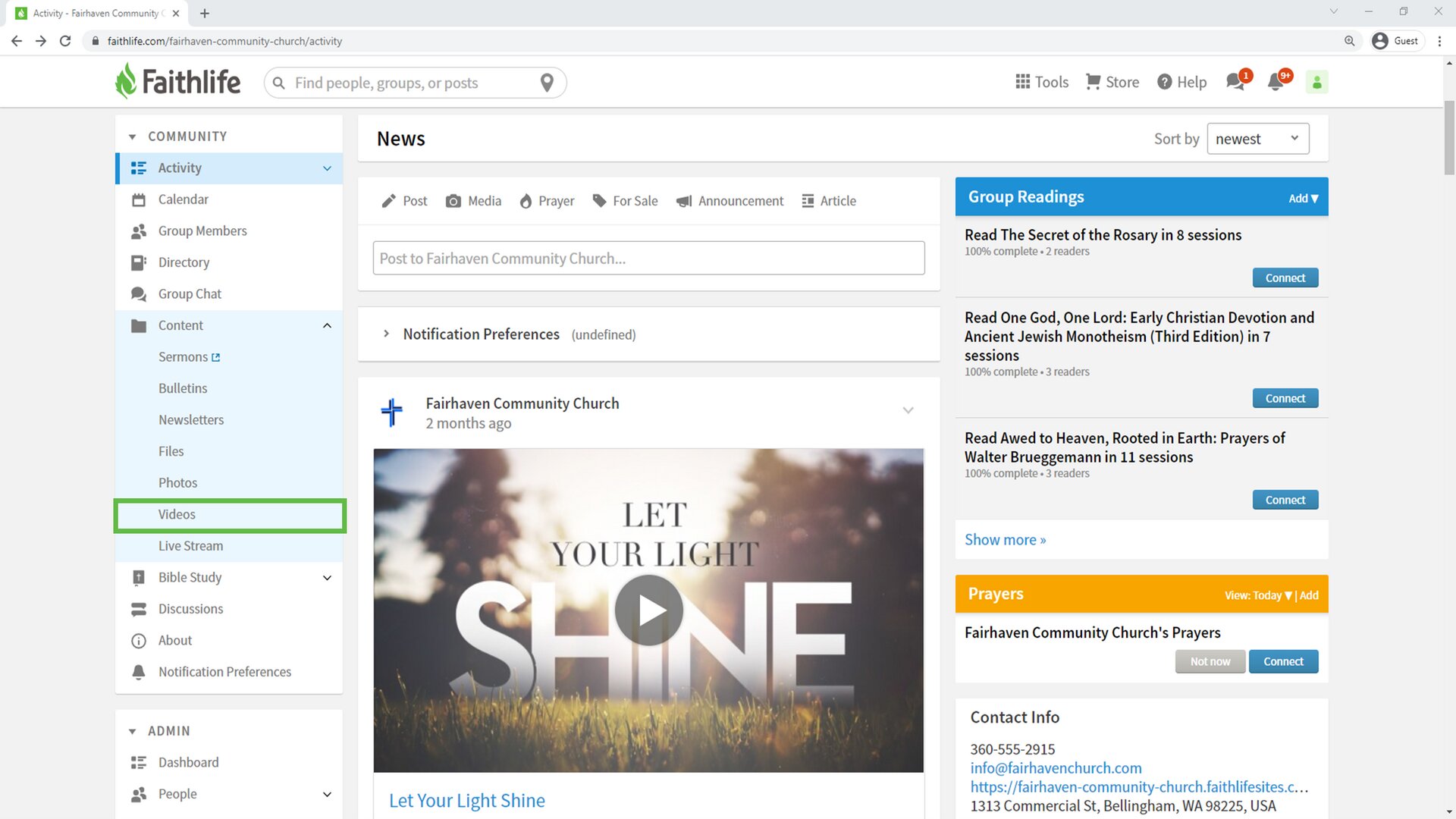 Click Upload.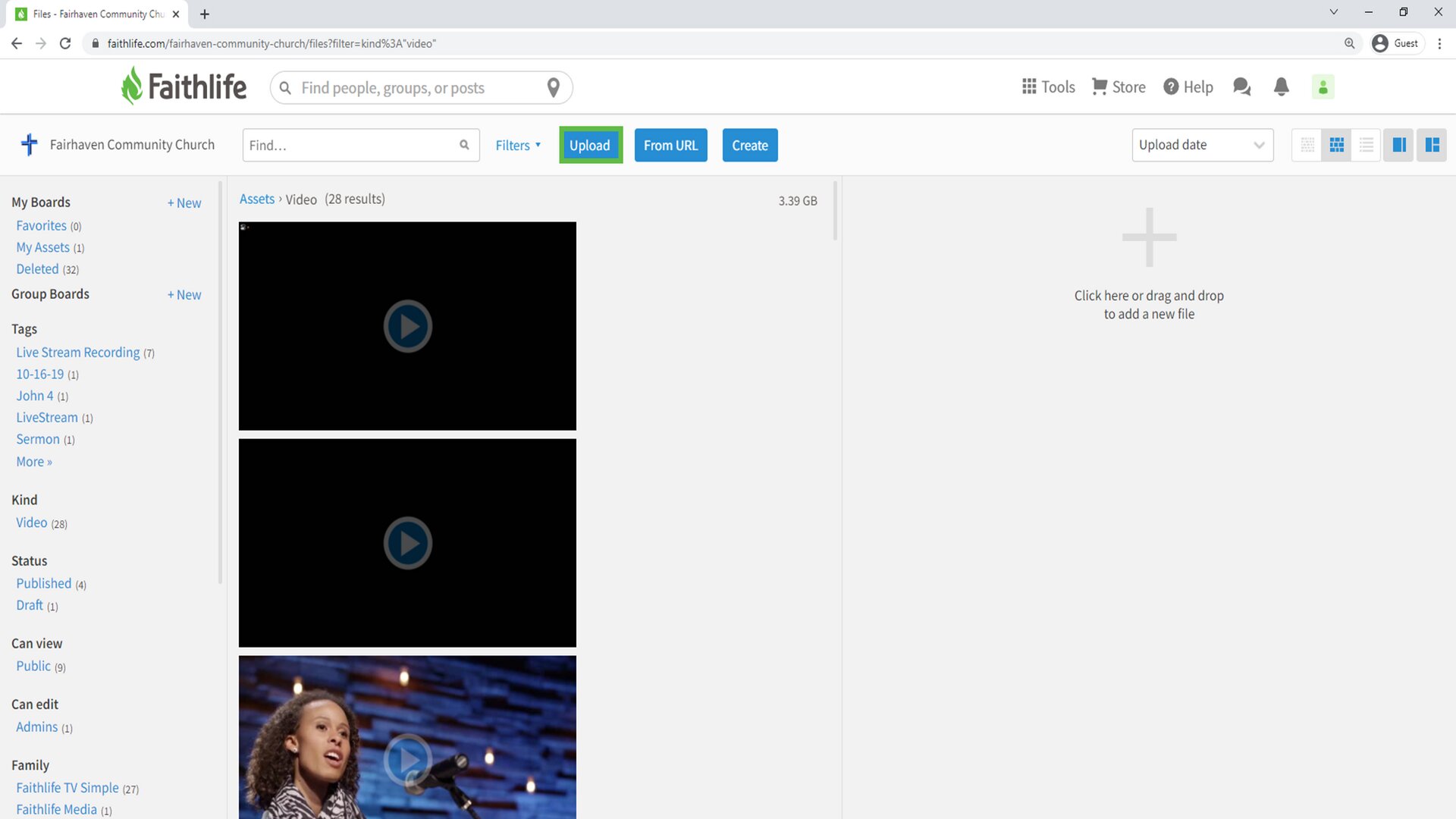 Choose the file you want to upload and click Open.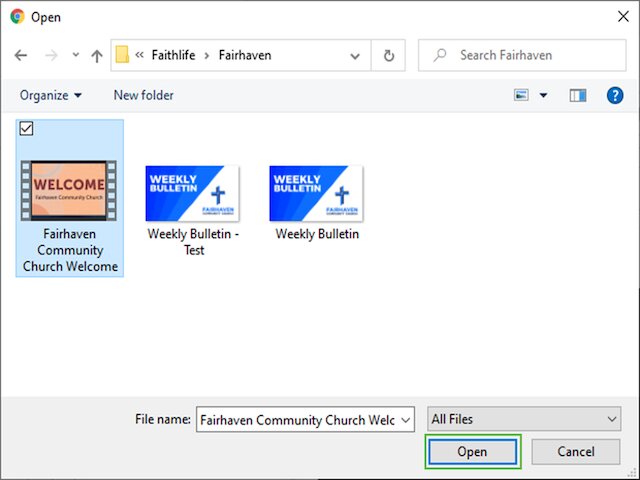 Note: The video widget supports all standard video formats, including MOV, MP4, WMV, and AVI.
When the video finishes uploading, click View asset details in the lower right corner of your video to add or modify file info in the Details section.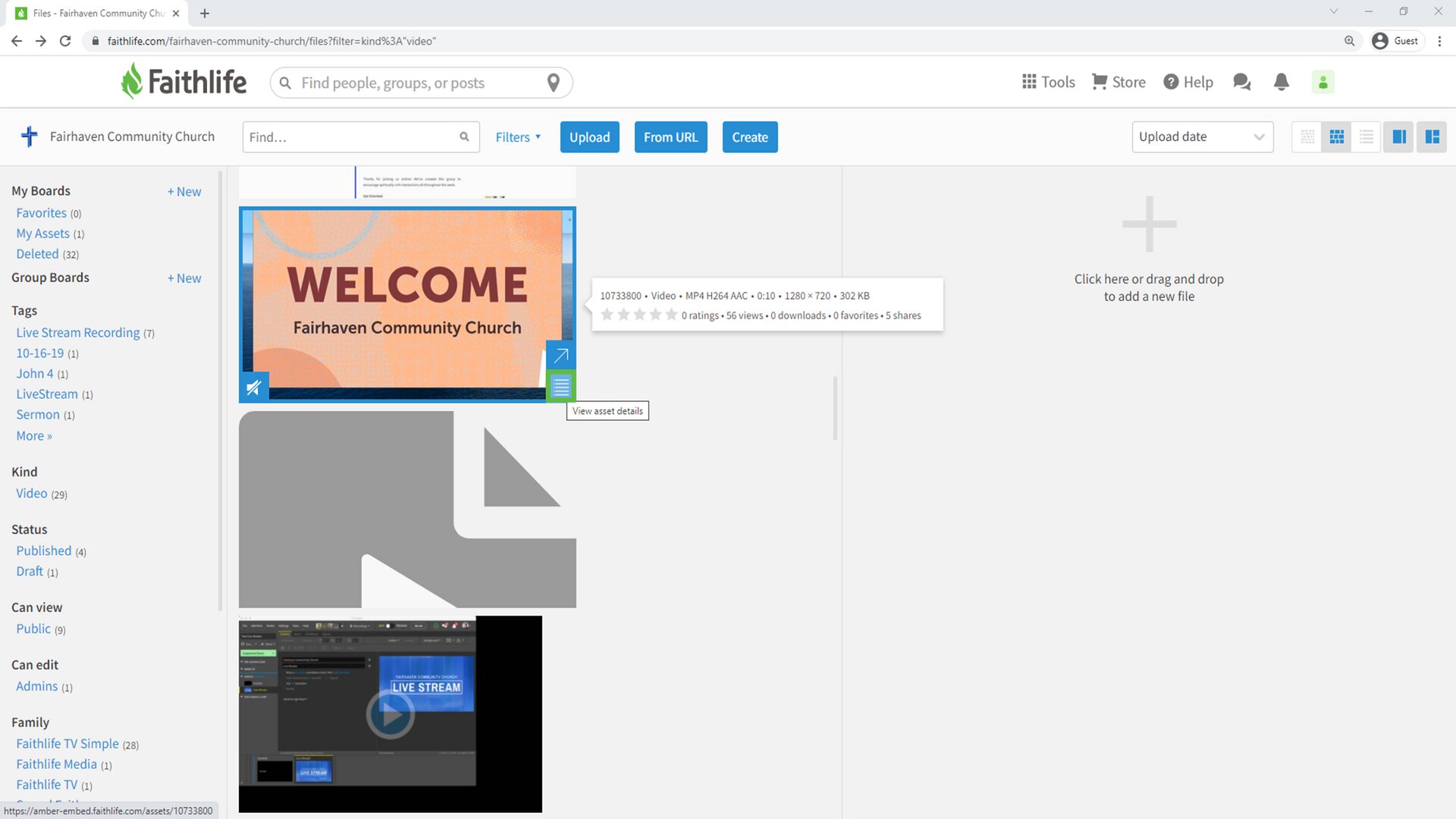 You can update settings for:
Title: Enter a title for your video.
Description: Add a description for your video.
Tags: tag your video so you can create a smart filter.
Status: Change to Published or your video won't play.
Settings: Change to Public if you want your video to be playable for the public (i.e., if you don't want to limit your video to members of your church group on Faithlife.com who are signed into their account while viewing your website).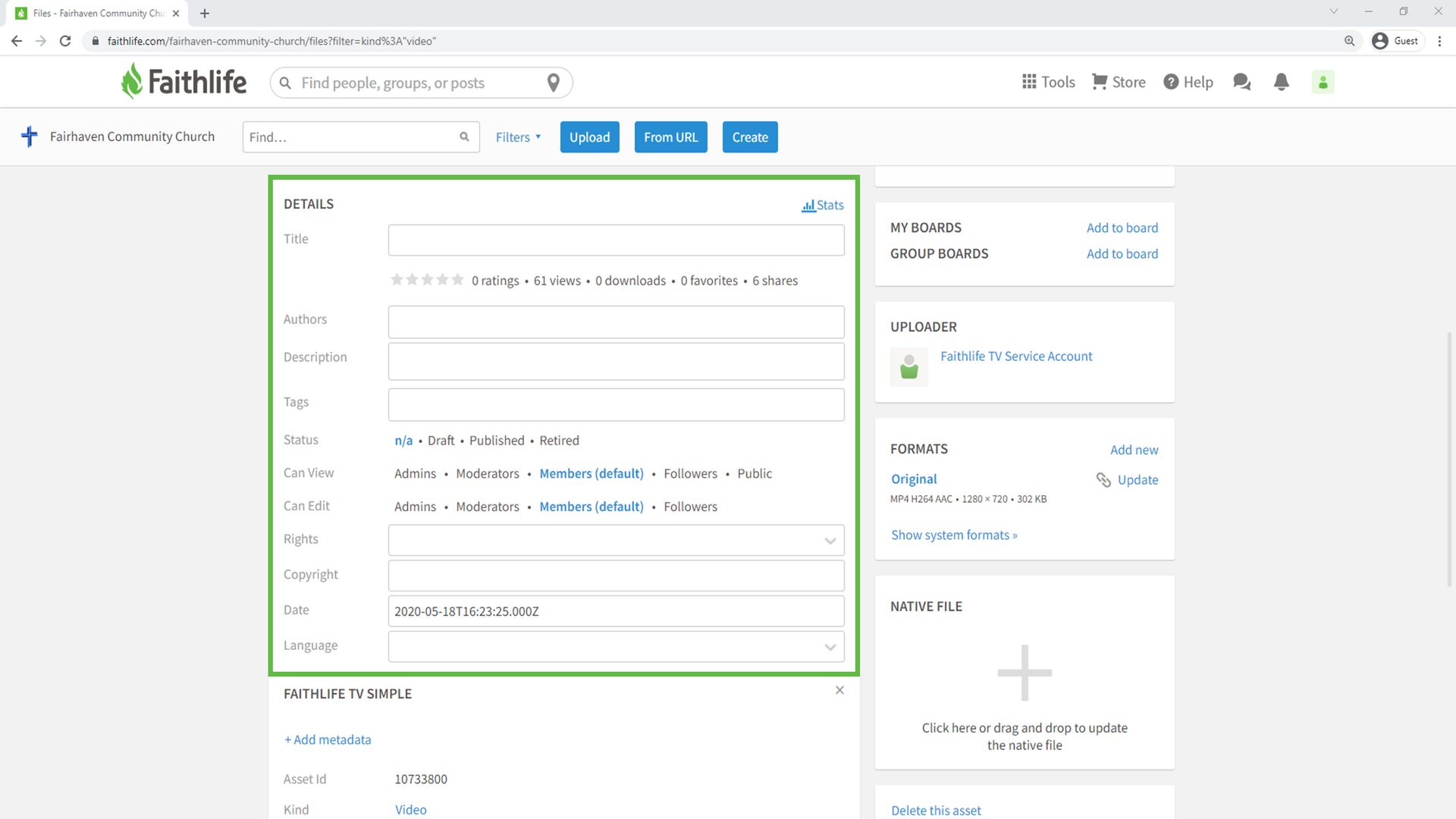 Note: It is important to ensure that all of the content you upload is properly titled and tagged, and that the correct permissions are set. Widgets display any content that meets the criteria you set. If you upload content at a later date that meets the filter you've set, it will be displayed in the widget. Learn more about uploading, tagging, and setting permissions for files.
2. Add a video widget to your site.
Select Website in the Admin panel of your church group.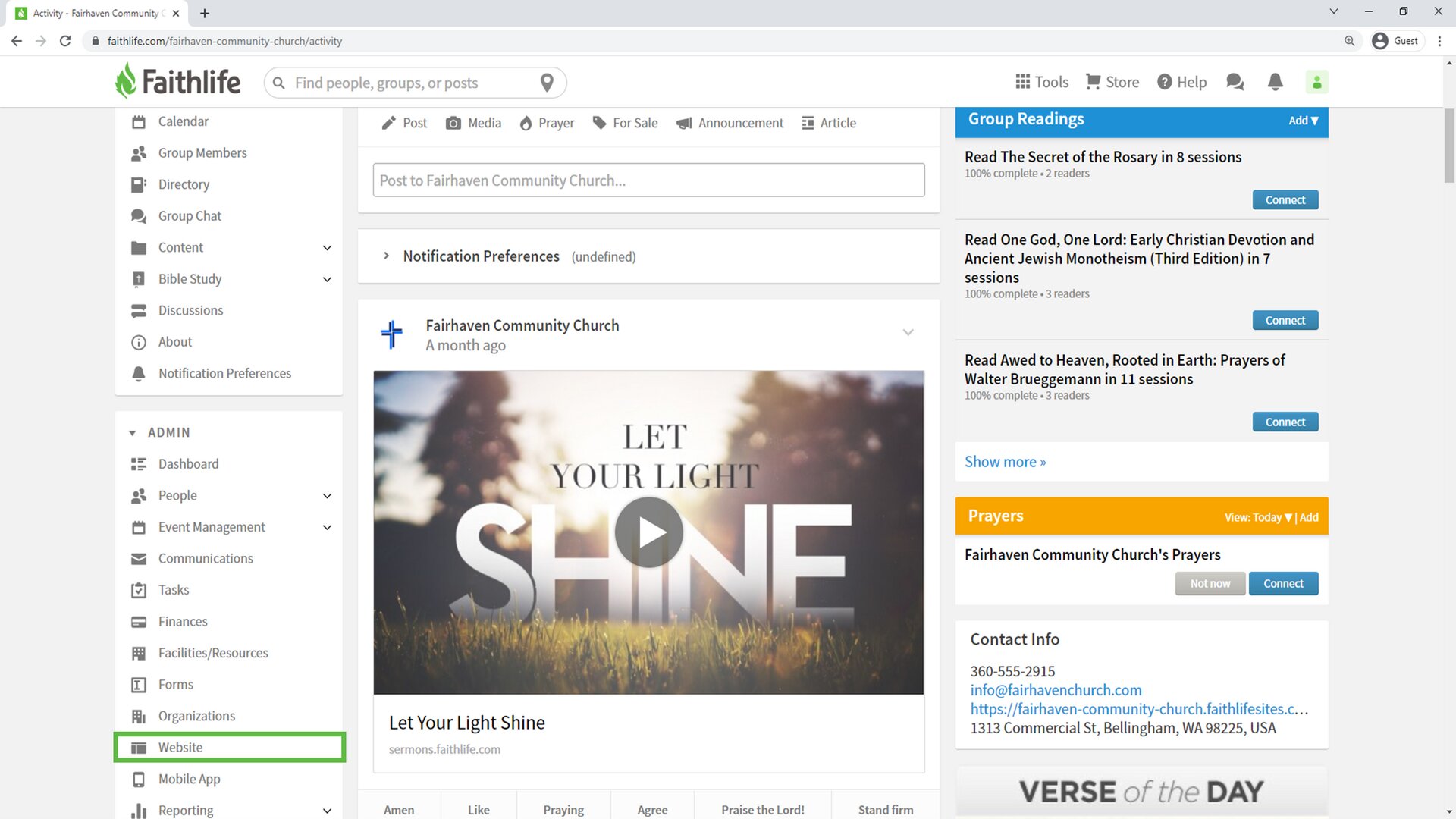 Click Edit site.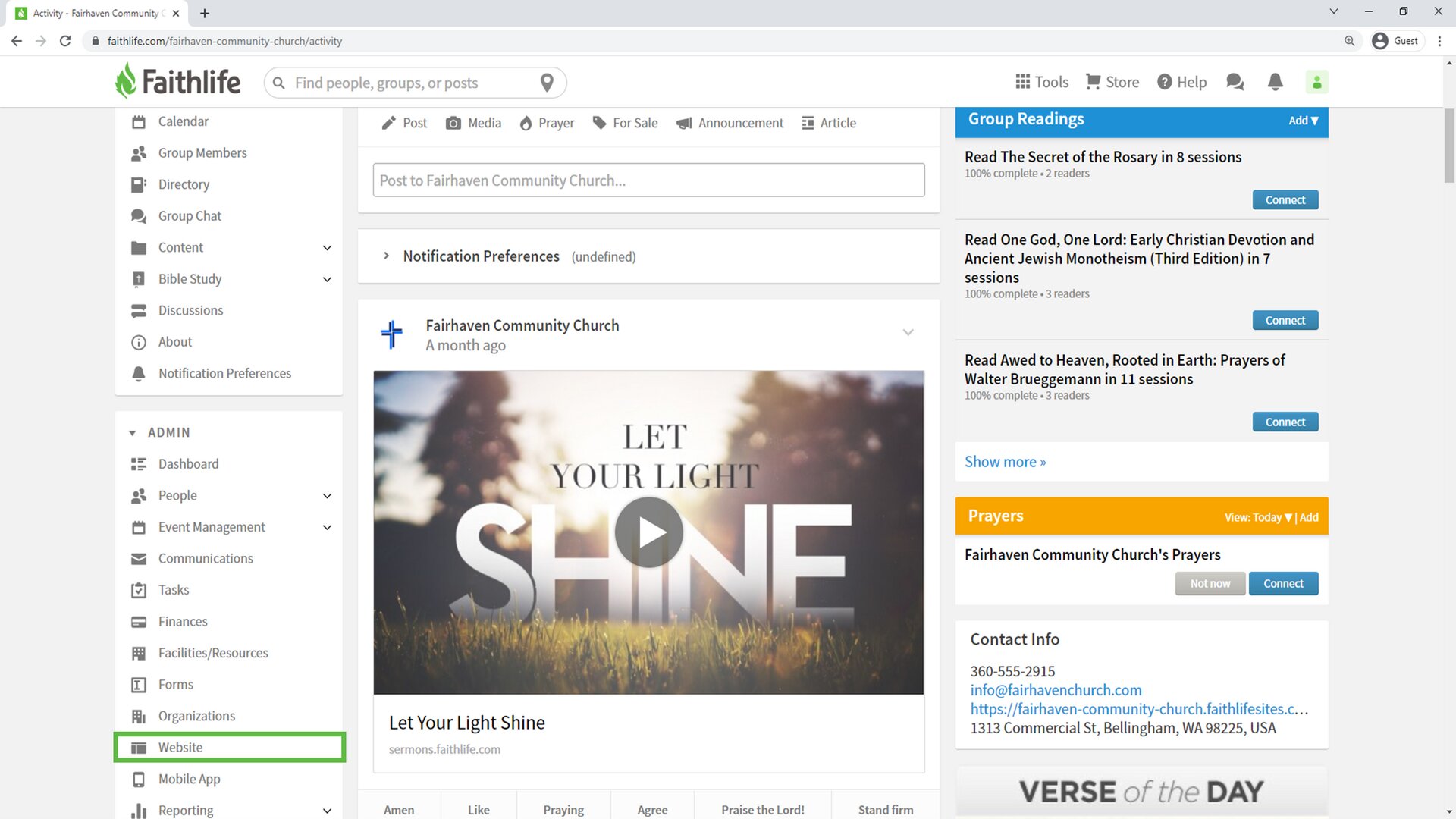 Note: You may see a message to authorize Faithlife Sites to use your Faithlife/Logos Account. Click Authorize.
Click the blue add widget icon

on your webpage and choose the Video widget.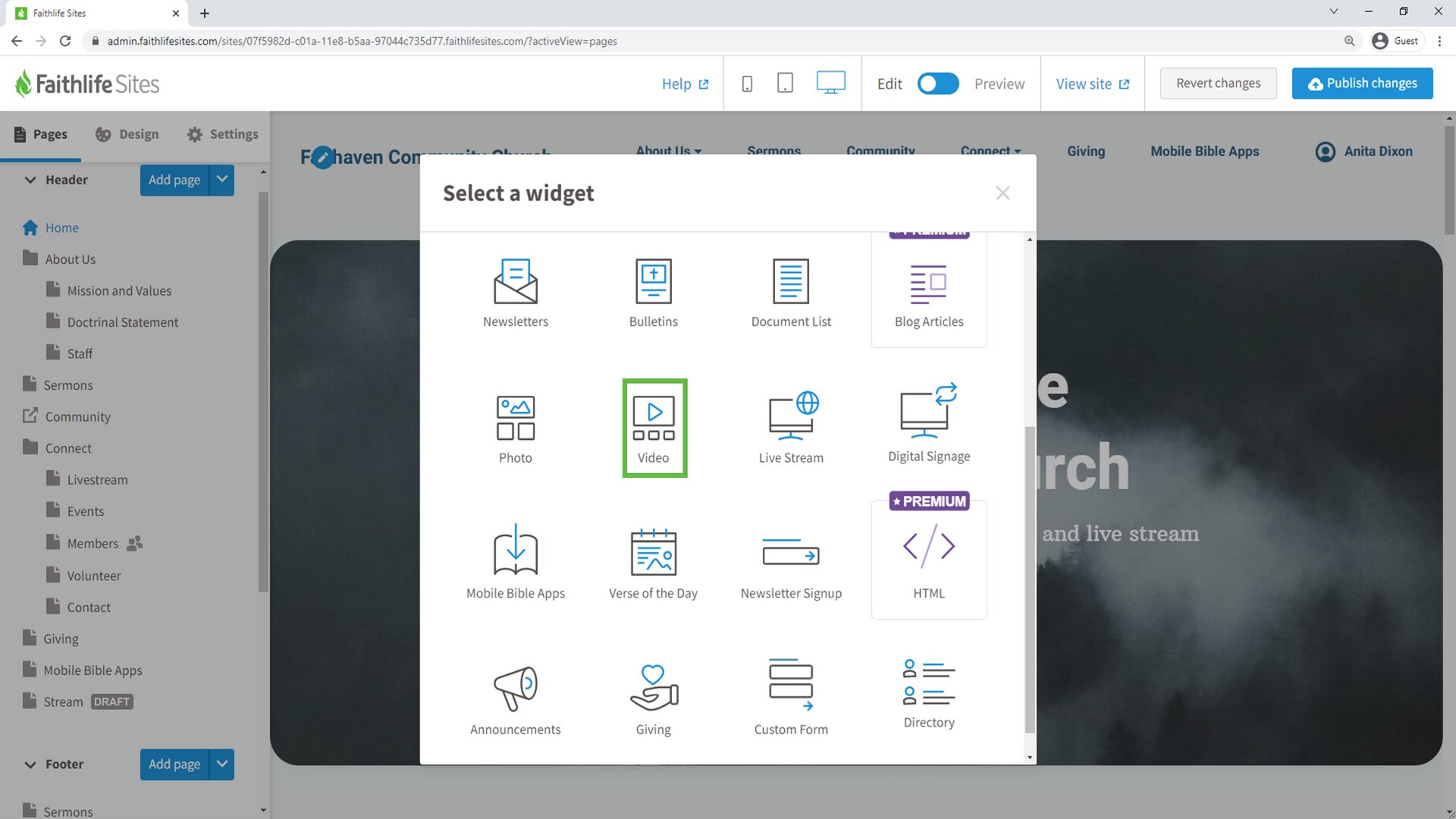 .
3. Customize the widget.
Modify the video gallery settings to fit your needs. You can update settings for:
Title: Add a heading for this widget
Layout: Choose how you want your videos arranged within the widget.
Create smart filter: Limit which videos show in your widget (shown below).
Amount and type: Choose the number of videos and/or photos to display that match your filter settings.
Show titles: Display the titles of videos.
Show descriptions: Display video descriptions
Play videos in place: Play the videos as they appear (i.e., without opening the video in a large lightbox).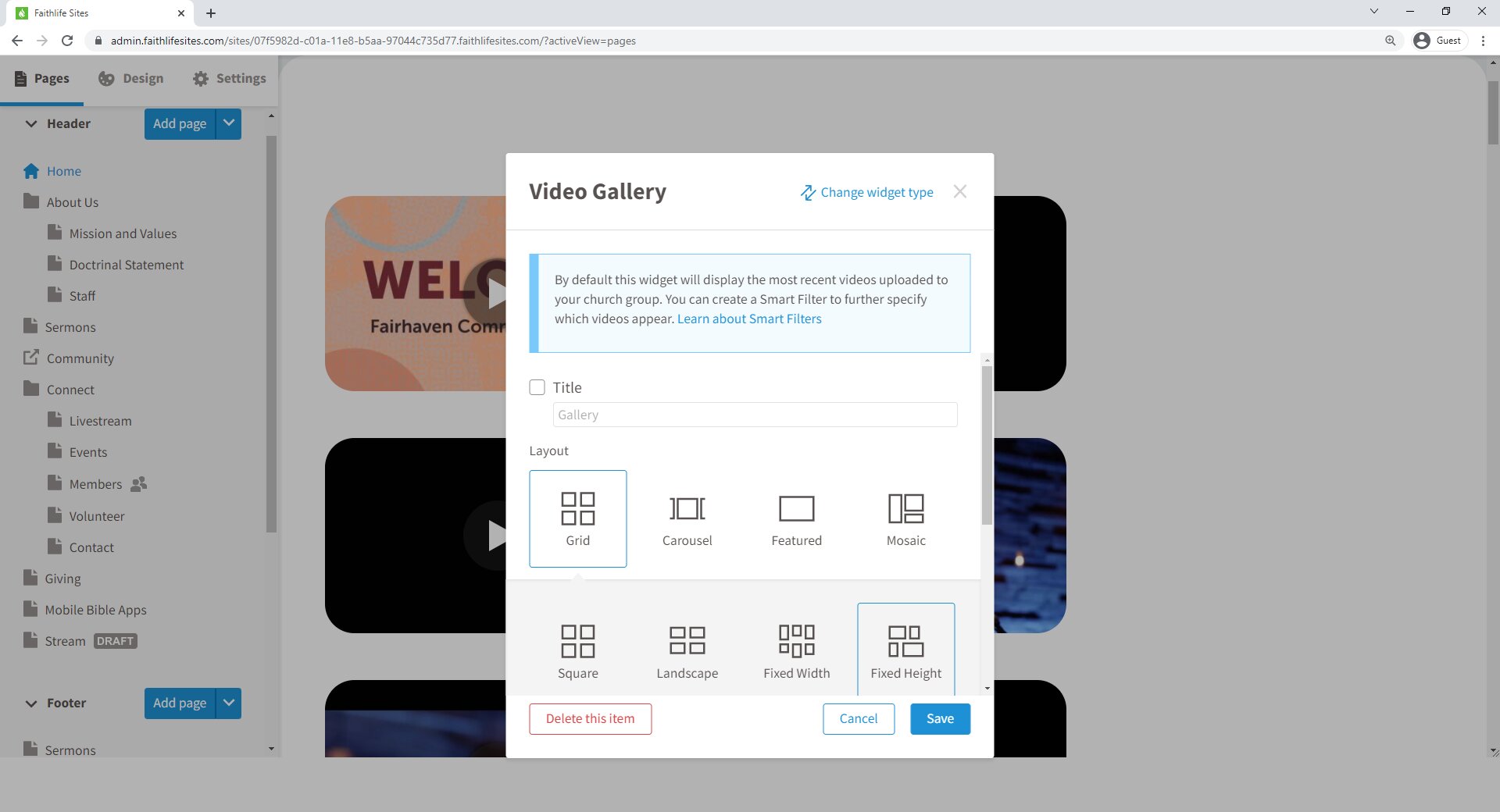 4. Create smart filter
Click Create smart filter to select which videos display in your widget.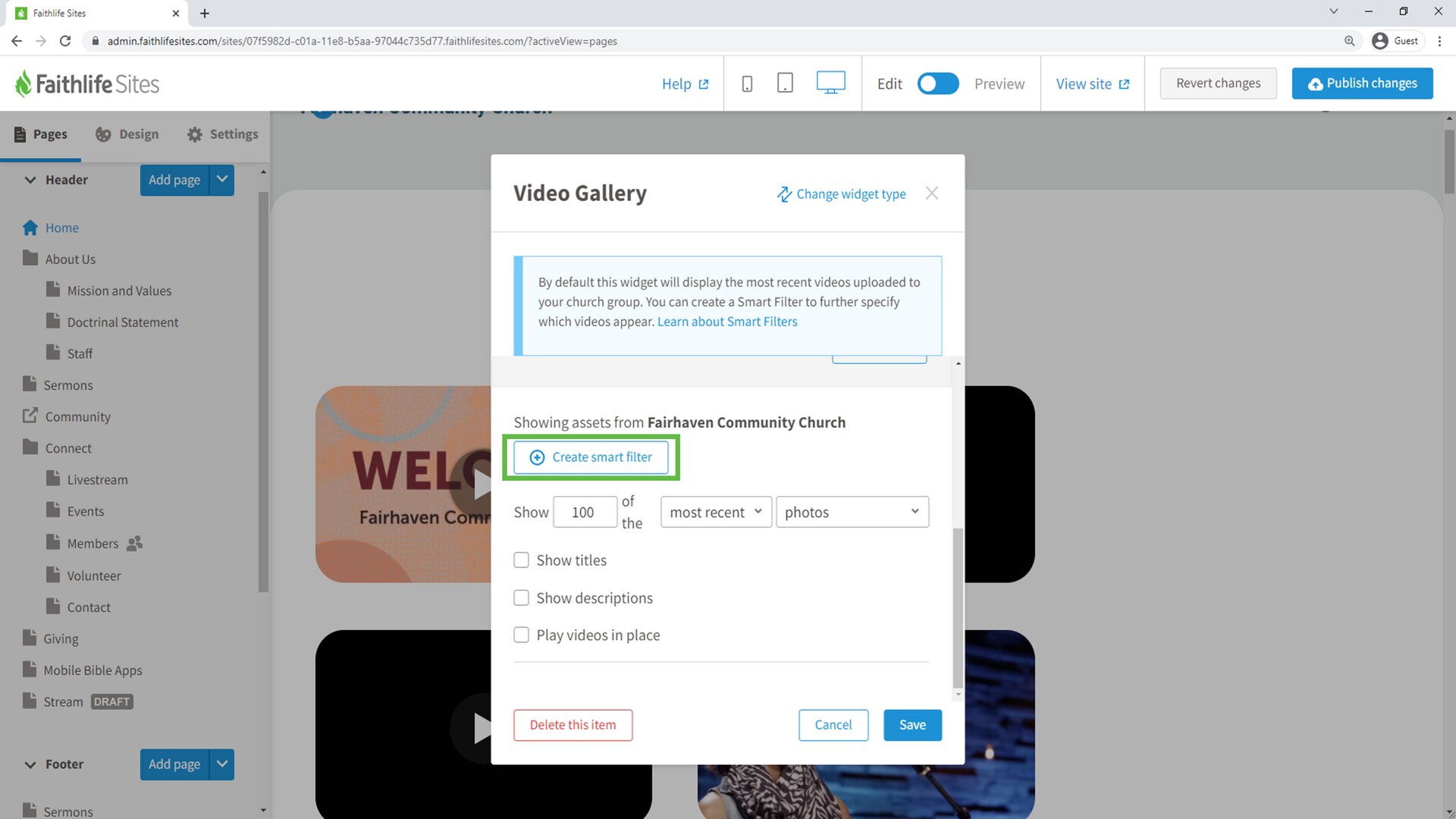 Enter your criteria in the search field or click on a tag to select your desired video content.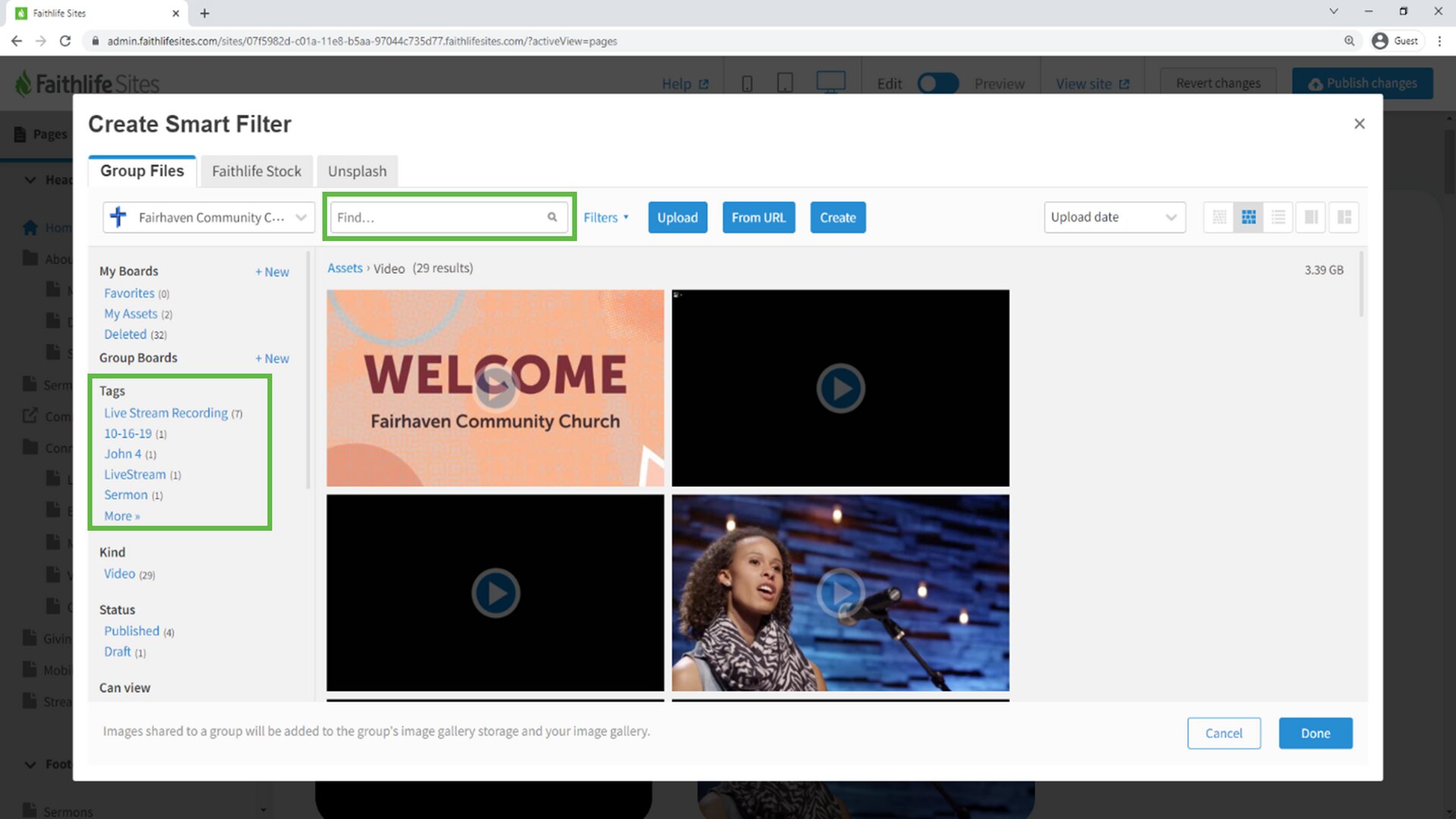 Note: Any uploaded video matching the filter criteria automatically displays in your widget.
5. Confirm your widget settings.
Click Done to save the smart filter settings.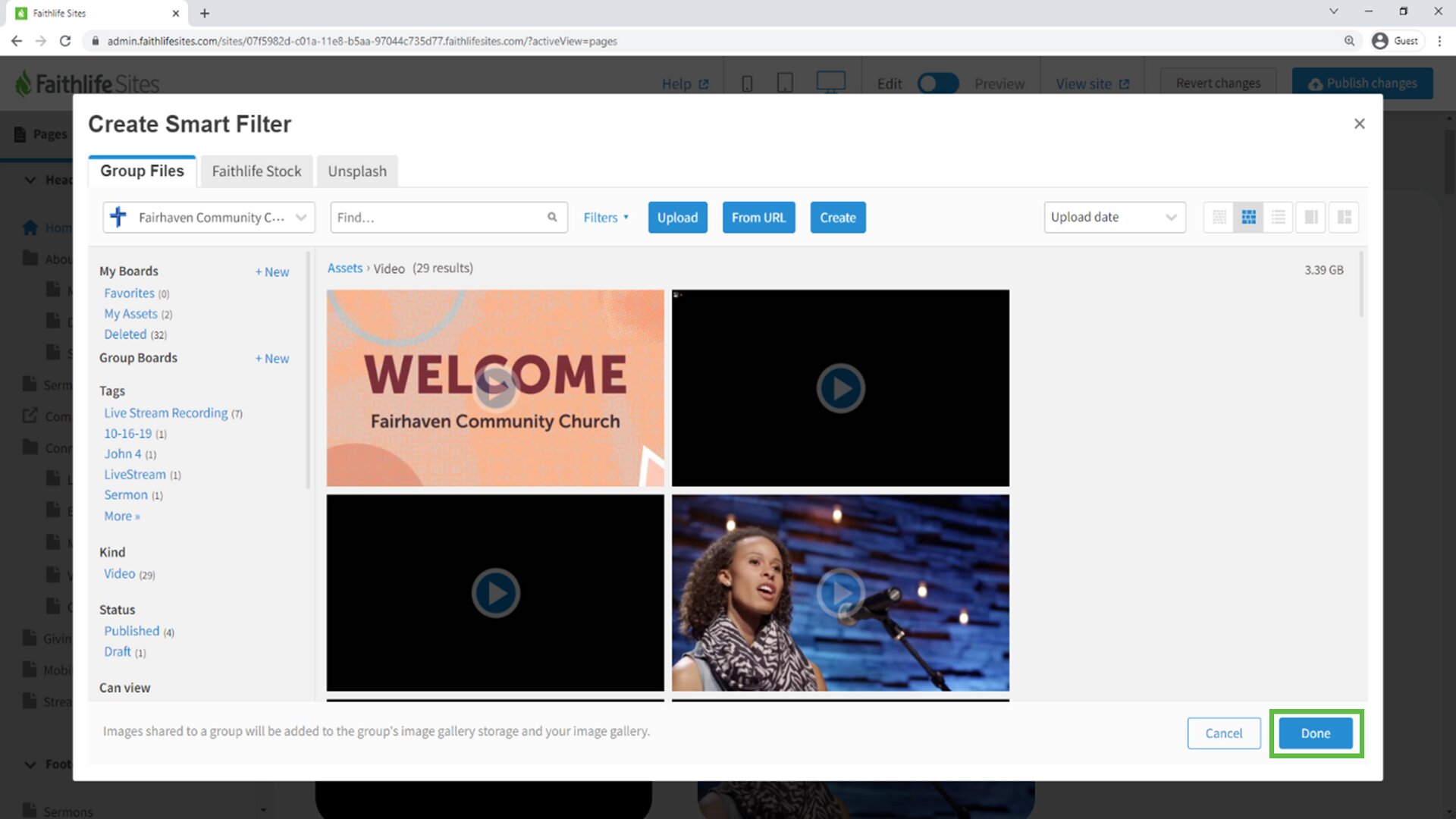 Click Save to finalize your video gallery settings.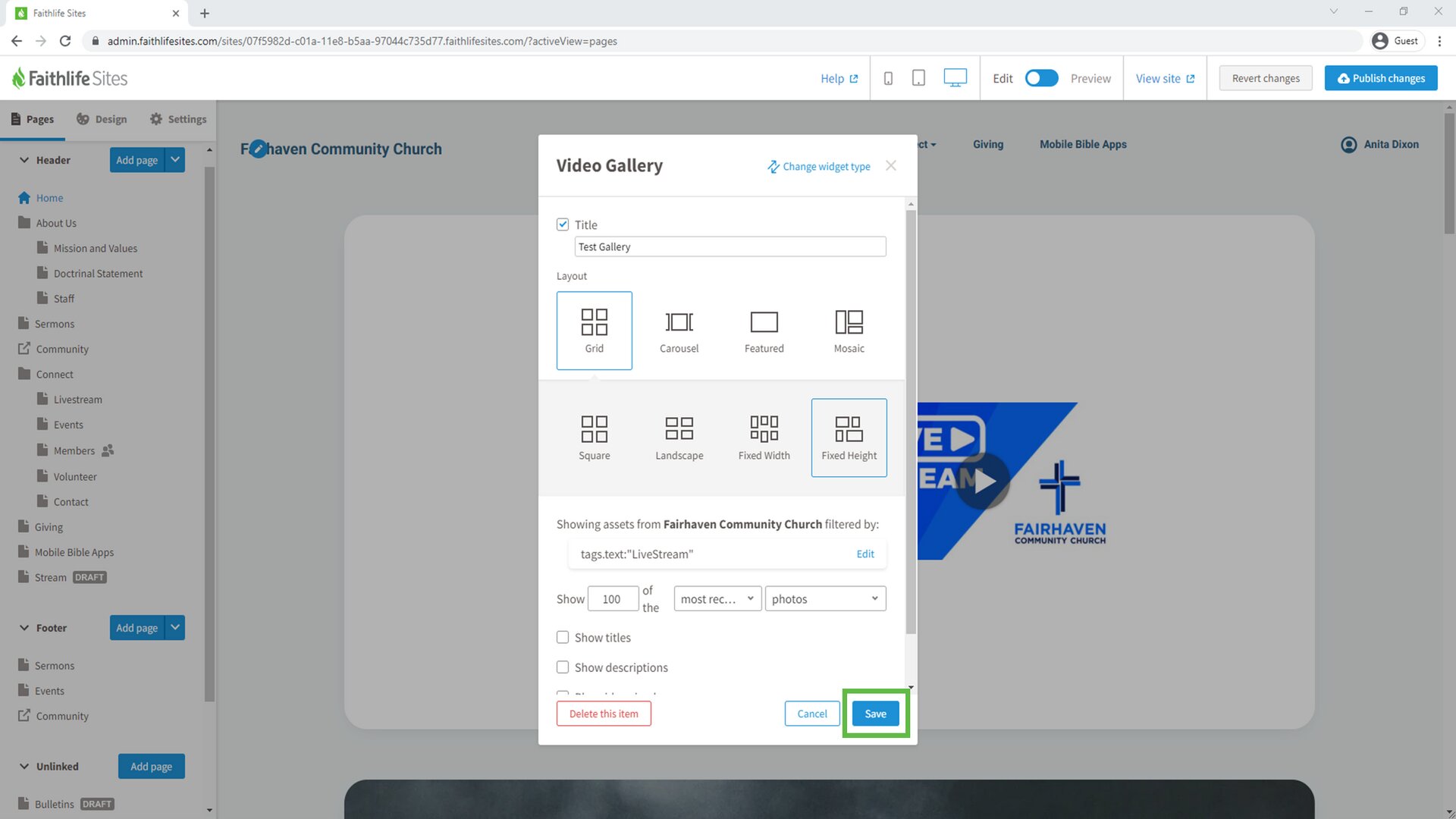 Select Publish changes to update the changes to your Faithlife Site.