Faithlife provides a robust tool for managing information about your people that also integrates with everything else you're already doing with Faithlife: people records. Each person record is created, owned, and managed by your church and enables you to serve and encourage every individual into growth.
Skip ahead to:
What are People Records?
People records are created, owned, and managed by your church group admins. In other words, they're administrative records about people connected to your church.
Example: If you meet someone Sunday, you can add them as a new connection (see below) and a new person record will be created. If you follow-up with an email or a text, Faithlife adds it as an interaction on their person record. As they continue in their faith journey, your staff can intentionally connect with them and keep track of those touch points. During this time, your visitor will not receive an email inviting them to your Faithlife group or even know that you're adding notes about your care for them. Adding their person record simply helps your church staff track their ministry to people.
To view existing people records, go to your Faithlife group and click People in the Admin panel.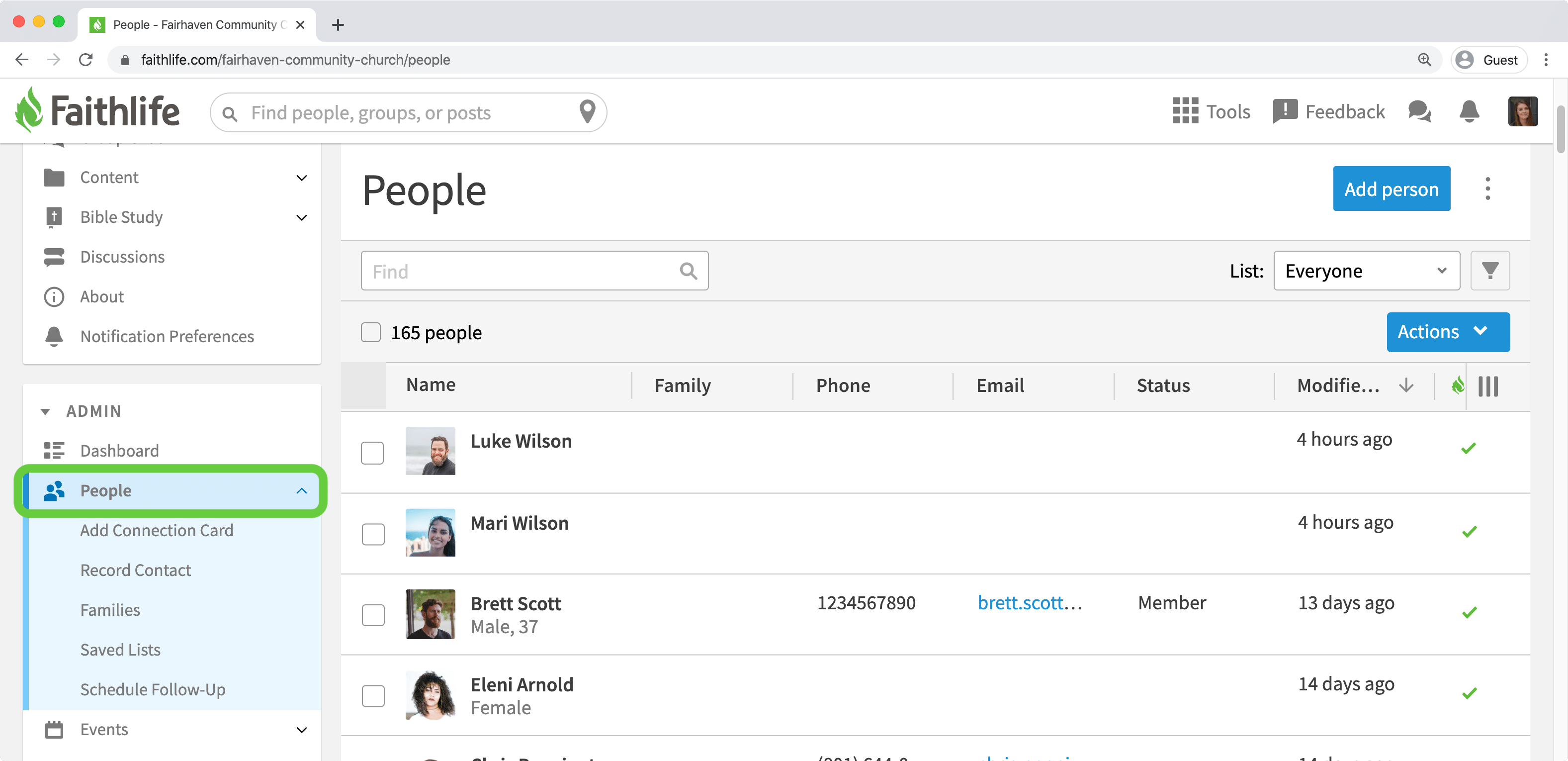 Person Record or Faithlife Profile—What's the Difference?
People records are your church's administrative records about people connected to your church. Your church creates, owns, and manages those records and they exist whether or not the person has a Faithlife profile or has joined your church group on Faithlife.com.
If you create a person record, it requires a second step to invite that person to join your church group on Faithlife.com. Learn how to invite someone to your group from their people record.
A Faithlife Profile is created, owned, and managed by an individual. You can find your own profile in the top right-hand corner of your browser. When you click your Faithlife Profile avatar, you can customize your profile from the Account Settings dropdown option.
If you invite someone to join your church group on Faithlife.com, we automatically create a person record for you in the admin panel, since your church wants to minister to them. In their account settings they can choose to share their profile information with your church group, to make it easier for you to fill out their person record. In fact, each time a person updates their account settings, you can choose to review the changes and update their person record in the admin panel.
Note: Learn more about Faithlife profiles or how to update a person record from new Faithlife profile information.
People Records FAQs
What is a family record?
Family records allow you to create, manage, and search information about family units in your church. Adding people records to families ensures you understand the connections between your church members, aids in communication with parents of minors, helps minimize data entry for shared family information (e.g., mailing address), and more. They are designed to be flexible and adaptive to a variety of family configurations. Learn more about family records.
What is the difference between Directory and People?
The directory is available to anyone in your group (depending on your group privacy settings) while people records are available only to admins of your church group.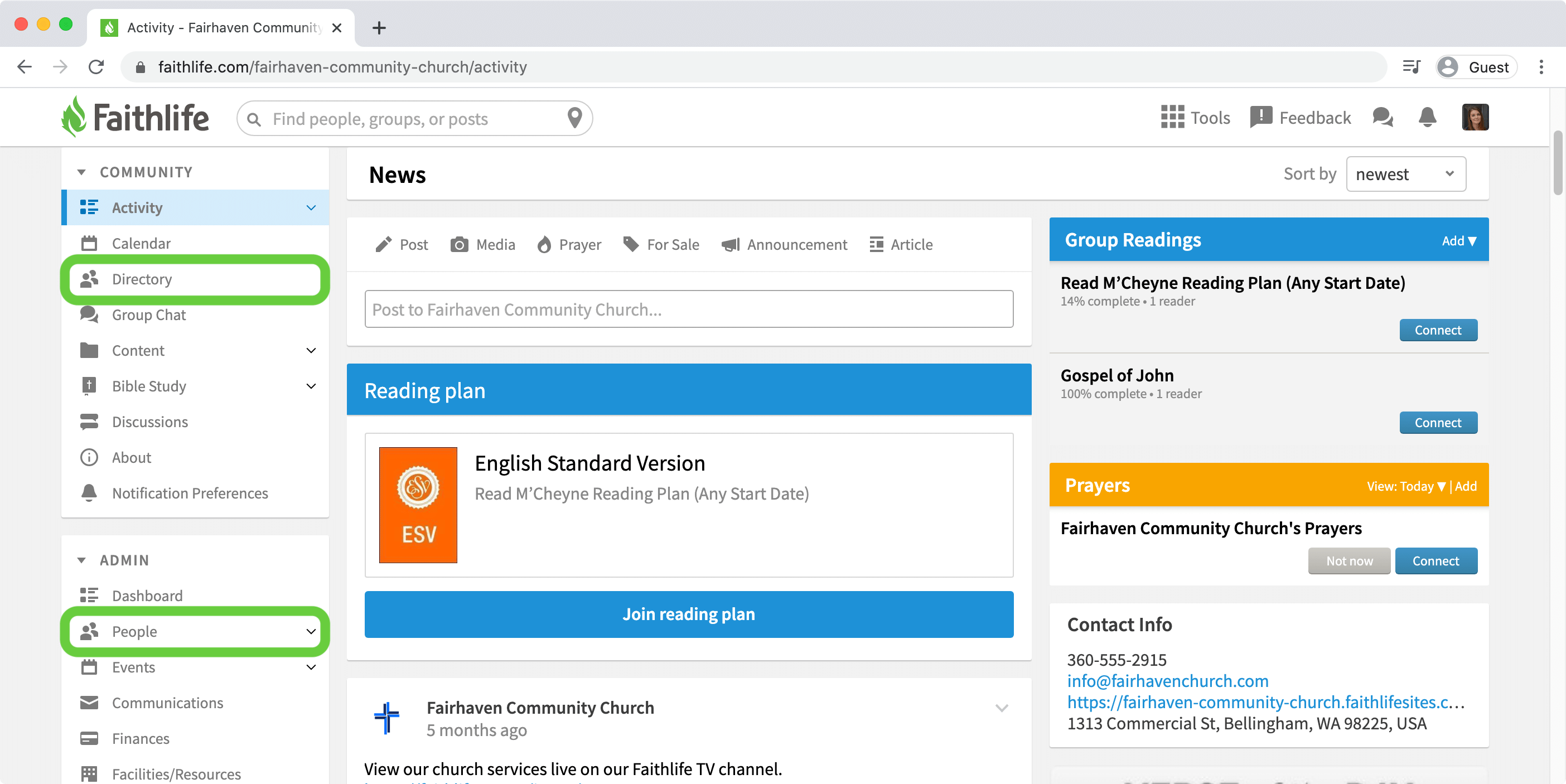 The directory displays the names, contact information, and other relevant details for every individual who has a person record in your group (whether they have joined your group, follow your group, or had records added to the group by an admin). You can set which details show in your directory for each person record. Depending on your group privacy settings, anyone in your group can view the directory.
As an admin, you can toggle between Admin and Member view in the top right-hand corner to ensure only information you want your members to see displays from their viewpoint. Additionally, as an admin, you can navigate to the full person record from the directory by selecting a person's name in the directory.
By default, people (including children) are automatically added to your directory when:
Someone joins or follows your church group
A person record is created
You can remove anyone from the directory's actions menu. Check their row in the directory, click Actions, and select Remove from directory. Read the full article on using your directory.
How do I create people records?
You add people records six different ways:
Add a person directly from the People menu.
Add a digital connection card from the people menu or a digital bulletin.
You can create people records while creating a family record.
Invite someone to your group and a person record will be created automatically.
When someone gives to your church with Faithlife Giving, we will create a person record automatically. If you already have a person record associated with their email address, the gift will be associated with their existing record.
Read the full article about adding people records.
Note: Remember, you must be a group admin in order to view, create, or modify people records.