Group Status refers to the role someone holds in your church group on Faithlife.com.
View Group Status
While viewing the Directory, you can enable the Group Status column. Tap the view columns icon

and click Group Status.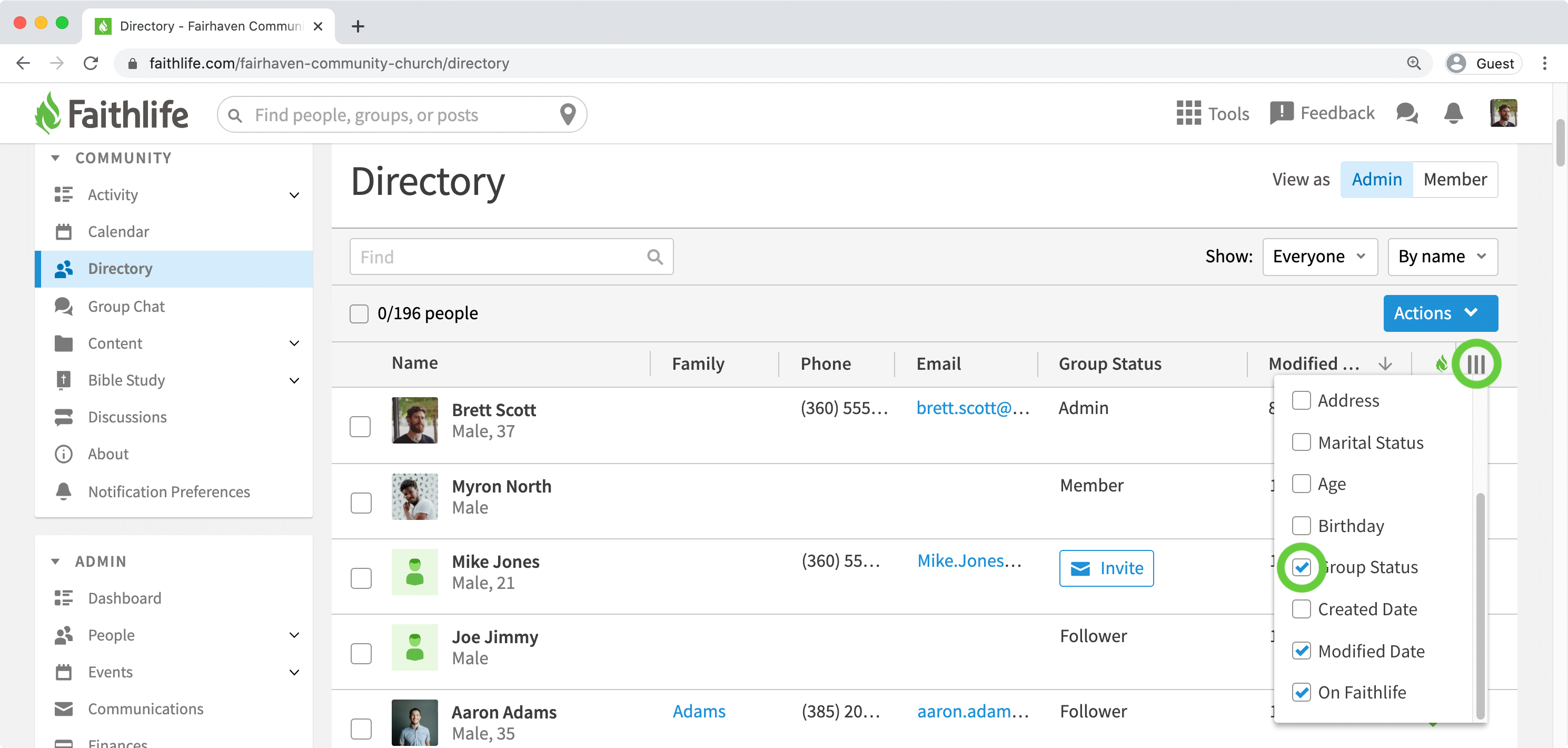 Note: While viewing People records, Admins can also view a person's Church Status, which represents the formal connection between your church and people who attend (e.g., formal membership in your church, etc.) and is manually set and visible only on People records. Learn more about Church Status.
Keep in mind not everyone in your directory may have a Faithlife account or be connected to your group. Roles show for each person visible in your directory.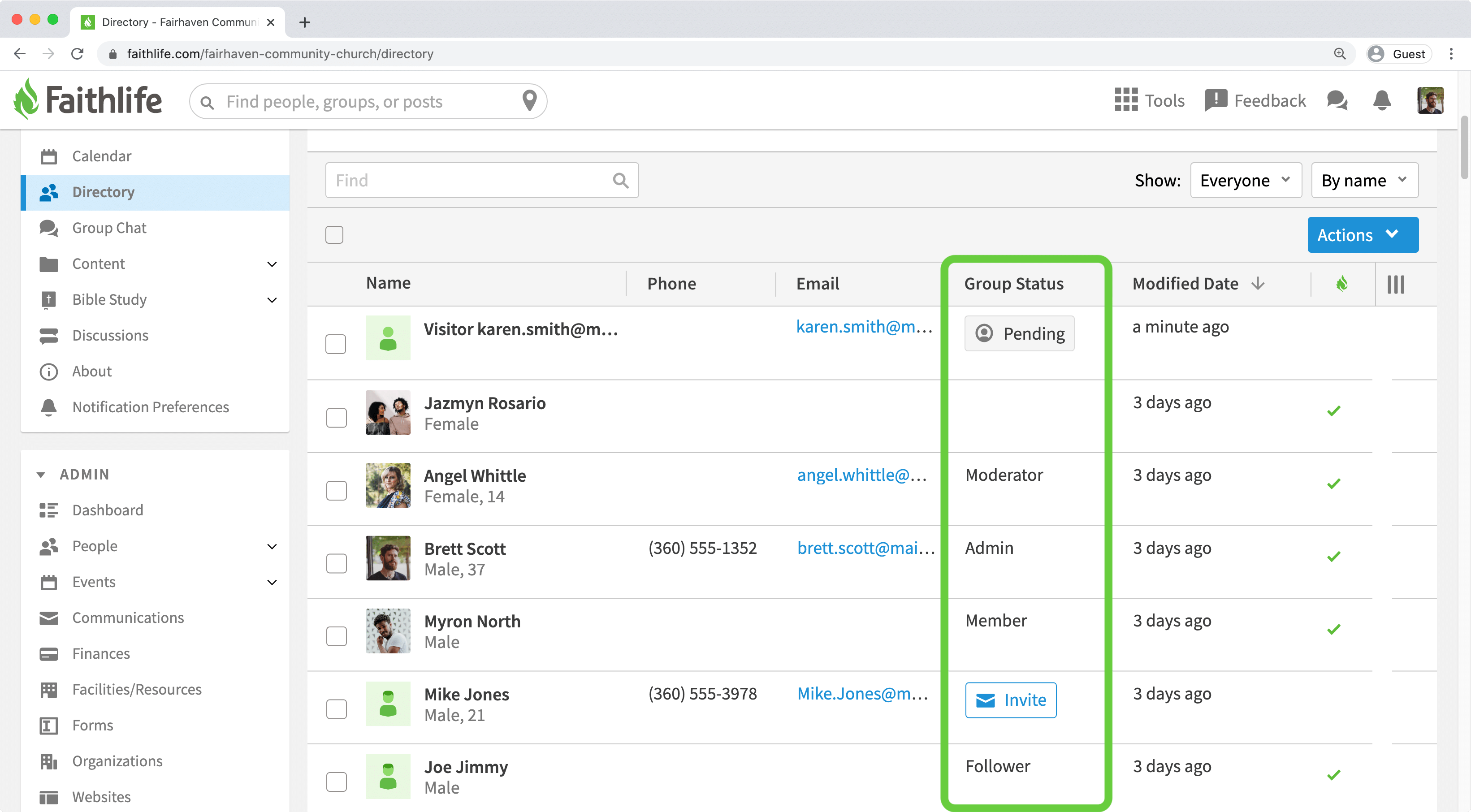 Here is what each role signifies:
Follower: someone who has chosen to follow your group but cannot post on the group page or send messages within the group.
Member: someone who can actively participate in the life of the group by posting on the group page, sending messages to others, and interacting with the group's content;
Moderator: someone who can configure group settings and permissions;
Admin: someone who can make changes to the group itself, invite new members, grant others the administrator status, etc.
If someone is not connected to your group and does not have an email address shown with their record, Group Status will remain blank. If someone is not a member of your group but does have an email address, anyone with permission can click to Invite someone. Pending invites show as Pending.
Invite New People to Your Group
If you want to invite a brand new person to your church group (someone without a person record), click the blue Invite button above your Directory. Faithlife will send an invite and will prepend "Visitor" to their email address as their name.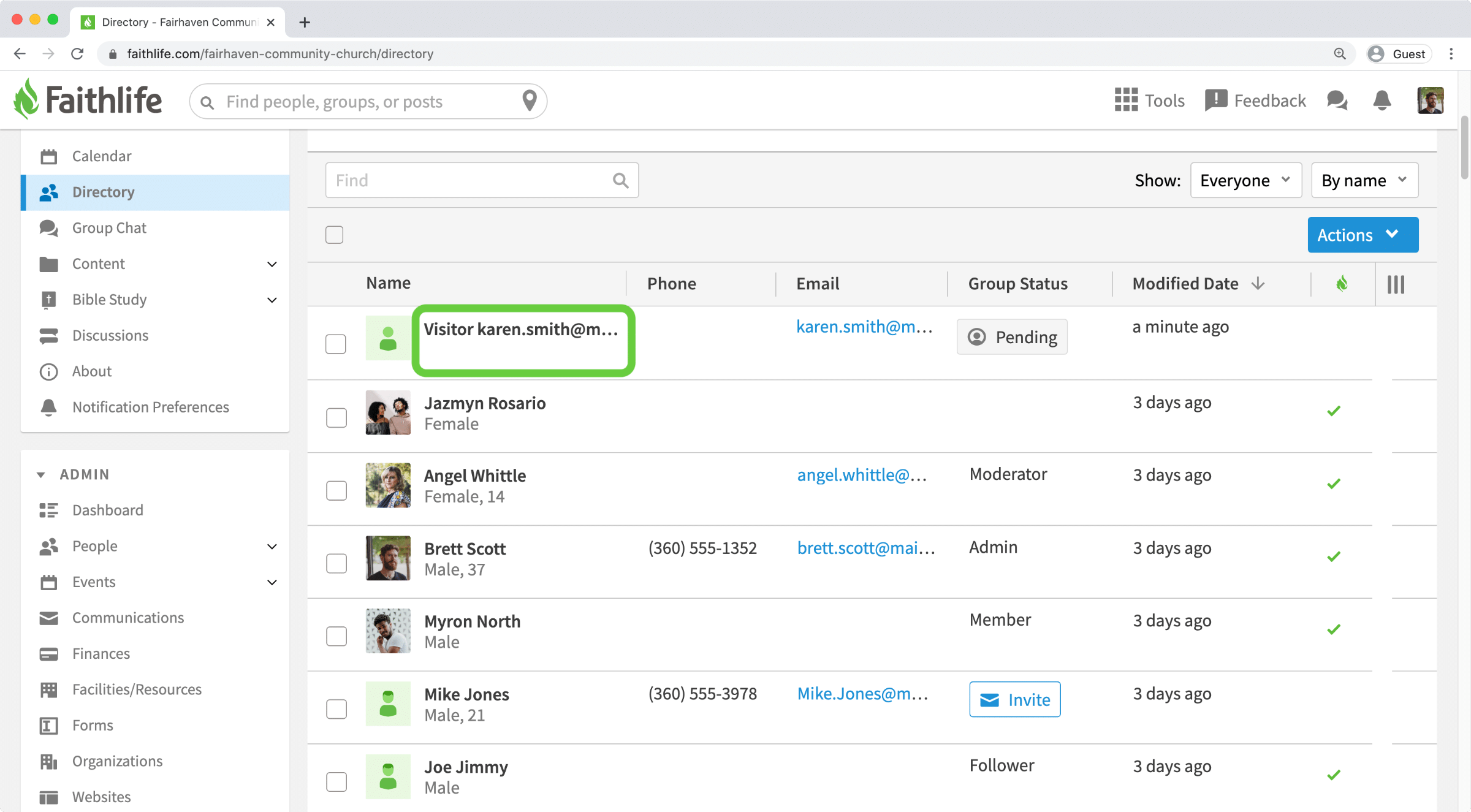 Once your invitation has been accepted, their Group Status will update from Pending to their new role in your group. To update their name, an Admin in your group can open the record by clicking on the person's name in the directory and Review changes.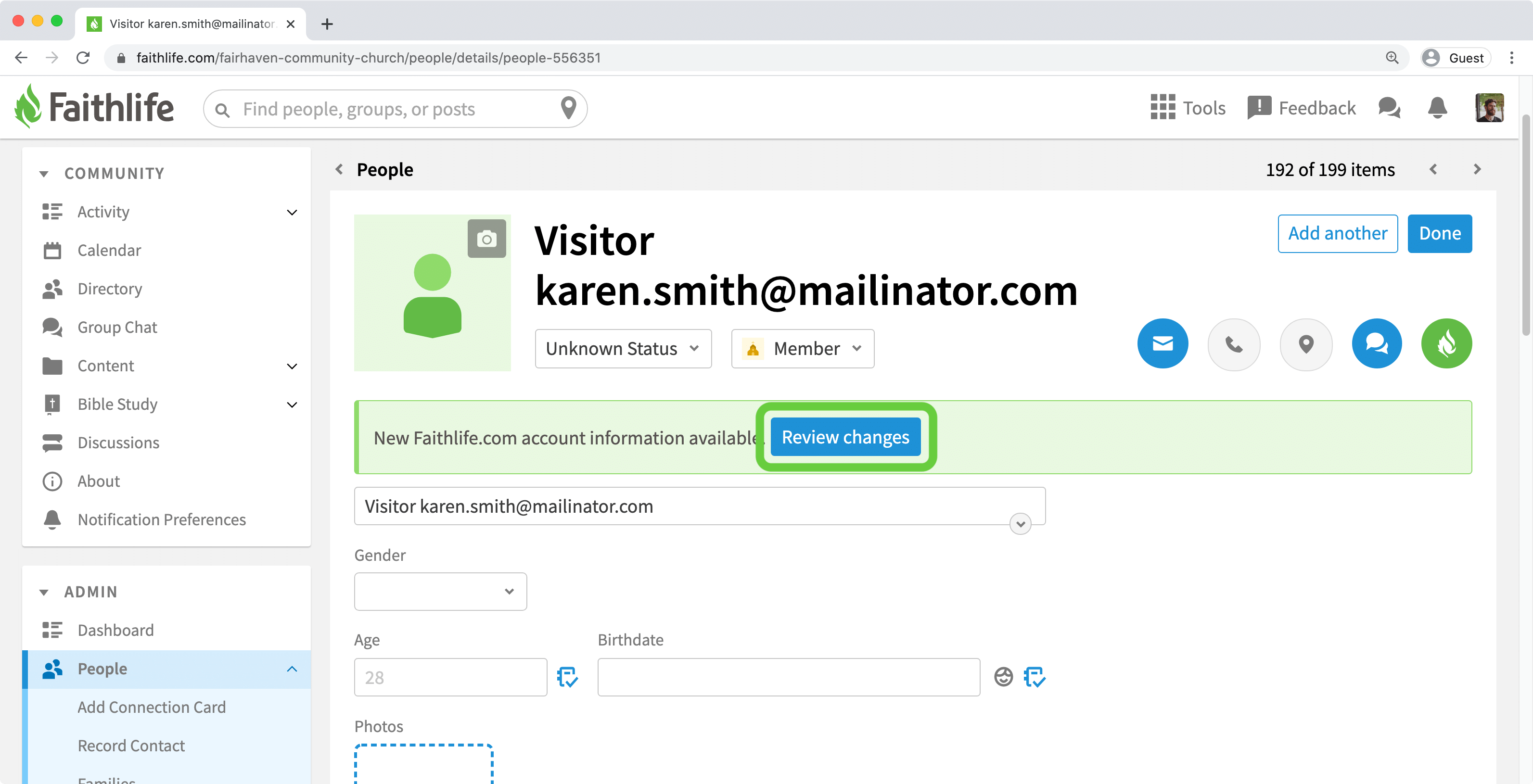 Any new publicly-available information will show for review, including the person's updated name.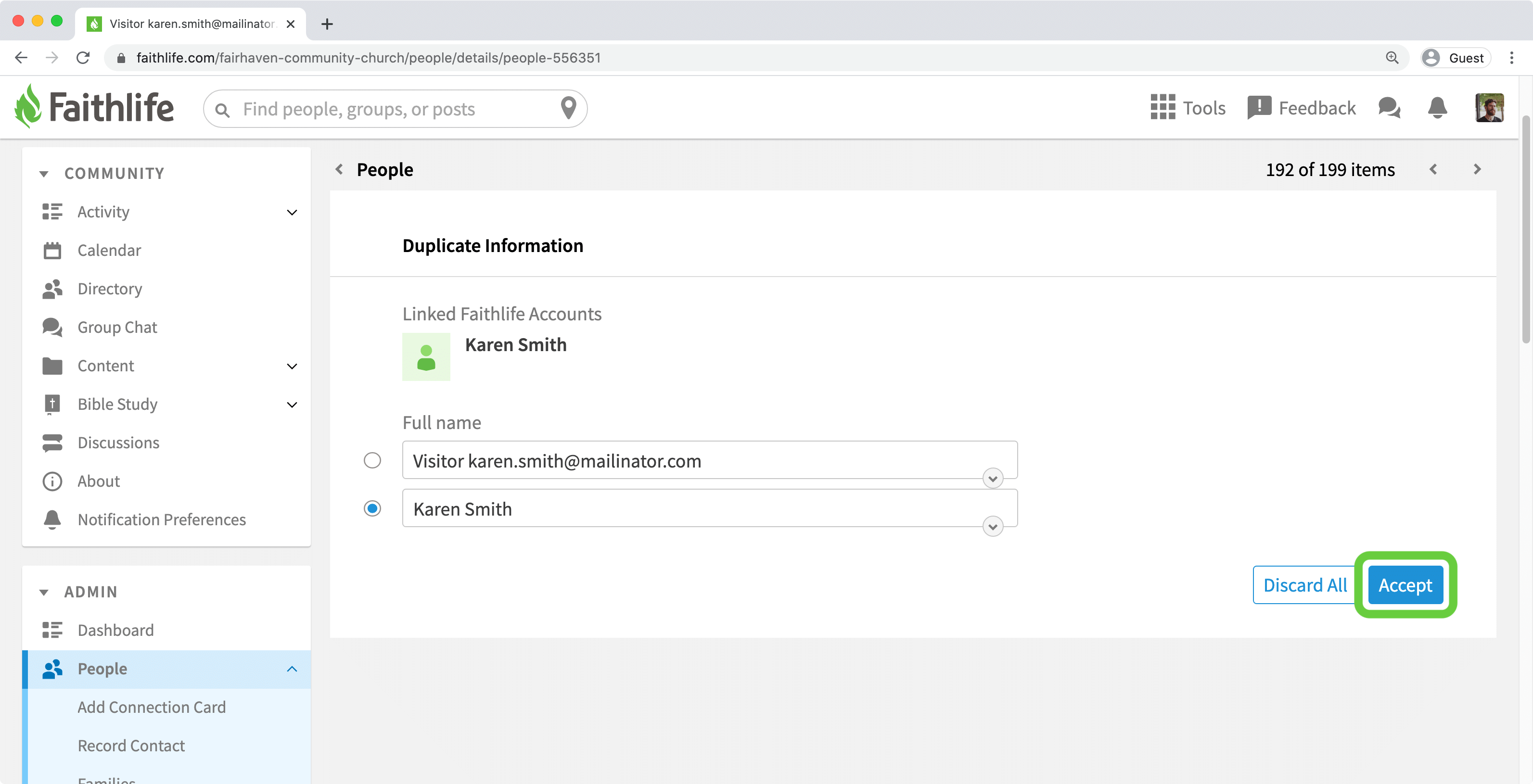 Note: Learn more about roles in Faithlife groups or configuring group privacy settings.